Enchanted Evening Honeymoon Package
by H. A. Rockwood
AllEars® Guest Columnist
Feature Article
This article appeared in the January 16, 2018 Issue #956 of ALL EARS® (ISSN: 1533-0753)
Editor's Note: This story/information was accurate when it was published. Please be sure to confirm all current rates, information and other details before planning your trip.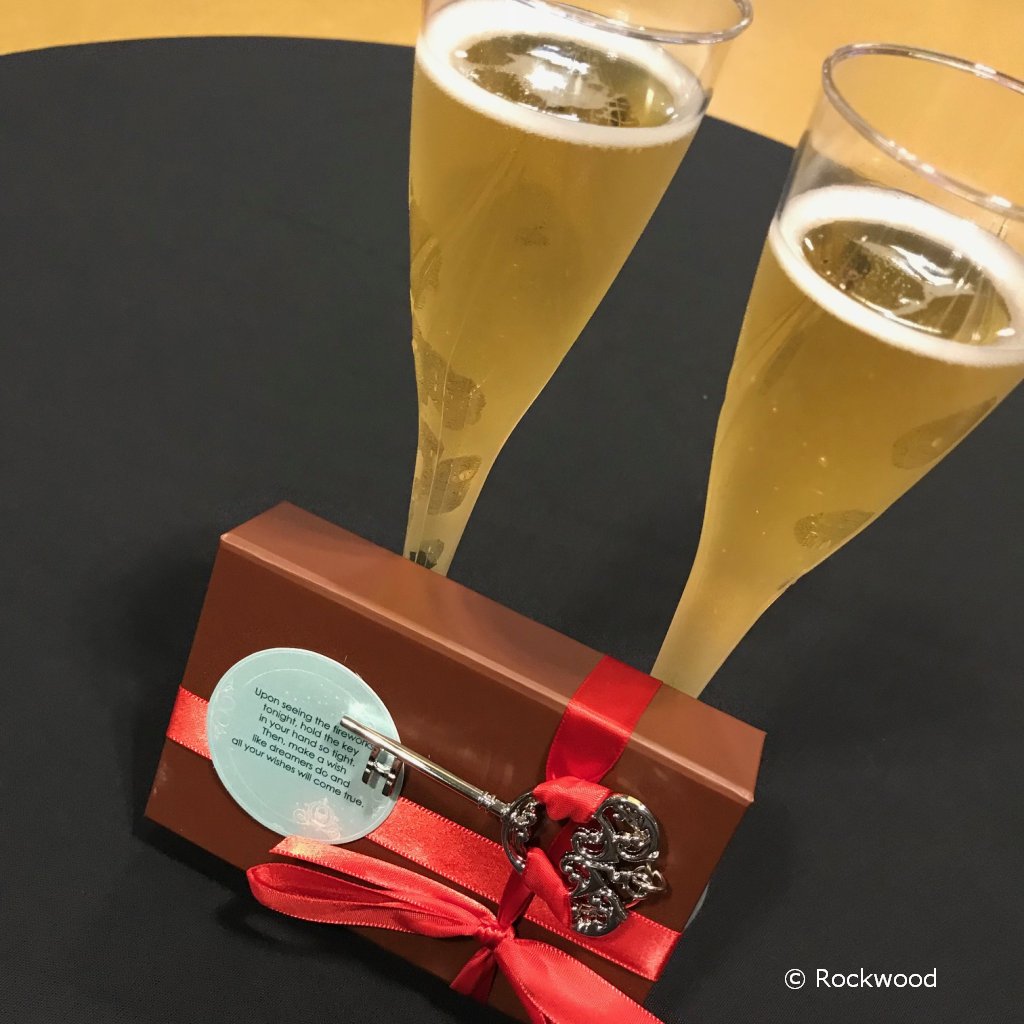 Even before my fiance and I got engaged we knew we wanted a Disney wedding "someday." That someday came a lot sooner than I expected when he proposed to me on July 28 at the Magic Kingdom after a short courtship. We contacted Disney Fairy Tale Weddings almost immediately and the planning began!
While planning a wedding can be fun, it can also be stressful. However one of the perks of living so near to Disney is that if we need a little break we can always visit our favorite place to make things right again! While discussing the inherent stress of nuptial planning our coordinator mentioned a way we may be able to take a little break and celebrate just being engaged. The Enchanted Evening Honeymoon Package can be added to an existing reservation or booked specifically for the package itself. While we weren't exactly on our honeymoon, our coordinator mentioned that the package was only guaranteed to be available through the end of 2017. We were planning a 2018 wedding, so we decided to book the package for a mini-stress free vacation. (Note: Disney Fairy Tale Weddings has since announced that they would be extending the package for the 2018 year.)
The package itself has to be booked as a room and tickets package or a room and dining package and includes two specialty MagicBands, two themed luggage tags (if you are not flying in you will not receive these), entry into the Happily Ever After Fireworks Dessert party, and a special treat.
While the decision to book the package was easy to make, actually booking it and making sure everything was correct was not as simple. When I called the number specifically given to book the package (321-939-4610) the cast member knew very little about it and what I could expect to receive for information regarding the dessert party. Nevertheless she was able eventually to book and confirm our reservation.
Later on I received the confirmation email from Disney that they were excited to welcome us back home, but nothing in the email said anything about the Enchanted Evening Honeymoon Package. I looked online to see if it said anything in My Disney Experience, but was unable to find anything. Even the MagicBands we received were plain gray and not the specialty themed ones. I called the number again and asked if they could confirm the package was on the reservation. The cast member had to put me on hold and check with someone else, but came back on and assured me all was well and that the bands would show up in My Disney Experience "soon."
The next day I received another email. This one was the usual 'make sure you customize your magic bands' email, so off I went to My Disney Experience. Again. This time the bands were showing as the themed ones so I changed our names to our initials and wedding date and… they switched back to gray. I decided to give it a day or so and see if they changed back. They didn't.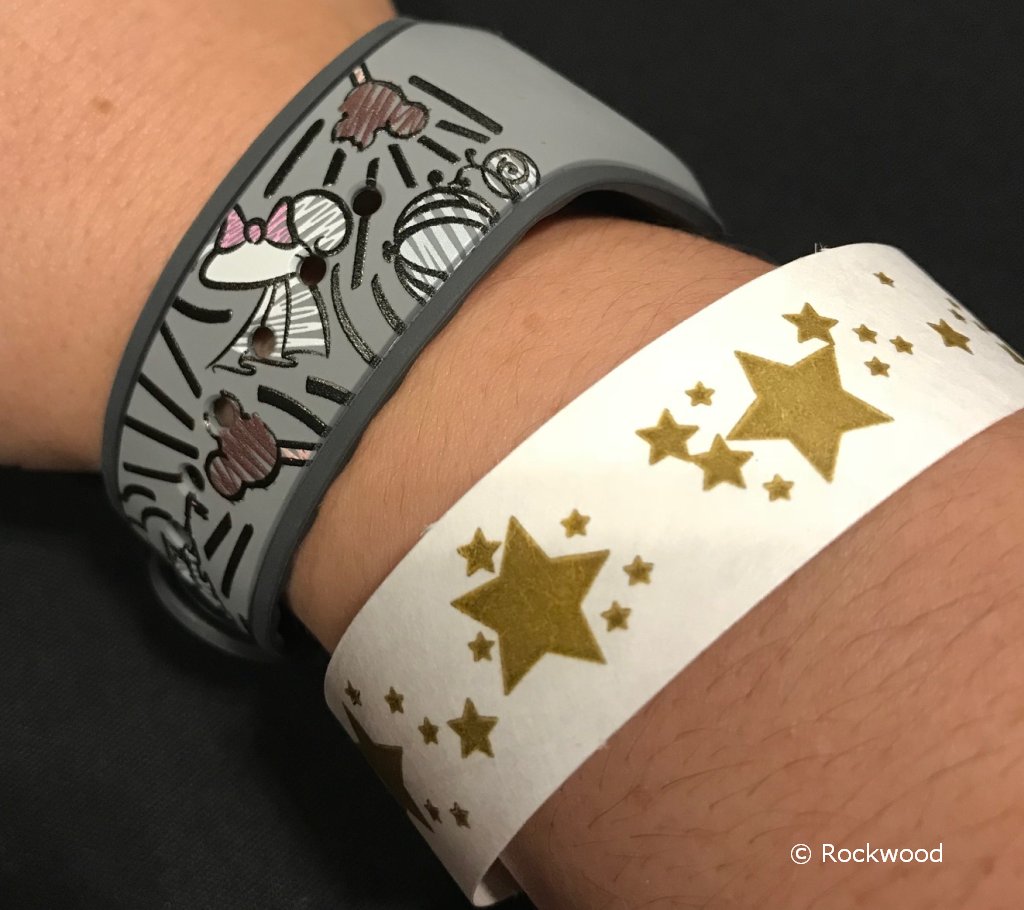 I called the number again and after being transferred a few times was told, "you shouldn't have customized the MagicBands." I asked why they would send out the email telling me to customize them if we weren't able to and I was not given an answer. Instead the cast member asked if I still wanted them or not. Once I gave him the info to customize them for us he assured me everything was all set and told me not to touch anything again.
Finally it was check-in day! We went to the front desk of Coronado Springs and waited to be greeted by the friendly cast member. The check-in was pleasant but long as the MagicBands didn't seem to want to work. A supervisor gave us a key card "just in case" and the only mention of the package was a set of buttons slid across the desk. Since we are passholders we booked the dining package and had to ask for a printout of our entitlements before leaving the desk in search of our resort mugs and our room.
Coronado Springs is well under construction right now and though we did receive an email letting us know about this, nothing could have prepared us for what we encountered. Virtually every area was covered with plastic, being painted, being torn down, or cordoned off. There were construction workers everywhere and unfortunately they were not quiet. Luckily we weren't planning on spending too much time in the room so we dropped our luggage off and made our way to Magic Kingdom.
After some fun on a few rides we headed to the Tomorrowland Terrace for check-in to the fireworks dessert party. The cast member took our names and handed us a gift from Disney Fairy Tale Weddings before escorting us to a small table right near the buffet. The cast member offered us some sparkling apple cider and then explained that we were welcome to enjoy any of the food or drinks — as much as we'd like — and we would be taken over to the fireworks viewing area around 8 p.m. If we wanted to go earlier, we just had to let them know.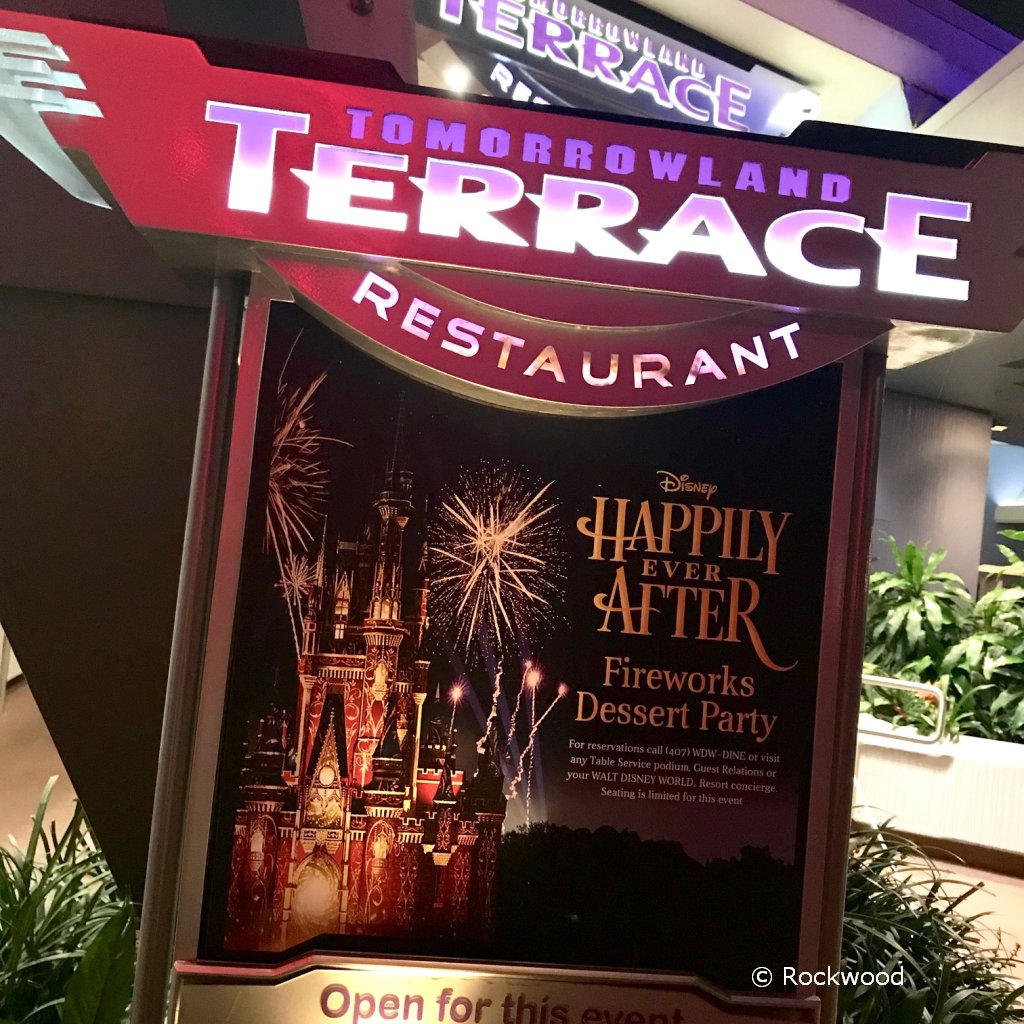 The variety of food was better than I expected with not only desserts but also fruit and cheese, as well as a make-your-own cookie station and ice cream sundaes! There were about 10 different pastry items including cupcakes and macarons and they also had several drink options like lemonade, water and milk.
My fiance and I both helped ourselves to a full plate of delectable morsels and I couldn't pass up a chance at cheese so I grabbed us a plate to share. While we sat and relaxed we decided to open the gift we received from Disney Fairy Tale Weddings. The box was adorned with a silver Mickey keychain and when we opened it there were six artisan chocolates from the Ganachery at Disney Springs! That was definitely a nice touch and we were excited to have something sweet to take home with us for later.
There was a PhotoPass photographer there offering to take pictures with the guests and a Happily Ever After sign so of course we got ours, too!
Once we had filled up on all the goodies we could, we let a cast member know that we were ready to make our way over to the viewing area. The grassy area was the one directly in front of the Plaza Restaurant and since we were early we got a pretty good spot. They also had another PhotoPass photographer with the same sign inside the viewing area so we stopped for another photo before getting comfy to wait for the show.
Being able to see the fireworks like that, in a much less crowded area, made for a much nicer experience in my opinion.
The Enchanted Evening Honeymoon Package is a fun way to celebrate getting engaged or married, but in this writer's opinion, if you don't already have a stay booked or don't need tickets it might not be worth the expense. Besides the exclusive MagicBands and the gift given at the Fireworks Dessert Party, there wasn't anything else that made this Disney staycation any different than our previous ones. The cost for the package is roughly $160 per couple, but we also had to pay for a room and a dining package, which made the somewhat reasonable price a bit more expensive.
Have any of you booked this or will anyone be booking it for their Disneymoon in 2018? Let us know! You can drop AllEars® a line via the Contact Us form.
= = = = = = = = = = = = =
RELATED LINKS
= = = = = = = = = = = = =
For Whom the Bells Toll: Weddings at WDW
Love Is in the Air: A Magical Proposal
Freeform Airs Disney's Fairy Tale Weddings Shows
Relaxing, Romantic Disneyland Honeymoons
= = = = = = = = = = = = =
ABOUT THE AUTHOR
= = = = = = = = = = = = =
H. A. Rockwood is a New England girl living in a Florida world who enjoys exploring everything that the Central Florida area has to offer! She can often be found at the theme parks enjoying one of her two favorite hobbies: photography and food! When she isn't working or playing in the theme parks she likes to spend her time relaxing with her fiancé and her two cats.
-o-o-o-o-o-o-o-o-o-o-o-
Editor's Note: This story/information was accurate when it was published. Please be sure to confirm all current rates, information and other details before planning your trip.