You've got one day, you can only visit one park, and you've narrowed it down between EPCOT and Disney's Hollywood Studios.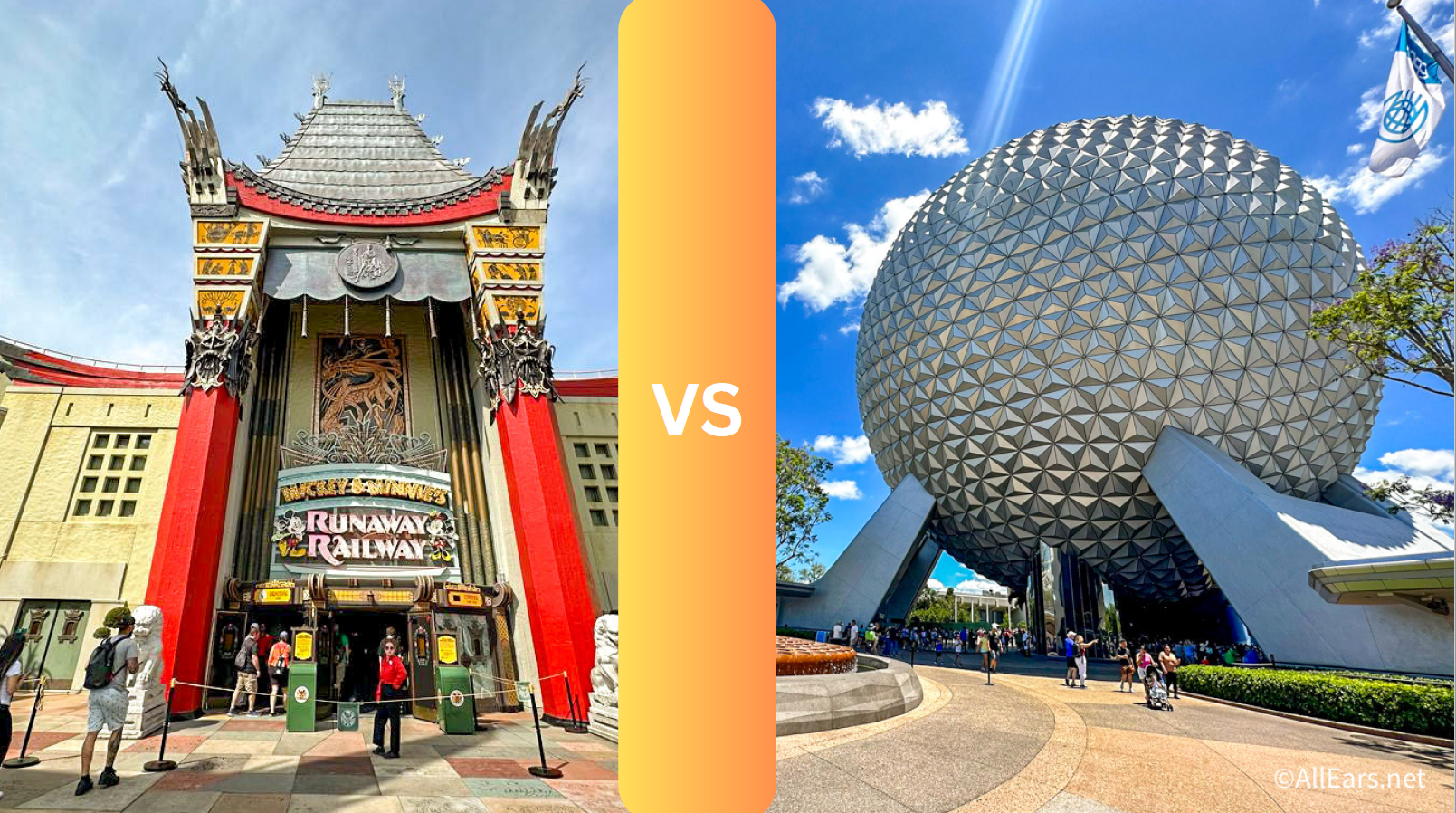 Now, you can pull out some paper and a pencil and start an in-depth pro/con list with all of the challenges, attributes, and details of each park and how they pit up against each other. Or…..
… you can let us do the work for you!
Now, there's a lot of information and factors for each park. So let's throw down some of the biggies. We're going to look at:
Park Hours
Transportation Options
Attractions for Adults
Attractions for Kids
Characters
Dining
Special Events
Nighttime Show/Fireworks
X Factor
That's a big list, right? Well, we mean business, and there's a lot to unpack here, so grab a snack and notepad because you're gonna wanna make your own notes.
We're gonna start easy with the low-hanging fruit, like Park Hours and Transportation, and then we'll dig into the meatier topics as we go!
So, without further ado… Here. We. Go!
Park Hours
EPCOT and Hollywood Studios usually have very similar park hours.
Hollywood Studios: 8:30AM – 9:30PM
EPCOT: 9:00PM – 9:00PM
So, typically, Hollywood students is open an extra hour longer than EPCOT. If you're looking to spend as much time as humanly possible in the park, then this could be a deciding factor. But the hours do change seasonally and special events may impact hours of operation, so make sure to check the My Disney Experience App or the website closer to your visiting date to confirm those hours.
These neighboring theme parks have a lot in common when it comes to transportation. For starters, these two are connected by a walkway. Yep, you can walk from EPCOT to Hollywood Studios — and back again, if you're so inclined.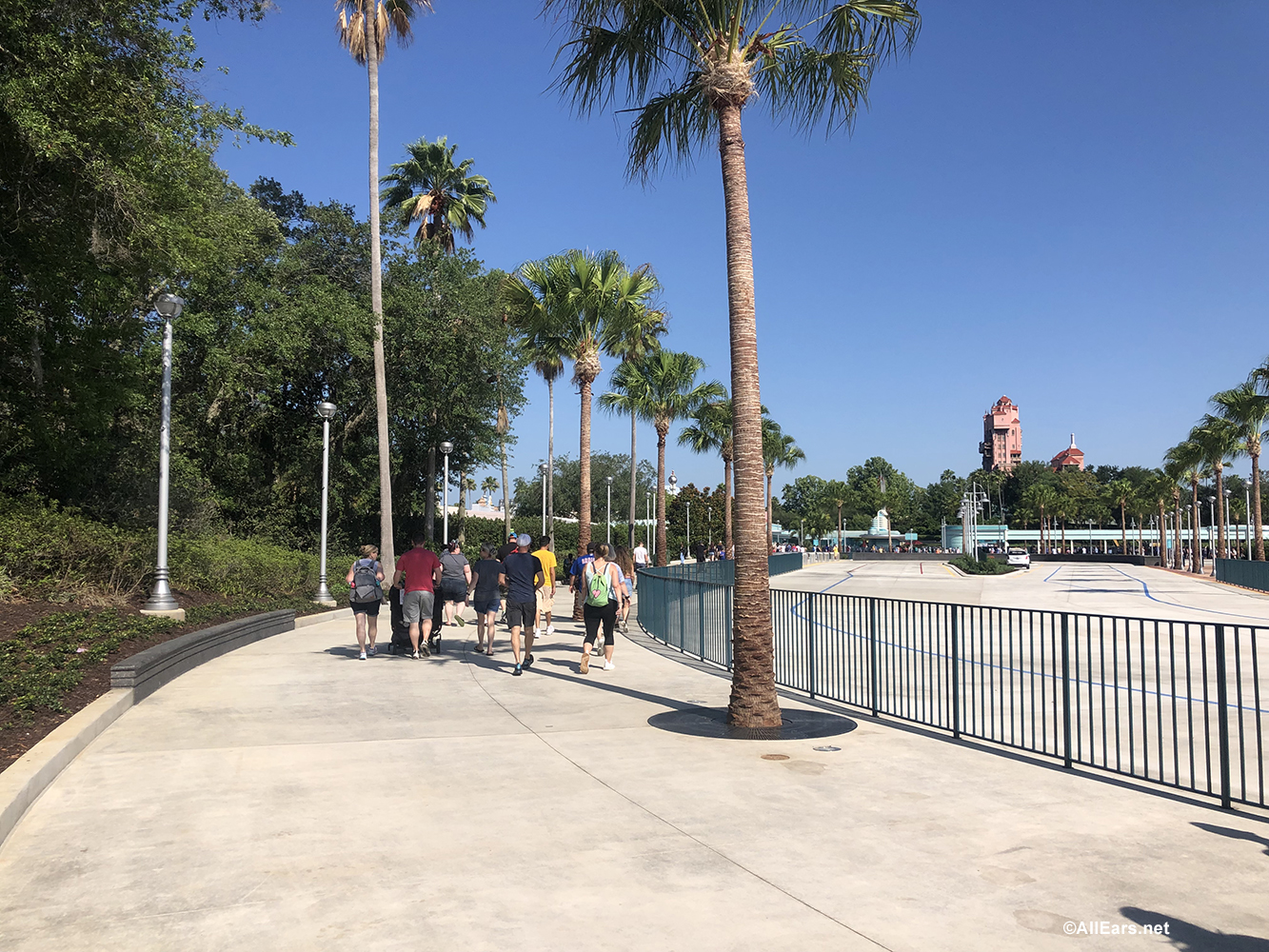 If you're too tired from already walking all around EPCOT's World Showcase, you can also take a cruise on a Friendship Boat through Crescent Lake from EPCOT to Hollywood Studios — and back again. Yep, that's right. These two don't just share a walkway; they also share a waterway.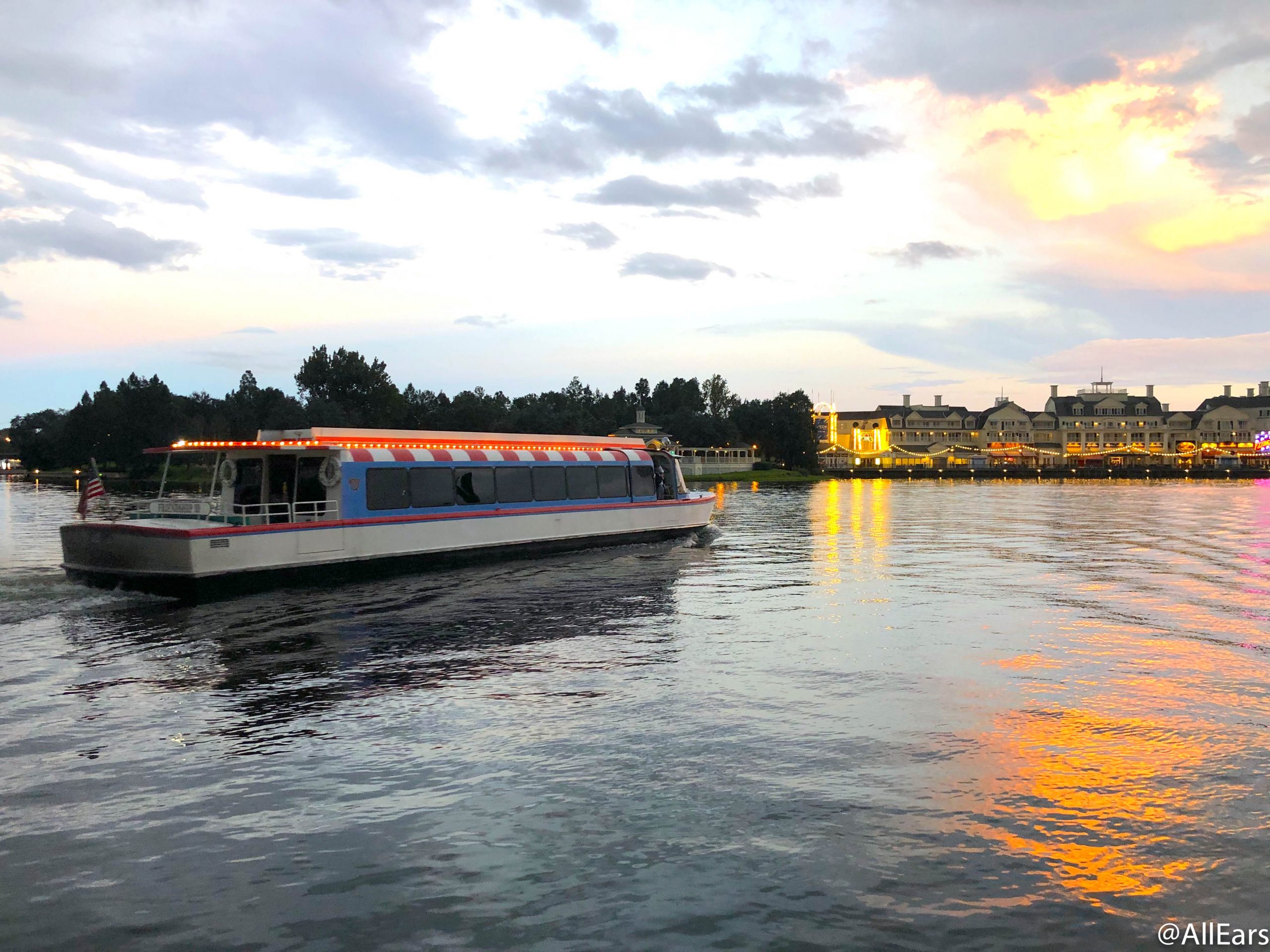 And busses. Yes, the great uniter of all of the Disney Parks, every Disney park has a bus station. So if your jam is cruisin' on those massive limousines for the public, then you'll be delightfully pleased boarding your bus to either of these parks.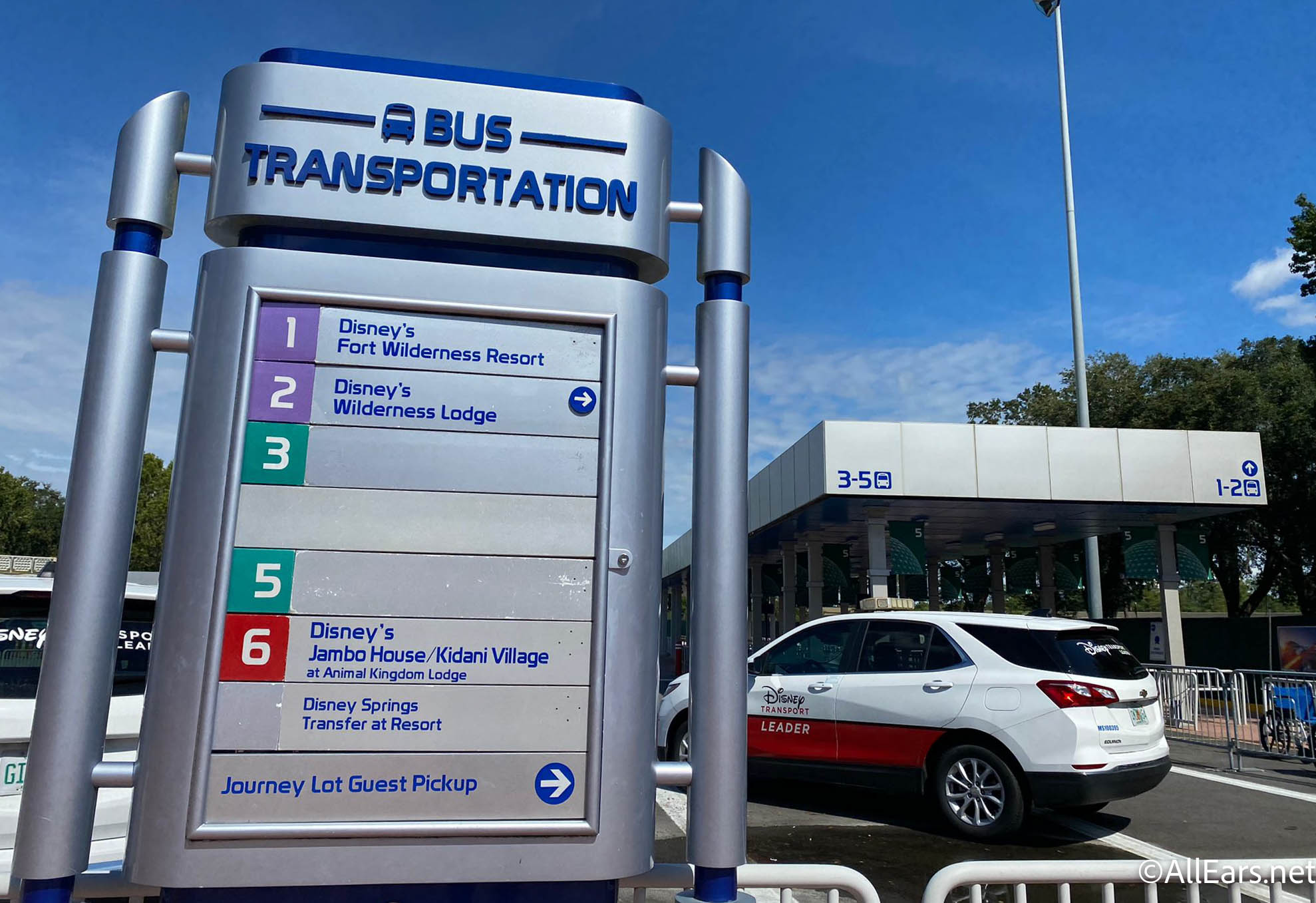 But wait! That's not all! The newest addition to the Disney Transportation game, the Skyliner, is also a common thread that connects these two great parks. The station near EPCOT is right outside the International Gateway, and near the Hollywood Studios bus station, those gracious Skyliners will be whizzing by.
Seems like a pretty even tie, right? Both of these parks have every transportation option available. Wait, there's something missing… Yep, the monorail! The monorail drops off guests at two parks: Magic Kingdom and EPCOT.
So when comes to the Transportation throwdown, EPCOT has pulled into the lead.
Attractions for Adults
Of course, this is Disney World, and this is a place welcome to adults, children, families, and all sorts of people! So this disclaimer is that both adults and kids will enjoy a plethora of attractions at both parks, but some attractions do have a certain audience. For example, your toddler is probably going to have more fun at the Disney Junior Dance Party than at Tower of Terror (provided they meet the height requirement — that'd be one super tall toddler, sign them up for basketball or volleyball lessons, quick!).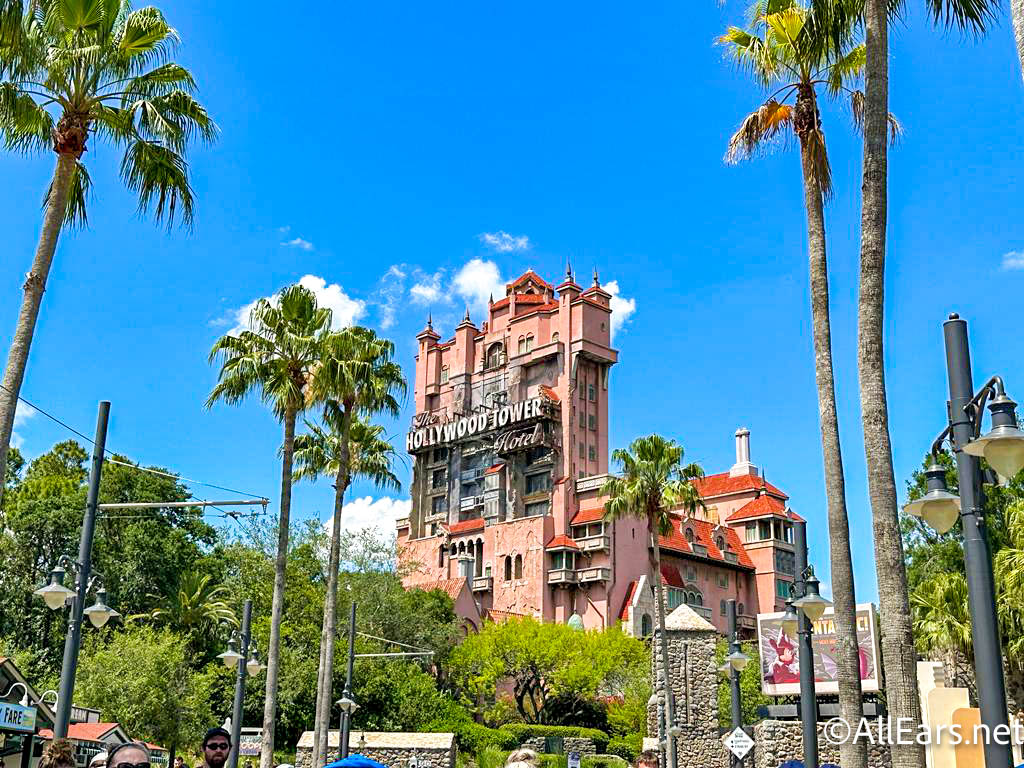 So this rundown is basically a list of attractions that have a height requirement, or in general just might be a bit more tailored to an adult audience.
Hollywood Studios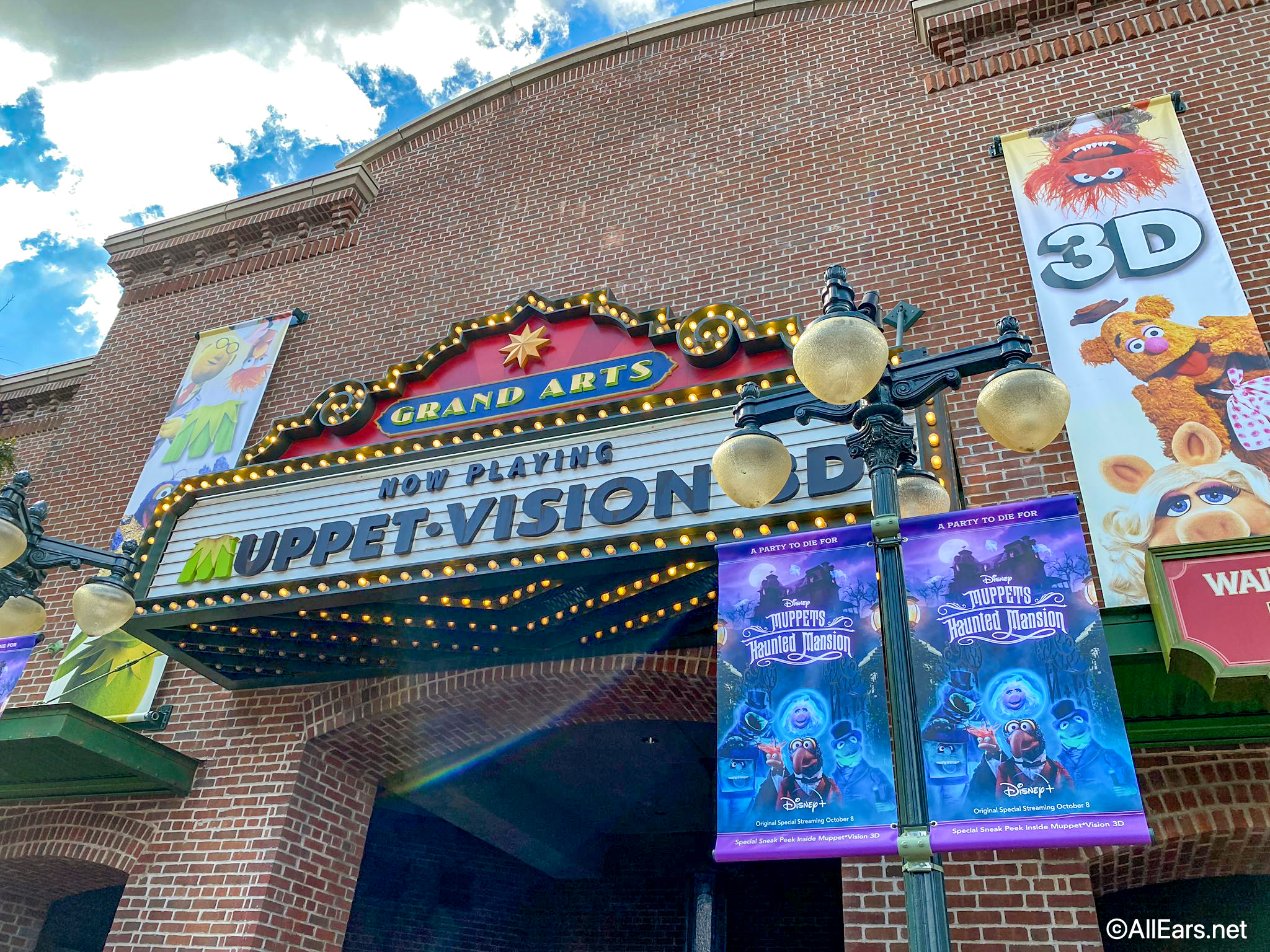 Hollywood Studios also has plenty of shows that the whole family can enjoy. Indiana Jones Epic Stunt Spectacular, Beauty and the Beast, Frozen Sing-Along Celebration (trust us, it's super fun), and last but not least, Muppet*Vision3D. Because we will never pass by a chance to promote Muppet content. We want more Muppets as much as Christopher Walken wants more cowbell. We 🧡Muppets.
EPCOT
A lot of folks view EPCOT as a more "adult" park with less to do for kids, but when you compare this list to the one above for Hollywood Studios, that doesn't seem to be the case.
And while you're touring World Showcase, some shows that adults will enjoy (either for the entertainment purpose, or the pure sweet air conditioning): American Adventure, Awesome Planet, Impressions de France, and Canada Far and Wide.
If you're looking for a grown-up time with thrills and chills, Hollywood Studios wins this round!
Attractions for Kids
Remember that spiel we just gave you about the "adult" attractions? Well, now we're going to apply it to attractions for the kiddos. And to use the same analogy, most adults will probably find a bit more thrill and enjoyment at Tower of Terror than boppin' along with toddlers at the Disney Junior Dance Party. But that's not to say that you won't have a super fun time watching your kiddo boogie with their favorite Disney friends.
And there are some pretty comfy benches in there, so even childless-adults might want to take in a show to tap their foot and soak in the precious AC.
Hollywood Studios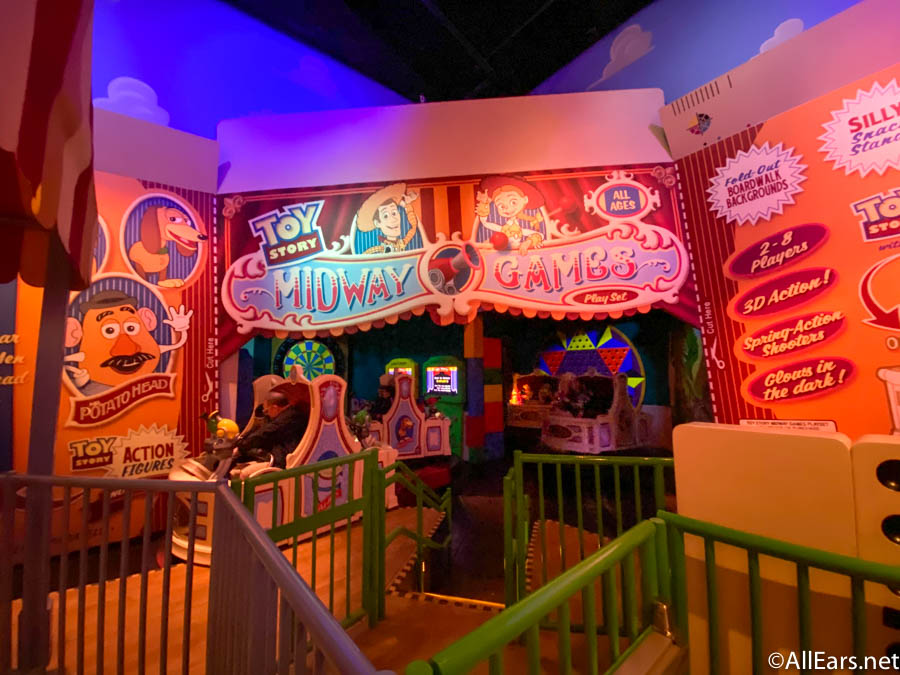 Yep, you read that right, Hollywood Studios just has TWO rides that don't have a height requirement. Luckily, there are plenty of shows to help keep your tykes entertained while they wait to grow a few inches in order to board the other Hollywood Studios attractions. Again, Indiana Jones Epic Stunt Spectacular, Beauty and the Beast, Disney Junior Dance Party, and Frozen Sing-Along Celebration are all super fun for those youngsters. Of course, Muppet*Vision3D, because — again — more cowbell (Muppets!)!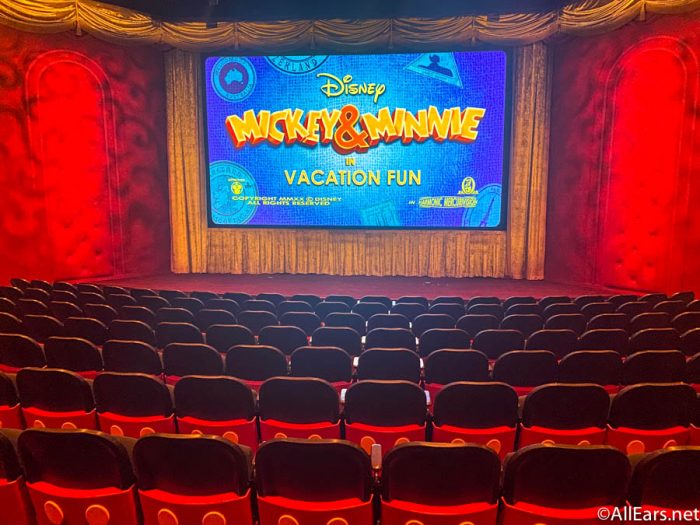 And to round out this list, we'll also toss in Lightning McQueen's Racing Academy and Vacation Fun showing at the Mickey Shorts Theater.
EPCOT
EPCOT has TRIPLE the attractions of Hollywood Studios that are family-friendly for everyone in the family! And that doesn't even include all of the shows! We've already discussed some of them above in the "adults" section, like American Adventure, Awesome Planet, and Canada Far and Wide. But we have a few more for the kiddos like, Disney & Pixar Short Film Festival, Beauty and the Beast Sing-Along, and Turtle Talk with Crush.
When it boils down to attractions for kids, EPCOT takes home the medal over Hollywood Studios.
Characters
Visiting a Disney Park isn't complete without a hug or a high five from your favorite Disney friend. So, which of these parks offers the best chance for you to find your favorite Disney friend, or to meet the most Disney characters? Let's scope it out. Yep, this is where we're just gonna list every character you can find in each park.
Hollywood Studios
Toy Story Green Army Men
Live Action Ariel
Disney Junior Pals (Vampirina, Doc McStuffin's, Fancy Nancy)
Mickey & Friends (usually Minnie) at Red Carpet Dreams
Olaf
Edna Mode
Pixar Pals (Mr. Incredible, Mike & Sully)
Toy Story Toys (Buzz Lightyear, Woody, Jessie, sometimes Bo Peep)
Darth Vader
Chewbacca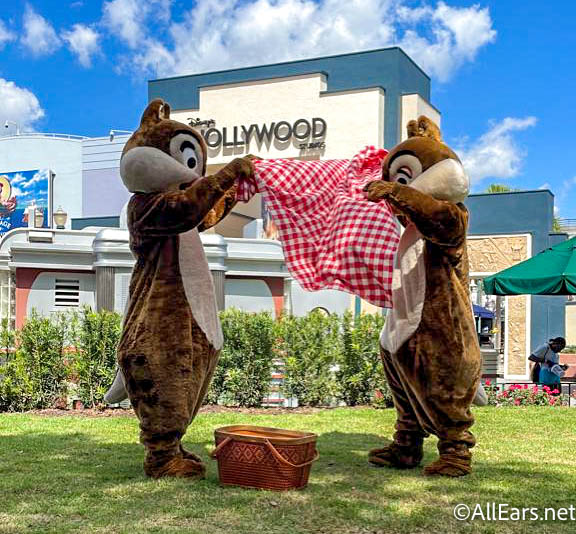 Now there are other characters that you can "see" like Rey in Galaxy's Edge or Chip & Dale, who can sometimes be found on the grassy knoll in front of the Hollywood Brown Derby, but those are more like "character appearances" and not the kind of up-close-and-personal experience that can result in a hug, autograph or photo.
EPCOT
Mickey & Friends for Disney VISA Members
Anna & Elsa
Mickey
Alice
Belle
Disney Pals (Goofy, Pluto, Minnie, or Daisy) at EPCOT Entrance
Joy
Donald in Mexico
Mulan
Pluto World Showcase Gazebo
Aurora
Snow White
Jasmine
Vanellope
Character experiences and interactions can change (and do change often) so make sure to check the website or My Disney Experience app closer to your trip to confirm that character lineup.
Dining
The real reason you're visiting Disney World is for the food, right? Rides are cool, characters are sweet, but it's the nosh that lures us to the parks. Because did you really visit a Disney Park if you don't have an Instagram photo of a Mickey-shaped snack food?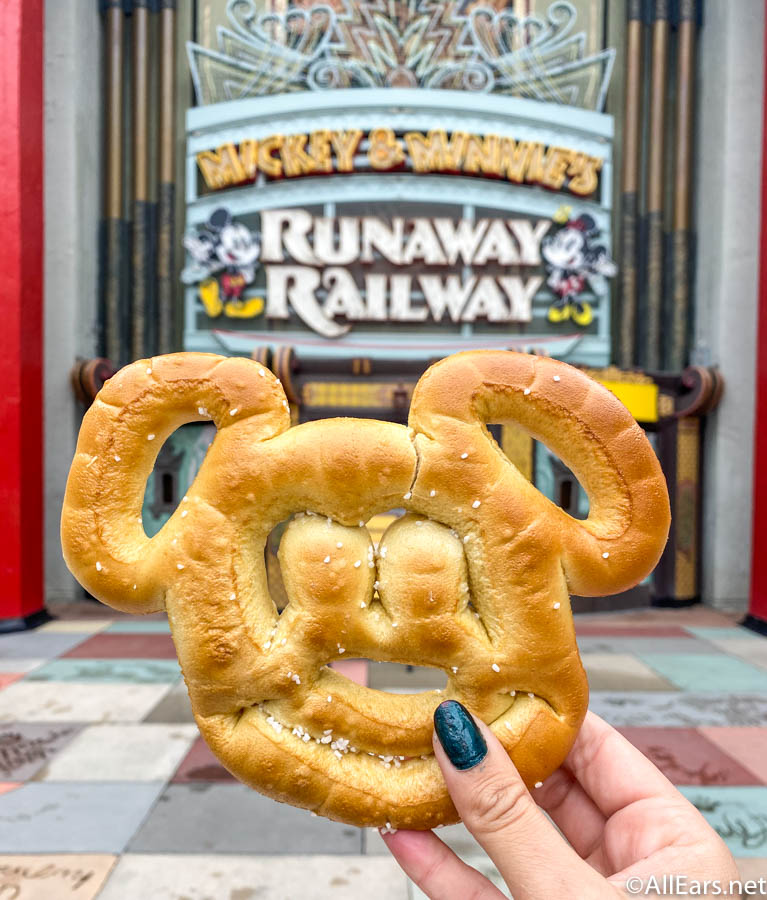 And we're not even gonna mess with this throwdown because when you think of amazing Disney food, if you can get past the Mickey-shaped items, your next thought is probably EPCOT because eating and drinking around World Showcase is part of the pop culture zeitgeist. But that doesn't mean that Hollywood Studios isn't packing its own one-two punch in the dining category.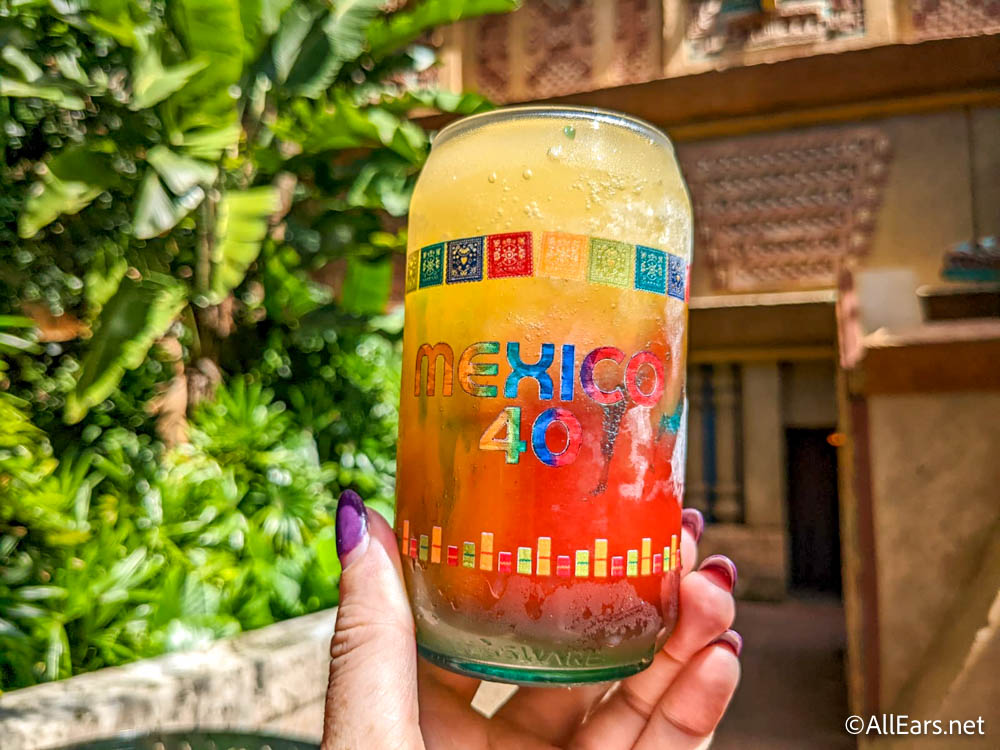 How did we find the BEST food in these parks? Well, from YOU, of course. We looked at reader reviews to find the top ranked Quick Service, Table Service, and Snack spots in both EPCOT and Hollywood Studios. So, if you disagree with what you see, then you need to visit our review sections and start plugging in your own opinions to make sure we know what you like (or don't like!).
Hollywood Studios
Quick Service – Docking Bay 7 Food & Cargo is currently the best-rated quick service location in Hollywood Studios. Since it first opened in 2019, Docking Bay 7 has been known for unique, "out of this world" dishes.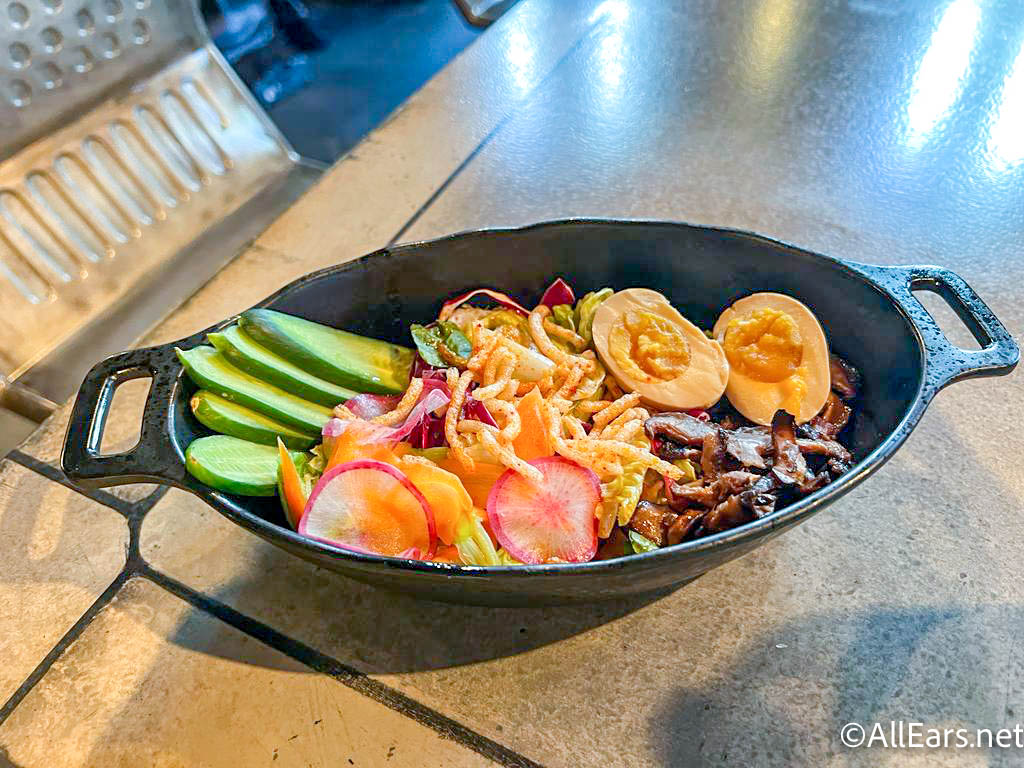 Overall, the prices on some of the dishes at Docking Bay 7 are going to be a little higher than what you'll pay at other Quick Service locations around Disney World. If you're looking for something other than your standard cheeseburger or chicken fingers, you'll definitely find unique eats here. We've enjoyed our meals at Docking Bay 7 in the past. It's a fun spot if you want to experience everything Galaxy's Edge has to offer.
Table Service – 50's Prime Time Cafe is where comfort food classics are served up with a huge serving of FUN (and a side of nostalgia)! Don't forget to eat all your veggies and keep your elbows off the table! Because at 50's Prime Time Cafe, you're back in Mom's kitchen being served by your cousin, uncle, or some other "family member!"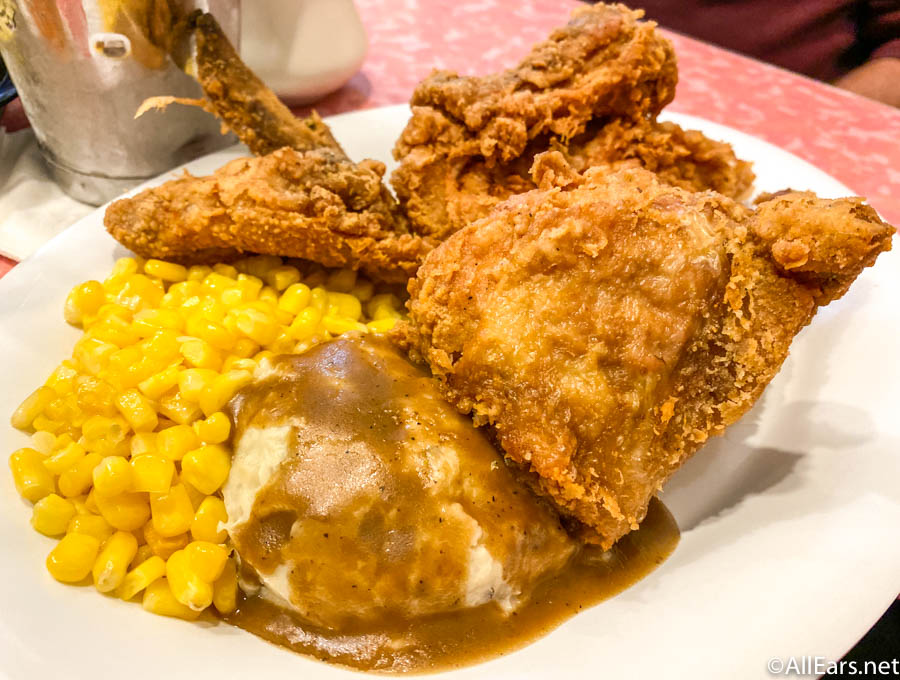 The menu items include fantastic fried chicken, pot roast, meatloaf, and other favorites from your childhood. Great food, good prices, and a super fun atmosphere make up the 50's Prime Time Café experience.
Snack – Hollywood Scoops is the spot in Sunset Ranch to grab a hand-scooped ice cream cone or an over-the-top seasonal milkshake.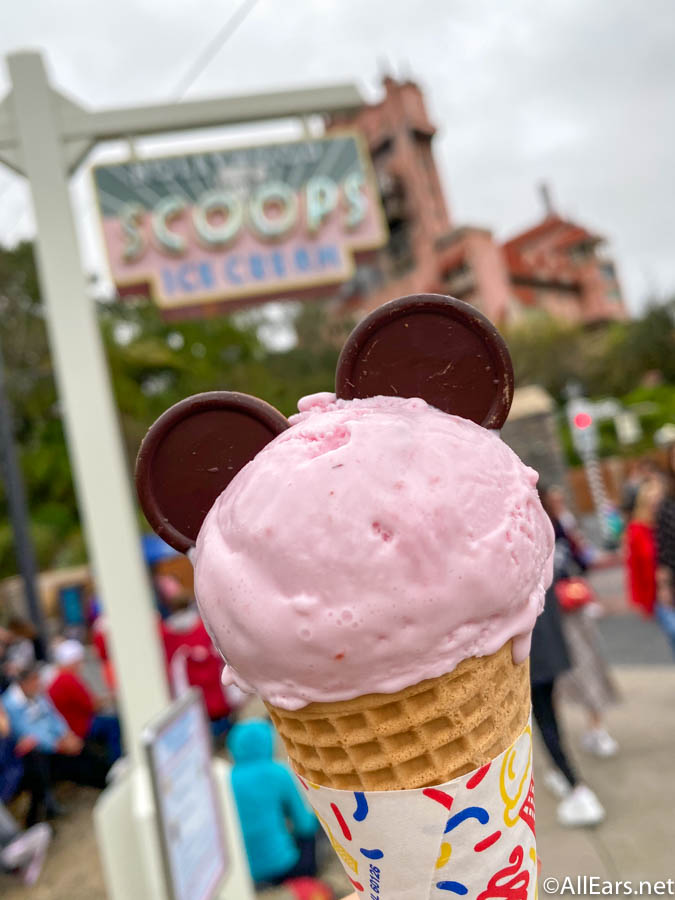 EPCOT
Quick Service – Yorkshire Country Fish Shop is set amongst the cobble-stoned streets of an old-world British town. The Yorkshire County Fish Shop is just a stone's throw away from the English specialty shops and pristine gardens that also make up this charming pavilion.
Menu simplicity is key, allowing the Fish Shop to focus on perfectly crisped strips of fish with hearty fries thick enough to soak up malt vinegar and ketchup. The Shop also serves Bass Ale and Harp Lager to enjoy with your dish.
Table Service – Garden Grill topped the table service charts at EPCOT, but not just any time — Garden Grill BREAKFAST got the top ranking!! Which is quite a statement considering what it was up against, like the pizzas at Via Napoli and the steaks at Le Cellier.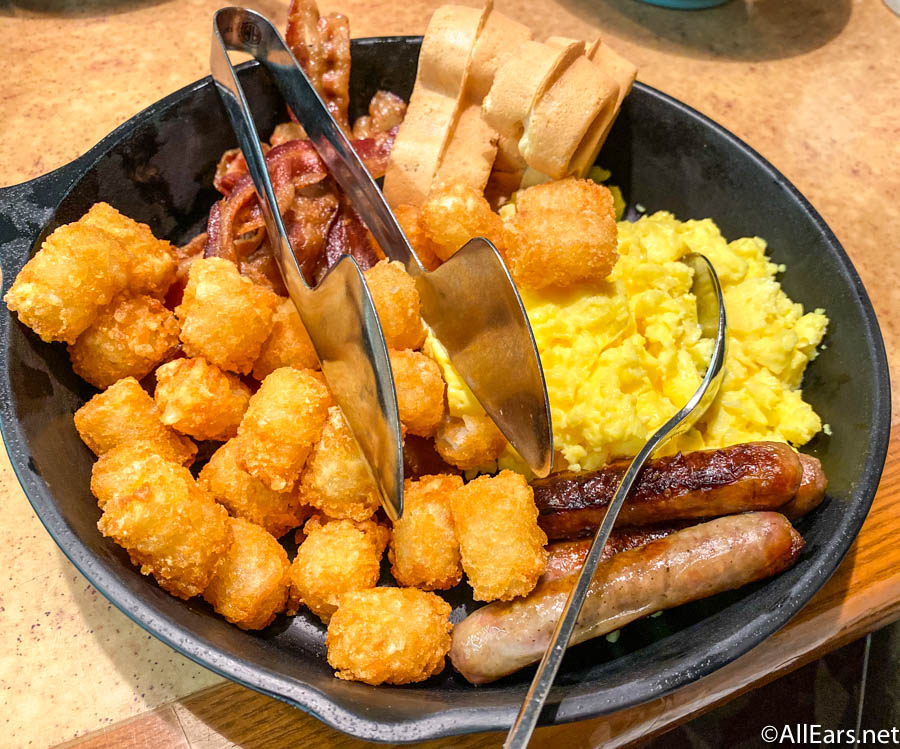 Beware the power of Mickey Waffles that can dethrone popular foods like pizza and steaks!
Snack – Kringla Kakeri og Cafe is nestled in a quaint little Norwegian village with specialty shopping, a high seas Frozen-themed adventure, and a cobblestone pavilion. Sweets smells from Kringla fill the air of the entire Norway pavilion, enticing guests to stop in for a sweet snack with international appeal.
One of the biggest draws to Kringla are the freshly baked desserts, easily viewed from glass display cases. Popular favorites like School Bread and Lefse (which is traditional potato bread with butter and cinnamon sugar) are sure to please your sweet tooth. Draft Nordic beers and specialties like Viking Coffee are also served.
Special Events
Each of these parks do have some special events that happen seasonally or even happen year-round that deserve a mention.
Hollywood Studios
Hollywood Studios is the home to Galaxy's Edge and a bulk of the Star Wars representation you'll find at the Disney parks. So when May the Fourth (get it, like "may the force"?… you get it, you're an informed reader) rolls around Hollywood Studios has a whole host of events around that date that can sometimes take up the whole month of May. If you're a Star Wars fan, and you're visiting during May, then Hollywood Studios is the place to be.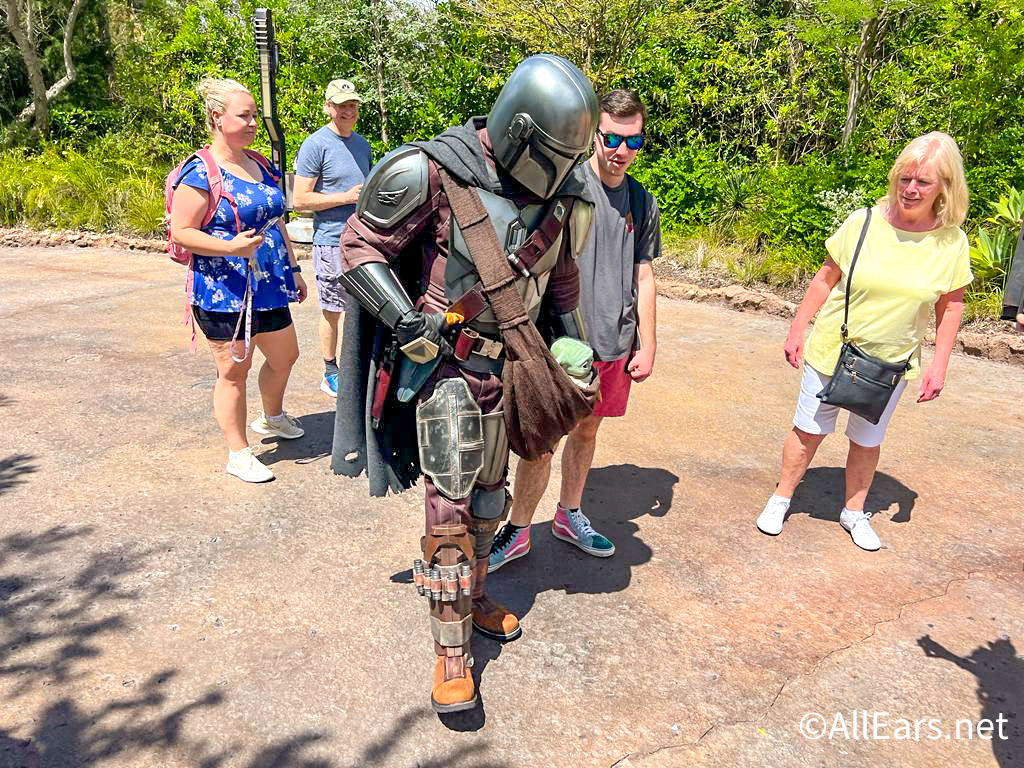 Even if you're not visiting during May, the other Star Wars special offerings at Hollywood Studios may tip the scales in this park's favor. Options like the Build Your Own Lightsaber and Batuu Bounty Hunters will immerse you in that Star Wars universe.
EPCOT
We don't even need to say it, do we? The FESTIVALS!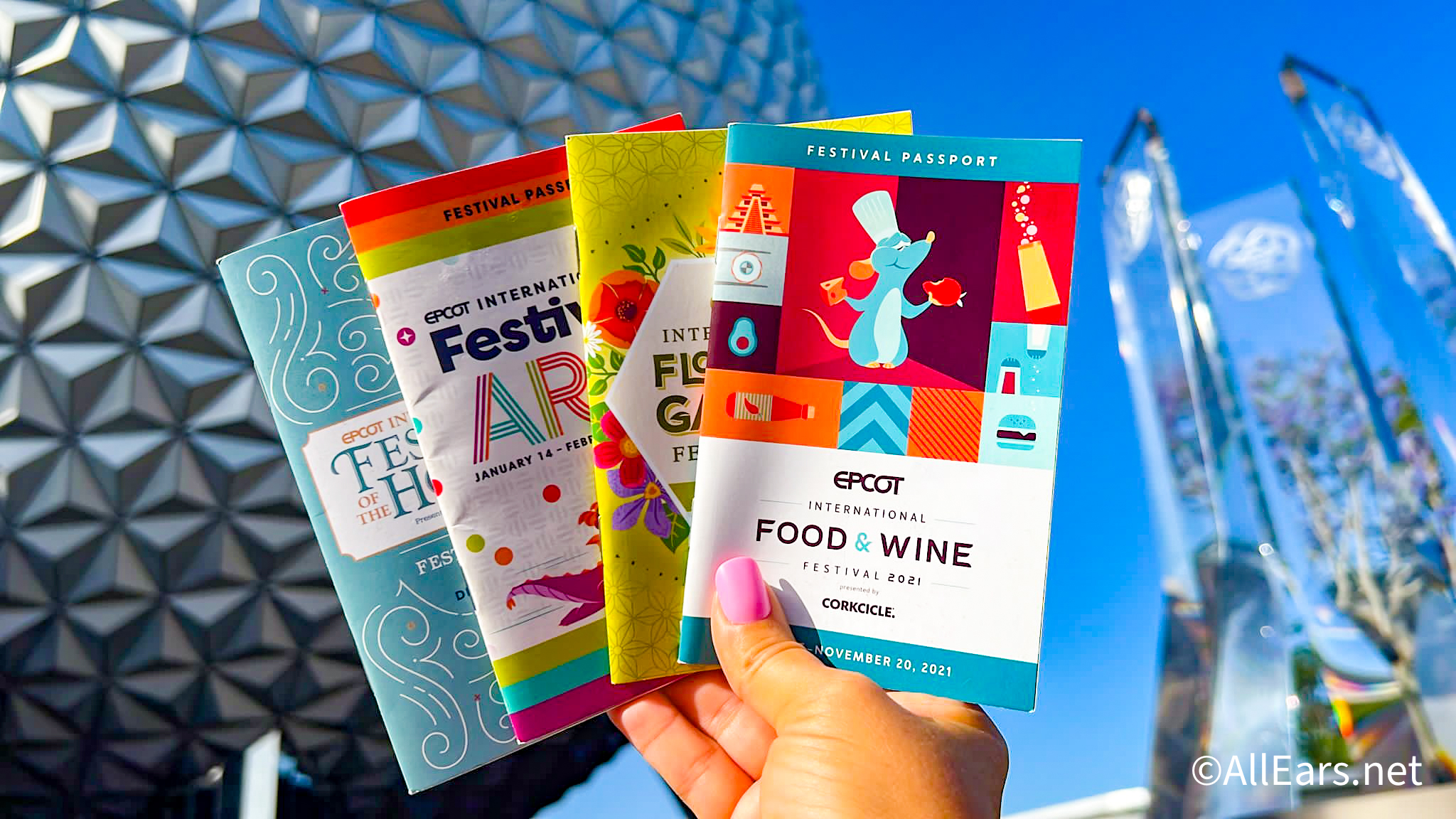 EPCOT hosts four festivals during the course of the year, which means it's rare that there's a time in the year when there ISN'T an EPCOT Festival happening.
Each Festival comes with food booths, special activities and events, entertainment and concerts, and merchandise. So much to see and do!
And that's not all. There is also a special interactive scavenger hunt you can engage in on your phone. The DuckTales World Showcase Adventure takes you on an adventure around World Showcase with Uncle Scrooge, Launchpad McQuack, the nephews, and the whole gang to "solve a mystery, and rewrite history." Woo-hoo!
Nighttime Show/Fireworks
Both parks have nighttime shows.  And both are enjoyable, but choosing a favorite between them can be a divisive topic.
Hollywood Studios
Hollywood Studios has three nighttime shows. Fantasmic!, Disney Movie Magic, and Wonderful World of Animation.
Fantasmic! is a large-scale nighttime spectacular with characters, water effects, fireworks, lasers, and pyrotechnics. It recently received an update to include songs and Disney friends. Can Mickey and the gang save the day from the Villains?! Find out in this exciting show!
Disney Movie Magic and Wonderful World of Animation are two projection shows that have their own theme and plot line but are both projected on the front of the Graumann's Theatre and surrounding buildings taking the audience on a journey through motion picture magic.
EPCOT
A big and grand as EPCOT, it only has two nighttime shows. The firework spectacular for now is EPCOT Forever, and Spaceship Earth is transformed into a "Beacon of Magic" nightly with a light and music show that changes seasonally.
We know that EPCOT will be receiving a new firework show, but Disney hasn't released what it will be or when it will be available, so in the meantime, we'll just continue to enjoy the nostalgia of EPCOT Forever.
X Factor
We can't ignore the fact that each park has its own special something, a certain je ne sais quoi, that X factor. Sometimes it's part to put your finger on. you just like it and can't describe it. But in our case, we like it and we do define it.
Hollywood Studios
Hollywood Studios has a few experiences that we love that just can't be categorized.
We love the Walt Disney Presents experiences that takes guests through the history of Walt Disney and how the Disney brothers invented and created the company that we've come to love and enjoy. There is no other spot in the Disney World parks like this, and it gives Hollywood Studios that little something extra.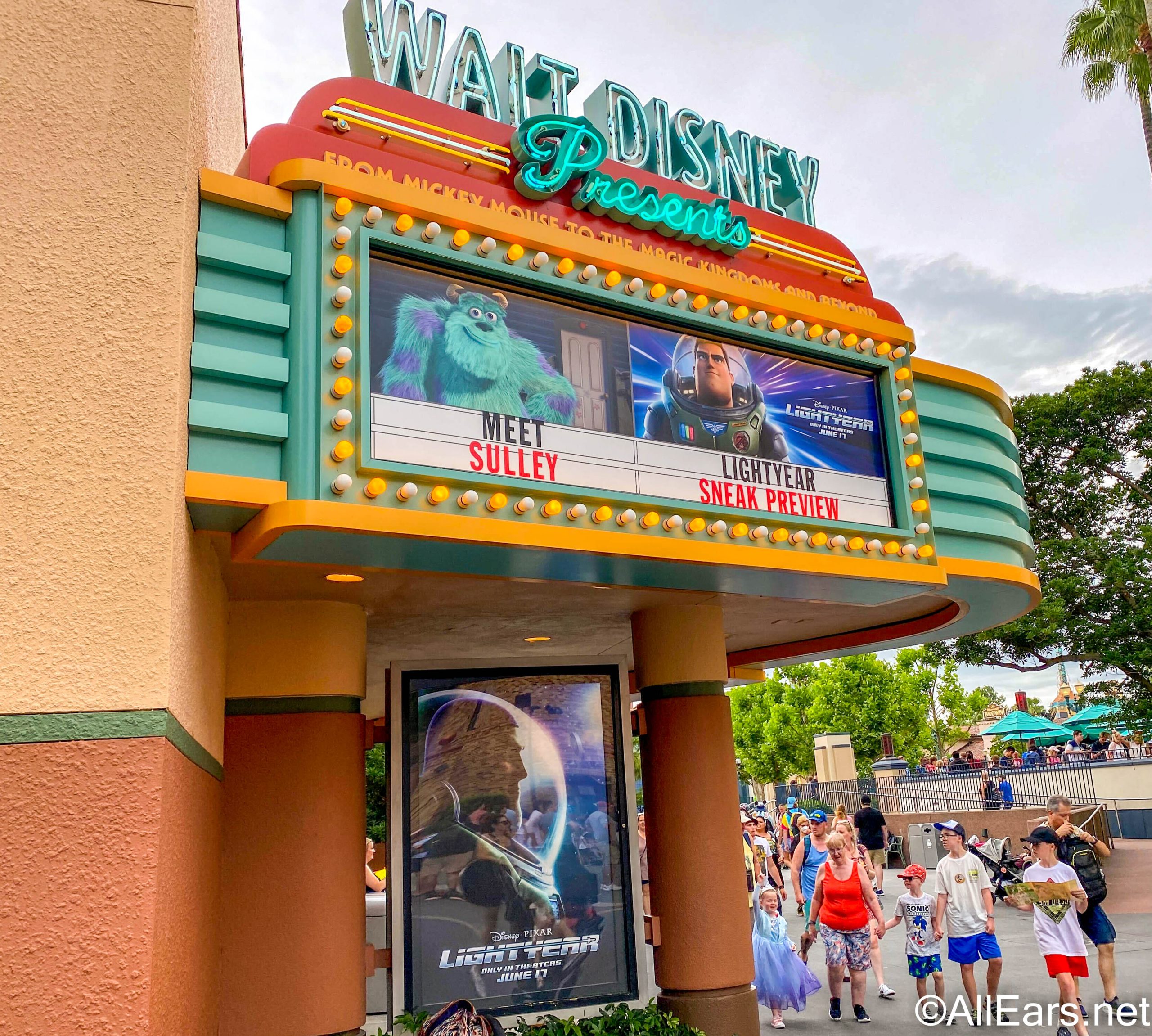 Also at Hollywood Studios is one of the only spots where you can visit a theme park within a theme park. It's an icon, it's a memory, it's a vibe, it's Potatoland! If you're not familiar with Potatoland, you'll want to watch some Mickey shorts on Disney+ or take in Vacation Fun while you're in Hollywood Studios, and then post for a picture with that famous potato.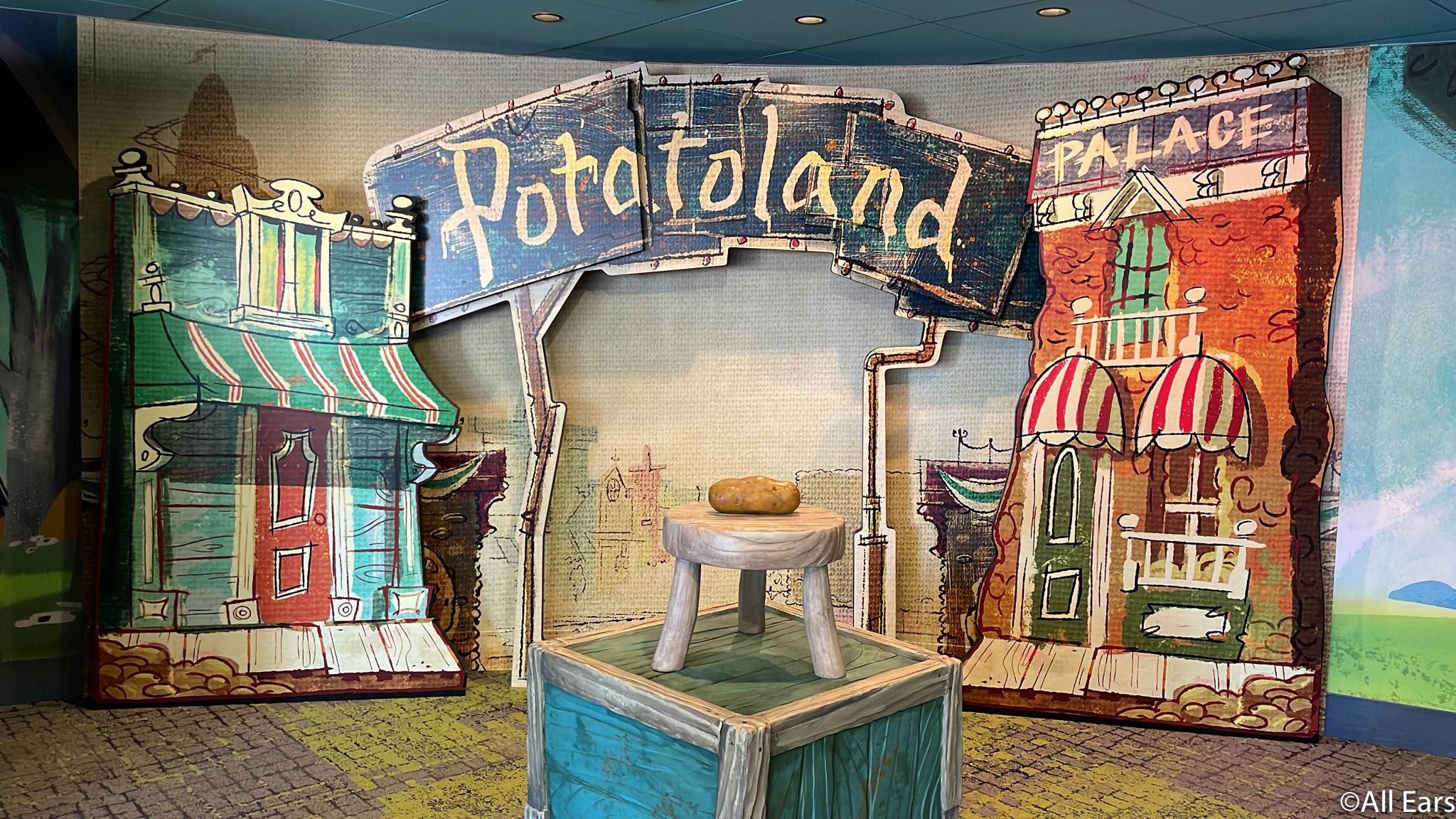 Finally, we've mentioned it before, and we say it again; we 🧡Muppets. And Hollywood Studios is one of the few spots that celebrates this eclectic group of wacky entertainers.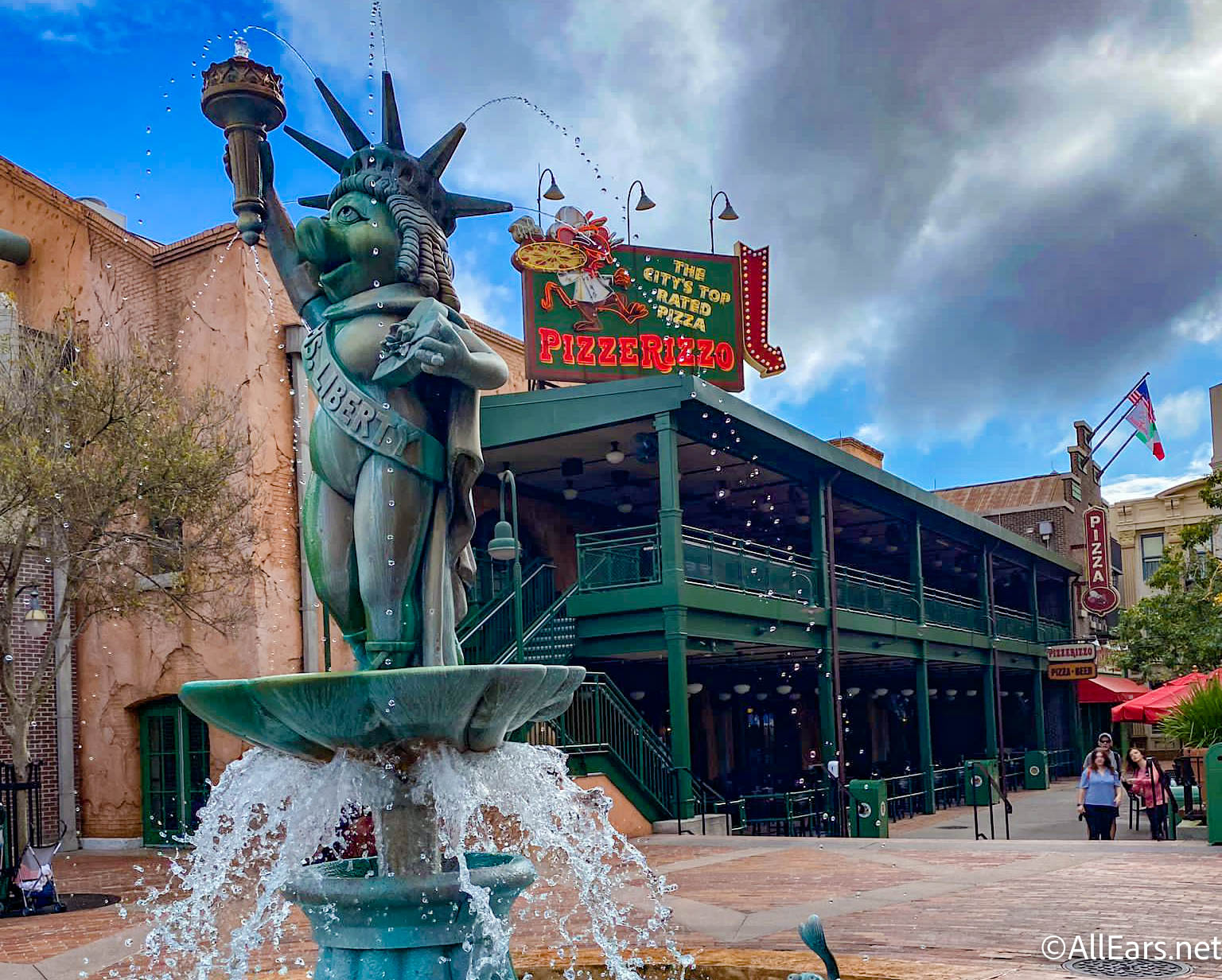 We want more Muppets, and we wish this area would get a bit of an update and enhancement, but while we wait and binge Muppet Mayhem, yet again, we'll continue to enjoy Grand Avenue and the Muppet Courtyard.
EPCOT
Does EPCOT really need anything else beyond all of those Festivals? Probably not, but EPCOT is extra. What is that special something we're calling out in EPCOT? Club Cool.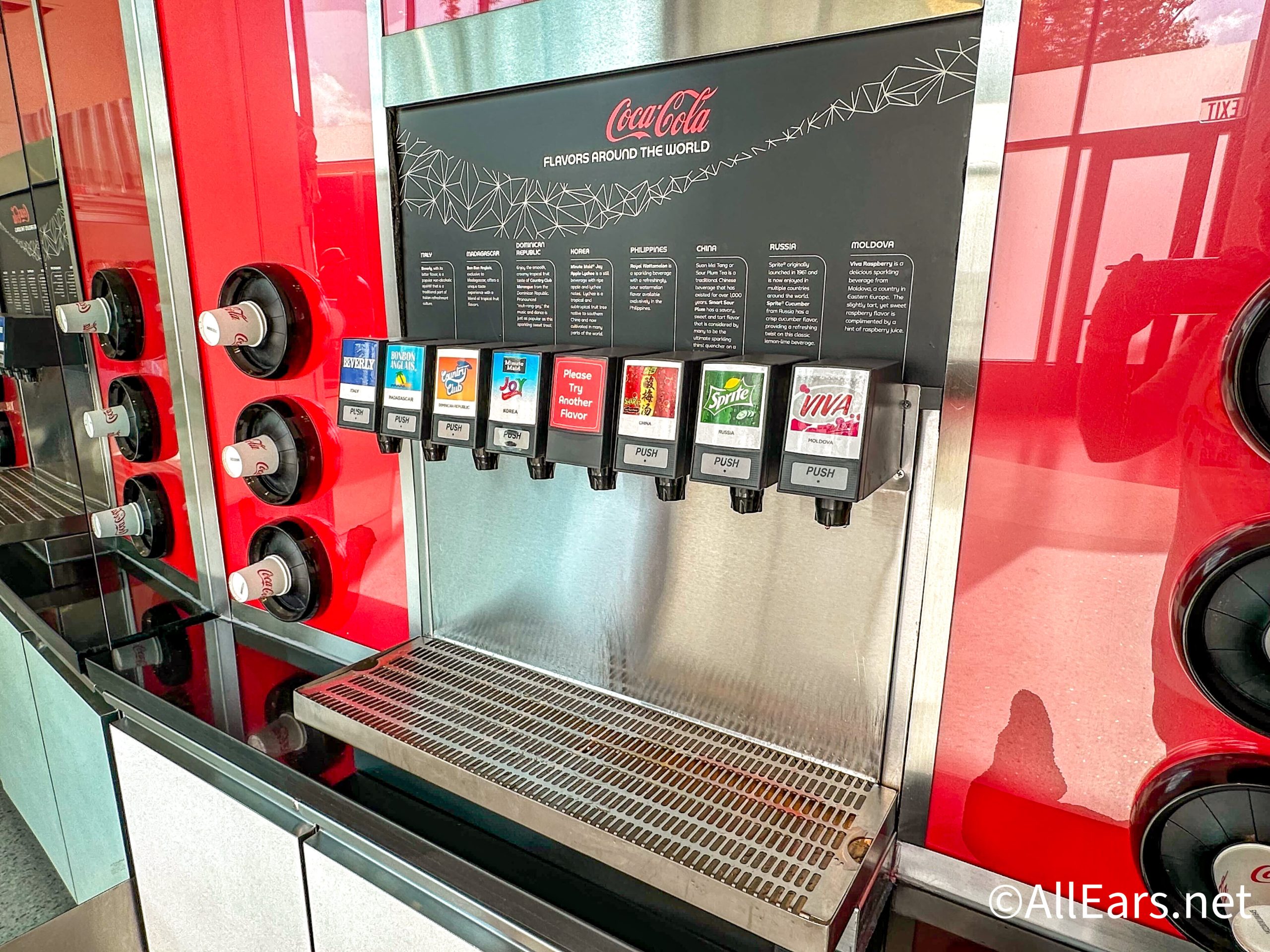 We love that it's free, we love that it's experiential, we love that the whole family can engage in tasting sodas from around the world. Club Cool holds that core memory experience, because you'll never forget the first time you tasted the Beverly.
So who is the winner in the EPCOT vs. Hollywood Studios throwdown? It's hard to say!! It depends on when you're visiting, what your priorities are, who all is in your travel party. So remember that notepad and pencil we asked you to grab earlier? What notes did you take down? What priorities made your list?
We did the research and presented you with the facts, but only YOU can decide where you want to spend your time and money!
Which park is the winner for you? Let us know in the comments below!