Remember when Disney couldn't stop talking about the metaverse or next-generation storytelling and the possibilities that could hold? Well, we may now be seeing the start of Disney's true dive into the metaverse, but not as you might have expected.
Former Disney CEO Bob Chapek was a big proponent of Disney's involvement in the metaverse, but Bob Iger's return at Disney caused some big changes in many departments — including the next-generation storytelling team. In fact, under Iger, Disney totally eliminated the unit that was responsible for creating strategies for Disney's metaverse…but that doesn't mean Disney is done with virtual reality yet, and now we have a HUGE reveal of what those plans seem to include.
Apple has just announced a BRAND NEW device — the Apple Vision Pro: Apple's first spatial computer, and it has some HUGE possibilities for Disney fans.
The Apple Vision Pro is essentially a virtual reality headset that Apple says "seamlessly blends digital content with the physical world, while allowing users to stay present and connected to others."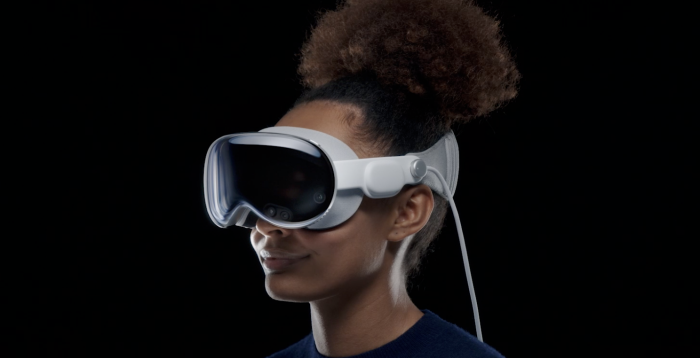 CNBC shared a video of the presentation Disney CEO Bob Iger gave in regards to this new technology and let's just say it might make this particular virtual reality headset VERY attractive to Disney fans.
According to Iger, Disney has been looking for "new ways to entertain, inform, and inspire" fans by combining creativity with technology. And Disney feels that the technology of Apple Vision Pro is a "revolutionary platform" that can make Disney's vision a reality.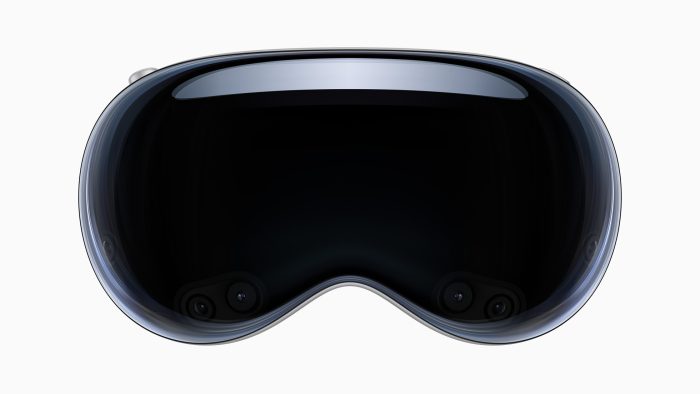 Iger shared that Apple's new device will allow Disney to create "deeply personal experiences" that will bring fans closer to the characters they love and more "deeply immersed" in Disney's stories.
According to Iger, the device will allow them to bring Disney to fans everywhere "in ways that were previously impossible." Iger then shared a video sneak peek of some of the things Disney has been "dreaming up." The video shows a virtual reality setup for Disney+…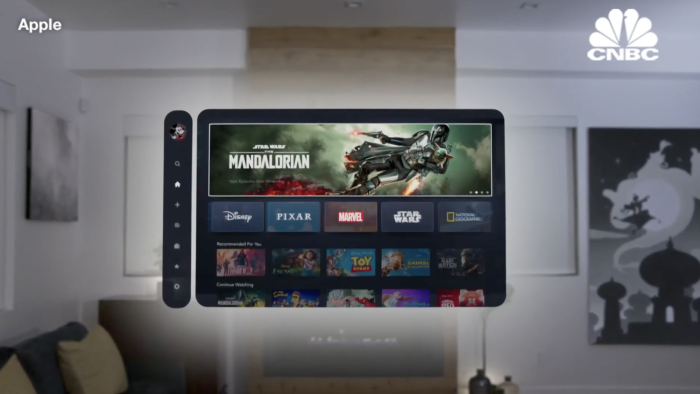 …and explains that you could view your favorite stories in "unexpected ways"…
…or "unbelievable places." Some of the images make it seem like you could choose to watch a Disney+ show like The Mandalorian in a fully immersed Star Wars-themed environment.
The video also teases how sports viewing could change with the new technology, allowing you to view multiple screens and sports at once…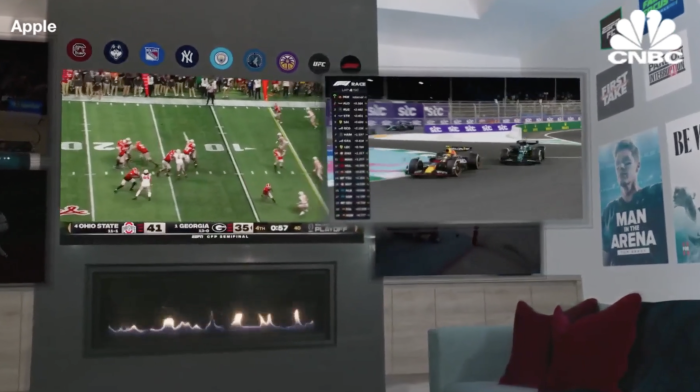 …view data and interactive elements related to the games you're watching…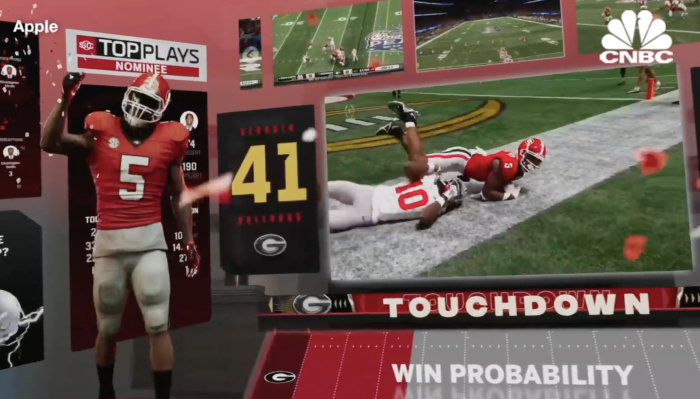 …and even see unique replays on your very own coffee table.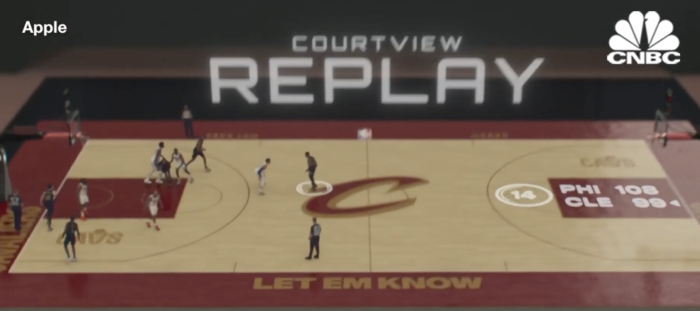 The video also shows what it might be like to travel on a National Geographic adventure, bring friends like Mickey Mouse right out of a painting and into your living room, and even tap your finger on your kitchen counter to bring the Main Street Electrical Parade into your house.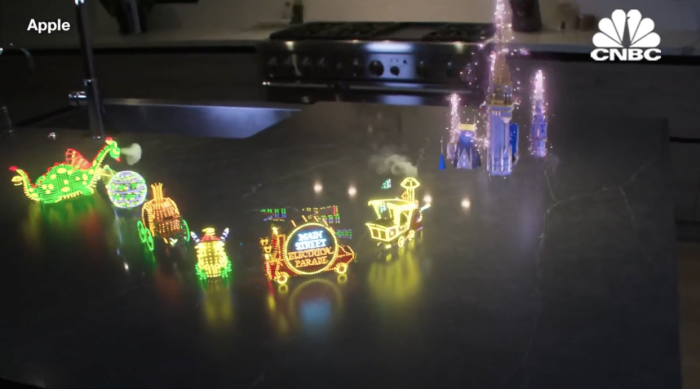 You could even have fireworks in your kitchen!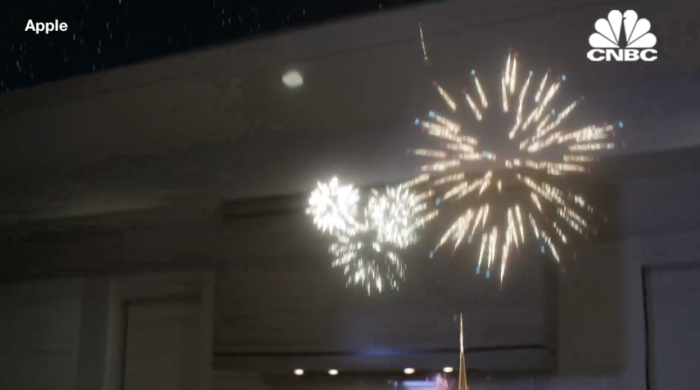 Plus, the video teases the possibility of a Marvel component where you could become a superhero. It seems to involve Marvel Studios' "What If?" show.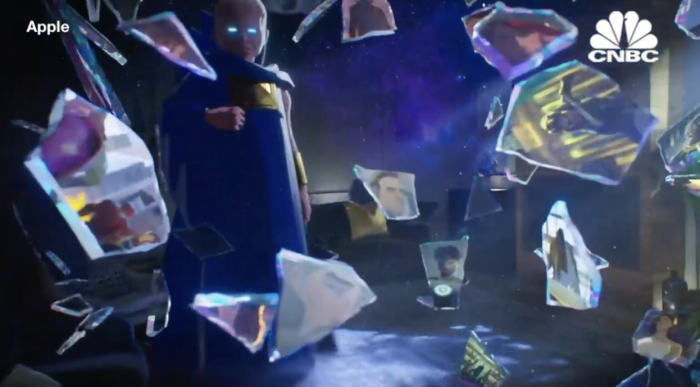 According to Iger, Disney is proud to be partnering with Apple to bring fans "real life magic" through this new device. He also announced that Disney+ will be available on the Apple Vision Pro on day 1.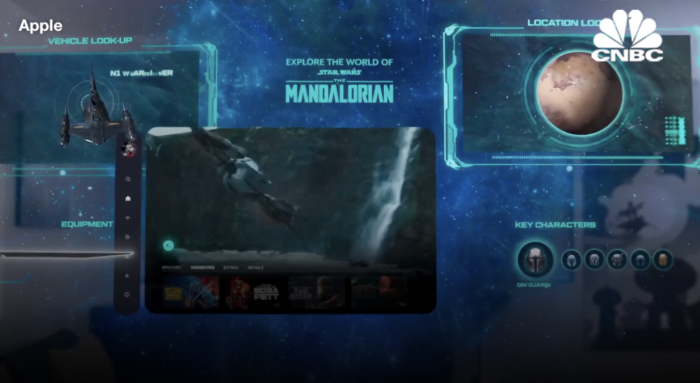 Iger said that the video shows just a few of the ways Disney will be able to enter your world with Apple Vision Pro, but more details are set to be shared in the coming months. Check out the full video presentation below!
We cannot wait to see just what this new technology will bring, how it'll make Disney stories more interactive at home, and whether it'll be something that you will find to be worth it.
But be warned — the device won't come cheap. According to Apple, the Apple Vision Pro device starts at $3,499 (U.S.) — WOWZA. That's quite the cost. It will be available early in 2024 on apple.com and at Apple Store locations in the U.S.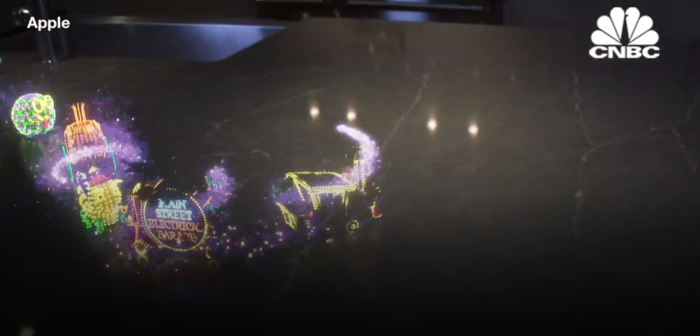 Stay tuned for more details.
Join the AllEars.net Newsletter to stay on top of ALL the breaking Disney News! You'll also get access to AllEars tips, reviews, trivia, and MORE! Click here to Subscribe!

Would you buy this new Apple device? Tell us in the comments!