We've been on a long, fun, complicated, satisfying, confusing, and pricey journey ever since Disney World launched the new (paid) way to skip the lines at select attractions throughout the parks last year — Disney Genie+.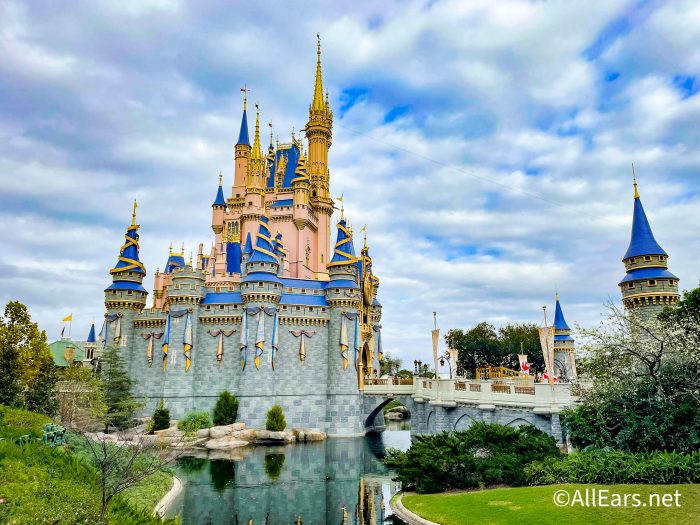 The system is very different from its predecessor, FastPass+, and it comes with a whole host of new rules, new fees, and new tech features to figure out, so we've been bringing you our best tips and tricks to make the most of your park day and purchase. And, if you've been keeping up with us, you know that just a few days ago, Disney updated their website to set guests' expectations for how many attractions they can experience in a day with Genie+, so we decided to take on a new challenge and put that theory to the test!
As a quick refresher, Disney Genie+ is the newest way to bypass the standby line at several attractions throughout the Disney Parks. It costs $15 per person, per day and, while the idea is similar to the FastPass+ system that we once knew in that you're securing the next available return window, there are some key differences.
For one, Genie+ Lightning Lanes can only be booked on the day of your visit (not in advance) beginning at 7AM, and you can only make your next Lightning Lane reservation when (1) you've scanned into your first Genie Plus attraction OR (2) 120 minutes have passed since you've made your last reservation (don't forget, the two-hour countdown starts at park OPEN, not at 7AM when you can make your first selection).
Disney recently updated the Genie+ website to state that "On average, guests can enter 2 to 3 attractions or experiences per day using the Lightning Lane entrance if the first selection is made early in the day." And, though this may be a good place to set your expectations, we've found that we can ride MUCH more with Genie+ in our experience. So, we're putting that to the test once again and seeing how many of the 24 Genie+ attractions in Magic Kingdom we can tackle in ONE day!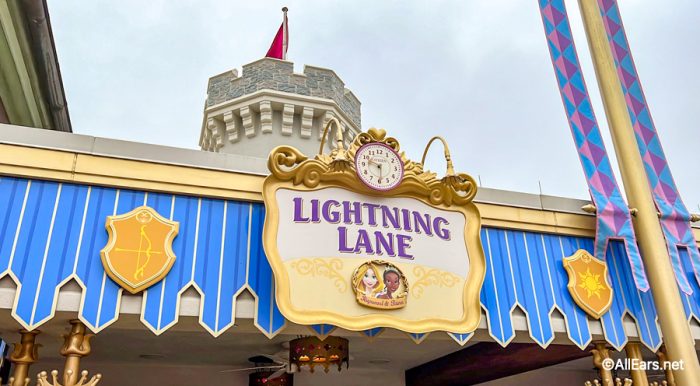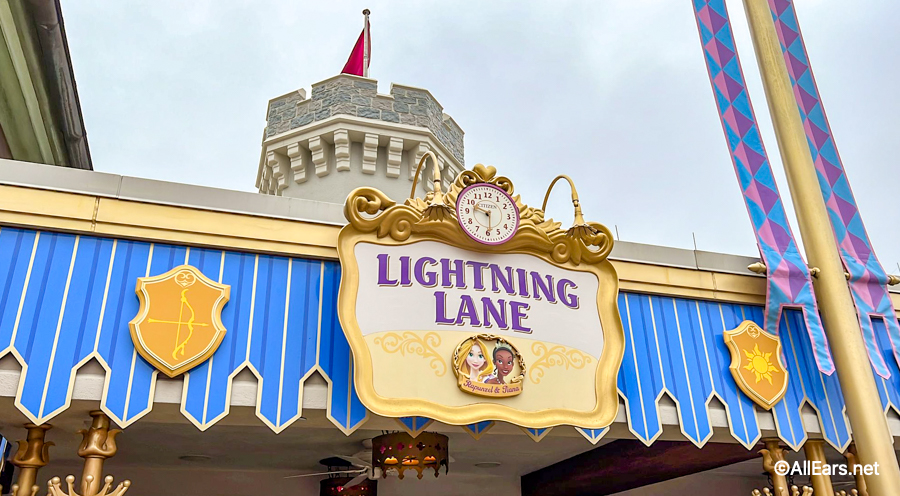 Spoiler alert — we WERE able to secure a Lightning Lane return window for every single Genie+ attraction in Magic Kingdom! Here's how!
7:00AM
Like Disney suggests on their website, the best way to maximize your Genie+ selections is to start bright and early! All guests who purchase Genie+ (whether it's before your trip or on the day of your visit) can select their first Lightning Lane reservation at 7AM.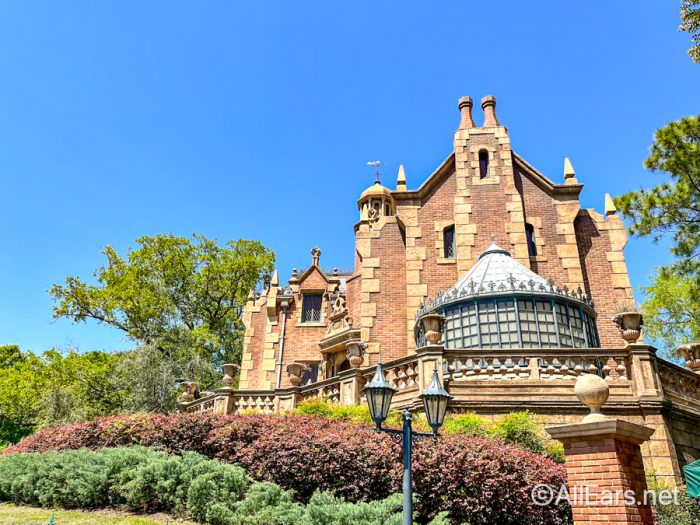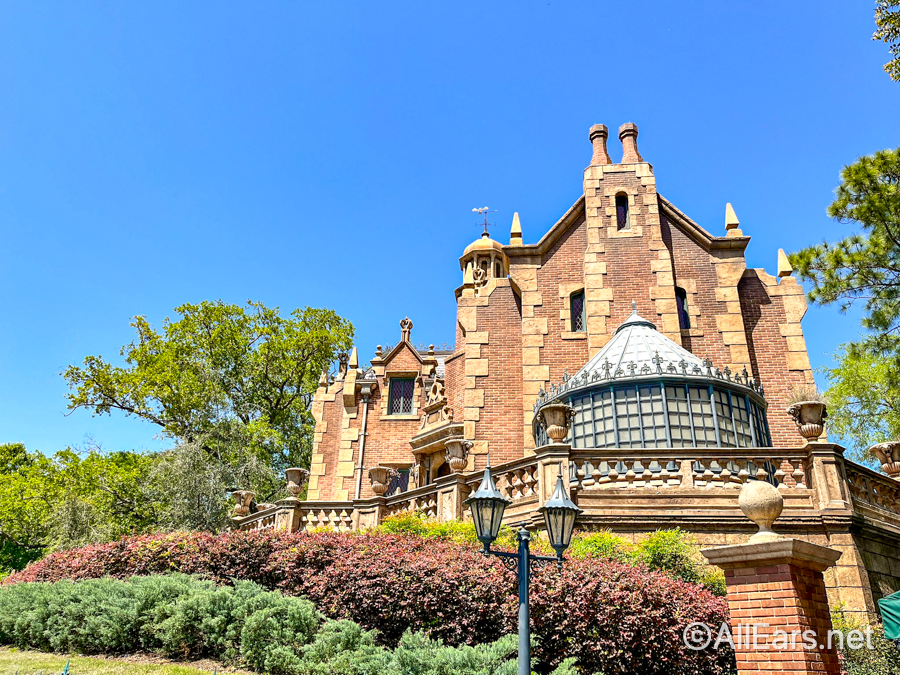 When you're visiting, which park you're headed to, and what attractions are your priority will determine the best strategy for securing that first return time, but since our goal for the day was to ride as much as possible, we opted for the earliest Lightning Lane window possible which ended up being Haunted Mansion at 9:15AM-10:15AM.
9:00AM
To truly ride all of the attractions with Lightning Lanes in Magic Kingdom, we also needed to purchase an Individual Attraction Selection (which is separate from Genie+). Disney recently made a few adjustments to what rides are an extra cost, so we didn't have to worry about paying to ride Space Mountain separately (it's included in Genie+ for a limited time) and just needed to secure a time for Seven Dwarfs Mine Train.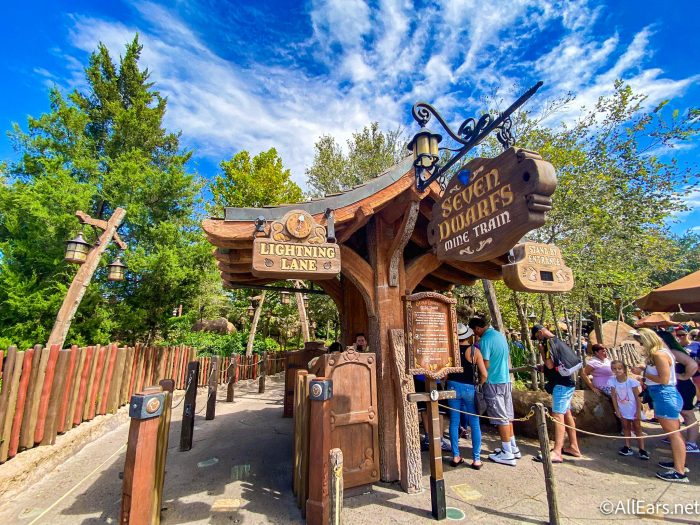 Unlike Genie+ selections, Individual Attraction Selections can only be booked by guests staying at a Disney World hotel at 7AM. So, since we weren't staying at a Disney resort we had to wait until 9AM (park open) to book ours and ended up securing a 7:25PM-8:25PM return time.
9:23AM
By 9:23AM, we were already done with our ride on Haunted Mansion and it was time to make another selection. The next available was "it's a small world" for 9:45AM-10:25AM so that's what we booked!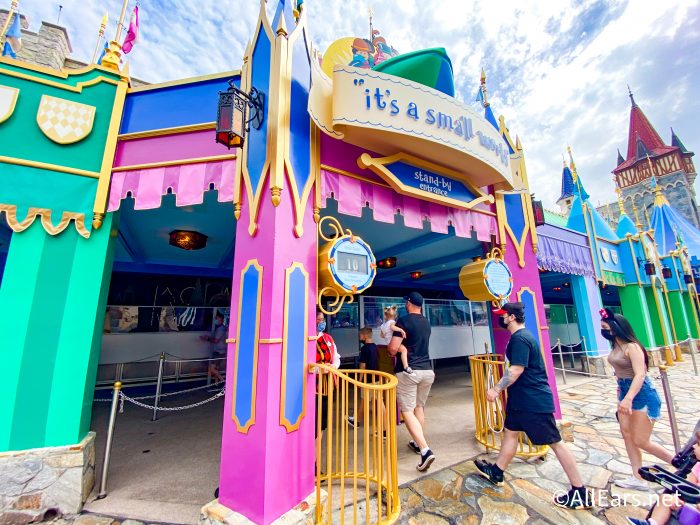 9:57AM
We scanned into "it's a small world" at 9:57AM (tackling TWO rides before the park had even been open for an hour) and then snagged a Lightning Lane for Under the Sea — Journey of the Little Mermaid shortly after for 10:05AM-11:05AM.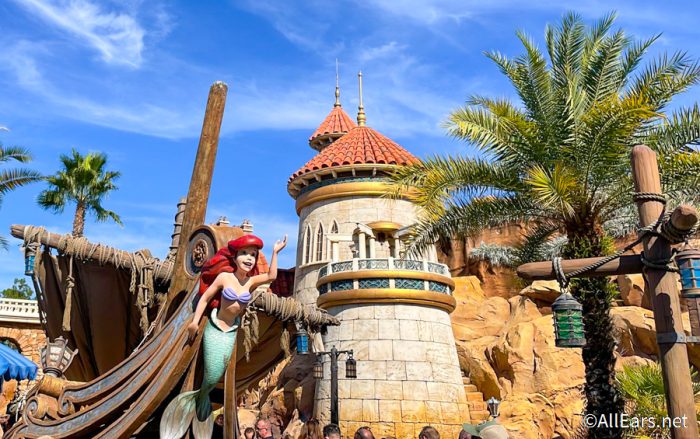 10:11AM
Up to this point, we had ridden attractions that aren't necessarily "hot commodities" on Genie+ (aka they're a bit easier to book usually), but our first "hard-to-get" attraction became available after riding Journey of the Little Mermaid for a 10:25AM-11:25AM return window — Splash Mountain!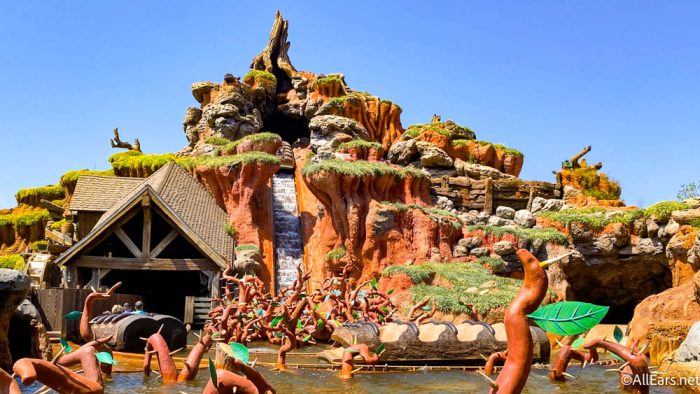 10:30AM
We accepted our fate of getting wet before the clock even struck 11AM (it was already warm enough to warrant a cool off anyway) and were then able to get a Lightning Lane for the Magic Carpets of Aladdin for a 10:50AM-11:50AM return time. 
11:05AM
By 11:05AM we had made our way across the park to the Magic Carpets and it was time again to make our next selection. We decided to take a break from rides to go visit Mickey at the Town Square Theater from 11:20AM-12:20AM.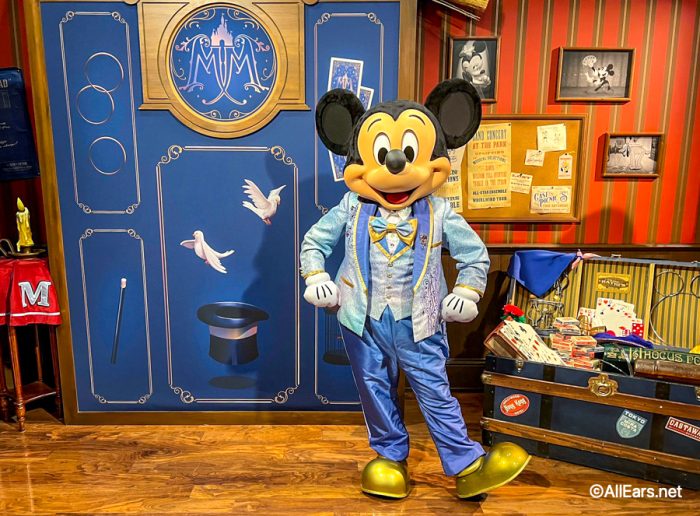 These character sightings are a newer addition to Genie+ and it can save you a lot of time if you take advantage of the lighting lanes!
11:25AM
While we waited in the short line to meet Mickey, we were able to score a Lightning Lane for Disney's Festival of Fantasy Parade at 11:30AM.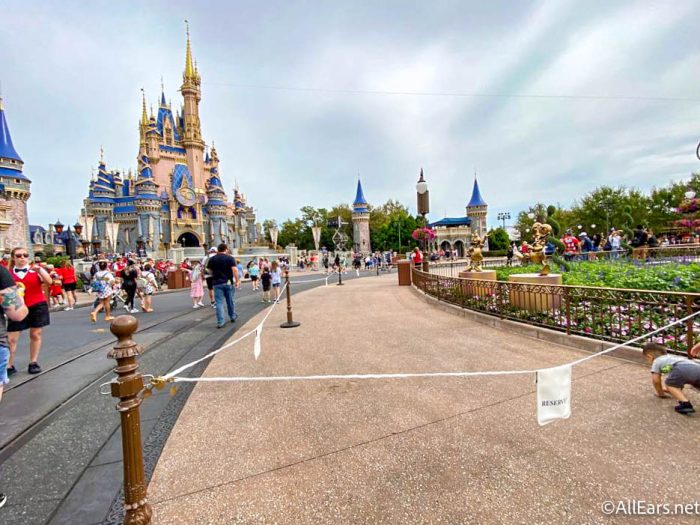 The parade is another recent addition to Genie+, granting guests who utilize the Lightning Lane option a special viewing area in the hub area near Cinderella Castle.
11:34AM
While we waited for the parade, we employed one of our best techniques for getting an earlier (or hard-to-get) Lightning Lane return window — the "fiddle-faddle." Basically, we just keep refreshing the Genie+ page on the My Disney Experience app until a reservation we want comes up!
And, it was a success — we were able to book Jungle Cruise for 7:50PM-8:50PM. Now, this is where the 120-minute rule comes into play. Because the Lightning Lane return window we selected was more than 2 hours after the time we booked it (in this case it was about 8 hours), we just needed to wait an additional 120 minutes (so 1:34PM) before we could book another attraction for earlier in the day!
1:35PM
So, when the clock struck the 120-minute mark, we booked our second experience — Mickey's PhilharMagic for 1:40PM-2:40PM.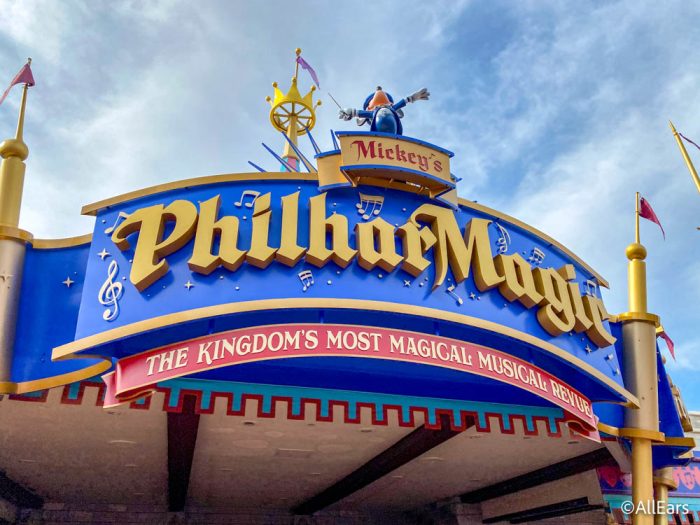 1:45PM
We scanned in for PhilharMagic and decided we would head right across the way for a 2:10PM-3:10PM Lighting Lane return time to go meet Tiana and Rapunzel at Princess Fairytale Hall.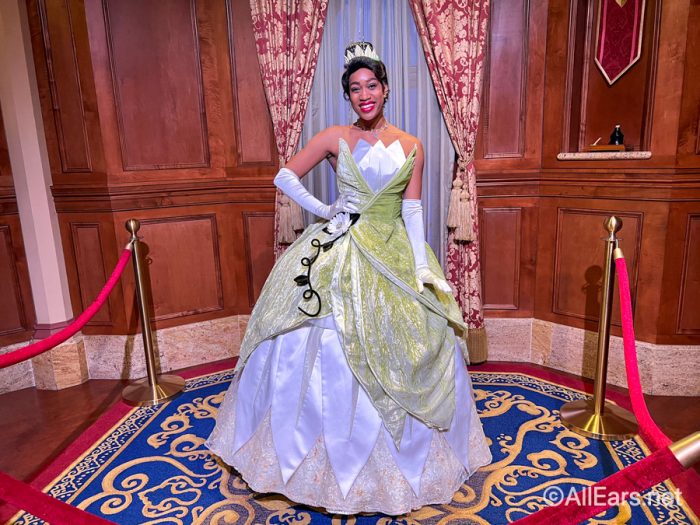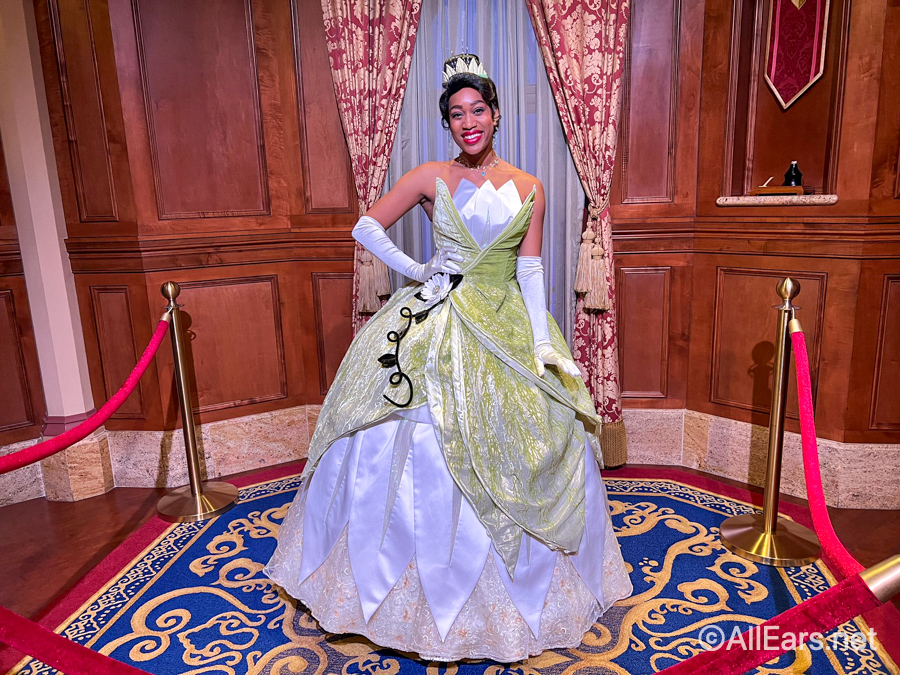 2:10PM
While we were waiting to meet up with the royal duo, we "fiddle-faddled" once again and were able to score a Lightning Lane for Big Thunder Mountain Railroad shortly after from 2:15PM-3:15PM!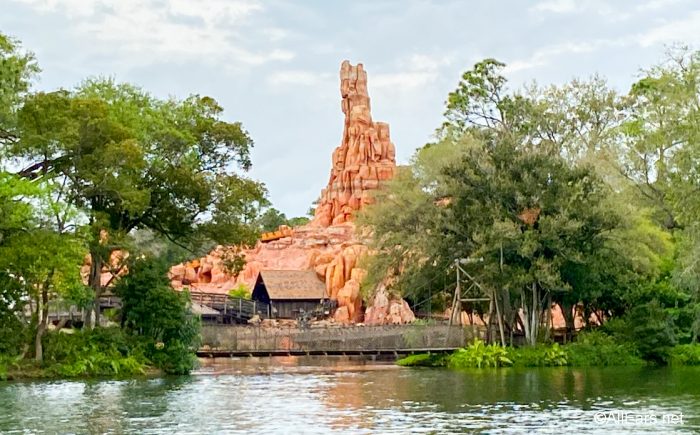 3:03PM
It took us a little bit of time to make our way over to Big Thunder Mountain, so we searched for the next available Lightning Lane after scanning in and grabbed a 3:20PM-4:20PM return time for Dumbo the Flying Elephant.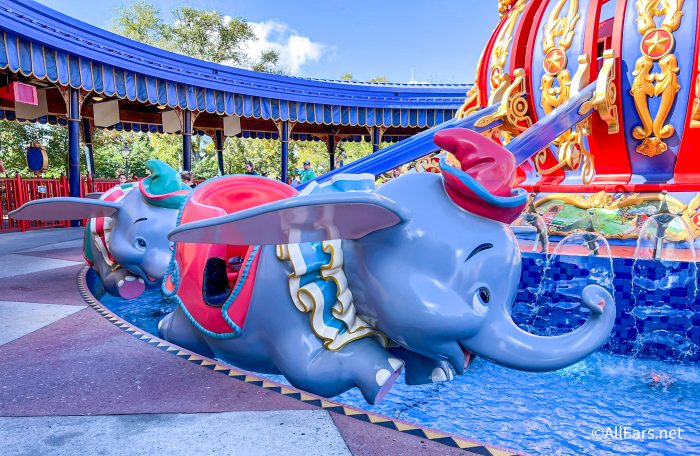 3:35PM
And, after riding Dumbo, we did some more fiddle-faddlin' and booked Peter Pan's Flight for 4:15PM-5:15PM!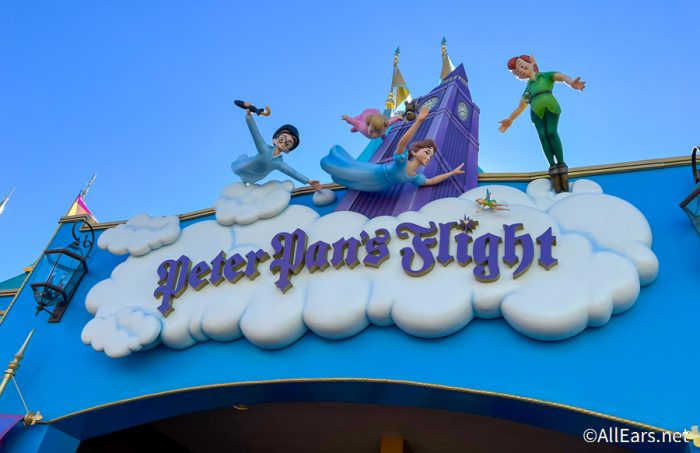 4:21PM
As we mentioned earlier, Space Mountain is currently included in the purchase of Genie+, so we didn't have to pay extra for our Lightning Lane return window of 5:25PM-6:25PM after riding Peter Pan.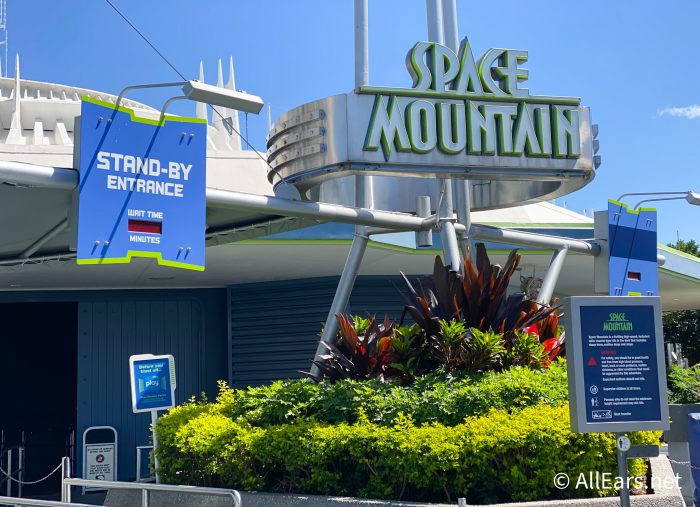 5:38PM
With only a few more Genie+ attractions to go in Magic Kingdom, our next Lightning Lane selection was Mad Tea Party from 5:40PM-6:40PM.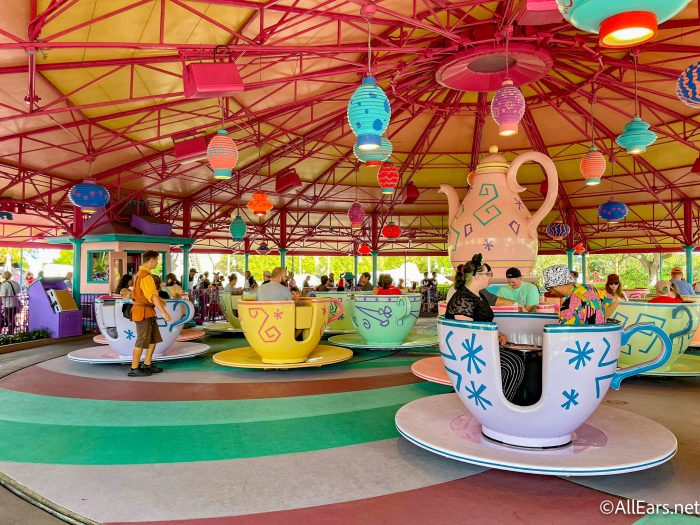 6:01PM
And, it wasn't too long after riding the tea cups that we were able to score a a 6:05PM-7:05PM return time for Goofy's Barnstormer. 
6:23PM
Then it was over to Monsters Inc Laugh Floor we went for a Lightning Lane reservation window from 6:30PM-7:30PM.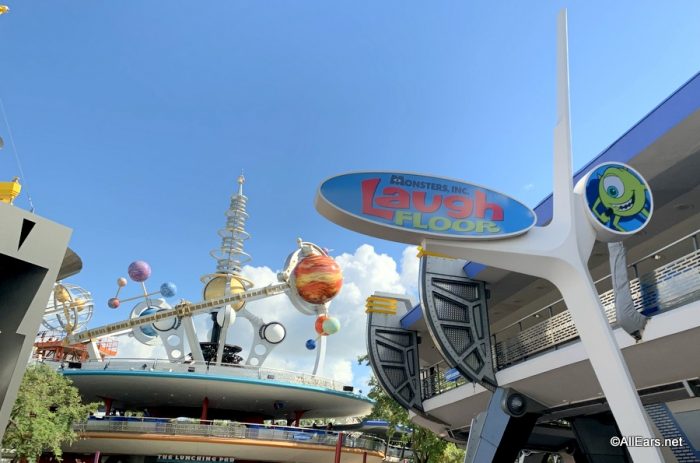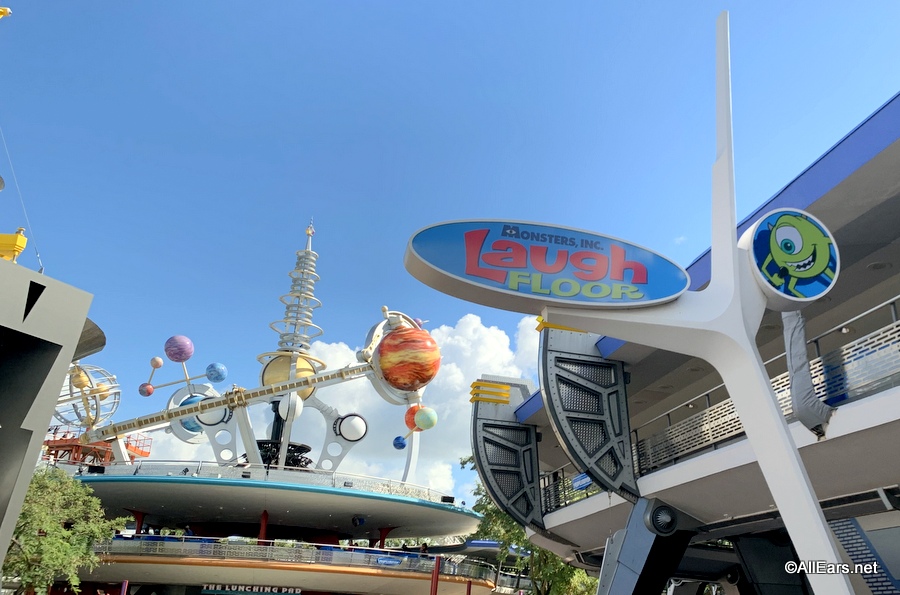 6:30PM
After scanning into Monsters Inc, we were lucky enough to find that a Pirates of the Caribbean return window of 6:30PM-7:30PM had popped up, making it so that we wasted no time at all between attractions!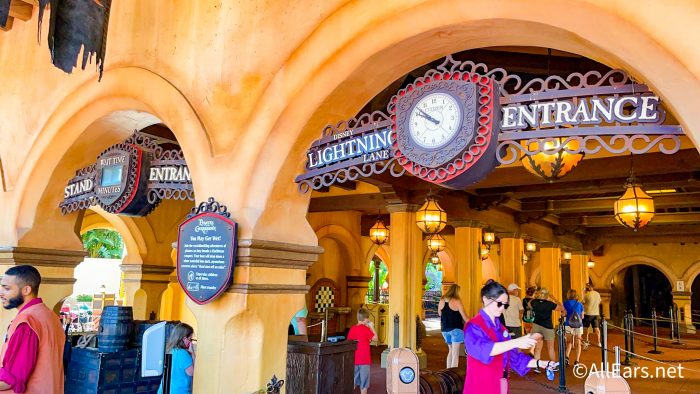 7:26PM
We then snagged a reservation to go meet Cinderella and Elena at 8:10PM-9:10PM, which left us just enough time to use that Seven Dwarfs Mine Train lightning lane that we had gotten earlier in the day (remember when we booked it nearly TWELVE hours ago?).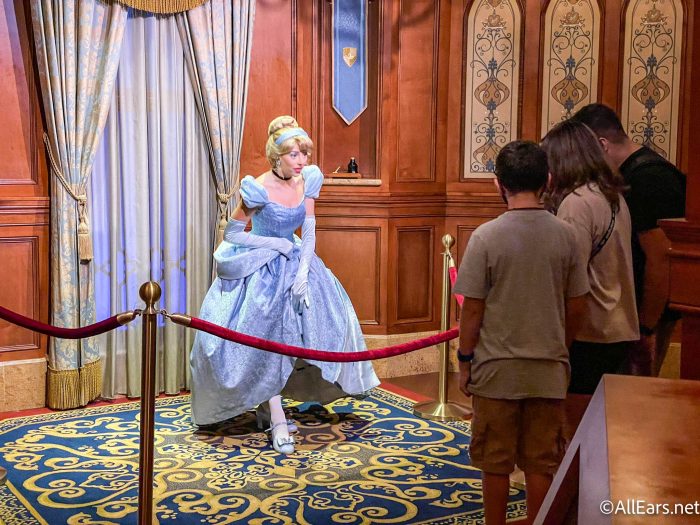 8:20PM
With only THREE more attractions to go, we snagged a Tomorrowland Speedway Lightning Lane for 8:25PM-9:25PM.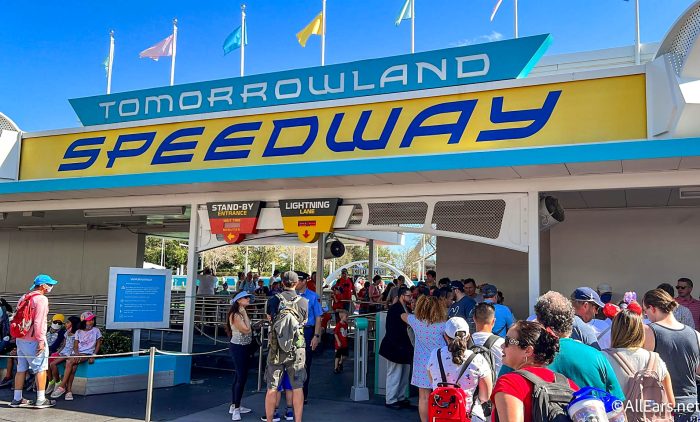 8:35PM
And, then we fiddle-faddled for a few minutes until we snagged Buzz Lightyear for 9:15PM-10:15PM.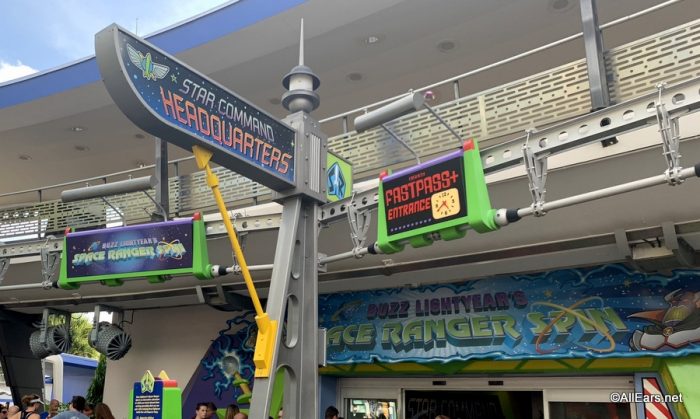 9:29PM
Finally, there was only one Lightning Lane left —The Many Adventures of Winnie the Pooh. And, after some refreshing, we were able to find a Lightning Lane for 9:50PM-10:50PM to wrap up ALL of the Genie+ experiences in Magic Kingdom!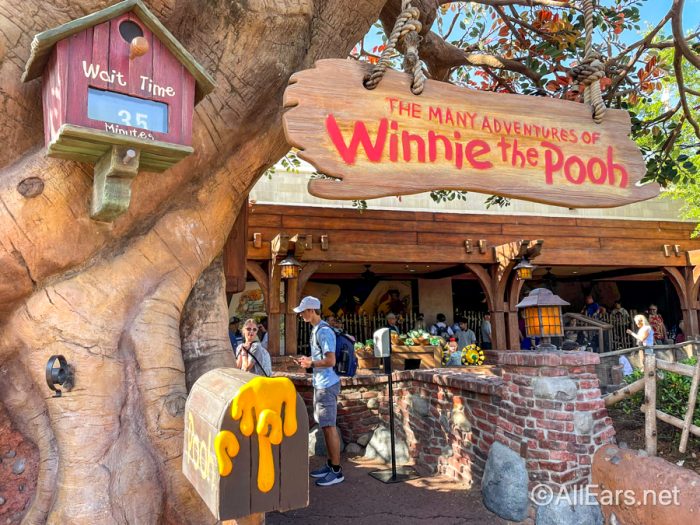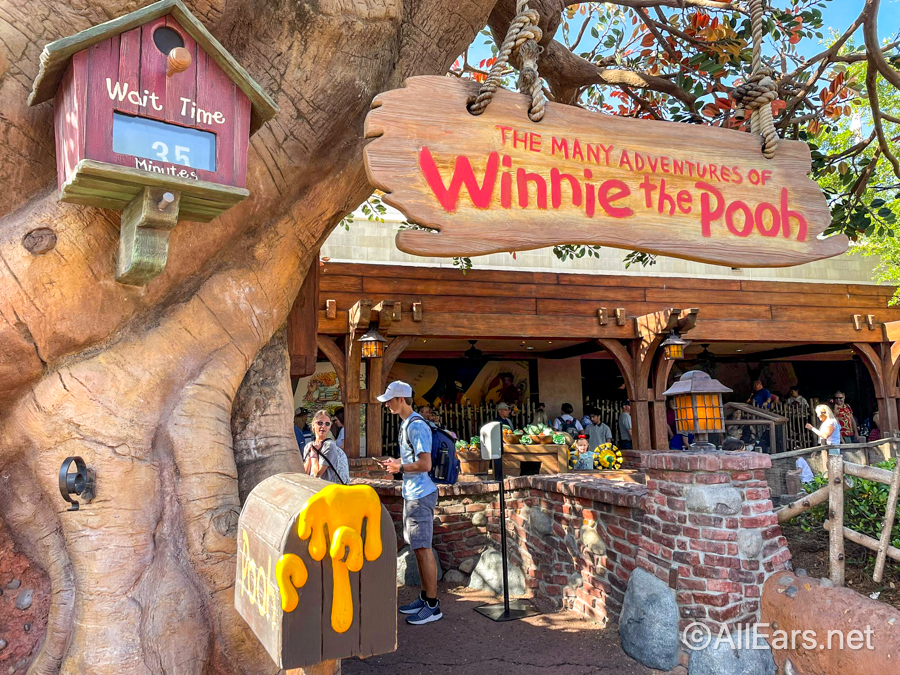 So, while Disney is probably right to set the expectations low at 2-3 attractions or experiences using Genie+, you can actually tackle MANY more attractions (if not all of them) if you really want to and don't mind spending a lot of your day refreshing the My Disney Experience app. That being said, you've got to be willing to take on the rides in the order that they become available rather than the order that makes the most sense for making your way around the park (we logged A LOT of steps this day).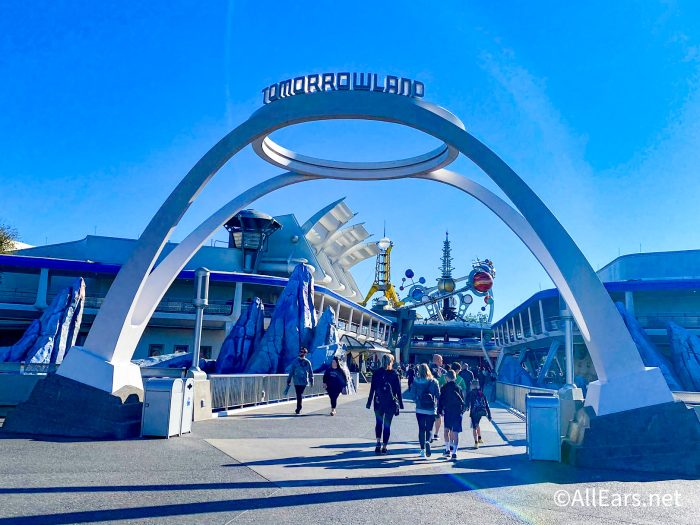 While we did this experiment as one person, it's important to note that Lightning Lane selections can be made for up to 12 people in your party at once, and the group number will not change your outcome. We have been told by Cast Members that while up to 12 people in your party can be added for Disney World, that they have found that it tends to work best with 10 or less — and we can't guarantee how easy it will be to dash across Magic Kingdom with a large group like that!
It's also important to consider the time of year that you're visiting Disney World (and even the park you're visiting), as the more people you have in the park, the fewer Lightning Lane return windows there are because they're being scooped up by other guests.
And, no matter what, you'll need to be prepared to spend the ENTIRE day in the park — as you can see it took us from 7AM to nearly 9:30PM to ride it all.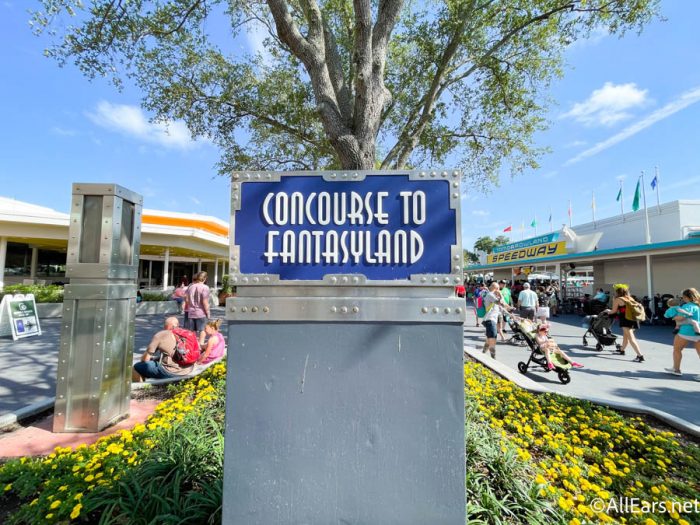 Now, even if you aren't able to book a lightning lane for every single Genie+ attraction on the day of your visit, there are a few other strategies to employ that will help ya ride everything you're hoping to! You can learn more about those in these posts:
And, we're not done testing out just how many rides you can really book with Genie+ in one day just yet! We're headed to all the other parks to try it out too, so be sure to stay tuned to AllEars for more!
https://www.youtube.com/watch?v=cVcqt9J2l-A
Click here to subscribe
Have you skipped the lines in Disney World using Genie+? Let us know in the comments!