Walt Disney World was a ridiculously hot place to visit in the summertime long before face masks came into our lives.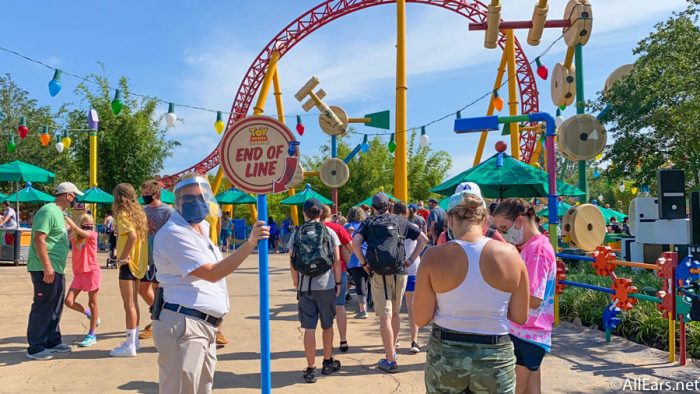 But we're learning it's harder now than ever before to beat the heat. In addition to wearing masks nonstop in the Parks, we've also been trying to limit our time inside confined areas such as shops and smaller restaurants (even though the air conditioning feels like it's blasting straight down from the polar vortex of heaven)!
Suffice to say, we've picked up
a few tricks for staying nice and chill

during your long, hot days at the Disney Parks!
Relaxation Stations
Disney World has set up several "mask-free" zones throughout each of its theme parks. Similar to Universal Studios' UREST Areas, in Relaxation Stations, guests are allowed to remove their masks temporarily while they practice social distancing in these designated areas.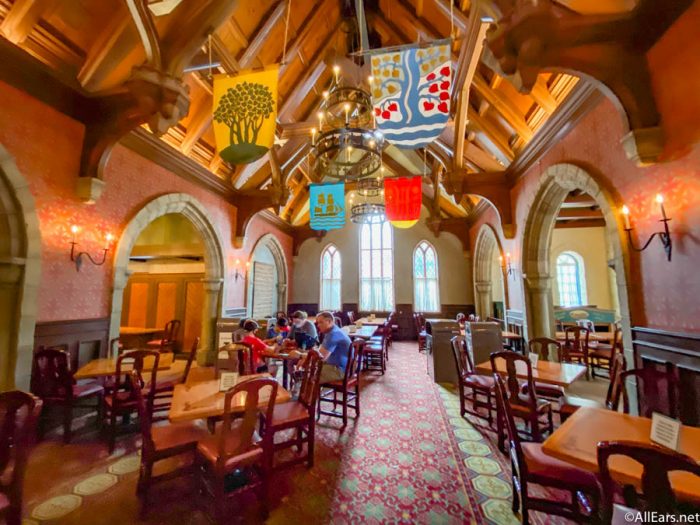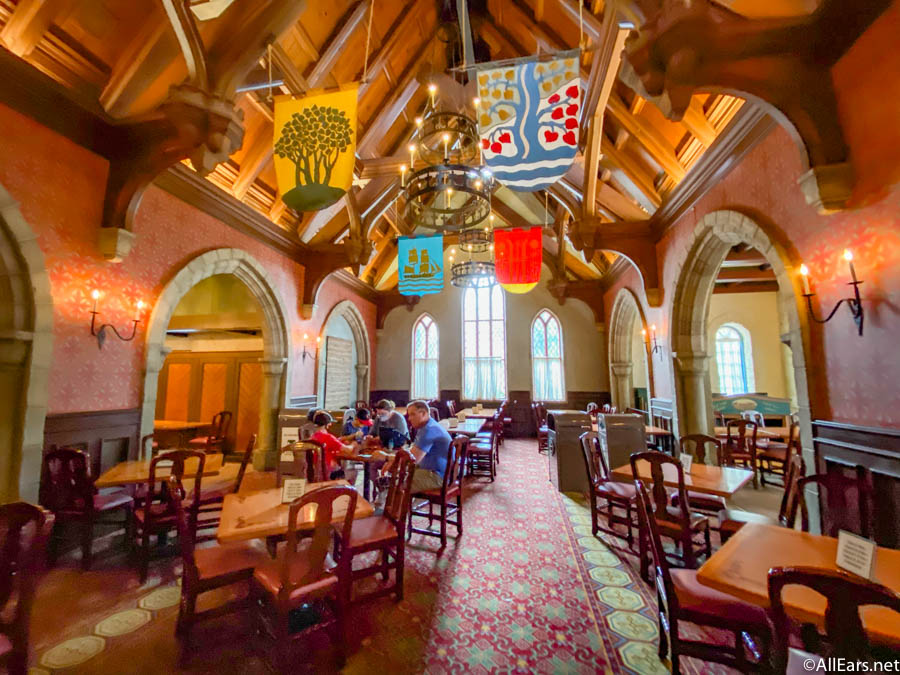 We've spotted them at Magic Kingdom, Disney's Animal Kingdom, Disney's Hollywood Studios, and EPCOT, and we gotta say, some Relaxation Stations are a little better than others — at least in our opinion!
But it really depends on what you're trying to achieve. If you'd like to sit in some AC to get your wits about you, some of the Relaxation Stations are indoors. The one we found at Star Wars Launch Bay was big and ROOMY — plus there was only one other person when we stopped by, so we felt very comfortable taking off our mask while we were inside.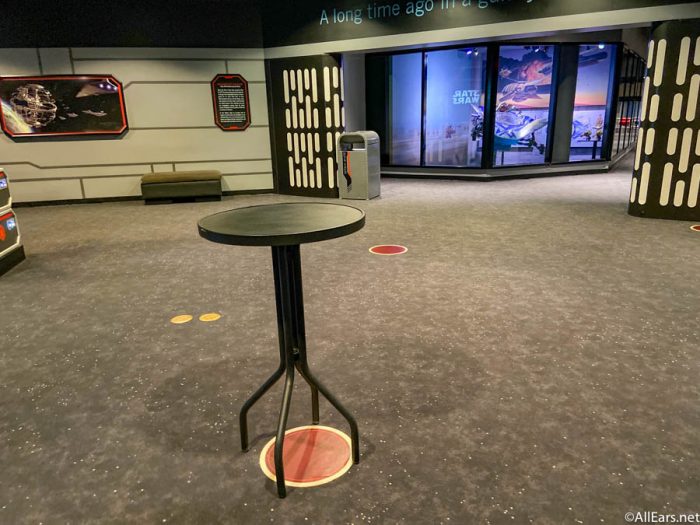 But we tend to prefer the relaxation stations that are outdoors. One of our favorites is at Disney's Animal Kingdom right next to the waterways. You'll find it at Upcountry Landing in Asia. The relaxation station has a covered seating area to provide you with some shade while you sit back and relax.
But since you're right on the water, you can catch some of the Character Cavalcades float past you! We actually saw two boats sail by us in quick succession while we were taking it easy.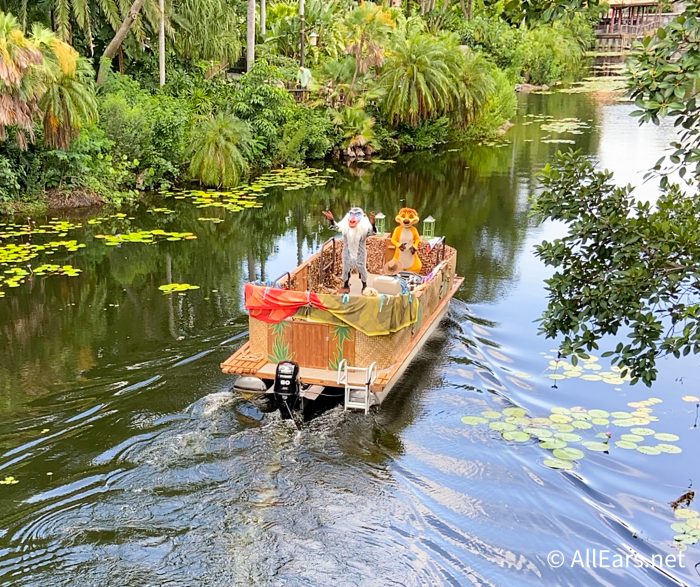 We bet you'll find your own favorite Relaxation Station that will suit your specific needs — just don't be afraid to try different ones until you find the one you're most comfortable with. And a Cast Member told us they are asking guests to keep their relaxation station visits to approximately 30 minutes so other guests can get their maxin' and relaxin' on, too.
Drink Plenty of Water
Give your body lots of H2O! You'll need to replenish the water you're losing (a.k.a. sweating from every pore in yo' body) frequently. One of our favorite places to grab a cup of the good stuff is Starbucks since they usually give out the BIG free cups of water!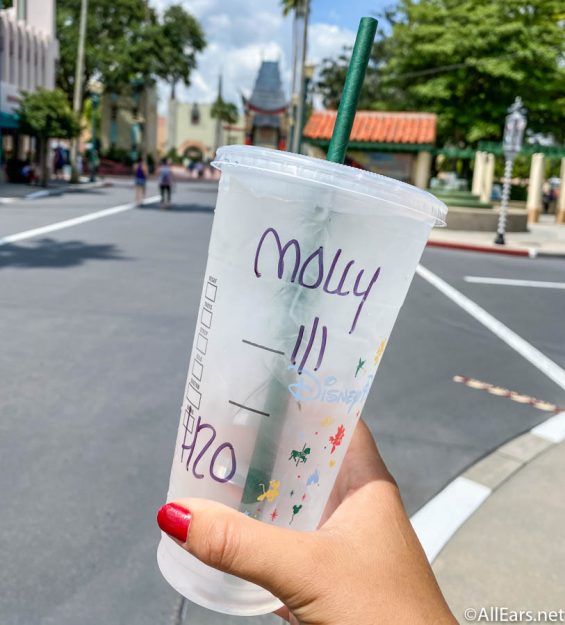 Whether you bring a refillable water bottle from home or are down with paying $3.75 for a bottle of water you'll chug in about 15 seconds, there are many other ways to find water throughout the parks. For us, nothing beats FREE!
And we know there's recently been some confusion about whether it's okay (or not) to go inside a Quick Service restaurant without placing a Mobile Order first. Cast Members have been stationed at the door and will ask guests to show them their order before allowing them inside.
BUT — we've asked several Cast Members at lots of spots, and they've all told us it's OKAY for folks to come in and grab a free cup of water.
Just ask the Cast Member at the door nicely, and they'll direct you to the appropriate window to pick up a cup. We even spotted a few new places had cups of water available for guests such as the Popcorn Cart next to Cinderella Castle in Magic Kingdom, so check spots that have a working soda fountain, and you might strike free cup of water GOLD!
Click here for more tips on dealing with the heat and sun at Walt Disney World!
Take Plenty of Breaks
We talked about Relaxation Stations a moment ago, but it's super-important to take lots of little breaks, too. This could mean heading toward an indoor air-conditioned attraction such as The Enchanted Tiki Room or Country Bears Jamboree instead of riding an outdoor ride like Big Thunder Mountain Railroad. That way, you'll get a quick break and still keep the good times rollin'.
You should also consider making an Advance Dining Reservation for a Table Service restaurant sometime in the middle part of the day. That way you can enjoy a nice long rest without leaving the Park (although you are allowed to leave and return if you'd like to take a break at your Resort or elsewhere). You'll be allowed to remove your mask while you eat because all of the restaurants have socially-distanced their tables, and it's nice to enjoy a little peace and quiet from the hustle 'n' bustle of the parks. Even with reduced crowds, it's still nice to have that midday escape.
Bring a Cooling Towel or Portable Fan
There are a number of magical devices that can help you feel a lot less sticky on a sweltering day. Cooling towels are great for wetting and placing on the back of your neck. Disney also has some battery-operated misting fans that come with a lanyard attached to them. You can find these products at various gift shops and sometimes kiosks, and they are perfect for a hot, sweltering day.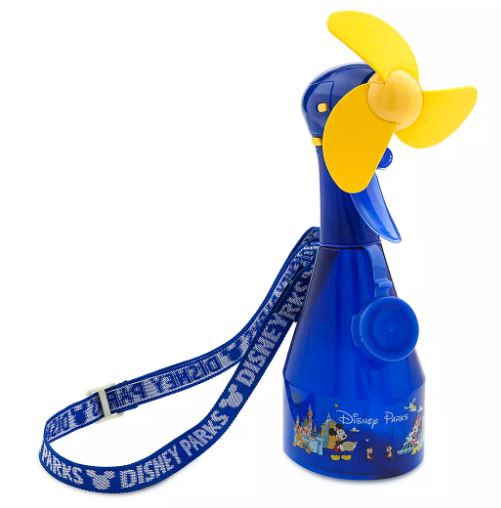 All you do is fill 'em up with some nice cool water, and anytime you need to feel refreshed, just give yourself a quick spritz. They're great for sharing with your group, too! You'll be the most popular person in your crew if you buy one of these beauties! (Just try not to blast other guests in line…)
Wear Light-Colored Clothing and Breathable Fabrics
One of the most important factors for stay cool has to do with the clothing you choose. While we love wearing darker colored t-shirts in our normal everyday lives, a black or navy blue graphic tee is going to be way too hot to wear to the Parks.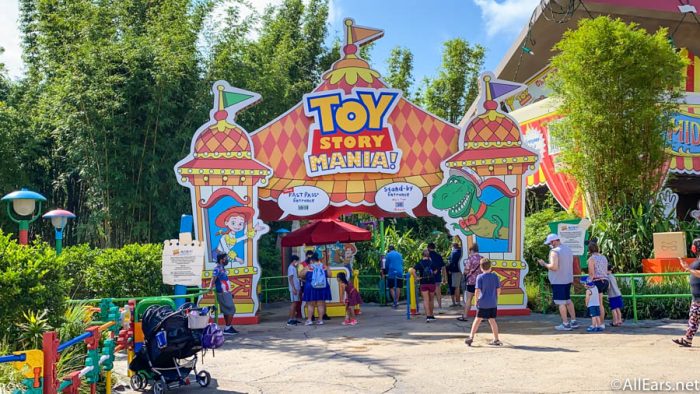 We usually try to avoid sleeves in general so our arms can breathe, but if you've got a long-sleeve shirt made for sun protection, that can be really helpful, too. You may also want to keep your clothing loose and baggy as well.
Only What You Need For the Day in Your Bag
Our last tip is not to overpack for your Park day. A heavy, cumbersome bag will only increase your likelihood of overheating. While it's important to bring some sunblock, sunglasses, and spare face masks along, try not to overdo it. Bring only what you need, and leave the rest back at your room. Click here for tips on packing your Park bag.
What's your favorite way to stay cool in the Parks? Let us know in the comments! 
Learn more about
sun safety in the Parks of Walt Disney World

here!