Disney Parks Daypack and Park Bag Tips
When you're exploring the Parks, Resorts, and entertainment at Walt Disney World, you'll likely need to carry some practical and perhaps comforting items along with you. Determining how little or how much to carry with you at the Disney Parks can be a challenge — and a highly personal one, at that.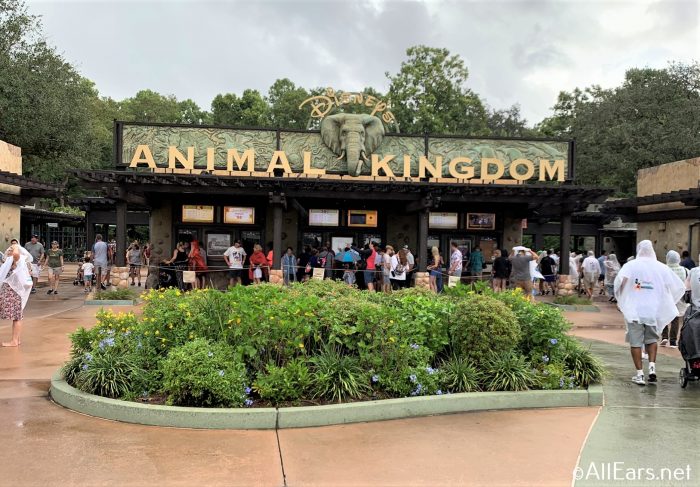 To help you plan what to carry in your park bag, we're answering several
Park Bag FAQs

below. Happy packing!
I've heard Disney checks bags before entering the parks. Can I still bring stuff into the parks?
Yes! Security was tightened at the theme parks after 9/11, and one of the most visible examples is the security personnel who check bags, parcels, and strollers that are brought in. You can still bring essentially everything you brought before, but leave the pocket knives at home.
Disney allows guests to bring in food and drinks, so you should not encounter any issues if you want to carry in water bottles (with water, Crystal Light, Kool-Aid, etc.), light snacks, or even small packed meals. The biggest restriction on carry-in food and drinks is that they can not be in glass containers (with the exception of baby food). Note: If you plan to bring a cooler for your snacks and drinks, it can be no larger than 24″ long x 15″ wide x 18″ high.
To make the security checks a more convenient and contactless experience, Disney implemented new contactless security screening devices at all four parks and Disney Springs in 2020. Now, instead of having a security member check every bag, guests pass through metal detectors and, if one of the detectors goes off, you may be asked to open your bag for security to look through, or you may be waved down with a metal wand.
If you are going through security with a stroller, you may be asked to enter to the side of the metal detectors and will likely need to empty the underseat or pocket storage compartments as well. Feel free to speak to security personnel if you have questions.
What should I tote around the parks?
Much as the contents of your purse and wallet are personal choices, so are the items you're going to tote around the parks. Even so, there are many common items that Walt Disney World vacationers should consider bringing with them to make the trip more relaxing and enjoyable. A list of the most popular items, arranged in alphabetical order, is compiled below. Avoid the temptation to carry everything on this list, however, or you'll be known as the Hunchback of Disney World.
That means you'll need to give extra thought to what and how much you'll carry into the Parks each day. Although you're not scaling Mount Everest, you'll spend a lot of time out on the (magical) trail. It pays to think like a backpacker and carry only the essentials. Remember:
Extra ounces will feel like pounds by the end of a long day.
Cut down on weight by coordinating everyone's items so there's less redundancy.
Carry one multi-purpose item rather than two special-purpose items when possible, such as a waterproof windbreaker in place of a jacket and raincoat or umbrella.
Light acrylic fleece sweatshirts will feel warm when damp, while cotton gets uncomfortable.
Try to distribute the load among the adults (or take turns if you're bringing in a single pack).
Note what you use, don't use, or wish you had after your first Park day. Learn from your experience to pack better the next day.
Carry one larger pack rather than draping yourself with several smaller bags. It's easier to keep track of one pack.
You won't need your full wallet, and you'll feel more footloose if you carry only the bare essentials (including your ID, just in case).
If your pack gets too full or heavy during the day, consider transferring the non-essential items to a locker. Lockers are available in every Park.
Above all, think light, think fun, and remember that Walt Disney World isn't a trackless wilderness. You can usually find a forgotten essential — sometimes for free. So note the locations of Baby Care Centers and First Aid Stations in the Parks and water parks and know what kind of resources they have for you there.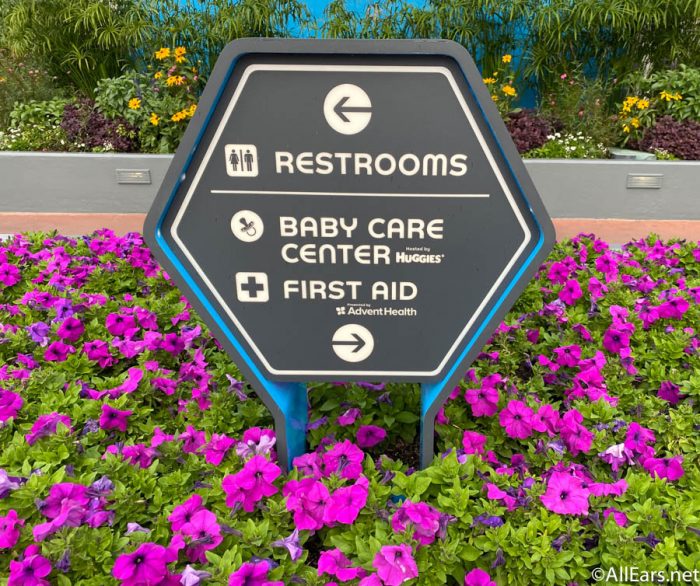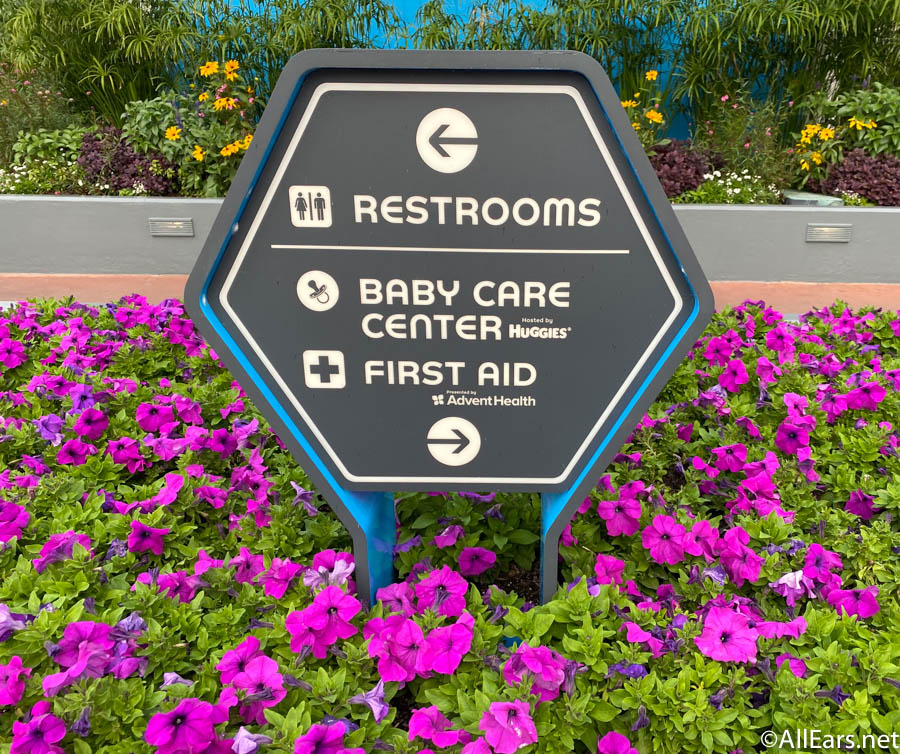 Below is an alphabetized list of items commonly brought into the Parks and our thoughts about when it might be right to carry them along.
Autograph Book – If you want character autographs, you'll want to carry an autograph book (or your guidebook, if it allows space for them). You can purchase these at Walt Disney World, bring one from home, or make a custom one on your printer. Bring along a thick-barreled pen (think: Sharpie) that the characters can easily grasp in their gloved hands and a plastic bag to keep the book dry in your Park bag.
Bathing Suits – Opportunities for kids to get wet are abundant at Walt Disney World. If the weather is warm or if your little one(s) like the wet stuff, bring their bathing suits along so they can enjoy it. They could also wear suits under their clothing to save at least one trip to the restroom, but bring plastic bags to store those wet suits after their adventures.
Batteries or Chargers – These may be for your camera, cell phone, tablet, or other electronic devices. Bring what you need from home, as battery and charger prices are expensive in the Parks. If you plan to use FuelRods, consider purchasing one online before you leave home.
Camera – Keep your camera in your Park bag rather than lug a separate camera bag. Alternatively, you could use your camera bag as your sole bag. Another option is to use a small camera bag with a loop on the back, then slip the strap of your waist pack through it, and carry it at your waist.
Cards – You will likely have a collection of cards (credit, debit, insurance, or gift) to keep safe and accessible. If you use your existing wallet to store these in, remove any unnecessary items before you bring it along. Consider a small, nylon wallet or pouch to store them in, and keep it handy in your Park bag. Waterproof plastic cases with attached cords intended for water parks work well, too. Don't forget to bring your ID if you plan to purchase alcoholic beverages.
Cash

– Even if you have a charge card or charging privileges on your MagicBand, a little cash is good to have on hand just in case. 

Cell Phone – Cell phones are instrumental in using the My Disney Experience app, which helps when making Disney Genie+/Individual Attraction Selections or Advance Dining Reservations. Take a photo of your rental car license plate, your parking row number and even members of your family. Cell phone reception at Walt Disney World is very good, and now all parks offer free Wi-Fi service, as well.
Cooling Towel – These sweat-wicking clothes are produced by several manufacturers, and you can buy them either before you leave home or when you get into the Parks. Either way, they can be life-savers in the central Florida heat.
Fan/Water Mister – These battery-operated, hand-held fans/misters are very popular at the Parks on hot days — bring one from home or purchase one while you're there. Some come with straps, which means you can wear them rather than put them in your backpack. If you don't have a strap, make sure you have a plastic bag to protect your bag from leaks.
First Aid Kit – It can be helpful to carry pain reliever, bandages, and other basics with you, rather than planning to head to the First Aid Station if something arises. But unless it makes you feel less anxious, carrying a full first aid kit is likely unnecessary.
Gum – If you are an avid gum fan, carry it with you as you won't be able to purchase gum anywhere at Walt Disney World.
Identification In/On Your Park Bag – If you misplace your bag, there's a better chance of it finding you when you put some identification inside it. Just slip a piece of paper with your name(s), resort/hotel, home phone, and emergency contact information somewhere prominent inside your bag. You could even put the identification in a luggage tag (or make a luggage tag with self-laminating plastic) and attach it to the bag itself.
Jacket/Sweater – If you're sensitive to changes in temperature, a light jacket, sweatshirt, or sweater can make air conditioning and chilly evenings much more comfortable. Consider a light windbreaker or pullover that takes very little room in your daypack.
MagicBand – If you are staying at a Disney Resort, keep your MagicBand accessible at all times. You'll use it to scan in for Lightning Lanes, make purchases, use your Disney Dining Plan credits, and otherwise navigate the World.
Maps – Disney provides complimentary Guide Maps and Times Guides for all their parks. You can pick up Times Guides and Maps at Park entrances and ticket windows. Maps also available in each Disney Resort hotel lobby. If you prefer not to carry around the glossy paper map, you'll find all the same info — in an interactive format — on My Disney Experience.
Memory Cards/Sticks – These are sold in the Parks but are very expensive. Bring your own.
Passport – Carry your passport book or passport card with you if you have no other valid photo identification or if you've been instructed to do so. International travelers may be required to show a passport in order to acquire alcoholic beverages, as international identification cards are not always accepted.
Pins – If you are a pin trader (or hope to become one), be sure to carry some of your pins with you on a lanyard, vest, and/or in a pin trading book for when you spot a pin that interests you. (Tip: You can save money by purchasing pin sets online before heading into the Parks!)
Plastic Storage Bags – All sizes and shapes come in useful for keeping things organized, dry, and safe. The snack-size ones are particularly useful in Park bags (like keeping your phone dry on Splash Mountain!). Keep a few clean, empty ones in your bag; you never know when you might need them.
Poncho – Bring a poncho from home, along with a plastic bag to store it in when it gets wet. You can find disposable and reusable ponchos in big box stores for way less than they charge for ponchos in the Parks (although the quality might be noticeably less sturdy). Ponchos are great for use on water rides or when it rains, and they're a lot cheaper for protecting your stroller from the elements than an official stroller cover.
Quarters and Change – For the pressed penny/quarter machines. Bring only as much as you think you'll need on a given day. Note: Arcades at the Resorts now take reloadable plastic "debit" cards for their operation, so no coins needed for those.
Sewing Kit – A very simple sewing kit with a pre-threaded needle and a couple of safety pins can save the day and takes virtually no space in your pack. If you must pack scissors, be sure they are safety scissors with rounded ends so as not to excite security.
Snack(s) – Keep your energy up with snacks you can carry with you and consume as needed. Bring foods that won't melt easily, such as pretzels, granola bars, raisins, nuts, or crackers.
Socks – If you or your kids anticipate getting wet during the day, dry socks may feel great.
Something to Entertain You While You're Waiting – You'll do a lot of waiting at Walt Disney World, and you may want to use that time to do something other than talk to your traveling companions or people-watch. This could be a paperback book, a handheld device with earbuds, an activity book and crayons, or anything small that you and/or your kids might enjoy.
Stroller – Though you can rent strollers in all the parks, you may prefer to bring your own to save money or keep your child more comfortable. If you bring your own, be sure it is lightweight, collapsible, reclines, has a canopy, and meets the 31″ x 52″ limitations imposed by Disney. Having your own stroller also means you can use it in the resorts and while waiting for buses. You may also want to bring a plastic cup holder for your stroller handle.
Sunglasses – Sunglasses are a must for most of us visiting Florida. If you attach a cord to them, you can hang them about your neck whenever you duck inside an attraction and save room in your bag. However, you will want to stow them when you go on some thrill rides.
Sun Block for Lips – Protect your lips from sun, rain, and wind, too. Apply it on the plane to combat the dry conditions.
Sunscreen – Carry some of your favorite sunscreen in a small, travel-size container — there's no need for the whole bottle.
Swiss Army Knife – We no longer recommend you bring these with you to the park, as they will be confiscated by security and held until you leave the Park.
Tissues – Keep travel packs on hand for yourself and others to blow noses, clean sunglasses lenses, or wipe away tears (hopefully tears of joy).
Umbrella – An umbrella is often more convenient than putting on and taking off a wet poncho. Ultra-compact umbrellas are available in many department stores. Bring an old poly bag to store it in your bag.
Watch – Don't forget a timepiece. You'll need to know the time to make your Advance Dining Reservations, FastPasses, and shows on time. Don't count on there being many clocks around the parks, either.
Water Bottle – A water bottle with a sport "pop-top" can be refilled at water fountains or bottle refill stations to help replenish lost fluids. Consider freezing or refrigerating it the night before. If you are concerned about condensation on the bottle in your Park bag, carry a bag with a separate water bottle compartment or use a bottle strap. Consider wrapping the bottle in a clean hand towel to soak up the condensation, and the towel can then be used to cool hot foreheads, clean off a dirty seat, or apply pressure to a skinned knee. You could also bring the refillable mug(s) you may be able to purchase at your resort so you can refill it on your way out and on your way back in, and then refill it with water or purchased soda at the parks. If you don't like the taste of Disney's tap water, get a water bottle that filters the water as you drink it. There are also hands-free water-carrying systems, which are large pouches that you can carry on your back and drink from through a long tube.
Wet Wipes – Use these to wash hands when no sink is available or to clean ice cream off faces. Those of you who frequently apply sunscreen will find these a blessing for sticky hands.


What kind of Park bag works well?

A good Park bag is one of the most important choices you can make. You may have the perfect pack already, or you may need to purchase one. Only you will know what works best for yourself and the items you intend to carry with you. Below is a chart listing the popular types of bags and the pros and cons of touring with them at Walt Disney World. Sizes vary drastically but keep in mind that you can find a very small and a very large version of almost every sort of pack.
Other, unusual options if you want to skip a proper bag include:
a jacket with plenty of pockets (in cool weather)
a camera bag (with an extra pocket or two for other items)
a diaper bag (also with a bit of extra room).
What might you want to look for in a Park bag?
One relatively large compartment
One or more smaller compartments on the outside of the bag
Padded, adjustable straps
Lashing loops for attaching accessories
Sturdy, rain-repellent material
Large, strong zippers that work well or drawstrings that close tightly and stay closed until you open them
Optional but useful features include:
water bottle pouch/compartment
mesh pocket for damp items
key chain ring
compression straps (to reduce bulk when there is empty space)
organizer pockets for cards, cash, and change
Are there any tips on packing my Park bag?
Pack your bag before you go. Make sure the items you need to carry easily fit within the bag, and find a place for each item. Distribute items as evenly as possible. If you're worried you've packed too much in your bag, carry it around for a day before you leave. Pay close attention to how the shoulder straps fit and ways to keep that area comfortable.
Use bags, pouches, and other containers to keep items neat and orderly within your bag. Plastic, resealable bags work great and can be reused throughout the day or later in your trip. Consider other containers, too, in a variety of shapes and sizes so you can distinguish the contents of your bag without seeing them (very helpful on a dark bus). Possibilities include nylon pouches, old (clean) canisters, envelopes, etc.
If you anticipate the contents of your bag changing considerably from day-to-day, or certain contents needing to be replenished as you go along, organize these items before you depart. Plastic storage bags work well for keeping these items together and can be dropped in your bag as is before you leave in the morning. You'll be much less likely to forget something crucial this way.
If you have a number of small items, you can store them in the same plastic bag by creating custom-sized compartments on a sewing machine. Just sew a straight line from the bottom of the plastic bag up to just below the seal.
If you have a refrigerator/freezer in your hotel room, freeze a bottle of water or a juice pack and place it in your bag to keep snacks cool. The cold drink is refreshing later on, too.
Be sure to leave room in your bag for items you will collect throughout the day, such as brochures, maps, and small souvenirs. Take advantage of Disney's package delivery service to avoid lugging large items around with you.
Aim to carry only one shoulder bag or backpack, especially if you're carrying a separate camera bag. It's tough to get on and off rides when you're draped with all that paraphernalia, and it's easier to lose one of many items than it is to keep track of just one.
If you have the time and inclination, personalize your carry-around bag with patches or even fabric paint. Disney patches are available at the Parks and Resorts and are fun to collect.
Label everything you're carrying with your name, phone number, and resort name (if staying on Disney property). If any item is lost, you have a greater chance of getting it back with your identification on it. Print your information onto self-adhesive return address labels for quick and easy labeling.
Type
Description
Pros
Cons
Waist pack
(a.k.a. belt pouch, hip pack, or fanny pack)
one waist strap, carried in front, on the hip, or on back
Hands-free touring; easy access; no shoulder or back pain at the end of the day; encourages you to pack light; hard to lose
Cannot hold as many items as a backpack or shoulder bag
Backpack
two shoulder straps, carried on back
Weight can be distributed evenly across your back; many items can be carried within it.
Sore shoulders at the end of the day; large and bulky; difficult to access when carrying; hard to find things in; tendency to carry more than necessary
Shoulder bag (a.k.a. tote bag)
one shoulder strap, carried between arm and torso
Familiarity if you're used to carrying shoulder bags or purses; easy access
Sore shoulder at end of the day; bulky; tendency to carry more than necessary
Purse (a.k.a. handbag)
one shoulder strap, carried between arm and torso or across torso
Familiarity if you're used to carrying purses or shoulder bags
Tendency to carry more than necessary (unless you empty and repack the purse); cannot hold many items; sore shoulder if your purse is large and/or heavy.
Pocket Vest (a.k.a. photographer's vest)
vest with many storage pockets; worn on torso
Hands-free touring; easy access
An extra layer you won't want in hot weather; awkward to remove and carry; won't accommodate large items
Pouch (worn around neck)
small pouch with compartments
Hands-free touring; easy access; very light; makes for quick security checks
Doesn't hold much.
Thanks to the original author of this FAQ, Jennifer Marx, copyright 1999-2008. Updated by AllEars 10/2021.