What to Tote Around the Parks
Whether you're traveling around the world or touring Walt Disney's "World," you'll need to tote some things with you. Determining how little or how much to carry with you at the Disney parks can be a challenge. To help you find the answers, click on the commonly asked questions below for suggestions, tips, and information.
I've heard Disney checks bags before entering the parks. Can I still bring stuff into the parks?
What should I tote around the parks?
Are there any tips on packing my daypack?
Do you have any suggestions for packing lists?
I've heard Disney checks bags before entering the parks. Can I still bring stuff into the parks?
Yes! Security was tightened at the theme parks after 9/11, and one of the most visible examples is the security personnel who check every bag and parcel brought in. You can still bring essentially everything you brought before, but keep the pocket knives at home. While Disney does not really want to encourage you to bring in food or drink, water bottles (with water, Crystal Light, Kool-Aid, etc.) and light snacks are almost always overlooked.
To make the security checks go faster, unzip and open all compartments of your bag while you are waiting in line to be checked. Take off any waist-packs, too. Also, if you don't carry any packs or bags you won't have to wait in line at all.
>What should I tote around the parks?
Much as the contents of your purse and wallet are personal choices, so are the items you're likely to tote around the parks. Even so, there are many common items that Walt Disney World vacationers should consider bringing with them to make the trip more relaxing and enjoyable. A list of the most popular items, arranged in alphabetical order, is compiled below. Avoid the temptation to carry everything in this list, however, or you'll be known as the Hunchback of Disney World.
Give extra thought to what and how much you'll carry. Although you're not scaling Mount Everest, you'll spend a lot of time out on the trail. It pays to think like a backpacker and carry only the essentials:
Extra ounces will feel like pounds by the end of a long day.
Coordinate everyone's items so there's less redundancy.
Carry one multi-purpose item rather than two special-purpose items, such as a waterproof windbreaker.
Light acrylic fleece sweaters will feel warm when damp, while cotton gets uncomfortable.
Mom or Dad may be used to carrying all the baggage on family outings, but take pity on Gunga Dad and Super Mom. Try to distribute the load among the adults (or take turns) and give the kids their own packs if at all possible.
Note what you use, don't use, or wish you had. Learn from your experience.
Carry one larger pack rather than drape yourself with several smaller bags. It's easier to keep track of one pack, and much easier to lose one or more of the smaller bags.
You won't need your fat wallet, and you'll feel more footloose if you carry only the bare essentials.
If your pack gets too full or heavy during the day, consider transferring the non-essential items to a locker.
Above all, think light, think fun and remember that Walt Disney World isn't a trackless wilderness. To help you decide which items you can tote around, use the size rating after each item to pre-judge the amount of room it should take in your daypack. The rating can also help you determine if your item is larger than it needs to be. The chart below explains each rating, but please note that some sizes are relative only.
| | |
| --- | --- |
| Rating | Dimension Range |
| 1 | less than 2″ x 2″ x 1/4″ |
| 2 | less than 4″ x 4″ x 1/2″ |
| 3 | less than 4″ x 6″ x 1″ |
| 4 | less than 6″ x 9″ x 2″ |
| 5 | more than 6″ x 9″ x 2″ |
Resort Identification – If you are staying at a Disney resort, keep your identification on you at all times. You may need it to re-enter the resort, unlock your door, use Disney's internal transportation, gain access to Extra Magic Hours, gain admittance to the parks (if you purchased a park pass upon check-in), or charge something to your room (if you have charging privileges).
Park Admission – If you have separate admission media, you'll want to keep it on you all the time so you can enter the parks. We also recommend you write down the numbers on the back of your passes and keep this information separate from your passes — Disney may be able to use these numbers to replace your passes if they are lost.
Credit Card(s) – Visa, Mastercard, American Express, Discover, JCB, and Diner's Club are all accepted at Walt Disney World. If you have more than one card, keep on in your daypack and secure the other(s) in your room safe or with your front desk (in the event the unthinkable happens).
Disney Purchase Card(s) – These include things like Disney Visa Reward Cards and Disney Gift Cards, which can be used in the parks.


NOTE: With the advent of MagicBands, the need for carrying many of these cards may be eliminated. Park admission, room key, and even credit card information can be associated with your MagicBands, or with a single RFID plastic card. Read HERE for more information.

Driver's License – We used to say that if you plan on renting a car, writing a check, or drinking an alcoholic beverage, you will want to keep your driver's license on you. We now recommend you keep your driver's license or other official photo identification on you at all times.
Passport – Carry your passport book or passport card with you if you have no other valid photo identification, or if you've been instructed to do so.
Health Insurance Card – No one wants to get hurt while on vacation, but it happens more than you might imagine. Keep your health insurance card (or information) with you at all times.
Calling Card – While most people these days carry a mobile phone, you may not want to be bothered with one, especially if you are an international traveler. If this is the case, bring along a calling card for any calls you may need to make. Calling cards are usually a better deal when calling from your hotel room, too.
Cash – Even if you have a charge card or charging privileges on your MagicBand, a little cash is necessary for purchasing snacks and the like. Size rating: 2
Cell Phone – If you have a cell phone, keep it handy — cell phones are instrumental in using the My Disney Experience app, which helps when making FastPass+ or dining reservations. Take a photo of your rental car license plate, your parking row number and even members of your family. Cell phone reception at Walt Disney World is very good, and now all parks offer free Wi-Fi service, as well.
Size rating: 2
Checks – Checks are no longer accepted at Walt Disney World, so leave the checkbook back in the room if you brought it along on vacation.
Comb/Brush/Elastics – If you care about such things, a simple comb or folding travel brush keeps you looking presentable, even on the hottest, windiest days. Women (and men) with long hair should include an elastic or two to keep hair up, a blessing on humid days. Size rating: 2
Fan/Water Mister – These battery-operated, hand-held fan/misters are very popular at the parks on hot days — bring one from home or purchase one while you're there. Some come with straps, which means you can wear them rather than put them in your daypack, which is recommended. If you don't have a strap, make sure you have a plastic bag to protect your daypack from leaks. Size rating: 4 or 5
Film – If you haven't made the switch over digital photography, carry as much film as you think you'll need for a day, which may not be more than the film already in your camera. Weigh the pros and cons of bringing extra film with you (one more thing to carry) versus buying extra film at the parks (expensive). Size rating: 2
First Aid Kit – A small bag or box containing bandages, aspirin, acetaminophen, your favorite non-prescription pain killer, antacid, burn ointment and/or other necessary medications. There's no reason to go overboard here, however, as there are first aid stations located in each theme park at Walt Disney World. Even so, it's handy to have a Band-Aid when you need it most. Size rating: 1
Gum – If you are an avid gum fan, carry it with you as you won't be able to purchase gum anywhere in Walt Disney World. Size rating: 1
Hat or Visor – Stay in the shade with a hat or visor, which will protect your skin and keep you cool. Consider a flexible one that can be rolled up and stashed in your bag when no longer needed. Women who prefer wide-brimmed straw hats should consider punching rivets on each side of the brim and threading a cord or scarf through — this allows the hat to be tied on tight in windy conditions, or hung on the back out of the way when not in use. Size rating: 3
Identification for Kids – If you have young children who could get lost, consider giving them some identification that lists their name and resort/hotel name. They can carry it, or better yet, attach it to their clothing in some manner. Size rating: 1
Identification In/On the Daypack – If you misplace your bag, there's a better chance of it finding you when you put some identification inside it. Just slip a piece of paper with your name(s), resort/hotel, home phone, and emergency contact information somewhere prominent in the daypack. You could even put the identification in a luggage tag (or make a luggage tag with self-laminating plastic) and attach it to the daypack itself. Be cautious of including your home address or your room number (if you are also storing your resort room key in the bag). Size rating: 1
Insect Repellent – Deep Woods OFF! or some other bug repellent is particularly helpful during the summer and autumn. A tube of repellent can be purchased at most discount stores in the camping section, and fits nearly perfectly in a snack-sized, plastic bag. Size rating: 2
Itinerary/Wish List for Attractions/Meals – Bring along your itinerary or wish list, either as a computer print-out, or entered into your smartphone. Don't forget to include a list of e-mail addresses if you want to send a virtual postcard from Spaceship Earth in Epcot, too. Size rating: 2
Jacket/Sweater – If you're sensitive to changes in temperature, a jacket or sweater can make air conditioning and chilly evenings much more comfortable. Consider a light windbreaker that takes very little room in your daypack. Size rating: 4 or 5
Maps – Disney provides complimentary guidemaps and entertainment schedules for all their parks, large and small. You can often pick these up before you enter a park. They are also available in each Disney Hotel lobby. If you hang onto these throughout your trip (this helps in getting acquainted beforehand and answering questions afterwards), bring along something to store them in so they aren't rattling around loose your daypack. Size rating: 2
Mending Kit – A very simple mending kit with a pre-threaded needle and a couple of safety pins can save the day and takes virtually no space in your daypack. If you must pack scissors, be sure they are safety scissors with rounded ends so as not to excite security. Size rating: 1
Memory Cards/Sticks for your digital camera – They are sold in the park but are VERY expensive! Size rating: 1
Pen – You never know when you'll need to jot something down — a reminder in a travel guide, a note on a receipt, or your phone number on a scrap of paper for a new friend. You may also want a small notebook, if your travel guide doesn't provide space for notes. Make that a thick-barreled pen if you're hoping to get character autographs. Size rating: 2
Penlight – Useful for reading maps, menus, and books in dim, dark places, or even finding your keyhole after a long day at the parks. Consider a penlight on a key-ring and attach it to one of your bag's zippers for fast access. Alternatively, download a "flashlight" app for your smartphone for a handy light. Size rating: 2
Pins – If you are a pin trader (or hope to become one), be sure to carry some of your pins with you on a lanyard, vest, and/or in a pin trading book for when you spot a pin that interests you. Size rating: 1-5
Zipper-top Plastic Bags – All sizes and shapes come in useful for keeping things organized, dry, and safe. The snack-size ones are particularly useful in daypacks. Keep a few clean, empty ones in your carry-around bag — you never know when you might need them. Size rating: 1
Poncho – Bring a poncho from home if you have it, along with a plastic bag to store it in when it gets wet. If you don't have a poncho, don't make an extra trip to get one — you can pick one up virtually anywhere within Walt Disney World if it starts to rain. Ponchos are helpful for keeping strollers dry when they have to be left out in the rain, too. Size rating: 3
Quarters and Change – For the pressed penny/quarter machines. Bring only as much as you think you'll need on a given day. Size rating: 1 NOTE: All the game arcades now take reloadable plastic "debit" cards for their operation.
Snack(s) – Keep your energy up with snacks you can carry with you and consume as needed. Bring foods that won't melt easily, such as pretzels, granola bars, raisins, nuts, or crackers. Size rating: 2
Socks (dry) – If you or your kids anticipate getting wet during the day, dry socks may feel great. Size rating: 3
Something to Entertain You While You're Waiting – You'll do a lot of waiting at Walt Disney World and you may want to use that time to do something other than talk to your traveling companions or people-watch. This could be a paperback, an iPod/MP3/DVD player with headphones, a hand-held game/organizer, or anything small that you and/or your kids might enjoy. One reader highly recommends a small Magna Doodle toy as it comes in very handy while waiting — even the characters had fun playing with it! Size rating: 1 to 5
Stroller – Though you can rent strollers in all the parks, you may prefer to bring your own to save money or keep your child more comfortable. If you bring your own, be sure it is lightweight, collapsible, reclines, and has a canopy. Having your own stroller also means you can use it in the resorts and while waiting for buses. You may also want to bring a plastic cup holder for your stroller handle. Size rating: 5
Sunglasses with Cords – Sunglasses are a must for most of us visiting Florida. If you attach a cord to them, you can hang them about your neck whenever you duck inside an attraction and save room in your bag. However, you will want to stow them when you go on some thrill rides. Size rating: 2
Sun Block for Lips – Protect your lips from sun, rain, and wind, too. Apply it on the plane to combat the dry conditions. Size rating: 1
Sunscreen – Carry some of your favorite sunscreen in a small, travel-size container — there's no need for the whole bottle. Size rating: 2
Swimsuit – (see bathing suits)
Swiss Army Knife – We no longer recommend you bring these with you to the park, as they will be confiscated by security and held until you leave the park.
Tablecloth – A plastic, flannel-backed tablecloth works great for keeping a stroller dry in the rain or providing a padded, dry seat during a parade.
Tissues – Keep these on hand for yourself and others to blow noses, clean sunglass lenses, or wipe away tears (hopefully tears of joy). Size rating: 2
Travel Guides – If you have a favorite guidebook, you may find it helpful to carry it with you for information, tips, and hints on making the most of your trip. If space is at a premium in your daypack, you may be able to remove the sections of the tour guide you need for a given day and bring just those. You may also want to print out information you found online and carry that along as well. Plastic bags work well for keeping these items safe and dry in your daypack. Size rating: 4
Toothbrush and toothpaste – If you like to keep your teeth clean, pack a travel-size brush and tube of paste. Suggested by D.L. Size rating: 1
Umbrella – An umbrella is often more convenient than putting on and taking off a wet poncho. Ultra-compact umbrellas are available in many department stores. Size rating: 3
Watch – Don't forget a timepiece. You'll need to know the time to make your priority seatings and shows in time. Don't count on there being many clocks around the parks, either. Size rating: 1
Washcloth – Stay cool in hot months by wetting a washcloth and using it to refresh your face, neck, and hands. Use water fountains to get it damp and store it in the plastic bag to keep your bag dry. Size rating: 2
Water Bottle – A water bottle with a sport "pop-top" can be refilled at water fountains to help replenish lost fluids. Consider freezing or refrigerating it the night before. If you are concerned about condensation on the bottle in your daypack, carry a bag with a separate water bottle compartment or use a bottle strap. Consider wrapping the bottle in a clean hand towel to soak up the condensation, and the towel can then be used to cool hot foreheads, clean off a dirty seat, or apply pressure to a skinned knee. You could also bring the refillable mug(s) you may be able to purchase at your resort so you can refill it on your way out and on your way back in, and then refill it with water or purchased soda at the parks. If you don't like the taste of Disney's tap water, get a water bottle that filters the water as you drink it. There are also hands-free water-carrying systems, which are large pouches that you can carry on your back and drink from through a long tube. Size rating: 4
Wet Wipes – Use these to wash hands when no sink is available or to clean ice cream off faces. Those of you frequently apply sunscreen will find these a blessing for sticky hands. Size rating: 2


What kind of daypack works well?

A good daypack is one of the most important choices you can make. You may have the perfect daypack already or you may need to purchase one. Only you will know what works best for yourself and the items you intend to carry with you. Below is a chart listing the popular types of daypacks and the pros and cons of touring with them at Walt Disney World. Sizes vary drastically, but keep in mind that you can find a very small and a very large version of almost every sort of pack.
Type
Description
Pros
Cons
Waist pack
(a.k.a. belt pouch or fanny bag)
one waist strap, carried in front or back
Hands-free touring; easy access; no shoulder or back pain at the end of the day; encourages you to pack light; hard to lose
Cannot hold as many items as a backpack or shoulder bag
Backpack
two shoulder straps, carried on back
Weight can be distributed evenly across your back; many items can be carried within it.
Sore shoulders at the end of the day; large and bulky; difficult to access when carrying; hard to find things in; tendency to carry more than necessary
Shoulder bag (a.k.a. tote bag)
one shoulder strap, carried between arm and torso
Familiarity if you're used to carrying shoulder bags or purses; easy access
Sore shoulder at end of the day; bulky; tendency to carry more than necessary
Purse (a.k.a. handbag)
one shoulder strap, carried between arm and torso or across torso
Familiarity if you're used to carrying purses or shoulder bags
Tendency to carry more than necessary (unless you empty and repack the purse); cannot hold many items; sore shoulder if your purse is large and/or heavy.
Pocket Vest (a.k.a. photographer's vest)
vest with many storage pockets; worn on torso
Hands-free touring; easy access
An extra layer you won't want in hot weather; awkward to remove and carry; won't accommodate large items
Pouch (worn around neck)
small pouch with compartments
Hands-free touring; easy access; very light; makes for quick security checks
Doesn't hold much.
Other carry-about options include: a jacket with plenty of pockets (in cool weather), a camera bag (with an extra pocket or two for other items), a diaper bag (also with a bit of extra room).
What do I look for in a daypack?
One relatively large compartment
One or more smaller compartments on the outside of the bag
Padded, adjustable straps that can be removed
Compression straps to tighten when your pack isn't as full (makes a big difference!)
Lashing loops for attaching accessories
Sturdy, rain-repellent material
Large, strong zippers that work well, drawstrings that close tightly and stay closed until you open them
Optional but useful features include: water bottle pouch/compartment, mesh pocket for damp items, key chain ring, extra straps (such as a shoulder strap for waist packs), compression straps (to reduce bulk when there is empty space), and organizer pockets for cards, cash, and change.
Are there any tips on packing my daypack?
Pack your bag before you go. Make sure the items you need to carry easily fit within the bag and find a place for each item. Distribute items as evenly as possible. If you're worried you've packed too much in your bag, carry it about for a day before you leave.
Use bags, pouches, and other containers to keep items neat and orderly within your bag. Plastic, sealable bags work great and can be reused throughout the day or later in your trip. Consider other containers, too, in a variety of shapes and sizes so you can distinguish the contents of your bag without seeing them (very helpful on a dark bus). Possibilities include nylon pouches, old (clean) cannisters, envelopes, etc.
If you anticipate the contents of your bag changing considerably from day-to-day, or certain contents needing to be replenished as you go along, organize these items before you depart. Plastic bags work well for keeping these items together, and can be dropped in your bag as is before you leave in the morning. You'll be much less likely to forget something crucial this way.
If you have a number of small items, you can store them in the same plastic bag by creating custom-sized compartments on a sewing machine. Just sew a straight line from the bottom of the plastic bag up to just below the seal.
If you have a refrigerator/freezer in your hotel room, freeze a bottle of water or a juice pack and place it in your bag to keep snacks cool. The cold drink is refreshing later on, too.
Be sure to leave room in your bag for items you will collect throughout the day, such as brochures, maps, and small souvenirs. Take advantage of Disney's package delivery service to avoid lugging large items around with you.
Aim to carry only one shoulder bag or backpack, especially if you're carrying a separate camera bag. It's tough to get on and off rides when you're draped with all that paraphernalia, and it's easier to lose one of many items than it is to keep track of just one.
If you have the time and inclination, personalize your carry-around bag with patches or even fabric paint. Disney patches are available at the parks and resorts and are fun to collect. Oh, and it is suggested you remove the manufacturer's label from the exterior of your carry-around bag, so as not to advertise it or the contents (such as the fact that it is a camera bag and probably contains an expensive camera).
Label everything you're carrying with your name, phone number, and resort name (if staying on Disney property). If any item is lost, you have a greater chance of getting it back with your identification on it. Print your information onto self-adhesive return address labels for quick and easy labeling.
Do you have any suggestions for packing lists?
For those that need more direction, here are five popular daypack packing lists: a bag for someone who really wants to travel light (the "Minnie-malist" bag), a bag for someone who wants to have everything at hand (the "Mary Poppins' Carpetbag"), a bag for the little ones (the "Mini-Mickey" bag), a bag for those bound for water parks or water fountains (the "Flounder" bag), and a bag for someone who is in a hurry and doesn't have time to pack a careful daypack (the "White Rabbit" bag).
Minnie-malist Bag – Include cards, cash, identification, cell phone, and sunglasses in either a pocket or a very small waistpack.
Mary Poppins' Carpetbag: Include everything with a size rating of 1 and 2 (cards, cash, cell phone, comb/brush/elastics, film, gum, identification for bag, maps, mending kit, pager (if you have one), pen, penlight, plastic bags, quarters and change, snacks, sunglasses, sunblock for lips, sunscreen, watch, tissues, toothbrush, washcloth, wet wipes). Organize these items in your carry-about bag, then put in a large, heavy object, such as a dictionary (of whatever dimension is appropriate for your carry-about bag). Now include the other items you wish to have with you, in the order of importance, until your bag is full. When you reach capacity, remove the dictionary (or whatever you used) and try out your carry-about bag for a few hours or a day. If it is too heavy, remove something. If not, keep it as is — the extra room created by removing the dictionary will give you space for things you'll pick up along the way.
Mini-Mouse Bag: Includes an autograph book, hat/visor, identification, pen, cell phone, snack, sunglasses, and sunscreen. These items fit nicely in a small waistpack or mini-backpack.
Flounder Bag: Includes bathing suits, cards (in waterproof carrying case), comb/brush, hat/visor, plastic bags, socks, sunglasses, sunblock for lips, sunscreen, watch, washcloth (for wiping off sand/drying small things), water bottle/mug. These items fit nicely in your regular carry-around bag or a small backpack/shoulder bag with plenty of room for towels and a picnic lunch.
White Rabbit Bag: Include any of these items, which you probably have around the house (or your resort room): comb/brush/elastics, first aid kit (or just a band aid and some aspirin), gum, mending kit (or just a safety pin or two), pen, plastic bags (even if you have to steal a trash bag), watch, tissues, washcloth. Now add your cash, cards, and an itinerary if you have it. Include anything else you can find. Don't worry about items you can buy at the parks if necessary, such as an autograph book, bathing suits, video recorder (you can rent one), camera, fan/water mister, film, hat, cell phone, poncho, snacks, sunscreen, sunglasses, or water (in a bottle).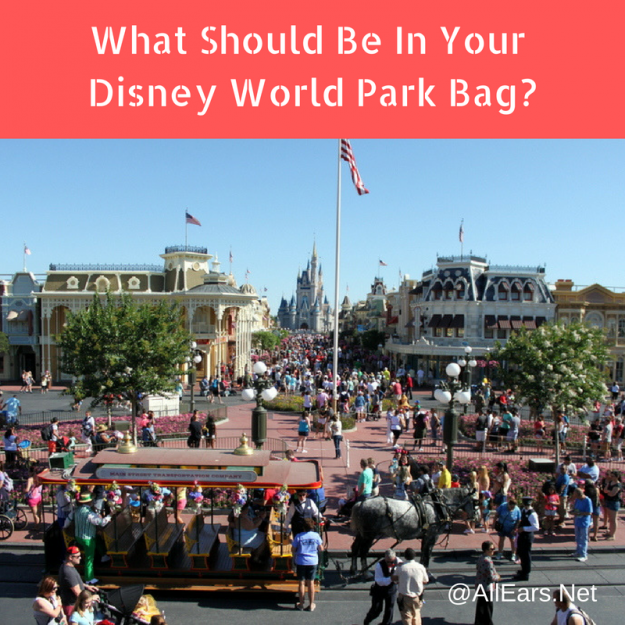 **************************************************************
Thanks to the original authored of this FAQ, Jennifer Marx, copyright 1999-2008.
Updated by Deb Koma, allears.net.