Walt Disney World may not have traditional parades or meet and greets right now, but that doesn't mean there's a lack of characters!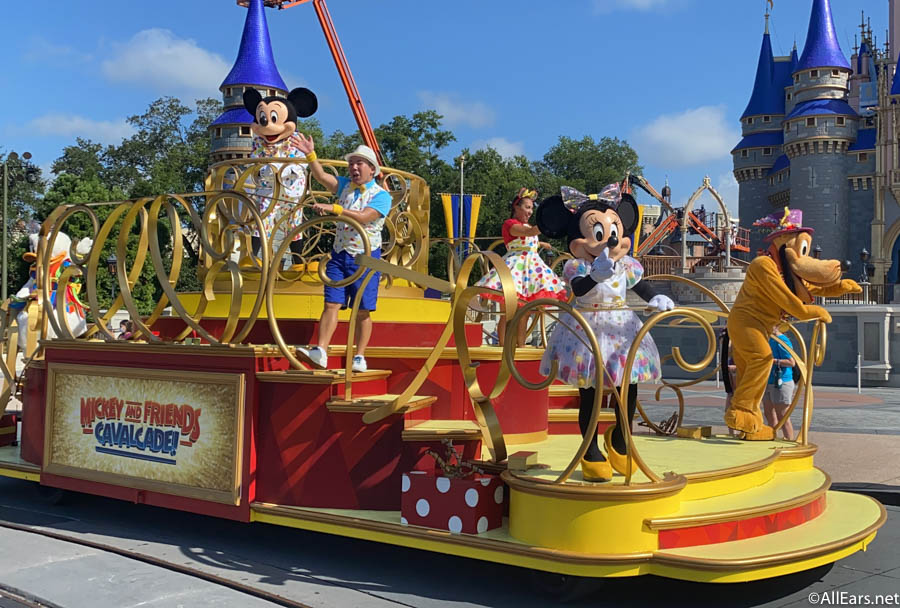 Characters appear in cavalcades, distanced greetings, and even on boats around the four Parks. These character appearances all come out at random intervals to avoid crowding; they are there to surprise and delight guests and enhance their day. Each time we've been at the Parks recently we've seen tons of characters — and we gotta say, we were surprised and delighted.
But which are the best ones?

 

Here are our favorite character experiences right now!
There are FIVE different cavalcades to keep your eyes peeled for in Magic Kingdom, but we have to play favorites. As much as we love the Mickey and Friends Cavalcade, our favorite has been the Fantasyland Friends!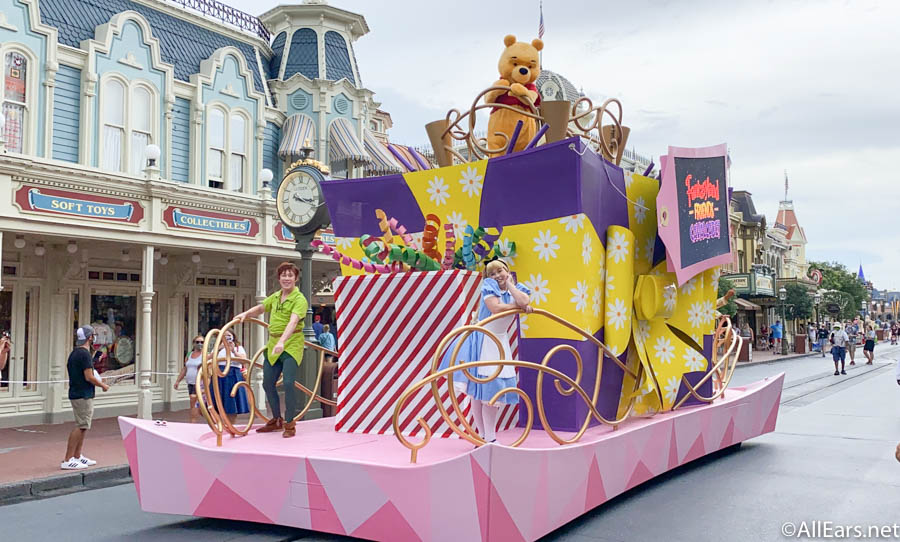 Look out for Pooh, Tigger, Mary Poppins, Aladdin, Alice, Peter Pan, and Gaston…on a horse. It's just so random — we love it!
Speaking of horses, we also love that Angus is making an appearance with Merida in the Princess Processional. (Click here to see more pics of this beautiful horse!)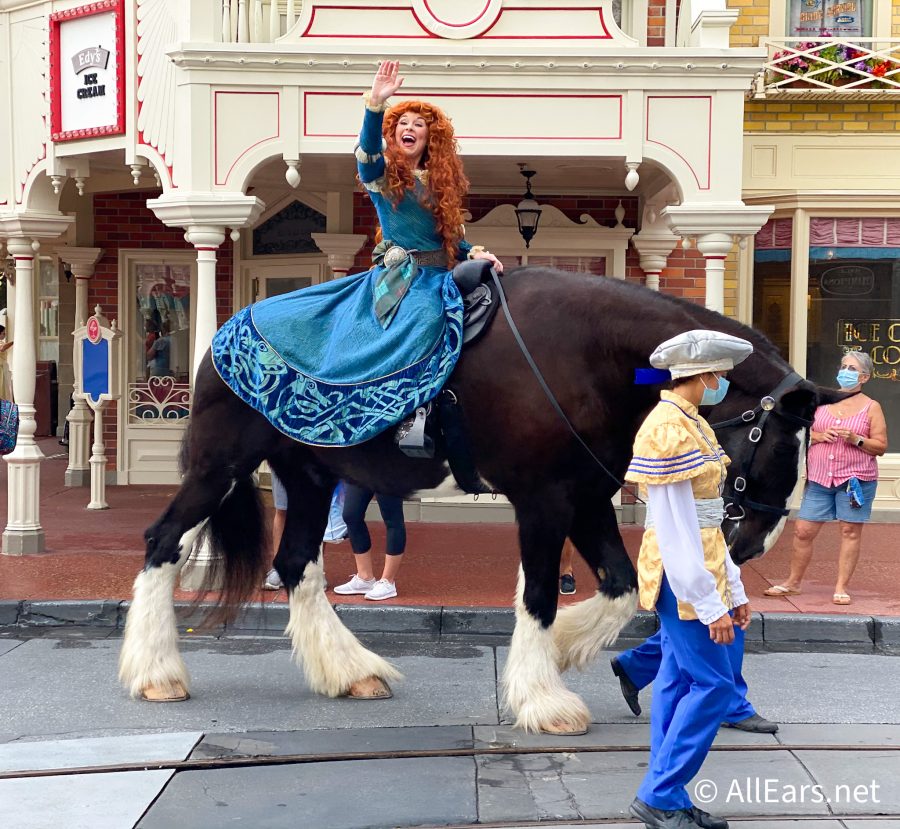 Both of these cavalcades, along with the three others, can be spotted throughout the day on the parade route from Frontierland to Main Street, USA.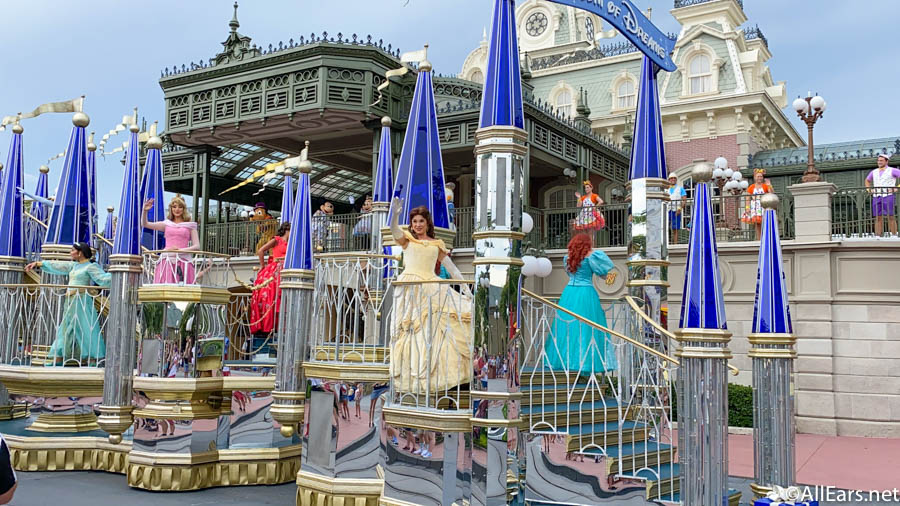 In addition to the cavalcades, you may spot a few distanced characters throughout the Park. Our favorite (and the funniest) has to be the Stepsisters on the backside of the castle.
Anastasia and Drizella call down to guests as they walk by, and they're full of sass. In fact, when I asked where Prince Charming was, Drizella said "I think you mean Charm-LESS. He and Cinderella are probably at a convention for boring people." WOW. Rude… but hilarious.
Scoot over to Imagination in Future World and you just might spot the cutest character greeting ever… .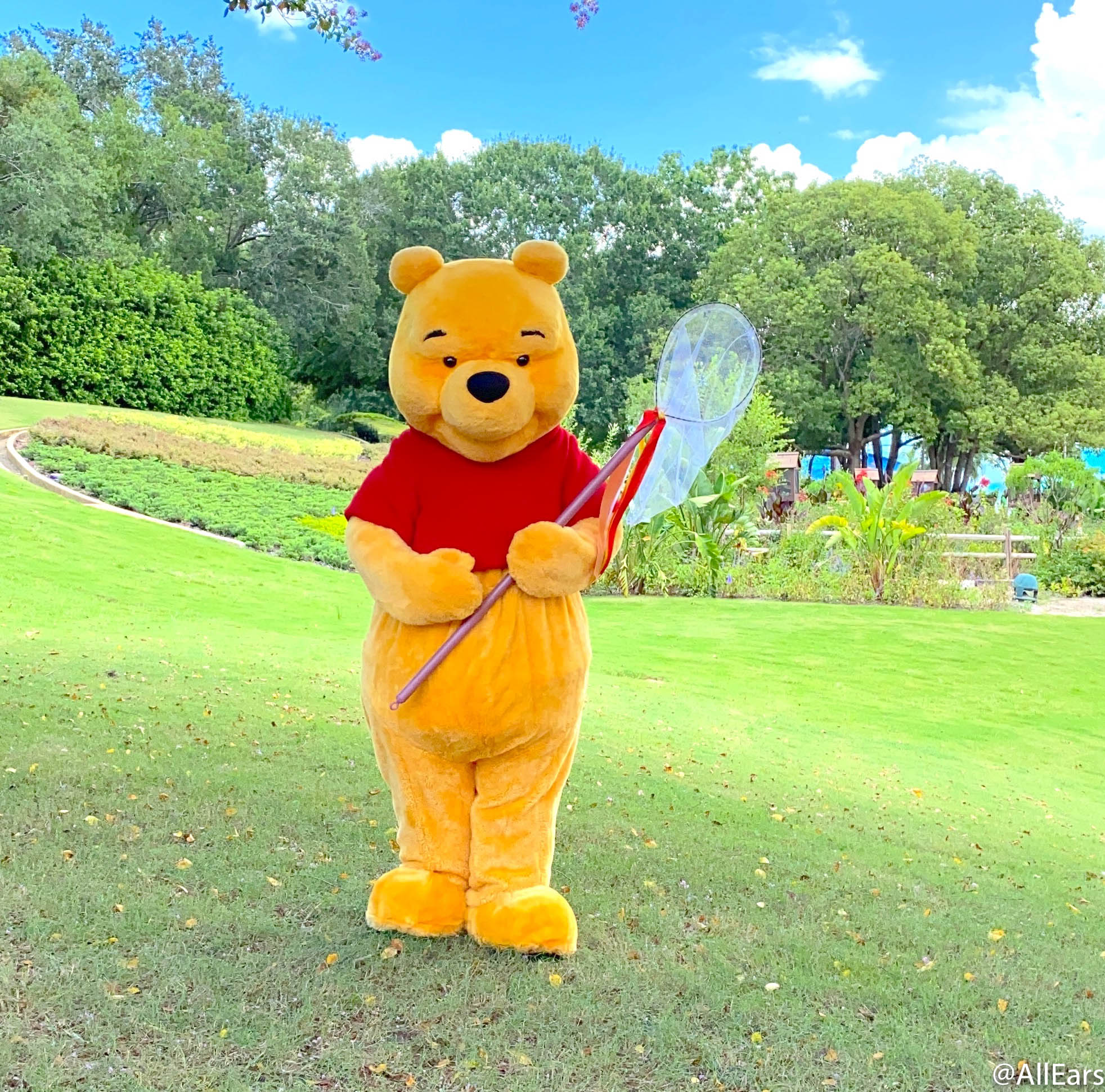 It's Winnie the Pooh catching butterflies! My heart can't take how cute it is! He and Joy from Inside Out swap on and off, delighting guests in the field between Imagination and the Land, and we think this might be our favorite of ALL the characters we've seen in Disney World recently!
Disney's Hollywood Studios has three cavalcades, and they are so darn cute — in fact, they might be our favorite cavalcades of all!
We love Mickey and Minnie's new wheels — and the fact that they're jamming to "Nothing Can Stop Us Now," the theme to their new attraction, Mickey and Minnie's Runaway Railway!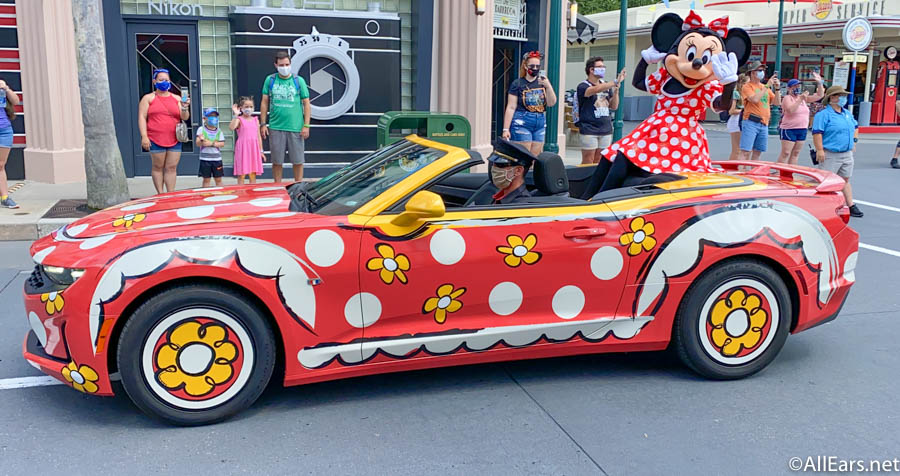 But the cutest cavalcade has to be the Pixar Pals, which features the Incredibles, Sulley from Monsters, Inc., and our favorite Toy Story pals!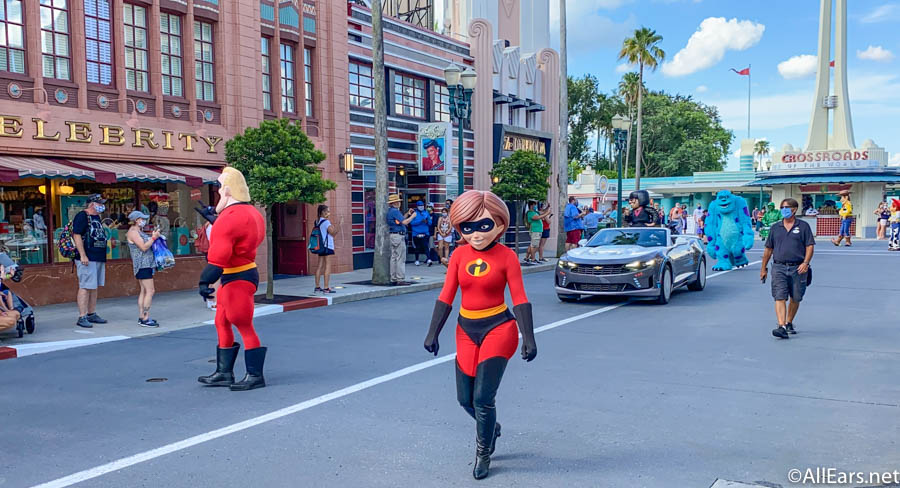 Maybe I'm biased by my love of Buzz Lightyear, but look at his awesome car! Best cavalcade ever.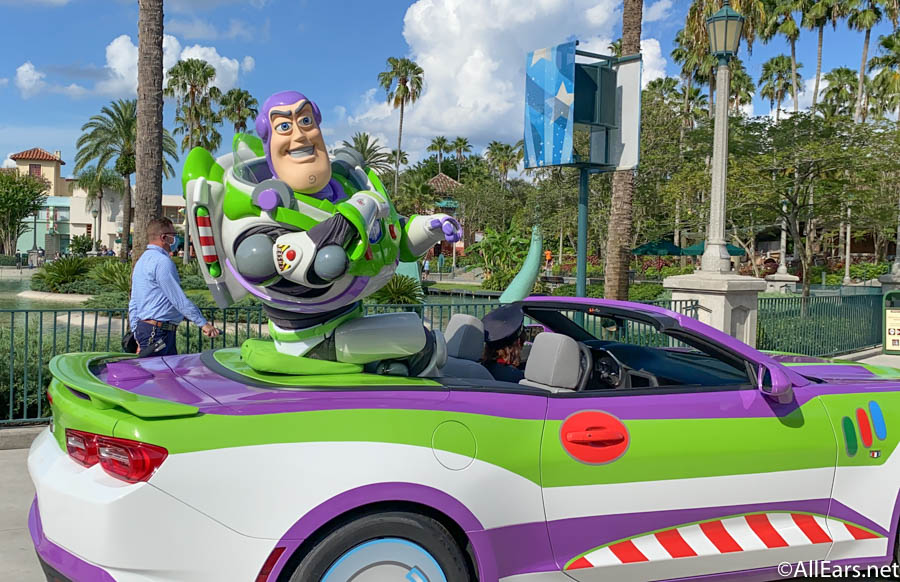 The cavalcades start on Hollywood Boulevard and work their way past the Chinese Theater, before rolling down near Star Tours.
When you're in Animal Kingdom, make sure you look out on the water!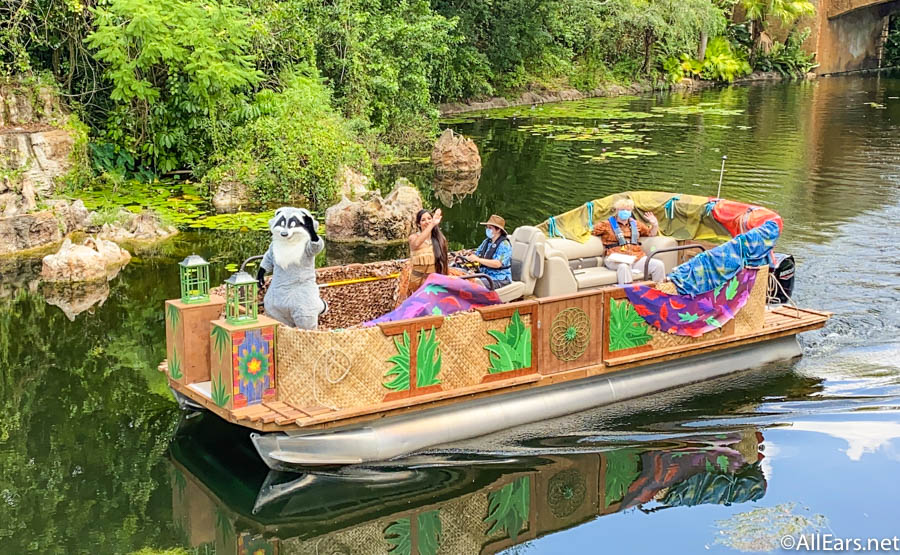 You can spot several character boats that play music as they cruise down the Discovery River. We've found the best spots to see them are the Relaxation Station in Asia or in Africa!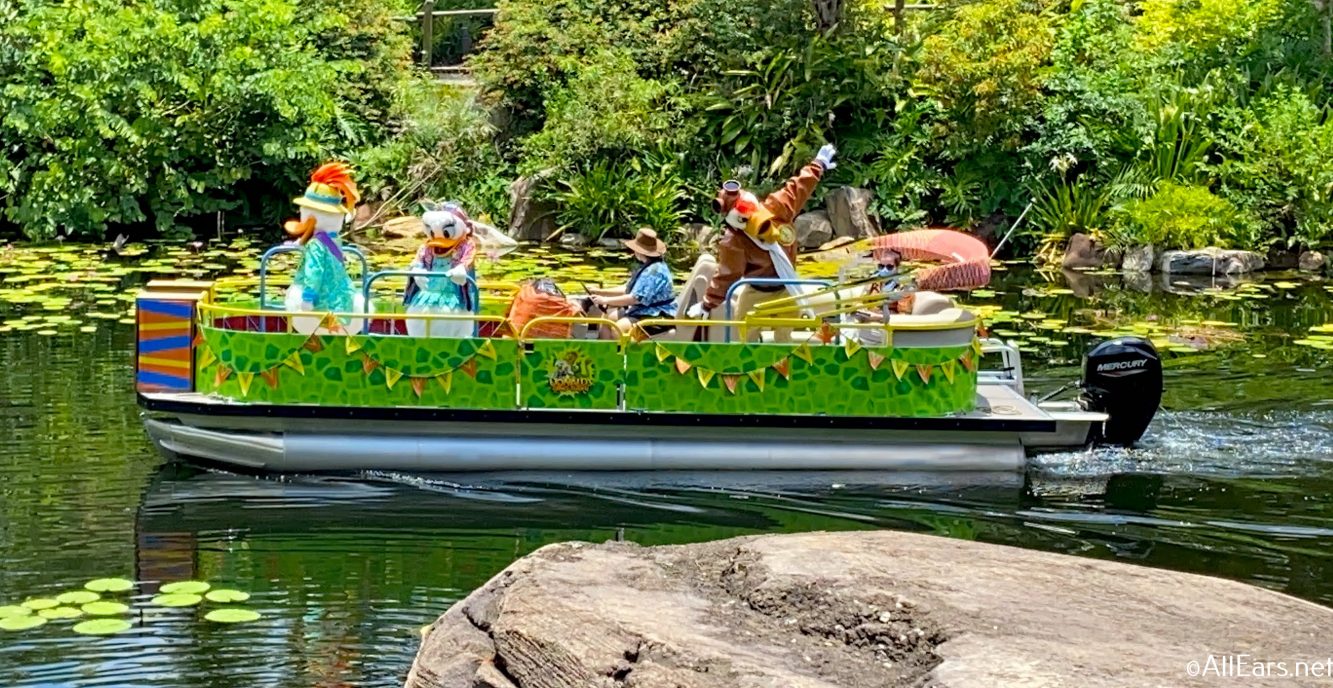 Our favorite boats have been Donald's Duck Boat Bash with Donald, Daisy, and Launchpad McQuack, and the Goofy and Pals Set Sail boat with Goofy and the Chipmunk-o-sauruses!
As you can see, there are still great places to see some of your favorite characters throughout Walt Disney World — even though the meetings look a little different right now!
Who is your favorite Disney character? Let us know in the comments!