When it rains in Disney World, there's definitely a tendency to run to the nearest shop or indoor attraction and wait it out. If you know weather in Florida, you understand that that downpour can transform into a beautiful rainbow in five minutes — especially in the summer.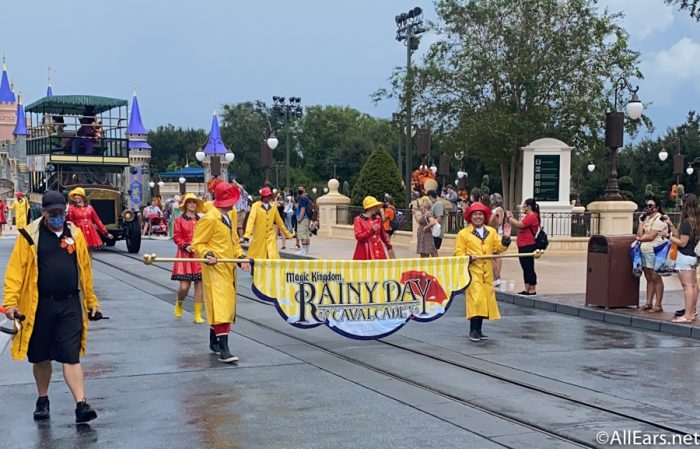 But what if we told you that some Walt Disney World rides are actually better in the rain?
Of course, you should keep in mind that not all rides at Disney World will remain open when it begins to rain. A heavy downpour could cause several of the rides to shut down. Additionally, when lightning strikes within 10 miles of the parks, outdoor rides will shut down.This includes favorite attractions such as Slinky Dog Dash, Astro Orbiter, and Expedition Everest.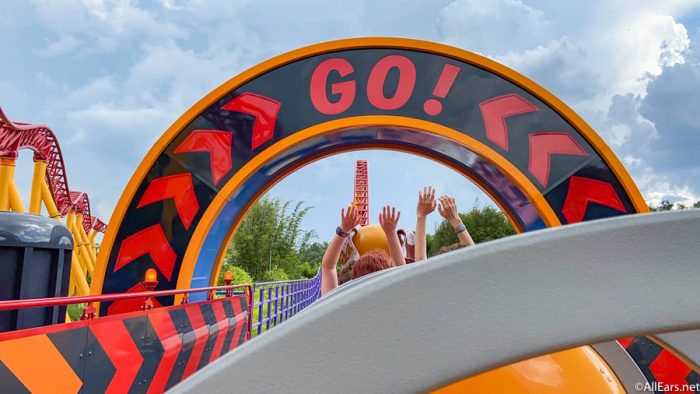 Oftentimes, however, Disney will not close the actual queue, so you can still wait in line as the storm passes. In fact, you may find your wait time to be significantly reduced if other guests decide to make a run for cover while you stick it out. 
But if your weather features a lighter rain and no thunder or lightning, there are a few rides that are actually even more fun in the rain than they are during a typical, sunny day!
1. Kilimanjaro Safaris — Disney's Animal Kingdom
Kilimanjaro Safaris is definitely toward the very top of our list of rides that are made better by the rain. Let's face it, Florida is HOT. We feel it, and the animals feel it, too. During the hottest times of the day, you'll probably find quite a few of the animals trying to stay cool in the shade.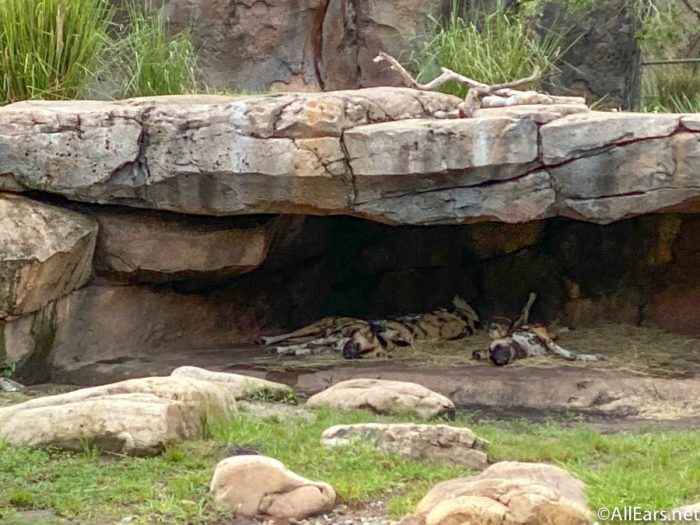 Ride Kilimanjaro during the rain, however, and you'll likely see a different picture. You may actually get the opportunity to see more animals or see some of the animals be a bit more active as they come out to enjoy the coolness of the water.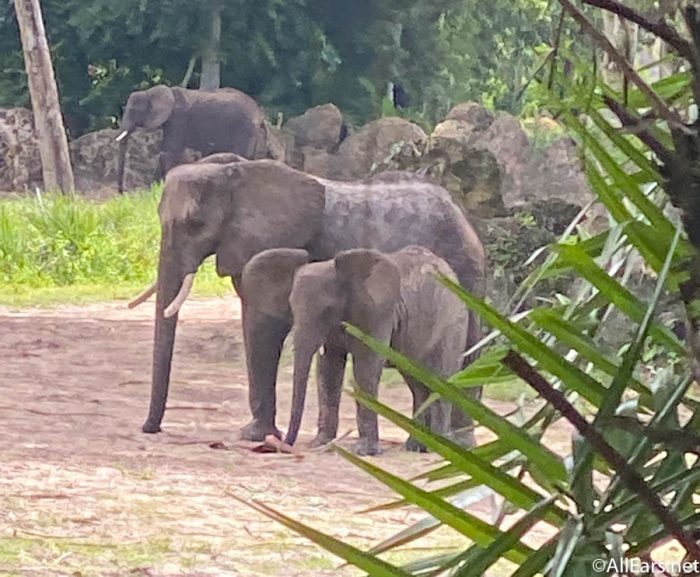 Plus, the queue and ride vehicles for Kilimanjaro Safaris are mostly covered, so you won't get soaked if you decide to wait or if you're on the ride when the rain starts. Overall, it's one of the best and most unique places to be when it rains in Disney World.
2. Animal Trails — Disney's Animal Kingdom
Similar to Kilimanjaro Safaris, the rain can really bring out the animals on the trails in Animal Kingdom. There are three main trail areas you can explore — Gorilla Falls Exploration Trail, Discovery Island Trails, and Maharajah Jungle Trek.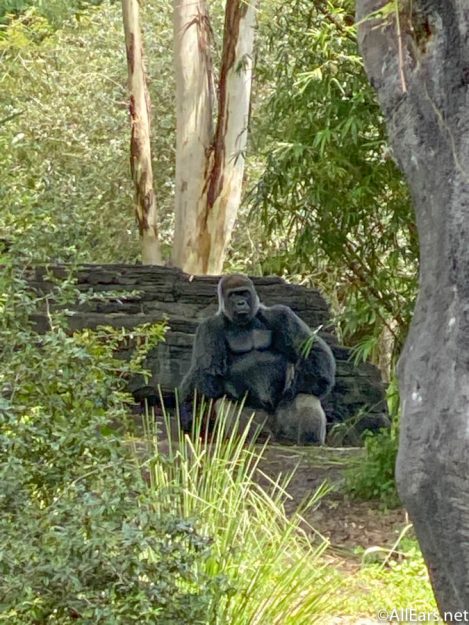 There are quite a few areas on the trails, particularly on the Gorilla Falls Exploration Trail, that are covered so you don't have to be standing in the rain the whole time. Overall, they're peaceful walking trails that can really immerse you in the story of Animal Kingdom, and the rain can help enhance your animal viewing experience as the animals emerge from their shady hiding spots to take in the refreshing rain.
3. Kali River Rapids — Disney's Animal Kingdom
If you're already going to get wet from the rain, you might as well take full advantage and go on a water ride! Kali River Rapids is located in Asia, near the Maharajah Jungle Trek. On this ride, you'll board a circular raft and experience some exciting twists and turns through the rapids.
If you love getting wet, or you were planning on going on this attraction anyway, a little rain can definitely add to the experience and make it all the more exciting. It'll feel like the imagineers have added a few extra water cannons! While you'll have to store your umbrellas away, you can keep your raincoat on while riding this attraction if you want to get a little wet, but not totally soaked!
4. Splash Mountain — Magic Kingdom
Much like Kali River Rapids, Splash Mountain is another water-based ride where you will likely get (at least) a little wet from splashing down into the Briar Patch.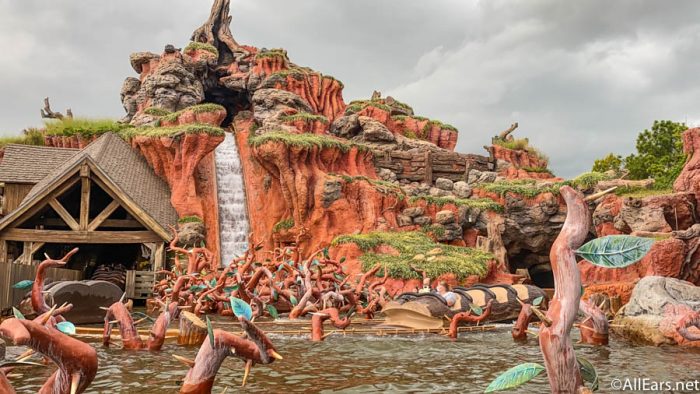 You only spend the beginning and end of the ride outside, so it's a great one to hit during the rain. You'll be able to get a break from the weather while inside the attraction, but get ready for those drops! With the rain, you'll get some extra splash added to your fun. You can also keep your raincoat or poncho on while riding this attraction so the rain doesn't totally soak your clothes.
5. Twilight Zone Tower of Terror — Disney's Hollywood Studios
If you're really looking to add an extra layer of spookiness to your experience at Twilight Zone Tower of Terror, you'll definitely want to try riding in the rain! Part of the story of the attraction is that the elevator was hit by lightning on a dark and stormy night, so you'll feel just like those passengers did as you approach the Tower in the rain.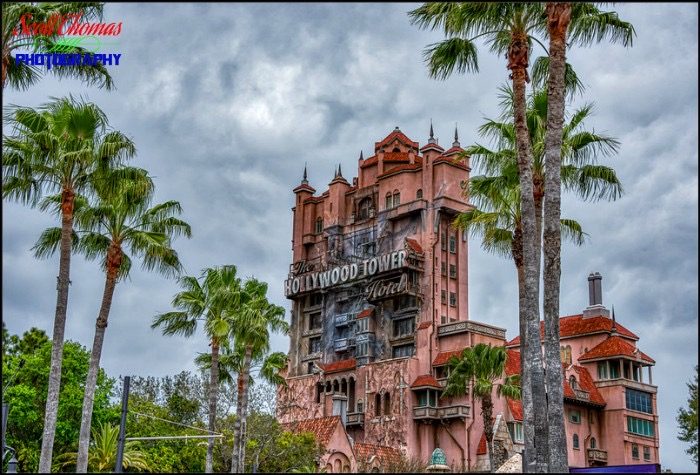 Plus, once you hit those drops and the doors open, you'll get a really unique view of the rain coming down on Sunset Boulevard. Will lightning strike during your ride and take you straight to the Twilight Zone? There's only one way to find out.
6. Tomorrowland Transit Authority PeopleMover — Magic Kingdom
If you want a more relaxing rainy day experience, you can head over to the Tomorrowland Transit Authority PeopleMover in Magic Kingdom. While aboard the TTA, you'll make your way past and even through some attractions in Tomorrowland. The TTA is good any time of day, but it's particularly fun during the rain. As you watch from above, you'll get a unique perspective of the attractions, people, and Castle from above as the rain comes down.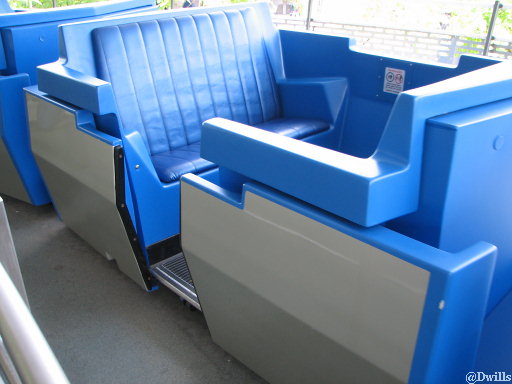 You may even be able to catch a glimpse of the Rainy Day Cavalcade when you get that quick view of Main Street, U.S.A.. You may get wet while riding the TTA depending on the direction of the rain, but for the most part you'll be under cover and able to stay fairly dry, so it's the best of both worlds!
7. The Coasters!
We couldn't make this list without listing the outdoor roller coasters! Again, assuming that the rain or lightning hasn't forced these attractions to shut down, riding some of the outdoor coasters in Disney World during the rain can be an awesome experience! We're talking Big Thunder Mountain Railroad in Magic Kingdom…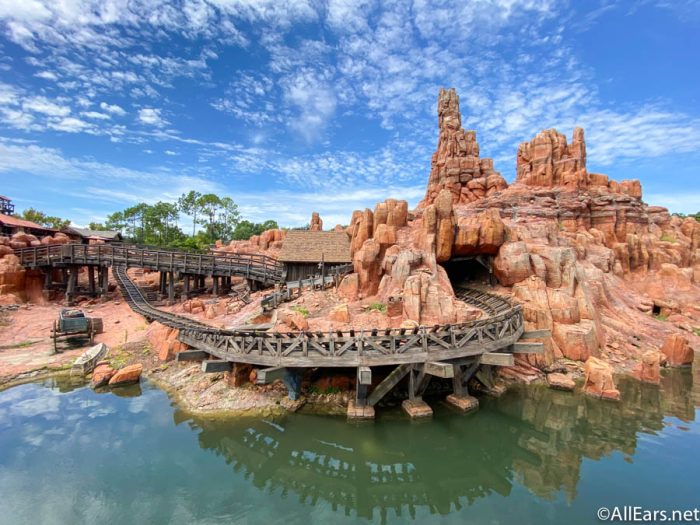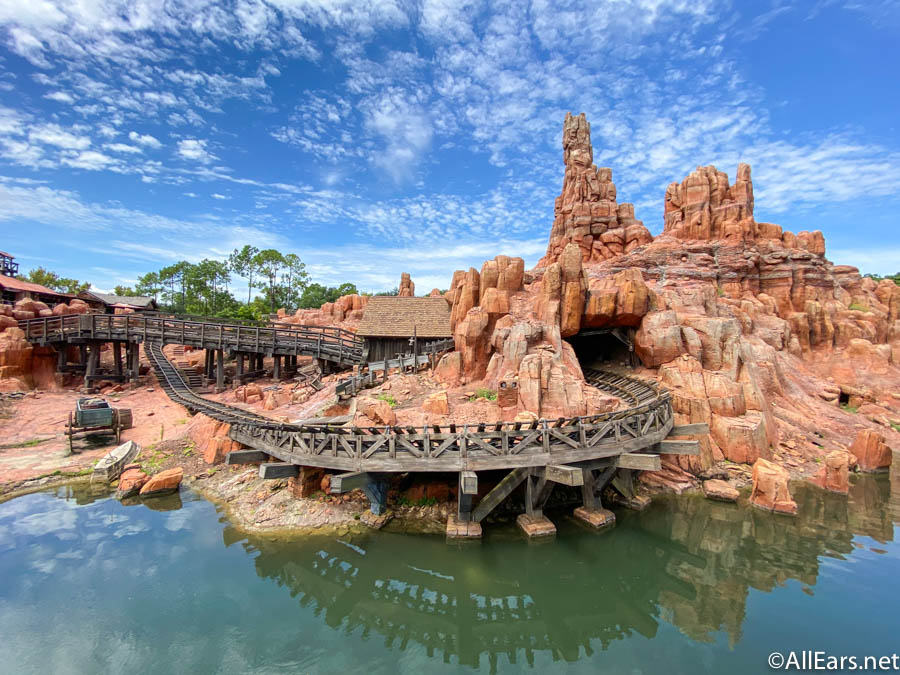 …Seven Dwarfs Mine Train in Magic Kingdom…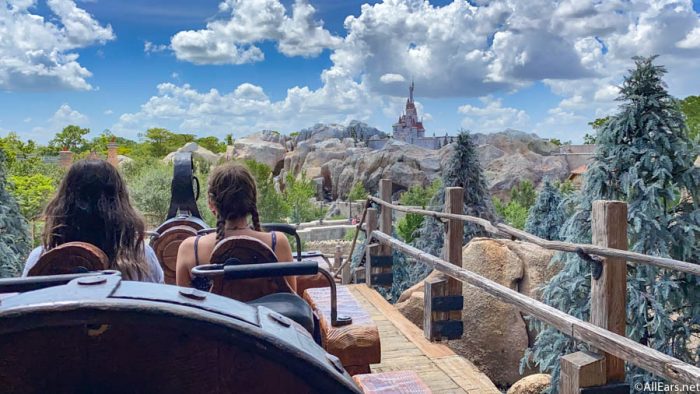 …Expedition Everest in Disney's Animal Kingdom…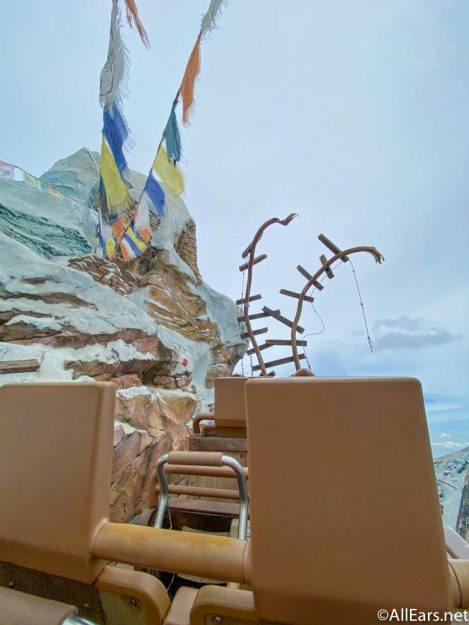 …and Slinky Dog Dash in Disney's Hollywood Studios!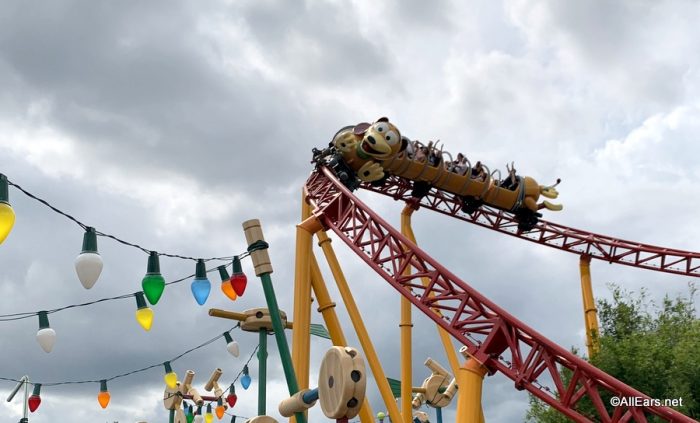 You'll want to be careful if the rain is particularly sharp (you know that rain that feels like needles?) because it definitely would not be fun to have that type of rain coming at you while zooming around Toy Story Land or Frontierland. But if it's just a light, soft rain, the combination of wind from the speed of the coaster plus the rain can make it feel like you've got your own misting fan!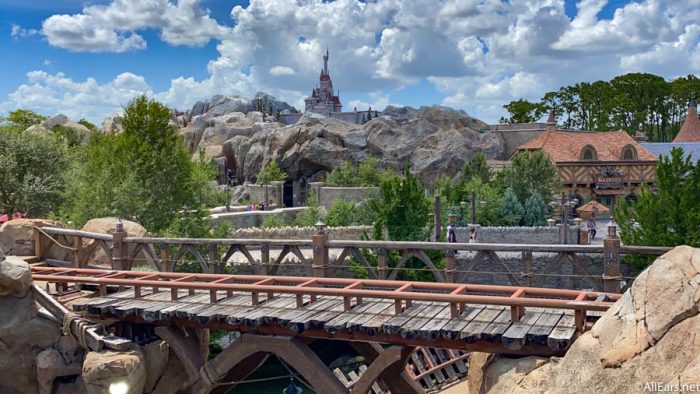 Plus, particularly on Expedition Everest, the rain can add another layer of mystery to the overall story! The rain can also help lessen some of the lines sometimes as guests choose to seek cover rather than ride something where they'll get wet, so you may find it easier to hop on one of these popular attractions in the rain.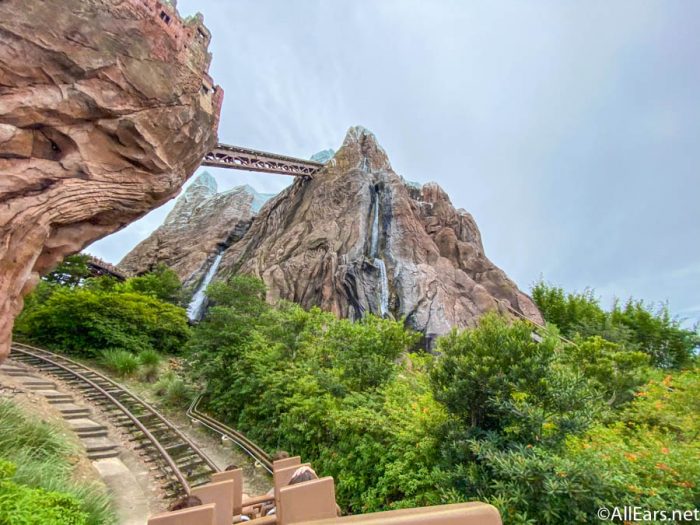 Again, this list all dependent on these attractions being open. If there is thunder or lightning or heavy rain, many of these attractions will close, so be sure to check if the attraction is open before donning your raincoat and running over to check them out.
What's your favorite attraction at Disney World to ride in the rain? Let us know in the comments — we'd love to hear from you!
Join the AllEars.net Newsletter to stay on top of ALL the breaking Disney News! You'll also get access to AllEars tips, reviews, trivia, and MORE! Click here to Subscribe!