I entered the Black Spire Outpost on the Planet Batuu inside Galaxy's Edge at Disney's Hollywood Studios armed, not with a blaster, but my trusty Nifty-Fifty lens attached to a Nikon D750 digital SLR camera. A Nifty-Fifty is a 50mm f/1.8 prime lens. Such lenses are affordable and great for learning photography basics. One such basic photography tool is Aperture.
At the X-Wing preparation area in the Black Spire Outpost, I will demonstrate how two apertures can alter what the camera captures on its sensor.
At an aperture of f/16, the image is in sharp focus from the front to the back for the frame. Opening the lens wide open at f/1.8, the focus plane becomes very narrow as objects in front and behind the in focus object go out of focus.
The Nifty-Fifty is good for mid-aperture shooting, too.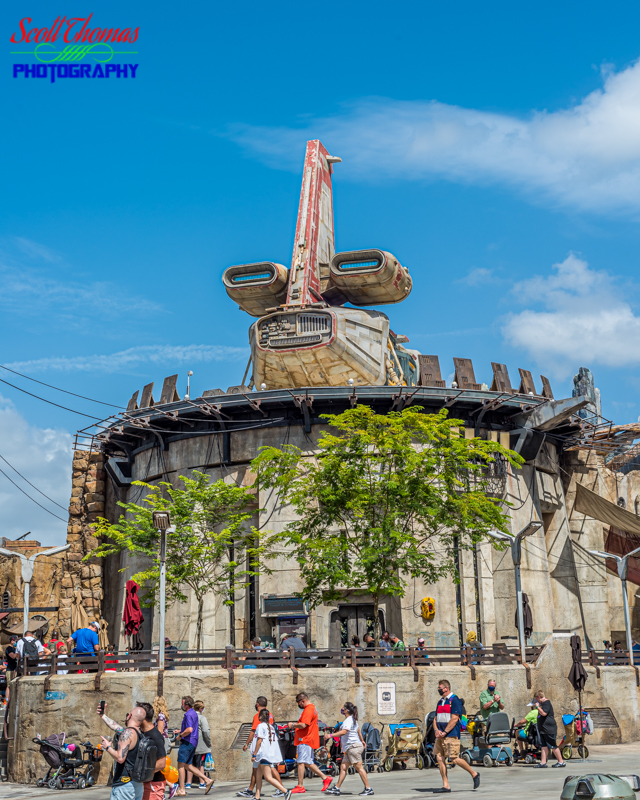 At f/11 and the distance from the Docking Bay 7 Food and Cargo quick service restaurant created an image in perfect focus with a shutter speed fast enough to freeze the action of the citizens moving about Batuu.
Looking for a fun and inexpensive prime lens to add to your bag, I highly recommend getting a Nifty-Fifty.
Be sure to follow @allearsnet on Facebook, Instagram and Twitter!
Click below to subscribe to the AllEars® newsletter so you don't miss any of the latest Disney news!