The definition of a Nifty-Fifty is an inexpensive 50mm prime lens with a maximum aperture of f/1.8. The Nikon 50mm f/1.8 and Canon 50mm f/1.8 both come in at under $140 and work on most Nikon and Canon digital SLR cameras. Most other camera systems have this focal length in a prime lens also. A prime lens has a fixed focal length versus a zoom lens that has a variable focal length. My 18-200VR zoom lens, for example, goes from 18mm to 200mm and all focal lengths in between.
What makes these Fifty's so nifty? Because they are a fixed length lens, they tend to be much sharper, lighter in weight, smaller in size and FAST. Most consumer zoom lens' start at f/3.5 and vary up to f/6.3 extended to their full focal length depending on make and model. These 50mm lenses also makes you think when you are using them. If you want to fill your frame more with the subject, you have to move closer and visa versa. The depth of field is a lot more apparent when apertures are opened up to f/2.8 or f/1.8 so focus on your subject is very important.
A couple of notes on my camera with a 50mm lens. Since the Nikon body I use has a crop factor of 1.5, the 50mm is actually a 75mm lens in 35mm terms. I have used a 50mm on 35mm SLRs in the past and that's the only difference. The photos below are great examples of what this type of lens can do.
Using the hyperfocus setting at an aperture of f/22, the lens' smallest aperture, it brought the shutter speed down to 1/50th of a second even in the bright mid-day Sun of Florida. You can see how sharp and colorful the Innovention Fountain and Spaceship Earth are in this photo. When I first looked at this scene I was too close and had to do a Chris Berman and back, back, back up about 25 steps.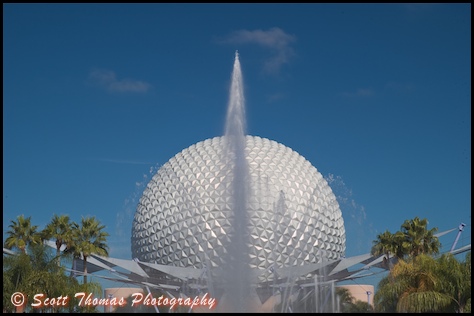 Innovention Fountain performing in Epcot's Innoventions Plaza.
Nikon D70/50mm, 1/50s, f/22, ISO 200, EV +0.3
Selective focus is where you open the lens to it's largest aperture and the only thing in sharp focus is the subject. The rest of the objects in front of and behind are thrown out of focus. With an aperture of f1.8, a 50mm lens creates extreme selective focus images like this one. Notice how the guests in the background are totally out of focus and the Mickey shaped tomatoes which are in focus leave no doubt as to the subject of the photo.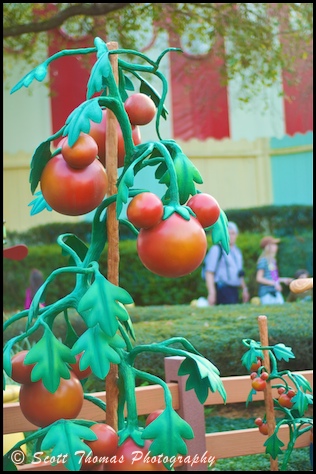 Mickey shaped tomatos in Mickey's Country House garden in Toontown Fair.
Nikon D70/50mm, 1/250s, f/1.8, ISO 200, EV +0.3
Look for more examples of selective focus next week on the Picture This! blog.
When someone says the lens if fast, they are referring to it's largest aperture. The smaller the number, the larger the aperture, the more light is allowed in by the lens to the digital camera's sensor. Even when the light is low, a 50mm lens at f/1.8 brings in four times the light as a zoom lens at f/3.5 and twice as much as an f/2.8 lens. The Nifty-Fifty lenses are a Disney photographers best friend for the dark rides at a Disney park. For instance, Pirates of the Caribbean is a ride I never even tried to photograph until I got a 50mm lens. Though I still had to use some noise reduction software at an ISO of 1600, the exposure and focus was right on for the auction scene.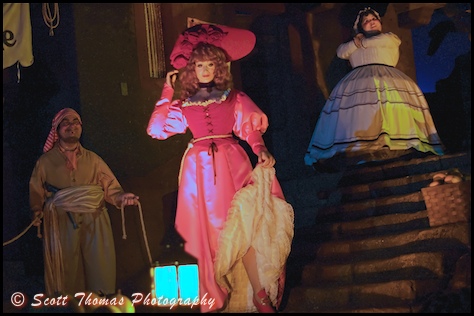 Pirates of the Caribbean Auction Scene.
Nikon D70/50mm, 1/25s, f/1.8, ISO 1600, EV +1.0
For more on using a Nifty-Fifty, click this link on You're only 50mm Away from Becoming a Better Photographer.
Check out my flickr set called the Nifty-Fifty for more examples of the 50mm f/1.8 lens. Have fun!