When visiting a Disney theme park, there are a few essential items that always need to be in your bag or on your person.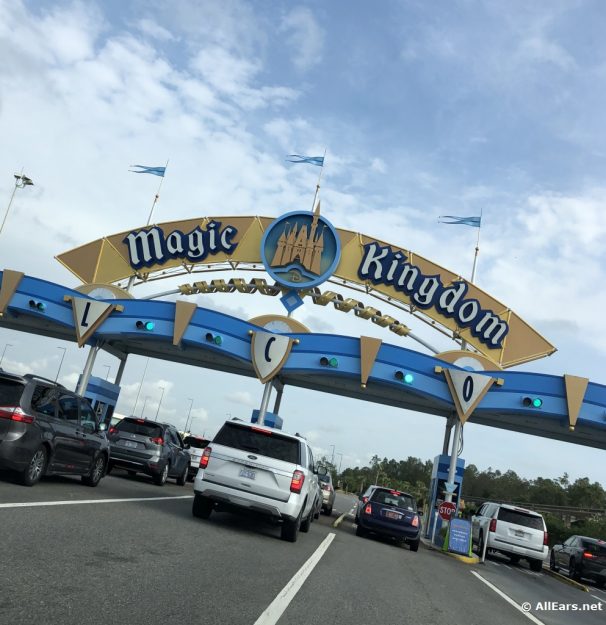 Some of these items will protect you from the sun, many will save you money, and others will ensure that you have to best time on your Disney vacation.
Below are the 10 items we believe are essential to having the best Walt Disney World vacation. Make sure you keep these items on your Disney packing checklist!
Sunnies – Sunglasses are essential to surviving a sunny Disney day. I cannot count the number of times I have forgotten my sunnies when visiting the parks. Forgetting my sunglasses personally means that my eyes will be closed in every single photo. It also means that I will be wandering around the park with my eyes squinted the entire day… no fun.
Sunscreen – OK, I know this seems like common sense, BUT do not forget to put on sunscreen. It is so easy to burn at Disney and I know you get so busy and are having so much fun that you forget to put it on. Even on a cloudy day, you can burn to a crisp without sunscreen. This is another essential item to bring. Yes, you can buy sunscreen in a Disney shop, but who wants to pay those outrageous prices? Not me!

If you forget your sunglasses, pick up a stylish pair at Disney Springs

Gum – If you are a gum-chewer, make sure you bring your own because you can't buy it at Disney World. Disney World shops do not sell gum in an attempt to keep the parks clean. They don't want gum on the ground, stuck under tables and benches, or on ride seats. It makes total sense! But… if you love your gum and need it, bring it! Just be thoughtful when you dispose of it.
Umbrella, poncho, rain coat – You never know when it's going to rain in Florida. The skies will become dark and cloudy in an instant, especially in the summer. The rain doesn't usually last long, but getting soaked can put a huge damper — literally — on anyone's day. Disney does sell these items, but at a price. So, before visiting the parks hit up the local dollar store or Target and grab a few cheap ponchos or umbrellas for the family!
Camera – Don't worry, your iPhone totally counts. Just make sure you have some way to capture all of the magical memories you're going to make with your family. Yes, Disney has PhotoPass cast members throughout the park. The nice thing is that cast members will take photos on Disney's cameras, but they don't mind using your personal camera/phone as well. If you want both, Disney's photos and your own, which is what most people want, make sure to check out PhotoPass and Memory Maker here.
Mickey Ears – Pack your favorite pair, because what Disney look is complete without ears? The answer is none. Mickey ears, I believe, are a must-have Disney staple. Bring a pair of Potion Purple ears, buy a pair of Briar Rose Gold ears, it's up to you as long as you have some to rock. If it is your first time visiting the parks, I recommend a classic pair of Mickey ears that you and the family can get embroidered at The Chapeau on Main Street! Then, you not only have ears but you have a lovely souvenir as well.
A bag to put all this junk in – I recommend bringing a backpack or fanny pack. Disney sells the perfect Loungefly backpacks — check out a few new options here! They're a good size — small enough that you won't put so much in them that they're like giant bricks on your back. Still they'll fit all of the essentials. Disney also has some adorable fanny packs in the parks as well.
Autograph Book – This is essential if you plan on meeting the characters. The characters will sign the book and will even leave a sweet note from time to time. I think that autograph books are a fun way to rack up memories. The autographs can be placed next to pictures and will allow you to remember the special moments for years to come. The autograph books are also pretty inexpensive, so it is a cheap souvenir as well!
MagicBand – MagicBands have become an essential for any Disney World vacation. They are the key to your resort room. They allow you to scan in for your FastPasses without having to pull out a million cards. You can store your card on the band and use it when checking out at food and merchandise locations. This means you don't even have to bring your wallet to the parks at all. You will receive a MagicBand when you book a stay at a Disney World resort. If you are not staying on property, they can be purchased inside the park and linked to your My Disney Experience account. Disney sells a ton of cute designs and colors. The prices will range based on whether you purchase a solid-color MagicBand, one with a design or customization, or even a limited-edition MagicBand.
Comfy Shoes – I am the first to say that shoes complete an outfit. I always want to wear cute sandals with my outfits when in the parks. I have had to learn not to. I now know that my day will be loads better if I wear comfy shoes around the parks. I just make sure my feet don't show in the photos. If you are going to wear sandals or flip-flops to the park, I recommend bringing a pair of comfy shoes in your bag. Then, when your feet can't take it anymore, you have relief!
For the Kiddos
There are a few additional things I recommend bringing for your little ones.
Baby wipes – This is an obvious items. Bring wipes not only for potty time, but to clean your baby's hands and face as well. Little ones have the tendency to want to touch things. After they touch everything, they want to put those sweet hands into their mouths. Baby wipes will help keep their hands clean so they don't eat all of the germs at Disney World!
Snacks – If you do not want your children to inhale massive amounts of sugar for the week, pack a few healthy snacks for each day. Disney does sell fruit and a few other healthier choices at some locations around the parks, but it is much easier to bring you own. Bringing your own snacks will also save tons of money!
A hat – Protect those little heads from the intense sun by packing a hat. If we burn easy, you know their delicate young skin is burning even faster. Sometimes it is hard to keep up with reapplying sunscreen, so a hat will at least protect their head and face from the sun!
An extra pair of shoes – I cannot tell you the number of odd shoes I see left around the parks. It is so easy for kids in strollers to kick off their shoes without you even noticing. Also, between the wet rides like Splash Mountain and Kali River Rapids and some of the other water play areas (Casey Jr. Splash 'n Soak Station, the splash pads in Epcot), it's easy to get soggy shoes. It is helpful to have a dry backup pair just in case you need them!
Disney has had quite a few policy changes lately. Make sure to check those out before visiting the park! 
What are the Disney park essentials that you always have with you? Let us know in the comments below! 
Be sure to follow @allearsnet on Instagram and Twitter!
Check out our YouTube Channel for reviews, news, information and more!
Click below to subscribe to the AllEars® newsletter so you don't miss any of the latest Disney news!