There is one question we get asked more than all the rest when planning for Disney World.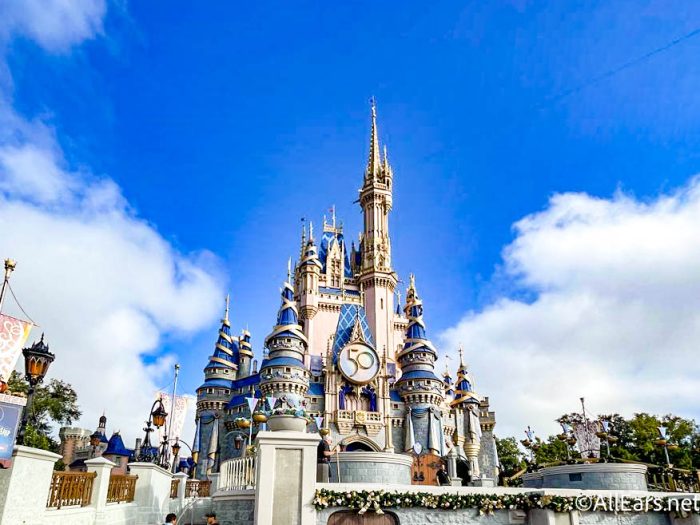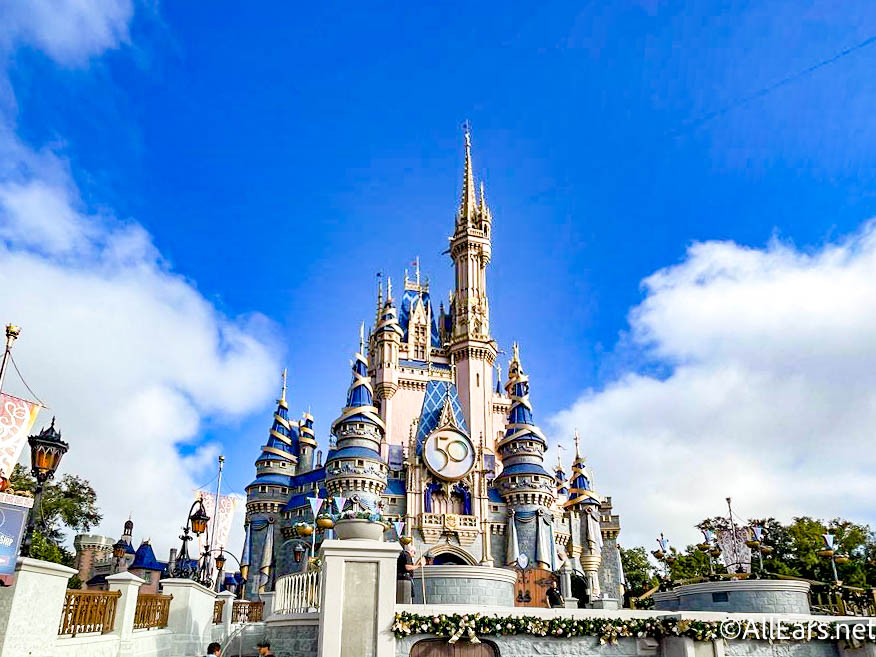 Is it possible to do everything in X park in one day? It should come as no surprise that Magic Kingdom is the park we get asked about the most. After all, it is the most popular theme park in the world! But, with nearly 30 rides open at any given point, it's a question we had to put to the test to find out.
While there are some major caveats surrounding whether anyone would be able to do this (timing, party size, and weather being just a few), when Quincy and Emma tested it out for an AllEars TV video, they were able to get on 28 rides in Magic Kingdom in one day!
How We Did It
Let's start from the very beginning. Riding every ride in Magic Kingdom in one day takes planning, patience, and a full day in the park.
Rope Drop
The first tip would be to rope drop! Whether you're staying at a Disney World hotel (and thus able to get in 30 minutes before the park opens with Early Theme Park Entry), or off-property, you will want to make sure to get to the park as soon as possible. We got there right at park opening and made our way over to Splash Mountain for our first ride of the day.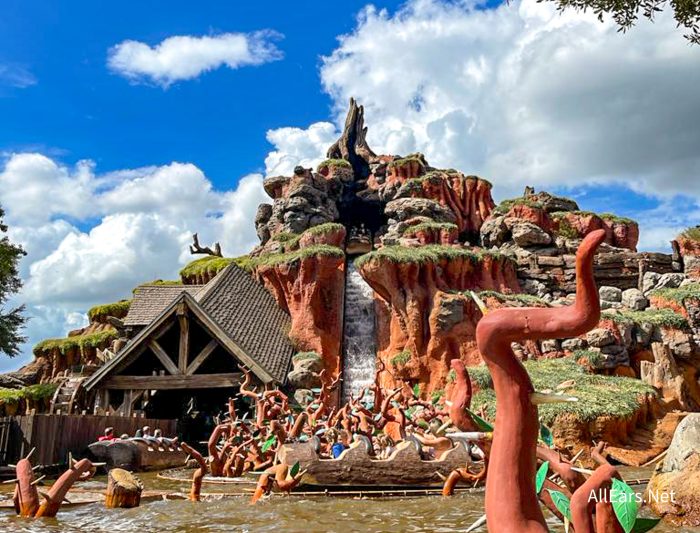 Before getting on Splash, however, we purchased Genie+, which is a paid option to skip the line in Disney World. For our first Genie+ selection, we chose Jungle Cruise, a ride that typically has a long line that will stay long throughout the day.
Knock Out Area-by-Area of the Park
With our Lightning Lane for that secured, we rode Splash Mountain and Big Thunder Mountain Railroad in quick succession, followed by a near walk-on at Haunted Mansion. By this point, it was almost time for the Jungle Cruise Lightning Lane, so Emma and Quincy made a quick stop for a 20-minute wait at Pirates of the Caribbean before boarding Jungle Cruise. After Jungle Cruise, they made their next Lightning Lane selection for later in the day — Peter Pan's Flight, a popular ride that can have a long wait time.
After that, Emma and Quincy knocked out a few low-wait rides in Adventureland so they wouldn't need to come back to the land. They were able to do Magic Carpets of Aladdin, Enchanted Tiki Room, and Swiss Family Robinson Tree House fairly quickly.
Use Genie+ (When Needed)
After finishing in Adventureland, Emma and Quincy rode a few lower wait rides (it's a small world, Country Bear Jamboree, and Liberty Square River Boat). Since it had been two hours since making their last Lightning Lane selection, the duo was able to use the 120-minute rule for Genie+ to grab another Lightning Lane choice — Space Mountain.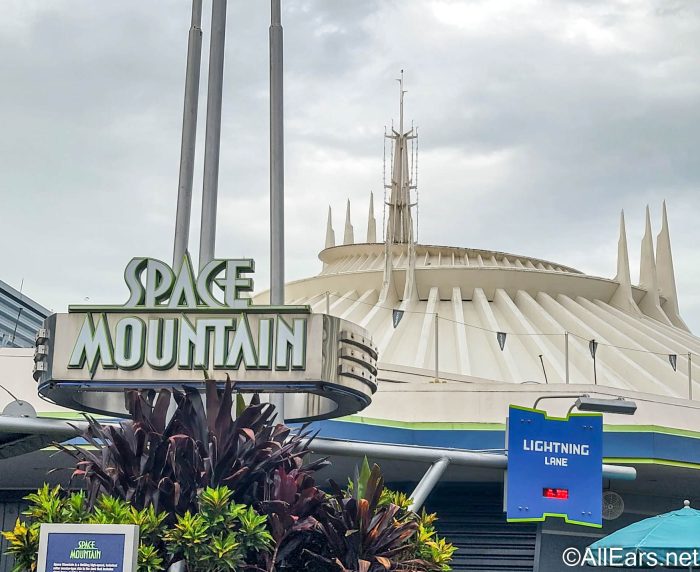 After riding Space, they quickly got another Lightning Lane for Buzz Lightyear's Space Ranger Spin, before circling back to their previous selection and riding Peter Pan's Flight.
Around this time, they also bought an Individual Attraction Selection for Seven Dwarfs Mine Train, knowing that the weather was not looking great and that they would likely need to pay extra to save themselves an hour or so of waiting.
Plan Around the Weather
Due to some bad weather on the day, a lot of outdoor rides were temporarily unavailable. Quincy and Emma used this time to knock out the indoor attraction, Mickey's PhilharMagic. After getting out of the show, the weather was better and they were able to quickly walk on the nearby Prince Charming Regal Carrousel.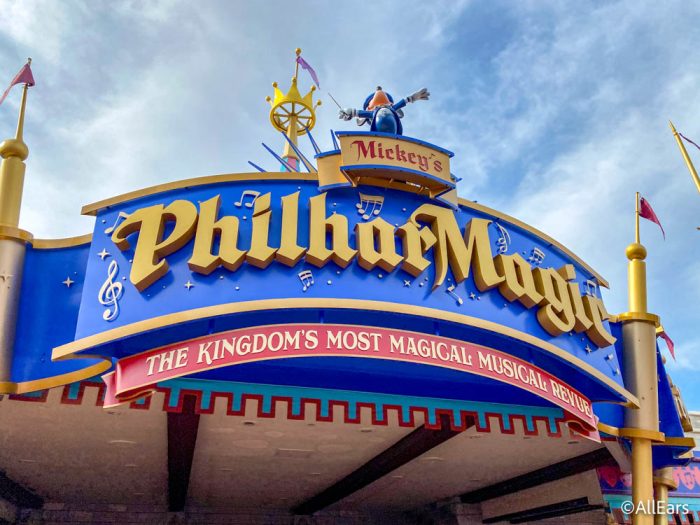 They skipped a 45-minute standby for Many Adventures of Winnie the Pooh by using their next Genie+ selection, following it up with their IAS for Seven Dwarfs Mine Train.
All in all, Quincy and Emma used Genie+ to ride Jungle Cruise, Peter Pan's Flight, the Many Adventures of Winnie the Pooh, and Space Mountain. Additionally, they bought an Individual Attraction Selection for Seven Dwarfs Mine Train.
Kept an Eye on Wait Times
After Mine Train, they went to the nearby Mad Tea Party, before finishing out Liberty Square with Hall of Presidents. They continued to Fantasyland soon after with Under the Sea – Journey of the Little Mermaid. At the time it had a 35-minute wait, but the two ended up getting on much quicker.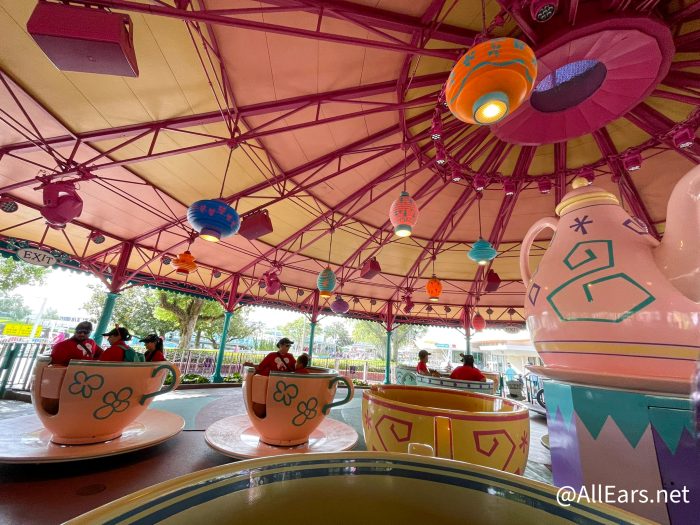 Following that, Emma and Quincy were able to hit a few ride with low wait times — Dumbo the Flying Elephant and  Barnstormer featuring the Great Goofini in Fantasyland, followed by a trip over to Tomorrowland to finish with PeopleMover, Carousel of Progress, Monsters, Inc. Laugh Floor, Tomorrowland Speedway, and  Astro Orbiter.
All in all, with some planning, prioritizing, and Genie+, the team was able to knock out all 28 rides before the park had closed for the night!
Full List of Rides in Order
This was the order Quincy and Emma ended up going with to go on all 28 Magic Kingdom rides in one day:
Needless to say, your ability to knock out all of Magic Kingdom can be dependent on a lot of factors. If you have a family with smaller children, if you're visiting during a particularly busy time, or if you aren't looking to move quickly through the park, you will likely have trouble getting everything done.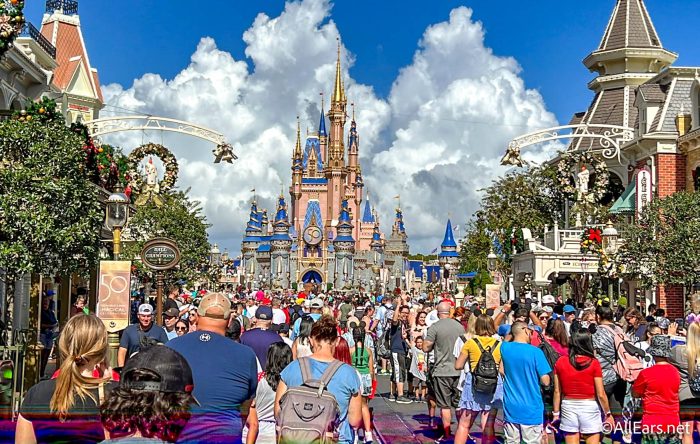 However, that doesn't mean you can't get everything you want to done! We recommend creating a list of priorities, and planning accordingly. If it's going to be a busy day and there are popular rides you know are a must-do, you may want to consider Genie+, or buying an Individual Attraction Selection ahead of time.
If the weather is going to be an issue, make sure to plan around it — get those outdoor rides in when it's sunny, knowing you can knock out some indoor attractions when the weather gets bad.
Make sure to use these tips and tricks on you're next journey to the parks to get the MOST out of your Disney World trip!
Looking for more planning tips? Make sure to check out our guide to packing essentials, as well as planning mistakes to AVOID.
What is your favorite ride in Magic Kingdom? Let us know in the comments!