ASTRO ORBITER Tomorrowland Magic Kingdom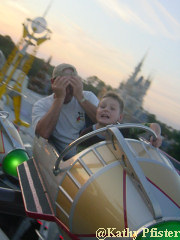 INTRODUCTION
Pilot your own spacecraft on an aerial adventure in Tomorrowland's skies. The centerpiece of Tomorrowland is the tall structure of orbs and planets that Astro Orbiter circles!
ATTRACTION
Astro Orbiter — Look up in the sky and watch the silvery rockets circle around the colorful sculpture of "Tomorrowland." To reach the ride you must first enter a small elevator that takes you up to the loading area of the rocket ships. Then, step into the rocket for a one-and-a-half minute spin way above the sights and sounds of the Magic Kingdom. Use your joystick to raise and lower your rocket as it goes round and round. Two people can fit in one ship, one behind the other.
Mini-Review: Astro Orbiter isn't on our list of recommended attractions; it's basically Dumbo with rockets instead of flying elephants but NOTE you are two stories above the ground. There always seems to be a long line here. Perhaps it's just folks killing time until their Buzz Lightyear or Space Mountain FastPass+ is ready!
TOURING TIPS
This ride is usually open during the Magic Kingdom's Extra Magic Hour.
Accessibility: Astro Orbiter is wheelchair/ECV accessible, but you must be able to transfer out and get into the ride vehicle.
Warnings: The elevator is small and dingy (and some have an aversion to the odor inside), so if you are at all claustrophic, don't try to board this ride.
It's also not appropriate for those with height or motion sickness problems.
There is a loose safety strap to pull across your waist.
WDW At Large: Some readers report an issue with "bendability" – if you have trouble bending your knees or lifting yourself from a seated position, you might not want to try this ride.
Riders sit one behind the other in a two person car.   There is one seatbelt per rocket.  Some guests might be more comfortable riding solo.
There isn't much to this ride except the wonderful view of Tomorrowland once you are in the air. This is an exceptionally breathtaking view at night!
KIDS AND CHARACTERS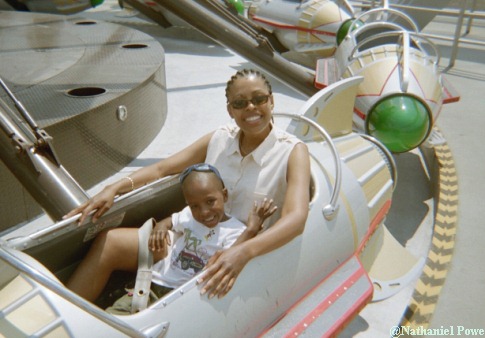 This ride is similar (though not nearly as cute or themed) as Dumbo and the Magic Carpets of Aladdin. If your child enjoys those rides, they will probably enjoy this one.
Disney Characters are typically not found in the immediate area, but across the way at Buzz Lightyear's Space Ranger Spin , you will sometimes find Buzz Lightyear signing autographs.
Check your Times Guide for times and locations of other Meet and Greet opportunities.
Magic Kingdom Characters At A Glance
Character Meet and Greet FAQ!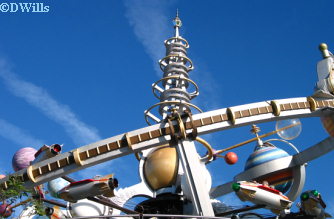 DINING
At the base of Astro Orbiter is the Lunching Pad which serves snacks and beverages.
Magic Kingdom Restaurants At A Glance
Menus From Around the World
Vegetarian and Other Special Diets
SHOPPING
Mickey's Star Traders is the nearest shop to Astro Orbiter.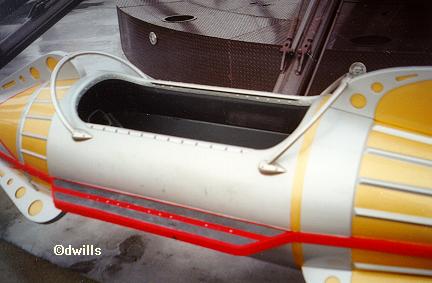 INTERESTING FACTS
This attraction first opened November 28, 1974, as StarJets. It was closed, refreshed and repainted during the Tomorrowland change-over in the mid-1990s. It reopened April 30, 1994, as Astro Orbiter.
If you have comments or tips to share with others about touring the Magic Kingdom, please email us. Thank you.