There is nearly an endless supply of delicious snacks at Walt Disney World. When you think of classic and unique treats, though, you might only think about the theme parks, but there are some amazing snacks at Disney World's Resort hotels that you should totally check out.
Today we're sharing what we think are the BEST snacks at every single one of Disney World's hotels!
Keep in mind, some of these hotels have not yet reopened, and some of the restaurants where these snacks were located have not reopened. Additionally, some spots that have reopened also have more limited menus. All that's to say, some of these items might not be available at the moment, but we still wanted to highlight them here so you can get them if/when they (hopefully) return in the future!
Alright, put on those stretchy pants, and let's dive IN!
Disney's All-Star Movies Resort
At All-Star Movies, the choice (for us) is pretty clear. Some of the most unique snacks you can snag here are from the resort's **whispers** secret menu. Yes, that's right! There's a secret menu at the World Premiere Food Court at All-Star Movies, and it comes in…a viewfinder!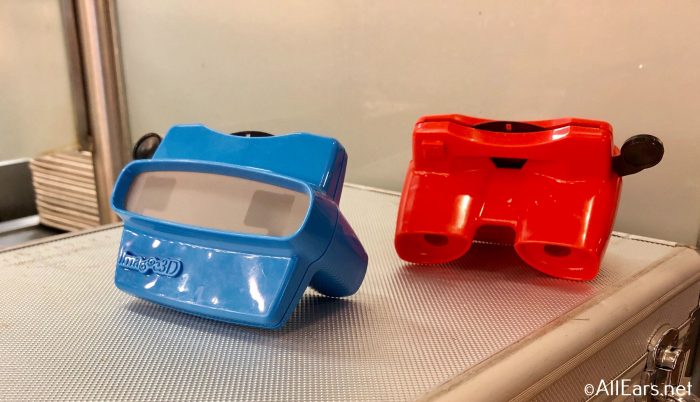 The menu includes Poutine with gravy and cheese curds, a bacon mac & cheese dog, and a CINNAMON BUN and candied bacon CHEESEBURGER! Move over donut sandwich, the Cinnamon Bun is taking over. These are definitely some unique treats which can satisfy those with a sweet tooth and those looking for a savory option. Be sure to ask a Cast Member if the Secret Menu is available when the resort reopens in March.
Disney's All-Star Music Resort
At All-Star Music there are some fun and tasty cupcake options to check out at the Intermission Food Court. These flavors can vary from time to time, but some of our favorites have included the Unicorn Cupcake which features an ice cream cone horn, chocolate disk details, rainbow colored strawberry lemonade flavored icing, and a vanilla cupcake FILLED with sprinkles!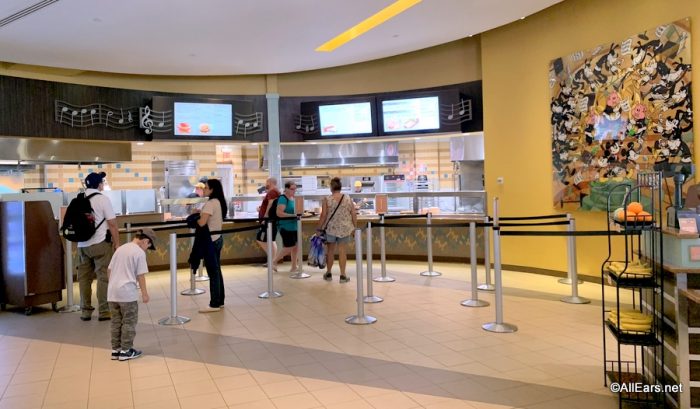 There's also been a Pineapple Whip Swirl cupcake at this spot in the past which comes with a pipette of pineapple-flavored sauce, which, when combined with the whole cupcake, makes it all taste very much like a Dole Whip!
Disney's All-Star Sports Resort
Next, we make our way to All-Star Sports and the End Zone Food Court for some Chocolate Chip Cookie Dough! You can typically find this in the refrigerated snack and bakery section at the hotel and it's a pretty decent sized snack. The dough is in fact made without eggs, so it's totally safe to eat. It's a fun, rich, and enjoyable treat.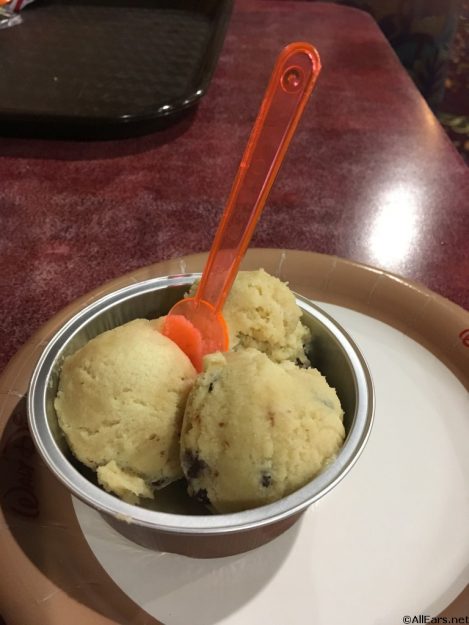 You can also find this at some of the other All-Star Resorts' food courts, so be sure to check when you're there.
Disney's Art of Animation Resort
Landscape of Flavors, the food court at Art of Animation, has quite a few unique options including typically a whole host of gelato options. But we've got to give the best snack here to that glittery and beautiful Mermaid Tail Cupcake. This snack is made of a vanilla cupcake filled with pineapple and topped with coconut flavored buttercream, a mermaid tail made of white chocolate, graham cracker crumbs, crispy pearls, and (of course) glitter!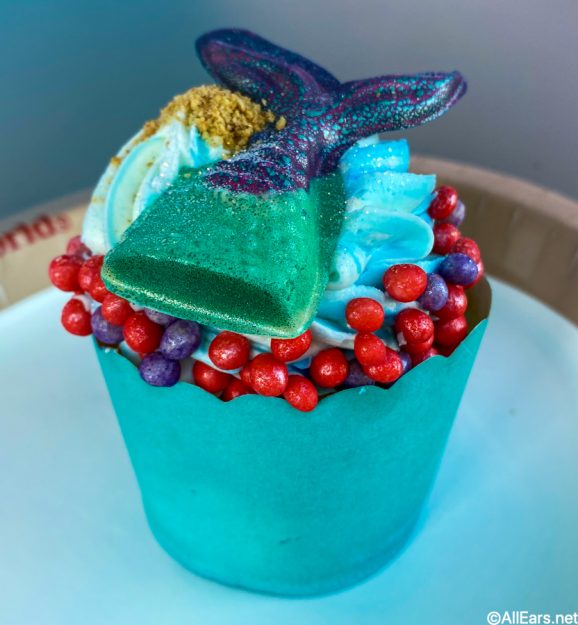 For us, the cupcake has been fresh and delicious, with some awesome tropical tastes and vibrant colors. Swim on over to this resort to make this unique and delicious treat part of your world.
Disney's Pop Century Resort
Pop Century may be known for its retro decor, but at Everything POP Shopping and Dining you can also get a retro-inspired snack — the Tie-Dye Cheesecake! This treat is made of an airy, colorful cheesecake that sits on top of a red velvet cake "crust!" It's fairly simple yet delicious and fun!
You might want to eat one of these ENTIRELY on your own, though, so get a few to share! Want to make them at home to enjoy right now! Check out the recipe here.
The Campsites at Disney's Fort Wilderness Resort
The Campsites at Fort Wilderness are considered a "value" resort type, while the cabins are "moderate," but we're including both here in the same grouping. What's the best snack at Fort Wilderness you ask? Well, we've GOT to go with Fried Chicken and some other country fixins to go with it! Is fried chicken a snack or a meal? We're going to say both! Stop by P&J's Southern Takeout, and you can get yourself a feast including fried chicken, cornbread, and strawberry shortcake.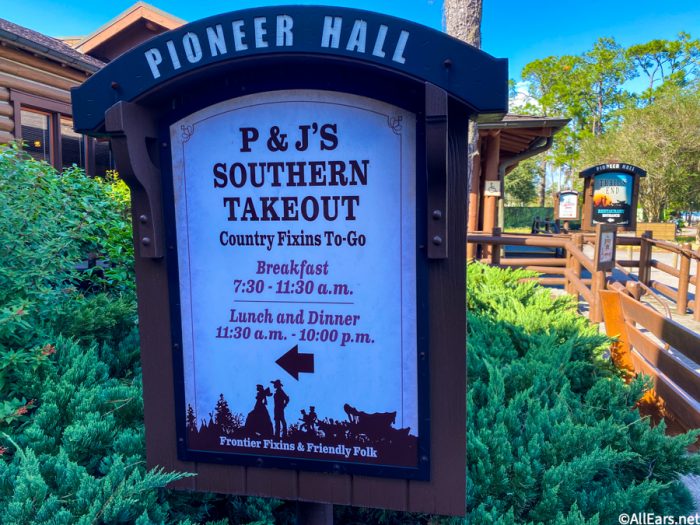 These dishes are some big fan-favorites from Hoop Dee Doo Musical Revue and Trail's End Restaurant. But while those are closed, you can satisfy your cravings at P&J's. You can even place a Mobile Order for it to make it easier to pick up! Sing some tunes while you eat, and you'll feel just like you're back in the Hoop Dee Doo (kinda!). We've even got some recipes so you can make the cornbread and strawberry shortcake right at home!
Disney's Caribbean Beach Resort
Looking for something with some more fresh, fruity flavors? Then you'll want to head over to Centertown Market at Caribbean Beach. There, you can snag some yummy Avocado Toast for breakfast! What's so special about this snack? Well, it's made of a nice slice of toast loaded with avocado, tomatoes, oranges, pickled onions, and sriracha mayonnaise.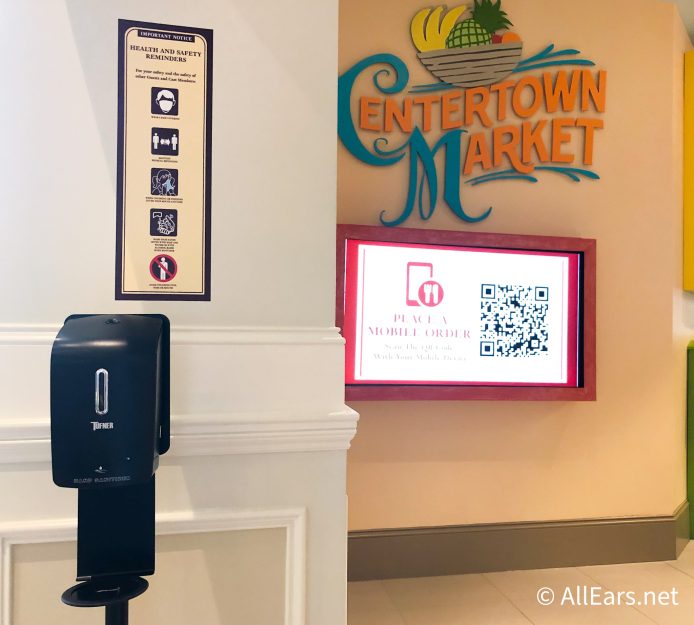 It's beautiful, colorful, fresh, and wonderfully delicious. There's a great touch of sweetness from the oranges, and pops of flavor and texture from the pickled red onions and sriracha mayo. All in all, it's filling and tasty.
Disney's Coronado Springs
At Coronado Springs our best snack comes from Rix Sports Bar & Grill. That's where you'll find the delicious creation known as Watchos! What are Watchos you ask? Well, they're waffle fry nachos of course! This snack is made of crispy waffle fries loaded with a house blend of queso blanco, bacon, and scallions. With a great seasoning on the fries, a good amount of bacon chunks, AND cheese — this dish is a seriously tasty treat.
There's typically a small pond of queso blanco which the fries are perfectly sinking into, so be sure to dig in and scoop up all of that melted, cheesy perfection.
Disney's Port Orleans Resort — French Quarter
We'll let you just take a guess at what the best food might be at Port Orleans French Quarter. Any hunches? We have a feeling you might know what we're hinting at. When you're at French Quarter the one snack you MUST get are those fluffy, fantastic Mickey-shaped Beignets! These tasty treats are covered in powdered sugar, shaped like our favorite mouse, and taste like a little puffy piece of heaven.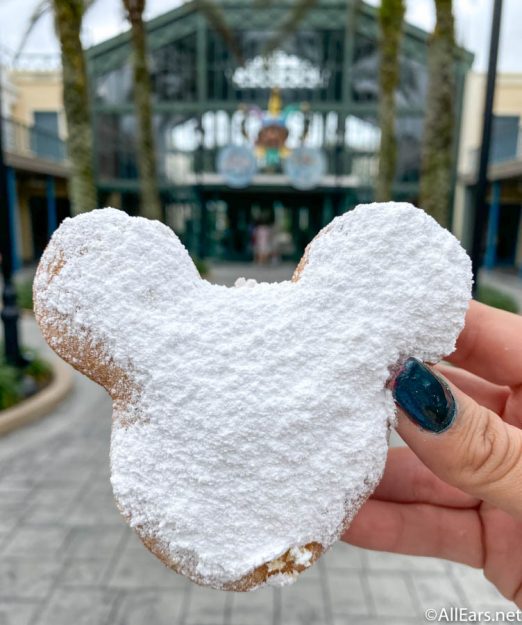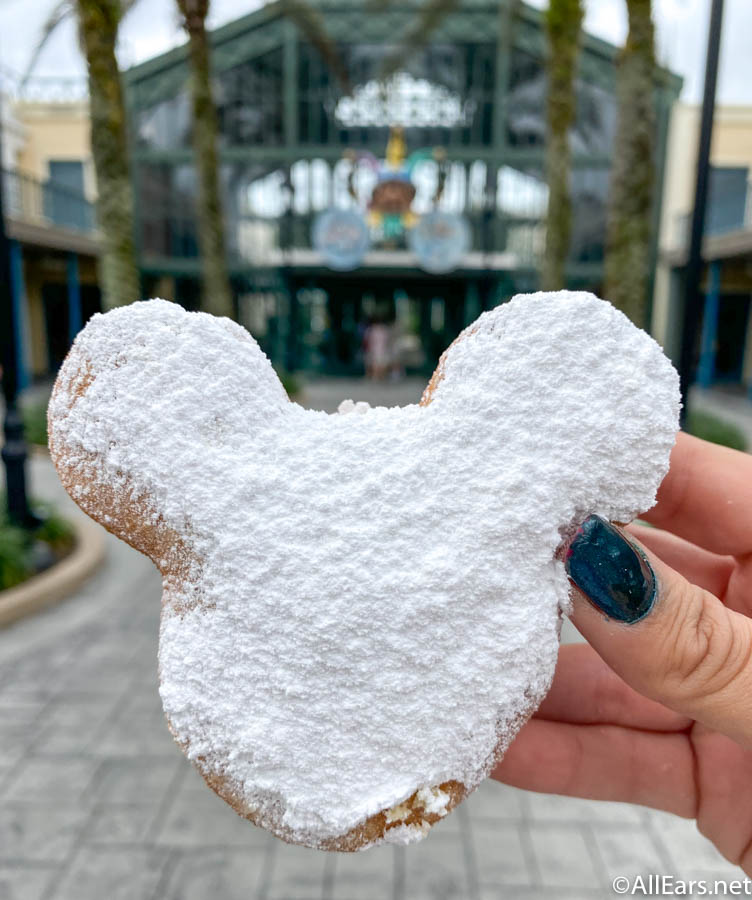 These are typically available at Scat Cat's Club Cafe. You can go with the traditional beignet for some classic flavors or opt for some more unique (Red Tamales beignets?!) and potentially boozy creations. But you don't HAVE to go to Disney to enjoy some beignets. You can actually make them at home with this recipe!
Disney's Port Orleans Resort — Riverside
Over at Riverside, you can get a sweet treat as well, but this one is more for chocolate and cookie fans! Head to Riverside Mill Food Court and you'll find a treat known as the Magic Cookie Bar. This treat is a SUPER rich bar that features chocolate and butterscotch chips, condensed milk, coconut, and nuts all on a graham cracker crumb crust that has a bit of a brown sugar taste to it.
This bar may be big, but trust us when we say you may want to eat one entirely on your own, so keep that in mind! While Riverside isn't open at the moment, you can get this bar in a number of other spots including Roaring Fork at Disney's Wilderness Lodge.
Disney's Animal Kingdom Lodge
Over at Animal Kingdom Lodge there is a treat that's got quite the cult following. We're talking, of course, about Zebra Domes! These little beauties are made of a thin white cake base, Amarula Cream Liqueur mousse, white chocolate ganache, chocolate sprinkles, and a dark chocolate ganache drizzle.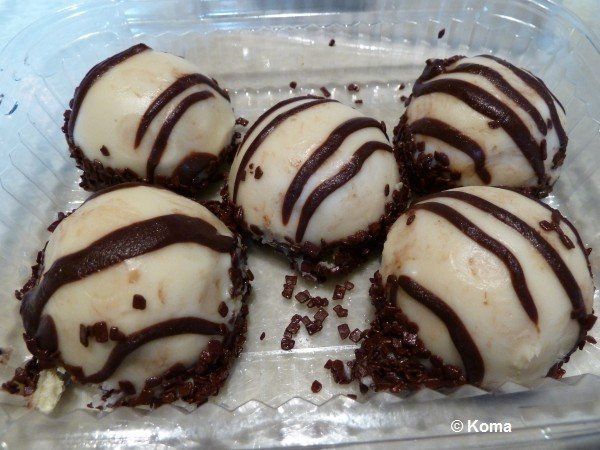 You can get ALL the Zebra Domes your heart desires at the buffet at Boma — Flavors of Africa. But you can also get them to go at The Mara in the main building at Animal Kingdom Lodge or at Johari Treasures at Kidani Village. Make them at home with this recipe!
Another INCREDIBLY delicious snack you can get at Animal Kingdom Lodge is bread service from Sanaa! This comes with five breads (traditional naan, garlic-ginger naan, spiced naan, onion kulcha, and paneer paratha) and a whole BUNCH of accompaniments including a mango chutney, red pepper hummus, coriander chutney, and more.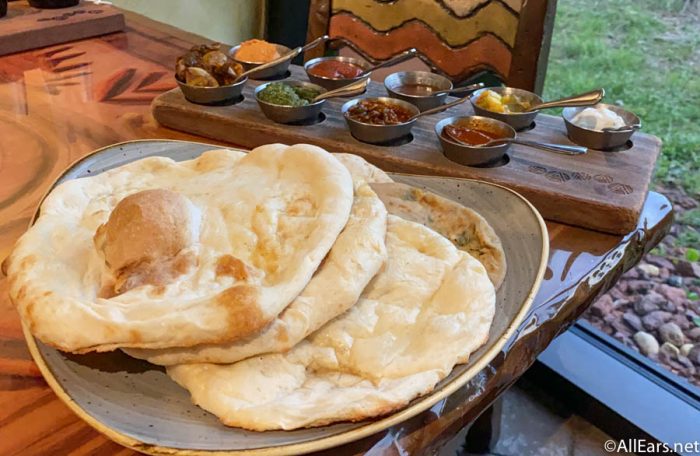 You can certainly order this if you sit down to eat at Sanaa or visit the Sanaa Lounge if it's available, but you can also order your bread service TO GO thanks to Table Service Mobile Order.
Disney's Beach Club Resort
At the Beach Club, there's a spot with some incredible treats  — Beaches & Cream Soda Shop. You can get both savory and sweet snacks there, but our pick for the very BEST treat here has to be the Kitchen Sink! Trust us when we say you do NOT want to attempt this alone. You'll need the help of some friends or family to devour this treat. It's got eight scoops of ice cream in various flavors including vanilla, chocolate, strawberry, cookies and cream, and mint chocolate chip smothered in EVERY topping they have. You can also opt to get this in a chocolate lovers or Neapolitan style.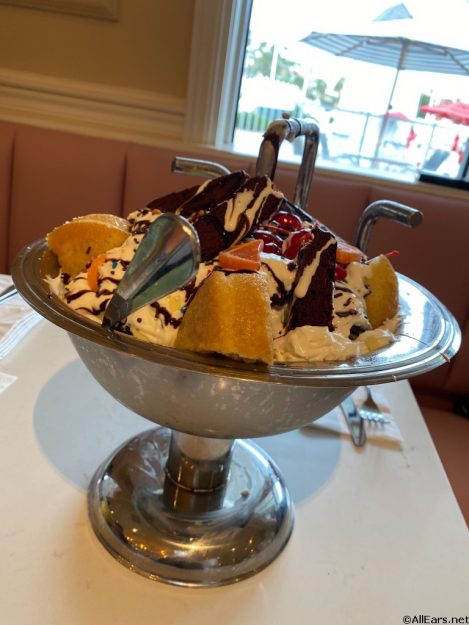 If you're looking for something a bit smaller, another classic there is the No Way Jose! This sundae is made of chocolate and vanilla ice cream, peanut butter and chocolate morsels, whipped cream, and a cherry.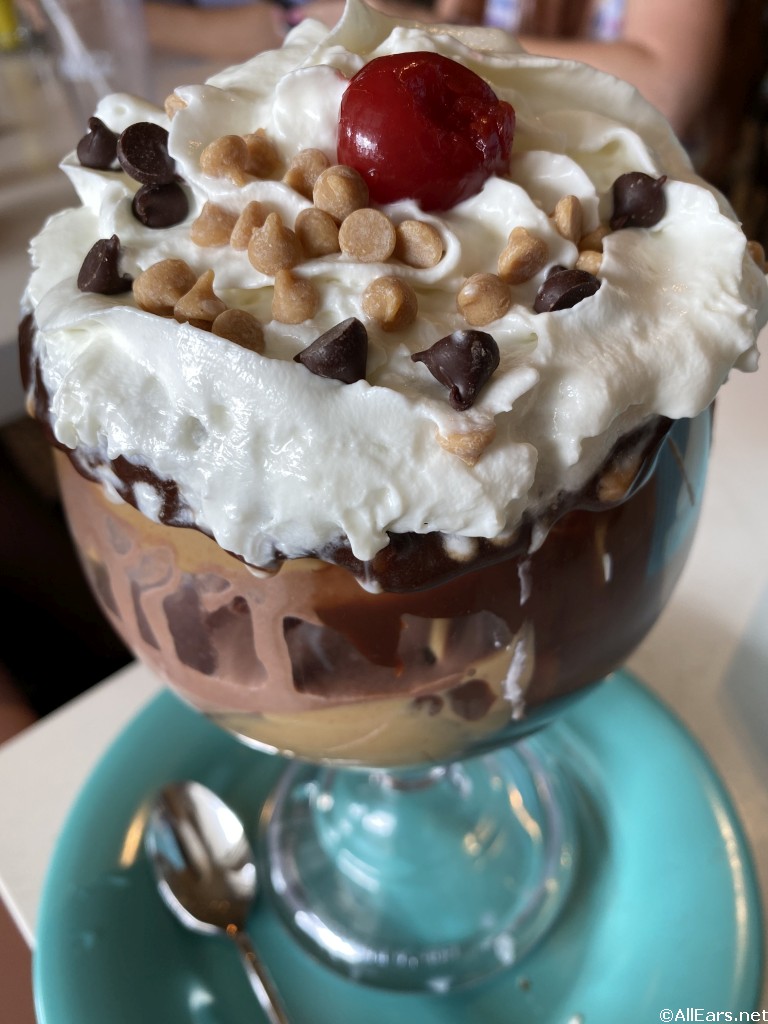 No matter which treat you opt for, be prepared for the sugar rush of a lifetime. It's totally worth it, though!
Disney's BoardWalk Inn
Follow your nose and grumbling tummy from the BoardWalk Inn & Villas over to Disney's BoardWalk Bakery for some yummy treats. That's where you'll find some of the BEST treats you can get at the BoardWalk. They often have a variety of seasonal treats available depending on what holiday is coming up, and they sometimes have special, limited-time goodies available, too. While not ALL of their seasonal treats have been total home runs for us, they're generally very tasty and some have been SPECTACULAR. So be sure to stop by and see what's available!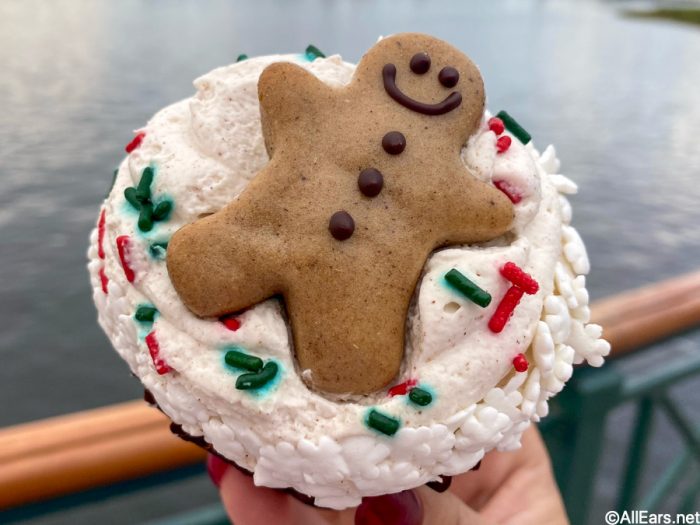 If you're looking for something more savory, you could go for the delicious buttery flavors of their Grilled Cheese Sandwich with Tomato Soup. And yes, you might think a grilled cheese sounds simple, but sometimes simple is BEST. The bread on this yummy sandwich is perfectly crunchy, the cheese is ooey and gooey, and (of course) dunking it in that tangy, fresh tomato soup added a great kick of flavor. It's a classic snack we think almost everyone will enjoy.
Disney's Contemporary Resort
At Contempo Cafe in the Contemporary Resort you can find a whole bunch of other delicious baked treats as well. Our pick for the best there is the delightful Peanut Butter Pie. This snack is made of peanut butter cream cheese filling on top of a layer of vanilla cream, all inside of a vanilla tart shell, and drizzled with chocolate ganache. The peanut butter cream cheese is more like peanut butter fudge, and its flavors are really nicely balanced out by the vanilla cream. Overall, it's a salty and sweet snack that peanut butter fans should totally seek out.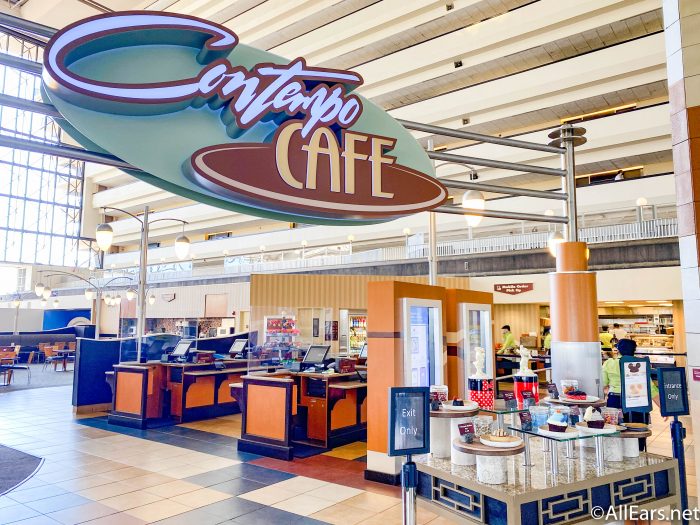 Disney's Grand Floridian Resort & Spa
The Grand Floridian is home to several restaurants, but for our best pick we're headed to the Beauty and the Beast-inspired lounge — Enchanted Rose. There, you can grab various drinks and small plates. While several of those are delicious, one of our favorites on the menu is the Truffle Fries. These fries are topped with shaved black truffle and 18-month aged parmesan, and they come with a garlic aioli to dunk them in. This garlic aioli is truly to die for! Pro tip: ask for a little extra sauce if you give it a taste and feel as strongly about that dip as we do.
Disney's Polynesian Village Resort
One of the most iconic (and delicious) Disney treats of all time can be found at Pineapple Lanai at the Polynesian. Whether you go for pure pineapple, another flavor, get it swirled with vanilla, get it as a float, or get it with some rum, the Dole Whip is a classic treat you should totally try if you haven't already. Sure, you can get it in Magic Kingdom, but sometimes there's nothing better than getting an escape from the more crowded areas and sitting on a comfy chair in the Poly with a Dole Whip in hand.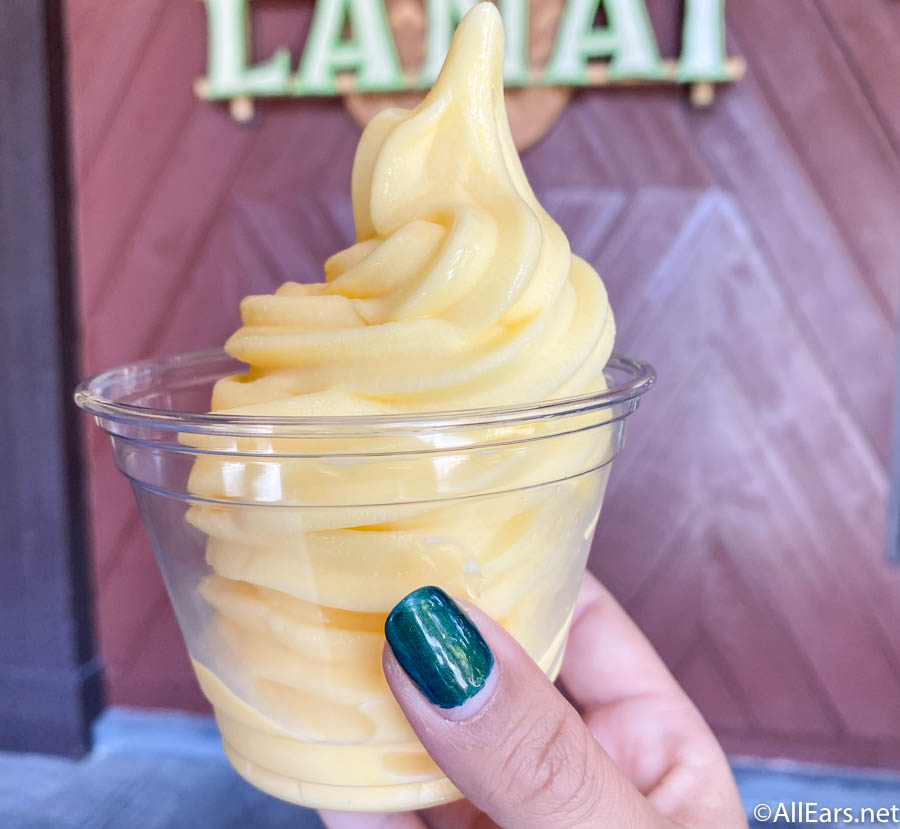 But the Dole Whip isn't the only fantastic snack the Poly has. Among other treats, one of our favorite things to munch on there are the Pulled Pork Nachos from Capt. Cook's. These nachos feature the Polynesian's house-made potato and wonton chips topped with pulled pork, cheese, spicy mayonnaise, pico de gallo, and pineapple salsa. It's a WHOLE lot of yummy flavors all mixed into one dish. Trust us when we say this is something you'll want to try!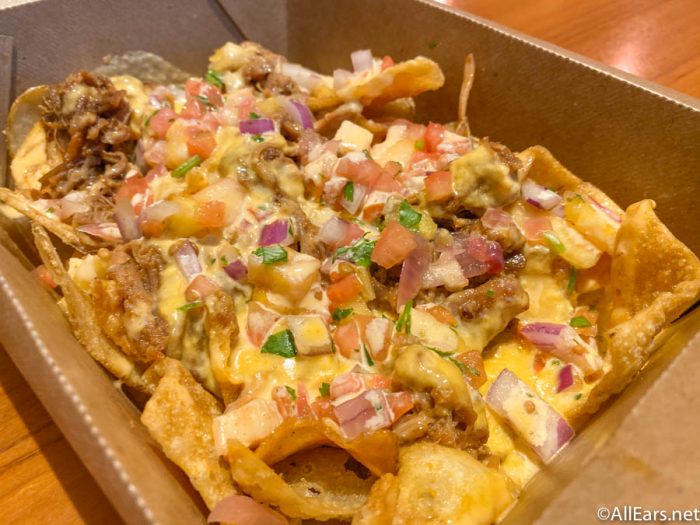 And, of course, we couldn't make a virtual stop at the Polynesian without mentioning two other cult favorites. Tonga Toast is a fan-favorite breakfast dish that you can find at both Capt. Cook's and Kona Cafe. The treat is made with banana-stuffed sourdough bread, which is then battered, deep-fried, and dusted with cinnamon-sugar. At Kona, you get some strawberry compote to go with it. Basically, it's one of the largest, most delicious pieces of french toast you may ever see.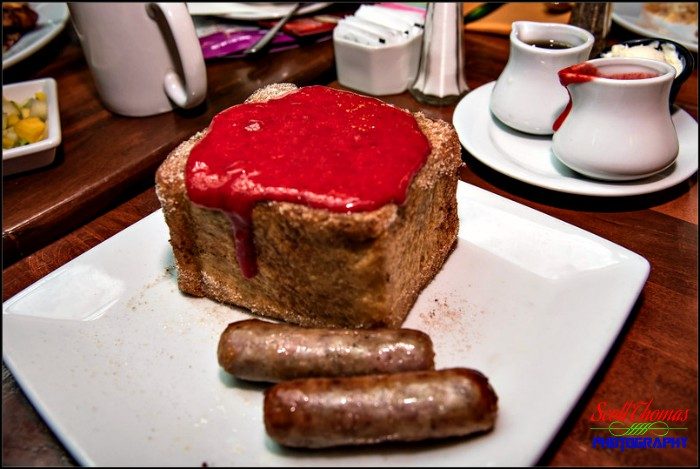 AND while it's not advertised, be sure to ask at Kona Cafe if the 'Ohana Bread Pudding is available. This dessert is much beloved and has long reigned as one of the BEST items in all of Disney World. It's made of fluffy pineapple bread immersed in custard, slathered in Bananas Foster Sauce, and melting with a giant scoop of vanilla ice cream. Back in November, it became available for lunch and dinner at Kona for $12 while supplies last for the day. It's suggested that you call head to confirm if it's available, though, just in case this treat goes away.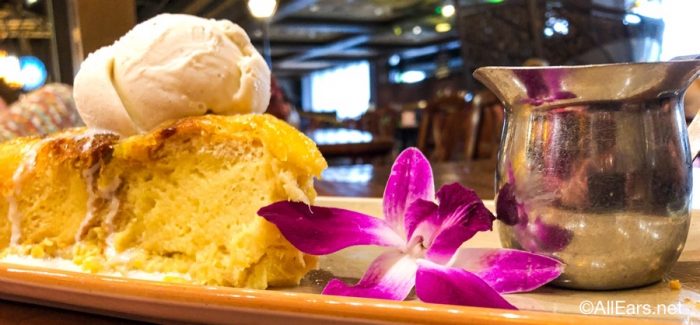 Disney's Wilderness Lodge
At Wilderness Lodge, we've got a few treats to share. First, over at Roaring Fork you'll want to check out the Campfire Cupcake. This cupcake is both adorable and delicious! It's made of a chocolate cupcake which is topped with marshmallow icing and "dirt" made of cookie crumbles, with a little campfire made of frosting in the center, candy rocks, and a tiny marshmallow on a stick.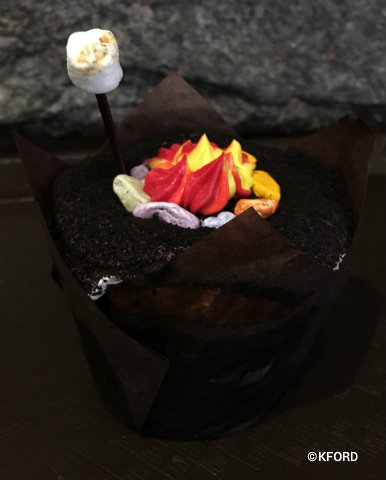 Over at Geyser Point, you can snack on something a bit more savory with the Cheesy Barbecue Brisket dip! This is seriously one of our FAVORITE things at this spot. The ooey-gooey dip is made of provolone, cheddar, jalapeños, and brisket and is served with house-made chips. Overall, the dish is really well seasoned, balanced, cheesy, and DELICIOUS. It is a bit small, though, so if you're sharing with others, keep that in mind.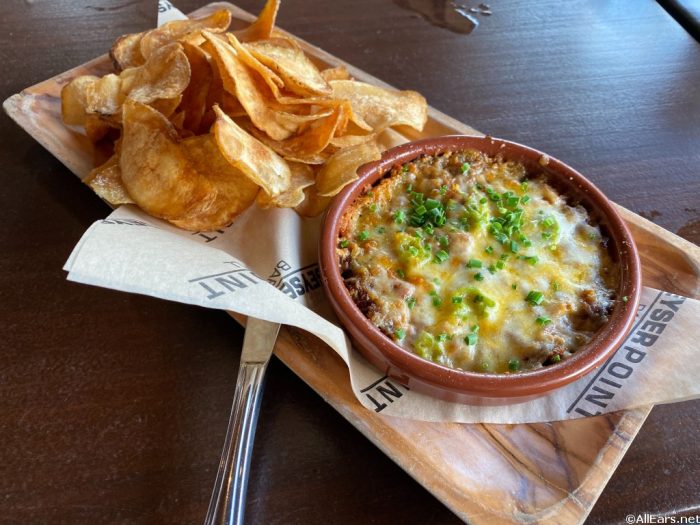 Disney's Yacht Club Resort
At Disney's Yacht Club, the CLEAR winner for the best snack there are the Prime Rib Sliders from Crew's Cup Lounge. This dish comes with three incredible sliders which are made on Yachtsman Steakhouse's amazing onion rolls, topped with thinly shaved Prime Rib. They're served with fries, horseradish cream, and au jus. We are not kidding when we say these are some of the most delicious things in Disney World.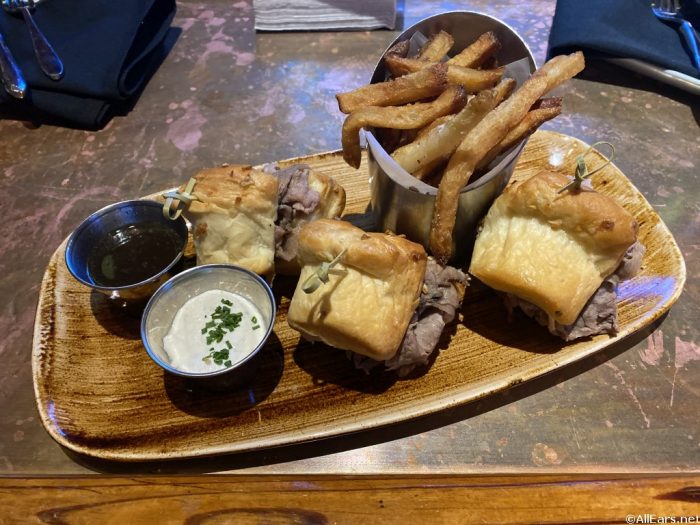 Disney's Old Key West Resort
Over at Old Key West, there was a DELICIOUS Key Lime Tart available at Good's Food to Go in early 2020. You'll have to visit and see if it's still available, and if it is, it's something you might want to try! The treat features a graham cracker crust that has been drenched in a honey-molasses sauce, topped with a yummy key lime custard filling, graham cracker crust pieces, whipped baker's cream, and white chocolate pieces on top for decoration. It is delicious, creamy, smooth, and has just the right amount of tartness.
You can also snag the amazing Banana Bread Pudding from Olivia's Cafe. This treat is served warm with bananas foster topping and vanilla creme anglaise. You can even get it to-go thanks to the Table Service To Go option.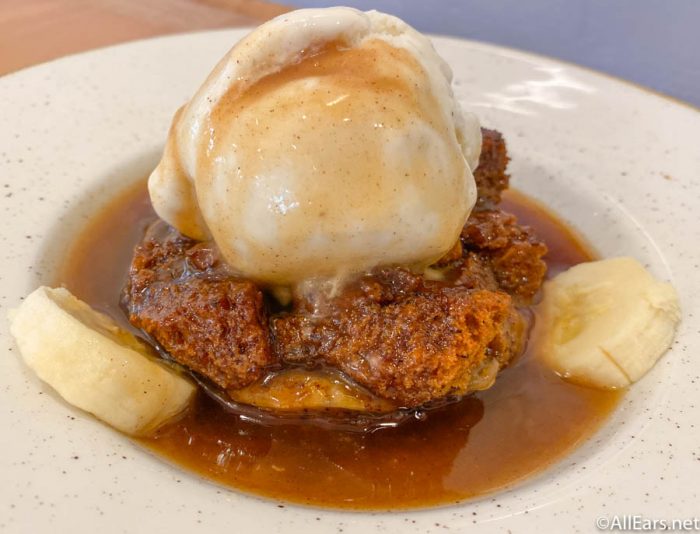 Finally, you can also get some Conch Fritters at the Gurgling Suitcase or Olivia's. They're served with Key Lime Mustard and Remoulade Sauce for dipping. They're delicious, and the sauces add a fantastic punch of flavor.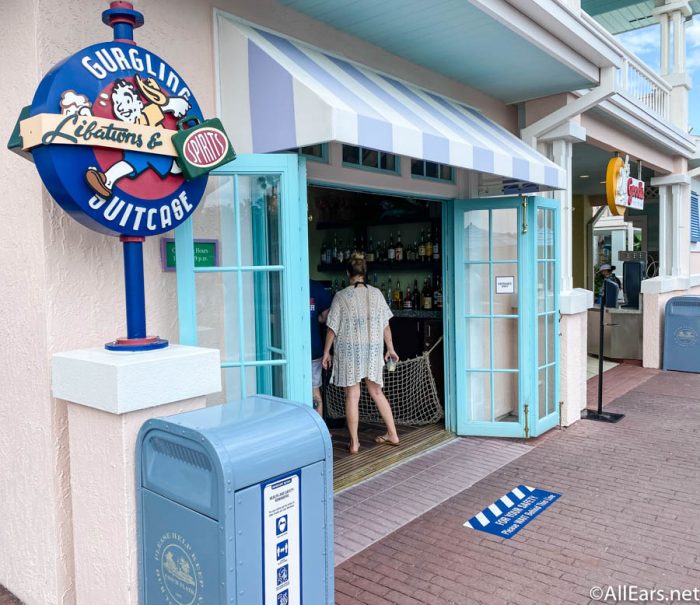 Disney's Riviera Resort
At Disney's Riviera Resort you can find a whole bunch of yummy treats at Le Petit Cafe. The snacks there are often beautifully decorated and are generally VERY tasty. Be sure to stop by and see what's available during your visit.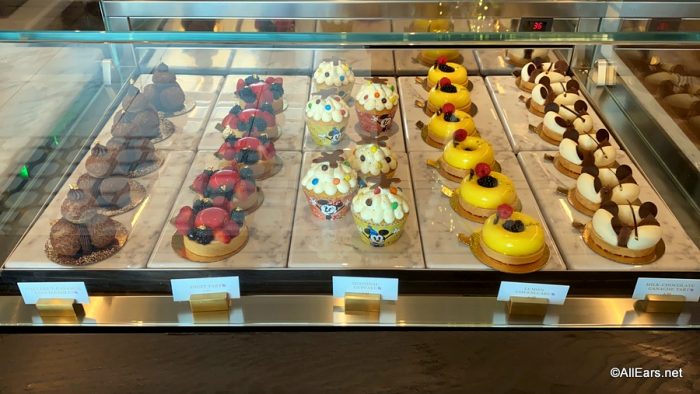 Bar Riva used to serve a Monte Cristo, made of ham, turkey, gruyere, and strawberry preserves in a brioche roll that is perfectly deep fried. But it doesn't appear to be available at the moment. If it pops back up, though, that's another delicious treat we'd recommend at this resort.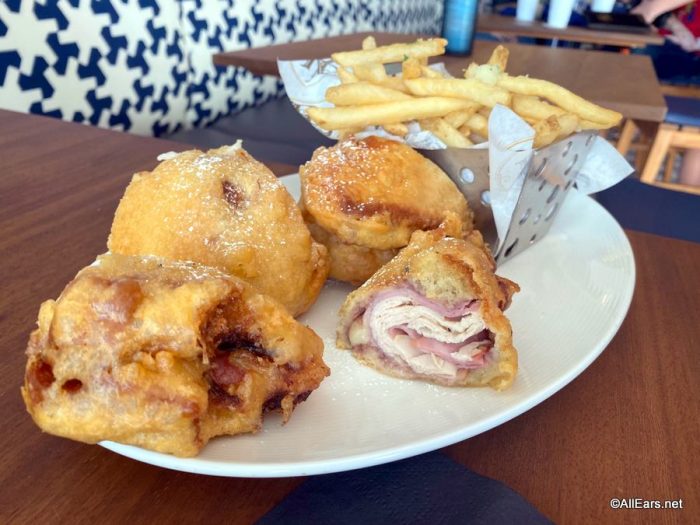 The Baked Brie in Puff Pastry from Bar Riva is also an excellent choice for cheese lovers. What's not to love about warm, gooey cheese wrapped in dough?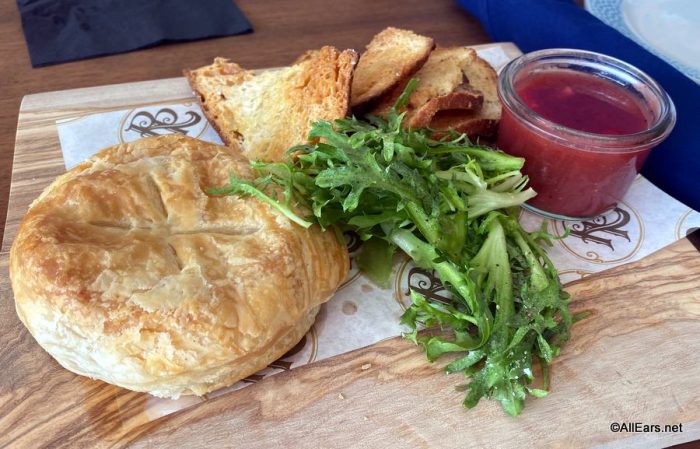 Disney's Saratoga Springs Resort & Spa
Finally, we make our way to Saratoga Springs, the final resort on our snack tour! At Artist's Palette there are a few sweet treats we really enjoy, and we're sharing two of those with you today. First, there's the GIANT and delicious Caramel Blondie. This treat is made of blondie that is then topped with caramel fondant drizzle frosting and powdered sugar. It's dense, but moist and not overly sweet. And it's HUGE.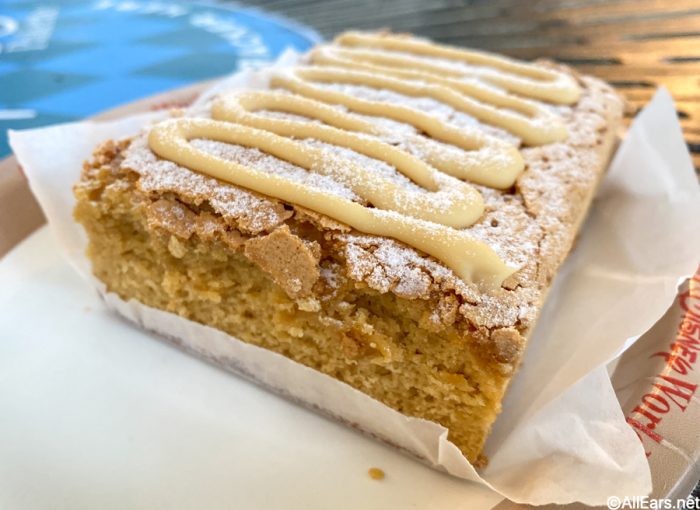 For chocolate and peanut butter fans, there's also an absolutely adorable Bullseye Cupcake available at this same spot. The cupcake is made of a chocolate cake filled with peanut butter mousse, topped with chocolate peanut butter buttercream, candy crisps, and a little Bullseye made of white chocolate. The buttercream was absolutely AMAZING and had a perfect blend of flavors. It's something we think all peanut butter fans should definitely try!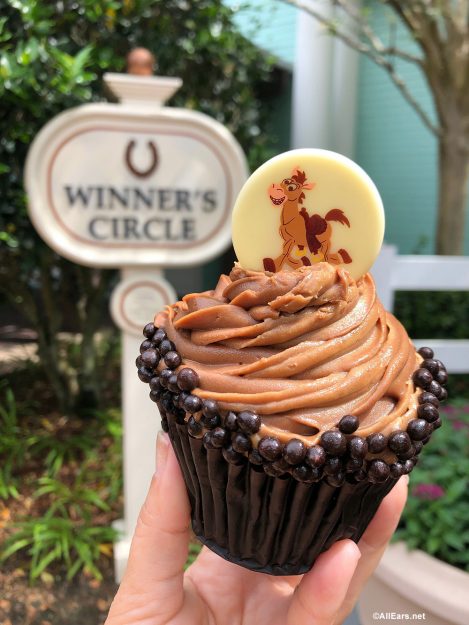 And that is our list of the BEST snacks you can get at the Walt Disney World Resort hotels! So, whether you're staying there or just eating at that hotel for the day, these are some you might want to try. We're sure there are lots more that you absolutely adore. Be sure to tell us in the comments what Disney World Resort hotel snack is your favorite!
Join the AllEars.net Newsletter to stay on top of ALL the breaking Disney News! You'll also get access to AllEars tips, reviews, trivia, and MORE! Click here to Subscribe!