All Star Music Resort
All Star Music Resort Highlights
Buildings and accommodations with music-theming
One of three All Star Resorts in Disney World
Offers the option of Family Suites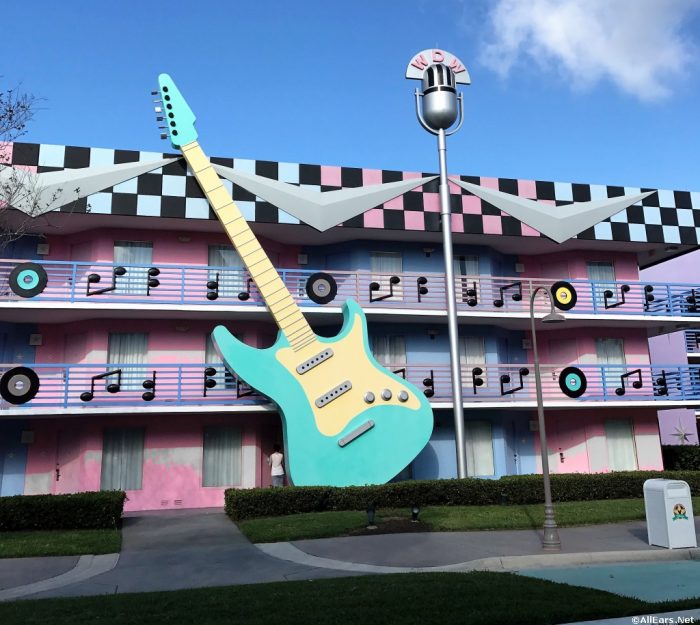 What is the All Star Music Resort like?
The All Star Music Resort is a 1,706-room resort featuring the following musically themed buildings: Calypso, Jazz Inn, Rock Inn, Country Fair, and the Broadway Hotel.
The buildings have exterior and interior theming to match their names — such as three-story tall cowboy boots at Country Fair and three-story jukeboxes and electric guitars at the Rock Inn. The rooms are 260 square feet in size. The All Star Music Resort is one of the value hotel offerings on Disney property (along with All Star Sports, All Star Movies, POP Century and Disney's Art of Animation Resort).
What are the advantages of staying at the ASM?
The All Stars are good value on WDW property, where you receive all the benefits of staying on Disney property at lower rates. The main benefit of choosing the All Star Music is to save money.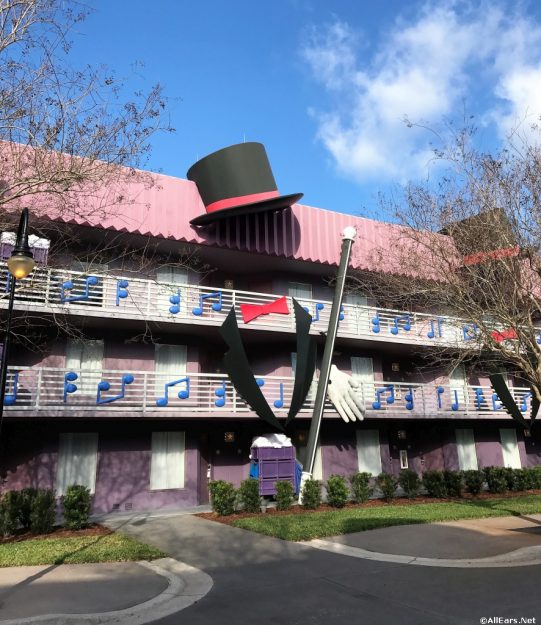 While being affordable, they also offer the same privileges as other Disney properties — convenient bus transportation throughout Walt Disney World (WDW); ability to charge purchases over most of the WDW Resort to your room; food court; Disney service from the front desk clerks to the Lobby Concierge desk; package delivery from the theme parks to the resort gift shop, and clean, themed pool areas.
Another advantage to the All Star Music is the availability of Family Suites. The 520-square-foot Family Suites are located in the Jazz Inn and Calypso buildings at All-Star Music.
What are the rooms like?
Single-family rooms with two double beds or one king size bed are available. Rooms with a king bed are designed for disabled travelers and do not have a tub, only a wheelchair-accessible shower. Rooms are 260 sq. feet, compared to 314 sq. feet at most of the Moderate Resorts (for example, Port Orleans Riverside and French Quarter, Coronado Springs).
The bathroom features a single sink and mirror in a vanity area separate from the tub and toilet. The showers have liquid soap and shampoo dispensers.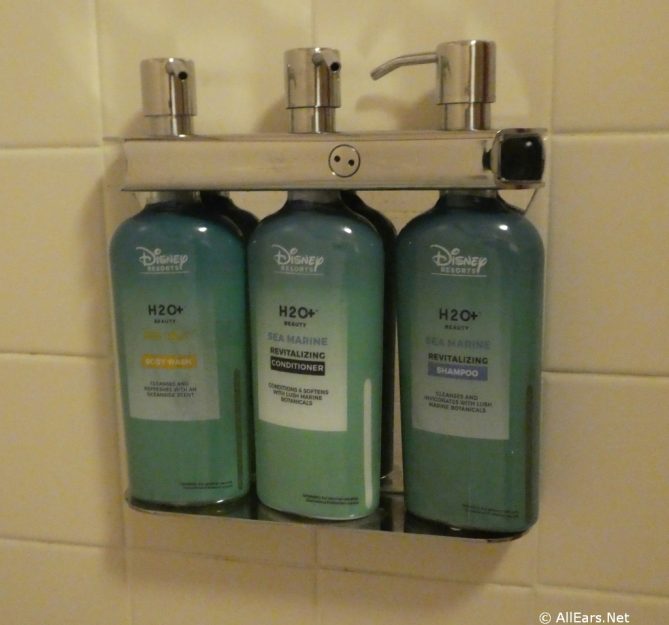 The bathroom features a single sink and mirror in a vanity area separate from the tub and toilet. The showers have liquid soap and shampoo dispensers.
Each Family Suite will sleep up to 6, plus one child in a Pack 'N Play (crib). The master bedroom and family room have a 27″ flat screen TV as well as high speed Internet access. There is a full bed (sleeps 2), full-size pullout sofa (sleeps 2), convertible ottoman (a cot – sleeps 1) and chair sleeper (sleeps 1). The kitchenette has a microwave and small refrigerator (4.3 cubic feet) plus a coffee maker. There are two full bathrooms.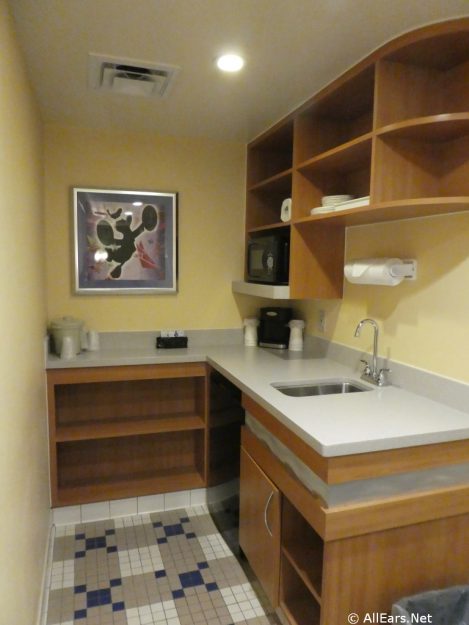 Complimentary Wi-Fi service is available in all Disney World hotels. See our Internet Access page for details.
Room views either overlook a parking lot, the central courtyard of your building, or landscaped areas between the buildings. All are considered Standard Views.
All-Star Resort Room Locations
What should I expect to pay for a room at the All Star Music?
The All-Star resorts are considered "Value" resorts at Disney, and their prices are the least expensive offered at Disney resorts. These are regular rate prices and do not include the Florida Sales Tax nor the county resort tax for Osceola County. Rates are based on double occupancy. No charge for children under 17 years old when in the same room as the adults. For each adult over 2 there is a $10 per night charge per person.
Sometimes there are special rates for Annual Pass Holders, AAA members, or Florida residents. Be sure to inquire when you call for reservations.
Walt Disney World Resort rates vary by season (there are nine seasons now), and also by day of the week. The holiday season is the most expensive time of the year. It runs from mid-December to early January as well as during Easter Week.
The rates for a:
— Standard Room range from $119 – $241
— Preferred Room range from $137 – $266
— Family Suite range from $289 – $512
Is there a fee to park at All Star Music?
There is a fee for overnight self-parking at Walt Disney World Resort hotels. Click HERE for current pricing and other parking-related information.
Are there any elevators or just stairwells?
There are two elevators in each building, located next to each other in the center of the building. There is also a staircase next to the elevators, and a room with an ice machine just behind them. There are also outside staircases at each end of the buildings, so if you're far from the elevators, you can use those stairways.
Can 5 people fit in an ASM room?
The regular rooms at the ASM accommodate a maximum of 4 people, or 4 people plus one child under 3 who sleeps in a crib. These maximums are in accordance with fire codes. Four adults in ASM rooms may find the stay crowded and uncomfortable. The rooms do not have much closet/drawer space, and there is only one sink and mirror. Two adults and two children should be able to stay at the ASM in comfort. Due to the low room rate, you may want to consider adjoining rooms. The cost of the two rooms may be lower than other options on property.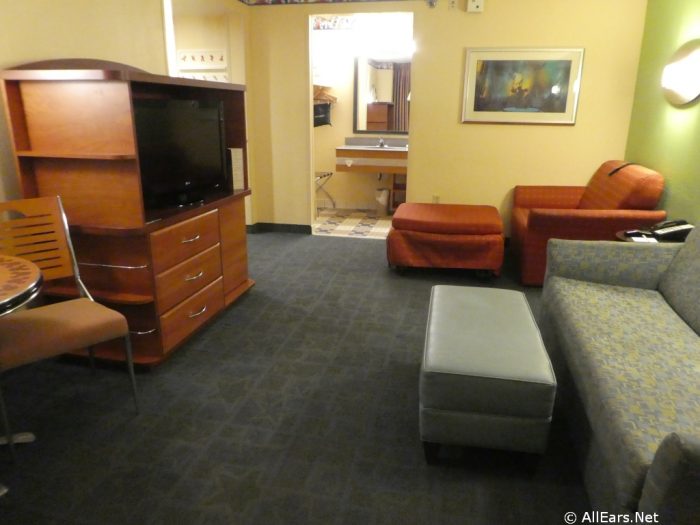 All-Star Music also offers Family Suites which will sleep up to 6, plus one child in a Pack 'N Play crib. If a family suite is of interest to you, be sure to check out the Art of Animation Resort, too.
What is the difference between the room views?
"Preferred Location" at the All Star Music Resort are rooms closest to Melody Hall, the Intermission Food Court, Lobby, and the bus stops. Currently, buildings 1-Calypso, 2-Jazz, 9-Jazz, and 10-Calypso are in the preferred category. All other rooms are the same no matter what view or location you have. Your room may overlook the parking lot, or the courtyard, or the pool area. All rooms open to the exterior hallways, so basically, you look out on to the hallway and anything else in sight.
Are there smoking and nonsmoking rooms?
All Disney resorts and guest rooms are smoke-free. There are designated outdoor smoking areas. Check the resort map or with a Cast Member for locations.
Are refrigerators available in the rooms?
Yes, small refrigerators are included in each room, at no additional charge.
Which building is closest to the bus stop/food court/pools?
Calypso Buildings 1 and 10 are the closest buildings to the main building (Melody Hall) where the food courts and bus stop are located. The Calypso and Jazz rooms are all in the preferred location room rate category. Jazz Inn buildings are the second closest buildings to the food court and surround the Piano Pool. Country Fair is the farthest building from Melody Hall, but may also be the quietest! Country Fair is about .3 mile from the bus stop, less than a 5-minute walk.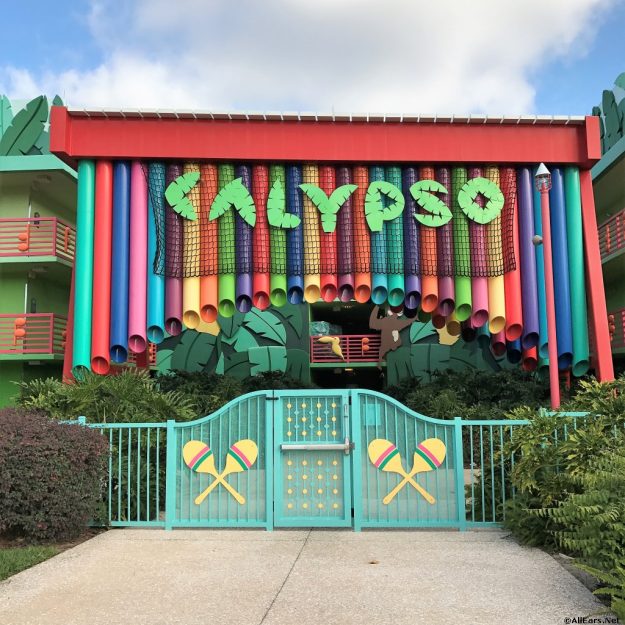 Parking surrounds the exterior of the buildings, so your car is convenient to all buildings. If you face the center of the resort, the closer you get to the main building the more noisy it is likely to be. The AllEars.Net Team finds rooms facing the small wooded areas are the quietest. We have also had parking lot views that were quiet.
What food choices do I have at the ASM?
The ASM Intermission Food Court has a variety of sections to choose from:
* The Market – selling grocery items 6 am to midnight
* The Bakery – selling baked goods and desserts
* The Grill
* The Specialty Shop
* Pizza and Pasta
There is also an evening pizza delivery service called All Star Pizza Delivery.
What are Rapid Fill Mugs?
The Rapid Fill beverage program allows Disney Resort guests to buy (or receive as part of the Disney Dining Plan) a resort mug that can be refilled for a certain period of time as designated at time of purchase. These mugs are enhanced by an RFID bar code that enables the mug to deactivate when the designated time is complete. For complete details our Rapid Fill Mugs page.
What types of recreational options do I have at the ASM?
Be sure to ask for a Recreation Activities flyer at check-in!
Recreation is limited to the Guitar and Piano pool areas, a small playground, a game room, and shopping.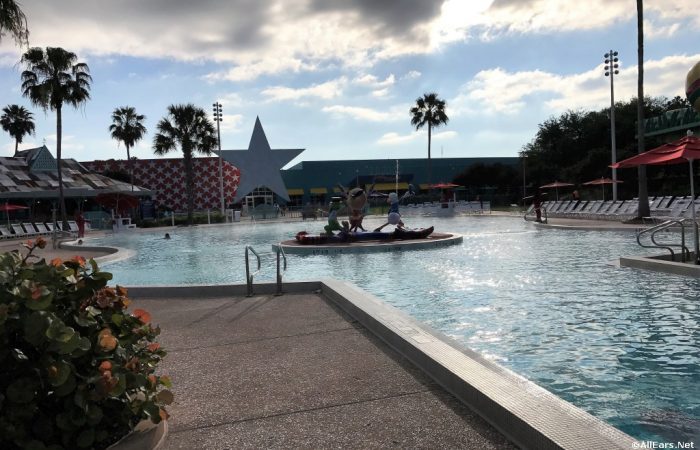 Pool areas do not have Jacuzzis. However, you can visit other Disney resorts such as the the Animal Kingdom Lodge or the Fort Wilderness campground,to participate in a wide variety of activities including sports such as tennis, horseback riding and fishing. Call Lobby Concierge for more information.
What is the gift shop like?
Maestro Mickey's is open until 11:30pm and offers a variety of Disney merchandise from character merchandise and souvenirs to ASM sportswear.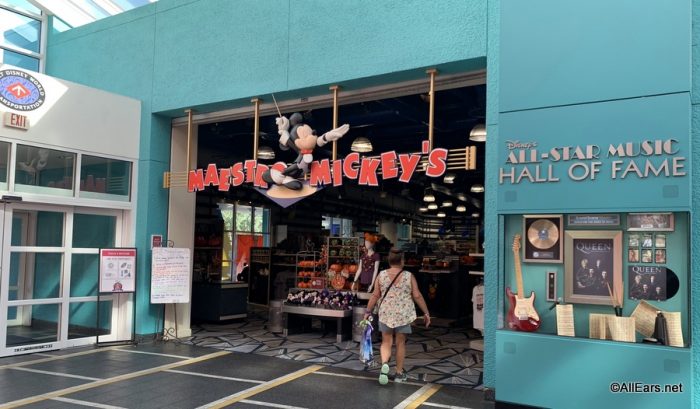 A small variety of grocery items are also available, such as snacks, liquor, sundries, and beverages. Some of the grocery items (such as juice and milk) are cheaper if purchased in the gift shop rather than the food court. This is also the location where your items will be delivered if you chose resort package delivery at any of the theme parks.
How long are bus rides to the major parks?
You are closest to Animal Kingdom, so that will be your shortest ride. You are farthest from the Magic Kingdom, so that will take longer to reach.
The bus routes change periodically. Sometimes, buses stop at all three All-Star resorts when dropping off and picking up; other times just one All-Star Resort is served. Allow plenty of time when traveling to/from the All-Star Resorts by Disney bus!
I hear that there are no more room key cards at Disney resort hotels. How do I get into my room?
When is check-in/check-out time? What if I arrive early?
Online Check-in is available 10 days prior to your stay. Look for the special Online Check-in line at the resort's front desk.
Check-in time is 4pm. Upon arrival head to the front desk. Rooms are generally not available until 4pm. Early check-in allows you to leave luggage with bell services, get your Magic Band (if you don't already have them) and head off to the parks or relax around the resort. You will be given a phone number to call periodically to see if your room is ready. When you call in, answer a few questions. You will then be given your room number and your Magic Band will open your door! OR — Text alerts are also available, just provide a cell phone number to the front desk cast member.
Check-out time is 11 AM. Express Check-out is available to all guests paying with a credit card, arrange for this service at check-in. A detailed hotel bill is delivered to your door by 7am. If the bill is correct you simply leave. Your Magic Band serves as a Disney souvenir. Late Check-out of noon can be requested without additional cost (very limited availability). If you need Late Check-out, request it at Check-In and as soon as possible the morning of check out (the number of eligible rooms are limited).
Resort Airline Check-In Service at your Disney resort is only available if you are flying domestically (includes Puerto Rico) on specific airlines It is a complimentary (free) service and allows you to check your luggage and receive your airline boarding passes right at your resort on the day of your departure.
What can the Lobby Concierge desk do for me?
The Lobby Concierge desk in Melody Hall can arrange dining reservations, sell park admission tickets, and answer a variety of questions regarding the WDW property.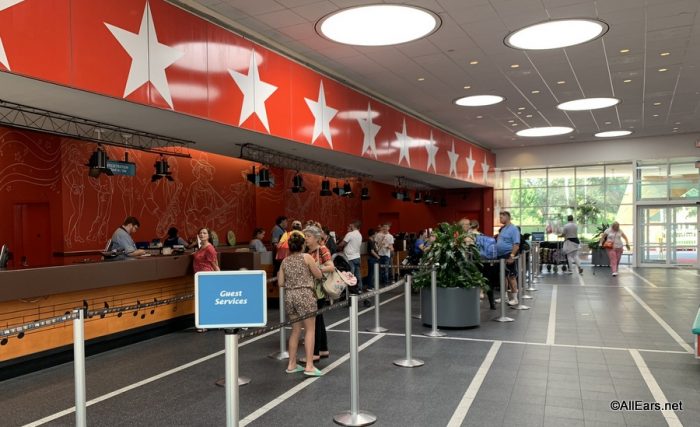 Foreign currency can be exchanged at the Front Desk. They will also help you rent a car, send flowers and help you out with maps.
Are connecting rooms available?
Yes, however, you must request connecting rooms when making your reservations. Connecting rooms are not guaranteed, but every effort will be made to honor your request. They will guarantee connecting rooms only if small children will be staying in the separate room without an adult. Make sure to explain this arrangement to the booking agent.
Will I be able to do laundry?
Yes. Laundry facilities are located near both the Piano and Guitar pools. Washing machines and dryers are both paid for with a credit or debit card — coins are no longer accepted.
Additionally, laundry bags are available in each room. By completing the attached laundry list and dropping the laundry off at the Lobby Concierge desk, same day laundry/dry cleaning is available. This laundry service is offered 7 days a week, including holidays.
Are there safes in the rooms?
Yes, every room at the All Star Music has a key-operated safe. The safe is small. Larger safekeeping boxes are available at the Front Desk. You will be charged a fee if you lose the safe key, so be careful.
What is the noise level like? Will I be able to sleep?
Typically you do not hear any significant exterior noise from the rooms, however, noise levels can vary. The All Stars attract many families with young children. In addition, the All-Stars are favorites with tour groups, cheerleaders and dance competitors. To avoid noise, try requesting a room in either Jazz Inn or Country Fair, get a room on the third floor or request to face the small wooded areas.
Rooms facing the Calypso pool will hear afternoon noise from the pool activities and loud speaker!
You can also find out about competitions at the ESPN Wide World of Sports in advance.
What are the room temperature controls like?
Each room can be set to your desired temperature. Look for a small monitor on the wall (normally next to the window) and press the up or down arrow to increase or decrease desired temperature settings.
What are the pools like?
There are two pools at All-Star Music. The main pool located between the Calypso buildings is the Guitar Pool, so named for its shape. The Kiddie Pool is also located here. The Guitar Pool is not a zero-entry pool. It has stairs used to enter on either end of the pool. The maximum water depth is 5 feet and the minimum is 3 feet. There is a squirting fountain on a raised island in the middle of this pool that features the characters from Disney's "The Three Caballeros."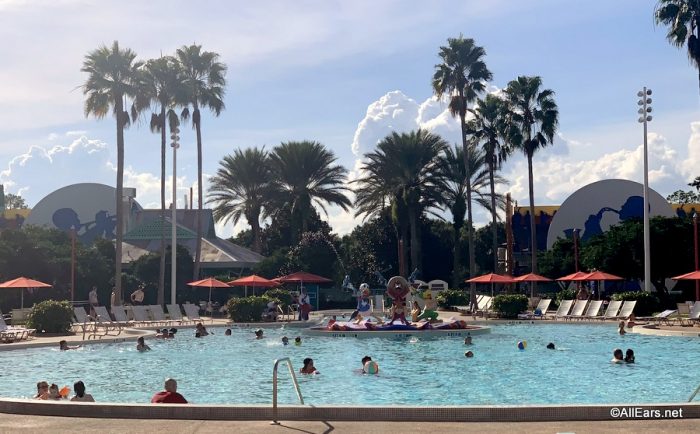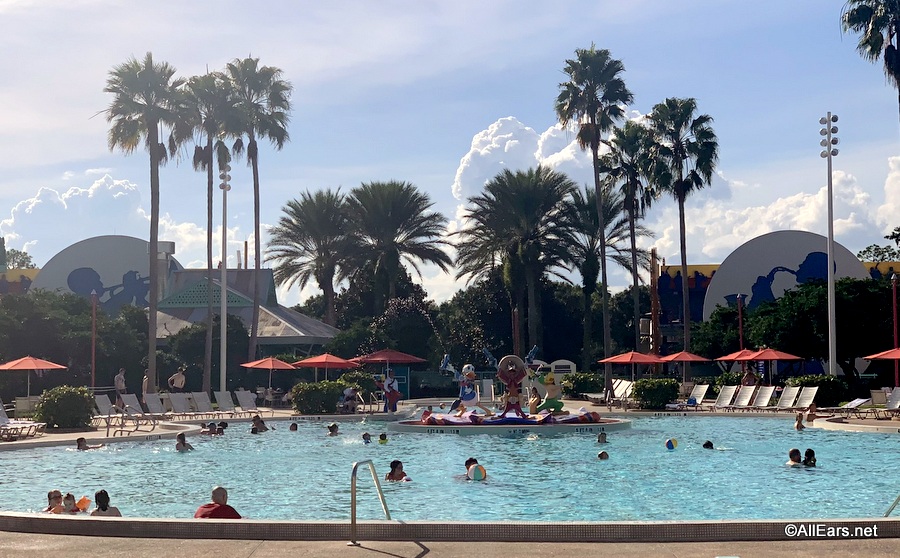 The quieter pool is the Piano Pool located between Rock Inn, Country Fair and Broadway. The Piano Pool is also not a zero-entry pool. It, too, has stairs to enter and exit.
The pool hours may change depending on the season. Security personnel have been known to remove noisy guests from the pools. Lifeguards are on duty at both pools daily.
Life vests for youngsters may be checked out of the Arcade for the length of your stay. Diapered children are required to wear swim diapers or rubber pants.
Are there towels at the pool? What about hair wraps?
The resort does not provide towels at the pool, so you must take towels from your room. Housekeeping will bring additional towels if you call and request them.
There is a hair-wrapping station by the guitar pool that opens early in the morning. Sometimes there is an additional hair-wrapping station located inside Melody Hall between the food court and the gift shop. Inquire at the Lobby Concierge Desk for hours and pricing.
Are there hairdryers in the room?
Hairdryers are included in each room.
How does All Star Music compared to a moderate?
All Star Music rooms are approximately 50 square feet smaller than the moderates. The beds are doubles. Here are the main differences between the budget and moderates:
Decor – there is more furniture in the moderates, so there is more storage space for your clothing. Also, there is more "ambiance" in the room.
Sink and mirrors – there are two sinks in all moderates except Coronado Springs Resort.
Food – Some moderates have a sit-down restaurant plus a food court. There is only a food court at the ASM.
Landscaping – the landscaping improves as you go up the room rate chain. Think ASM vs. Polynesian.
Pool – there is an outdoor Jacuzzi at the some of the moderates, none at the All Stars.
Are there things offered at other Disney hotels that I am not getting as All Star Music is a budget hotel?
Yes. The resort does not offer services such as sit-down restaurants, marina, recreational opportunities (such as bicycle rental, water sports, tennis), health club facilities, room service for food other than pizza, and water/monorail transportation to theme parks.
However, as a Disney guest, you can participate in many of these activities at other Disney resorts; pool-hopping is not allowed, though. Check with Lobby Concierge for additional information.
I heard there is no bell service to bring luggage to and from the room, is that true?
The All Star Resorts have luggage assistance. Your bags will be delivered to your room, but note that it can take up to an hour.
Luggage pick-up on your check-out day is available if you call 24 hours in advance.
What other things might I want to know about All Star Music?
Rooms with one king sized bed or two double beds are available at the All Star Music. The king-sized rooms are equipped for travelers with disabilities. As a result, the bathroom area is enlarged to allow wheelchair access. Therefore, the room area seems quite small. A crib will not fit comfortably in a king sized room.
Rooms are equipped with one sink and one mirror. The sink area is outside the bathroom. The one sink/one mirror can cause a logistical nightmare in the morning, so plan accordingly. There are "curtains" installed so that there is some privacy between the sink area and the beds.
TO LEARN MORE ABOUT WHAT ALL STAR MUSIC HAS TO OFFER, CHECK OUT THIS ALLEARS TV VIDEO!
Overview
Phone: (407) 939-6000
Address: 1801 West Buena Vista Drive, Lake Buena Vista, FL 32830-1000
Transportation Options (1)
Activities & Recreation (5)
Playground
Splash Playground
Arcade
Running Trail
Poolside Movies
Room Options (3)
Standard Room
Preferred Room
Family Suites