All Star Movies Value Resort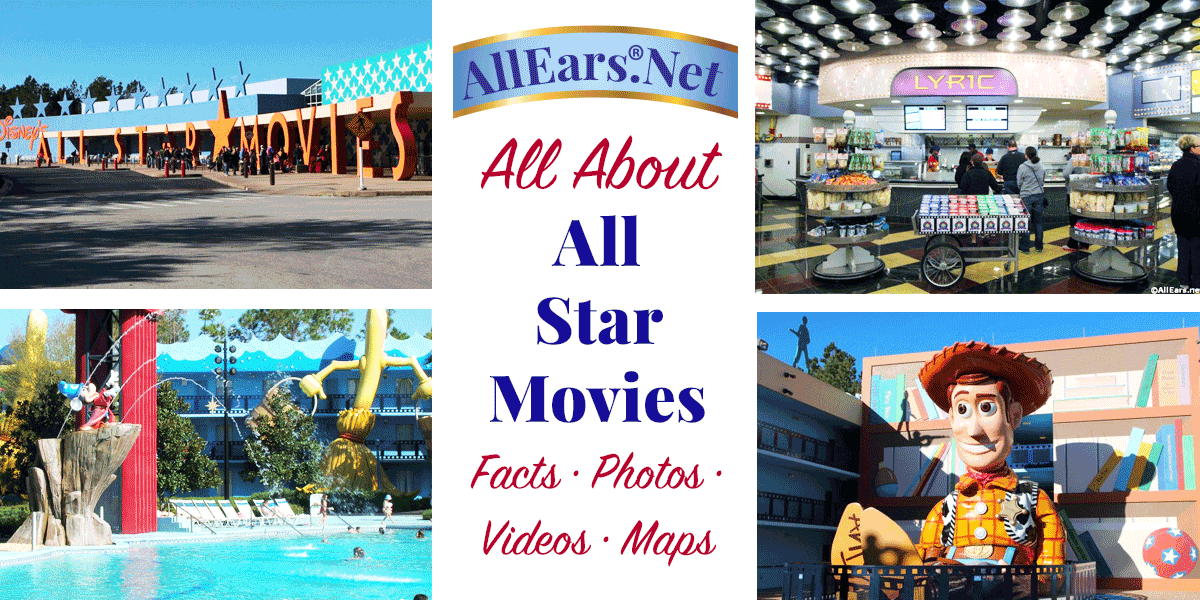 Featured Information

What is All Star Movies (ASMv)?
All Star Movies is the third and final hotel in the All Star Complex. It is a 1,920 room resort featuring the following movie themed buildings: 101 Dalmatians, Toy Story, Fantasia (original and 2000), The Mighty Ducks and Herbie: The Love Bug.
The buildings have exterior and interior theming to match their names – such as a 40-foot-tall Pongo and 35-foot-tall Perdita in 101 Dalmatians and a 35 foot tall Buzz Lightyear and 25 foot tall Woody in the Toy Story area.
The rooms are 260 square feet in size – the smallest (and least expensive) of all rooms on the Disney property. The ASMv, along with All Star Sports, All Star Music, and POP Century make up the value hotel offerings on Disney property.
Your room may overlook the parking lot, the courtyard, or the pool area. All rooms open to the exterior hallways.
What other theming will I find at All Star Movies?
Herbie, the famous VW Beetle, is approximately five times his normal size.
Giant sorcerers' hats, spell books, brooms and buckets decorate Fantasia.
The Mighty Ducks score big with giant hockey sticks, goalie nets and duck-shaped hockey masks. Goalie nets 31 feet high surround the stairwells at the Mighty Ducks buildings.
Where is the All Star Movies Resort located?
Disney's All Star Movies Resort is located adjacent to Disney's All Star Music and All Star Sports Resorts in the Animal Kingdom Resort Area. Blizzard Beach is nearby.
Complimentary bus service transports guests throughout the Walt Disney World Resort area. Bus service is the only mode of Disney transportation offered at the resort.
How do I get to the All Star Movies Resort?
The All Star Movies Resort is located at:
1901 West Buena Vista Drive
Orlando, Florida 32830
407-939-7000
Use our Driving Directions page for directions on getting to the All Star Movies Resort from local airports.
Can you describe what the rooms are like?
Rooms with two double beds or one king size bed are available. Rooms with a king bed are designed for disabled travelers and do not have a tub, only a wheelchair-accessible shower. Rooms are 260 sq. feet, compared to 314 sq. feet at most of the Moderate Resorts (Port Orleans Riverside and French Quarter, Coronado Springs).
The bathroom features a single sink and mirror (compared to double sinks at Port Orleans Riverside and French Quarter) in a vanity area separate from the tub and toilet. The showers have liquid soap and shampoo dispensers.
Rooms also feature a clock radio, small table with two chairs, a small safe, mini-refrigerator, a TV, hair dryer, telephone with voice mail, iron and ironing board as well as a small 6-drawer dresser. Storage space is adequate for two. The bathtub has a retractable cord that makes a handy clothes line.
Room views either overlook a parking lot, the central courtyard of your building, or landscaped areas between the buildings. All are considered Standard Views.
All Star Resort Room Locations
NOTE: All Disney resorts (and all guest rooms) are nonsmoking. There are a limited number of outside designated smoking areas. Check your resort map or ask a Cast Member.
Can 5 people fit in an ASMv room?
The rooms at the ASMv accommodate a maximum of 4 people, or 4 people with one child under three who sleeps in a crib. These maximums are in accordance with fire codes. Four adults in ASMv rooms may find the stay uncomfortable. The rooms do not have as much closet/drawer space, and there is only one sink and mirror. Two adults and two children will be able to stay at the ASMv in comfort, but more than 2 adults in an ASMv room may be too much. Due to the low room rate, you may want to consider adjoining rooms. The cost of the two rooms may be lower than other options on property. As another option, the All-Star Music Resort offers the options of Family Suites, which accommodate up to 6 people, plus one child under 3 in a crib.

What is the difference between the room views?
"Preferred Location" at the All Star Movies Resort are rooms closest to Cinema Hall Lobby and World Premiere Food Court. Currently, buildings 1 & $ (101 Dalmations), 5 & 8 (Fantasia) and 9 & 10 (Toy Story) are in the preferred category. All other rooms are the same no matter what view or location you have. Your room may overlook the parking lot, or the courtyard, or the pool area. All rooms open to the exterior hallways, so basically, you look out on to the hallway and anything else in sight.
What should I expect to pay for a room at the All Star Movies?
The All-Star resorts are considered "Value" resorts at Disney, and their prices are among the least expensive offered at Disney resorts. These are regular rate prices and do not include the Florida Sales Tax nor the county resort tax for Osceola County. Rates are based on double occupancy. No charge for children under 17 years old when in the same room as the adults. For each adult over 2 there is a $10 per night charge per person.
Sometimes there are special rates for Annual Pass Holders, AAA members, or Florida residents. Be sure to inquire when you call for reservations!
Walt Disney World Resort rates vary by season (there are nine seasons now), and also by day of the week. The holiday season is the most expensive time of the year. It runs from mid-December to early January as well as during Easter Week.
The rates for a:
— Standard Room range from $97 – $183 (Holidays up to $185)
— Preferred Room range from $112 – $188 (Holidays up to $205)
Is there a fee to park at All Star Movies?
For reservations booked after March 21, 2018, there is a fee for overnight self-parking at Walt Disney World Resort hotels. Click HERE for current pricing and other parking-related information.
I hear that there are no more room key cards at Disney resort hotels. How do I get into my room?
Walt Disney World has converted their room keys and admission tickets from plastic cards to MagicBands, flexible plastic wristbands, resembling a watch or bracelet, that use Radio Frequency (RF) technology. Your MagicBand is linked to your My Disney Experience (MDE) account and acts as your Disney resort room key. Simply touch the Mickey symbol on your MagicBand to the RFID reader near your room door to gain entry. Read about using MagicBands for park admission, FastPass+ and more here.
What other facilities/amenities are available?
Cinema Hall (the resort center) offers check-in and guest service facilities (including express check-out), a 24-hour front desk, a film-inspired food court with five marquee venues, a gift shop, arcade and playground. Additionally there is limited room service (pizza delivery), laundry facilities (near Fantasia Pool) and daily housekeeping.
Irons, ironing boards and hair dryers are available upon request. From your room phone, call housekeeping.
Walt Disney World Resort made complimentary Wi-Fi service available in all of its hotels as of March 2012. See our High Speed Internet Access page for details.
Also offered are at nearby resorts are baby-sitting/child services, golf facilities, health clubs and valet services.
Be sure to ask for a Recreation Activities Flyer at check-in.
What are Rapid Fill Mugs?
The Rapid Fill beverage program allows Disney Resort guests to buy (or receive as part of the Disney Dining Plan) a resort mug that can be refilled for a certain period of time as designated at time of purchase. These mugs are enhanced by an RFID bar code that enables the mug to deactivate when the designated time is complete.
Are there smoking and nonsmoking rooms?
How many pools are there? What are the pools like?
There are two pools. Guests looking for a cinematic swim can skate into the hockey-rink-themed pool in The Mighty Ducks area, or join Sorcerer Mickey as he directs a liquid symphony at the Fantasia pool, which features a kiddy area. An outdoor pool bar (adjacent to the food court and Fantasia Pool) offers light food and drink.
Unsure swimmers can get life jackets for use at the pools!
Do any of the buildings have elevators, or just stairwells?
There are two elevators in each building, located next to each other in the center of the building. There is also a staircase next to each pair of elevators, and a room with an ice machine just behind them. There are outside staircases at each end of each building, so if your room is far from the elevators, you can use those stairways.
When is check-in/check-out time? What if I arrive early?
Online Check-in is available 10 days prior to your stay. Look for the special Online Check-in line at the resort's front desk.
ASM check-in time is 4pm. Upon arrival head to the front desk. Rooms are generally not available until 4pm. Early check-in allows you to leave luggage with luggage assistance, get your Magic Band (if you don't already have them) and head off to the parks or relax around the resort. You will be given a phone number to call periodically to see if your room is ready. When you call in, answer a few questions. You will then be given your room number and your Magic Band will open your door! OR — Text alerts are also available, just provide a cell phone number to the front desk cast member.
Check-out time is 11am. Express Check-out is available to all guests paying with a credit card, arrange for this service at check-in. A detailed hotel bill is delivered to your door by 7am. If the bill is correct you simply leave. Your Magic Band serves as a Disney souvenir. Late Check-out of noon can be requested without additional cost (very limited availability). If you need Late Check-out, request it at Check-In and as soon as possible the morning of check out (the number of eligible rooms are limited).
Resort Airline Check-In Service at your Disney resort is only available if you are flying domestically (includes Puerto Rico) on specific airlines It is a complimentary (free) service and allows you to check your luggage.
How's the luggage service?
It depends. If you're used to bags being taken directly to your room by a bell person the moment you are ready, you'll probably be disappointed. The luggage service runs on a multiple room drop-off system instead of individual service. Because of this, you should pack a small bag of essentials to carry with you. For your departure, luggage arrangements should be made the night before.
How does the bus service work?
Each All Star Resort has one bus stop located outside the main building facing the parking lot. There are signs which indicate where each bus will transport you. For All Star Movies, the bus stops are right outside Cinema Hall.
Normally, each All Star Resort gets its own bus. But in times of large crowds (i.e., park closing time) or unusually small crowds a bus may stop at more than one All Star Resort in one trip.
Which buildings are located where, and are closest to what?
Cinema Hall is main building which houses the front desk, guest services, lobby, food court and store. If you exit the back of Cinema Hall and turn LEFT you will find the Toy Story Buildings (Buzz and Woody). Exit Cinema Hall to the RIGHT and you will first come upon the 101 Dalmatians Buildings (two of them); then the Mighty Ducks Pool; and surrounding the pool, the Mighty Ducks Buildings (again, there are two of them).
Check out the menus, reviews and learn more about the World Premiere Food Court HERE
If you exit Cinema Hall and walk straight back, you will arrive first at the Fantasia Pool. The two Fantasia Buildings border the far side of the Fantasia Pool. As you continue walking back, you will then see the two Love Bug Buildings.
I would like to make sure I stay in a quiet room – which building do you suggest?
The two factors that will ensure that a room is not quiet are: proximity to the pools, and proximity to Cinema Hall. Rooms on the path to Cinema Hall will be noisy in the morning and evening, when guests make their way to and from the food court, shop and bus stop. Rooms that face one of the pools will be noisy during the day when kids splash around to beat the Florida heat.
Also important to remember is that because the All Star Resorts are the value or least expensive resorts that Disney offers, large groups often obtain blocks of rooms here. Throughout the year you might encounter large groups of cheerleaders, dance teams, Pop Warner football teams and more.
If you "really" want a quieter room, request one that is facing woods and furthest away from Cinema Hall. I'd also not getting a first floor room!
The Love Bug Buildings should be the quietest, since they are the farthest from Cinema Hall and the pools.
Bottom line, if you would like the quietest room possible during your stay at Disney's All Star Movies Resort, be sure to let the folks at Disney know as soon as possible (as early as making reservations, if you can), and again at check-in. Although nothing can ever be guaranteed, Disney is nothing if not accommodating, and the hotel staff will do their best to honor your request.
Building
Number
Theme
Room No.
Range
Nearest To
1
101 Dalmatians
1701-
1964
Cinema Hall,
guest laundry
and restrooms,
parking lot
2
Mighty Ducks
2701-
2964
Duck Pond Pool,
guest laundry
and restrooms,
parking lot
3
Mighty Ducks
3701-
3964
Duck Pond Pool,
parking lot
4
101 Dalmatians
4701-
4964
parking lot
5
Fantasia
Sorcerer's Apprentice
5701-
5964
Fantasia Pool,
kiddy pool
6
Love Bug
6701-
6964
parking lot
7
Love Bug
7701-
7964
parking lot
8
Fantasia
Jack-in-the-Box
8701-
8964
Fantasia Pool,
kiddie pool,
guest laundry
and restrooms
parking lot
9
Toy Story
Woody
9701-
9964
Cinema Hall,
playground,
parking lot
10
Toy Story
Buzz
0701-
0964
Cinema Hall,
playground,
parking lot
Anything else to share?
There are no Kids Clubs at the All Star Resorts. For what is available at other WDW resorts visit our Childcare FAQ.
For you trivia buffs: There are 4 miles of handrails on the buildings at Disney's All Star Movies Resort.
Some other interesting figures: There are 74 king-sized beds, 1,846 double-double beds, and 96 disabled-accessible rooms!
Other Facts About the Resort
Reservations began being accepted in January 1998. The Mighty Ducks and 101 Dalmatians opened January 15, 1999, Fantasia and Herbie: The Love Bug opened in March, and the final section, Toy Story, opened in April 1999.