All Star Sports Resort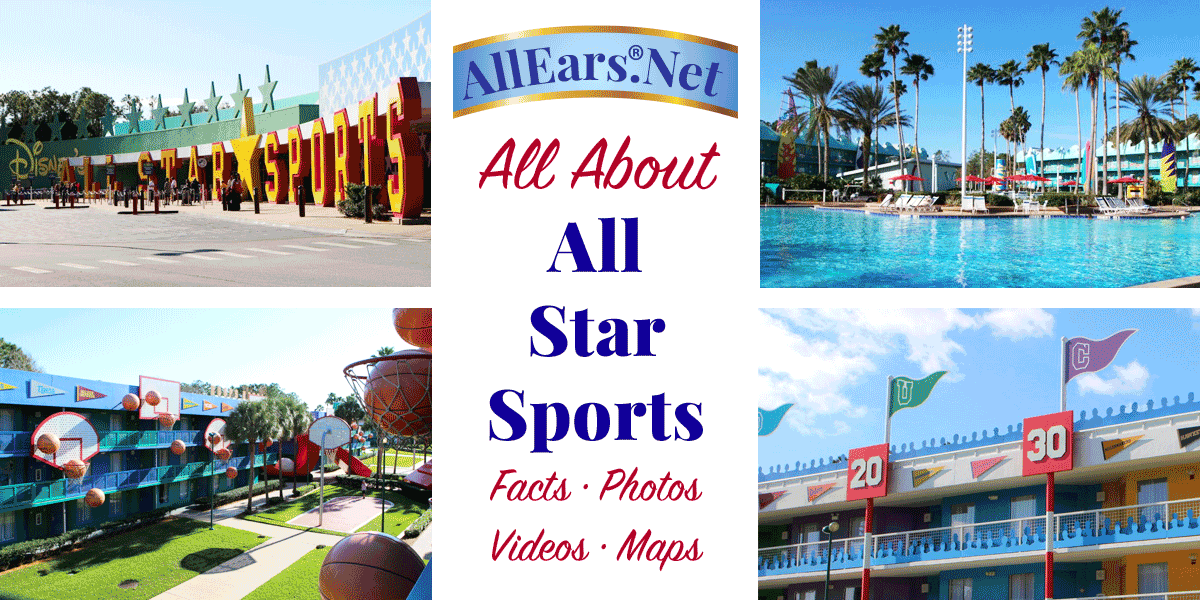 All Star Sports Resort Highlights:
Sports-themed buildings and pools
First of the three All Star Resorts to open at Disney World
Located in the Animal Kingdom Resort area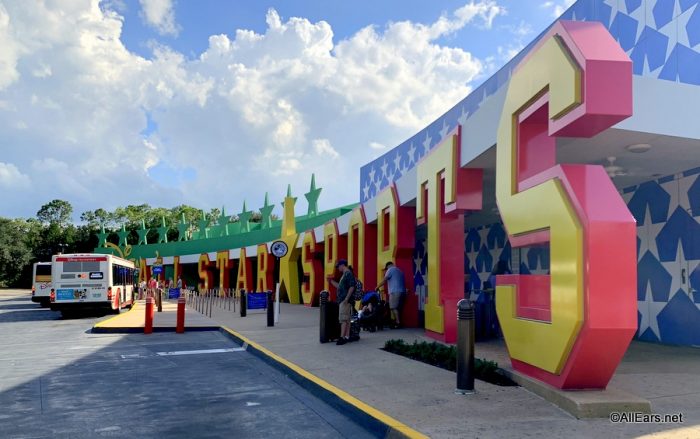 What is Disney's All Star Sports Resort?
Disney's All Star Sports Resort was the first value resort built on the Walt Disney World property, opening in 1994. There are 1,920 rooms spread between 10 buildings. All the buildings feature larger-than-life sports icons.
Where is the resort located?
The All Star Sports Resort is located on Buena Vista Drive west of World Drive. It is adjacent to the All Star Music Resort, and near All Star Movies, Blizzard Beach, Coronado Springs, and Disney's Animal Kingdom.
What types of rooms are available?
Rooms with two double beds or one king size bed are available. Rooms with a king bed are designed for disabled travelers and do not have a tub, only a wheelchair-accessible shower. Rooms are 260 sq. feet, compared to 314 sq. feet at most of the Moderate Resorts (Port Orleans Riverside and French Quarter, Coronado Springs).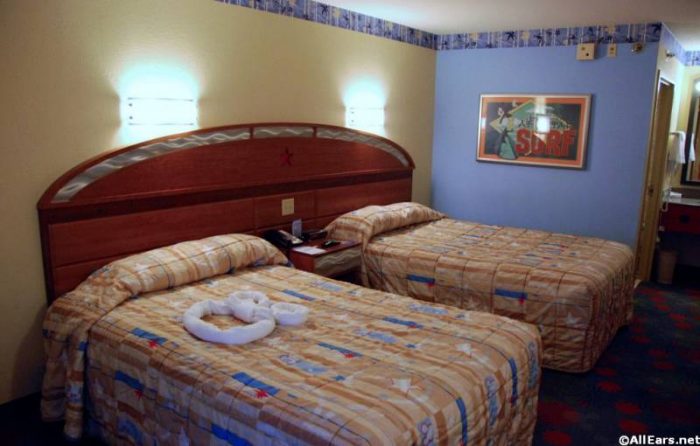 The bathroom features a single sink and mirror (compared to double sinks at Port Orleans Riverside and French Quarter) in a vanity area separate from the tub and toilet. The showers have liquid soap and shampoo dispensers.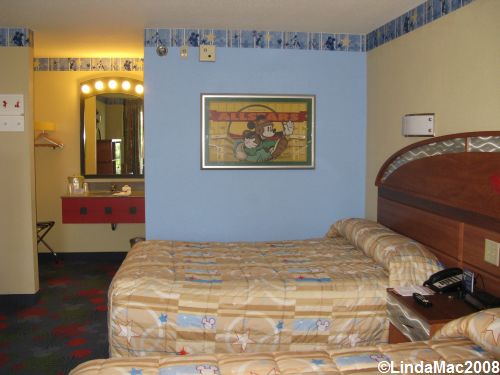 Rooms also feature a clock radio, small table with two chairs, a small safe, mini-refrigerator, a TV, hair dryer, telephone with voice mail, iron and ironing board as well as a small 6-drawer dresser. Storage space is adequate for two. The bathtub has a retractable cord that makes a handy clothes line.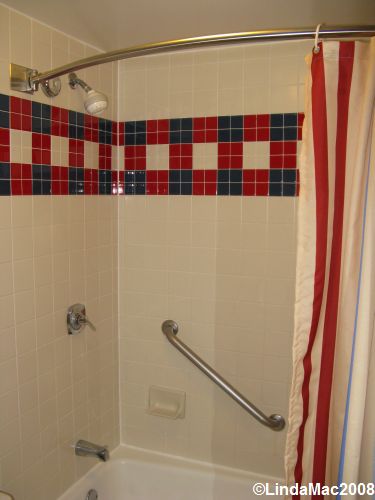 Room views either overlook a parking lot, the central courtyard of your building, or landscaped areas between the buildings. All are considered Standard Views.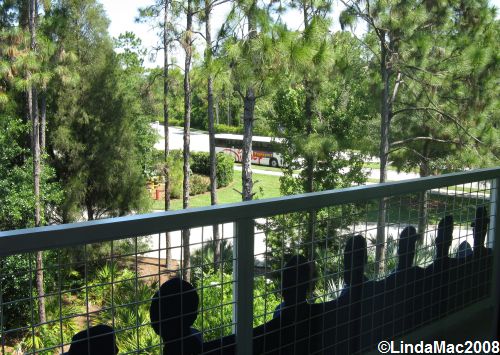 All Star Resort Room Locations
NOTE: All Disney resorts (and all guest rooms) are nonsmoking. There are a limited number of outside designated smoking areas. Check your resort map or ask a Cast Member.
What should I expect to pay for a room at the All Star Sports?
The All-Star resorts are considered "Value" resorts at Disney, and their prices are among the least expensive offered at Disney resorts. Rates are based on double occupancy. No charge for children under 17 years old when in the same room as the adults. For each adult over 2 there is a $10 per night charge per person.
Sometimes there are special rates for Annual Pass Holders, AAA members, or Florida residents. Be sure to inquire when you call for reservations!
Walt Disney World Resort rates vary by season (there are nine seasons now), and also by day of the week. The holiday season is the most expensive time of the year. It runs from mid-December to early January as well as during Easter Week.
The rates for a:
— Standard Room range from $119 – $241
— Preferred Room range from $137 – $266
Is there a fee to park at All Star Sports?
There is a fee for overnight self-parking at Walt Disney World Resort hotels. Click HERE for current pricing and other parking-related information.
Is there internet available?
Are there any elevators or just stairwells?
There are two elevators in each building, located next to each other in the center of the building. There is also a staircase next to the elevators, and a room with an ice machine just behind them.
There are also outside staircases at each end of the buildings, so if you're far from the elevators, you can use those stairways. The outside staircases are themed (Tennis Ball Can, Coke Cup, etc.).
What are the various themed buildings?
There are 5 themes in the resort, all, not surprisingly, sports-related. Two buildings facing each other are part of each theme.
Touchdown! is football-themed, and features large helmets and footballs.
You'll "love" Center Court, the tennis-themed area, where you will find four-story rackets and jumbo cans of tennis balls.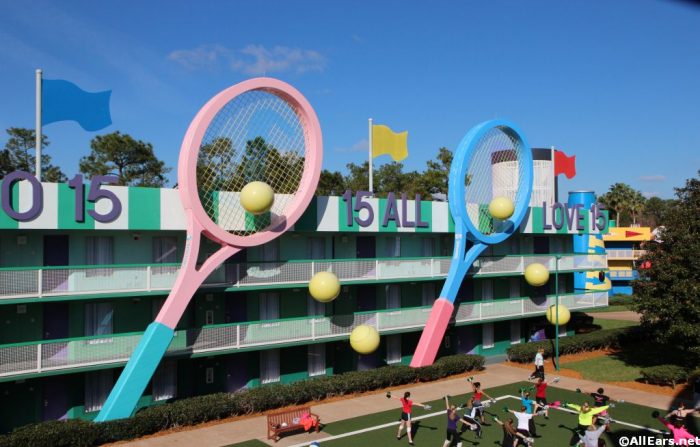 Homerun Hotel is baseball's home at the Resort. Giant bats, balls, scoreboards and cups of Coca-Cola make you feel like you're behind home plate cheering on your favorite team.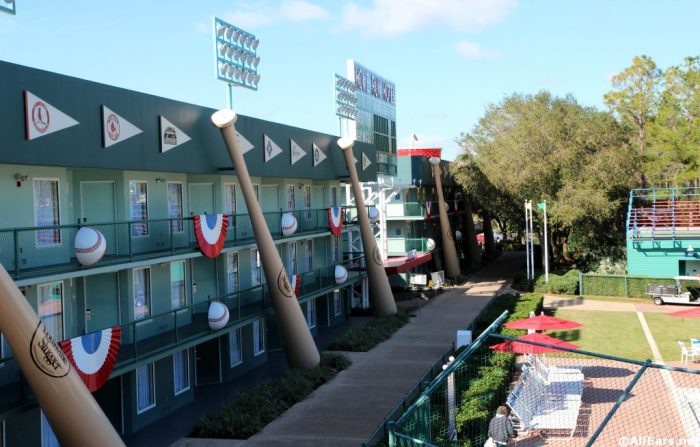 Surfs Up! brings the waves and thrill of the swells to the All Star Sports. Huge surfboards and lifeguard stands recreate the beach.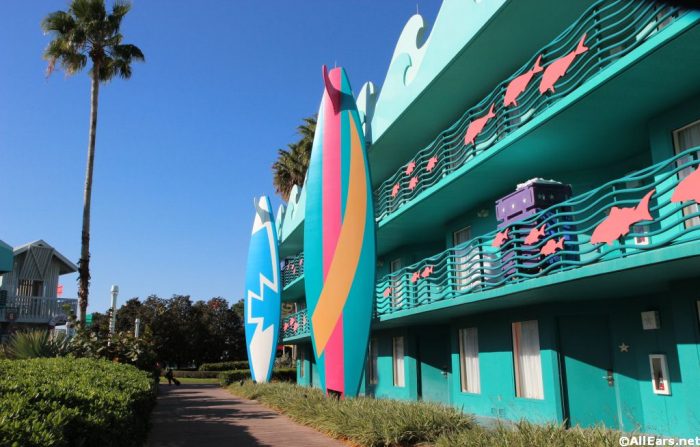 Finally, the Hoops Hotel rebounds on the Basketball court and offers big whistles and "mega" megaphones to Resort guests.
Which buildings are closest to the food court and bus stop?
Surfs Up! (Buildings 1 and 6) are directly behind Stadium Hall, the Resort's central area. However, the pool located between the two buildings can create a lot of noise and congestion.
For those seeking a more-laid back vacation but still wanting to be near Stadium Hall, Touchdown! (Buildings 7 and 10) are not much further away, and tend to be quieter.
Can I request a particular building or theme?
When you make your reservation, ask to have your request for a particular building noted. When you check in, reiterate your request. The Resort will try to accommodate everyone, though it is not always possible.
I hear that there are no more room key cards at Disney resort hotels. How do I get into my room?
Walt Disney World has converted their room keys and admission tickets from plastic cards to MagicBands, flexible plastic wristbands, resembling a watch or bracelet, that use Radio Frequency (RF) technology. Your MagicBand is linked to your My Disney Experience (MDE) account and acts as your Disney resort room key. Simply touch the Mickey symbol on your MagicBand to the RFID reader near your room door to gain entry. Read about using MagicBands for park admission, FastPass+ and more here.
When is check-in/check-out time? What if I arrive early?
Online Check-in is available 10 days prior to your stay. Look for the special Online Check-in line at the resort's front desk.
Check-in time is 4pm. Upon arrival head to the front desk. Rooms are generally not available until 4pm. Early check-in allows you to leave luggage with bell services, get your Magic Bands (if you don't already have them) and head off to the parks or relax around the resort. You will be given a phone number to call periodically to see if your room is ready. When you call in, answer a few questions. You will then be given your room number and your Magic Band will open your door! OR — Text alerts are also available, just provide a cell phone number to the front desk cast member.
Check-out time is 11am. Express Check-out is available to all guests paying with a credit card, arrange for this service at check-in. A detailed hotel bill is delivered to your door by 7am. If the bill is correct you simply leave. Your Magic Band serves as a Disney souvenir. Late Check-out of noon can be requested without additional cost (very limited availability). If you need Late Check-out, request it at Check-In and as soon as possible the morning of check out (the number of eligible rooms are limited).
Resort Airline Check-In Service at your Disney resort is only available if you are flying domestically (includes Puerto Rico) on specific airlines It is a complimentary (free) service and allows you to check your luggage and receive your airline boarding passes right at your resort on the day of your departure.
A shower/changing area is available at either of the Resort's two pool areas if you'd like to swim or freshen up after check-out and before your departure.
How's the luggage service?
It depends. If you're used to bags being taken directly to your room by a bell person the moment you are ready, you'll probably be disappointed. The luggage service runs on a multiple room drop-off system instead of individual service. Because of this, you should pack a small bag of essentials to carry with you. For your departure, luggage arrangements should be made the night before.
Some have found the luggage service to be slow, confusing, and unreliable. While this is Disney's Value resort, still, the service level is disappointing.
Can I shop at the resort?
Sport Goofy Gift and Sundries in Stadium Hall is stocked to the rafters with Walt Disney World and All Star souvenirs, sports apparel, postcards, snacks and sundries.
Postage stamps are available, as are film, milk, and newspapers. The shop's hours are 8:00 AM to 11:30 PM daily.
Can I purchase tickets or make dining arrangements?
A Lobby Concierge Desk is located in Stadium Hall across from the Front Desk. They can help you with planning just about any facet of a WDW vacation. You can also touch the "Disney Information" button on your room phone for park hours and priority seating information.
What is the food court like?
The End Zone Food Court offers about a half dozen stands serving a variety of food, as well as a small convenience market with milk, juices, fruit, cereal, yogurt, and the like. Food stands include Pizza and Pasta, Barbecue, and The Grill. A "Blue Plate" window usually offers some sort of dinner special, often Prime Rib. There's plenty to choose from, and kids' meals (mac and cheese, chicken fingers, etc.) are available for the finicky eaters in your group.
By arriving at the End Zone Food Court before 7 a.m., you will find it much LESS crowded than later in the morning. It's also nice to take your food and beverages outside to one of the tables.
Is there room service available?
From 5 p.m. until midnight, you can order pizza, salads, soft drinks, and beer for delivery to your room. Touch the "Pizza Delivery" button on your phone for information or to place an order.
Is there a sit-down restaurant or a lounge?
There is no sit-down restaurant in any of the Disney Value Resorts. The closest full-service restaurant is Maya Grill at the nearby Coronado Springs Resort or Boma, Jiko, and Sanaa at the Animal Kingdom Lodge. Of course, you are welcome to visit or dine at any WDW Resort. Click here for Menus From Around the World.
The Team Spirits Pool Bar, offering a full selection of drinks, is located adjacent to the Surfboard Bay pool and to the rear of the Food Court. There is even a window that opens into the Food Court Area. Usually open from around noon well into the evening, the Pool Bar is a delightful place to enjoy your favorite refreshment and watch the activities at the pool.
What are Rapid Fill Mugs?
The Rapid Fill beverage program allows Disney Resort guests to buy (or receive as part of the Disney Dining Plan) a resort mug that can be refilled for a certain period of time as designated at time of purchase. These mugs are enhanced by an RFID bar code that enables the mug to deactivate when the designated time is complete. For complete details read our Rapid Fill Mug page.
Where is the resort located?
Disney's All Star Sports Resort is located at 1701 W. Buena Vista Dr., Lake Buena Vista, FL 32830. Phone (407) 939-5000, Fax (407) 939-5073.
Use our Driving Directions page for directions on getting to the All Star Sports Resort from local airports.
How do I get to the parks and attractions?
Bus transportation is available from the side of Stadium Hall to all major WDW theme parks and entertainment areas. The buses run at least every 20 minutes (more often during peak travel times) from 1 hour before theme park opening until 1.5 to 2 hours after theme park closing. Disney Springs is served from 8 a.m. until 2 a.m. The buses drop you a short walk from each park entrance.
There is only one Bus Stop at the All Star Sports Resort. Sometimes your bus may also drop off or pick up passengers at All Star Music or Movies.
Is the bus service good or do I need a car?
Most visitors find the bus service adequate for getting to and from the parks and recreation areas. Some find the buses slow, crowded or uncomfortable.
The one major area in which the WDW transportation system is lacking is Resort to Resort transportation. To travel from one Resort to another, you must transfer buses at a transportation hub. During its operating hours, Animal Kingdom makes a great hub for All Star Resort guests due to its proximity to the Resort. After Animal Kingdom closes for the day, you must bus to another theme park or Disney Springs to transfer to a Resort bus. It is advisable to allow AT LEAST an hour to make a connection, although it may take less than that.
Of note: Think twice before making arrangements to attend an early (before 8:00 or 8:30 a.m.) Character Breakfast at another Resort when relying on WDW transportation. Guests staying at all Resorts are subjected to this time-consuming process, so it's not something unique to the All Star Sports.
One other tip: Always take the bus to the Magic Kingdom, since driving involves parking, waiting for the tram, and transferring to the ferry or the monorail at the Transportation and Ticket Center (TTC).
Taxi service is available at all Resorts if time is of the essence, and you will find most one-way fares on the WDW property to be around $15. If it's 10 minutes before your breakfast date with Mary Poppins at the Grand Floridian, it would be a few dollars well spent. If you plan to do a lot of Resort hopping or dislike waiting for or riding buses, a car may work better for you, but otherwise you will find you will not need one.
How do I get a Taxi?
If you are staying at the All Star Sports resort and wish a taxi, go to the Luggage Stand and ask a Cast Member to call for a taxi. Wait time is around 10-15 minutes.
For those who use Uber or a similar service, they are growing in popularity in the Orlando area and offer a good alternative to taxis.
What recreation is there at the resort?
Two pools, the Surfboard Bay, located directly behind Stadium Hall between the Surfs Up! buildings, and the Grand Slam, with a water-spouting Goofy Statue, is located in front of the Home Run Hotel. Pool hours vary by the season, but they are often open 24 hours, with quiet periods observed from around 10 p.m. until 8 a.m. A kiddie pool is located at Surfboard Bay. Showers, lockers and changing rooms are available at both pools. You must bring your room towels, as pool towels are not available. If you find you need extra towels in your room, call Housekeeping.
The Game Point Arcade in Stadium Hall offers a good-sized selection of the latest video games and pinball machines. Posted hours are until 2 a.m.
There are also few small children's play areas scattered around the Resort. In between the two Touchdown buildings is a large play area with Xs and Os for kids to play on, plus goal posts, and an area for touch football. Signs are posted to limit activity in this area from 10 a.m. to 10 p.m.
There is no Fitness Center at the All Stars, but if you want to use one at another Disney resort you may for a $12 fee, based on availability. Those 14-17 must be accompanied by parent or guardian. (The purchase of a spa treatment at any other Disney resort includes use of the adjacent fitness center for the day of treatment.)
Are there laundry facilities?
Laundry facilities (coin-operated) are located adjacent to each pool. Detergent is also sold in the vending machines.
Same-day laundry valet service is available Monday through Saturday. Check the price list in your room or contact Guest Services for details.
Irons aren't standard in the rooms, but you can call housekeeping and request an iron & ironing board.
Can I get cash at the Resort?
An ATM machine is located in Stadium Hall, and is available 24 hours a day. A small fee is added to the transaction amount of guests not using a card issued by the ATM's bank.
Is there anything else fun to do?
The giant icons of each building offer great photo opportunities. Mount Mickey, located in more or less the center of the Resort, gives you the chance to have your photo taken with a statue of the "Big Cheese" himself.
You can walk to the adjacent All Star Music Resort to check out the themed buildings there, enjoy a meal at the Intermission Food Court, or shop at Maestro Mickey's. Coronado Springs Resort is just a short distance away via the jogging path (ask at the front desk for directions or a map), offering even more possibilities for dining and shopping.
If you're in the mood for a Big Mac, a McDonald's, designed with the All Star Resort style in mind, is located about a 5 minute walk from the resort entrance on Buena Vista Drive. There's even a crosswalk.
Why should I choose the All Star Sports over another WDW resort?
Disney's All Star Sports Resort offers an appealing choice when price is a consideration. Sure, there might not be the recreation or dining choices of some of the more expensive resorts, but if you're in the theme parks 12 hours a day, you probably won't miss much of it.
A few other differences I noticed on my last trip compared to moderate and deluxe accommodations at WDW: Plastic drinking cups, not glasses are provided; liquid soap instead of bars of soap; basic towels (not thick and fluffy), no ceiling fan and only one sink.
Any other information I might want to know?
There are no Kids' Clubs at the All Star Resorts. For what is available at other WDW resorts visit our Child Care FAQ.
Interesting Facts
Groundbreaking for the All Stars began in November 1992. All Star Sports was the first to open when the Surf's Up! buildings began welcoming guests on April 29, 1994.
The other sections opened on the following dates:
Hoops Hotel – May 13, 1994
Touchdown – June 26, 1994
Home Run Hotel – July 22, 1994
Center Court – August 11, 1994
The large star out front is 55 feet tall and weighs more than 55,000 pounds. There are 727 stars on the exterior and interior of the building.
Surf's Up – 38 feet high shark fins mark the buildings' main entrances. Fins of this size would belong to a 300 foot long Great White Shark. The brightly colored surfboards are also 38 feet tall. Approximately 950 Red Snapper and Dolphin Fish line the balconies.
Hoops Hotel – 45 foot tall megaphones house the stairwells and giant whistles mark the buildings' entrances. The whistles measure 60 feet long and 20 feet high. The pea inside the whistle is approximately 9 feet in diameter. Pennants from college teams and over 70 giant basketballs line the railings.
Center Court – The stairwells are contained in oversized tennis ball cans large enough to hold 9,474,609 regulation size tennis balls. The tennis racquets that line the railing are approximately 51 feet tall and the tennis balls are almost 5 feet in diameter.
Touchdown – A football player would have to stand at more than 200 feet tall to be able to wear one of these giant football helmets.
Home Run Hotel – It would take more than 20 million 12-ounce cans of Coke to fill just one of these containers. To put this in perspective, in 1992, guests at Walt Disney World consumed approximately 1,600,000 gallons of Coca-Cola which would only fill 85% of just one of these giant Coca-Cola cups. 40-foot tall White Ash tree would be needed to make a baseball bat the size of the ones located on the railings of the Home Run Hotel.
TO LEARN MORE ABOUT WHAT POP CENTURY RESORT HAS TO OFFER, CHECK OUT THIS ALLEARS TV VIDEO!
Overview
Phone: (407) 939-5000
Address: 1701 W. Buena Vista Dr., Lake Buena Vista, FL 32830
Transportation Options (1)
Activities & Recreation (5)
Playground
Splash Playground
Arcade
Running Trail
Poolside Movies
Room Options (2)
Standard Room
Preferred Room