Recipe Tonga Toast Kona Cafe Polynesian Resort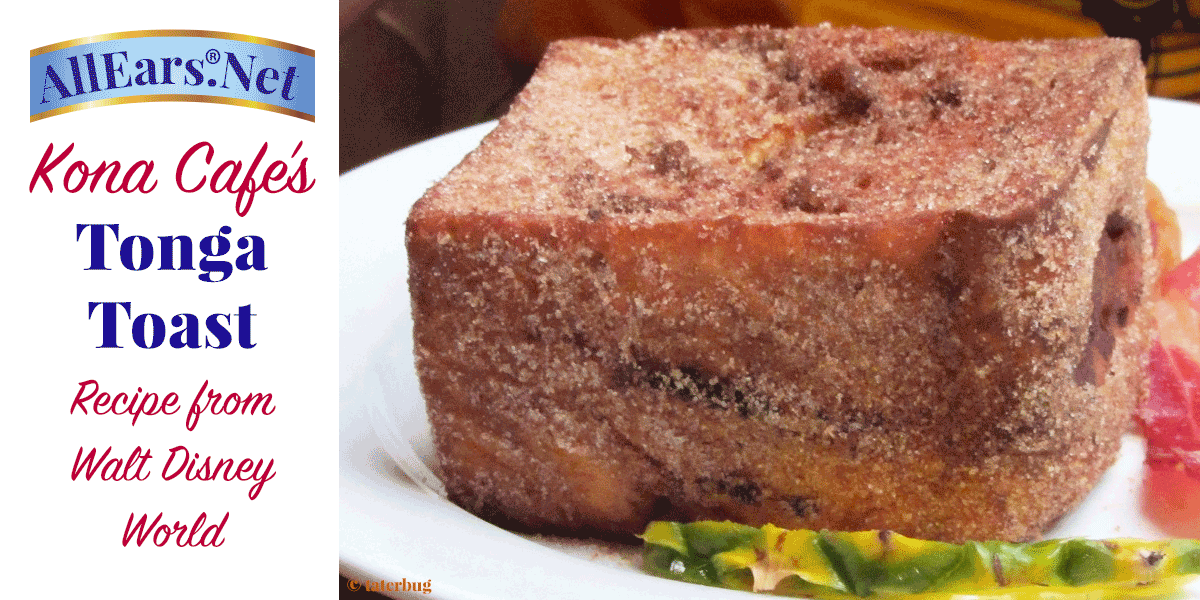 Ingredients:
2 slices sourdough bread, cut 1½ inches thick
1 banana
1/3 cup of sugar
1 teaspoon of cinnamon
1 egg
¼ cup of milk
½ teaspoon of vanilla
Vegetable oil or shortening for frying
Whipped butter and/or syrup
Directions:
Put about four inches of oil or shortening into a good-sized pot (such as a Dutch oven).
Heat the oil/shortening to 350ºF. While that is heating up, cut a small pocket (about 1 inch in length) in the side of each bread slice.
Cut your banana in half, then cut in half again lengthwise. Remove the peel from all four parts of the banana. Now stuff two pieces of banana into the pocket you cut into each slice of bread. In a small bowl, mix the cinnamon and sugar, then set aside. In a bowl larger than your piece of bread, mix the egg, milk, and vanilla, then also set aside.
Place each piece of stuffed bread into the bowl with egg mixture and allow it to soak for a few seconds. Place soaked bread into the hot oil/shortening and fry on both sides until lightly browned. When done, remove from oil and place on a plate lined with paper towels or a wire rack. Sprinkle with cinnamon sugar before serving.
Yield: 1 serving
Tip: If you cannot find sourdough bread that is 1½ inches thick, you can use slices of 1-inch thick sourdough bread.