Is there a more iconic Disney snack than a Dole whip?! We dare to say no. (Except MAYBE the Mickey Bar. But for the purpose of this article, we say no.)
And the Dole Whip has come a long way throughout its multi-decade run at Walt Disney World! While Pineapple is still the most loved and popular variety of this frozen treat, lots of other flavors have swirled out of the soft serve machines to join the party!
From tart fruits to creamy soft serves (these aren't technically Dole brand, but most Disney fans lump them into the same category), there are currently EIGHT flavors in the Magic Kingdom at this very moment.
But which one reigns supreme? We've put our taste buds to the test to find out which one comes out on top!
Ranking Magic Kingdom's Eight Flavors of Dole Whip from PASS to MUST GET
8. Cream Cheese
Currently there is a seasonal treat (or trick TBH) known as the Poor Unfortunate Souls Float in the Magic Kingdom. It's an Ursula-themed float, made with raspberry syrup, Coca-cola, and…CREAM CHEESE soft serve??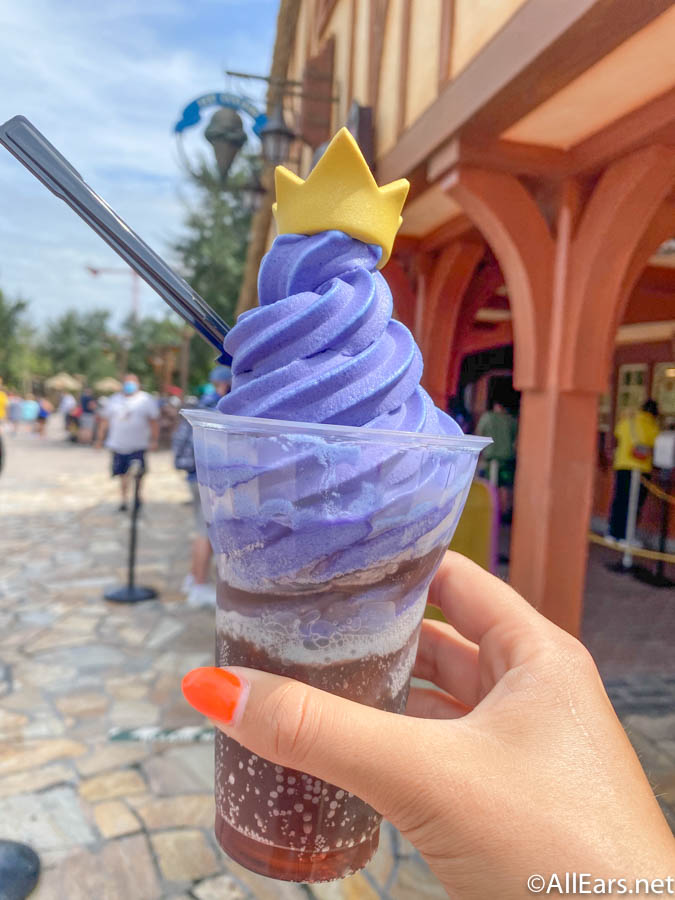 While very Instagrammable, this float turned out to be very "love it or hate it" when it came to our team. One thing's for sure — cream cheese soft serve does not top our list. Additionally, unlike other flavors, you can NOT just buy a cup of the soft serve — it's the float or nothing. After tasting it, I can see why.
If you're daring to try it, you can grab it at Storybook Treats for a limited time.
7. Strawberry
Strawberry likes to pop up from time to time over at Sunshine Tree Terrace — typically as the star of seasonal floats.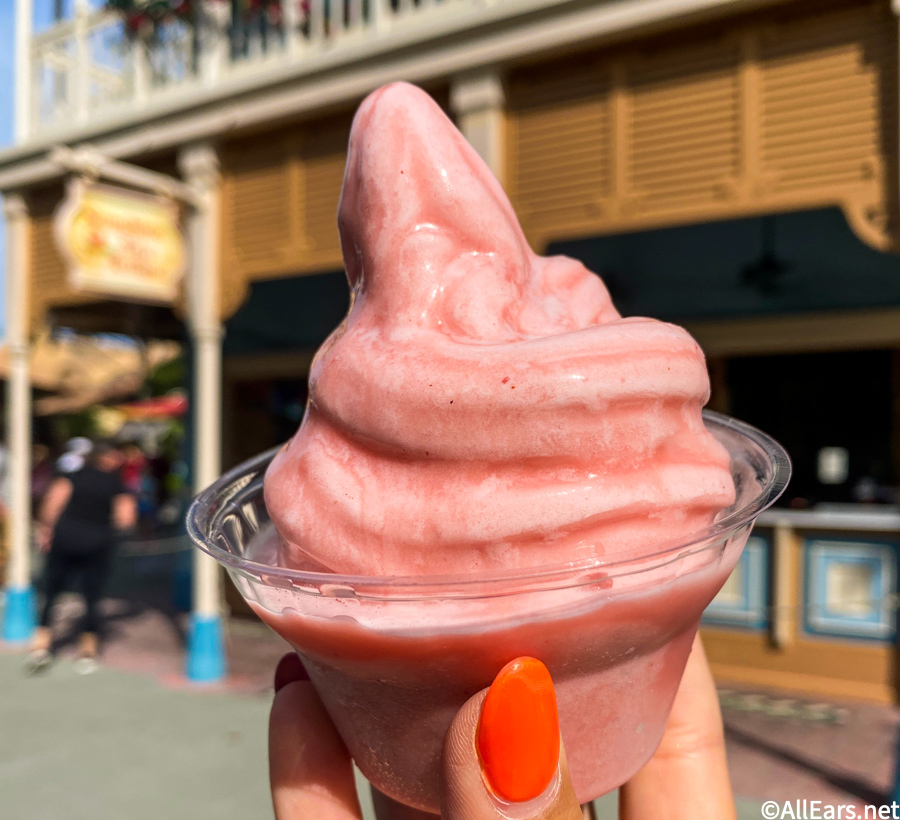 This flavor is good (better when swirled with chocolate soft-serve) but it's not great. TBH it tastes more artificially flavored than the other fruit flavors, and there's a far superior berry flavor later on the list. Strawberry is okay…it's just not our JAM. (Get it? Jam? Like fruit? You get it.)
6. Pumpkin
PUMPKIN DISCLAIMER: I LOVE pumpkin. This is soft serve of my favorite seasonal treats at the Magic Kingdom.
It's creamy and delicious and not toooooo sickly sweet. Plus, you can taste the cinnamon and nutmeg that make pumpkin spice oh so spicy. This seasonal flavor can be found at Auntie Gravity's Galactic Goodies in Tomorrowland. You can get it as a milkshake or sundae, or just ask for a cup.
So why is it so low on our list? Well, for starters it's richer and heavier than the other flavors. Most people expect a light and refreshing treat when they grab a Dole Whip, and this one isn't quite there.
But most importantly, this list is curated for guests to help choose which flavor they should get at Magic Kingdom! If you've never gotten a Dole Whip before or have a limited eating time in the park, we just can't recommend this one over more classic flavors. But if you are a frequent Dole Whip eater or you're a pumpkin enthusiast, we say this one is really GOURD. (Nailed it.)
5. Orange
Another classic and fan favorite, Orange is the staple of the iconic Citrus Swirl at Sunshine Tree Terrace.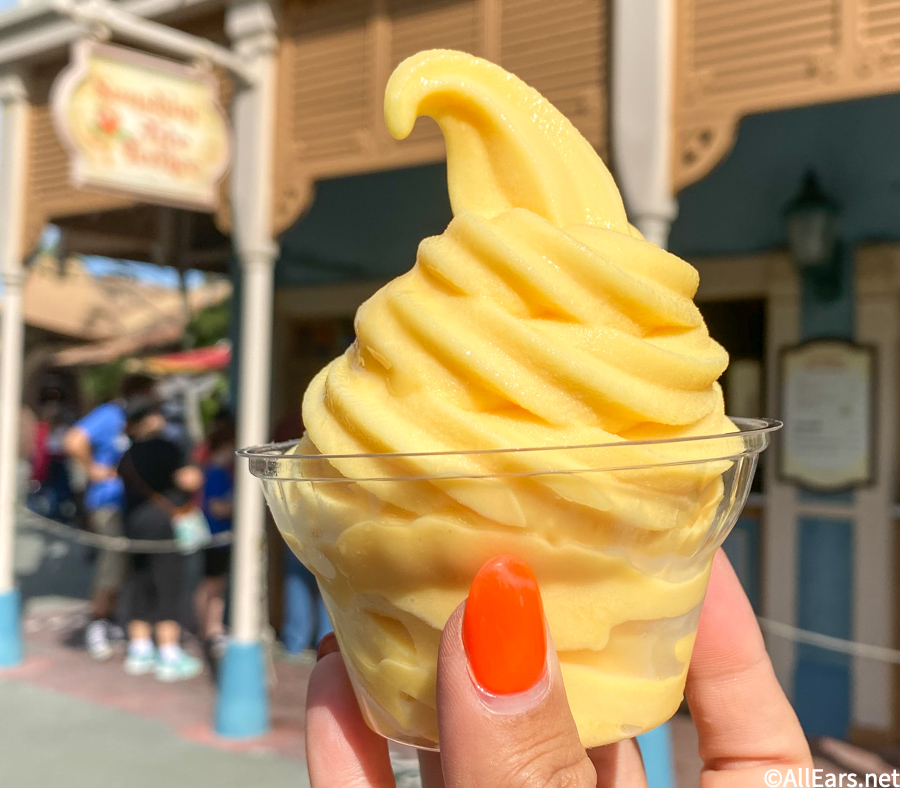 And listen, it's good. It's SO GOOD. In fact, some people claim they love it more than pineapple, its more famous cousin. And we aren't going to tell those people they're wrong.
But this is a STIFF COMPETITION FRIENDS. And as much as we love orange, new flavors have debuted recently that trump it. (But seriously, you cannot go wrong from here on out on this list….there are so many good flavors, it's hard to…wait for it…concentrate.)
4. Lime
HELLLLLLLLLO tart! Where have you been on this list?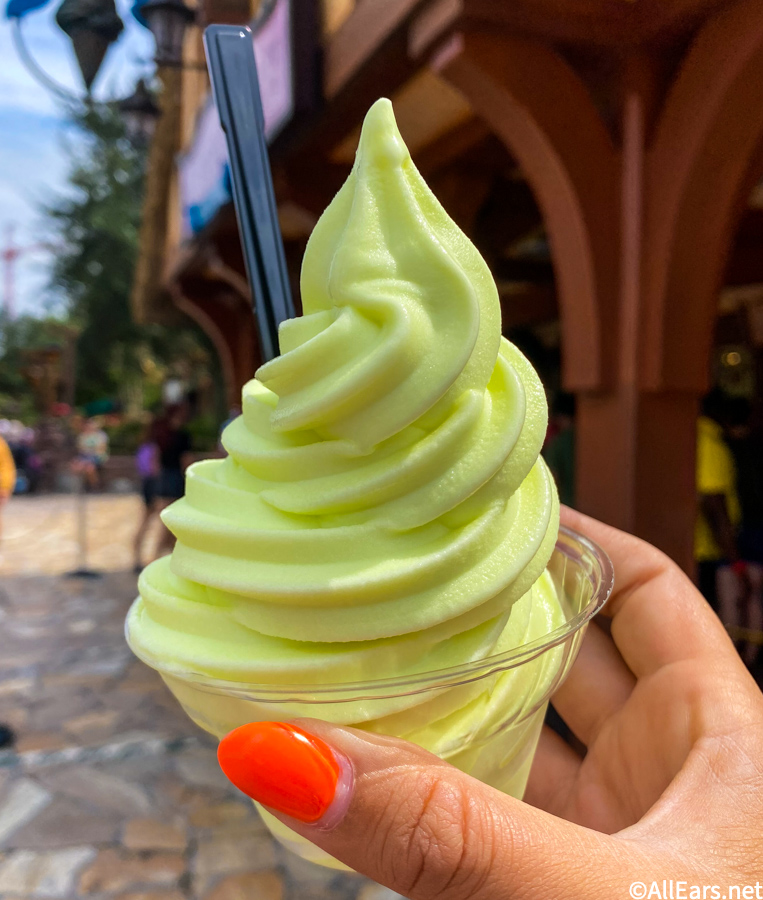 Lime probably wins for the most refreshing Dole Whip flavor in Magic Kingdom. It's light and crisp, perfect for a hot, Florida day. You can grab it at Storybook Treats as part of the Peter Pan Float or just ask for a cup of it.
We love the lime because it's so tart — but if you're more of a sweet sweet SWEET person, this one may not rank as high on your list. But for us, it's simply subLIME. (Sorry not sorry this post is full of horrible fruit-related puns.)
Also, lemon isn't in Magic Kingdom anymore, but if it was…it would be the real winner for tartest and most refreshing.
3. Raspberry
HERE SHE IS — the undisputed berry champion of Magic Kingdom!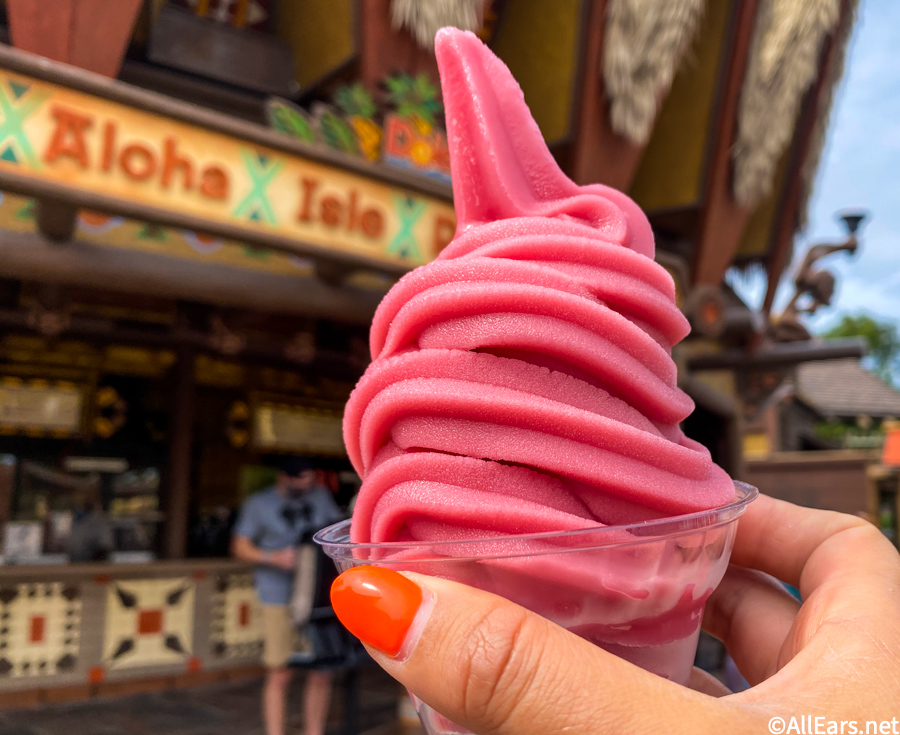 Raspberry made her debut as part of the Hei Hei cone (swirled with pineapple), and while the cone may be gone, you can still get raspberry at Aloha Isle. And yes, you can still swirl it with pineapple.
Raspberry is sweet and creamy, but it manages to taste more authentic and less artificial than strawberry. There's not much else to say other than it's BERRY good.
2. Coconut
If you were to ask my personal favorite flavor, this would be it right here. What can I say…I'm coco-nuts for it. (Had to, I am so sorry.)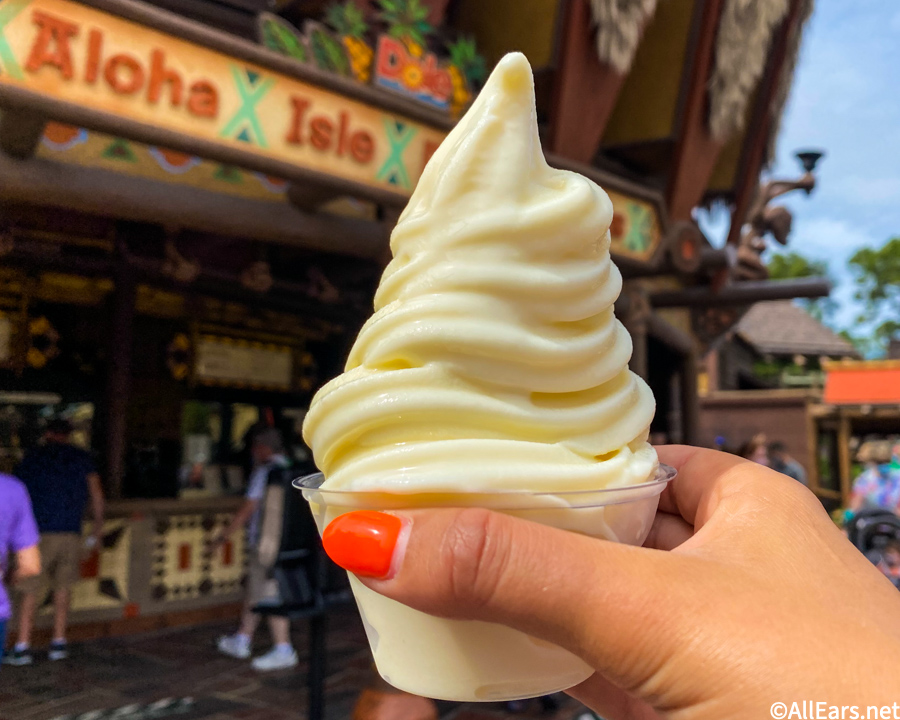 This one is so creamy, so delicious, so perfect. Our team is down right obsessed! It debuted as the Kakamora Float at Aloha Isle, and while the float is still on the menu, you can ask nicely to just get a cup. I don't think you'll regret it.
I'm sure you're asking yourself, if it's so good — why isn't coconut number one!? Well, friends, on my list, it is. But this isn't about me! This is about the MUST TRY flavors at the Magic Kingdom. And if you're only going to try ONE flavor, or you've never had a Dole Whip before…than I think we all know who has to reign supreme… .
1. Pineapple
Pineapple?? More like FINE-APPLE. (Last one.)
The most beloved and fan-favorite flavor is still on top! It's hard to argue with this creamy, refreshing, sweet treat. Grab it on its own or in a float at Aloha Isle. The classic pineapple is a must-try, at least once!
Which is YOUR favorite flavor of Dole Whip?! pic.twitter.com/a8xjXNUTlR

— AllEars.Net (@AllEarsNet) October 12, 2020
Join the AllEars.net Newsletter to stay on top of ALL the breaking Disney News! You'll also get access to AllEars tips, reviews, trivia, and MORE! Click here to Subscribe!