Disney has always been known for cutting-edge attractions — even since the opening day of Disneyland back in 1955.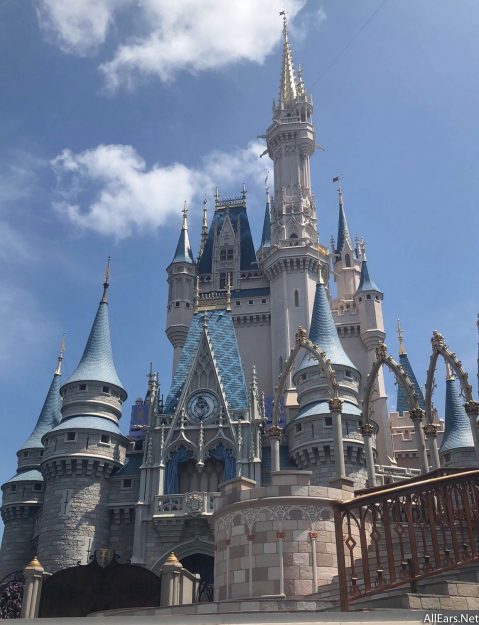 And while rides have gotten bigger, better, and more technologically advanced over the years, many classic Disney rides still remain beloved by guests (for good reason — they're great!). But we think some of the rides could use, as old Uncle Walt would say, a little bit of "plussing".
Let's take a look at classic Walt Disney World attractions that could us a little Disney magic.
One of the greatest earworms of all time, a couple hundred elaborately-dressed dolls of the world, and more glitter than you can shake a stick at — small world is pretty great. But there's a sense of longing one can feel riding the Walt Disney World version of the ride — especially for guests who've witnessed Disneyland's beautiful facade and the additions made inside the west coast version of the ride (cough…the Disney dolls…love 'em or hate 'em!).
Part of what makes this ride great and so beloved is the fact that it hasn't changed. It's still very much in the vein of the original, with the styling and color palettes by Mary Blair, Rolly Crump's design work, and Alice Davis' gorgeous costuming (to name just a few!). But that isn't to say that the ride should be left to stagnate.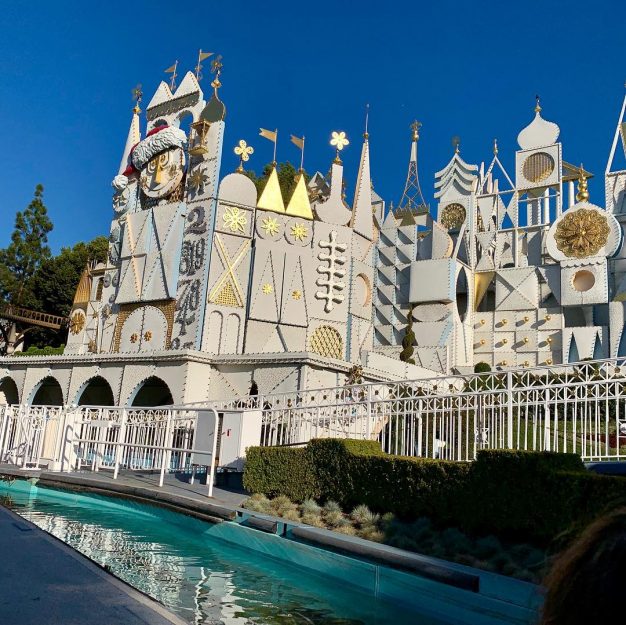 Small plusses in advanced lighting, possibly adding scents like small world in Disneyland does for the holidays, or even adding more dynamic movement to the set pieces and characters could breath more life into this attraction. Think of what a spectacle it could be even if the facade of the Disney World version (as riders are waiting to board inside) had more dramatic lighting and a thematic change when the glockenspiel reports the time. There are so many small but impactful changes that could be made to this ride.
Two words: Hatbox Ghost. Mic drop.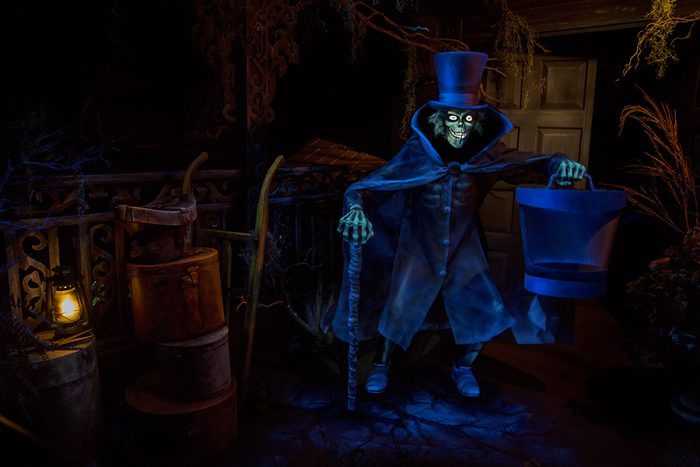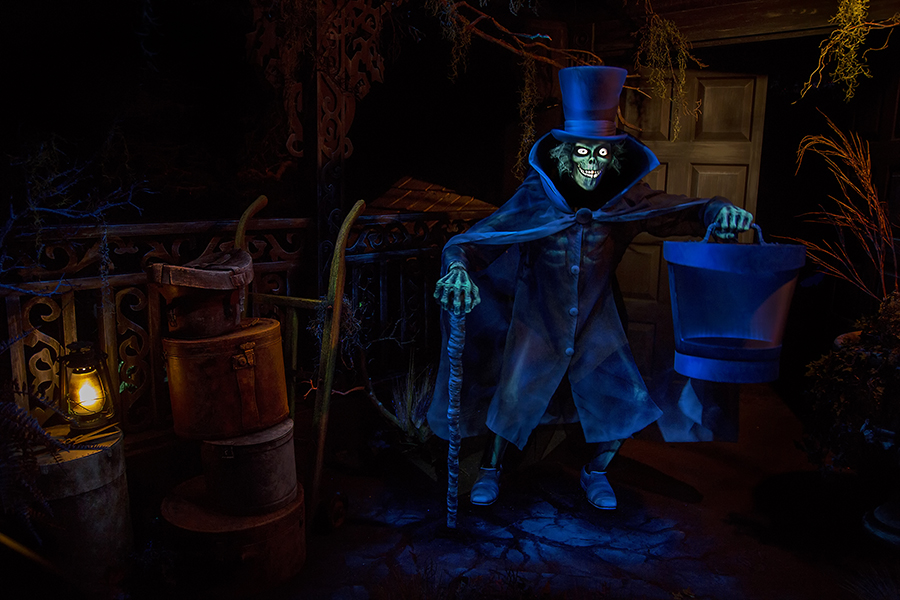 But seriously, guests have asked for it, and there's really no reason not to add one of the original (and spookiest!) guests of Disneyland's Haunted Mansion to the Disney World version. Disneyland added Hatty back during the Diamond Anniversary in 2015, much to guests' delight. He's awesome. The same spot he resides in the attic in Disneyland is sitting vacant in the Disney World with "room for one more."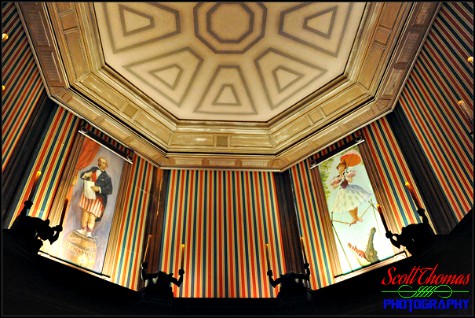 Unfortunately, Haunted Mansion can also serve as an example of "less is more" when it comes to adding that technologically advanced Disney magic. Take, for instance, Constance Hatchaway or the Ghost Bride as she's more commonly known. She has full digital projections on her torso, arms, and face and it looks…welllll…not amazing. Creepy but for the wrong reasons. Know what she used to look like in Disney World? Terrifying, that's what.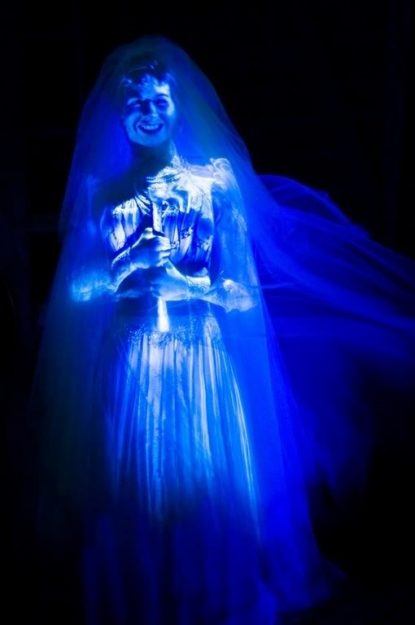 She's had a few iterations, but for a long while in Disney World she used to essentially be a mannequin with a wedding dress, a jet black face, a red glowing heart, and glowing eyes. Talk about making an impact on guests!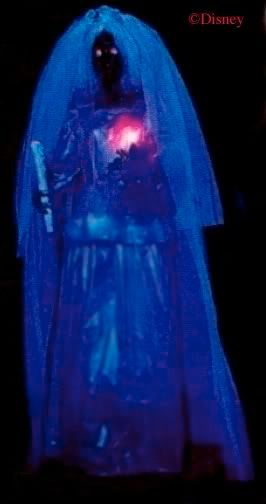 She was so memorable and SCARY, yet so simple. That could have been updated to add movement or other natural advancements without the cartoonishness of Constance.
This one is easy — it's on the road to getting an update! And if the little known is any indication, it sounds as though much of the beloved ride will remain largely the same animatronic-filled journey through our history (fingers crossed the wonderful burning libraries of Alexandria smell remains!) but with an added technological "story light" that will intensify each scene.
What we really hope to see? Something better for the grand culmination. It's always felt like a letdown to turn the corner into the top of Spaceship Earth to reveal…a dark, huge room with a dim projection of Earth small across the room. Meh. The music, the intensity all builds to this moment. This is the chance for Imagineers to make it a moment worth remembering.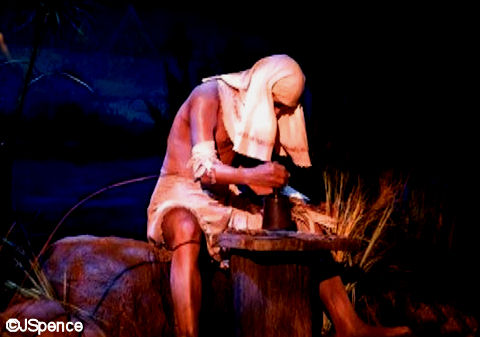 And maybe with the new version, right as guests are in that pitch-black room, a bright touchscreen won't start glowing in their faces! You know if you wake up in the middle of the night and check your phone how you're blinded for a few seconds? That, but instead you were forced to "take a look at your own future" with the pictures that rarely worked! We can do better, Spaceship Earth.
Does anyone remember (or want to remember) the famous Tiki Room blunder that was Under New Management? Ah, the soothing sounds of Gilbert Gottfried screeching in your ear while all you want to do is hear Jose, Fritz, and the gang sing words as the flowers croon (in the tiki, tiki, tiki, tiki, tiki room… sorry, had to!).
This version of the ride caught fire due to the ghost of Walt Disney swooping down to erase it from existence (we kid, we kid!). But in all honesty, after a fire closed down the ride, it re-opened in 2011 as the (mostly) original show we all knew and loved — minus the central fountain. During the culmination of the Hawaiian War Chant, the fountain came to life, slowly rising a solid beam of water straight up from the center of the room to the ceiling. It was lit red and eerie, and as it rose, the voices grew louder. It was so simple yet effective at building suspense!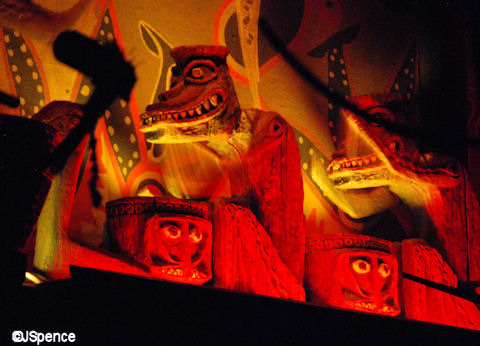 We know it sounds silly to miss a fountain, but there it is. It was another element of building drama. Now we just get a little bit of smoke. Save the fountain, Disney! Also, while you're at it, how about adding more interactive elements to the room? The storm that finally claps thunder and spits rain outside the "windows" is still a fantastic effect. Add to it! A few well-timed lighting changes or additional advanced animatronic additions around the room could captivate audiences in a new way.
Not sure where to start with this one. Disney has tried a few times to add an extra touch of Disney magic to this ride, but it's rarely been successful. Remember the mermaids swimming by your boat underwater in the cave? Yeah, we don't think too many do — they worked rarely, if at all, after their debut in 2012. The effect was filled with issues and seems to have been abandoned in the murky depths of Davy Jones' locker.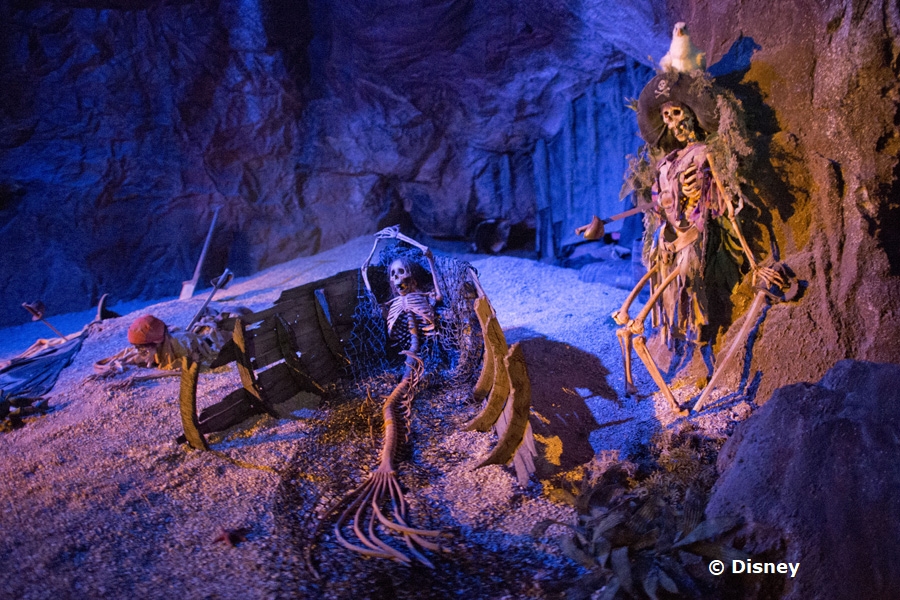 Similarly, the mist projections were added to the cave after the Pirates of the Caribbean films blew up. The mist effect typically worked, but often the projector didn't, leading guests to hear a loop of out of place audio from talking heads that never appeared. It seems recently this effect was removed entirely.  We get it, mist is mega fun and all, but no one was exactly jumping up and down to see the antagonist from the 3rd? 4th? 8th? Pirates movie in their faces (literally) on this classic ride.

Poor Pirates can't catch a break. We won't even get started on the new auction scene (#notOurRedhead), but it seems this ride is a great example of "If it ain't broke, don't fix it." The scents added in recent years to the town? Awesome addition. More of that! The caves are a prime landscape for some heavy-duty creative overhauling. Disney World's Pirates will never be as awesome as Disneyland's, but it has a great opportunity to at least try and stand on its own two feet. Disney just has to go all-in on making this something different, never before seen, and eye-catching.  (We believe in you, Disney. You can do it!)
This classic dark ride was the golden child of a young Walt Disney World in the 70s. It's such a fun attraction and has seen a few iterations over the years. Remember the glow in the dark strips on the side of the cars and when you could see them zooming around the tracks above you while in the queue?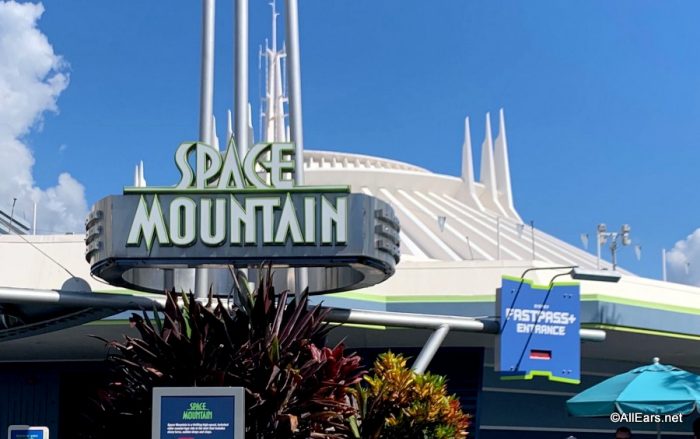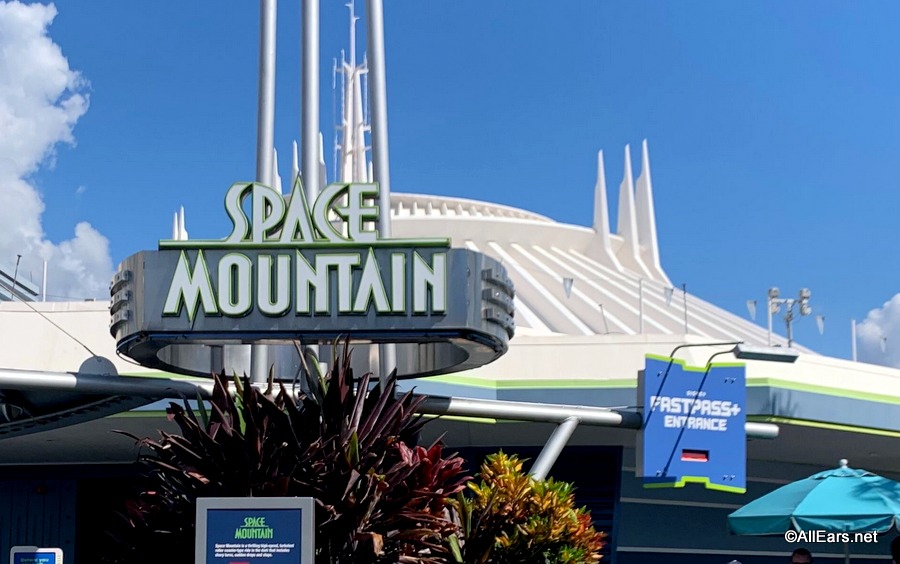 Personally, Disneyland's Hyperspace Mountain isn't something to shoot for here. That felt like a swing and a miss to try and quickly "Star Wars-ify" a classic ride. We're thinking Disney World's Space Mountain needs new, unique life breathed into it. To start? How about updating the ride cars. Those things are WAY old fashioned. You know how everyone looks getting in and out of them? Awkward. New ride vehicles could also allow for better sound effects and music to be directed at guests during the ride.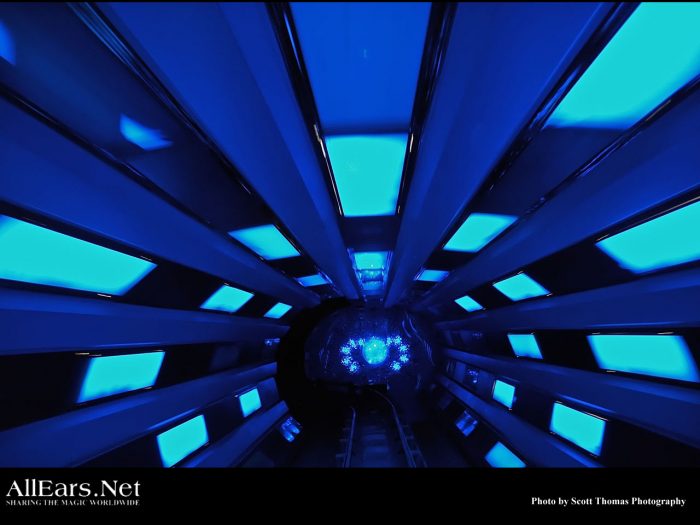 Ever notice at the opening of the ride, when everything is flashing blue and the intensity is building until right at the last second when the car turns, the focal point of all those lights and flashing…is a glorified projection on disco ball-like plastic? It's almost 2020, guys, we can do better than that. Same for the lift hill — light the space scene better, and add some pizazz so riders care about what they're looking at. Pockets of well-placed interactive lighting and effects throughout could really intensify the vibe. This ride has a mystique to it that many other rides will never capture — riders have no clue what they're in for walking up to that big, ominous white dome. Give them something fantastic to run out the line telling friends about rather than "it was dark."
We adore the Peoplemover. It's calm, quiet, fast to board, and a fun way to kill a few minutes in Tomorrowland. It also has so much room for improvement.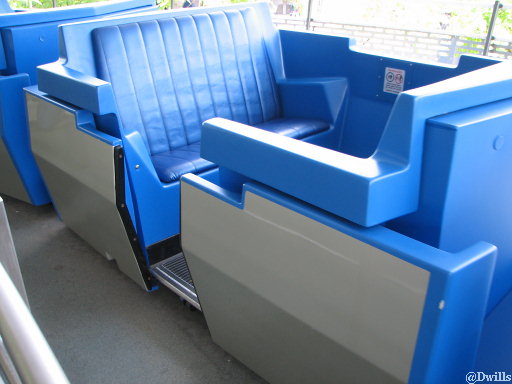 This ride has so much going for it. It traverses in, out, and around all the shops, rides, and locations of Tomorrowland. Few guests likely realize how significant the Progress City model is that they pass during the start of the attraction, but aside from that, there's just a lot of "this is boring" moments during the ride that could be amped up.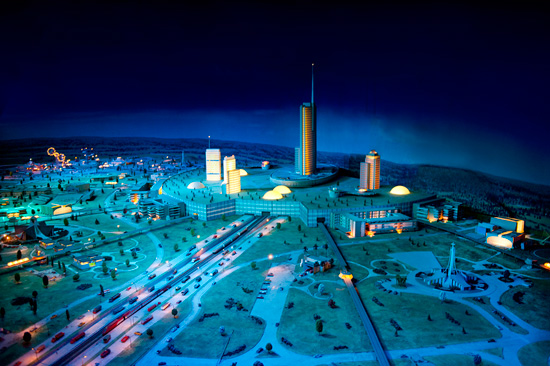 We sound like a broken record by now, but a little fun lighting can go a loooong way! Those "ads" for a futuristic beauty salon robot? Peoplemover needs WAY more stuff like that but actually updated to fit this millennium. Make it a constant fun, interactive experience for guests. Instead of hearing that you're traveling over Monsters Inc. Laugh Floor, show something, even if staged for the corridor the Peoplemover traverses down. The most interesting parts of the ride are as it passes through Space Mountain, over Star Traders, and over Buzz Lightyear's Space Ranger Spin, so embrace that. Make guests feel like they're getting a special, private tour of Tomorrowland they otherwise CAN'T see unless they ride. Peoplemover should not be limited to where Grandma goes when she wants to take a 10-minute power nap!
Cinderella Castle
Okay, so not an attraction, but still worth bringing up. Earlier this summer, Disneyland debuted a fresh paint job on Sleeping Beauty Castle, and it looked pretty fantastic. The colors were more vibrant, and it generally looked pretty amazing. Disney World's castle hasn't changed in years — not that it needs to change much! We always want it to be those iconic shades of gray and blue, but we're just pointing out that a fresh coat of paint and turning up the contrast and saturation just a smidge could really help her shine!
So there will always be more rides in need of some Disney love. We tried to focus on some classics that have been around for years and could use some additions to revitalize or otherwise draw interest. Don't get us wrong: we love all these rides and will happily continue to ride them as is, but we still see room to make them even more beloved and spectacular.
Join the AllEars.net Newsletter to stay on top of ALL the breaking Disney News! You'll also get access to AllEars tips, reviews, trivia, and MORE! Click here to Subscribe!

What ride would you like to see get a Disney upgrade? Let us know in the comments!