Disney World has officially reopened its parks, starting yesterday with Magic Kingdom and Animal Kingdom.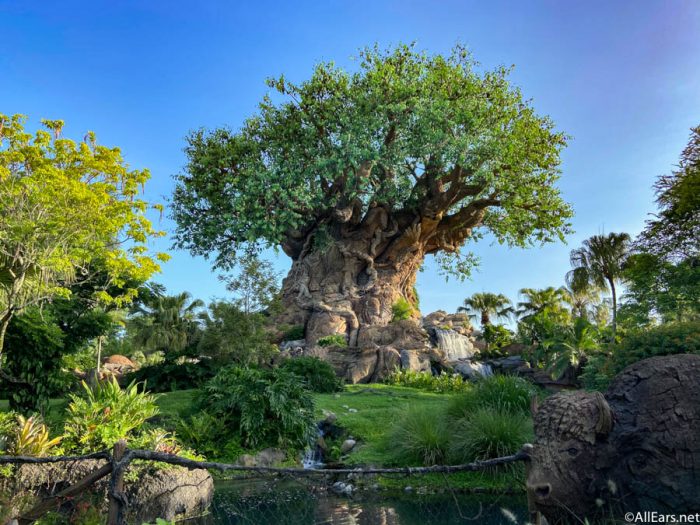 As we've explored the parks, we've gotten a better look at  everything from the new character experiences, to health and safety procedures, and the new ride experience. Now that we've been to both Universal Studios and Disney World, we're breaking down all the aspects of EACH!
Disney World's First Day of Reopening
Health and Safety
Disney World is requiring guests to wear masks whenever they visit the parks on top of following distancing measures. Before guests enter the parks, there are tents set up at the Ticket and Transportation Center to have guests' temperatures taken before going through the security check.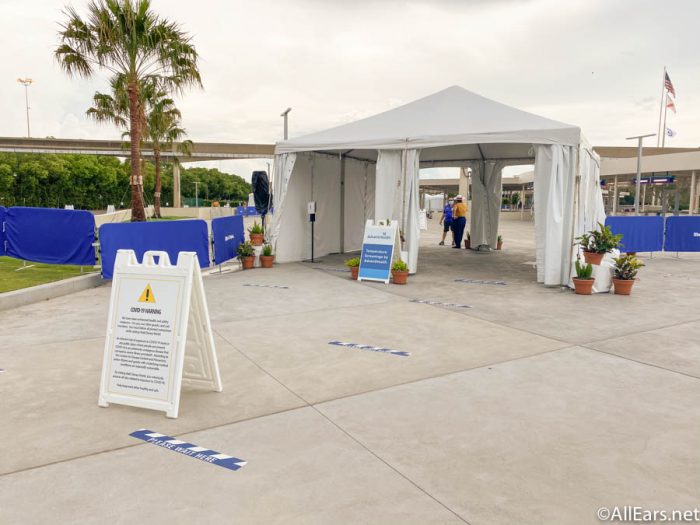 Disney has started to test out a new security method at bag check as well where electronics or metal bags are put into a provided plastic bag. Additionally, finger scanners will not be used in the parks during the initial reopening.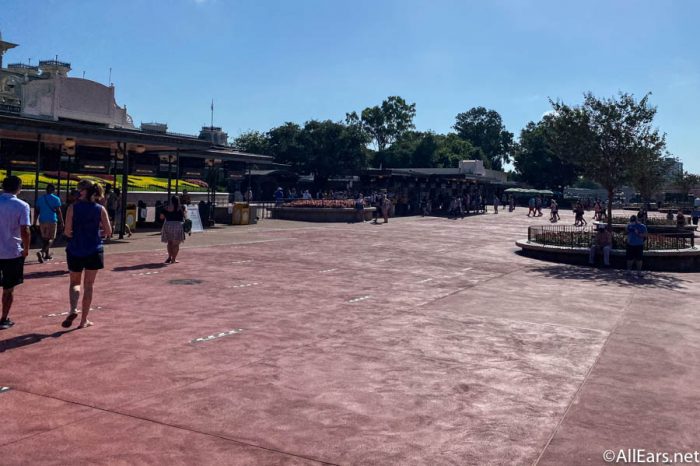 On top of the new measures in the Disney Buses, the Monorails and Ferry Boats have also reopened with health and safety procedures. There are taped off areas and specific numbers for guests to stand on with their party before boarding the Monorail.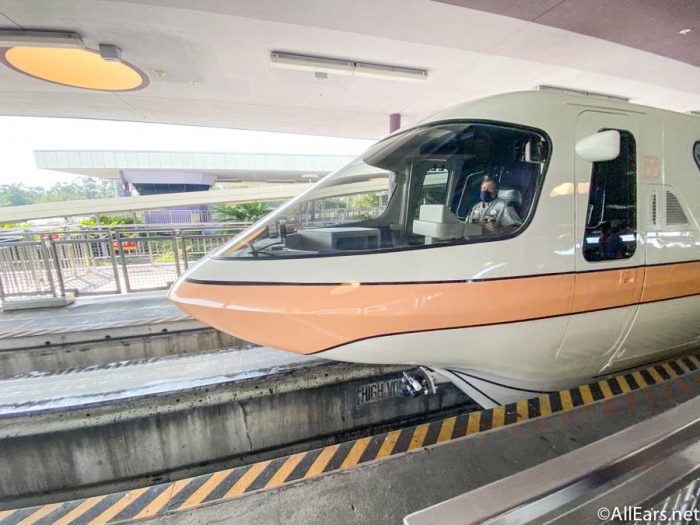 Each compartment can hold up to two parties at this time where parties are asked to stay in one place. There are partitions between each set of seats to separate them from the parties in the other section of the car.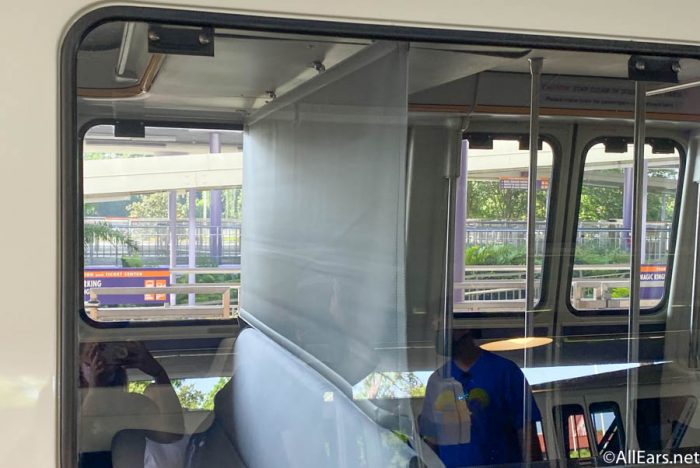 Like Universal Studios' initial opening, Magic Kingdom also used entrance markers for guests to wait on with their party members until they are called to be checked in with their Disney Park Passes and tickets.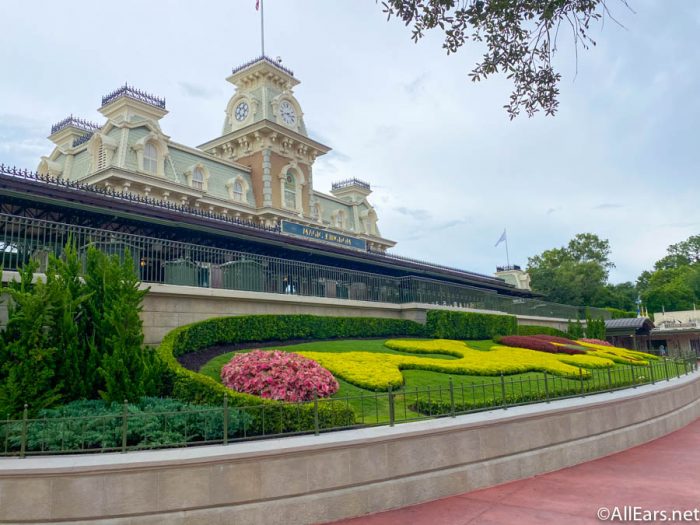 Disney Springs and the Disney Resorts have opened with specific Health and Safety notices with signs that detail the guidelines that will be taking place in the parks.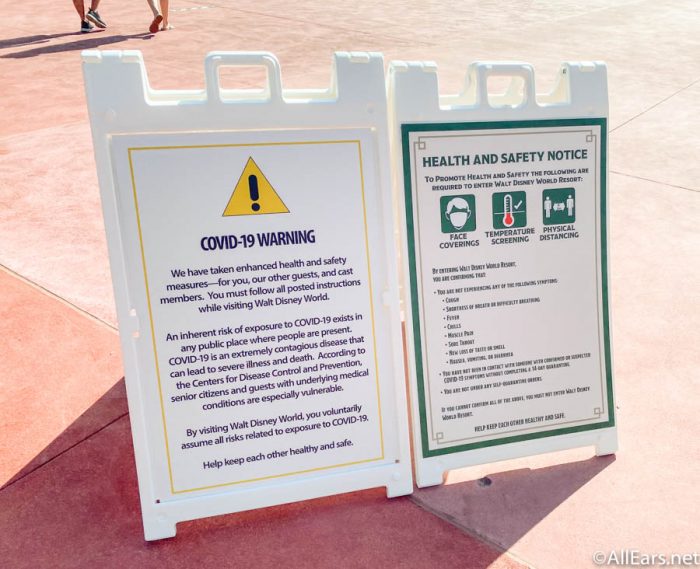 Disney World has also put Relaxation Stations in place around the parks so guests can take off their masks for a short period of time. There are shaded areas, tables, chairs, and hand-sanitizer stations spread out throughout the stations where guests are asked to limit their visit to around thirty minutes if the parks get busy.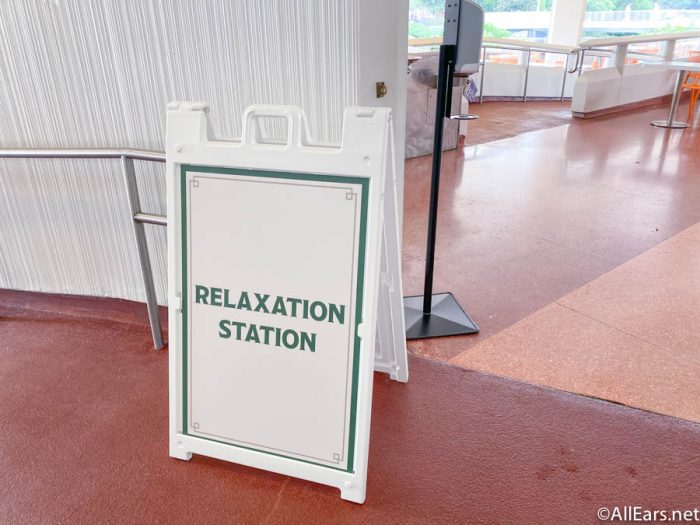 The Magic Kingdom has Relaxation Stations at the Tomorrowland Terrace in Tomorrowland, Golden Oak Outpost in Frontierland, and Pete's Silly Sideshow in the Storybook Circus.
Characters and Entertainment
Although fireworks, parades, and character meet-and-greets have been suspended in the parks, Disney World is hosting Character Cavalcades instead where everyone's favorite characters are able to wave to guests.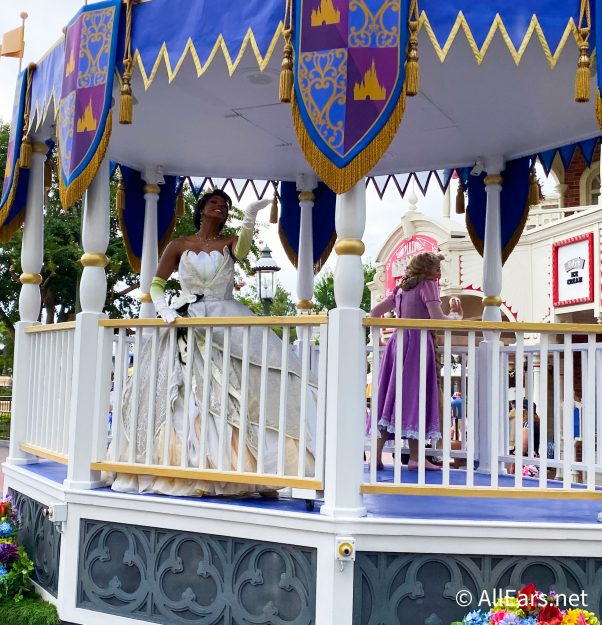 Magic Kingdom is hosting the Mickey and Friends Cavalcade with Mickey and Minnie dressed in their 90th Birthday outfits that first debuted in Disney World in January of 2019…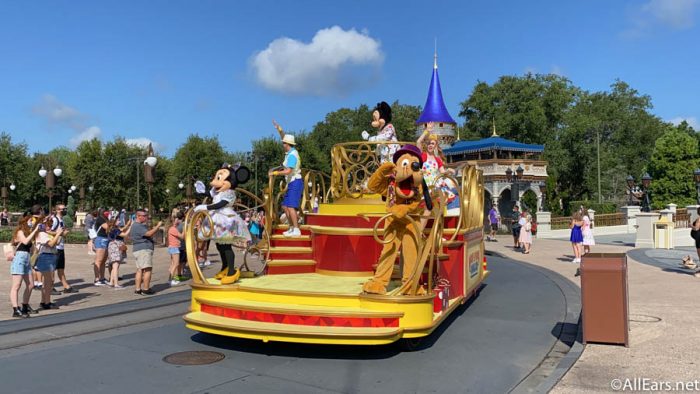 …the Royal Princess Processional with princesses like Aurora, Ariel, and Tiana…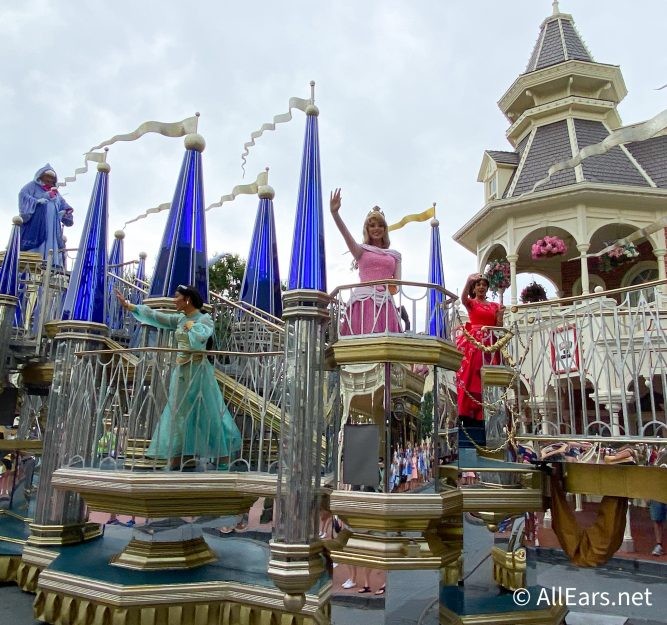 …(with Merida and ANGUS)…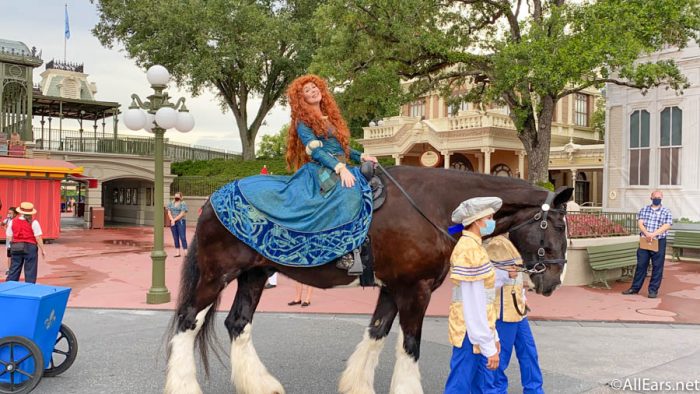 …Fantasyland Friends Cavalcade with Winnie the Pooh, Peter Pan, and Alice…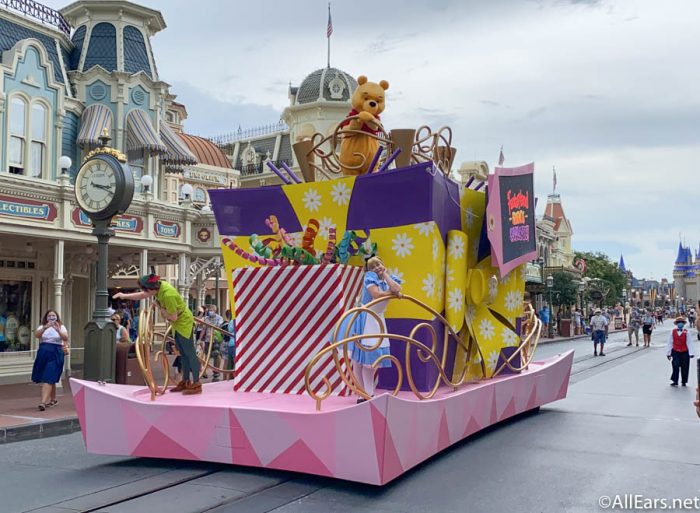 …and a few other friends on the trolleys hanging around! Although guests can't approach the floats, they can still take pictures of the characters going down Main Street.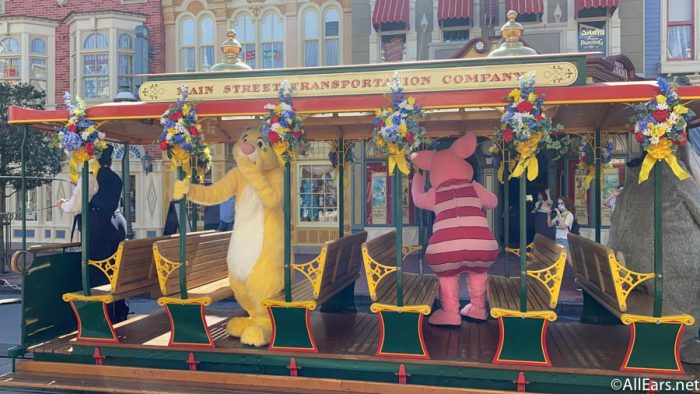 Magic Kingdom also had different friends stationed around the parks, like Jack Sparrow near the Pirates of the Caribbean…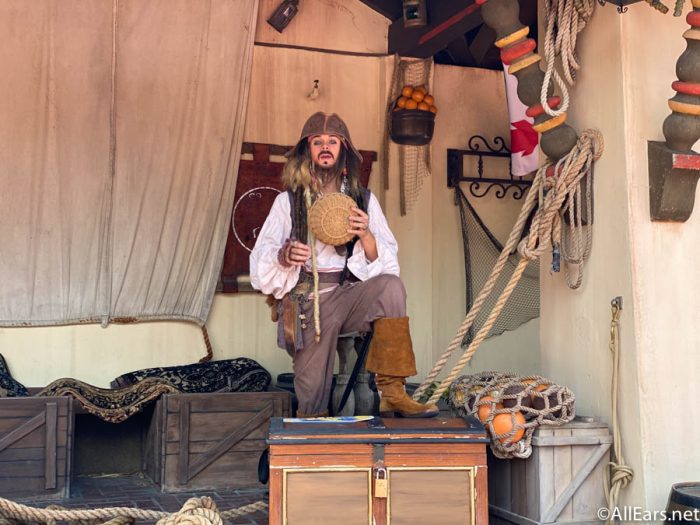 …and Stitch and Buzz Lightyear on the Tomorrowland Stage. Guests are able to post for selfies in front of them, but characters won't sign autographs or come near people visiting.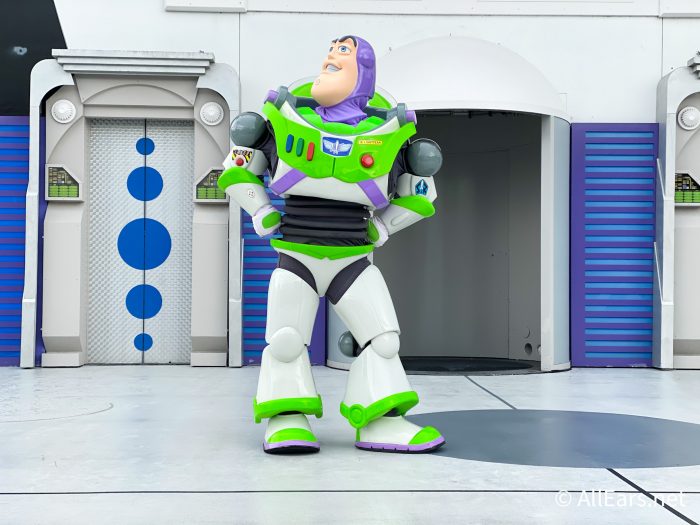 Rides and Attractions
While we made our way back to all the attractions in Disney World, they looked pretty different during the initial phased reopening. Distancing markers were on the ground to keep guests apart from one another in line at rides like Peter Pan's Flight…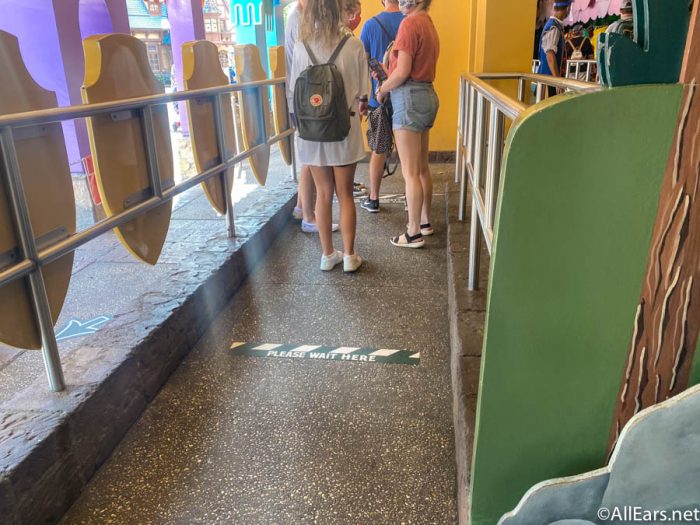 …and interactive, high-touch locations were shut roped off along with newly installed partitions at the Seven Dwarfs Mine Train.
Pre-show elements like the Stretching Room on the Haunted Mansion are being skipped to provide more queue space…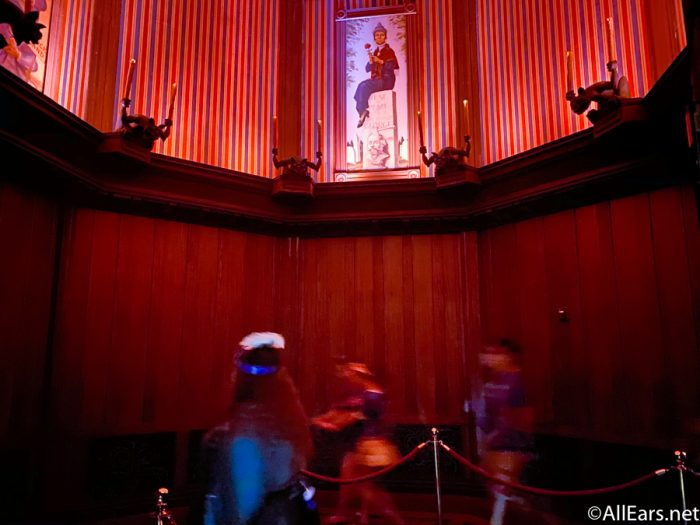 …and the actual boarding process of the rides changed where parties were loaded in every other row at least or every other seat per party.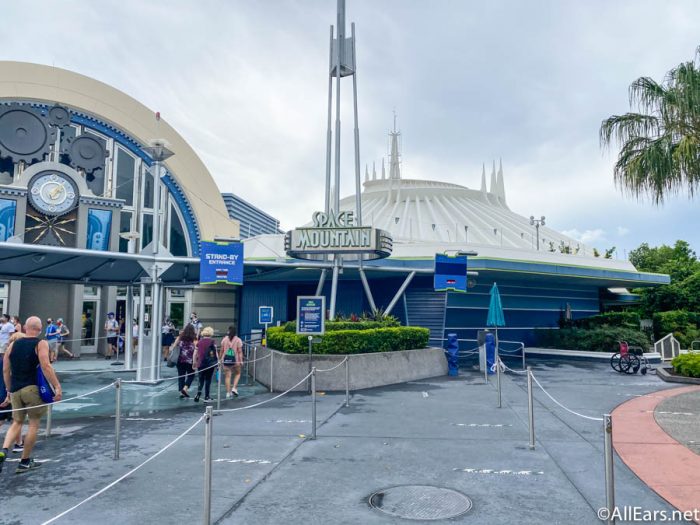 Cast Members also sanitized logs on attractions like Splash Mountain every time during the ride rotations as well as wiped down the seats on rides.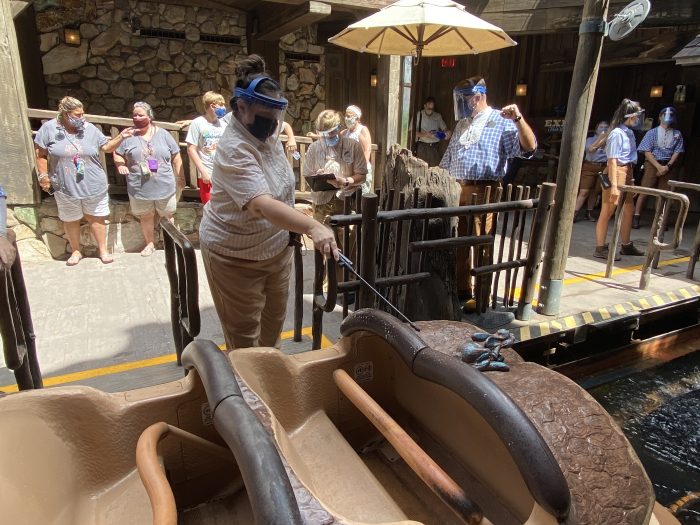 Since there are lower ride capacities and distanced queues, lines appear to be longer than they actually are. However, wait times could range because of the limited seating arrangements.
Dining
Guests are still able to sit indoors at the distanced tables with some of the marked off as unavailable. People dining are able to take off their masks to eat and drink, but must put them back on them back on when they leave their tables.
Mobile Order is encouraged in the parks as a primary way to order meals in Disney World. Guests who have allergies or want to pay with cash are the only people who can pay at the register inside.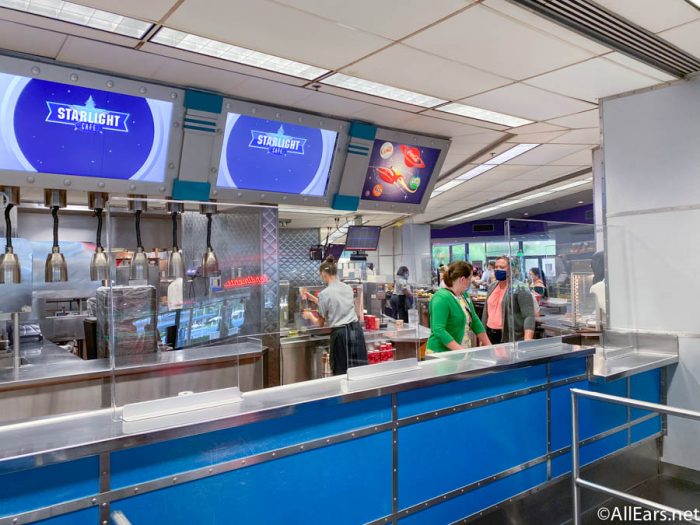 During our visit to Cosmic Ray's Starlight Cafe, we were asked to wait outside until our Mobile Order was ready. Once guests select a time to pick up their food, they will need to choose the "I'm Here. Prepare My Order" option before visiting the Pick-Up Station after being notified their order is ready.
There are multiple Pick-Up Stations inside the restaurants to ensure distancing between guests. The Mobile Order meals are provided with drinks and software with condiments available at designated stations (but that might vary depending on where you're at).
Shopping
The stores have different health and safety regulation signs to ensure distance between everyone. Capacity in shops are limited, and Cast Members can use Virtual Queues if they are needed.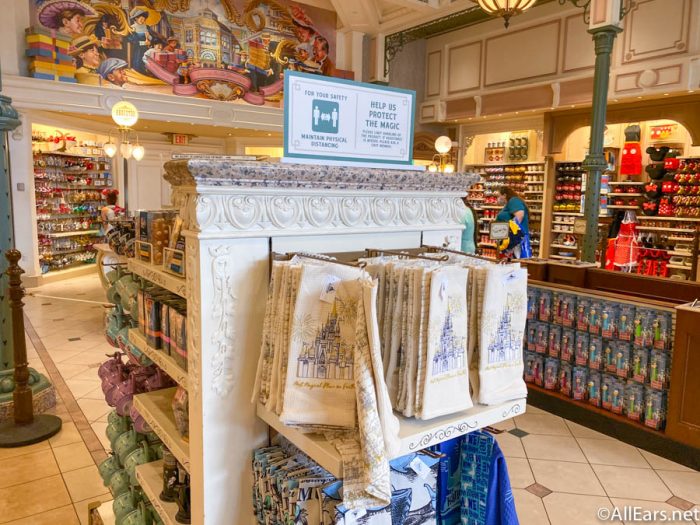 There are one-way entrances and exits to control traffic and distancing markers on the ground where people will be asked to wait if the stores are busy.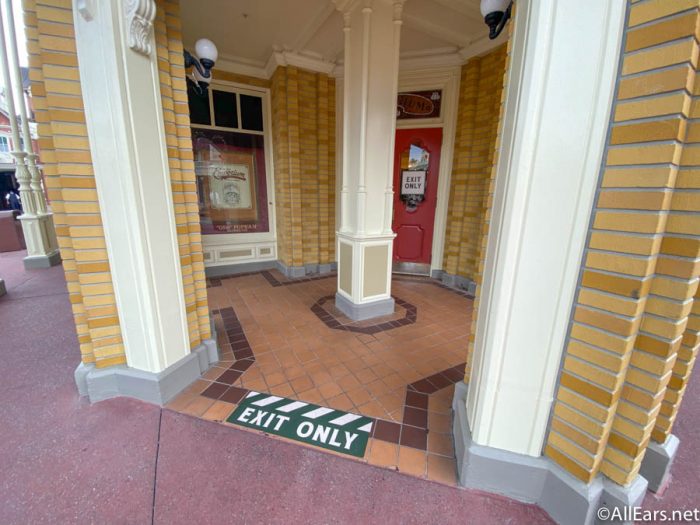 Dressing room are closed to guests at this time, and check-out markers have been placed in front of the registers for guests to wait for their turn. There are also plexiglass barriers at the registers to protect Cast Members. Contactless payment is also being encouraged.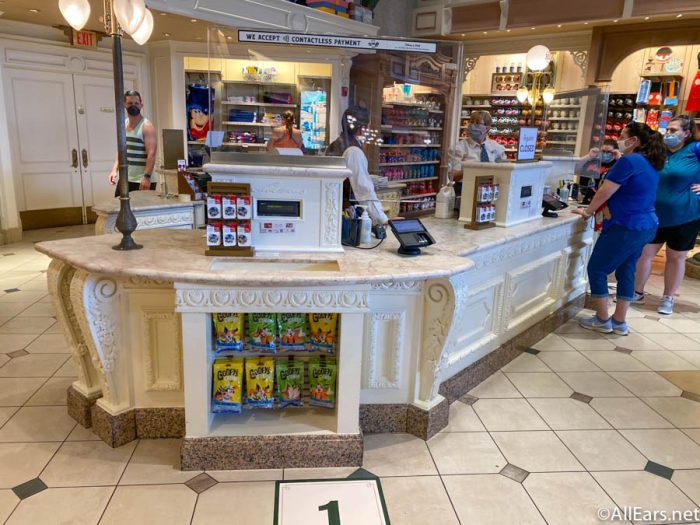 Universal Orlando's First Day of Reopening
Health and Safety
As guests return back to Universal Orlando, they are also required to wear face masks and participate in temperature checks when they're visiting. Universal also has cool-off tents off to the side for guests to use if they have a temperature of 100.4 and above.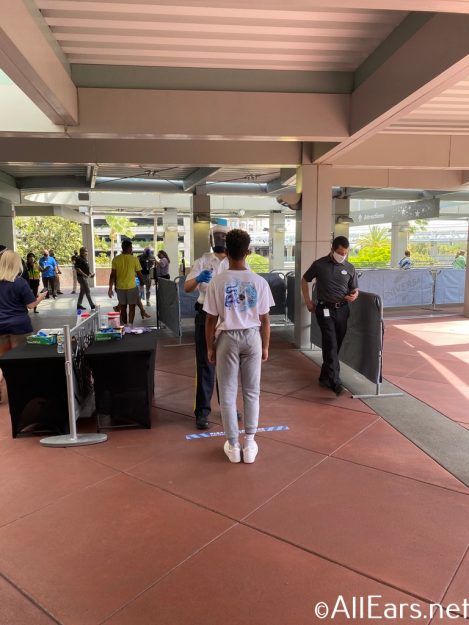 After guests participate in a temperature check at the parks or resorts, they are given a wristband so they don't have to go through another. If they leave a park or resort and return, guests can show their wristbands and walk through without waiting in the screening queue. This is different from Disney, where you are able to leave the park and come back, but you will need to go through temperature check again.
Finger-scanners aren't being used at the moment upon entrance either. However, the buses are limited to only 17 people, instead of their normally full capacity.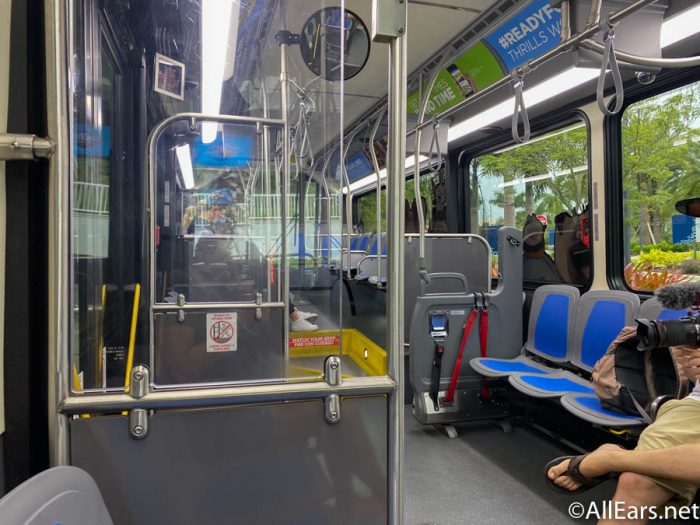 There are also URest locations around the parks for guests to take off their masks and chill out for a while. Universal Studios has two locations at the Central Park Lagoon area and Fear Factor, while Islands of Adventure has two more at the Port of Entry Landing and The Eighth Voyage of Sinbad Stunt Show.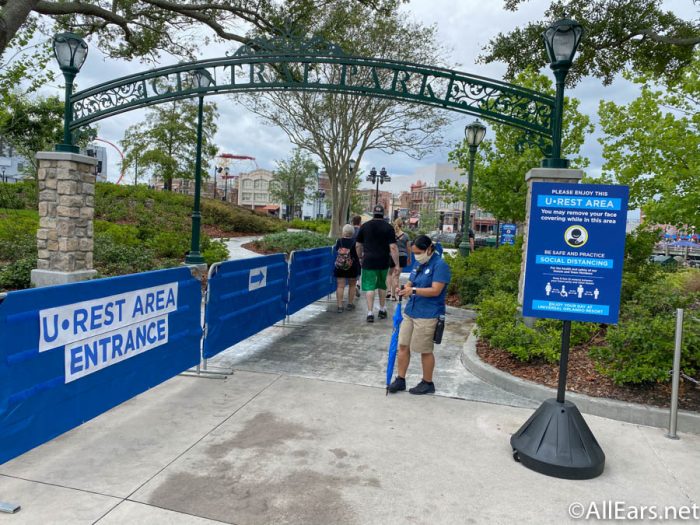 Characters and Entertainment
Universal Orlando has SO many characters and performers out for guests to enjoy. The Frog Choir, Tri-Wizard Show, and Ollivander's are all available in the Wizarding World of Harry Potter…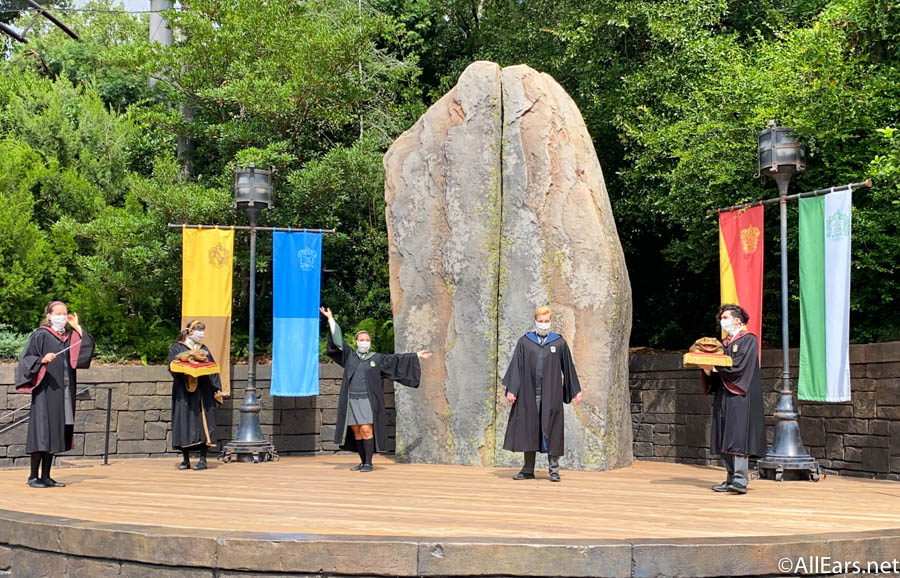 …while you can spot the raptor in Jurassic Park, the Blues Brothers singing live, and the Beat Builders jamming out!
Many characters are placed onstage or behind roped off areas so guests can take a selfie with their friends around the parks. While we've spotted Dr. Seuss characters, Simpsons pals, and others…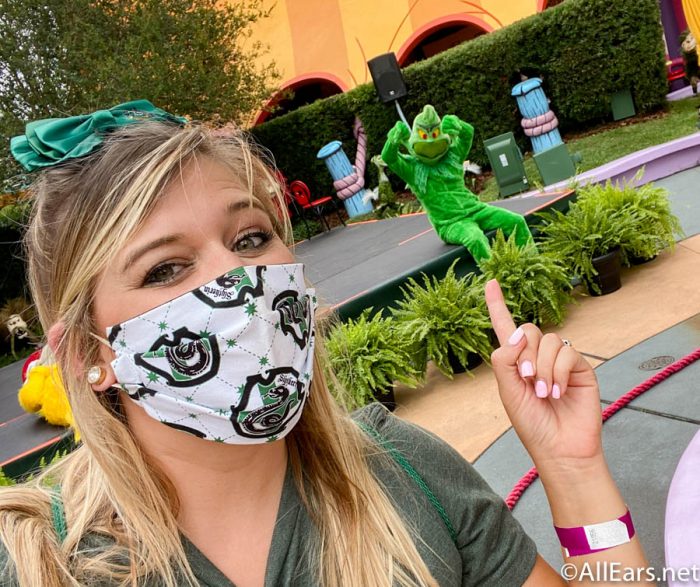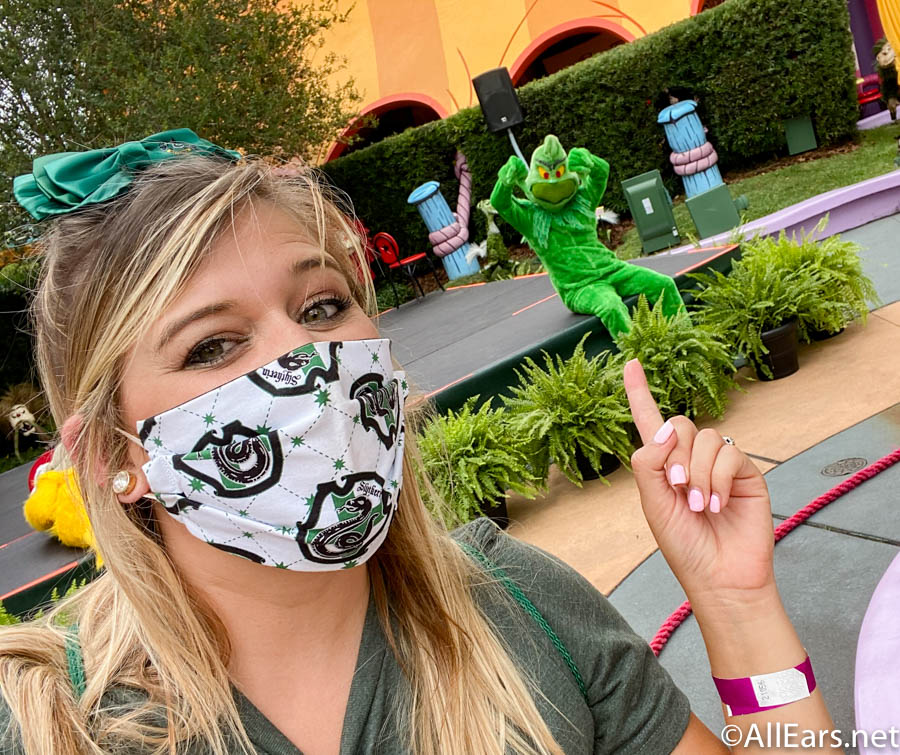 …there is also an entire Character Palooza where characters come by on floats! We've waved at Dora…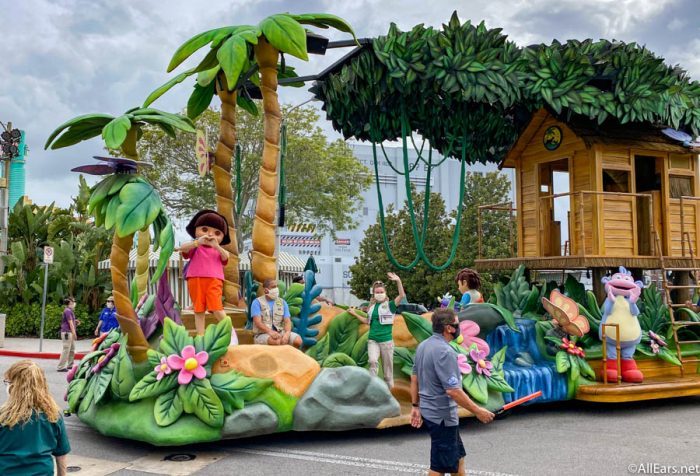 …showed Homer one of our awesome Lard Lad Donuts…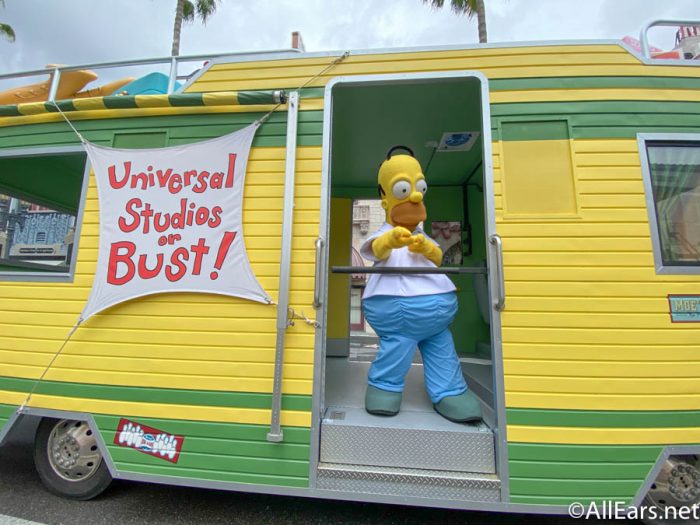 …and partied like one of the Madagascar Penguins!
Entertainers are either wearing masks or they are distanced from guests if they are in costumes with covered faces.
Rides and Attractions
The rides are operating with distancing queues where guests are marked apart from one another. The lines are similar to Disney World's where they appear longer, but they wait is actually shorter than they seem.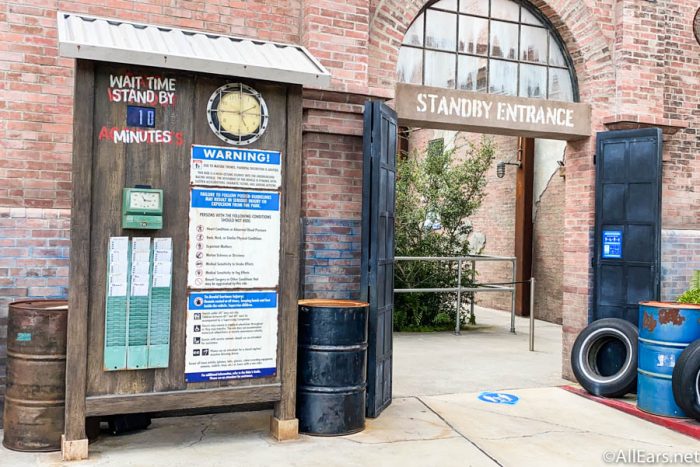 There is spacing in every other row, and there is only one party allowed per row. The Hogwarts Express is even operating with only one party per cabin, which does make the wait times longer (since there may only be one person in a cabin per ride).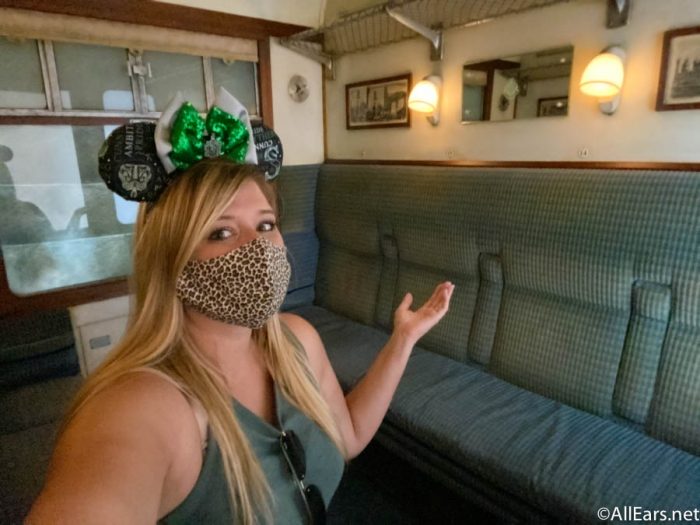 Team Members have hand-sanitizer for guests to use before attractions. They also wipe down different attractions in between guests' visits. If a ride uses 3D goggles, Team Members will pass them out to guests so there is less contact.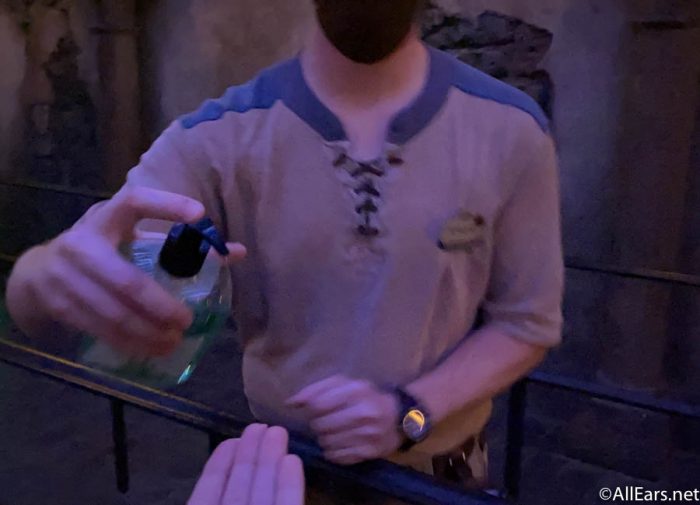 While Disney World also requires guests to wear Face Masks on attractions, Universal requires guests to have them on at all times, except water rides.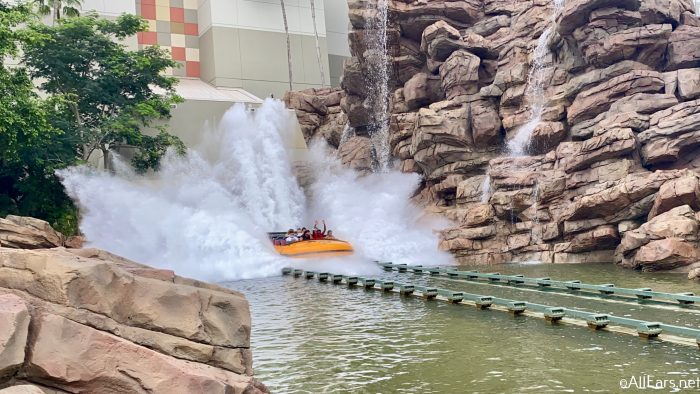 Universal Orlando is offering Express lines for people have those passes. However, Universal also has implemented Virtual Lines that allow guests to book reservations in half hour increments at attractions for up to 10 people per party.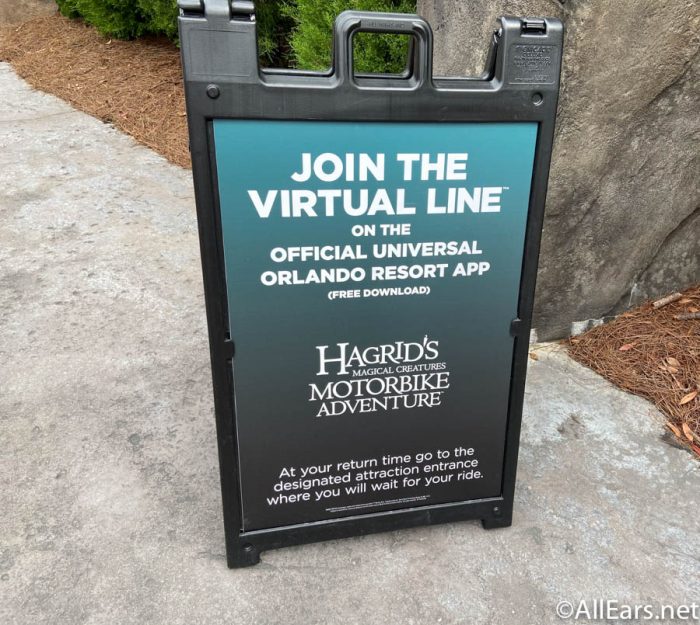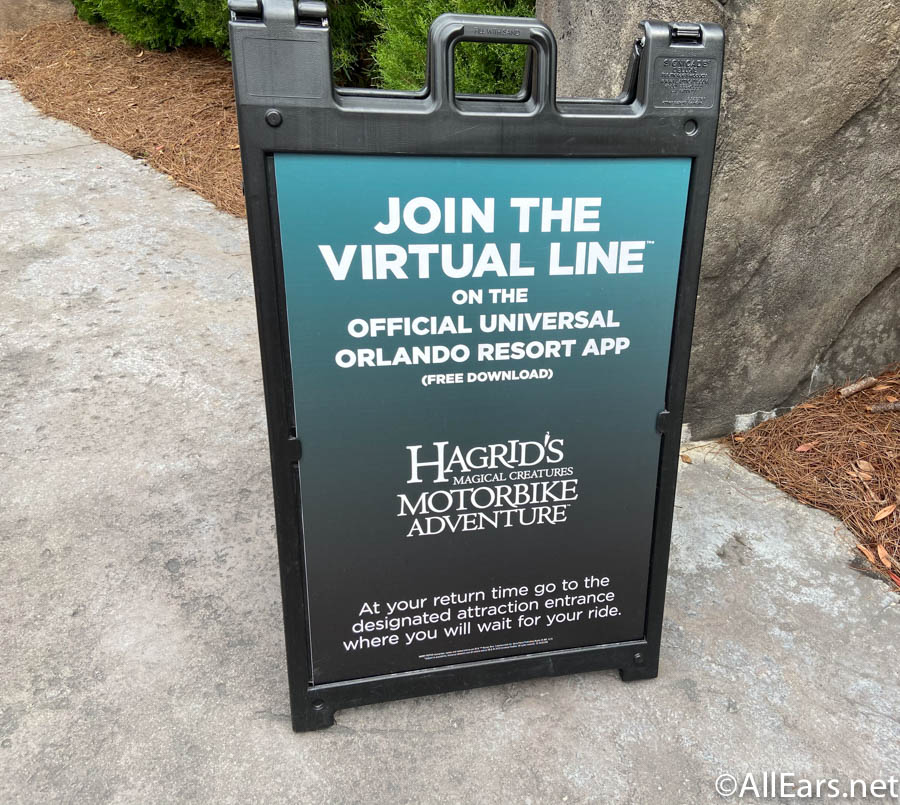 The Virtual Lines help reduce the amount of people going through a line at a time, so the wait times are shorter in between guests. However, there are only a certain amount of Virtual Lines spots distributed per day, so you might not be able to hop on rides like Hagrid's Magical Creatures Motorbike Adventure that only has Virtual Lines.
Dining
Harry Potter fans will be glad to hear you can still grab a drink (including Butterbeer!) at the parks! While face masks are still required, when you have food and drink, you may lower your face mask to bite or sip before putting it back in place. We grabbed the Hog's Head Brew, which is a beer exclusive to the Wizarding World of Harry Potter.
Overall, while there are many similarities between how both parks are operating, there are a few key differences.
For Mobile Order, at Disney you will go to a specific bay to pick up your for, while at Universal you will be seated at a table for a team member to bring you food for you.
Also at Universal, a team member will allow you to take your face mask off while seated on a water ride, which is not the case in Disney World.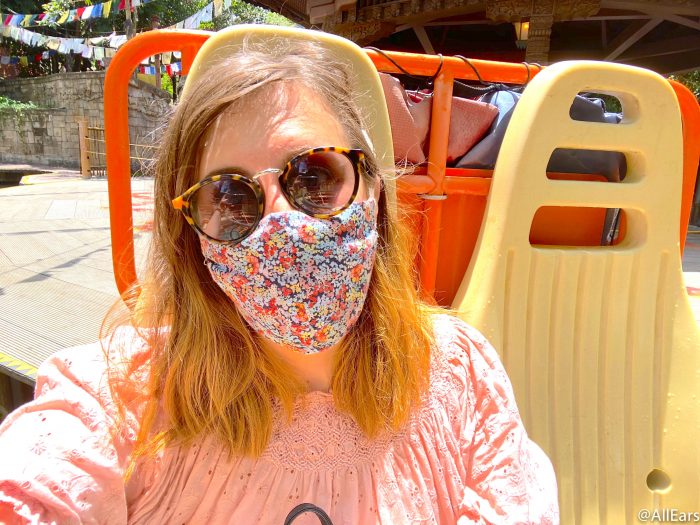 Probably the biggest difference is with the Virtual Line. While Universal is implementing Virtual Lines (with the option to turn them on or off depending on wait times), Disney is primarily using Standby for all of their attractions. The one big exception is Rise of the Resistance at Disney's Hollywood Studios, where they will be using modified Boarding Groups when reopening.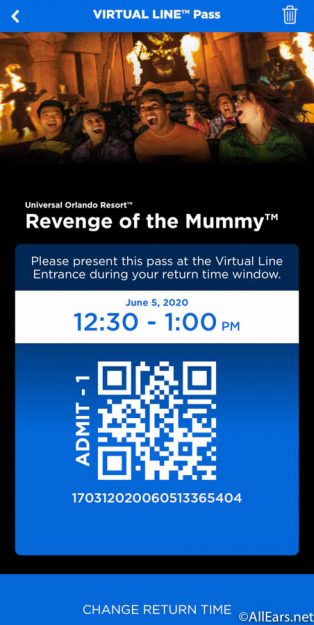 We will continue to keep you updated on any further key differences we spot, along with keeping you updated on both theme parks!
Will you be visiting Disney World or Universal Orlando this year? Let us know in the comments below!
Join the AllEars.net Newsletter to stay on top of ALL the breaking Disney News! You'll also get access to AllEars tips, reviews, trivia, and MORE! Click here to Subscribe!