Disney World can be complicated, confusing, and complex. But there's no need to panic — we are here to help!
Whether it's breaking down Genie+ vs. FastPass, explaining Park Pass rules (and changes), or simplifying your life with all kinds of helpful itineraries, we've got you covered. And now we're tackling a topic that can confuse even seasoned fans — virtual queues.
There Are a LOT of Lines Nowadays in the Disney Parks
You've got Genie+ reservations, Individual Lightning Lanes, virtual queues, and "regular" standby queues all happening at the same time in one theme park space. That's a LOT to keep track of!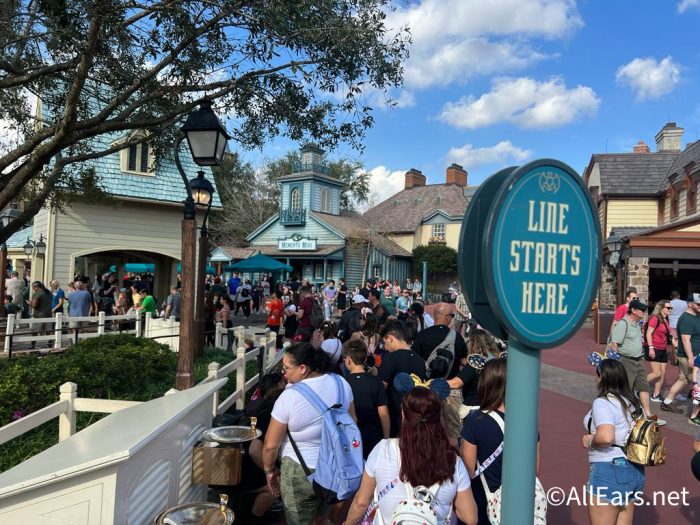 So today we're taking a close look at virtual queues. What are they? How do they work? When can you join one? And when do you NEED one? Let's break it all down.
Virtual Queue Basics
With some rides, Disney uses a virtual queue system INSTEAD of (or in place of) a standard queue. Basically, instead of standing in a regular standby line, you'll try to get a spot in a virtual queue that holds your place in a virtual line with other guests.
If a ride has a virtual queue setup, that means there will NOT be a "standard" queue you can just stand and wait in. Instead, you will need to try to sign up for a virtual queue spot (sometimes called a "boarding group") if you want to get on the ride.

If you are successful in getting a boarding group, you'll generally be given a boarding group number and an estimated wait time (indicating how long you'll be waiting BEFORE your boarding group will be called). You can then hang around the park, do other things, ride other rides, eat, etc. until your boarding group is called.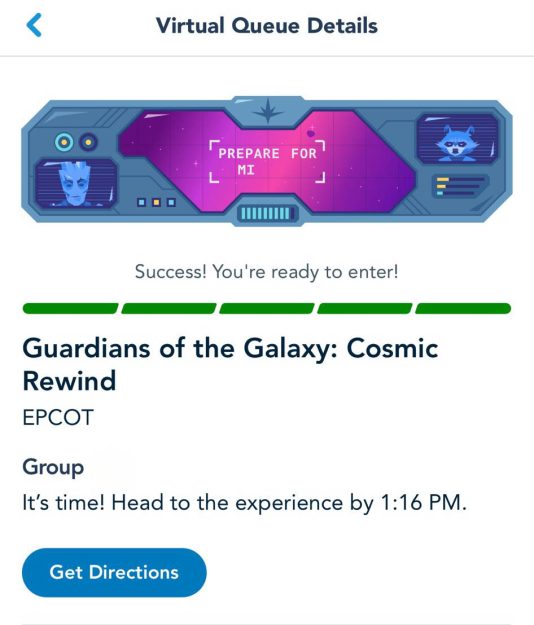 Once your group is called, it's time to head over to the ride (within the applicable timeframe) to get on the ride! Disney will provide you usually with about an hour to return to the attraction once your group is called.
What Rides Use It?
Right now the main spots that use or will use a virtual queue in Disney World are: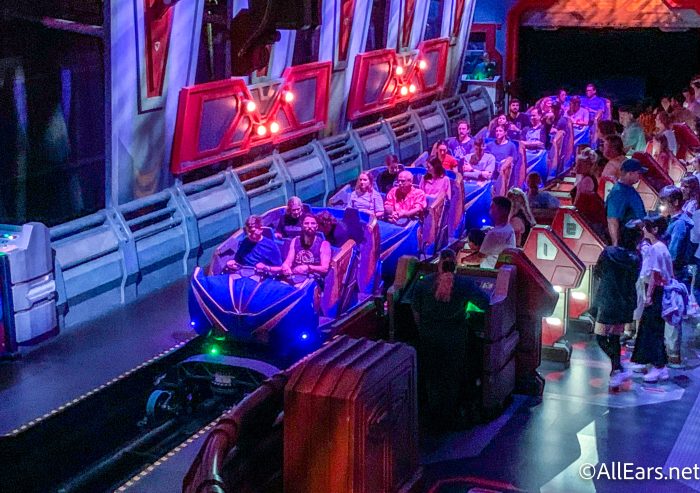 Virtual queues WERE in place at other rides previously (like Star Wars: Rise of the Resistance or Remy's Ratatouille Adventure) but those have since ended.
Are Virtual Queues Only for Rides?
NO! Sometimes virtual queues are used in places other than rides. For example, we've seen virtual queues sometimes used at stores, like Dok Ondar's Den of Antiquities in Star Wars: Galaxy's Edge when a new highly collectible lightsaber is released.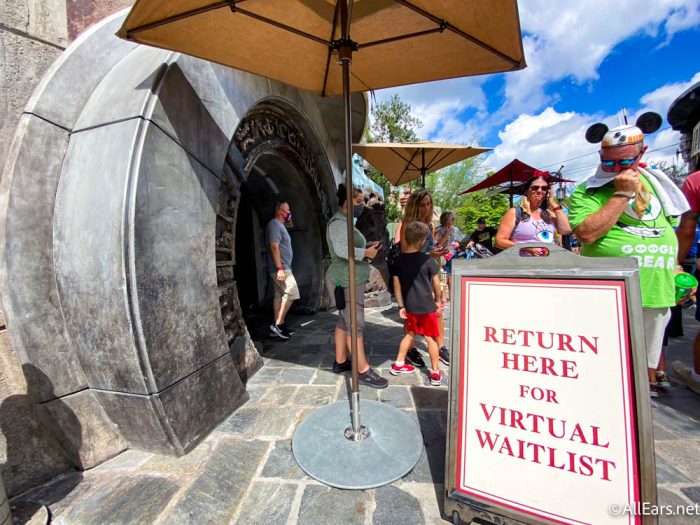 We've also seen it used at special merchandise events like runDisney events and the release of a new Annual Passholder magnet.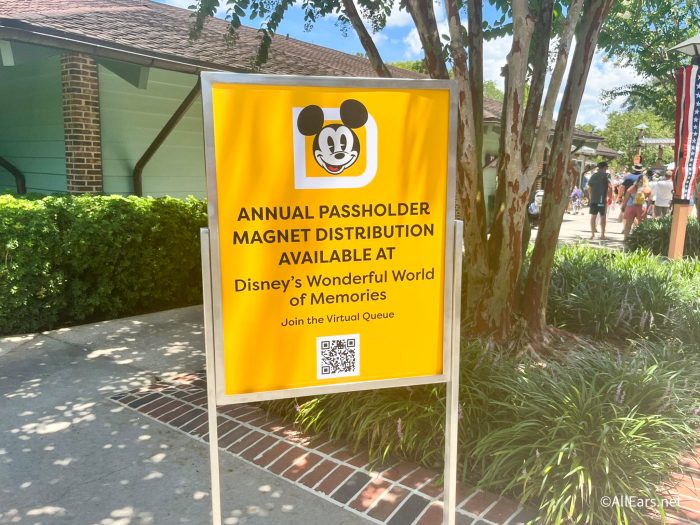 And we've seen it at certain restaurants/food spots, like Gideon's Bakehouse in Disney Springs, though that is a third-party-owned spot and the virtual queue is through Gideon's own website/technology website, NOT Disney's.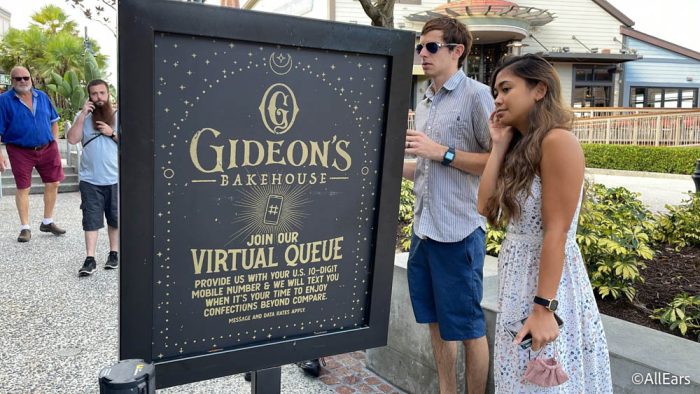 The point is a virtual queue can sometimes pop up in unexpected places so keep an eye out for them!
Virtual Queue Rules Can Change
Another thing to note is that the rules for the virtual queue can change. We've seen the sign-up times change in the past, or virtual queues totally removed (like we mentioned above).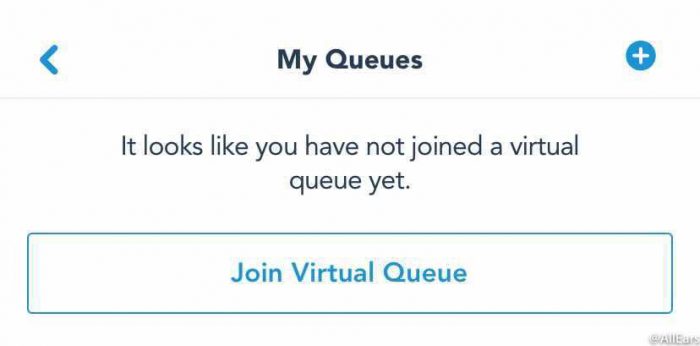 So it's important to check for updates because things can change literally from one day to the next!
Do I Still Have to Wait in Line if I Sign Up for a Virtual Queue?
Yes! Just because you join a virtual queue and "virtually" wait for your boarding group to be called doesn't mean you won't have to wait in an actual line once your group is called. Usually, once your boarding group is called and you join the actual, physical queue, you will experience a bit of a wait.
That wait might be relatively short, or it could be 20 minutes or longer, depending on the situation. So don't expect to hop in the physical line for Guardians of the Galaxy: Cosmic Rewind and walk straight through to your ride vehicle.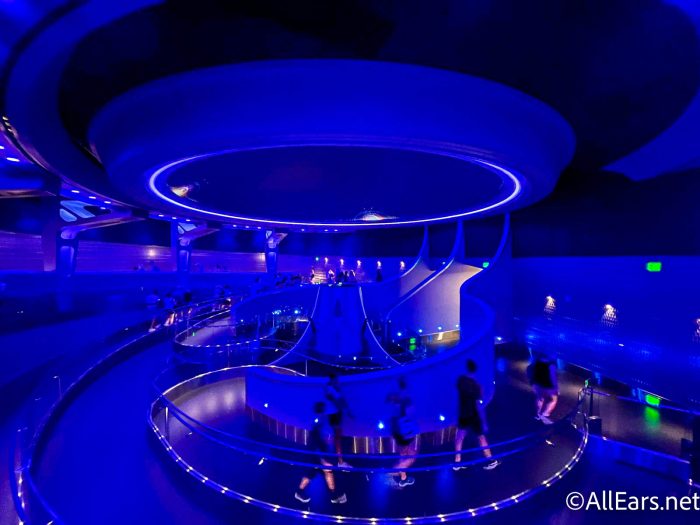 One thing to note is that your wait in the physical line may get longer as the day goes on. As it gets later into the day and more boarding groups are called, more guests may decide to show up (especially guests who may show up LATE), making for longer lines.
What Times Do I Sign Up for a Virtual Queue?
This can vary depending on the ride or situation. For TRON Lightcycle / Run the sign-up times for the virtual queue system have NOT yet been revealed.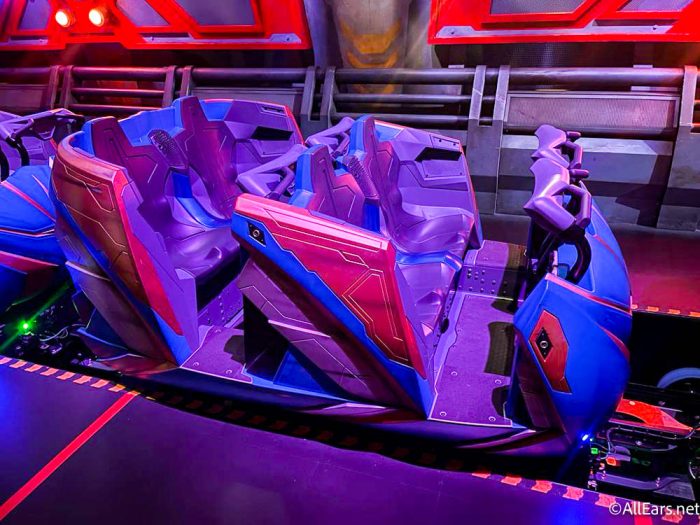 But we do have information for Guardians of the Galaxy: Cosmic Rewind. For that ride, there are 3 potential sign-up times:
7AM — You don't need to be in the park for this sign-up time, but you do need a valid Park Pass for EPCOT.
1PM — You MUST be in EPCOT to join the virtual queue at this time. Since it's before Park Hopping time at 2PM, this essentially means you'll need a park Pass for EPCOT to sign up at this time, unless you happen to hop at 2PM and virtual queue spots remain open later into the day.
Bonus time — 6PM — When extended evening hours is available at EPCOT, those who qualify for the perk (guests staying at a Disney Deluxe Resort, Disney Deluxe Villa Resort, or other select hotels) will get an additional chance to join the virtual queue at 6PM (you don't need to be inside EPCOT for this but you do need to be able to hop to EPCOT that day).
What Do I Need to Sign Up?
In order to sign up for a virtual queue you'll need:
The My Disney Experience app (download it from your smart device's app store)
A My Disney Experience account
A valid park ticket (that has been linked to your My Disney Experience account)
Typically – a valid park pass for the park where the ride is located (there are some exceptions if boarding groups remain open past the park hopping time or if you'll be signing up for that "bonus" time for extended evening hours perks)
Do I Need to Sign up FAST?
YES…mostly. At least with Guardians of the Galaxy: Cosmic Rewind, the 7AM virtual queue sign-up time can fill up FAST (literally in seconds) so you'll want to tap quickly to secure your spot.
The 1PM sign-up time, on the other hand, can sometimes remain open for MUCH longer. Sometimes availability may even continue well past the 2PM Park Hopping time. There are no guarantees, but you will want to check and see what the situation is like during your trip.
When it comes to TRON, we expect virtual queue spots there could fill up quickly once the ride opens, so you'll want to act quickly to secure a boarding group!
How Do I Sign Up?
To sign up for a virtual queue, you'll need to open up the My Disney Experience app. There, you can navigate to the page for the ride itself or usually on the front page of the app you'll see a space that says "virtual queue."
You can then hit "join virtual queue" and see what rides are utilizing a virtual queue at the moment. You can typically confirm your party ahead of time so make sure you do that BEFORE the sign-up time starts. That'll save you a few precious seconds and could make the difference between getting a boarding group and not.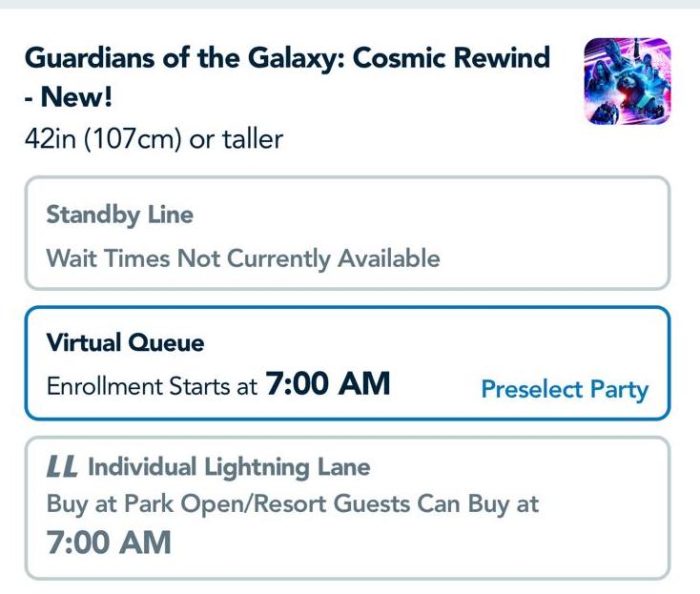 A few seconds before the sign-up time arrives, refresh the page so you can QUICKLY (and we mean QUICKLY) tap the "join virtual queue" option when it pops up! Then follow the steps to secure your spot.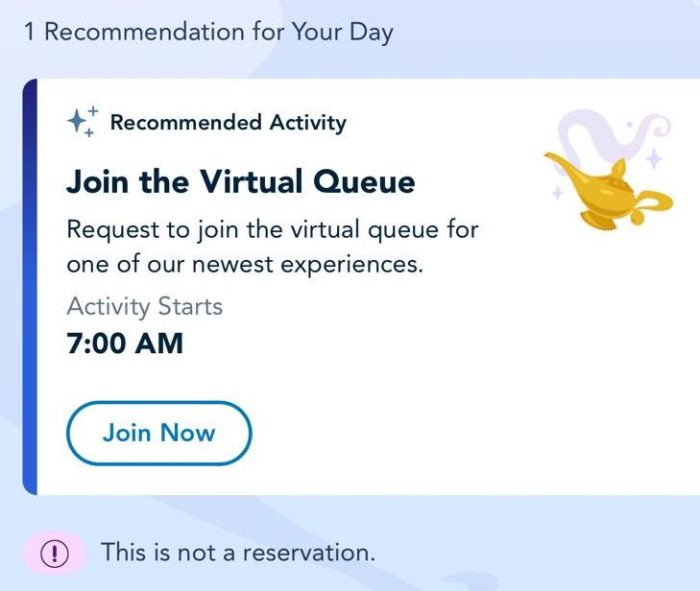 If you're successful you'll see your boarding group number and estimated wait (this is the time you'll wait until your group is called).
Here are a few tips to getting that virtual queue spot:
Make sure your park tickets are linked to your account WAY before the sign-up time drops
Make sure all of your friends' tickets are linked to their accounts
Make sure you and your friends share "all plans" so you can make plans for one another
Make sure all accounts are set up properly
Get ready WELL before the 7AM/1PM drop and be ready refresh the page and hit "join group" even a few seconds before the time changes
How Do I Know When It's My Turn?
The My Disney Experience app will display what groups are being boarded at the ride at any given time. But if you don't want to have to keep checking for updates, enable notifications on your phone from the My Disney Experience app.
That'll allow you to get a push notification once your group has been called!
What If I'm Running Late?
Virtual queues are meant to be efficient due to the way they're structured, only calling in a certain amount of guests to return and ride the attraction at a given time. That is meant to stagger guests throughout the day and hopefully lead to more even/shorter lines. But sometimes things happen — you might get caught up on another ride, get stuck at a restaurant for a long meal, or otherwise have something happen that leads to you being LATE for your virtual queue return time.
What happens then? Well, the truth is it'll depend on the Disney Cast Member. A few of our reporters noted that they have not had an issue returning late to their Guardians of the Galaxy: Cosmic Rewind virtual queue boarding time. Even when they have been late, Cast Members have generally allowed them to go through, enter the queue, and ride the ride. Of course, that's not guaranteed, just what we've experienced.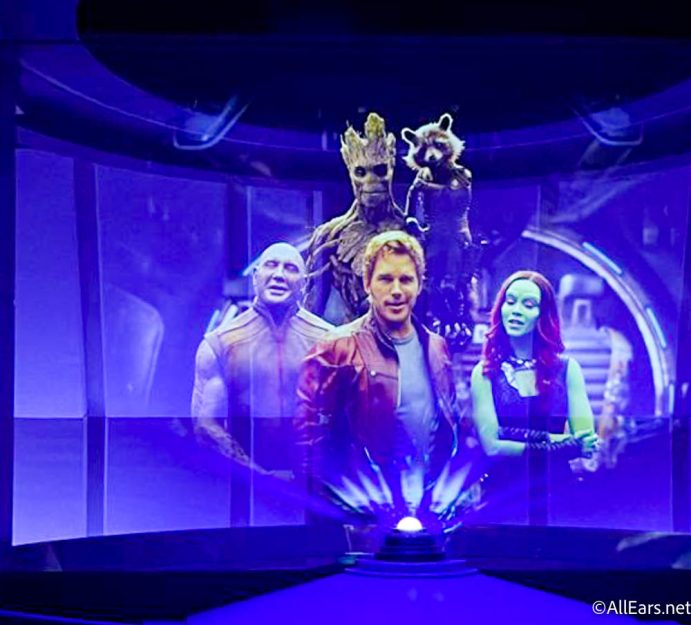 We could see that situation being different with TRON Lightcycle / Run where its popularity (as a new ride) might lead Cast Members to being more strict. Our advice? Get to the ride within the return window whenever possible. But if you happen to miss it, ask and see what can be done (just don't expect any guarantees!).
Didn't Get a Boarding Group?
Getting a boarding group isn't guaranteed. So even if you time everything right, you still might not get a spot in the virtual queue. If you don't get a boarding group, you may still be able to get on the ride by paying for Genie+ or an Individual Lightning Lane for the ride (depending on what the ride uses).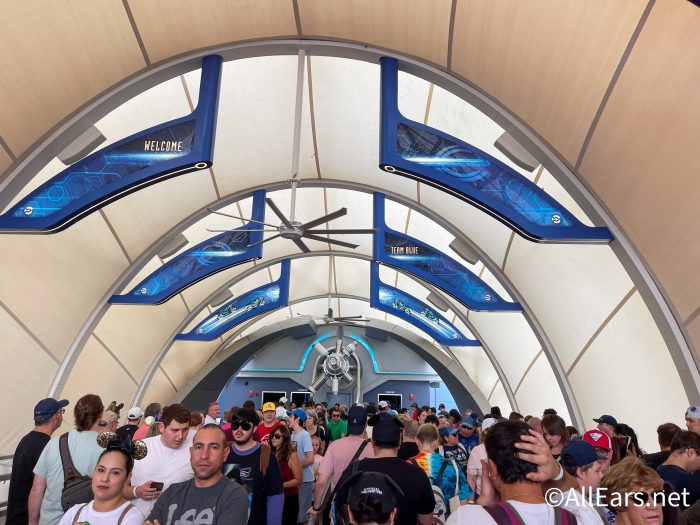 These are paid options (while virtual queues are FREE to join), but if the virtual queue is full these will likely be your only other way to get on the attraction.
How Many Times Can I Join?
If you are successful in getting a boarding group, you can only get 1 boarding group per day. So if you sign up at 7AM and get a boarding group for Cosmic Rewind, you cannot try to sign up again at 1PM.
But if you do NOT get a boarding group at the 7AM sign-up time, you can try again at 1PM to get a boarding group!
Does a Boarding Group GUARANTEE That I Get on the Ride?
Not quite. Sometimes a ride can expeirence issues and not all boarding groups can be called for that day. Disney warns that "Joining the virtual queue does not guarantee the ability to participate in the experience."
They continue, "Not all boarding groups may be called to return, based on availability of the experience." So while getting a boarding group is an important step, even that doesn't guarantee a ride on the attraction.
Are Virtual Queues Free?
Generally yes. If you're joining a virtual queue for a Disney World ride, you do NOT have to pay anything extra.
Can I Get a Boarding Group AND a Genie+ Reservation or Individual Lightning Lane for the Same Ride?
YES! You can sign up for a boarding group for a ride using a virtual queue AND buy Genie+/an Individual Lightning Lane for the same ride (depending on what the ride uses). It's will require skill, luck, and some cash, but it is possible if riding twice is something you want to do.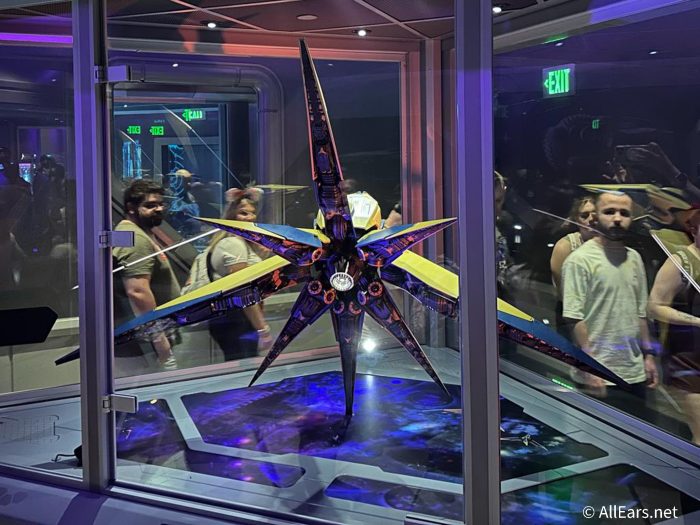 And that's everything you need to know about virtual queues! For more Disney World news, see our posts below and stay tuned for the latest updates.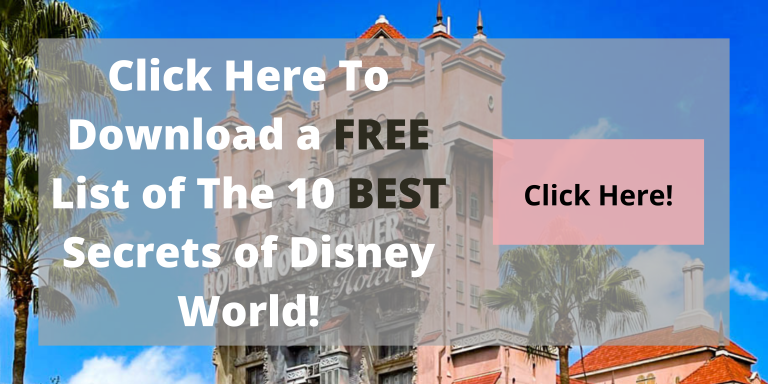 Do you have other virtual queue questions or concerns? Tell us in the comments!