"Disney World is just for kids!" You've heard that line before, right? People assume it's childish to enjoy Disney when we KNOW that there are SO many ways for adults to have fun at Disney World as well!
From bars and lounges to behind-the-scenes tours, t
his ones for all of you Childfree Millennials out there – let's talk about the ideal activities for your Disney World trip!
Now, this isn't only just for people who don't have kids, it's also for those going on adult-only trips without their kids, so let's get into it!
Night Life
There is actually a decent amount of night life in Disney World that is geared toward adults! Over at Disney Springs, The Edison is a lively restaurant that is designed to look like a 1920s electric company. This spot has live entertainment like music and aerial artists, so it's a fun place to grab a bite to eat or hang out that isn't necessarily as kid friendly.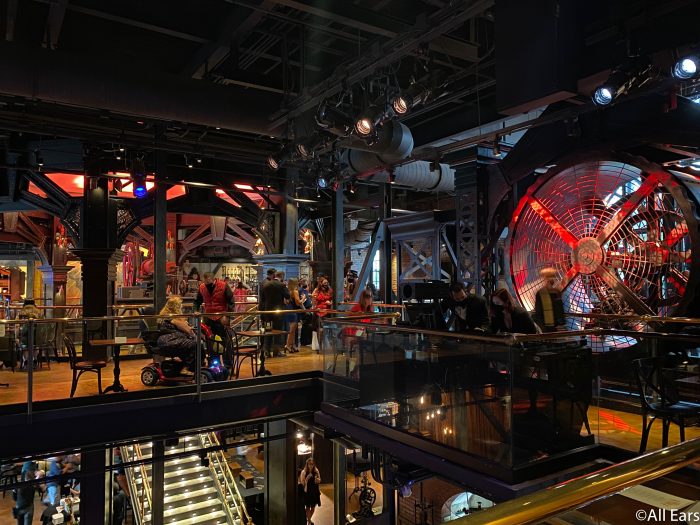 The Edison used to actually only be open to people ages 21 and older after a certain time in the evening, but that is not the case right now. We'll keep you updated if anything changes!
The BoardWalk is a GREAT place to hang out and enjoy the nightlife! There are a ton of places to hang out. Jelly Rolls is the dueling piano bar over here, and you have to be 21 years old or older to go inside. Also be aware that right now it is only open from Thursday through Monday and there is a cover charge to get in!
Right across from Jelly Rolls is Atlantic Dance Hall, which you also have to be 21 years old or older to enjoy! Get your groove on to some 80s and 90s music Thursday through Sundays.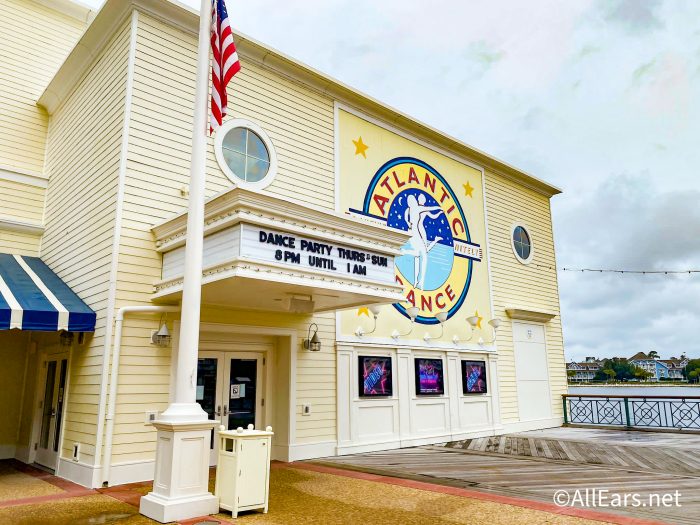 Also at the BoardWalk is AbracadaBar, which is a bar themed entirely around magicians! It has a really fun backstory that it used to be where magicians would hang out, but then suddenly vanished into thin air years ago and is back now. It's open every night until midnight!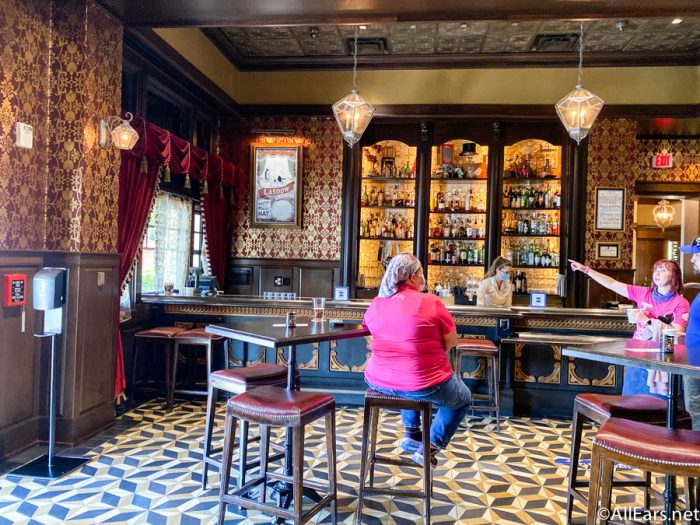 Another fun activity you can enjoy is over at The Walt Disney World Swan hotel. The sushi restaurant inside — Kimonos — has karaoke on select nights that goes into the early morning! From Wednesday through Sunday, you can sing your heart out until 1AM.
Bars and Lounges
We already talked about AbracadaBar over at the BoardWalk in terms of nightlife, but there are SO many other cool bars and lounges to hang out at in Disney World! One of the most famous is Trader Sam's Grogg Grotto over at Disney's Polynesian Village Resort.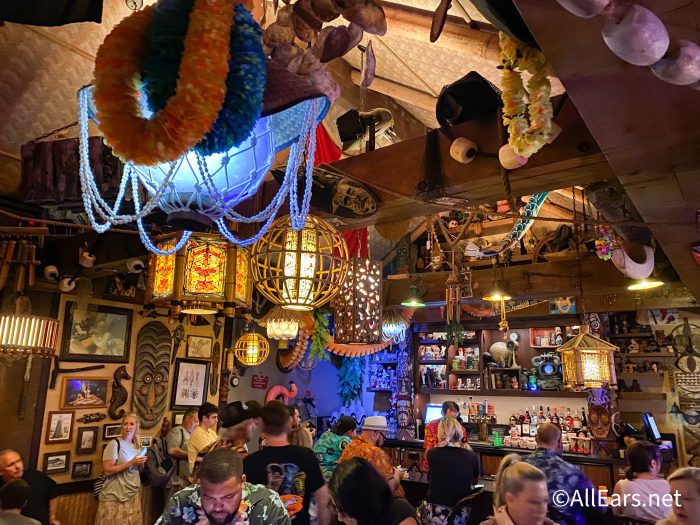 This is a 'hidden' tiki bar that literally comes alive depending on what drink you order! There is an outside area, too, that is for all ages, but inside the actual tiki bar becomes 21+ after 8PM. And, the inside is the only place where you'll see different things happen around the bar when drinks are ordered (we're not giving away any spoilers, just know that the Cast Members here are AWESOME).
Over at Disney Springs, there are a few bars that are more geared toward adults rather than kids as well, like Jock Lindsey's Hangar Bar or the Coca-Cola Rooftop Bar! You can get fun drink presentations at Jock's like smoked cocktails (with real smoke), and up on the Coca-Cola Rooftop, you can mix international sodas with your favorite liquor!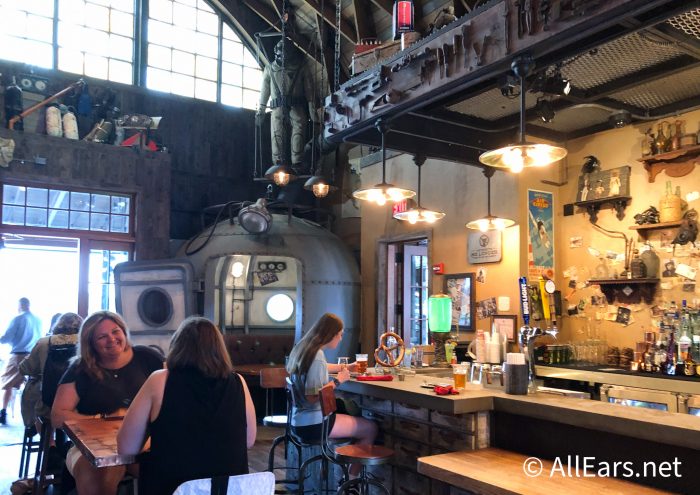 Now, let's head inside the parks! Over in Animal Kingdom is the famous Nomad Lounge. This is connected to Tiffins and is such a neat spot to hang out, cool down, and grab a drink or small bite of food. Kids are allowed here, but we would say that this isn't the most kid friendly place, so there tends to be fewer kids here than you would find at other Disney World restaurants.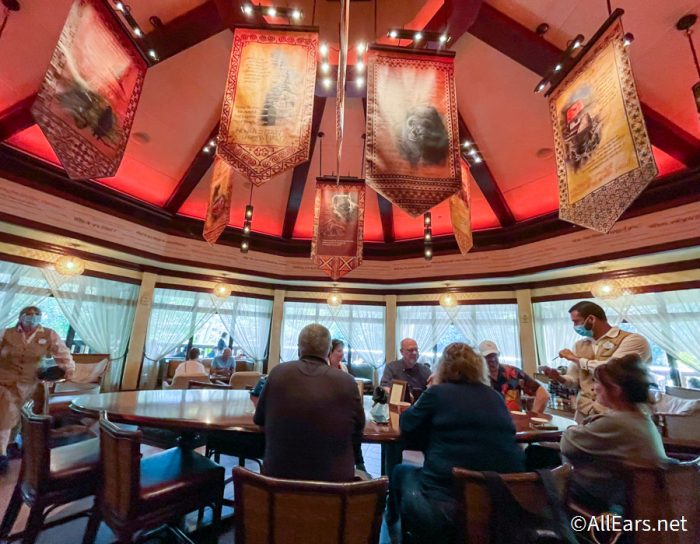 You can hang out inside at the large bar and lounge chairs and admire the decor, or sit on the porch here and feel like you're in a little oasis in the jungle. The porch is covered and cool, and also has a great view of the characters that come by on the flotillas! Also, Nomad Lounge has what many consider to be the best churros in Disney World, so it's worth a trip just for those, honestly.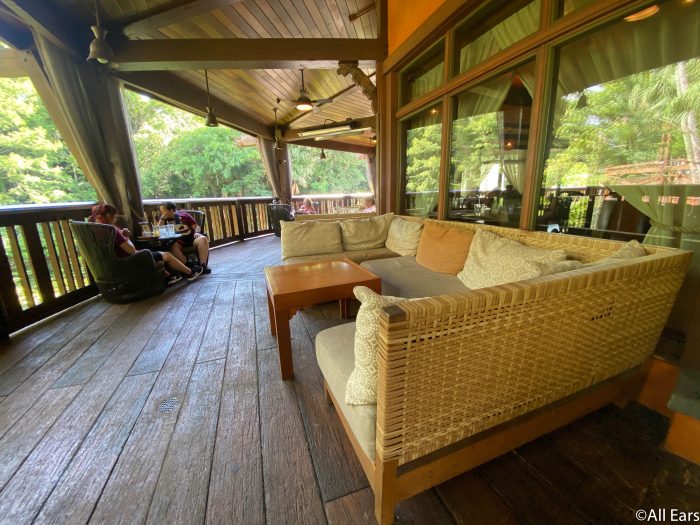 Moving over to EPCOT, let's head inside the tequila cave! La Cava del Tequila is inside the Mexico pavilion's pyramid and is literally a little cave where you can try hundreds of different tequilas, as well as some incredible margaritas. It's tiny in here, so there isn't a lot of seating, but you can ask for a table and grab one if it's available! Even if there's a long line, you might be able to snag a spot inside simply because most people just get drinks at the bar to go. This is definitely a great spot for adults to hang out!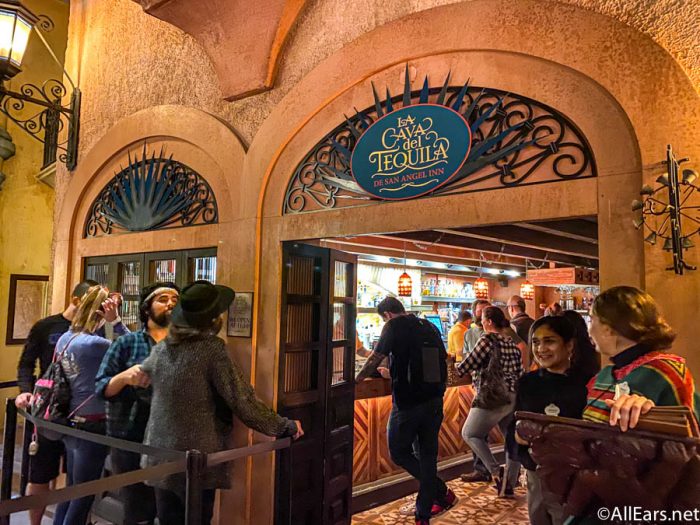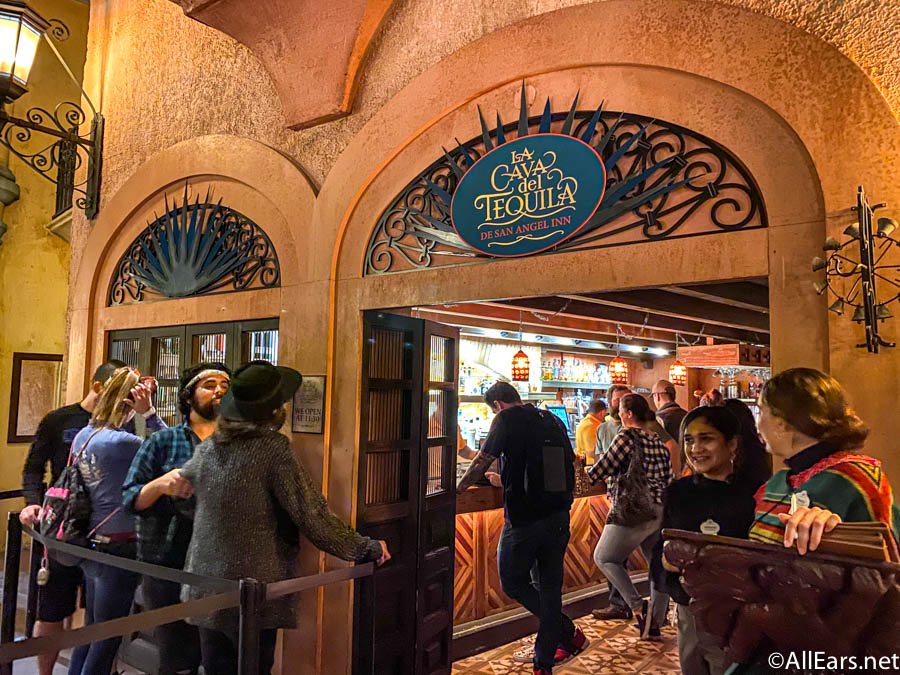 Speaking of caves, over in Italy, there is a wine cave! Tutto Gusto Wine Cellar is connected to Tutto Italia Ristorante and is a cozy wine cave with a full, fabulous bar. Not only can you enjoy the extensive wine list here, but you can also get the full food menu from Tutto Italia, so it's a great place to grab a meal! In fact, you have to eat a meal here to be seated here right now rather than just sitting down for some drinks (but that could change in the future!).
Back over to hotels — these have a TON of bars and lounges, whether it be inside of a restaurant or out near the pool. A fun thing to do on a day off from the parks is to hotel hop between these spots for food and drinks! You can do a Monorail crawl and hit up the Grand Floridian, Polynesian, and Contemporary resorts, or do a Skyliner crawl and go between the Riviera, Pop Century, Art of Animation, and Caribbean Beach resorts!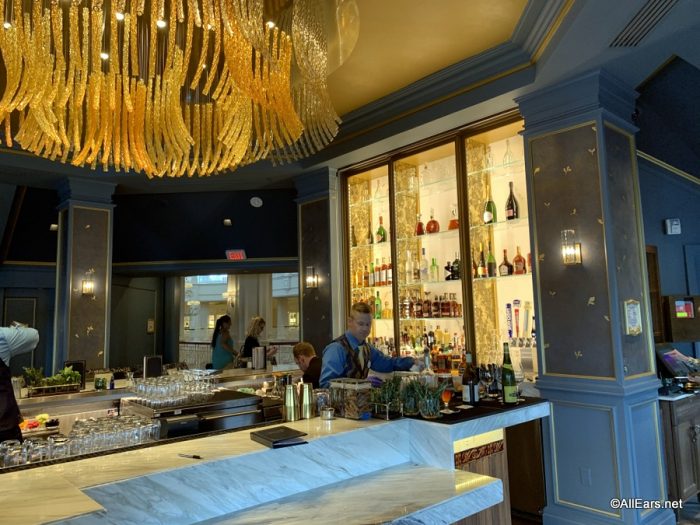 These are great ways to check out a bunch of different hotels and bars or restaurants on your trip! Most of these spots are first come, first served, so you could do a whole day (or a whole trip!) without even making dining reservations and just eat at these spots. This gives you a lot more flexibility, since adults don't typically need scheduled, full meals like kids do.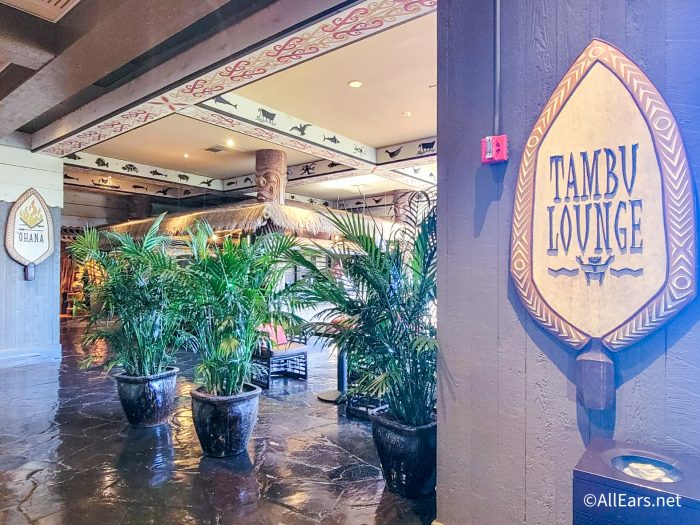 For the restaurants, if you can't get a dining room table, always ask if you can sit at the bar, because a lot of times it is first come, first served and you can eat up there as well.
Nice Restaurants
Everyone has a different definition of what they consider to be a "nice" restaurant, but we're talking about the ones that aren't super kid friendly in Disney World. They might not have the same Disney theming or have more adventurous foods that many kids wouldn't enjoy. This is a great time to enjoy these kinds of restaurants!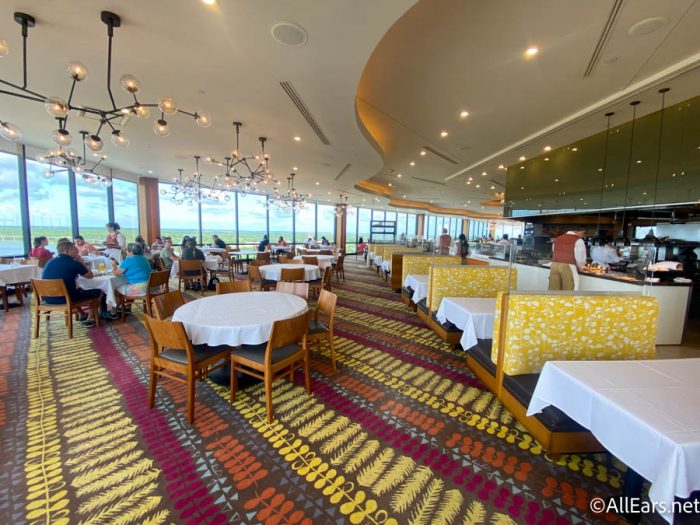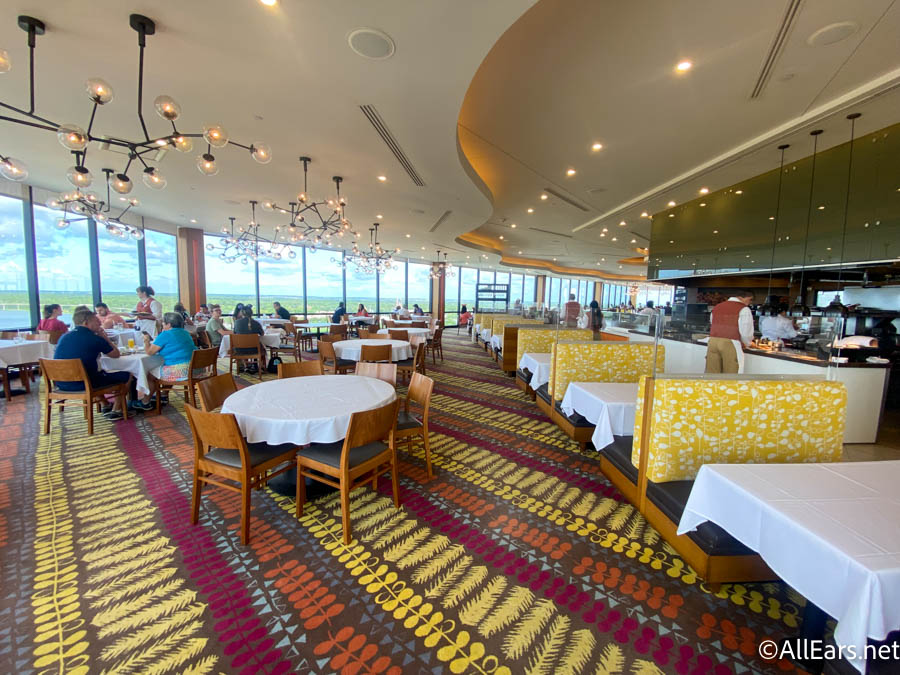 Places like California Grill, Topolino's Terrace (dinner), Le Cellier, Jiko, Toledo, and more all have elevated dining experiences that are geared more toward adults. They're also places that you're less likely to see a ton of families with little kids!
Festivals
Festivals are a great thing to enjoy when you're at Disney World without kids! Like we said before, kids usually need scheduled, full meals throughout the day, whereas most adults do not.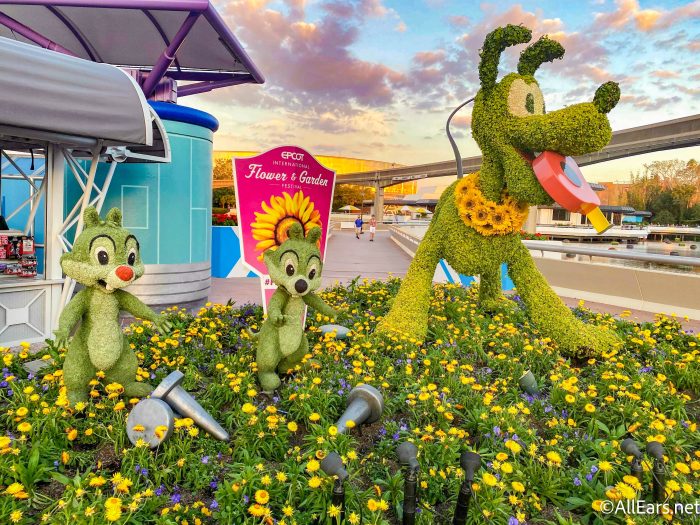 This means it's waaay easier to enjoy the food festivals at EPCOT because you can go at your own pace and graze on small plates. Plus, kids might get bored of stopping in every country to eat a little food outside, but we definitely do NOT!
Tours
Did you know there are some pretty cool behind-the-scenes tours in Disney World? These tours include things like the Keys to the Kingdom tour in Magic Kingdom where you get to learn a ton of info about the park and even go into the underground tunnels! This tour actually has an age requirement — you have to be 16 or older, so young kids can't even go on the tour.
Animal Kingdom has a lot of awesome tours as well, like the Wild Africa Trek, which takes you inside the safari area and even up on a rope bridge! There is also special food on the tour. This tour is only available for people ages 8 and older.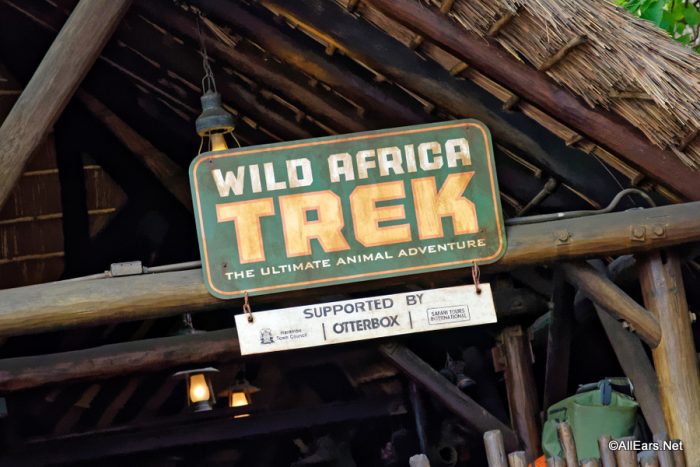 The info on some of these tours is more entertaining for adults rather than young kids, so it's a good activity to do as an adult!
Thrill Rides
There are some rides at Disney World that little kids can't ride due to height requirements or don't want to ride because they're not ready, so if you're there without kids this is a fun opportunity to get your thrills in!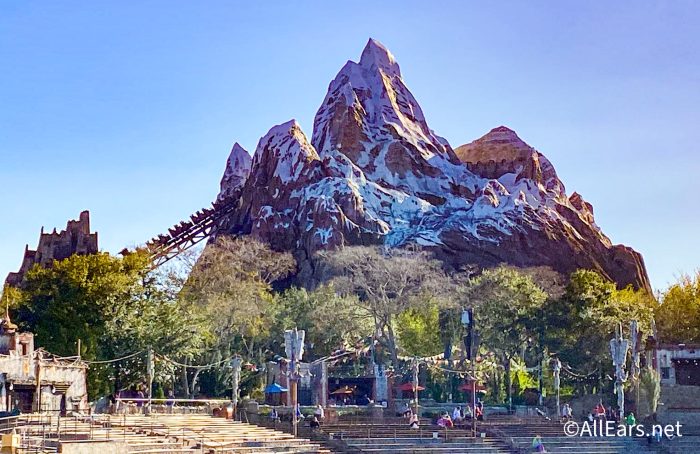 Rides like Expedition Everest, Tower of Terror, Rock 'n' Roller Coaster, and more definitely will give you those thrilling experiences.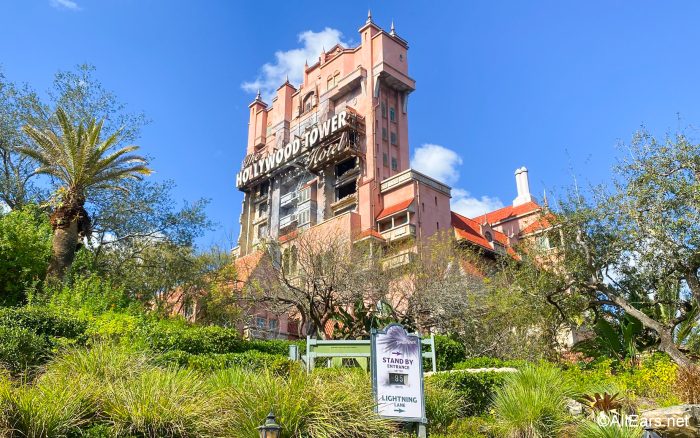 That being said, don't discount doing "kid" rides as an adult either! You might have more of an appreciation of these rides as an adult and they could make you feel like a kid again.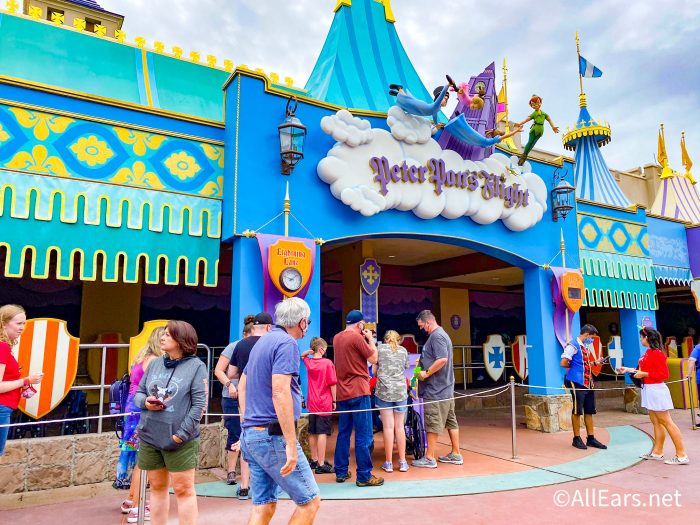 If you want even MORE thrills — take a day and go over to Universal Orlando! This is probably an easier thing to accommodate without young kids, and you can for sure find some exciting rides like the Incredible Hulk Coaster, Velocicoaster, and the Hollywood Rip Ride Rockit!
Close Down the Park
You can sleep IN as an adult, because you won't have little ones waking you up before the sun rises, so take advantage of it! Sleeping in means you will have more energy to stay late at the parks.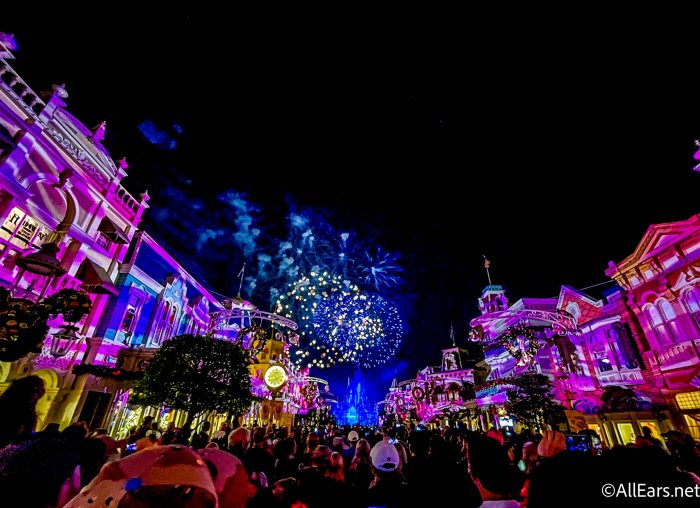 Even if you don't sleep in, it's easier to stay until park close because kids typically have to go to bed pretty early! And, if you're staying at a Deluxe or Deluxe Villa Disney Resort, you can even take advantage of Extended Evening Hours and stay in the parks even LATER.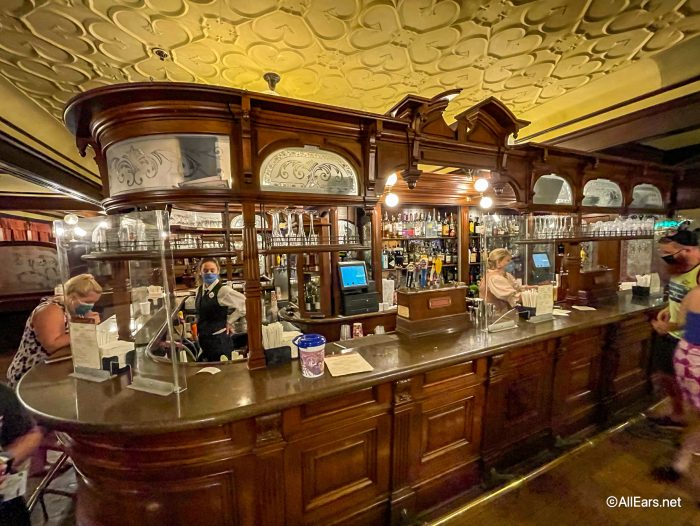 Another option is that you can spend a day relaxing at the resorts or hanging out over at Disney Springs and then head into the parks at night to watch the fireworks, do a dessert party, or go on some late night rides.
In General
Generally, you can have way more flexibility as an adult without kids in Disney World. Your day can be as long or as short as you want, going into the parks for just a few hours to eat dinner, or spend the day riding literally EVERYTHING you can.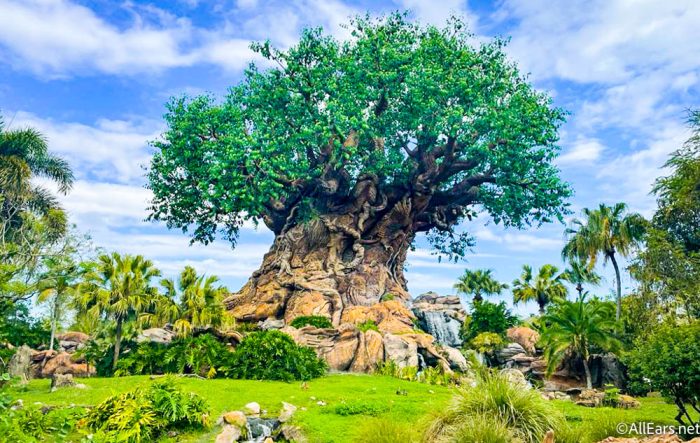 You can also rope drop the park, go back to the hotel for a midday nap, and then go back out for some late night fun at the parks or bars!
We also wanted to share a quick bit of info for those adults who have fur babies in your life that are like your children! Disney World has an on-site boarding facility where you can take your furry friend while you're at the parks. Best Friends Pet Care is operated by a third party and has both overnight boarding and day care available, so you can pick what works best for you!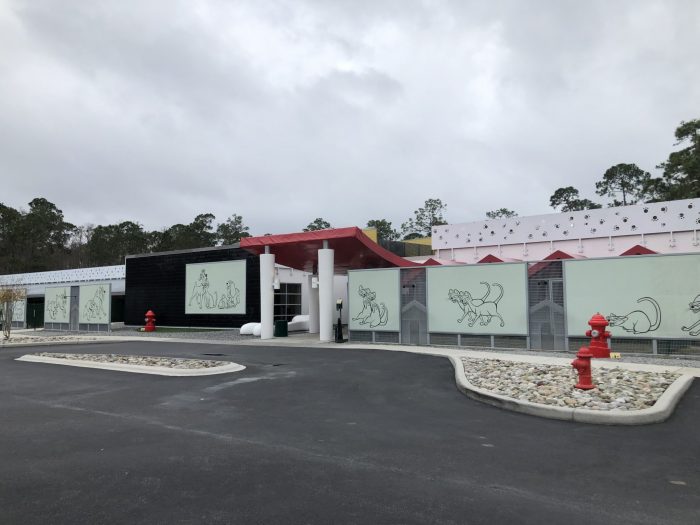 Another great advantage to not having kids with you is you don't have to share any food with them — you can have everything to yourself, and eat wherever you want.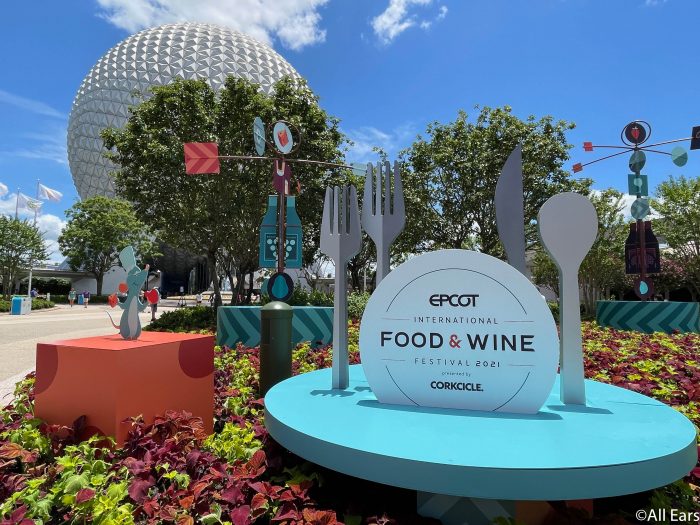 This is the best time to wing it and go with the flow — do everything you've always been wanting to do or make no plans at all and just see where the day takes you. It's also a great time to do things that kids can't do or hang out in places where kids aren't really hanging out, so enjoy yourself and all of your freedom!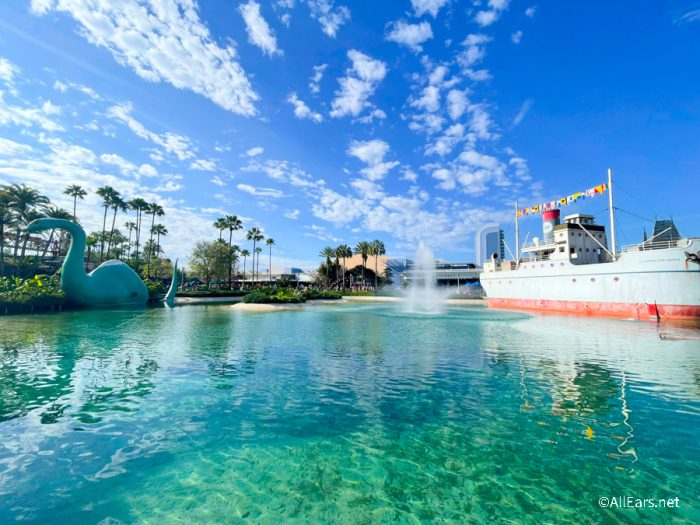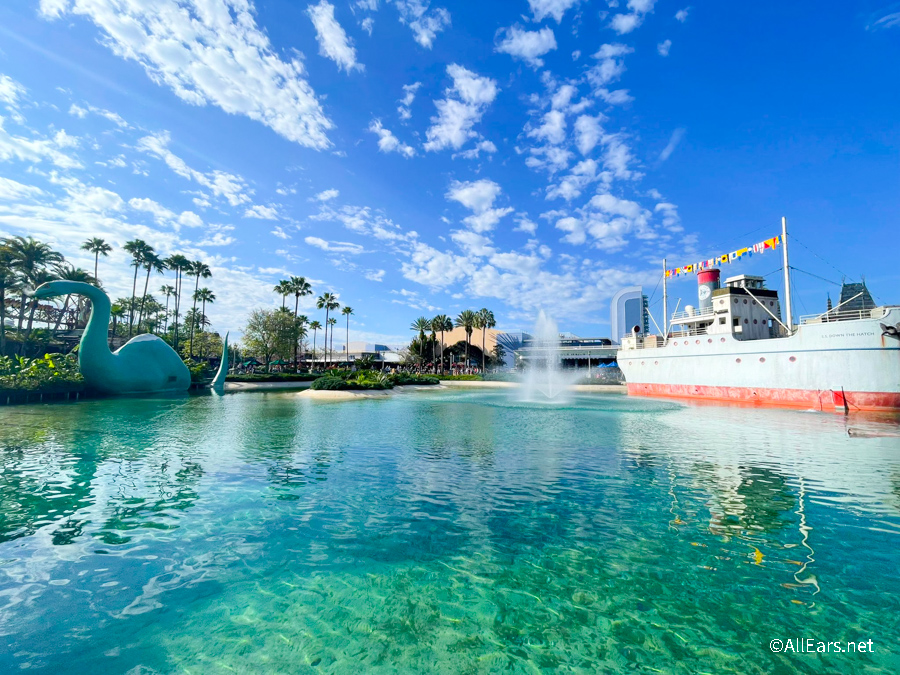 However, still be conscious about not ruining any of that awesome Disney magic for the other kiddos around you! It's important to have a good time yourself without ruining the time of anyone else.
There ya have it — all of the best things to do as a Childfree Millennial in Disney World. Stay tuned to All Ears for more Disney World tips, tricks, and info.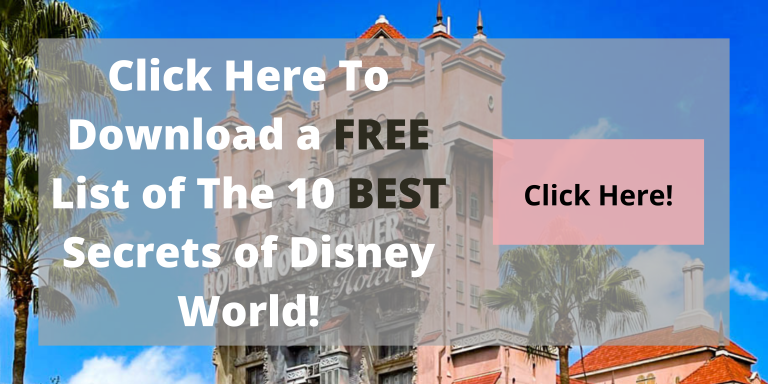 Do you have an adult-only Disney World trip coming up? Let us know in the comments!