Did you know you can bring your dog to Walt Disney World? Well, technically not into the Parks but onto Property. (They didn't even let Rowlf go into Disney World in The Muppets at Walt Disney World special, so consider your pooch extra-special.)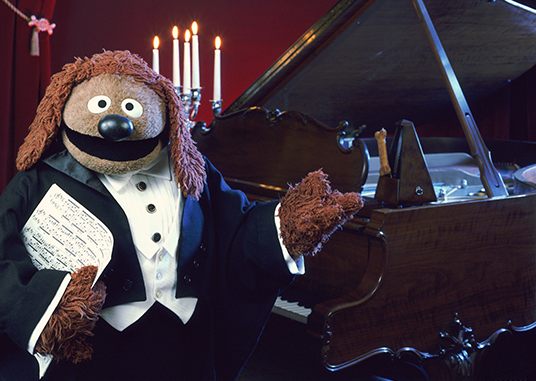 At Walt Disney World, there is a facility called Best Friends Pet Care. This is a center operated by a third party company that runs pet hotels throughout the country. However, the one at Walt Disney World offers a pet equivalent to Disney Resorts. That's right: your pup is on vacation, too!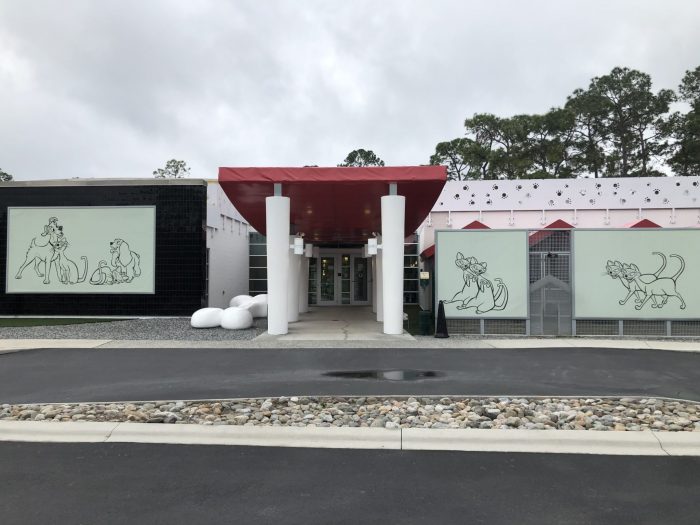 © Best Friends Pet Care
Just like Disney Resorts that have Value, Moderate, and Deluxe categories, there are different levels of service at Best Friends Pet Care depending on how fancy your pet is. And we mean really fancy!
The top-level of overnight accommodations (VIP Luxury Suites at $109 a day) includes a flat-screen TV, webcam, two playgroup sessions, two potty walks, a shampoo, and a bedtime story. Yup: a bedtime story.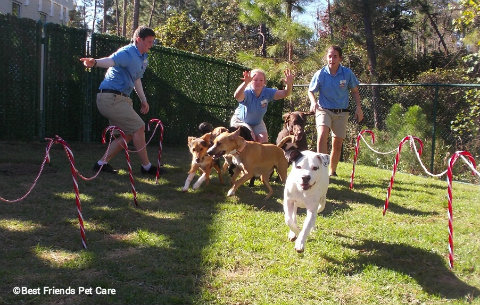 A feature for the human members of the pup's family, the webcam allows you can chat with your pup and ask how their stay is going. This can ease the humans' and the dog's minds while they're apart.
The level below VIP is Vacation Villa at $93 a day. It offers a similar level of class with the flat-screen TV, webcam, and a turndown biscuit. But this level only includes one potty walk and one playgroup session.
The final two levels offer similar levels of service to each other with one major difference: one has an indoor space only, while the other has indoor/outdoor space. Indoor Only is $47 a day, and Indoor/Outdoor is $52 a day. The Indoor Only room does offer two potty walks, and the Indoor/Outdoor option offers only one. But with access to an outdoor space, it makes their fire hydrant breaks easier.
All of the above options are overnight accommodations for your playful puppy pals, but if you are at Walt Disney World for a quick day trip or if your Resort is pet-friendly, you can also drop your furry friend off for Doggy Day Camp. While at camp, Lucky and Rolly (we imagine you are the pack leader of the 101 Dalmatians) will have a chance to play with Lady, Tramp, and Bolt. Since you get to go to the parks and play, why not let your fine furry friend frolic and play with some other vacationing dogs?
Depending on the length of your stay, the price for Doggy Day Camp ranges from $30 a day for one session to $26.50 a day for 20 sessions.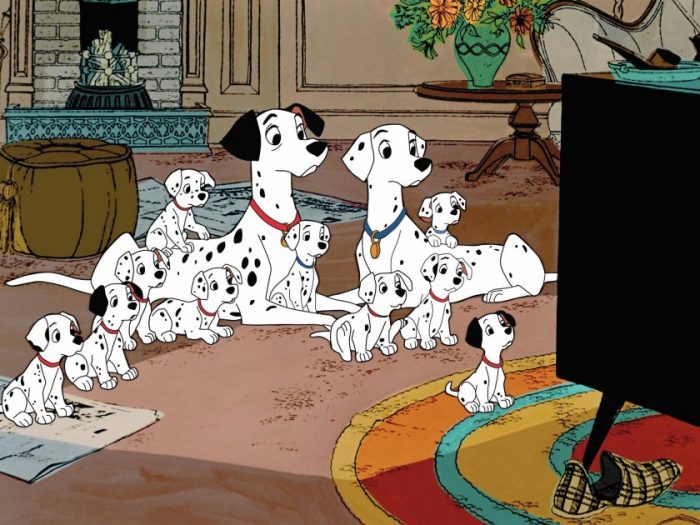 If you do bring your dog to Disney, Best Friends Pet Care is a great option to give your pup a fun vacation instead of just leaving them in the hotel room all day.
Of course, if you have a different species of pet — like a cat or a "pocket" pet like a bird, rodent, or reptile — Best Friends Pet Care offers services for them, too. Click here to visit Disney's official page for pets!
But note: reservations are highly recommended for Best Friends Pet Care, and they frequently book up completely and well in advance. Call (877) 4 WDW-PETS or visit Best Friends Pet Care online to learn more and make your reservation.
Do you bring your pet to Disney World with you or have experience with Best Friends Pet Care? Let us know in the comments.
And check out AllEars reader reviews and rankings below!