Of the 12 Disney theme parks around the world, there's perhaps none with a more devoted fanbase than EPCOT. The park – which opened as EPCOT Center in 1982 – has long been a favorite of die hard Disney fanatics thanks to its optimistic view of the future and bevy of groundbreaking attractions, many of which have become classics of the Disney Imagineering canon.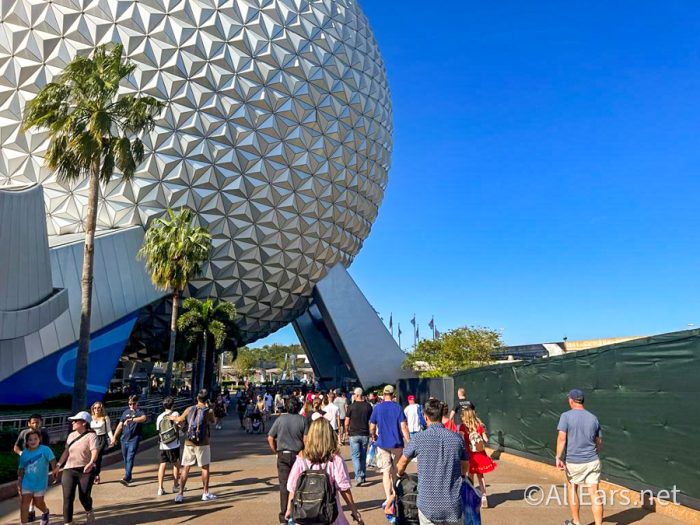 While some, like Spaceship Earth and Living with the Land, remain, others have gone defunct. Today we'll be looking at one of EPCOT's legendary lost attractions: The Universe of Energy pavilion, which arguably went through more changes over its lifetime than any other original EPCOT Pavilion outside of Spaceship Earth. 
The Big Bang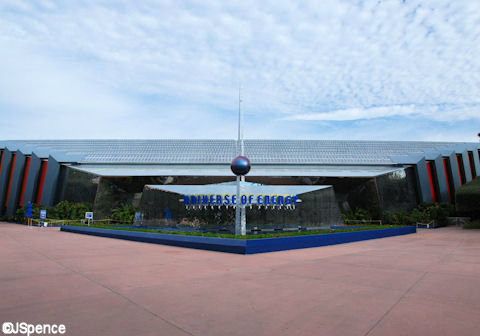 The concept of an Energy Pavilion, headlined by a massive attraction, was one of the first planned concepts for EPCOT Center — once the original plans for a city of the future transitioned into a theme park. However, the plan was far from what was eventually built. Initially, the pavilion's titular energy was supposed to be solar energy, and the building was to "feature a large building sporting a solar dish and a parabolic shaped mirror that would concentrate sunlight into a superheated receptacle."
However, once Exxon Mobile came on board as a sponsor, the emphasis on solar energy was dumbed down, and the attraction was reconfigured into one that took a more generic approach to the topic. However, it should be noted that the Imagineers did get part of their wish by affixing solar panels on the building. 
The Past, Present, and Future of Energy
The opening day version of the Universe of Energy attraction was one of the most in-depth and technically intricate attractions Disney Imagineering had designed to that point. That began in the pre-show, which featured a film from Czech film director Emil Radok about various forms of energy, known as the Kinetic Mosaic. The mosaic featured 100 rotating prism-shaped flip screens, that were synchronized to the film projected onto their surfaces by five projectors controlled by computers. Each screen had three sides, with white projection surfaces on two sides and a matte black surface on the third, a combination that created undulating, sometimes 3D-appearing images.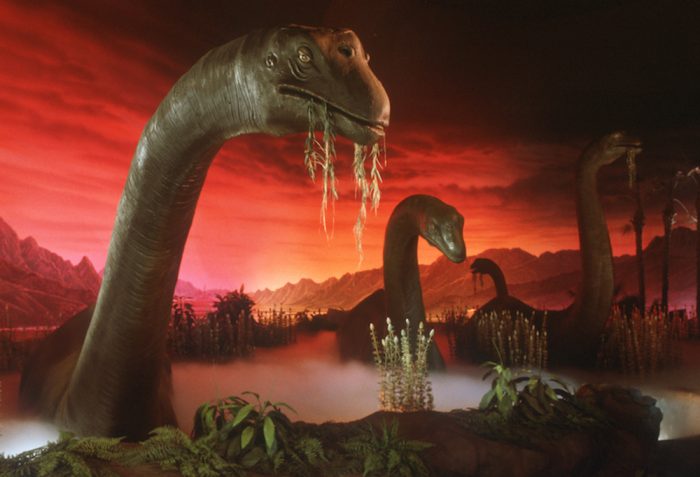 After the Kinetic Mosaic sufficiently wowed guests, they moved into a large theater with six sections of seating. Guests would sit and watch an animated film about early life on Earth and the long natural development process of fossil fuels. Once the film finished, giant curtains revealed a massive prehistoric diorama. At this point, the theater seating began moving, revealing themselves to be ride vehicles and taking guests into the diorama. 
The prehistoric section of the attraction featured a large, expansive dark ride environment fettering rock work, plants, a volcano, and animatronic dinosaurs. These included an Edaphosaurus, a family of Brontosaurus, a Stegosaurus fighting an Allosaurus, several Ornithomimus watching as one of their own sank into a tar pit, numerous Pteranodon perched on top of the erupting volcano, dragonflies, and snails. 
After their journey through the prehistoric diorama, the vehicles entered another theater room, entitled the EPCOT Energy Information Center, where they were shown a 12-minute live-action film on three giant wrap-around screens. This film took an "in-depth look" at then-current and future energy resources. From there, the vehicles reset into the first theater where a final computer animated film which depicted an "ever-evolving landscape of colorful, laser-like imagery of the various ways mankind has benefited from harnessing energy" was shown. 
All-in-all, the original version of Universe of Energy was a massive, 45-minute experience that utilized film, a revolutionary ride system, animatronics, and songs — the songs "Energy (You Make The World Go 'Round)" by Al Kasha and Joel Hirschhorn and "Universe of Energy" by Buddy Baker — to fully immerse guests. However, this version only lasted 14 years. Why? Well, simply put, knowledge about energy was changing at an exponential rate. By 1996, most of the information in the Universe of Energy show was outdated, not to mention public perception of the show being presented by Exxon Mobile began to rub some the wrong way. These issues led to one of the — in-retrospect — oddest re-themings in Disney history.  
Ellen Arrives
Universe of Energy closed in January of 1996 to begin a 9-month refurb — though it did briefly reopen, mid-renovation during crowded days in the summer of that year — before reopening that September as Ellen's Energy Adventure. What was Ellen's Energy Adventure, you ask? Well, as we wrote several years ago:
"The ride's storyline now featured Ellen DeGeneres, essentially playing a version of the character she portrayed on her eponymous sitcom, locked in a game of Jeopardy with a childhood foe ("Stupid Judy" played by Jamie Lee Curtis), with all the questions relating to energy. This framing story (which also featured Bill Nye and Alex Trebek) was used to "teach" Ellen about energy through several film segments as well as a reworked version of the prehistoric scene featuring a (totally creeptacular) DeGeneres Animatronic shooing away dinosaurs. Yes, really."

https://www.youtube.com/watch?v=IagavTfw0Cw
So yeah, in other words, Ellen's Energy Adventure was about as 1990s as they come. The experience itself kept the same format as the original version of the attraction, just with different content. The Kinetic Mosaic pre-show was changed to Ellen's initial dream sequence of taking on Judy on Jeopardy, the first theater became Ellen and Bill Nye's journey back to the big bang, the prehistoric diorama was mostly unchanged (outside of the aforementioned Ellen animatronic), the second theater revolved around a film showing Nye teaching Ellen about then-current energy resources, while the final part of the experience features her winning Jeopardy.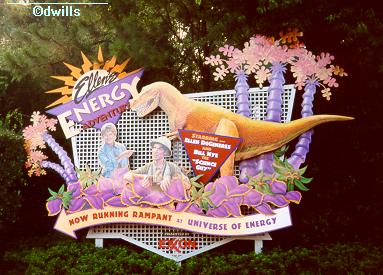 That's our look at one of EPCOT's "extinct" attractions — Universe of Energy. Keep following DFB for the latest Disney news!
Join the AllEars.net Newsletter to stay on top of ALL the breaking Disney News! You'll also get access to AllEars tips, reviews, trivia, and MORE! Click here to Subscribe!

Do you wish Universe of Energy was still a part of EPCOT to this day, or had the attraction's time come? Let us know in the comments below.