Of the 12 Disney theme parks around the world, there's perhaps none with a more devoted fanbase than EPCOT. The park — which opened as EPCOT Center in 1982 — has long been a favorite of die hard Disney fanatics thanks to its optimistic view of the future and bevy of groundbreaking attractions, many of which have become classics of the Disney Imagineering canon.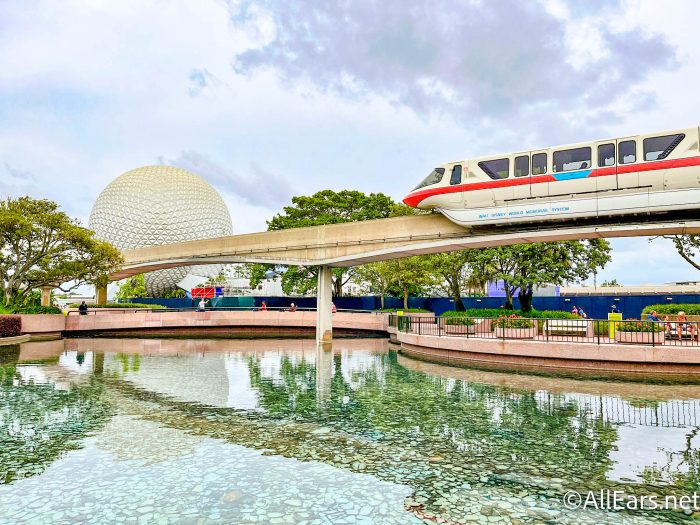 While some, like Spaceship Earth and Living with the Land remain, others have gone defunct. Today we'll be looking at one of EPCOT's legendary lost attractions: World of Motion.
Inventing the Wheel
Like many legendary Disney attractions, the origins of World of Motion can be indirectly traced back to the 1964 New York World's Fair. One of Disney's four attractions at the fair was the Magic Skyway, a dark ride tour through history which was presented by the Ford Motor Company. You see, rival auto company General Motors took note of Ford's successful sponsorship, and became one of the first companies to sign on as a sponsor of EPCOT Center when the Disney transitioned the concept away from a functioning city to a permanent World's Fair/theme park in the late 1970s.
With General Motors onboard, it was somewhat obvious that the attraction would be based on transportation, with a heavy emphasis on automobiles. Initially, Imagineers envisioned a ride based on GM's Michigan-based vehicle testing ground — spoiler for later: that idea didn't die — before shifting focus to an expansive dark ride that focused on the evolution of transportation. Work on the attraction began quickly, with Imagineers teaming with legendary Disney animator Ward Kimball AKA the man who introduced and nurtured Walt Disney's love of model trains three decades earlier. World of Motion would be Kimball's only work with Imagineering over his long career, and he left a large mark on the attraction through his keen eye for sight gags and humor.
World on the Move
When EPCOT Center opened in 1982, World of Motion was an opening day attraction and quickly became a guest favorite. Kimball and the other Imagineers on the project had constructed a large, sprawling dark ride. The journey for guests began once they boarded their omnimover ride vehicle, and they ascended up a ramp outside the massive, tire-shaped show-building.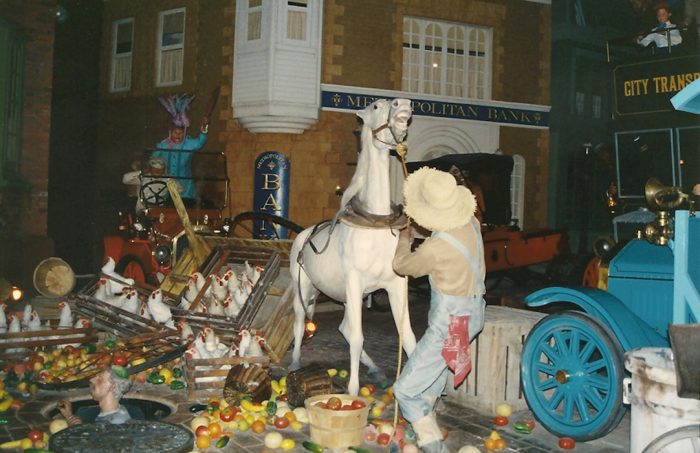 Once guests entered, they began a journey through that took them from "the invention of the wheel right up to the present day and beyond." The attraction, which featured over 185 animatronics, took guests through somewhat humorous vignettes that displayed everything from the birth of water transportation, the "invention of the wheel" in Babylon and it's spread to different lands, the Trojan Horse, Da Vinci's flying machines, the birth of steam engines, and the "world's first traffic jam" — arguably the ride's most famous scene — which included animatronics of an upset horse, a spilling ice truck, and chickens, and 20th century automobiles and airplanes.
The grand finale of World of Motion found guests entering "speed tunnels" – similar to those at the Magic Kingdom's If You Had Wings attraction – which featured projected images of transportation. Exiting the tunnels, guests circled CenterCore, the "city of the future" which bores some similarities to the original concept of EPCOT.
After disembarking from their ride vehicles, guests would exit the attraction through the TransCenter post show area. This zone consisted of numerous exhibits included prototype GM vehicles, other transportation technologies, and the animated show The Water Engine, which focused on "nine animated characters associated with various and alternate fuel-systems in a debate over which motor design should be used to power cars."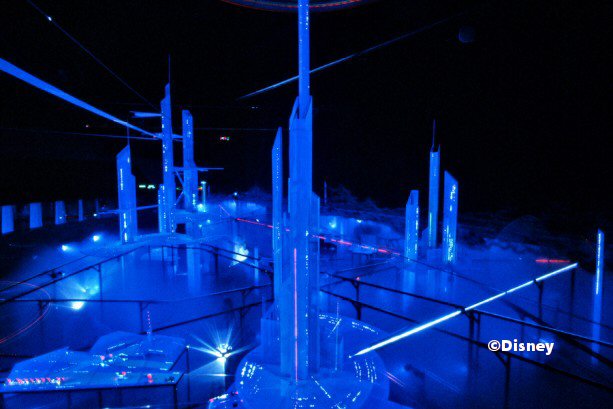 "It's Fun to Be Free"
In addition to it's iconic gags and traffic jam scene, the most famous, lasting element of World of Motion is the ride's theme song: "It's Fun to Be Free". The track — written by Buddy Baker and X Atencio — the team behind several classic Disney songs, including "(Yo Ho Yo Ho) A Pirate's Life for Me" – became one of EPCOT's best known original songs thanks to its ear worm quality and the sheer number of thematically appropriate versions recorded for various sections of the attraction. In fact, "It's Fun to Be Free" remained a part of of the EPCOT entrance loop until 2001, 5 years after the attraction closed. Speaking of, we hear you asking why did this memorable masterwork close in the first place? The simple answer, like many questions about EPCOT's early attractions, comes down to sponsorship.
End of the Road
As previously mentioned, General Motors signed on to sponsor World of Motion in 1978, with a new 10-year deal going into effect upon the attraction's 1982 opening. When that deal expired a decade later, GM — like many early EPCOT sponsors — chose not to renew on a long-term basis. However, unlike some of the others, GM did continue sponsoring World of Motion on a year to year basis, all the while attempting to convince Disney to refurb the attraction from a slow-moving dark ride focused on the greater history of transportation to a thrill ride that focused almost exclusively on GM's vehicles.
Acquiescing to GM's wishes, Disney Imagineers revisited the "proving grounds track" concept from the 1970s, eventually deciding to replace World of Motion with Test Track. The former closed in 1996, and construction on the latter began that year, though it would be plagued with problems – another story for another time – and not open until 1999. That attraction has been sponsored by GM to this day.
While World of Motion has been closed for well over 25 years at this point, the attraction is still remembered by many as one of the best parts of opening day EPCOT Center thanks to it's large amount of animatronics, Ward Kimball-infused sense of humor, and catchy theme tune.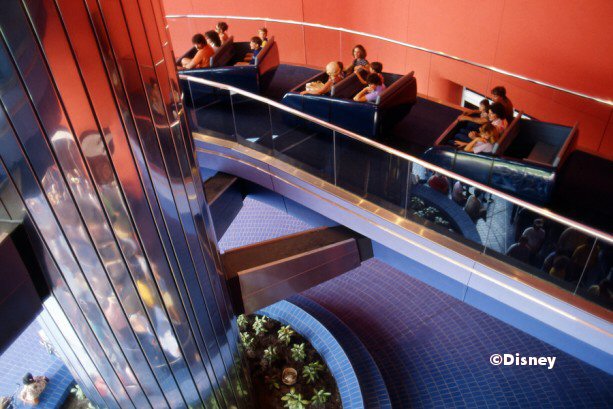 Do you have any nostalgic memories of World of Motion? Let us know in the comments below.