For many Disney World guests, deciding where to eat — let alone getting reservations — can be one of the tougher decisions they'll make on their vacation. Choosing where to dine at Magic Kingdom in particular can be tricky, as the park features numerous dining options, to the point over perhaps being overwhelming to some.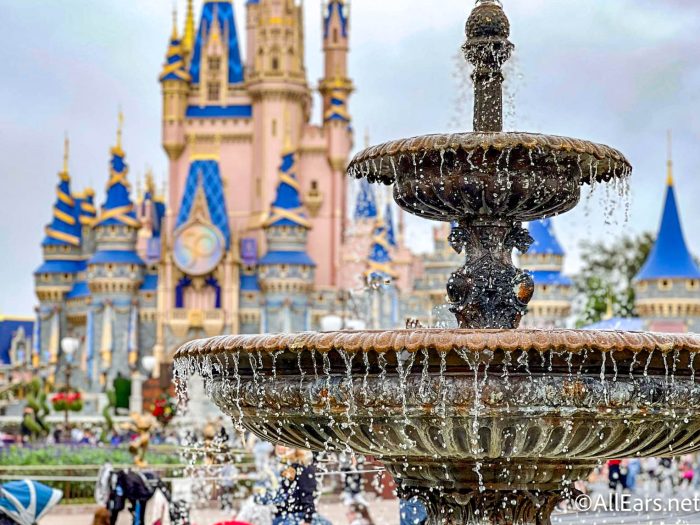 Today we'll be comparing and contrasting two of the park's best known restaurants — Main Street's Crystal Palace and Liberty Square's Liberty Tree Tavern — to help you decide which location works best for you.
Crystal Palace
Located at the top of Main Street U.S.A., the Crystal Palace is described by Disney as being "inspired by Victorian greenhouses of the late 1800s. The restaurant's menu is served buffet style, offering "American favorites prepared before you in the onstage kitchen."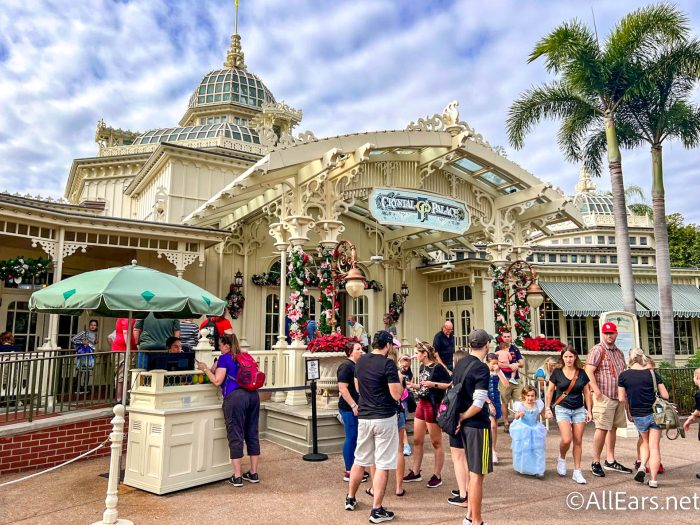 Crystal Palace offers two distinct buffet menus each day:
Crystal Palace Breakfast
Breakfast, which currently costs $45 per adult (plus tax and gratuity) and $29 per child (plus tax and gratuity), features fresh fruit, yogurt, crispy bacon, freshly prepared eggs prepared as requested, pancakes, waffles, cereal, biscuits and gravy, and assorted pastries.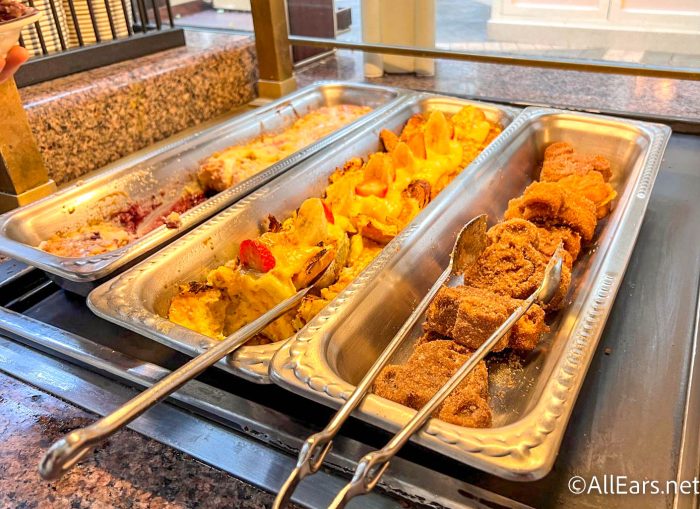 Crystal Palace Lunch and Dinner
Lunch and Dinner, which currently cost $59 per adult (plus tax and gratuity) and $38 per child (plus tax and gratuity), both offer buffets consisting of seasonal salads, seasonal ravioli, country fried chicken with black pepper gravy, mashed potatoes, fresh seasonal vegetables, carved prime rib, shrimp creole, and assorted desserts.
Both the Breakfast and Lunch/Dinner menus feature non-alcoholic beverage options including Joffrey's Coffee, Twinings Tea, 1%, lowfat, or chocolate milk, freshly brewed iced tea, and assorted Coca-Cola beverages included in the price.
The restaurant also offers alcoholic beverages for an additional charge, including beer, wine, and cocktails such as Mimosas, Sangria, and more.
Crystal Palace Character Dining
Crystal Palace is also notable for offering one of the Magic kingdom's most popular character dining experiences — featuring characters from the Winnie the Pooh franchise. These include Pooh Bear himself, as well as Piglet, Eeyore, and Tigger.
Crystal Palace Reviews
Yelp reviewer Lucy P wrote of Crystal Palace, "When in Disney and want to sit down for dinner this is the most bang for your buck. This is a home  style food buffet. The buffet isn't large and definitely not international. The food was good and you can eat your heart out."
A slightly more negative review came from Yelp reviewer Susan V,  who said "The food was okay.  it is certainly not worth the price, $38.00 for a two year old who ate nothing.  The service was okay.  As far as the characters go we only got to see two of them.  It just isn't worth the money."
Liberty Tree Tavern
Slightly deeper into the Magic Kingdom than Crystal Palace, the Liberty Tree Tavern is located in the park's Walt Disney World-exclusive Liberty Square land. Disney describes the restaurant as a trip back "to the days of Colonial Williamsburg." The restaurant is divided into six rooms, each themed to a famous figure of the revolutionary period. The rooms are named after Benjamin Franklin, Thomas Jefferson, John Paul Jones, Paul Revere, Betsy Ross, and George Washington.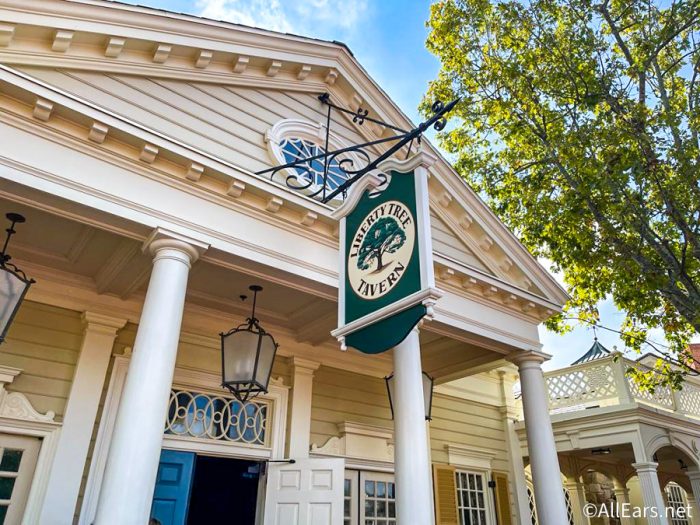 The restaurant offers a family-style dining experience. Disney describes the meal as the "all-you-care-to-enjoy Patriot's Platter, " piled high with roasted turkey, pot roast, and oven-roasted pork, and accompanied by traditional sides."
Liberty Tree Tavern Menu
Liberty Tree Tavern doesn't offer breakfast, however, the establishment offers matching lunch and dinner menus priced at $39 per adult (plus tax and gratuity) and $21 per child (plus tax and gratuity).
There are two meal options:
The All-You-Care-to-Enjoy Bill of Fare, which features the Declaration Salad (Tossed Mixed Greens with House-made Dressing), the Patriot's Platter (Roasted Turkey, Pot Roast, and Oven-roasted Pork with Mashed Potatoes, Seasonal Vegetables, Herb Stuffing, and House-made Macaroni & Cheese), and the Oooey Gooey Toffee Cake dessert (Vanilla Toffee Cake, Chocolate Sauce, and Vanilla Ice Cream).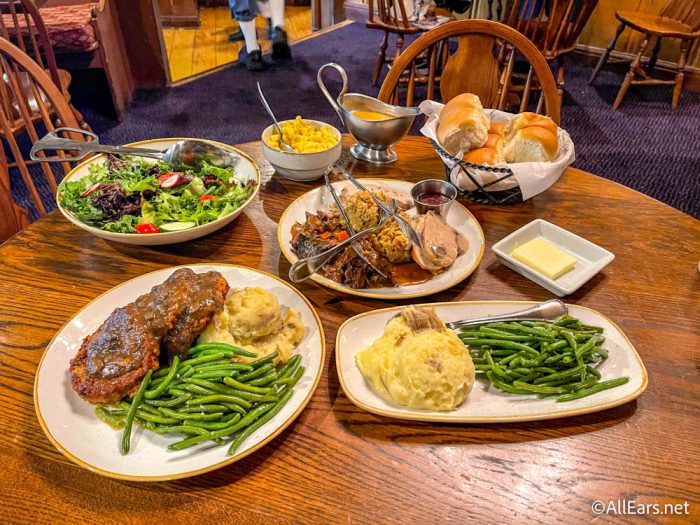 Or the All-You-Care-to-Enjoy Plant-based Tavern Keeper's Feast, which features the Declaration Salad (Tossed Mixed Greens with House-made Dressing), Impossible Meatloaf (Plant-based Meatloaf with Mashed Potatoes, Mushroom Gravy, and Seasonal Vegetables) and Johnny Appleseed's Warm Apple Cake dessert.
Liberty Tree Tavern offers a robust drink menu. Non-alcoholic beverages include some frozen drinks like the Tavern Punch (Frozen DOLE Whip and Lemon and Sprite) and I Cannot Tell a Lie (Frozen Vanilla and DOLE Whip Cherry Shake garnished with a Brown Sugar-Graham Cracker Rim), Assorted Coca-Cola Fountain Sodas, 1% Lowfat or Chocolate Milk, Freshly Brewed Iced Tea, Joffrey's Coffee, Twinings Hot Tea, and Hot Cocoa.
The restaurant also offers alcoholic beverages, including wine by the glass or bottle, beers, hard ciders, and cocktails.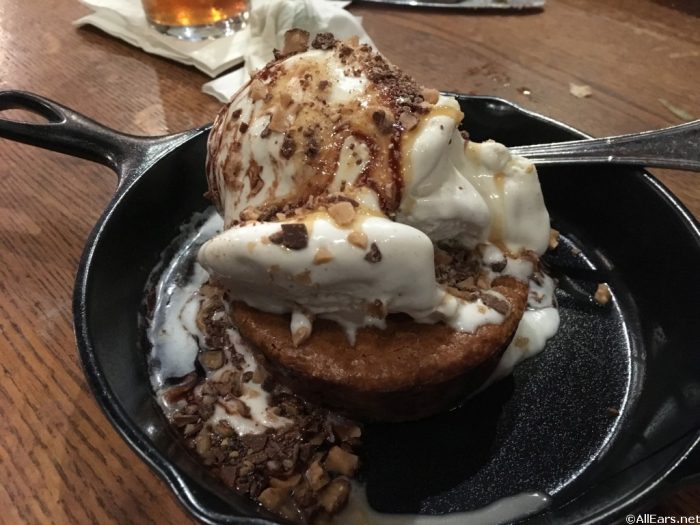 Oooey Gooey Toffee CakeThe Liberty Tree Tavern doesn't offer character dining at this time. However, there is an interesting note that the Liberty Tree Tavern menu is also currently available at The Diamond Horseshoe.
Libery Tree Tavern Reviews
Yelp reviewer Shawn F. wrote glowingly of the location, saying "One of my favorite Magic Kingdom restaurants & one I especially enjoy visiting during the fall, my favorite time of the year. The all you can eat style offering features colonial American staples, with slight modernization, & the decor & dress of the staff fits well with the early American theme of Liberty Square. I'm getting hungry just thinking about the place. Visit & you'll likely feel the same."
On the other opposite end of the spectrum, reviewer Kathy C. Had this to say: "Was really wanting to enjoy this meal but it was very disappointing. The only item that was good was the salad. The greens were fresh and the dressing light and refreshing. The dinner rolls were cold. The family style entree and all the meat (pork, pot roast, turkey and stuffing on one plate, where you had to dig around to find your food. It was bland and barely Luke warm. Mashed potatoes and green beans were together on another plate, both were barely warm. Mac and cheese wasn't even worth eating. No flavor. The desert was not a cake but maybe a brownie or cookie with ice cream on top. It was ok. I wanted to enjoy this meal but at $39 a person I was really disappointed. Would not recommend."
The Verdict
So, now that we've listed out both menus, both themes, and even some reviews, which Magic Kingdom restaurant wins out in the battle between Crystal Palace and Liberty Tree Tavern? Well, the answer isn't quite cut-and-dried.
For those with kids, we'd wager the winner is Crystal Palace. The menu is likely friendlier to the pallets of most children, plus the buffet aspect allows parents to more carefully tailor portion sizes to their family's specific tastes and eating habits. In addition, the fact that Crystal palace offers breakfast in addition to lunch and dinner makes it mare malleable for families looking to schedule their day. And, of course, there are few if any better experiences for the majority of young guests at Walt Disney World than character dining.
When it comes to adult diners though, the plusses fall squarely in the column of Liberty Tree Tavern. The meal choices are more appealing to a typical adult pallet, and the family style dining and more intricate theming is likely more comfortable for older guests.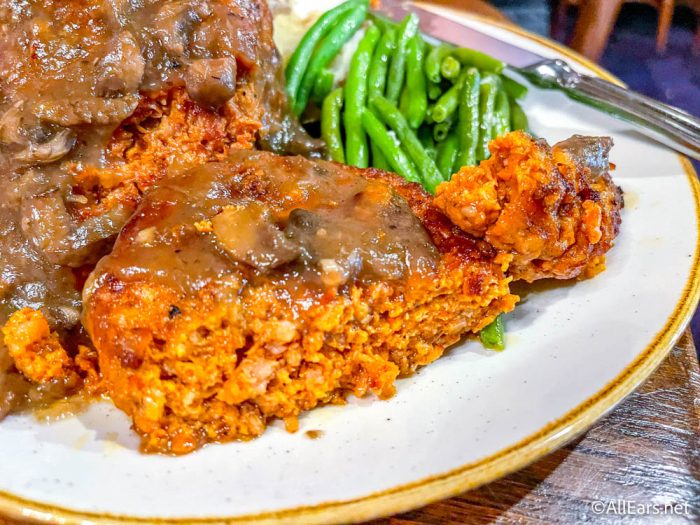 Keep following All Ears for the latest Disney World news!
Join the AllEars.net Newsletter to stay on top of ALL the breaking Disney News! You'll also get access to AllEars tips, reviews, trivia, and MORE! Click here to Subscribe!

Which Magic Kingdom restaurant is your go-to between Crystal Palace and Liberty Tree Tavern? Let us know in the comments below.