Okay, we all have our preferred table service restaurants in Disney World.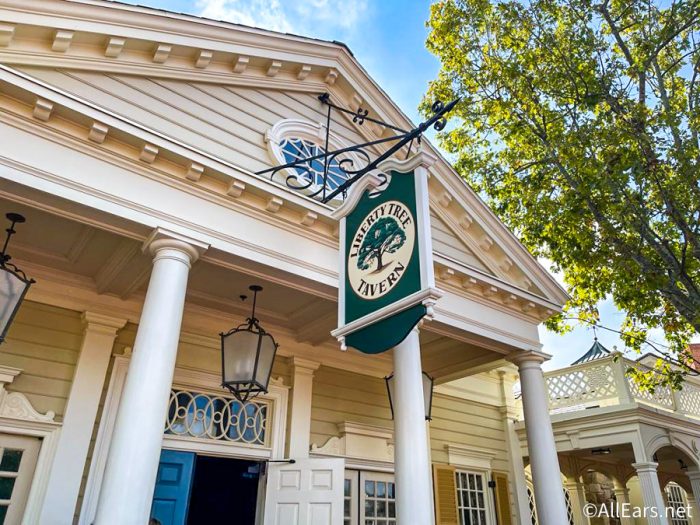 Let's look at Magic Kingdom, though. If you're looking for a certain kind of family-style meal full of comfort foods you generally only get during the holidays, you're going to want to eat at Liberty Tree Tavern or Diamond Horseshoe. But which restaurant is better? Let's find out!
Liberty Tree Tavern
Overview
Liberty Tree Tavern sits in the heart of Magic Kingdom's Liberty Square, which is themed to colonial America, right down to the brown river that runs through the center of the street, reportedly representing the waste that colonists would just throw there.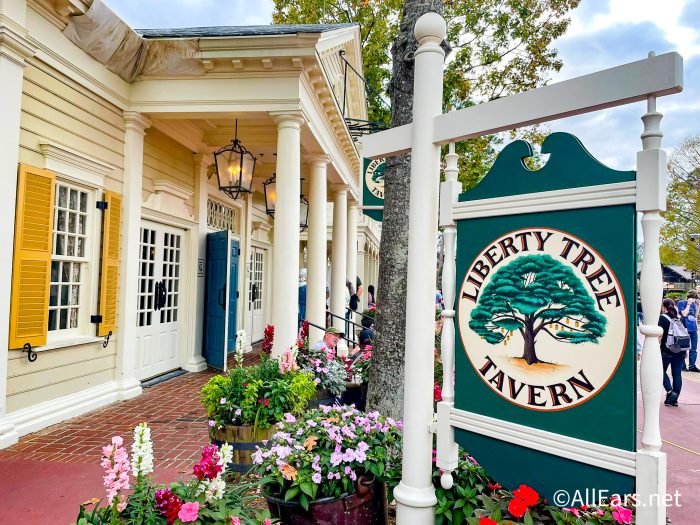 In keeping with that theme, Liberty Tree Tavern is a colonial-style home where you can pay tribute to America's founding fathers, albeit a restaurant with indoor plumbing.
Price
Liberty Tree Tavern serves a family-style all-you-care-to-enjoy meal for one price: $39 for adults and $21 for children.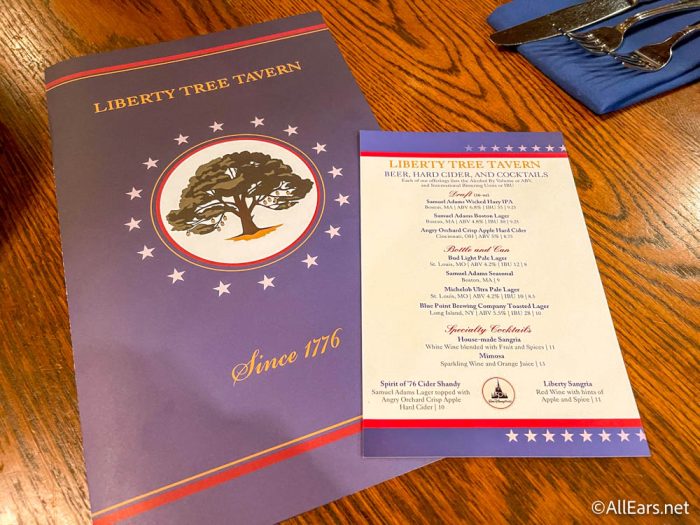 You can also purchase specialty non-alcoholic and alcoholic drinks for an additional price.
Style
Inside, the restaurant is divided up into different rooms, with each decorated to reflect famous men and women from the U.S. Revolution, including George Washington, Benjamin Franklin, Thomas Jefferson, and Betsy Ross. You'll be surrounded by authentic-looking wood paneling and decor that seems to have come straight out of the 18th century.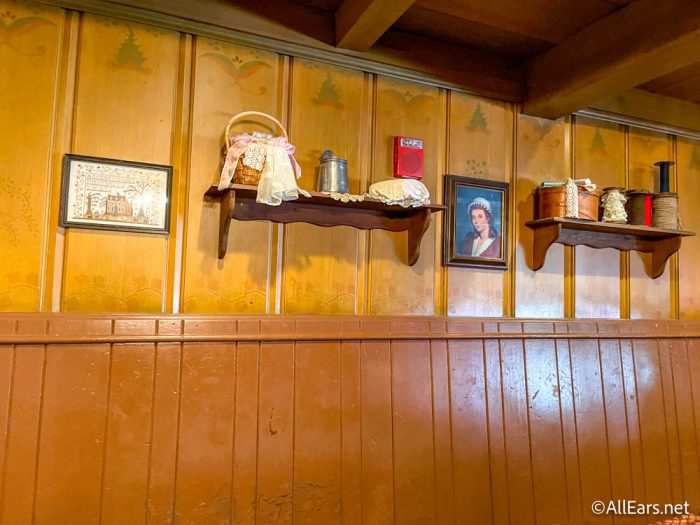 It feels very homey inside Liberty Tree Tavern, which is all part of its appeal.
Food
It's the food, though, that has Disney World guests running to get reservations at Liberty Tree Tavern. Here, it's Thanksgiving every day that starts with a Declaration Salad (Tossed Mixed Greens with House-made Dressing). You'll also get a basket of dinner rolls.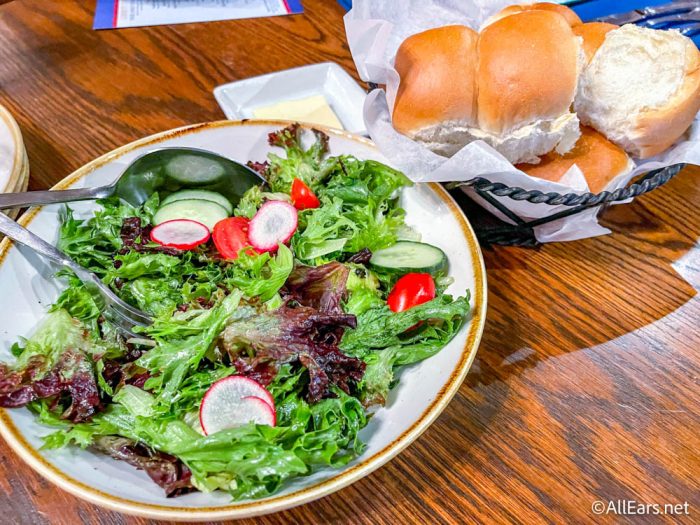 That's followed by the Patriot's Platter, which is a huge heaping of Roasted Turkey, Pennsylvania Pot Roast, and Oven-roasted Pork with Mashed Potatoes, Seasonal Vegetables, Herb Stuffing, and House-made Macaroni & Cheese with House-made Gravy on the side.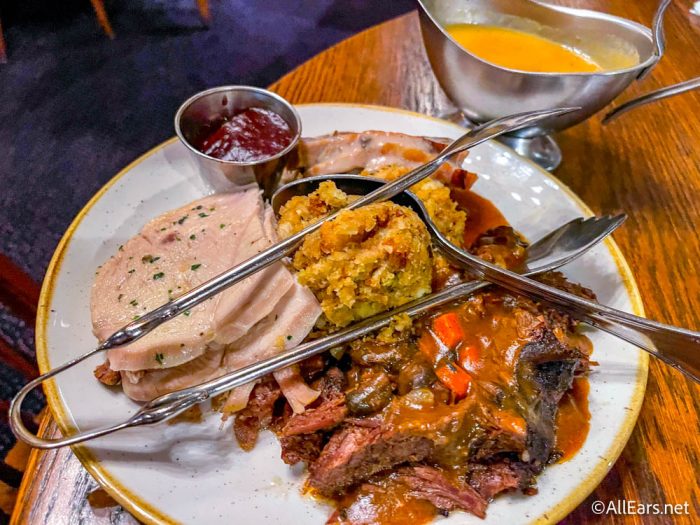 The dessert here is legendary, and you'll want to make sure you save room for it. It's Oooey Gooey Toffee Cake, which is Vanilla Toffee Cake, Chocolate Sauce, and Vanilla Ice Cream. This dessert is famous for a reason.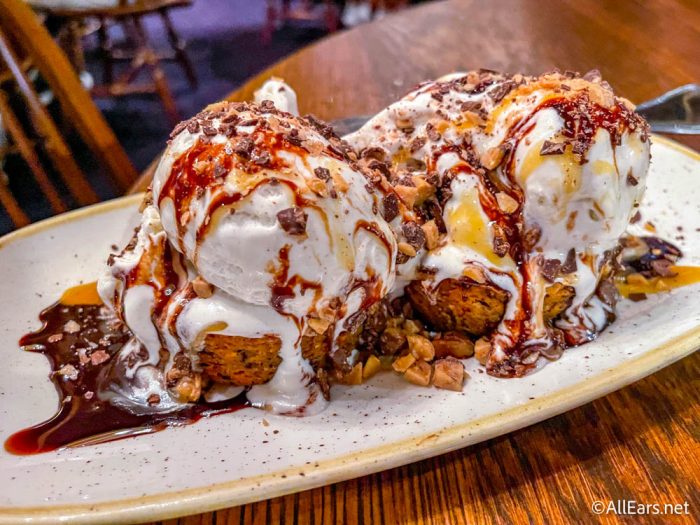 If you don't leave Liberty Tree Tavern feeling as stuffed as a Thanksgiving turkey, you did it wrong.
Reviews and Ratings
Liberty Tree Tavern has scored an 8.08 out of 10 with AllEars readers.
Diamond Horseshoe
Overview
By contrast, Diamond Horseshoe is located in Frontierland in Magic Kingdom and serves up food in a setting that's all about the Wild West. In fact, the restaurant is decorated like an old saloon inside and out.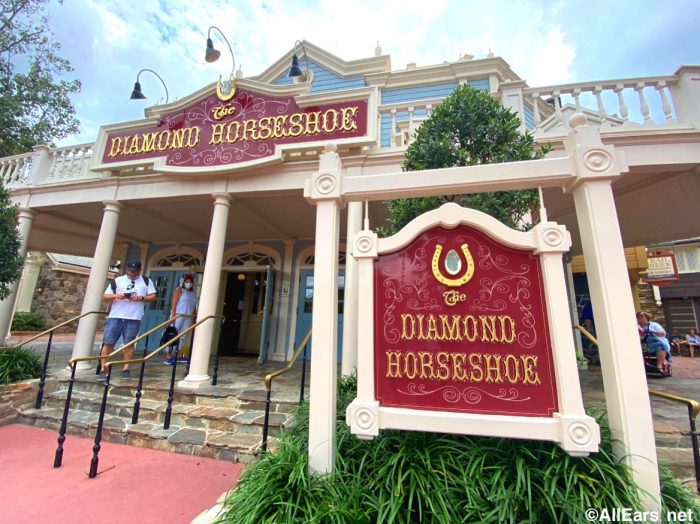 One thing The Diamond Horseshoe has OVER Liberty Tree Tavern is that it's got a player piano on the stage that plays music during your meal.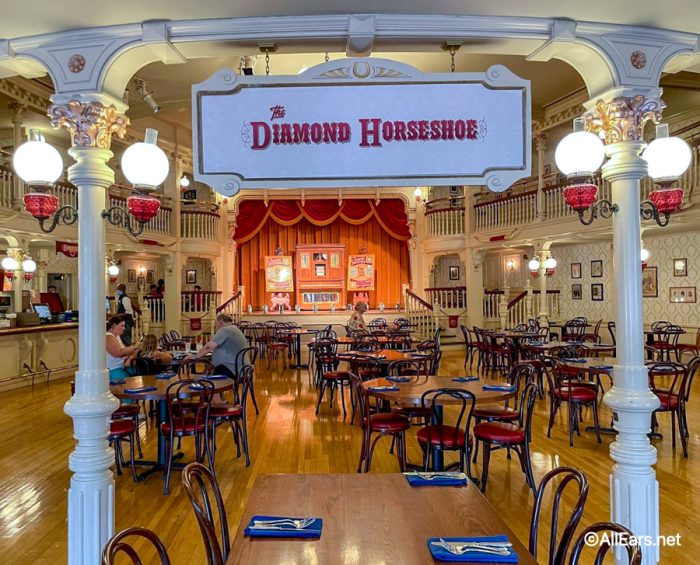 By the way, the Horseshoe in its name isn't accidental — the music hall-themed space is in the shape of a horseshoe.
Price
The Diamond Horseshoe also serves up a family-style all-you-care-to-enjoy feast for the exact same price: $39 per adult and $21 per child.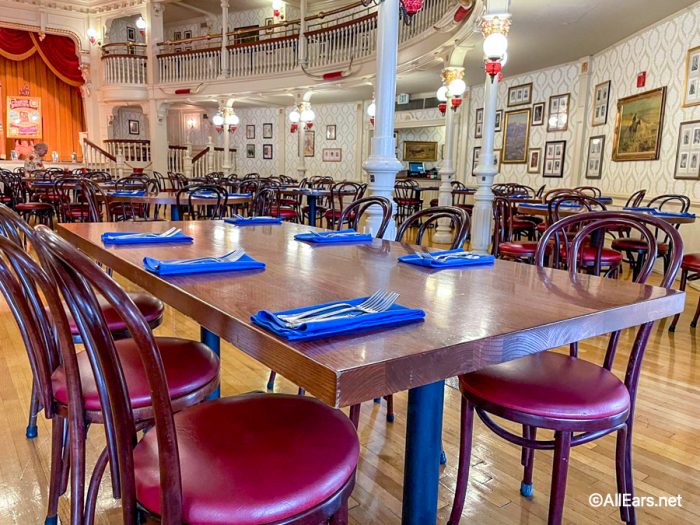 Like Liberty Tree Tavern, you can also purchase specialty drinks and alcoholic beverages for an additional price.
Style
The style here is all about the Wild West, so you'll see that in the decor, as well as everything else. The horseshoe-shaped space gives almost everyone a good view of the stage to watch the player piano do its thing. During the holidays, it even gets a little extra festive with holiday decor. Also, check out that gorgeous Wild West-inspired chandelier.
You'll fill like you're in a more theatrical space here, and it's all a lot more open than seating at Liberty Tree Tavern, which feels more intimate.
Food
Well, here's the thing — the food at The Diamond Horseshoe is EXACTLY the same as the food at Liberty Tree Tavern. It's the same menu! This wasn't always the case, but if it's that Thanksgiving feast you're after, this is a great option when you can't get an advance dining reservation at Liberty Tree Tavern.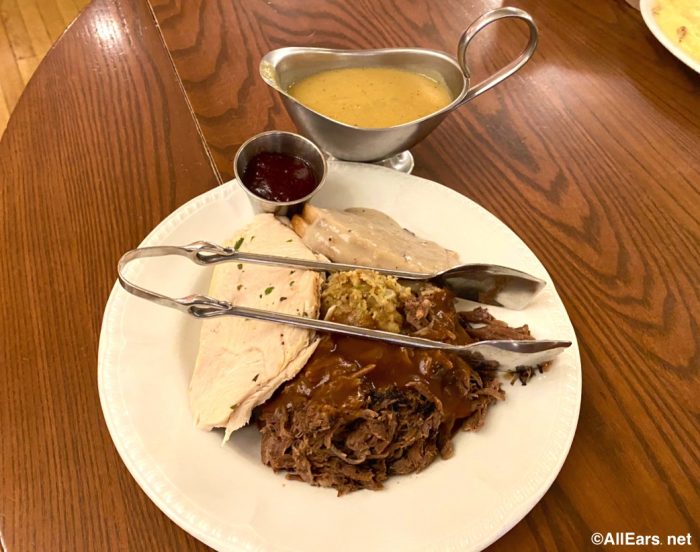 You'll even end your meal the same way — with that amazing Oooey Gooey Toffee Cake.
Review/Rating
When it comes to reviews and ratings, AllEars readers rate The Diamond Horseshoe at 6.54 out of 10. Note that some reviews and ratings are from a time before the menu changed at The Diamond Horseshoe, so only the most recent reviews (after 2020) are reflective of the new menu.
So which restaurant reigns supreme? Well, ultimately, we'll probably have to give it to the original Liberty Tree Tavern, where the Thanksgiving feast menu originated. However, it's often hard to get dining reservations for Liberty Tree Tavern, and if it's the feast itself you're interested in, you'll get the exact same food at The Diamond Horseshoe, so, ultimately, they're both winners in their own way.
Of course, if you prefer the Wild West vibe of Frontierland, The Diamond Horseshoe could be just what you're looking for. Whatever the case, we're not mad that there are now TWO places where you can get that Ooey Gooey Toffee Cake dessert!
Join the AllEars.net Newsletter to stay on top of ALL the breaking Disney News! You'll also get access to AllEars tips, reviews, trivia, and MORE! Click here to Subscribe!

Which restaurant do you prefer? Let us know in the comments!