Choosing your favorite Walt Disney World Resort hotel is a difficult task that often includes considering factors like dining options, the pool, the size of the rooms, and how far you are from certain parks. But have you tried ranking your favorites based on that iconic entry: the Resort lobby?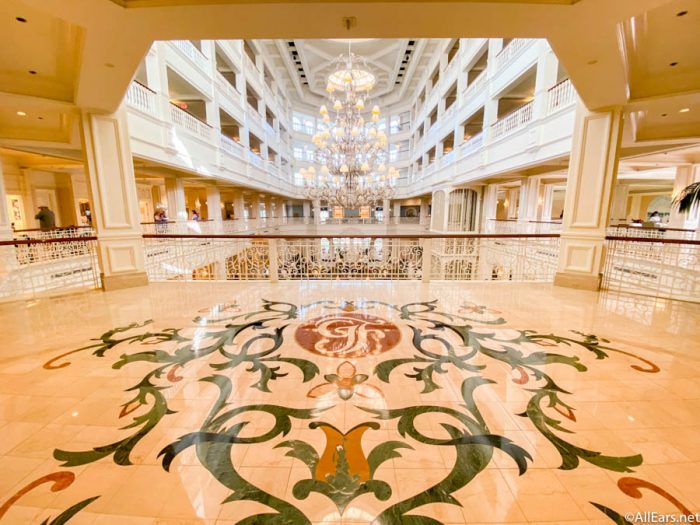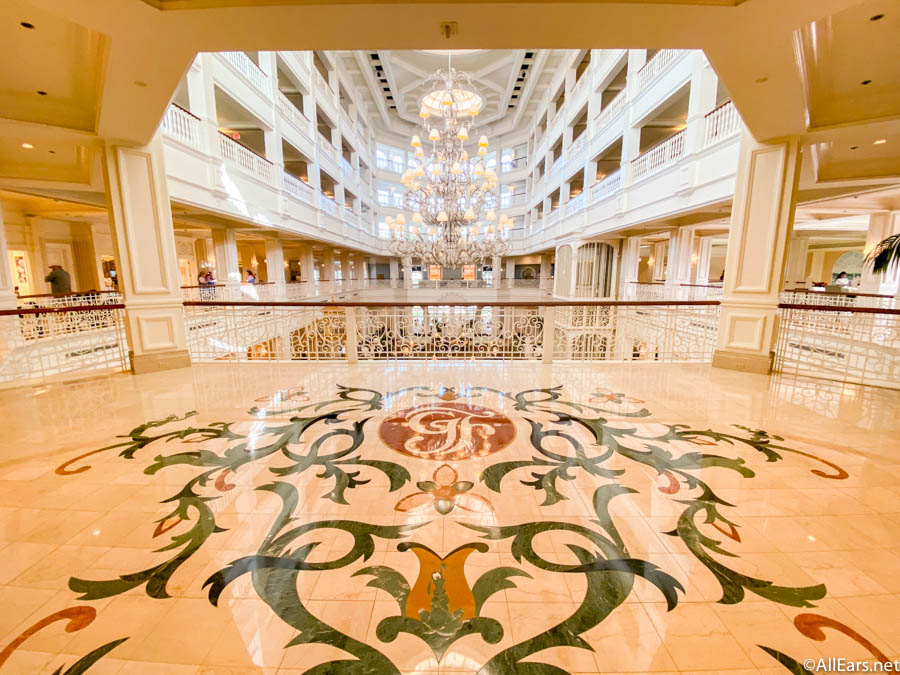 Well, we did, and it was seriously fun. For the purposes of this post, we did not include the Swan and Dolphin or any non-Disney owned or operated hotels. Still, it was a tough list to make!
Cast Members are saying "Welcome home!", so let's take a look at the best Disney World Resorts based on their lobbies.
18. Disney's All Star Resorts (TIE)
The All Star Resorts have a LOT going for them: super fun pools, incredible value for staying on-site, and family suites (at All Stars Music) that are perfect for families. Their lobbies, however, just aren't one of those things going for them. All Star Sports, Movies, and Music all have functional lobbies that sort of look like different variations of the same thing. If the lobbies adopted the same larger-than-life theming seen throughout the resorts, however, they could probably go up a few slots on our list!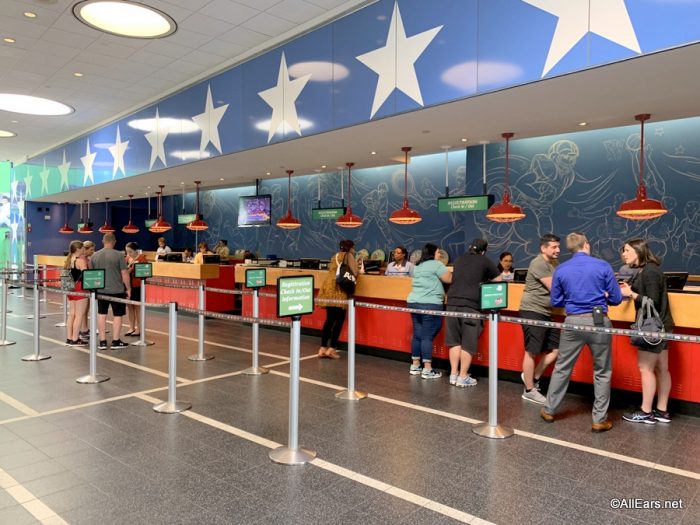 Okay, hear us out. The lobby at Disney's Contemporary Resort is just…a lobby! Not to offend anyone here, but we get plain old hotel chain vibes when we look at photos of the Contemporary's lobby. Take the elevator up, however, and you're smack in the middle of some of the most iconic Disney World Resort hotel spots! The Contemporary is home to some of our favorite restaurants, but if you didn't tell us we were in Disney World, the lobby could fool us into thinking we were anywhere else in the world. It just doesn't have that unique magical feel the other lobbies on the list give us.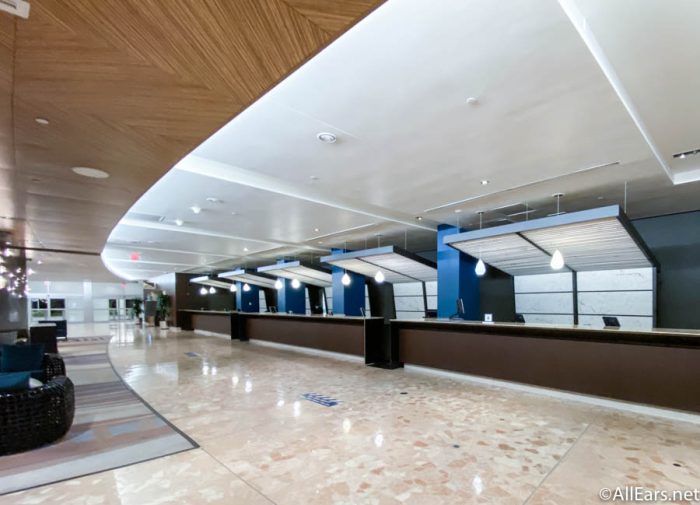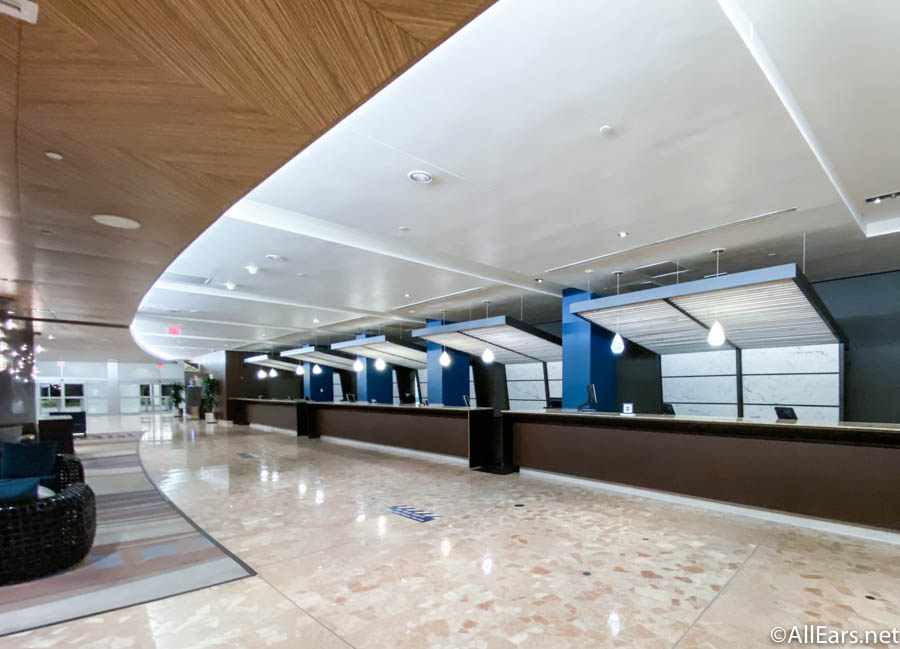 The one unique feature in Pop Century's lobby are the memory box displays. The many shadowboxes found throughout the lobby are filled with nostalgia, including toys and memorabilia from the 50's, 60's, 70's, 80's, and 90's. While the rest of the lobby is admittedly plain, at least there's something interesting to look at while the rest of your party stands in line at check in!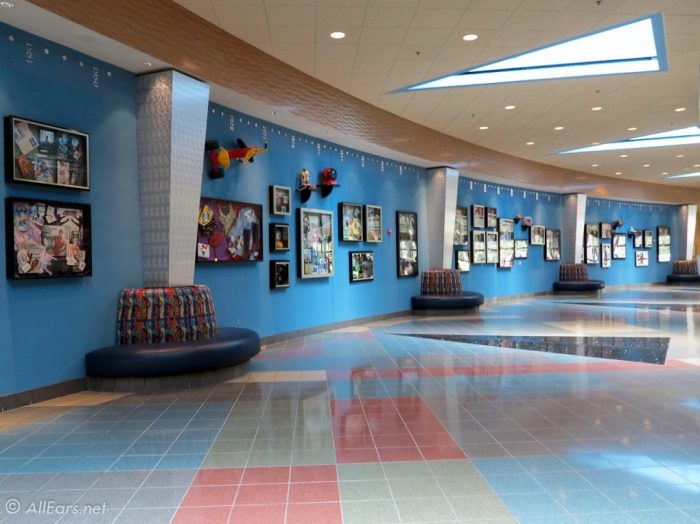 The vast majority of Disney World's hotel lobbies are lovely and serve their purpose. This is evident in the fact that we're only at number fifteen and we're already making really difficult decisions on where to rank these hotels! This is the point in our list where we start to see a noticeable difference in lobbies. Saratoga Springs has a nice enough lobby, but it's just so small.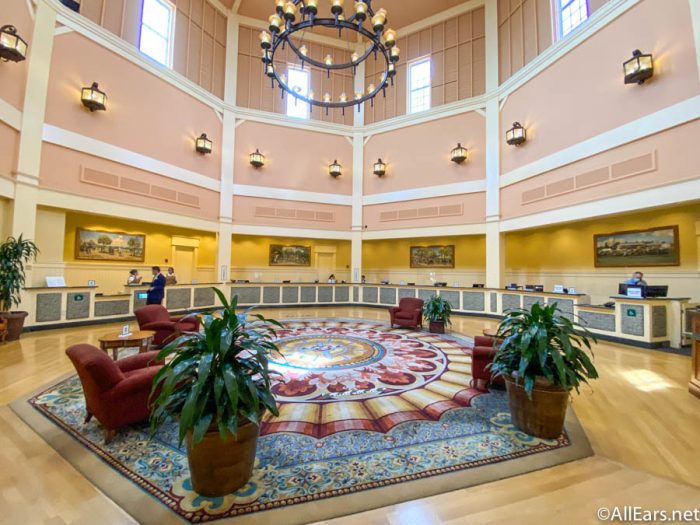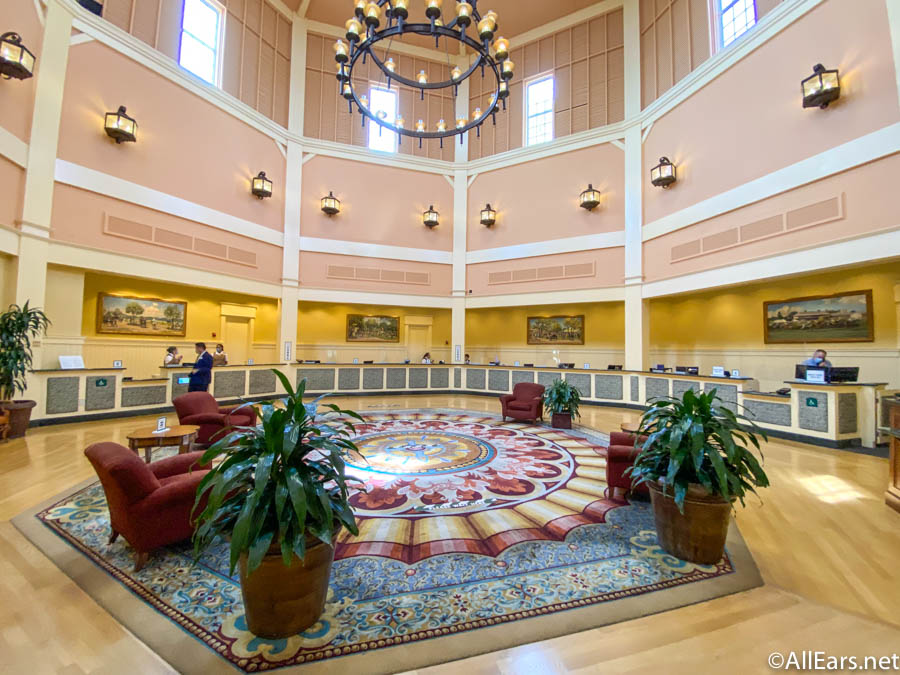 The lobby at Disney's Port Orleans Resort Riverside is almost like the expanded version of Saratoga Springs. It's not that there is anything particularly memorable about this lobby, but it gives us more of a feeling of grandeur than the other lobbies on the list so far.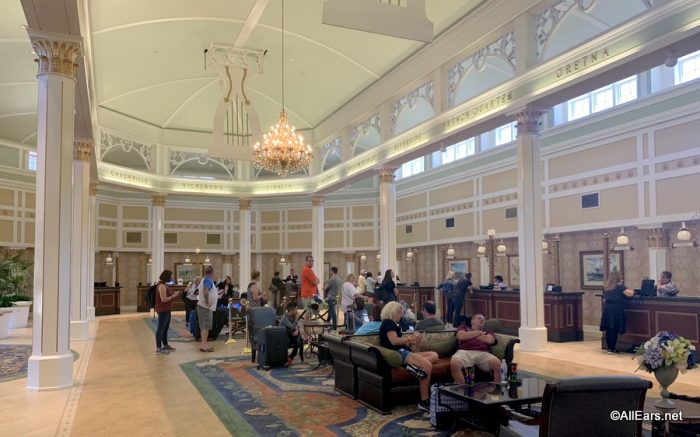 The highest ranking Value Resort lobby on our list is Disney's Art of Animation Resort. This is a super fun lobby with a lot of interesting details, including the Storyboard Chandelier that includes original storyboard drawings from beloved Disney films! This lobby is also where you can find free animation classes! It's not every day you can find things to do in a lobby other than just check in!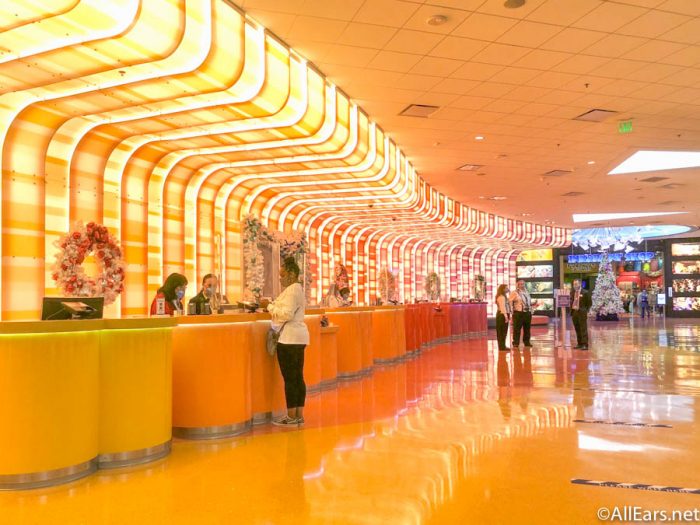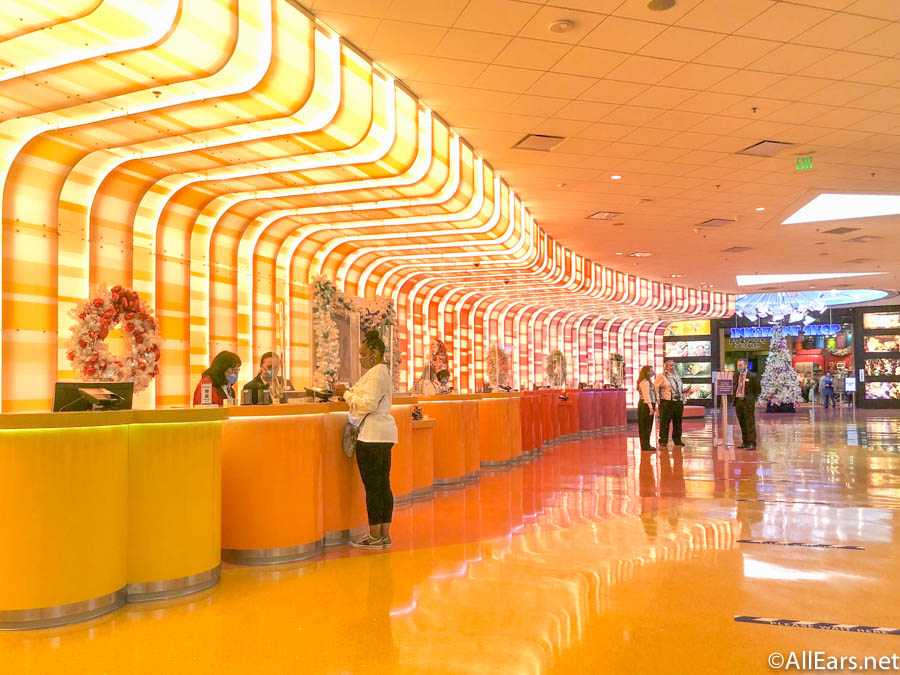 The lobby scene over at Disney's Coronado Springs Resort just got a major update with the recent addition of Gran Destino Tower. The opening of Gran Destino brought with it a new feeling of artistry and uniqueness to Coronado Springs!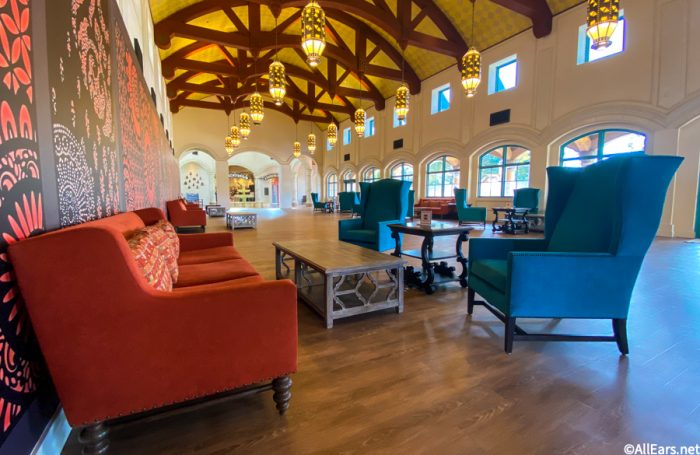 The other new lobby to arrive in 2019 was Disney's Riviera Resort! While this is a beautiful space to visit, it definitely serves more of a functional role for guests to check in and move on to the rest of the resort. You are, however, just steps from Le Petit Cafe.
If you're looking for a lobby that gives a feeling of being "home," look no further than Disney's Old Key West Resort. As the inaugural Disney Vacation Club property, everything from the resort grounds to the rooms to the lobby were designed with "home" in mind. The lobby here isn't the biggest or the most grand, but the cozy vibes from the Hospitality House feel quite, well, hospitable!
We're now into our top ten Disney World resort lobbies! From here on out it's more a matter of personal preference and attention to detail that put certain lobbies above the rest (but really, any of these top ten could be our favorite on any given day). If this were a holiday season content, Beach Club would be much closer to the top! They definitely has one of the best lobbies during the holiday season with its gingerbread carousel (sadly not on display in 2020). The rest of the year the lobby is simply beautiful, spacious, and (of course)  steps away from Cape May Cafe.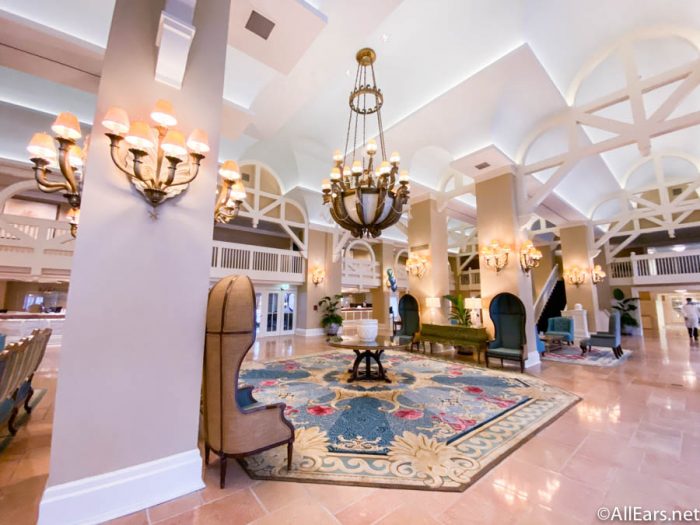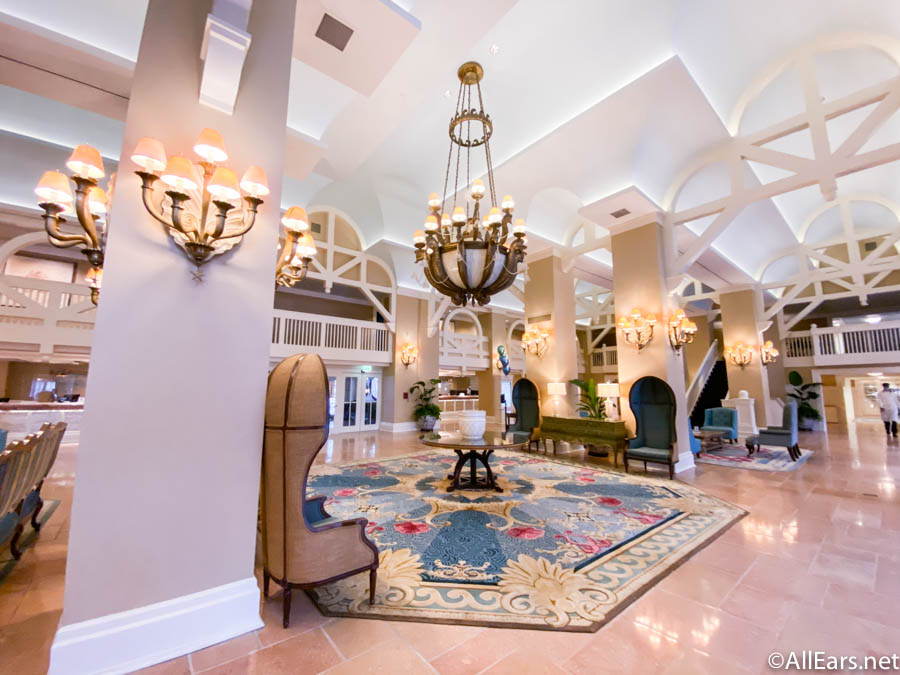 Right next door to Disney's Beach Club Resort is its sister hotel, Disney's Yacht Club Resort. The two lobbies are awfully similar to one another, which again comes down to personal preference. If you're looking for a quieter lobby, Yacht Club is the place to be, as you won't encounter as much foot traffic from any nearby character meals. It recently went through a renovation, making it even more spiffy in person!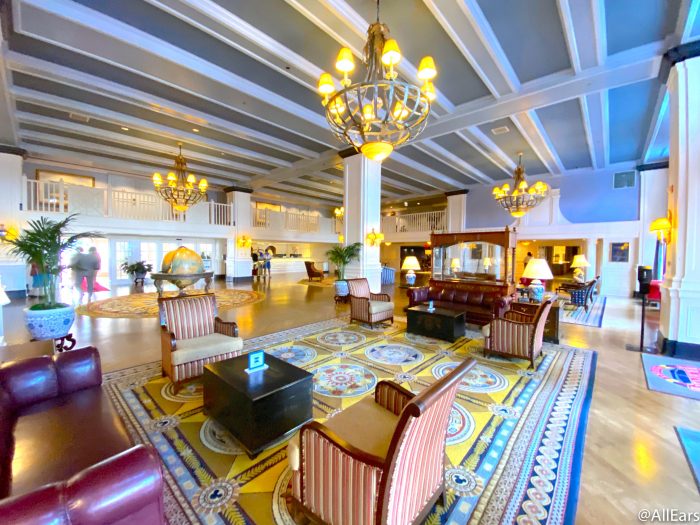 Some of Disney World's Moderate Resorts can play in the big leagues when it comes to lobbies! Disney's Caribbean Beach Resort just went through massive renovation all across the hotel grounds, providing a much needed face lift to the lobby and surrounding grounds. Several of our team members were quick to point out the incredible smell when you step into Caribbean Beach's lobby. And when it comes to rankings, pleasant smells can get you really far!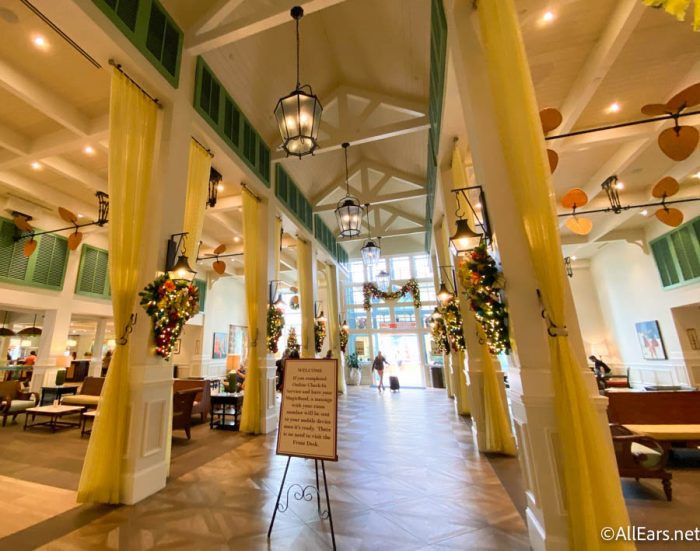 The highest ranking Moderate Resort lobby goes to Disney's Port Orleans Resort French Quarter. This is definitely one of the most unique lobbies on the list with its one-of-a-kind indoor/outdoor vibe. Plus, you can enjoy some fresh Mickey beignets here — what could be better?!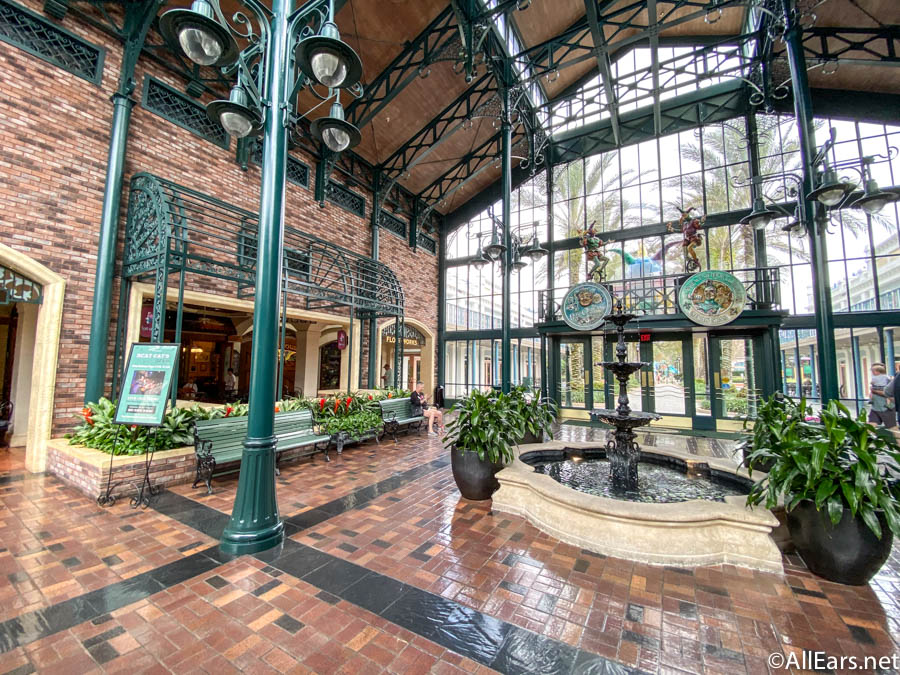 That just leaves our top five resort lobbies left to cover! At number five is Disney's BoardWalk Inn. This lobby is truly special for many reasons. The furnishings are among the most beautiful and elegant out of all the resorts, and there's even an outdoor balcony that offers beautiful views to enjoy a morning cup of coffee.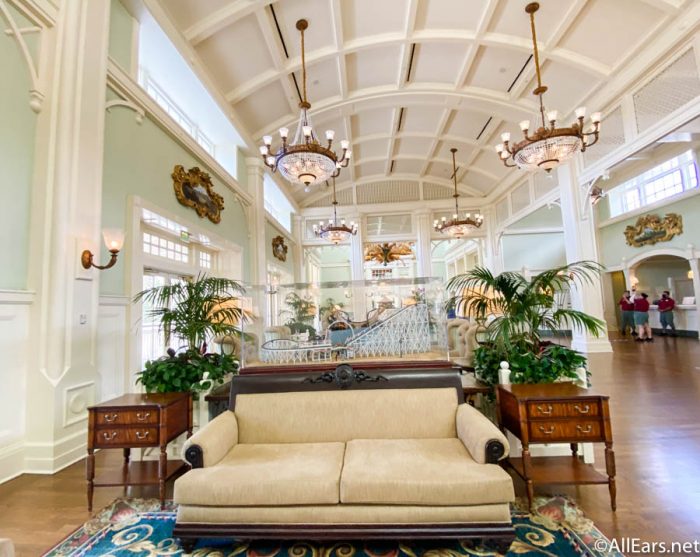 The fan-favorite Grand Floridian lobby comes in at number four! There may not be a more iconic lobby than the Grand Floridian. With so much to see and do, you can spend hours in the lobby area alone while taking in the sights, do a little bit of shopping, and rest your feet in the middle of your Magic Kingdom day. It might just be our favorite lobby during the holiday season, too!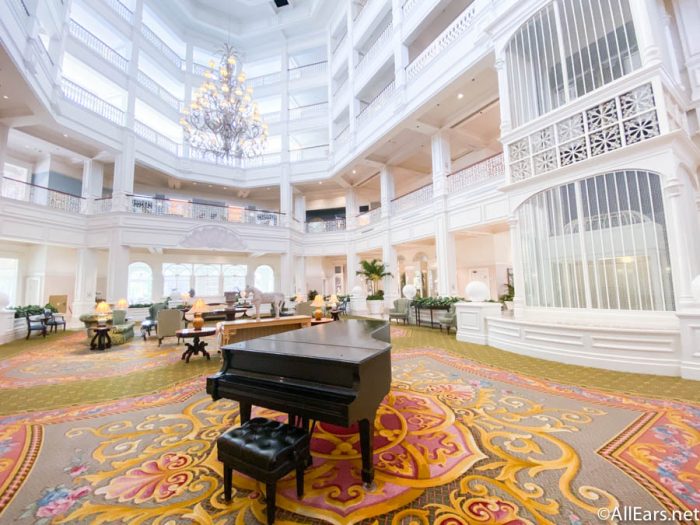 Is there a more recognizable Disney World resort smell than the scent of the Polynesian's lobby? We don't think so! This lobby truly makes you feel like you have finally "arrived" and are officially in vacation mode.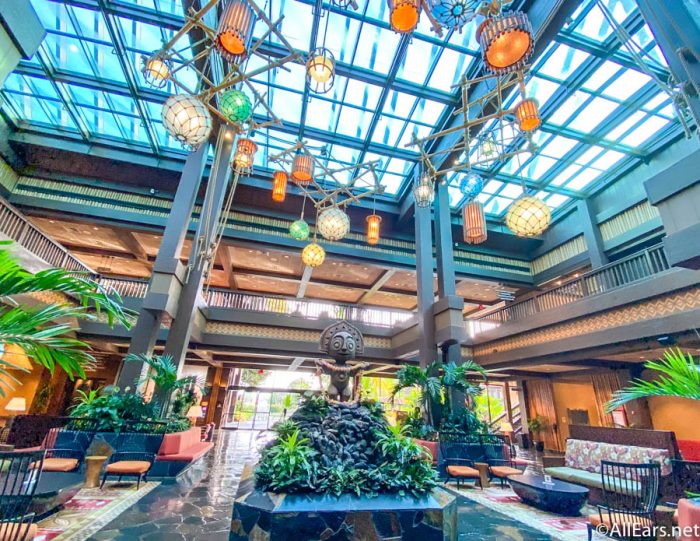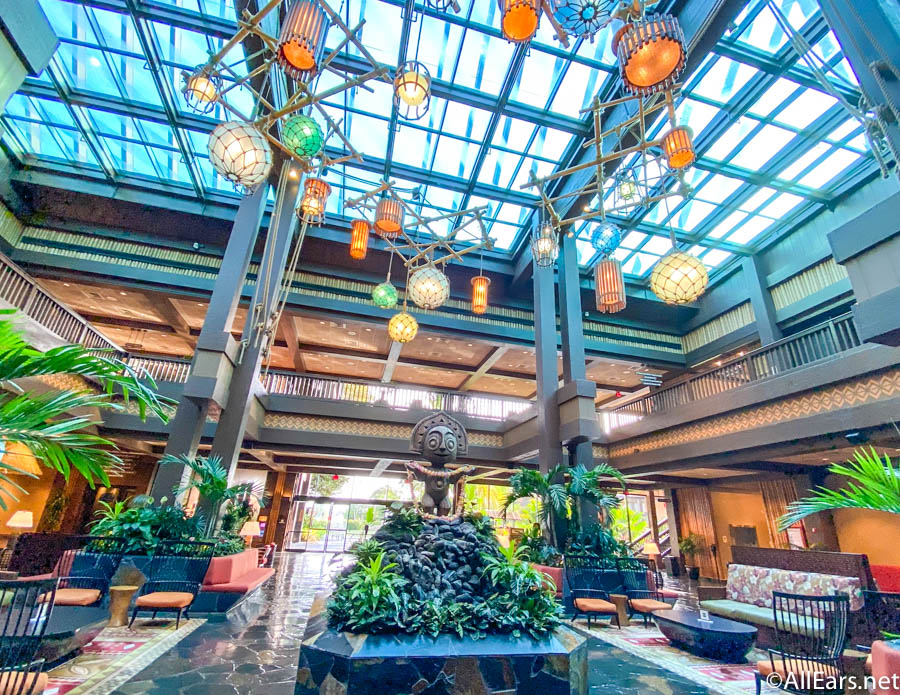 There was no question, when we were picking our choices for favorite Disney World resort hotel lobbies, that there could be any other options in our top two slots. Disney's Wilderness Lodge has an absolutely gorgeous lobby, with sky-high ceilings giving off the ultimate feeling of grandeur. The lobby is filled with intricate details, and the beauty of this lobby extends throughout the rest of the resort!
Finally, we have arrived to our number one pick for top Disney World resort hotel lobbies: Disney's Animal Kingdom Lodge. Specifically, we're taking about the lobby you'll find in Jambo House. There are only a few Disney World lobbies we would describe as breathtaking, and this is one of them! The resort is home to the largest collection of African art outside the continent of Africa, and you can find many of those items in the lobby area! So not only is it a lobby, but it also acts as a bit of a museum, too!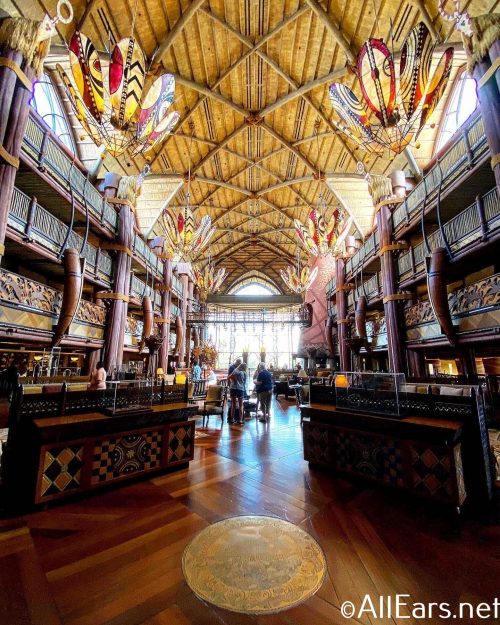 Do you agree with our picks? Let us know what YOUR favorite Disney World Resort hotel lobby is in the comments below!
Join the AllEars.net Newsletter to stay on top of ALL the breaking Disney News! You'll also get access to AllEars tips, reviews, trivia, and MORE! Click here to Subscribe!