The Disney Parks are truly a place unlike any other.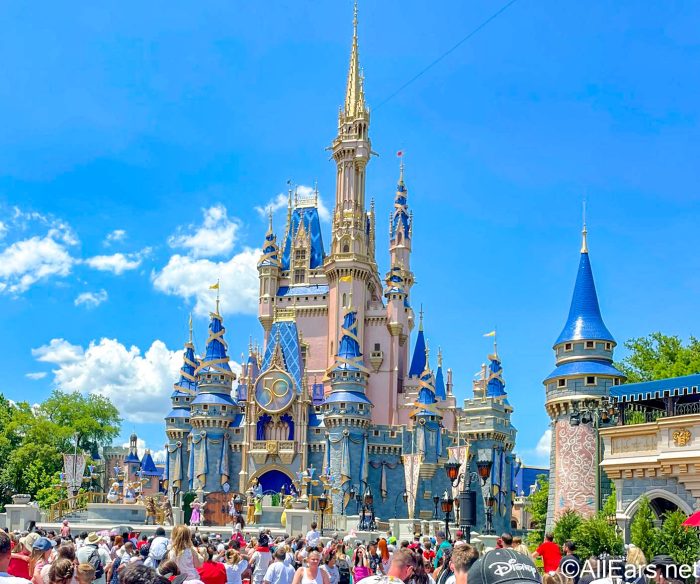 They bring to life a fantasy world all around us, where you can fly on the back of a Banshee, battle the First Order, and visit the Hundred Acre Wood.
Part of the reason these experiences feel so real and immersive is because of the insane level of detail the Imagineers put into the park. From carefully selected color palettes to embedding footprints in the ground, the amount of precisely placed details is truly staggering.
These details also make for a fun "scavenger hunt" around the parks — there's so many you can notice new things every time you go! Here are over a hundred of our favorite little touches that make Walt Disney World so…magical. And we can just about guarantee you don't know them all.
101 Imagineering Details You Might Have Missed at Walt Disney World
Magic Kingdom
1. You've likely noticed the dozens of American flags lining the buildings on Main Street USA, but have you ever noticed they aren't lowered (or lit up) at night? That's wouldn't be very patriotic, except for the fact they aren't real American flags. Each one is missing a star or a stripe — that way they can still serve as decor but not disrespect the flag code.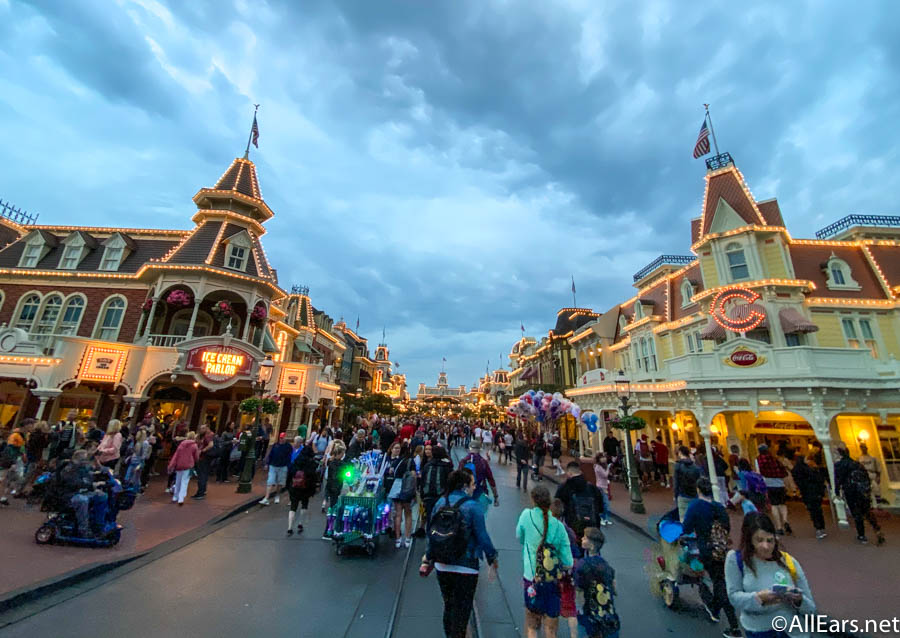 2. Look at the ground near the entrance to Tony's Town Square Restaurant and you'll see where two canines left their mark.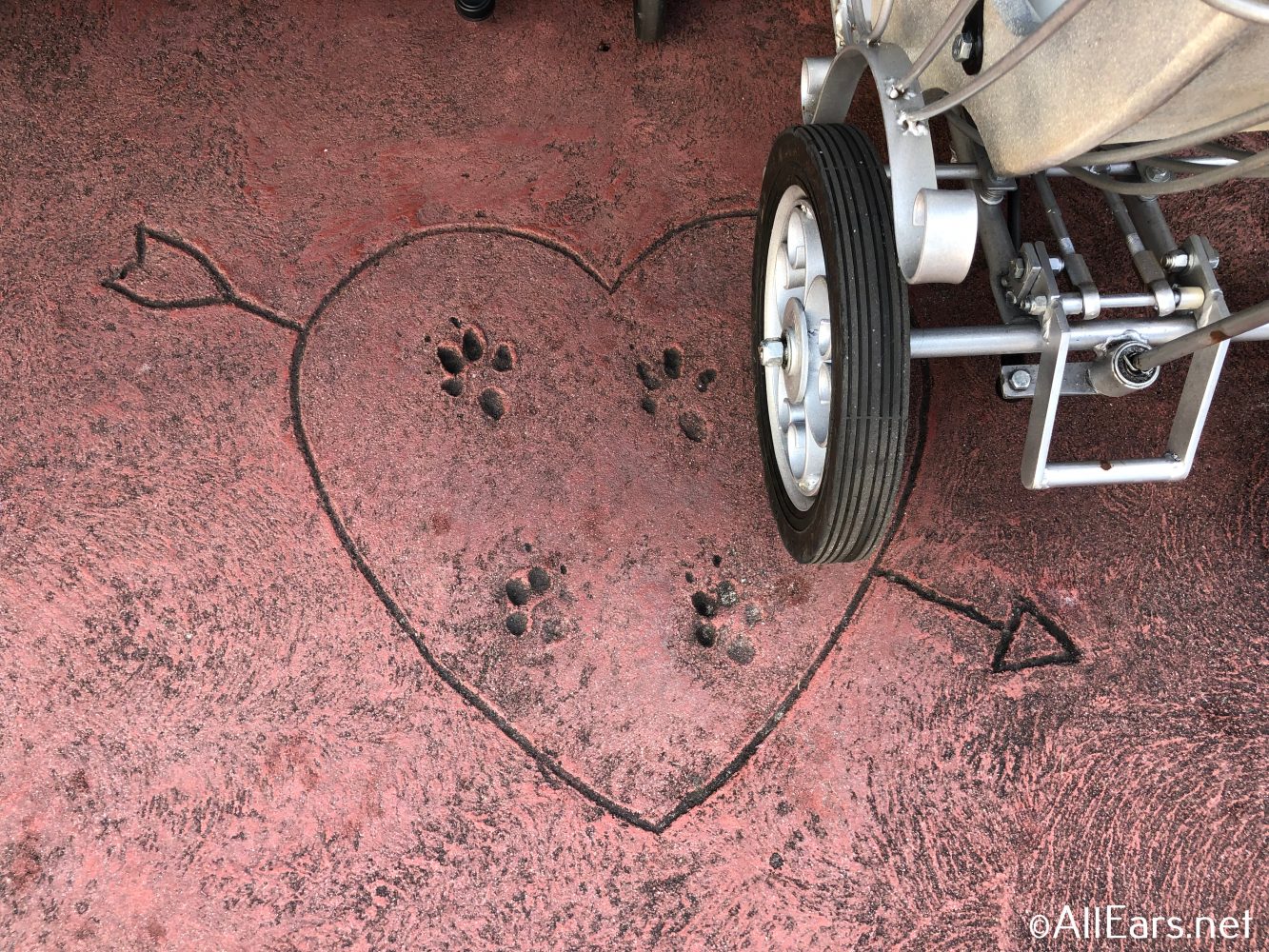 3. Ever notice those weird metal palm trees in Tomorrowland? That's actually how the City of Tomorrow gets its power — from the coconuts to be exact. You'll notice that one tree has no coconuts, and it's leaves are folded up, meaning it's already been harvested.
4. You've probably walked past the Crystal Palace a hundred times, but have you ever stopped to notice the outside? The building acts as a transition from Main Street to Adventureland, which is reflected by the wrap-around porch and victorian lights on the left side, versus the green awnings and large plants on the right.
5. If you look closely at the windows on the shops on Main Street USA, you'll notice they are advertising a variety of businesses — from real estate to ship builders. The names used are all nods to people who brought Magic Kingdom to life, including Imagineers, executives, and artists. But if you've ever wanted to know where Walt's window is, you'll have to look twice! He has two — one above the Train Station and one above the Plaza Ice Cream Parlor.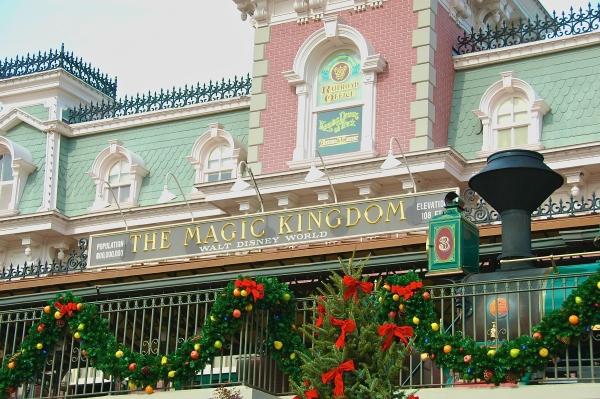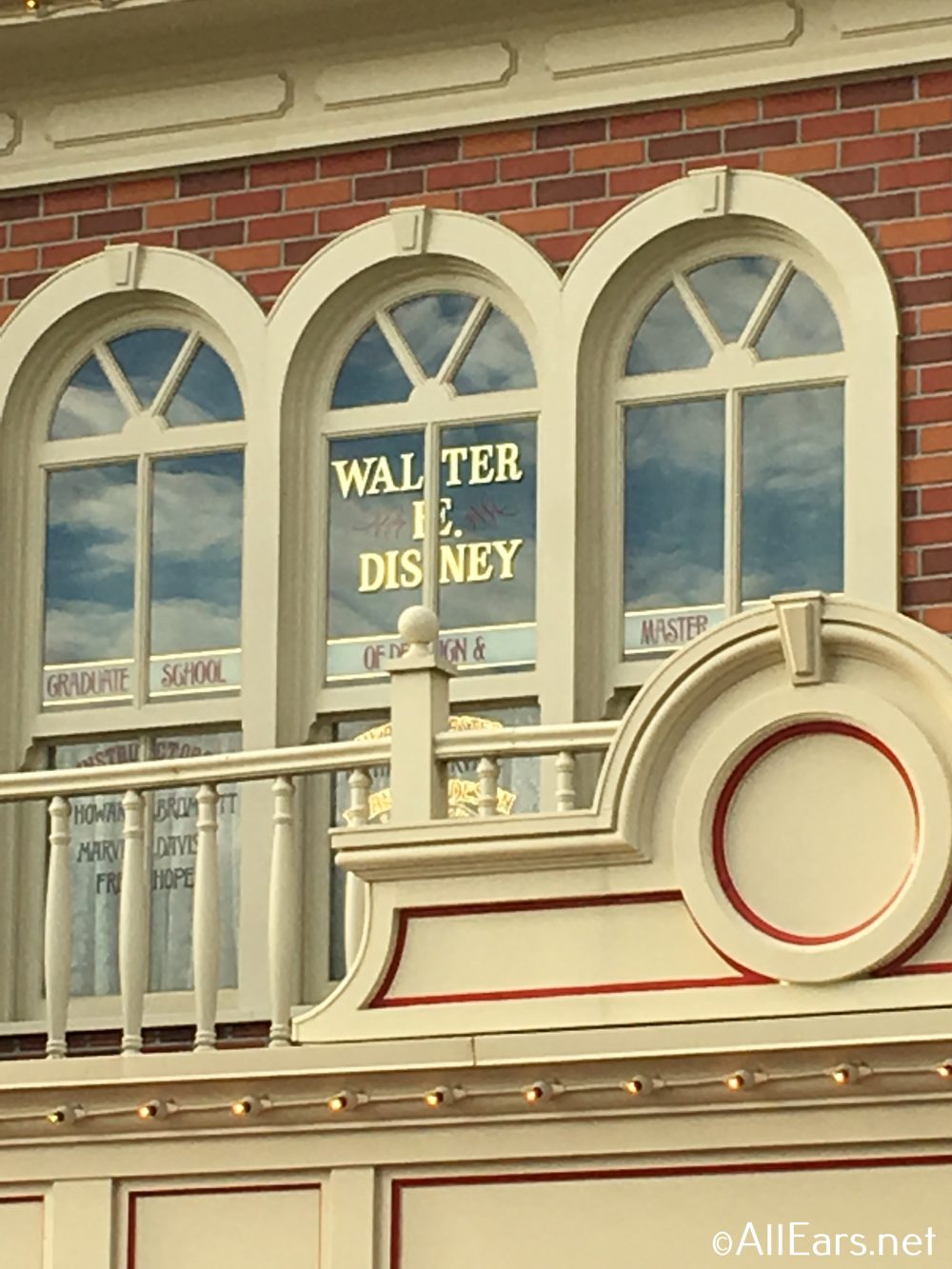 6. Another salute to Walt can be found on the back of Cinderella Castle. When standing in Fantasyland, look up at the archways and you'll see a crest. That's the Disney Family Coats of Arms!
7. Imagineers know that tall structures can often be seen from more than one place, and therefore have to fit the theme of both lands. For example, atop the Enchanted Tiki Room, you'll see some horned hoofed animals. When you're in Adventureland, you'll assume they're water buffalo, an animal native to Asia and Africa. However, when you can see those same animals from Frontierland, you'll probably assume they're big-horned cattle. The animals make sense in both places, because your mind makes them fit in with your surroundings.
8. The Jungle Cruise is a GREAT place to find some hilarious hidden gems. Just in the queue alone, you'll hear humorous announcements from the Skippers, or see hilarious signs like this one: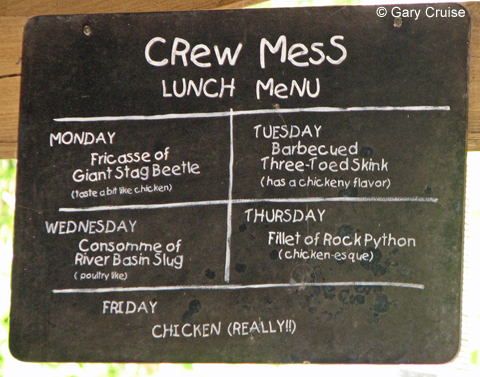 9. Have you ever noticed that wobbly path in the middle of Liberty Square? You may have even wondered what it is or assumed it's to represent the Oregon Trail or something. But no, it's much worse than that. It's actually there to represent the sewage that would often float through the Colonial Streets, as there was no indoor plumbing. People often used buckets and emptied them into the street. You're welcome.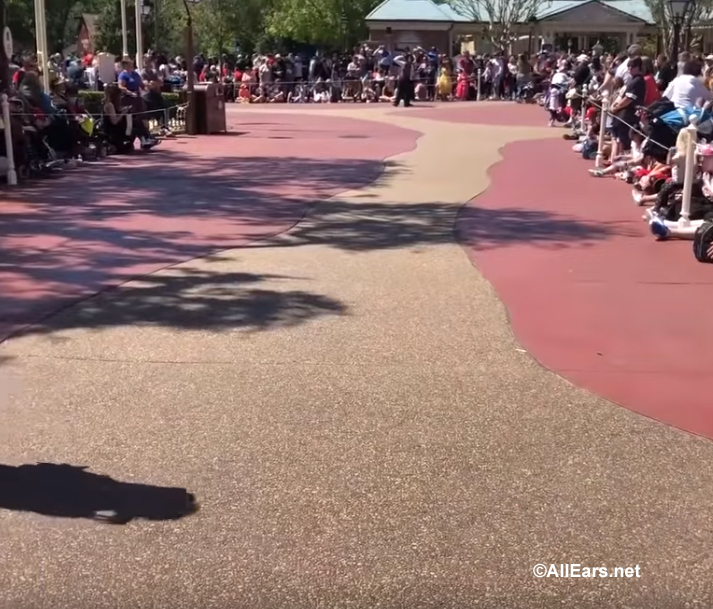 10. Continuing with the same riveting bathroom theme, have you ever noticed there's no bathrooms in Liberty Square? The closest ones are the Tangled restrooms in Fantasyland or the Adventureland Breezeway. That's because, there wasn't indoor plumping in Colonial America and therefore, no bathrooms in Liberty Square! Even the ones in Columbia Harbor House technically sit in Fantasyland and those in Liberty Tree Tavern are technically in Frontierland.
For more fun facts about Liberty Square, check out this AllEars TV Video!
11. If you've ridden Prince Charming Regal Carrousel, you know part of the fun is picking your horse! And if you want a real regal experience, go for the horse with the gold ribbon in its tail — that's Cinderella's horse!
12. Often times Disney Imagineers reuse molds for the faces of their Animatronics and figures to save time and money. A great example of this is on two classic attractions — the fellow "getting the point in the end" on Jungle Cruise is the same as the surprised gravedigger in Haunted Mansion!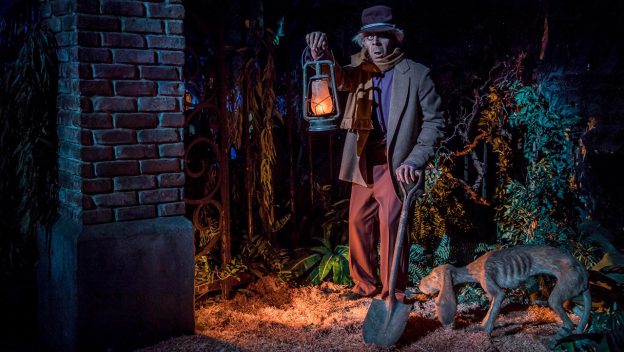 13. Ever noticed the color of the sidewalk when you're walking down Main Street USA? It's red! This is actually for several reasons:
Safety: Guests are usually distracted and may not noticed there's a curb. Having the sidewalk be red and such a stark contrast from the middle of the street, alerts your brain to pay attention.
It's a red carpet! Disney has rolled out the movie star treatment for its special guests — YOU!
The color was hand picked by Kodak to make your pictures look amazing. They selected the right shade of red to contrast the blue sky.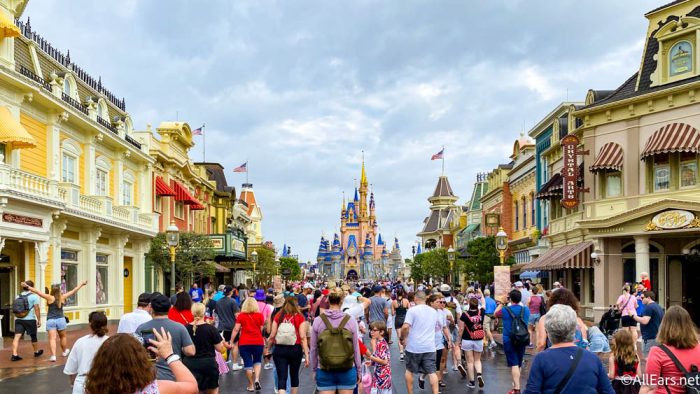 14. If you're headed to use the world's coolest bathrooms (the Tangled themed ones in Fantasyland), make sure to look down. You may just spot a certain royal horse's hoofprints.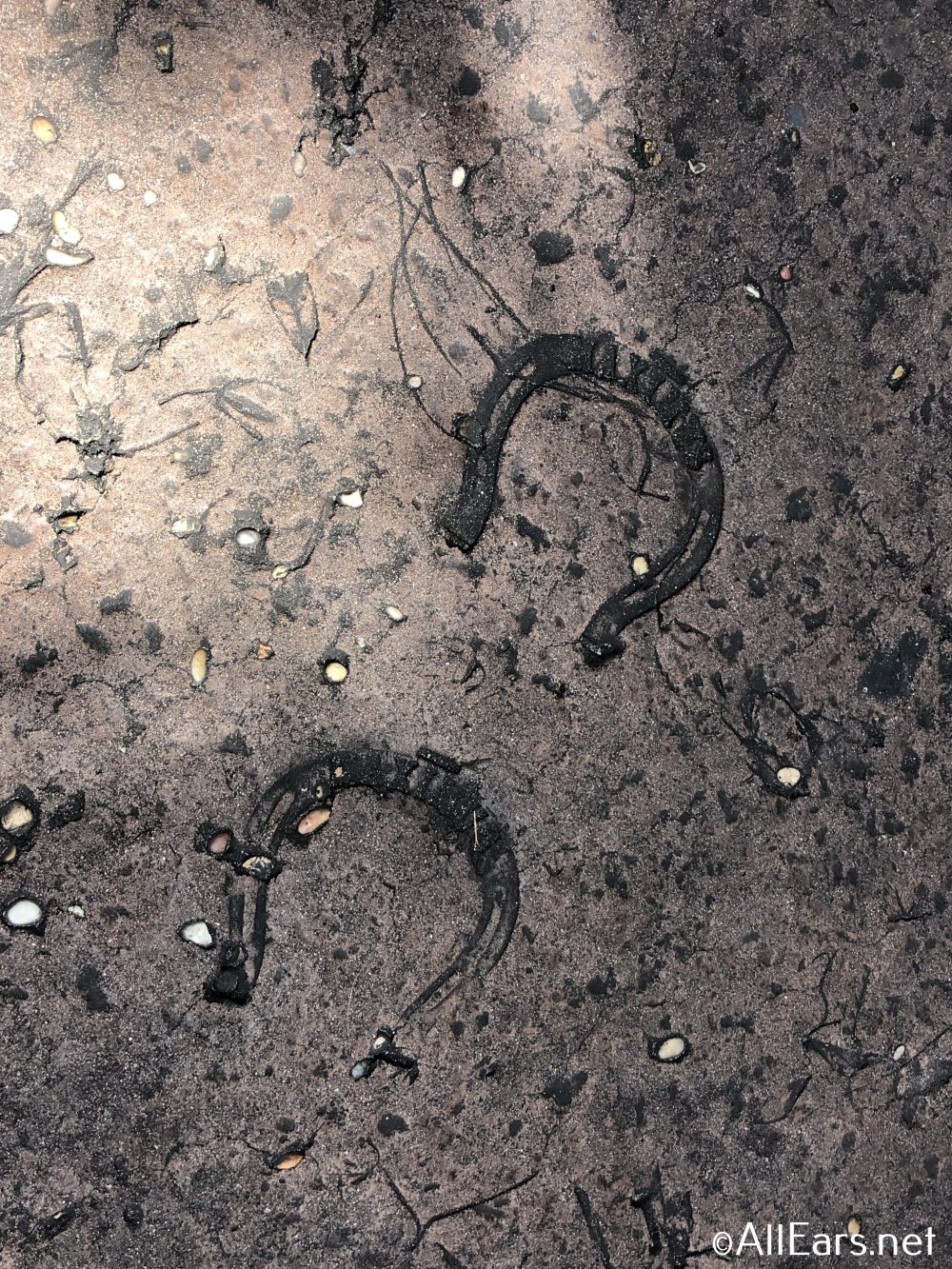 15. You have to look down again for this one — when you're in Storybook Circus, peek at the ground. You'll see signs of the circus embedded, such as elephant tracks and peanuts!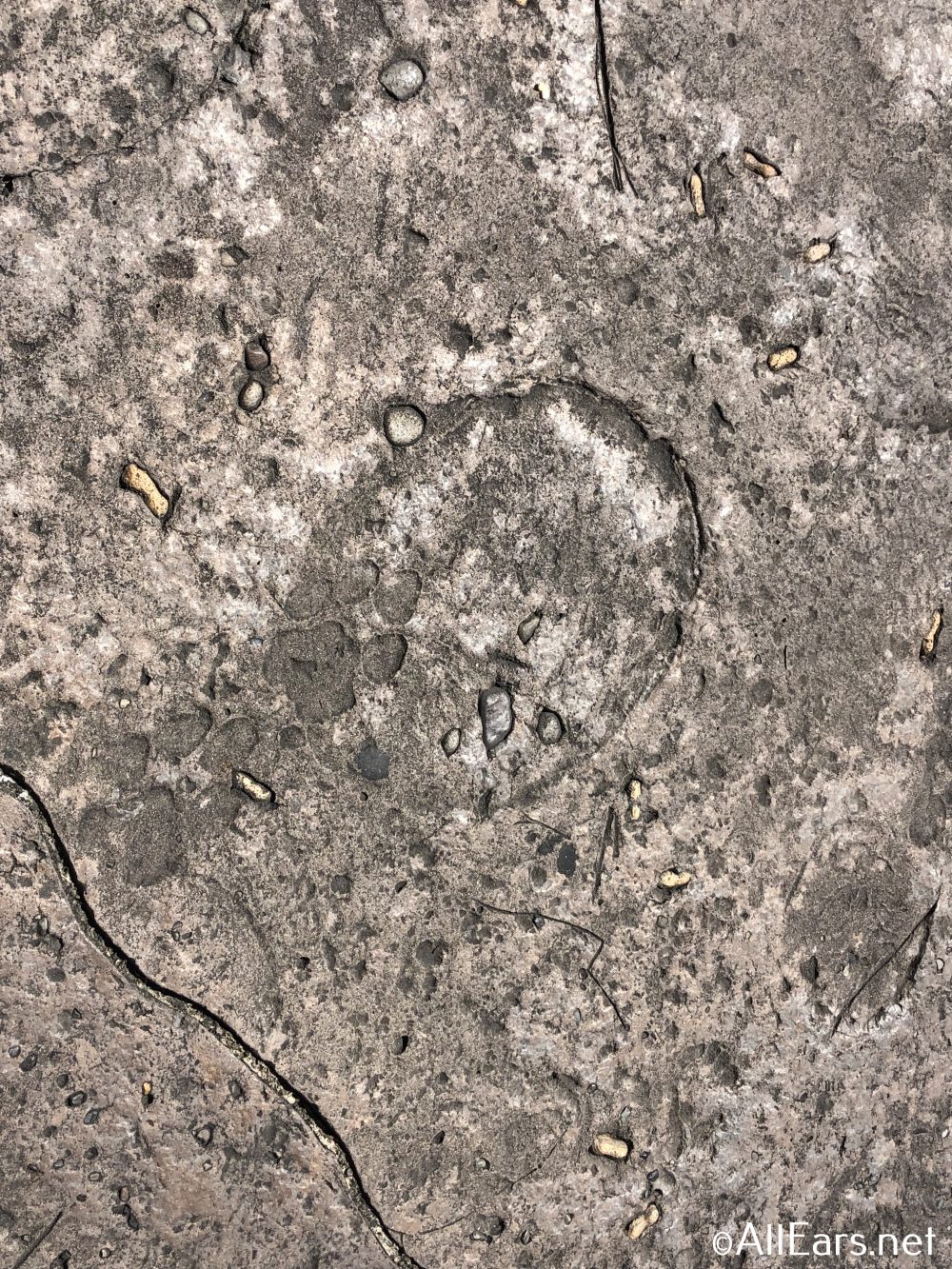 16. You may recall that Mr. Toad's Wild Ride used to live where the Many Adventures of Winnie the Pooh does now. The Imagineers left a nod to the former resident in the attraction — when in Owl's house, look to the left and you'll spot a photo of Mr. Toad handing him the deed to the building!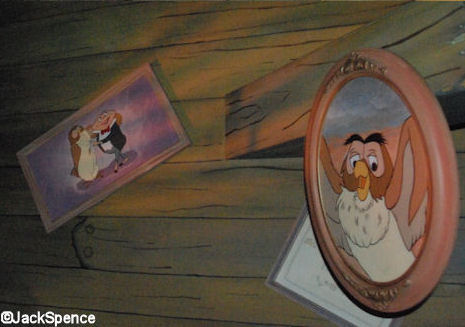 17. Another nod to a former attraction can be found in the queue of Under the Sea – Journey of the Little Mermaid. In the rock work, look closely and you'll see a Nautilus. This used to be the home of 20,000 Leagues Under the Sea!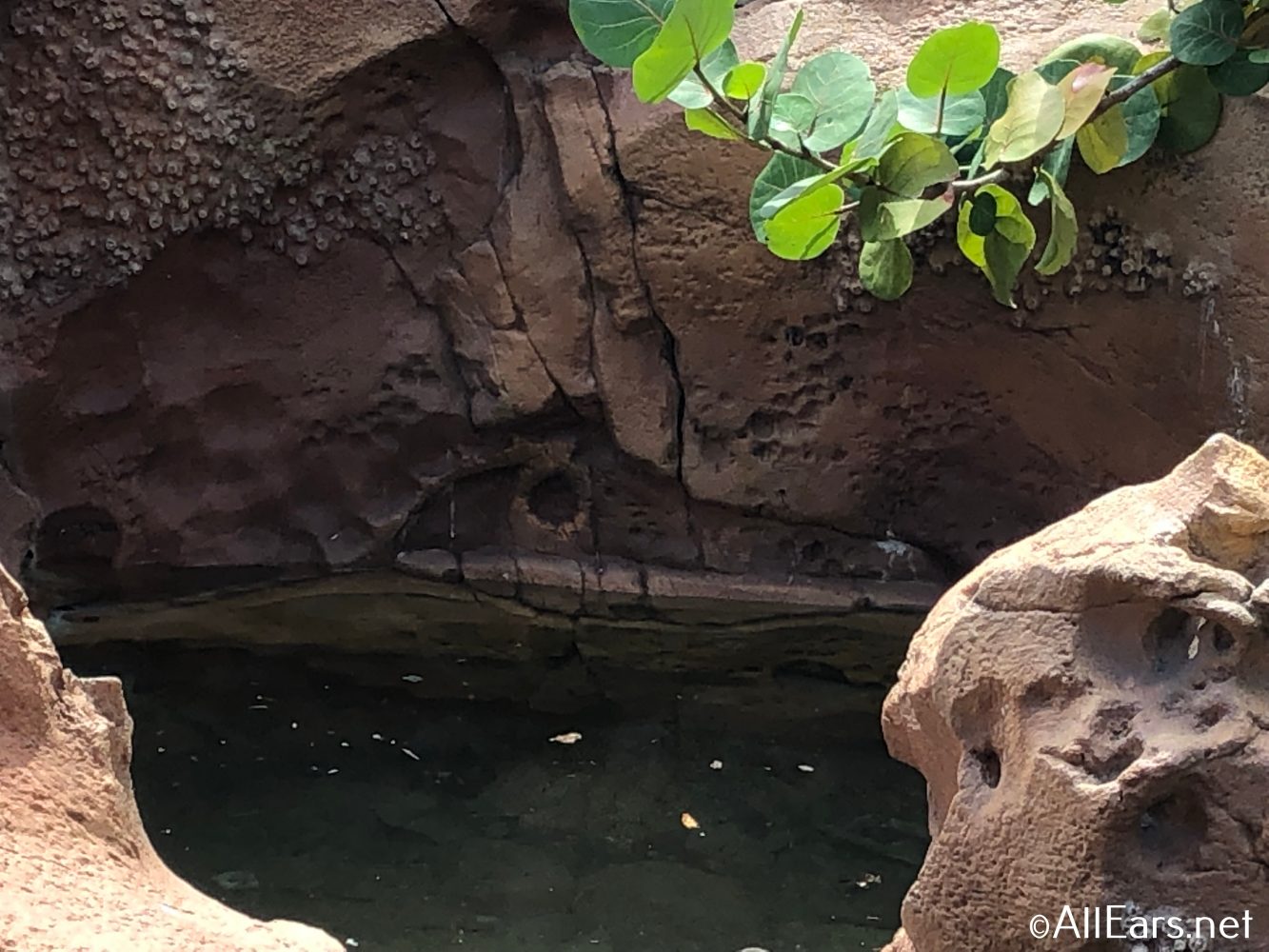 18. Sometimes, the best stories come from the Cast! At the Haunted Mansion, there used to be a small gold ring in the ground, leftover from when a gate was moved. Guests saw it and asked Cast Members about it, and many legends were born. The most common of these was that it was the Attic Bride's wedding ring, and she threw it out the window after she murdered her husband. As a nod to this lore, when the Interactive Queue was added years later, the Imagineers embedded an engagement ring in the ground.
19. Another example of re-using animatronics, can be found at the Haunted Mansion. You'll spot an Old Lady Ghost in a Rocking Chair during the Ballroom Scene. That's the same animatronic as the Grandmother in the Carousel of Progress!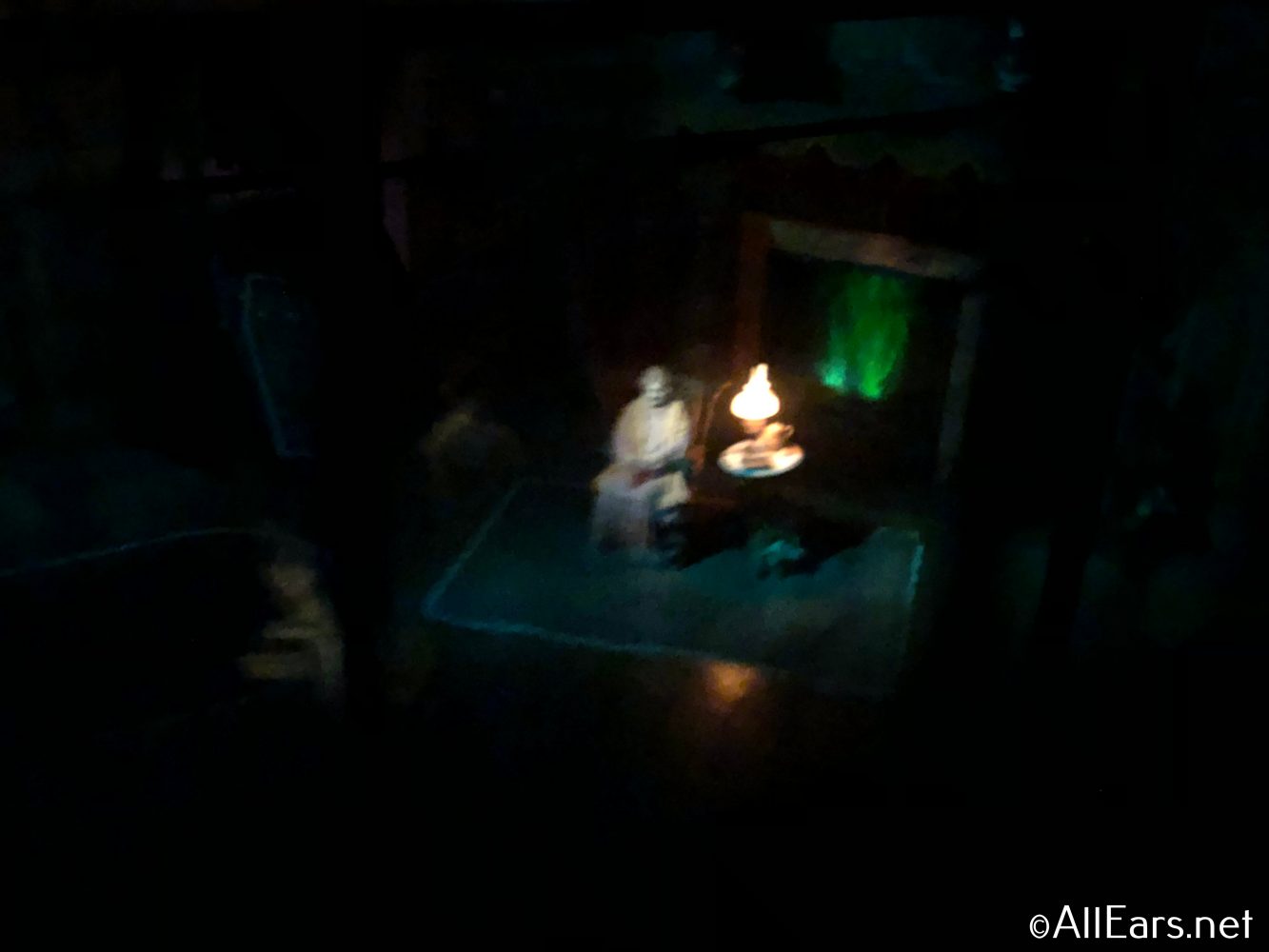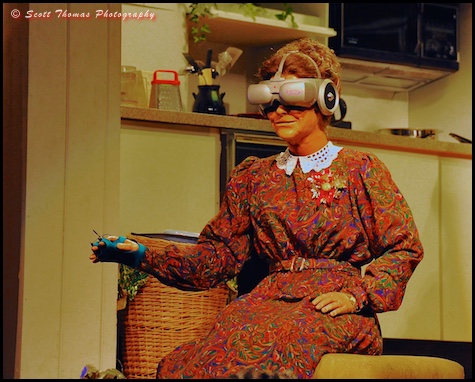 20. Another great connection between the Haunted Mansion and another attraction lives in the Pet Cemetery. As you exit, look to your left and you'll see various pet memorials, including one familiar looking amphibian. It's Mr. Toad! And while you cannot read his headstone, legend has it it says,
"Here Lies Toad, it's sad but true. Not nearly as marketable as Winnie the Pooh"
RIP Mr. Toad
If you're DYING for more hidden details and fun facts about the Haunted Mansion, check out this AllEars TV Video!
21. There are lots of Hidden Mickeys located around Walt Disney World, but one of the COOLEST and most elaborate is at the exit of Under the Sea. If you line the rocks up justtttt right, they become Steamboat Willie!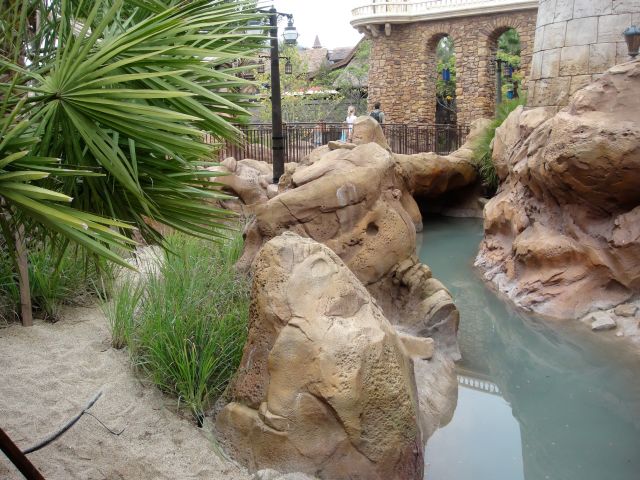 22. Did you know it snows every single day in the Magic Kingdom? That's right — but you have to go to Be Our Guest Restaurant to see it! Outside the windows, you can see snowfall, just like many nights in the movie! If you watch for a while, you'll even see the breeze blow it along.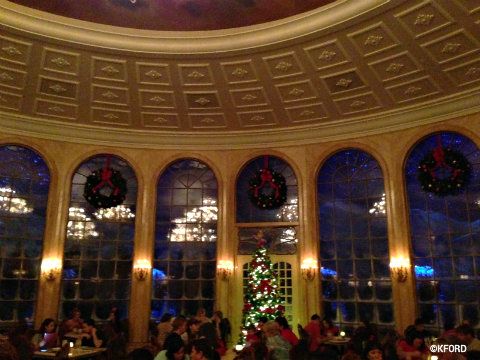 23. The Partners Statue is the iconic statue of Walt and Mickey in front of the Castle that you've probably taken a hundred photos of. But have you ever looked close enough to realize Walt has a tie on? And closer still to see that it reads STR? This stands for Smoke Tree Ranch, a spot in Palm Springs, CA where Walt owned a vacation home!
24. If you walk through the Castle breezeway, you'll see the gorgeous tile mosaic that tells the story of Cinderella. Color was very important to help tell the story, and they even used real gold and silver tiles. An example of color as a storyteller can be seen on the Stepsisters faces — Anastasia is red with rage and Drizella is green with envy.
25. In Enchanted Tales with Belle, you'll head into the Beast's library where you're surrounded by dozens of books. Look around and you may spot other famous stories. But there's also two very special books near the fireplace. They have golden letters reading "HA" and "AM" — these are the initials of Howard Ashman and Alan Menken, the musical geniuses behind Beauty and the Beast's amazing soundtrack.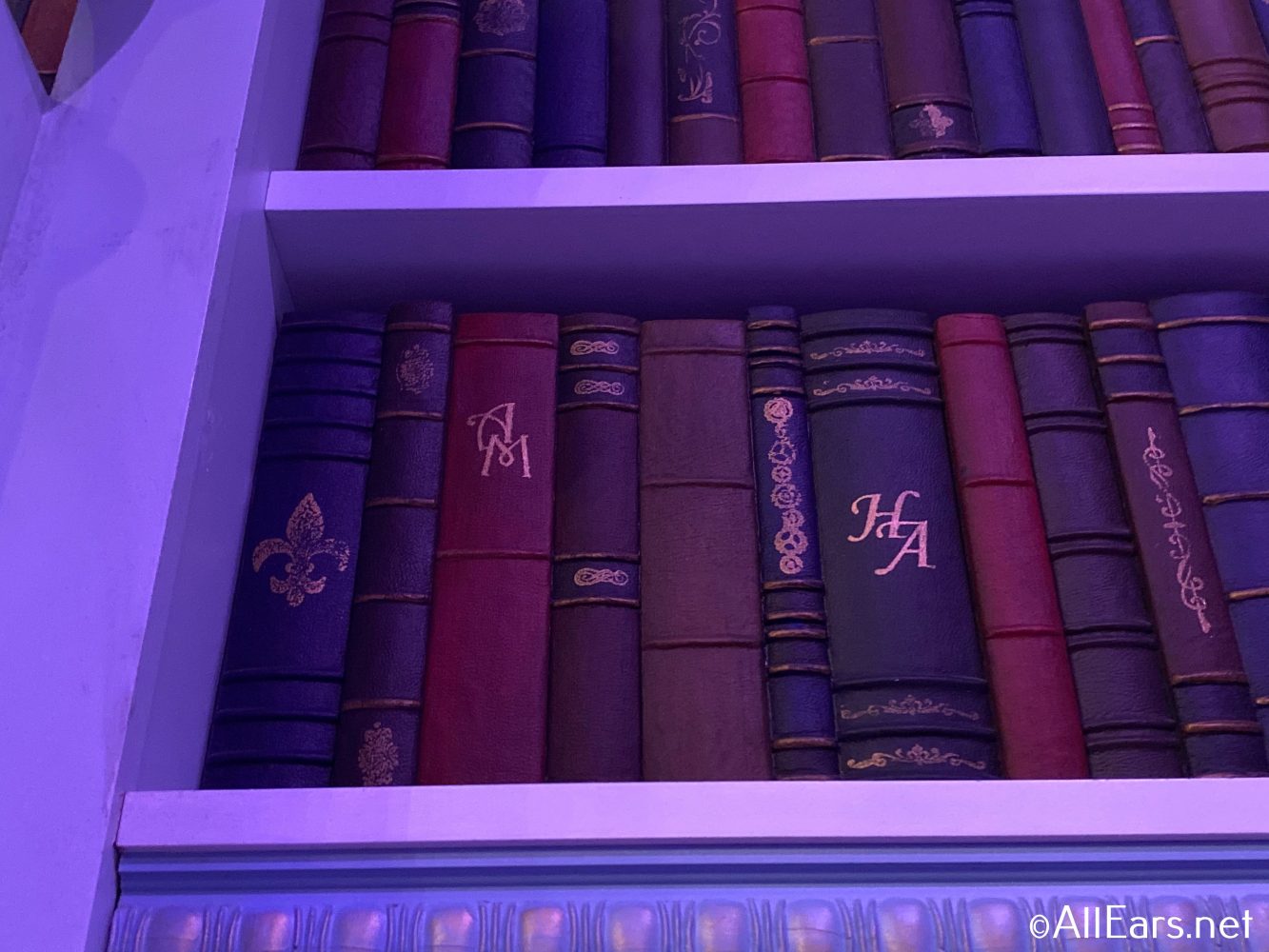 26. Before you get to the library however, you'll have to visit Maurice's workshop in Enchanted Tales with Belle. Take a look at his desk, and you'll see the blueprints for a large music box of Belle and the Beast. Want to see the final product? It's in the Rose Gallery at Be Our Guest! The music box was a wedding gift to Belle and Beast from her father. Aww.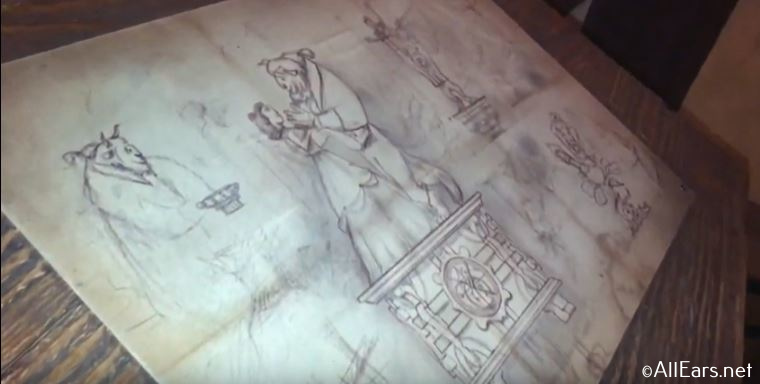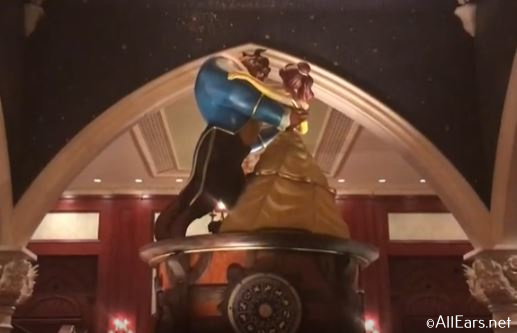 27. If you head to Pirates of the Caribbean via Lightning Lane, you'll notice a few skeletons playing chess in the queue. But that's no randomly placed chess board! Disney Imagineer Marc Davis was a chess aficionado and made sure the pieces were in a stalemate — meaning the pirates are stuck pondering their next move for eternity.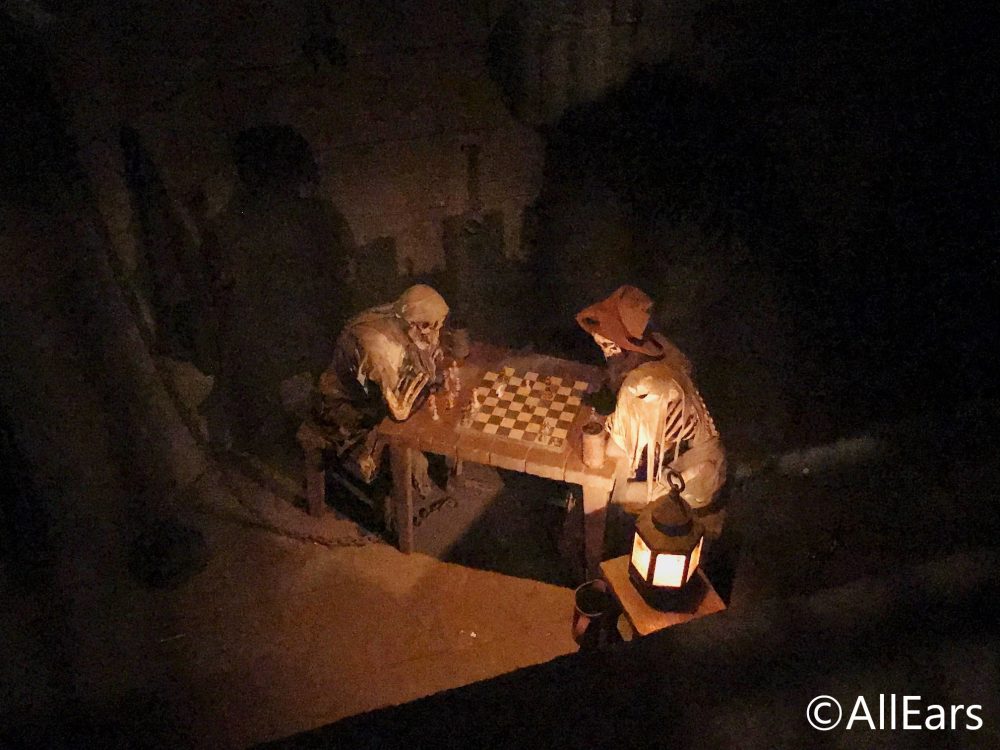 28. Have you ever stopped in Sir Mickey's for a souvenir? The shop is located in Fantasyland, and features Mickey on the sign, as he appeared in the cartoon "The Brave Little Tailor." The short tells the story of Mickey's run-in with a giant, and guess what?! The giant is in the store! (Well, actually. It's Willie the Giant from Mickey and the Beanstalk. But still.)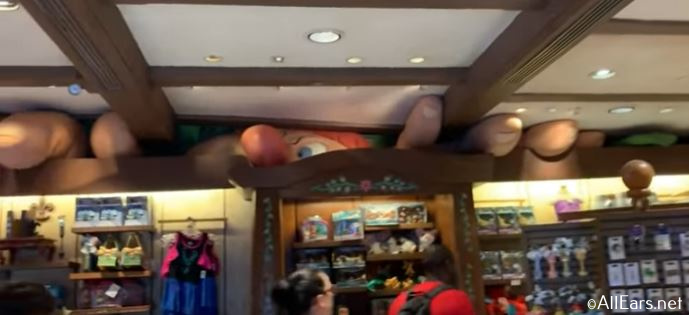 29. Keep your eyes peeled for two iconic pirates on Pirates of the Caribbean! Do these two remind you of anyone? How about Captain Hook and Mr. Smee!? The hook hand and dashing stripes + red hat ensemble give it away. 😉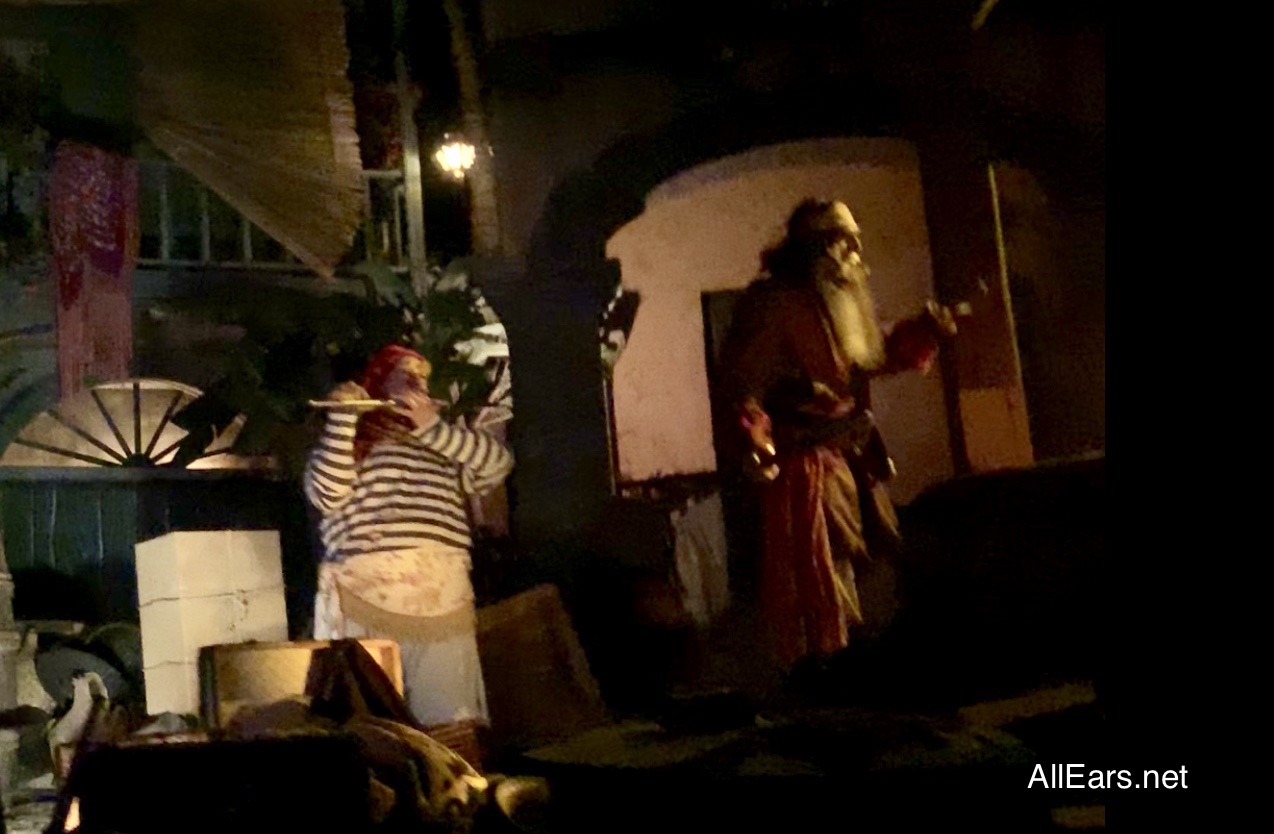 30. When strolling through Frontierland you may have noticed the raised wooden sidewalks outside of Pecos Bill's and the merchandise shops. This is in keeping with the times — Western towns often had raised sidewalks so patrons could avoid the dusty or muddy roads. Wouldn't want your fancy cowboy boots or petticoats getting dirty, now would we?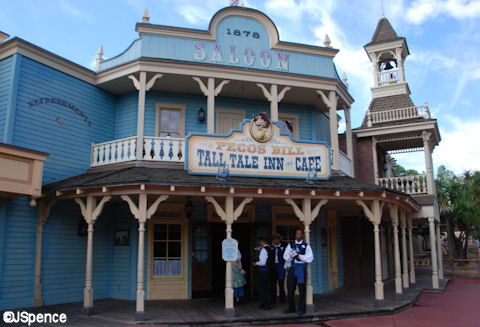 31. Walking into the Ye Olde Christmas Shoppe in Liberty Square, you may notice a heart with the tenants name outside the door. It says Kepple — which was Walt Disney's Grandfather's name.
32. If you've been on Carousel of Progress, you've probably noticed a robin. But did you know that robin was used in Mary Poppins? How's that for a spoonful of sugar.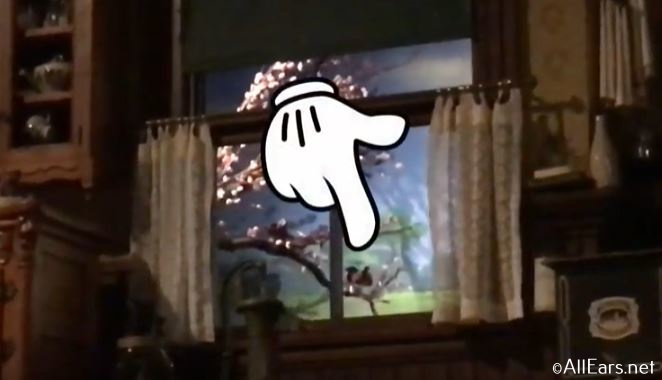 33. Strolling through Liberty Square, you may notice that music lessons are available above the Christmas Shoppe. But have you ever noticed the instructor? It's none other than Icahbod Crane! And to take it further, this is located right across from Sleepy Hollow Treats — which is the name of Mr. Crane's story!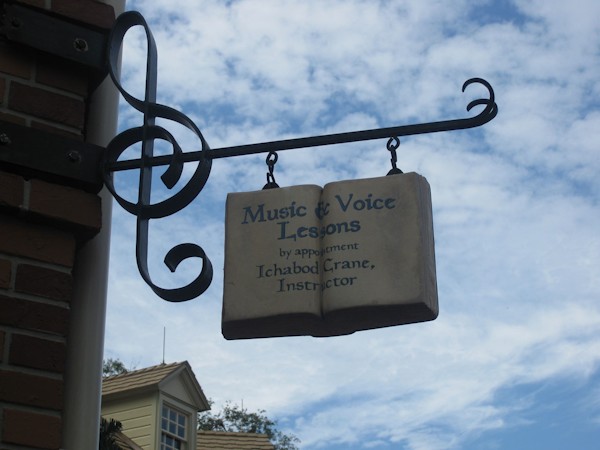 34. There's a lovely water fountain with Cinderella in Fantasyland near the castle — but it's more than meets the eye. You see, Cinderella is in her rags and painted on the wall behind her is a crown. But in order for the crown to sit on her head, you have to bow to the princess. Or, be a child, who sees the magic all along. <3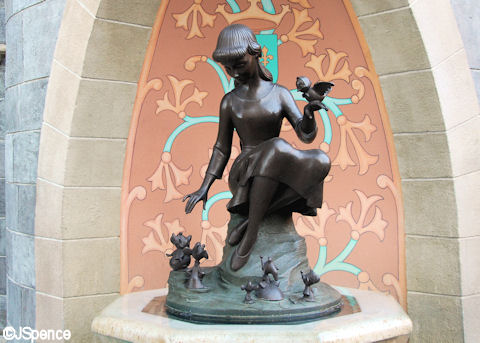 For more Imagineering details in Magic Kingdom, and to see some of these in action, watch this AllEars TV Video!
EPCOT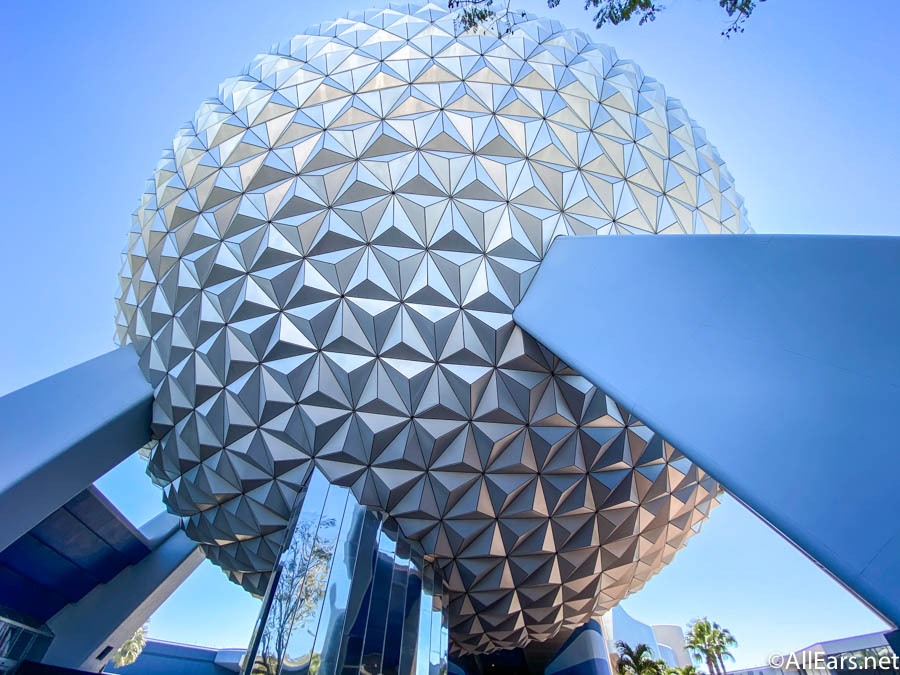 35. When slowly moving through Spaceship Earth, you may notice some commanding figures…commander in chief figures to be exact! Continuing with the reusing of Animatronic faces, several US Presidents (first used in the Hall of Presidents) can be seen throughout history in Spaceship Earth. Andrew Jackson can be seen working the printing press, Dwight Eisenhower is a mandolin player in the Renaissance, and William Taft became an Egyptian priest…just to name a few.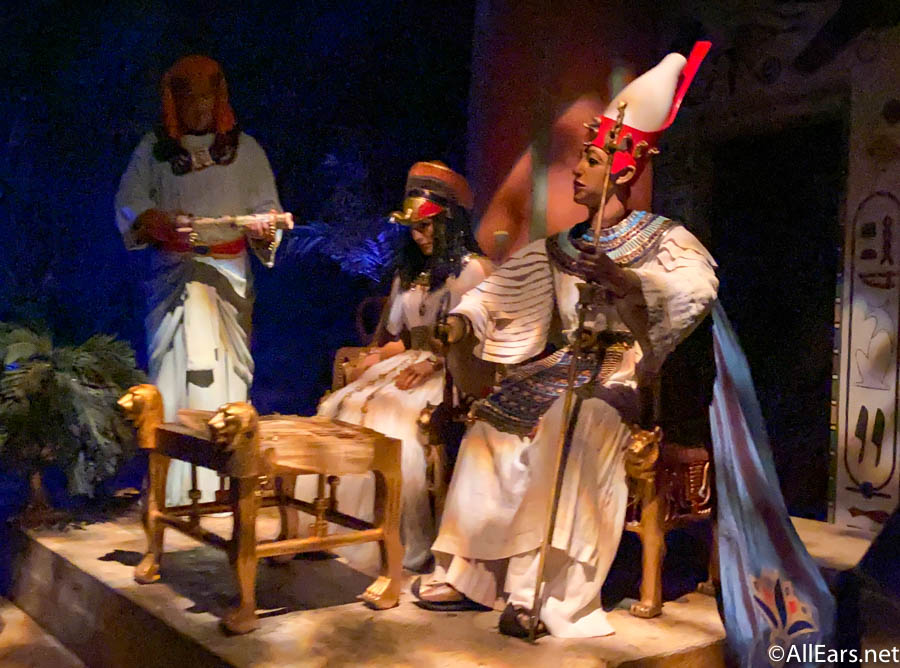 36. You may know Maelstrom was replaced by Frozen Ever After in the Norway Pavilion, but did you know a nod from the original attraction is still there? Check out the Puffins in the final scene (after the drop) — they're from Maelstrom!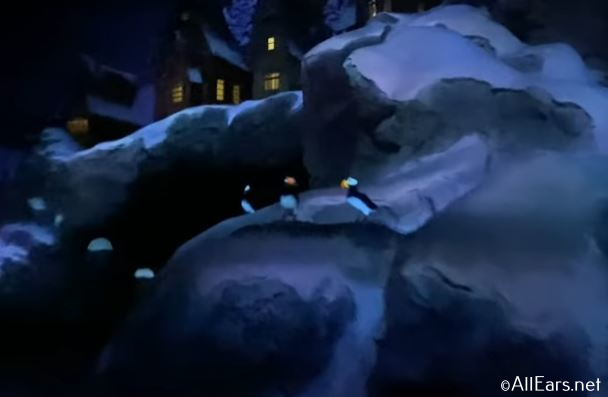 For more Imagineering details in World Showcase, check out this video!
37. Have you ever noticed you can see the Tower of Terror in the Moroccan skyline? Probably not, because the Imagineers don't want you to! Even though the Tower of Terror is very visible when you're looking across World Showcase Lagoon, the Imagineers painted the Tower the exact right color to blend in and make it appear as part of Morocco.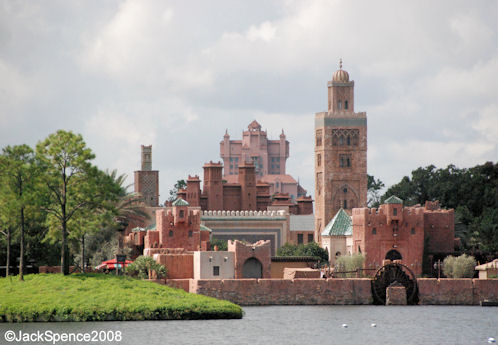 38. The Temple in the center of the China pavilion sports an incredible amount of gorgeous detail, including this gold medallion in the center of the ceiling. It sports a Dragon, which traditionally represents power, and a Phoenix, which stands for peace. Together, they represent marriage.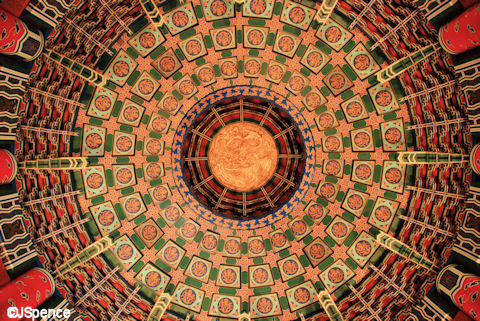 39. You've probably seen Hidden Mickeys before, but how about Hidden Minnies? Look for this cute on hiding in the Shrimp tank on Living with the Land.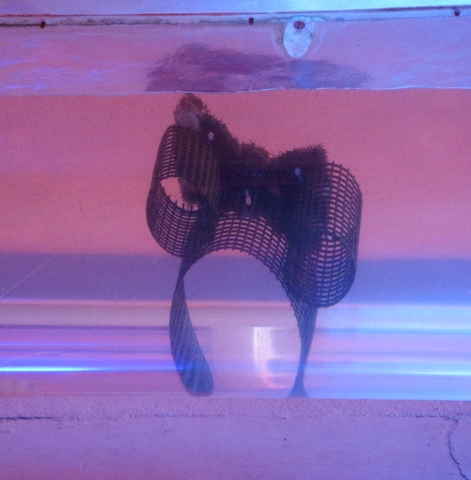 40. Atop the back buildings in the Japan Pavilion, there's actually a castle! It's modeled after the Himeji Castle in Japan, which is a well preserved fortress  from early Japan. The Imagineers used forced perspective to trick your eye into thinking it's much further off in the distance than it really is.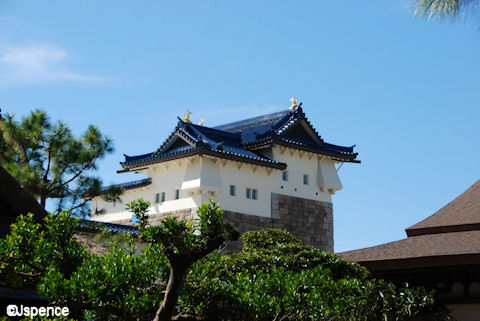 41. Forced perspective can also be used to trick you to thinking something big is smaller than it is! In the American Adventure Pavilion, the main building is 5 stories tall to accommodate the theater and show. But in colonial days, when this is supposed to exist, buildings were much shorter — 2 to 3 stories max. Therefore, Imagineers used forced perspective tactics to trick your eye into thinking the building is smaller than it is. For example, it has over-sized windows and bricks, and big box hedges that take up almost a full story.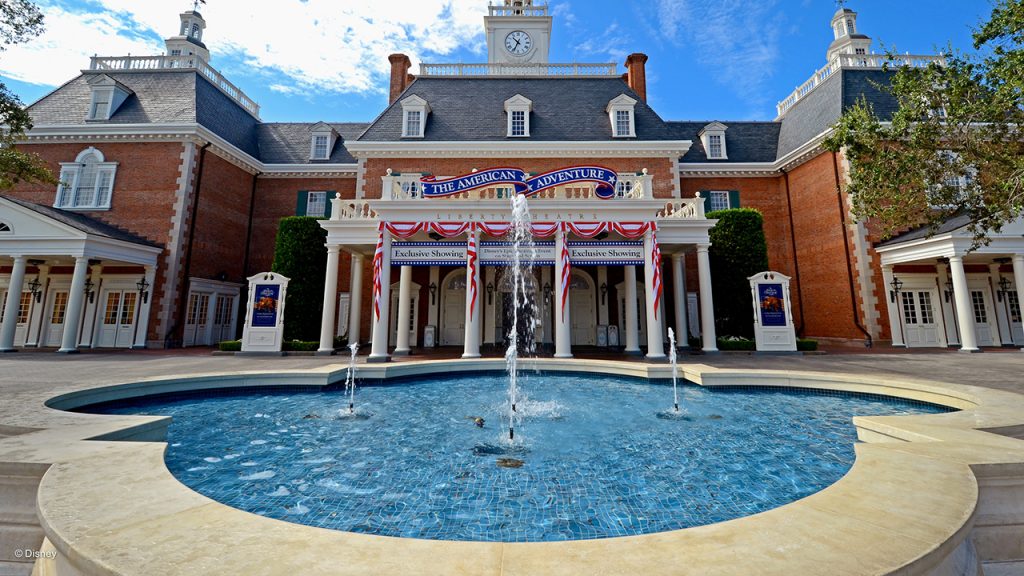 42. In Norway as you're headed to ride Frozen Ever After, look up to your left. Can you spot a familiar ice harvester?
43. Another example of forced perspective is the Eiffel Tower in France. It's only 1/10th the height of the real one in Paris, but the way it's positioned it looks much taller and like it's far off in the distance! Additionally, they add bird deterrents (like the sounds of a bird in distress that we can't hear), so no birds land on it. A giant pigeon on the Eiffel Tower would be one quick way to ruin the illusion!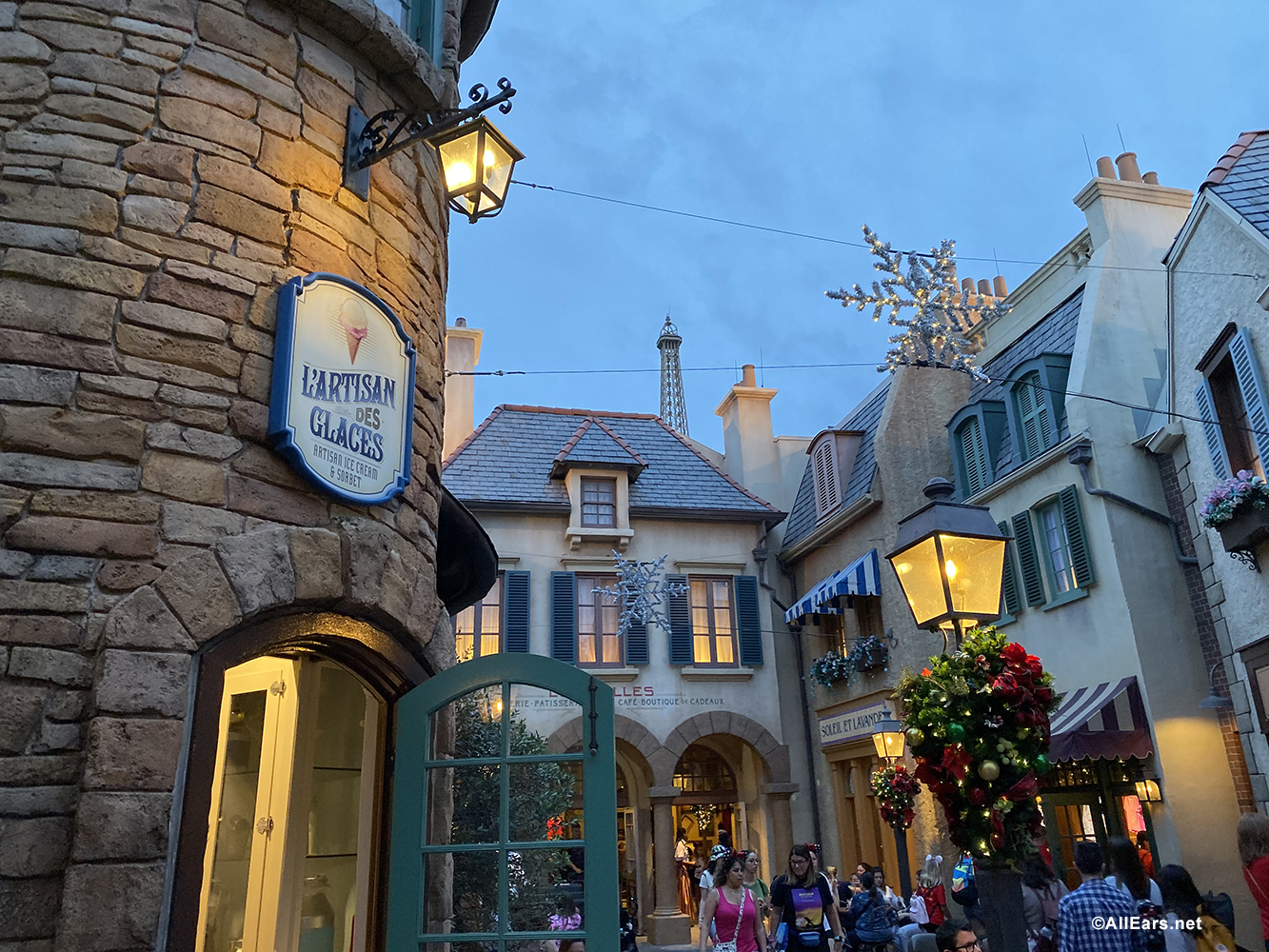 44. Many people miss the old version of Journey into Imagination, the one with Dream Finder! That's why if you ride the current attraction, one of the office doors belongs to a guy named "Dean Finder."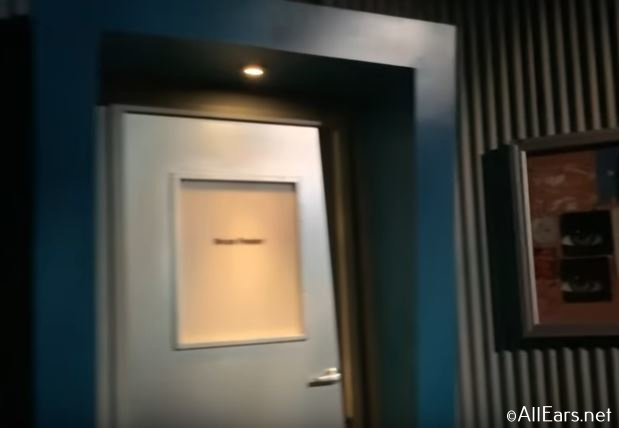 45. In Germany, they were going to have a River Rhine Cruise Boat Ride attraction, but it never came to be. Still, you can see what would have been the entrance to it back near the Biergarten. It's a very large mural with some of the sights you would've seen!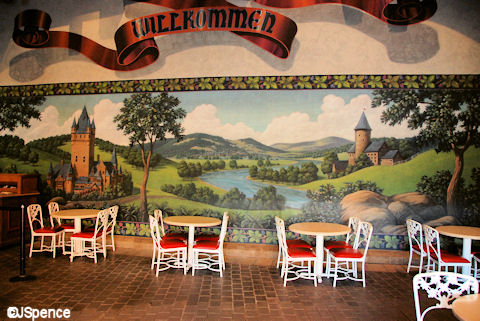 46. In Japan, you've probably noticed a large pagoda but have you ever counted the stories? It's five — each to represent an elements important to  Buddism. From the bottom to the top, it's earth, water, fire, wind, and sky.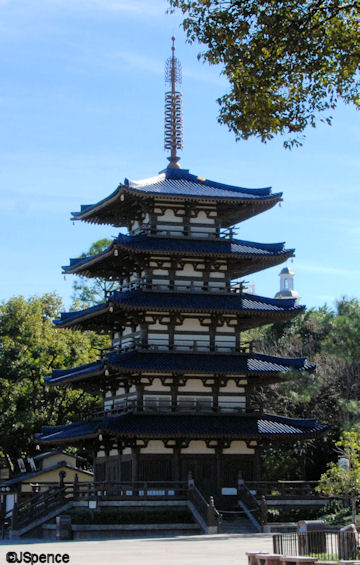 47. Look up in Norway and you'll see something unexpected: gardens! These are real grass and flowers and the Horticulture team has to trim them with manual clippers. This is very accurate for Scandinavia, so of course the Imagineers had to include it!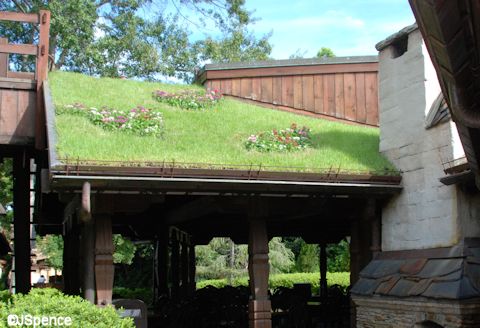 48. While floating along on Living with the Land, take a look at the mailbox in the Farm scene. It has the number 82 on it — that's the year Epcot opened!
49. Before you get inside the Land, take a look at the gorgeous tile mosaics that line the walkway as you head towards the entrance. They are identical — except for one stone. On the right mosaic, one gold stone has been replaced by a green one. I've heard that this is the artist's birthstone, or that it's her daughter's, but either way, it was her way of signing her mark on the beautiful art!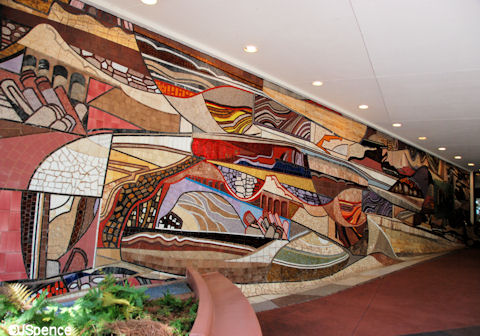 For more fun facts in Epcot, check out this AllEars TV video!
Disney's Hollywood Studios
50. Over the entrance to Hollywood and Vine, you'll see someone had to take a quick exit! Notice Roger Rabbit's silhouette?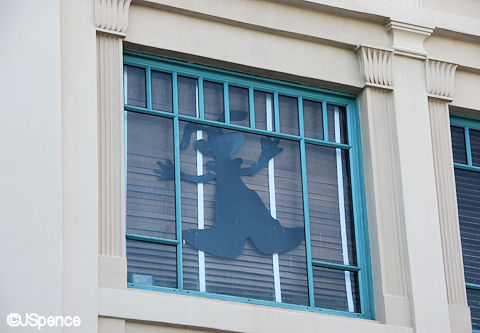 To take it one step further, this is located next to a window letting you know who's office this is — Eddie Valiant, the detective in Who Framed Roger Rabbit?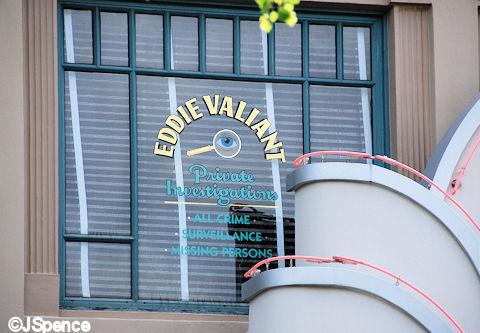 51. Did you know Sunset Boulevard is set in the 1940's? There are several clues that point to this, but our favorite is the Victory Garden near Rosie's All American Cafe! Victory Gardens were planted during World War II to grow vegetables and fruit during times of sparsity.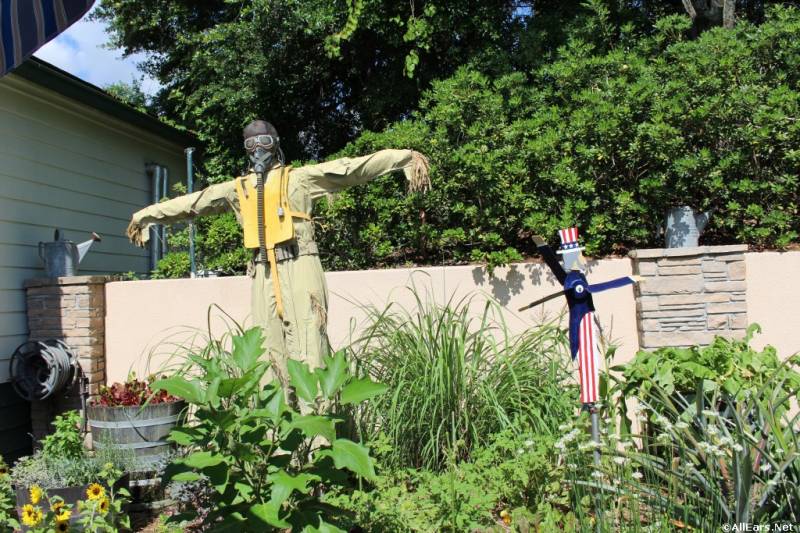 52. Look down in Galaxy's Edge and you're sure to see all kinds of things! But perhaps the coolest (and most awwwww) of the marks, are droid tracks. And this is just the droid we're looking for — they used the original R2D2 from A New Hope to make them!
53. If you look down in another land, Toy Story Land, you'll see a much bigger mark! It's Andy's foot print — and since you're supposed to be the size of a toy, it's HUGE. In fact, it's 25 feet long!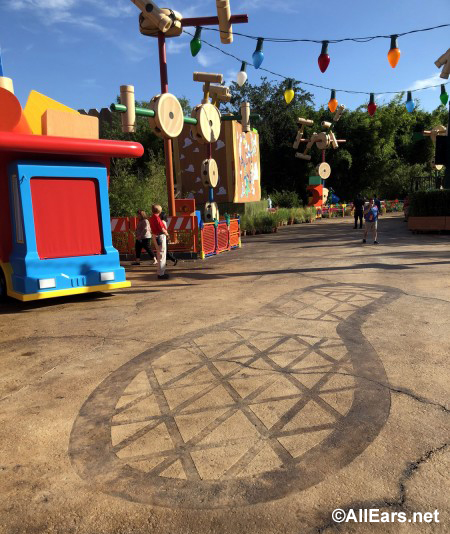 For more details we've got another video for you!
54.  The Muppets are known for a lot of good jokes, but they're serious about some things. Take this sign at Muppet-Vision 3-D for example: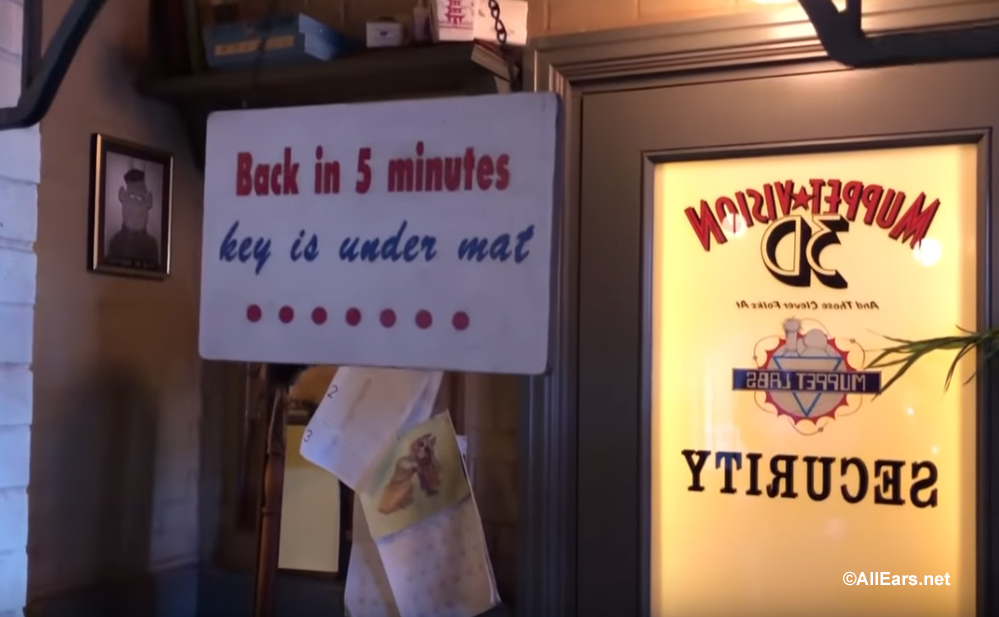 Go ahead and check under the mat. You know you want to.
55. Just as you turn down Sunset Boulevard, look to your right. Behind the seating for the Trolley Car Cafe, you'll spot a bulletin board advertising a swanky hotel. Look closer — that hotel is the Hollywood Tower Hotel. You know…before the lightning strikes it.
56. If you climb aboard the new Mickey and Minnie's Runaway Railway, you'll be able to spot a nod to the former resident of the Chinese Theater. In the carnival scene, look for a poster advertising "The Great Moving Ride."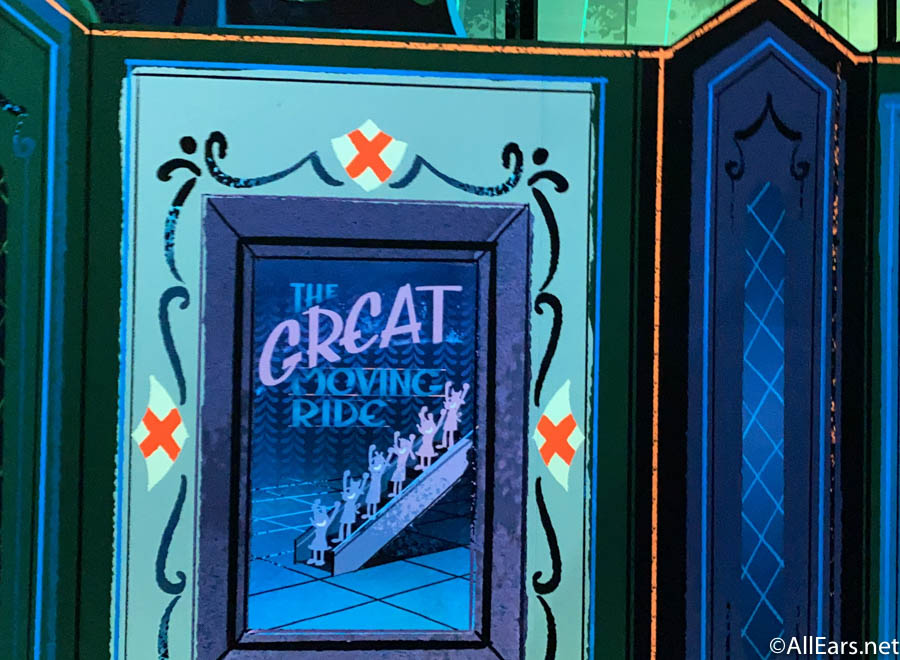 57. On Hollywood Boulevard, one of the shops is named Adrian and Edith's Head to Toe. This is a nod to two of the most famous Hollywood costume designers of all time, Adrian (no last name a la Cher) and Edith Head.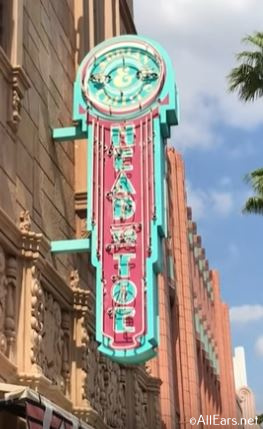 In fact, it was Edith Head inspired everyone's favorite supersuit designer, Edna Mode. See the resemblance?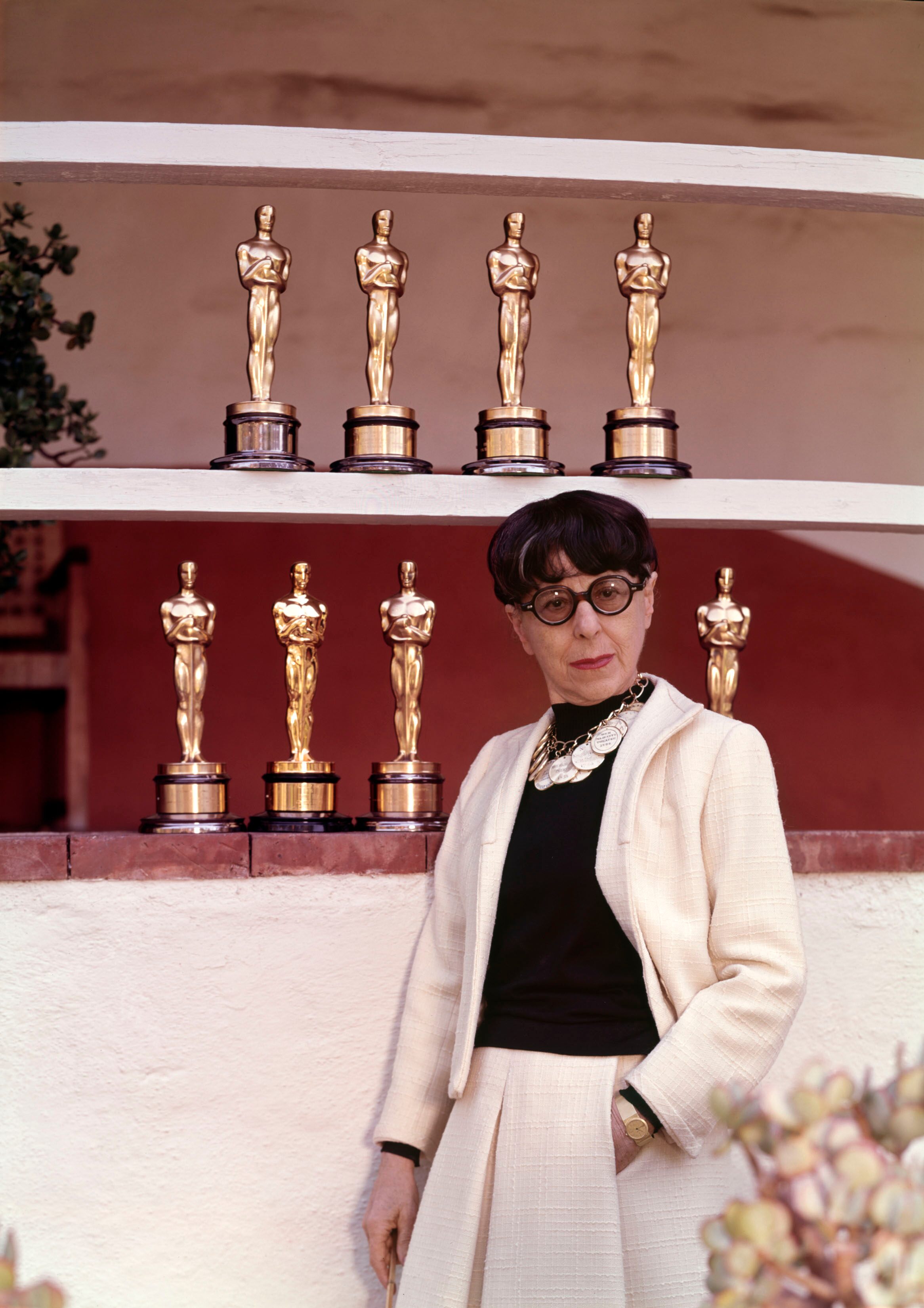 58. Have you been to Oga's Cantina in Galaxy's Edge? If so, you probably noticed the droid spinning the hits. That's DJ Rex — but this isn't his first job at Disney. He was the pilot on the original version of Star Tours!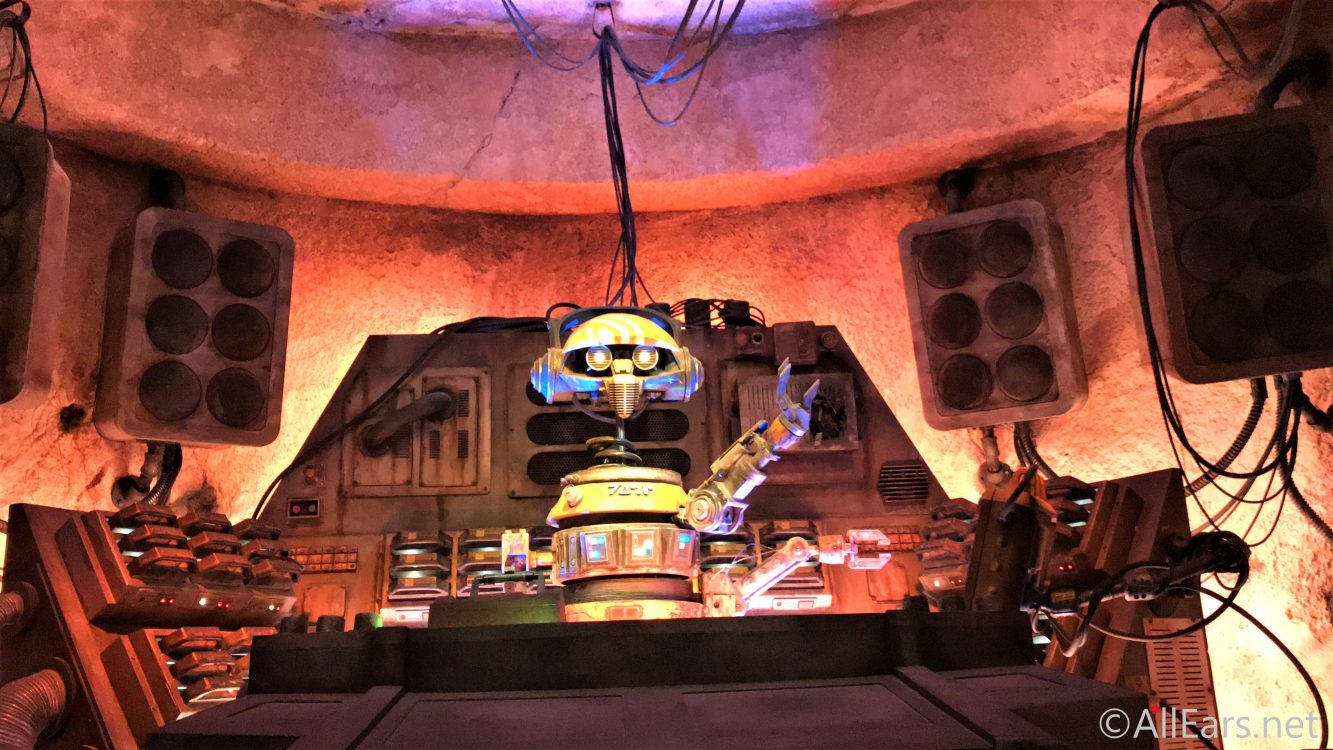 Want more Galaxy's Edge Easter Eggs? This is the video you're looking for.
59. Gertie is the giant dinosaur who has an ice cream shop in Echo Lake. But have you ever wondered how she got there? She walked of course!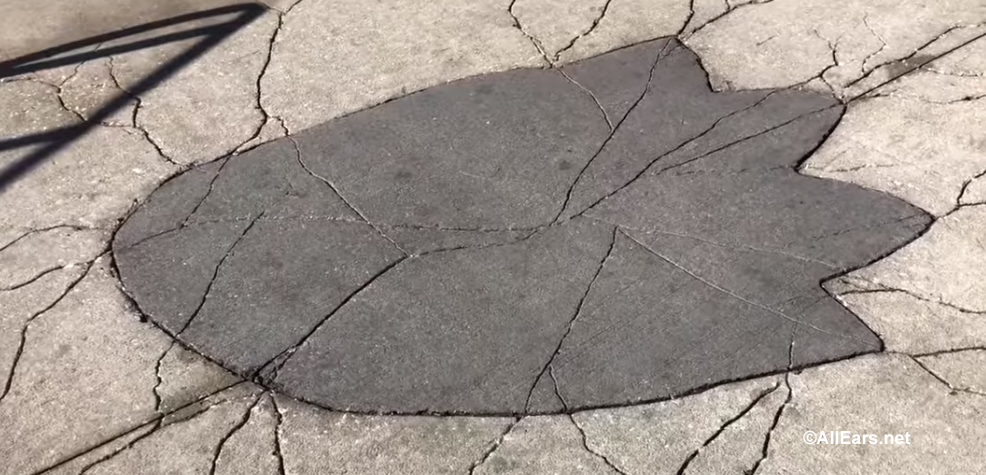 60. In the first on-ride scene of Mickey and Minnie's Runaway Railway, there's a plaque above you as you ride through the park, indicating when it was established. The year is 1928 — the same year Mickey debuted in Steamboat Willie!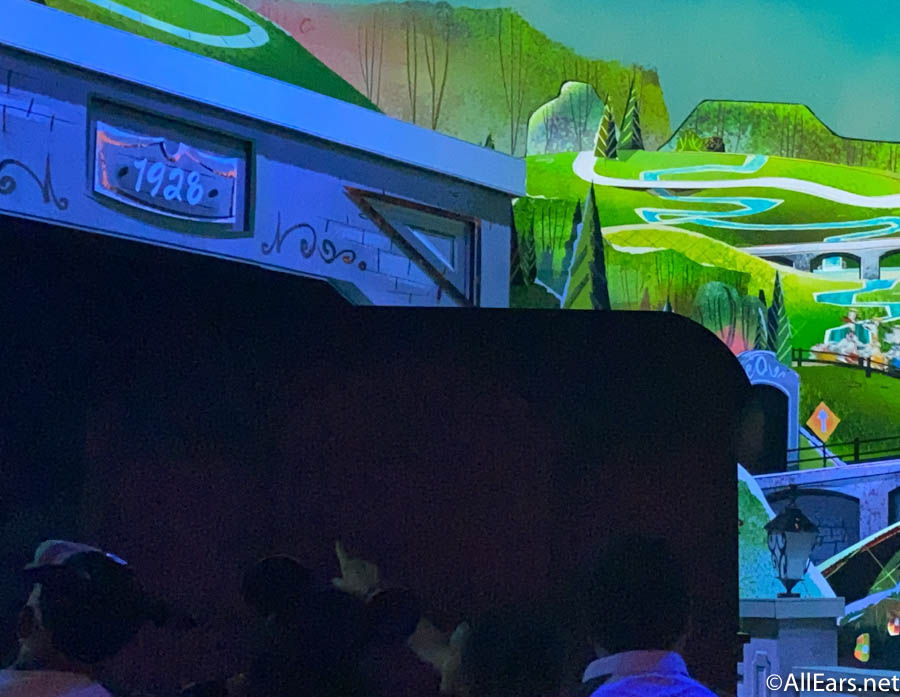 61. Above Mama Melrose's, look for a shop named Geiger's Rare Books. This is a reference to the Humphrey Bogart – Lauren Bacall movie, The Big Sleep. Geiger is the name of the character Bogie is hired to investigate — and he owns a bookstore!
62. While most people are rightfully excited about taking their seat inside the Millennium Falcon cockpit, before you get in there, make sure you look for the ladder down to the blaster cannons! You can spot it after your group is called, before you receive final instructions from Hondo.
63. Outside Dockside Diner, you can spot some shipping crates. Pay attention to the addresses — they are from some of cinema's most notable films.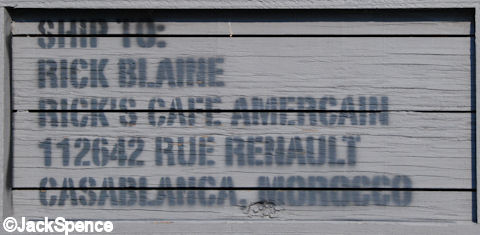 64. Toy Story Land is made to look like Andy set up all his toys in the backyard — that's why benches are made of Popsicle sticks and fences are Kinex. But have you noticed which toys he set up near the bathrooms? COOTIES.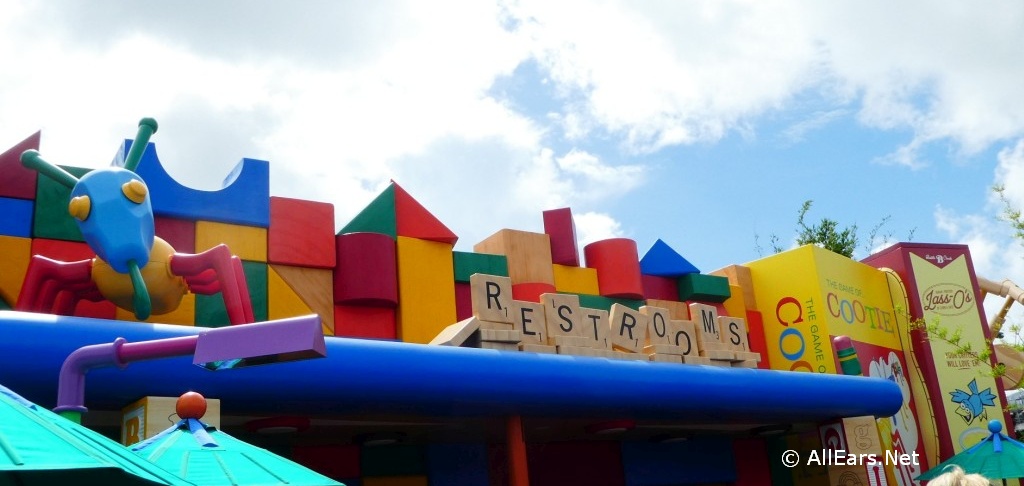 65. Near the entrance to the Indiana Jones Epic Stunt Spectacular you'll see a dig site set up. There's a rope leading down into a big hole, and a sign that says "Do NOT Pull Rope." But here's the thing — NOT has been crossed out. Give the rope a sturdy tug…and listen!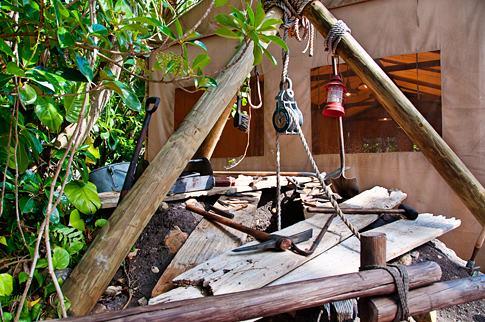 66. In the lobby of the Tower of Terror, you may notice a pair of broken glasses. These are from a Twilight Zone episode where the main character just wants to read, and ends up being the sole survivor a nuclear explosion. He's jazzed to read his book in peace, but then he steps on his glasses, rendering him blind.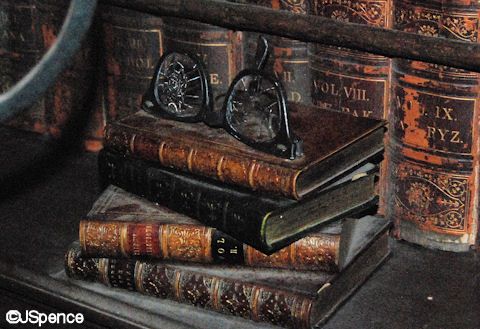 Just DROPPING this video here, in case you want more fun facts about The Tower of Terror…
67. The Muppets are the best a sight gags, and one of the best is in the pre-show of Muppet Vision 3-D. Look up and you may notice a net full of jello. Keep saying that faster and faster, and you'll get the name of a most-famous Mouseketeer, Annette Funicello.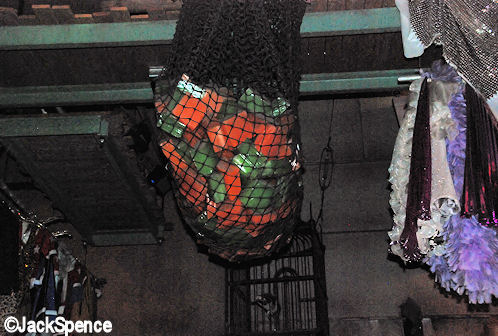 68. Keep your eyes peeled during the final park scene in Mickey and Minnie's Runaway Railway for the directional signs! One way would take you to Yensid Valley. Yensid is the name of the sorcerer in Fantasia — and it's also DISNEY spelled backwards.
69. As you exit Millennium Falcon: Smugglers Run you may notice a giant creature in the wall. It's a rathtar (from The Force Awakens) frozen in carbonite — much like Han Solo!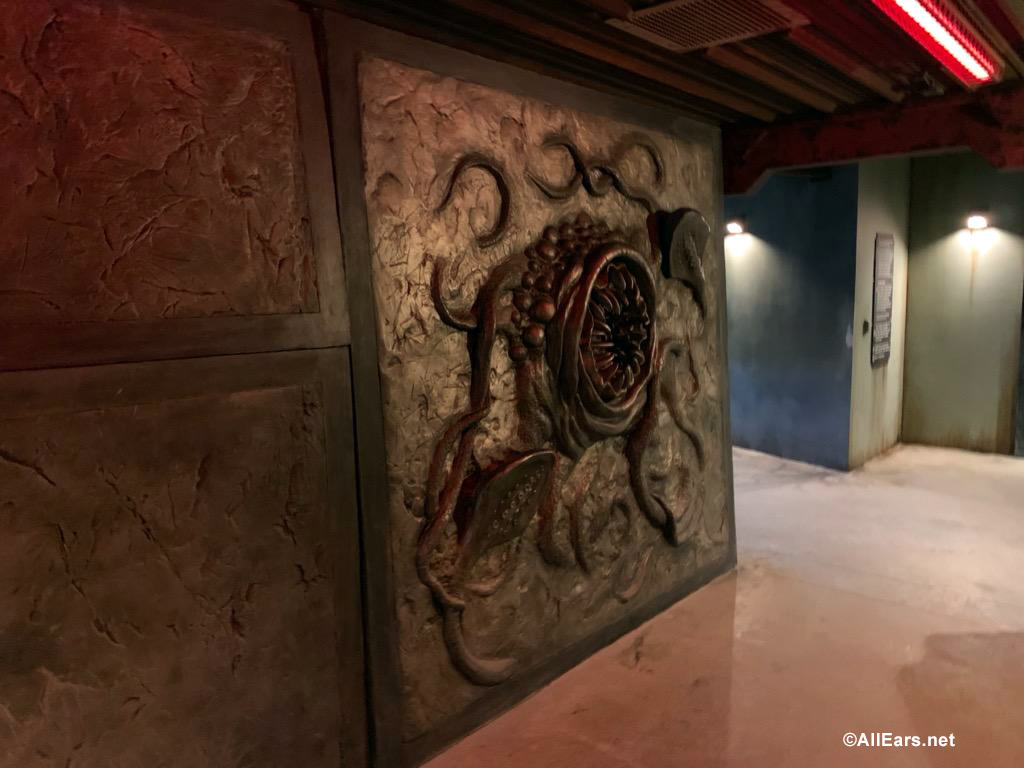 70. Do you know what day the Tower of Terror was struck by lighting? It was a holiday, and there's a hint in the windows of the gift shop!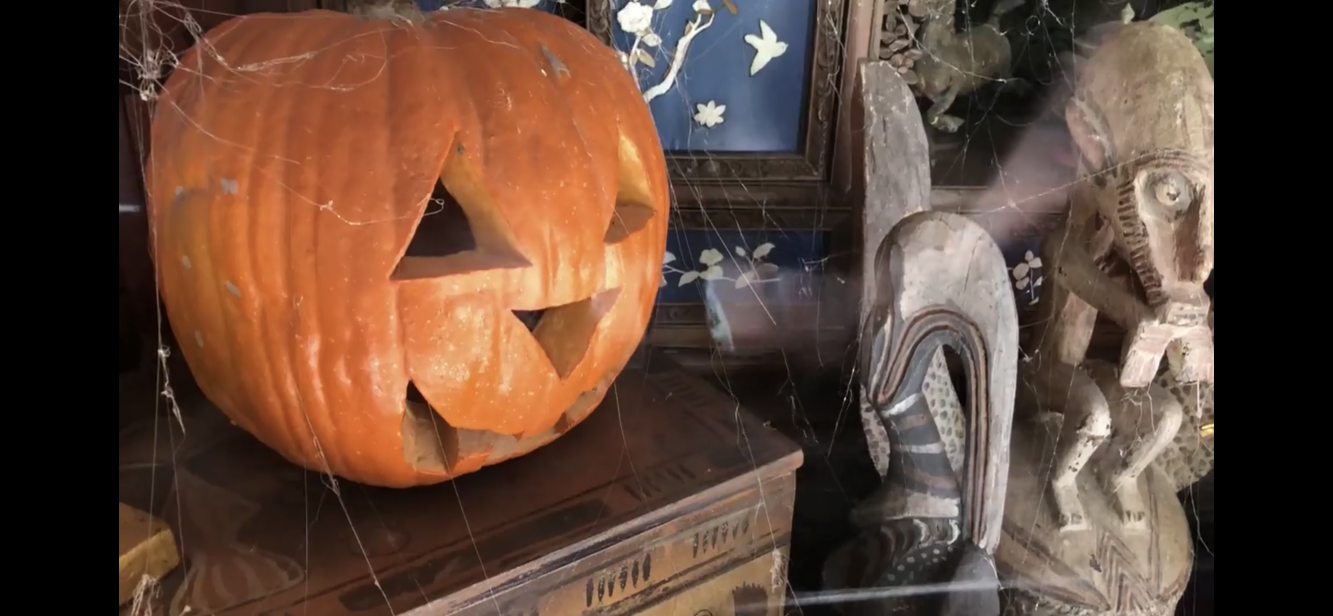 71. Did you know the Pixar team hides the alpha-numeric code A113 in every single Pixar movie? That's because it was the classroom number at Cal Arts where so many of them learned to animate! Naturally, the code needed to be hidden in Toy Story Land as well, and it is! Look at these blocks and dominos near Woody's Lunch Box.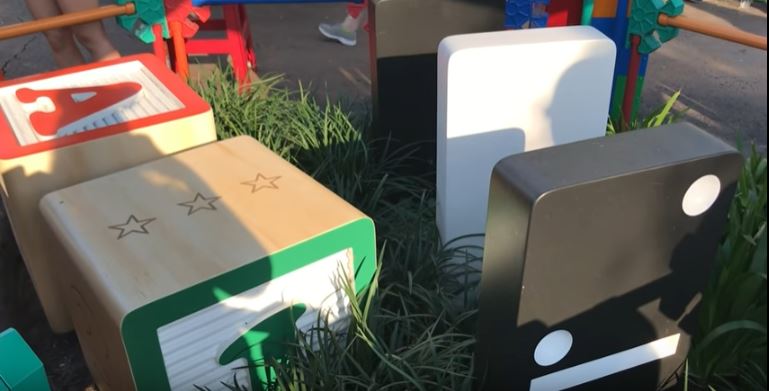 The red block as the A, and if you read the dominoes, the first 2 just have 1 dot, and the third one has a 2 and a 1 dot (adding together to be 3).
72. Pay close attention when you throw away your trash in Galaxy's Edge. All the trash cans have the numbers 3263827 on them — which is the number of the Trash Compactor that Luke, Han, and Leia get stuck in in A New Hope.
Disney's Animal Kingdom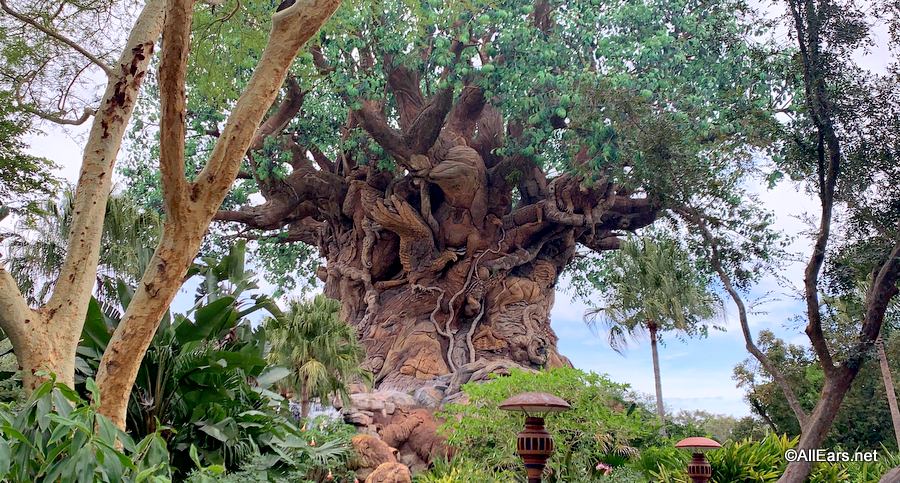 73. Throughout Africa,  you'll notice posters and signs advertising other locations in the village of Harambe. Check out this poster near the Dawa Bar for the Festival of the Lion King!
74. As you exit Flight of Passage, you may notice three red handprints with initials. These are three people who were instrumental in creating Pandora — James Cameron (Avatar director), Jon Landau (Avatar producer), and Joe Rohde (Imagineering Lead).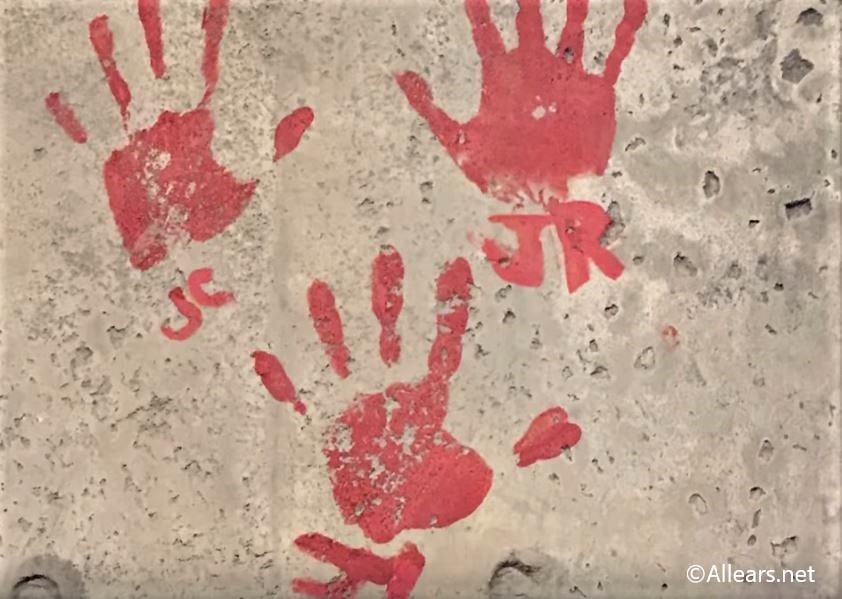 75. You may have noticed that park of Dinoland USA appears to be a road side attraction.  Pay close attention to the road you're on — Highway 498. That's because Animal Kingdom opened in April of 1998 (on Earth Day, to be exact).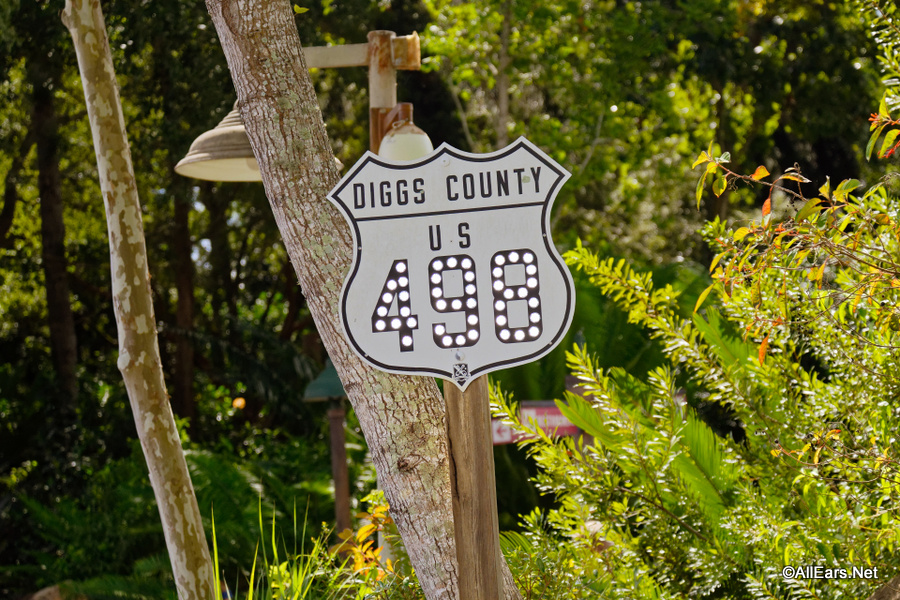 76. As you walk through Asia, look up. You'll see dozens of prayer flags and ribbons. In many cultures, it's customary to write good thoughts and prayers on ribbons and hang them up. They flutter in the breeze, and the wishes get carried off and spread throughout the country.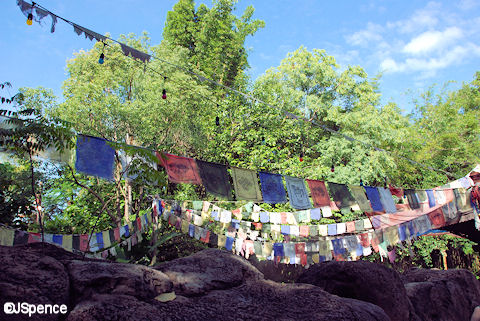 77. Inside Tiffins, look for the incredibly detailed columns. These were made in Bali and originally part of the now extinct land, Camp Minnie-Mickey. They were stripped and refinished, and now look gorgeous in the signature restaurant.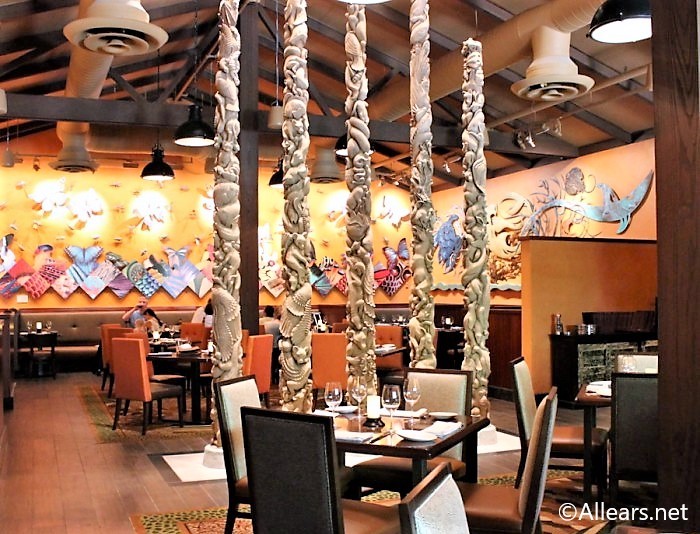 78. It's hard to pay attention to anything too closely when you're being chased by a Carnotaurus, but on the ride Dinosaur, have you ever realized who helps you escape? It's the Iguanadon! He's lifting up a log for your Time Rover to drive under — without him you'd be trapped!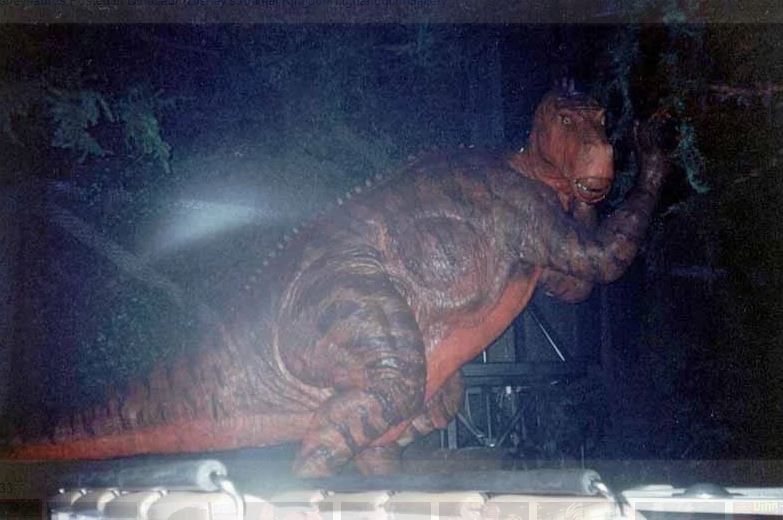 79. Outside the theater for Up! A Great Bird Adventure, look for Russell and Dug!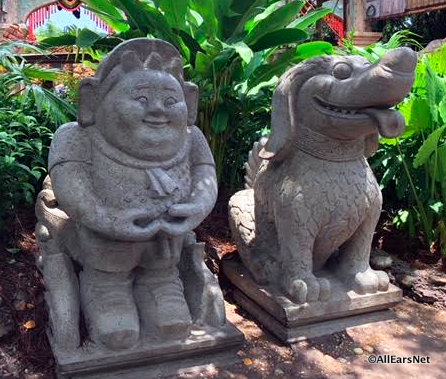 80. As you walk into Pandora, look over the right side of the bridge and you'll see a stone dragon face. This was supposed to be part of Beastly Kingdom, a land dedicated to mythical creatures that never came to be.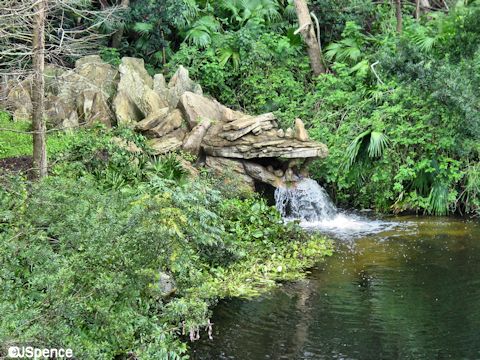 81. Here's a really obvious yet not so obvious hidden Mickey. Look for him in Africa — he's waving and the wall reads Fichwa! Fellow. Fichwa means "hidden" in Swahili, therefore the wall reads hidden fellow. Clever!
82. Across from Triceratops Spin, you might notice an odd shape in the concrete. Look closely and it appears to be an elephant from behind. That's the one and only Dumbo, flying across from the dinosaur version of his attraction. You can look at him like he's leading the way…or telling T-spin to kiss it.
83. Outside of both attractions in Pandora you'll find a woven structure made by the locals, letting you know what you're going to come face to face with! A giant Shaman sits near the entrance of Navi River Journey, and a Bashee at Flight of Passage.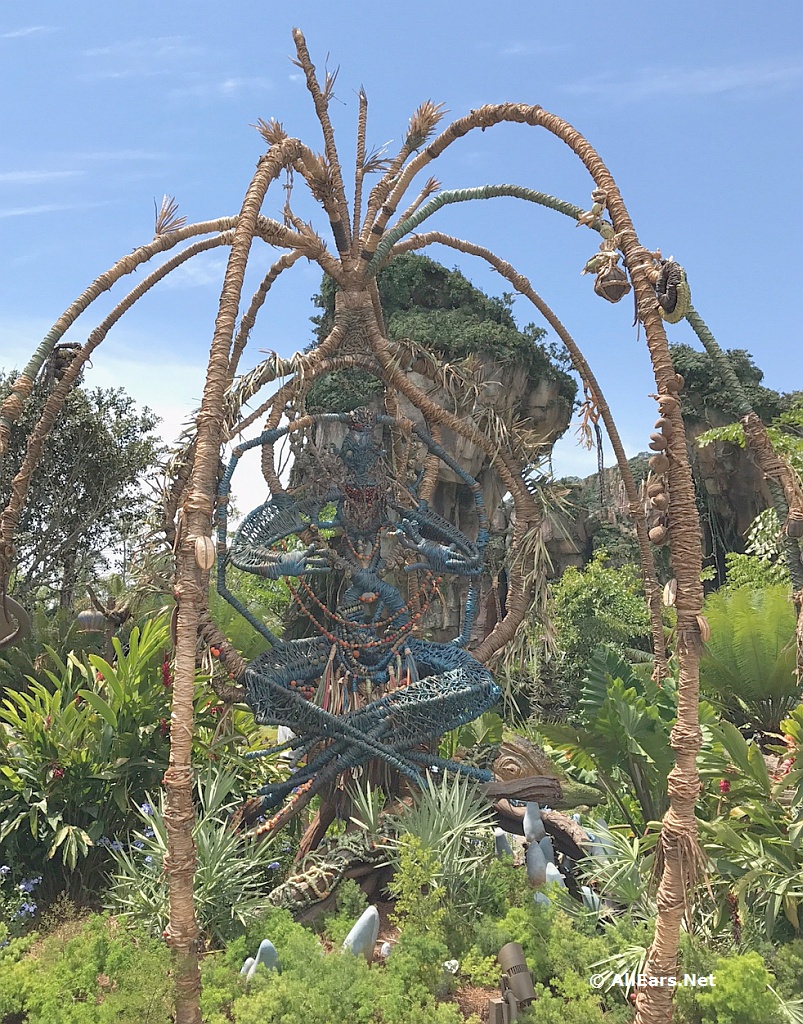 84. As you're walking to Expedition Everest, notice this shrine the locals built to honor the monster in the mountain. They've left food and trinkets for the Yeti. Also, the shape of the shrine mirrors the Forbidden Mountain perfectly!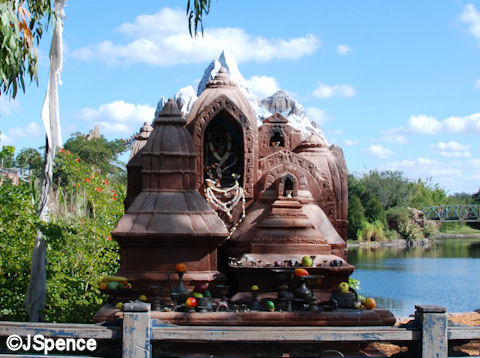 85. This wall in Africa near Zuri's Bake Shop has a lot of detail — including attractions posters and a carefully placed bike. But most importantly, read the beautiful saying on it. 🙂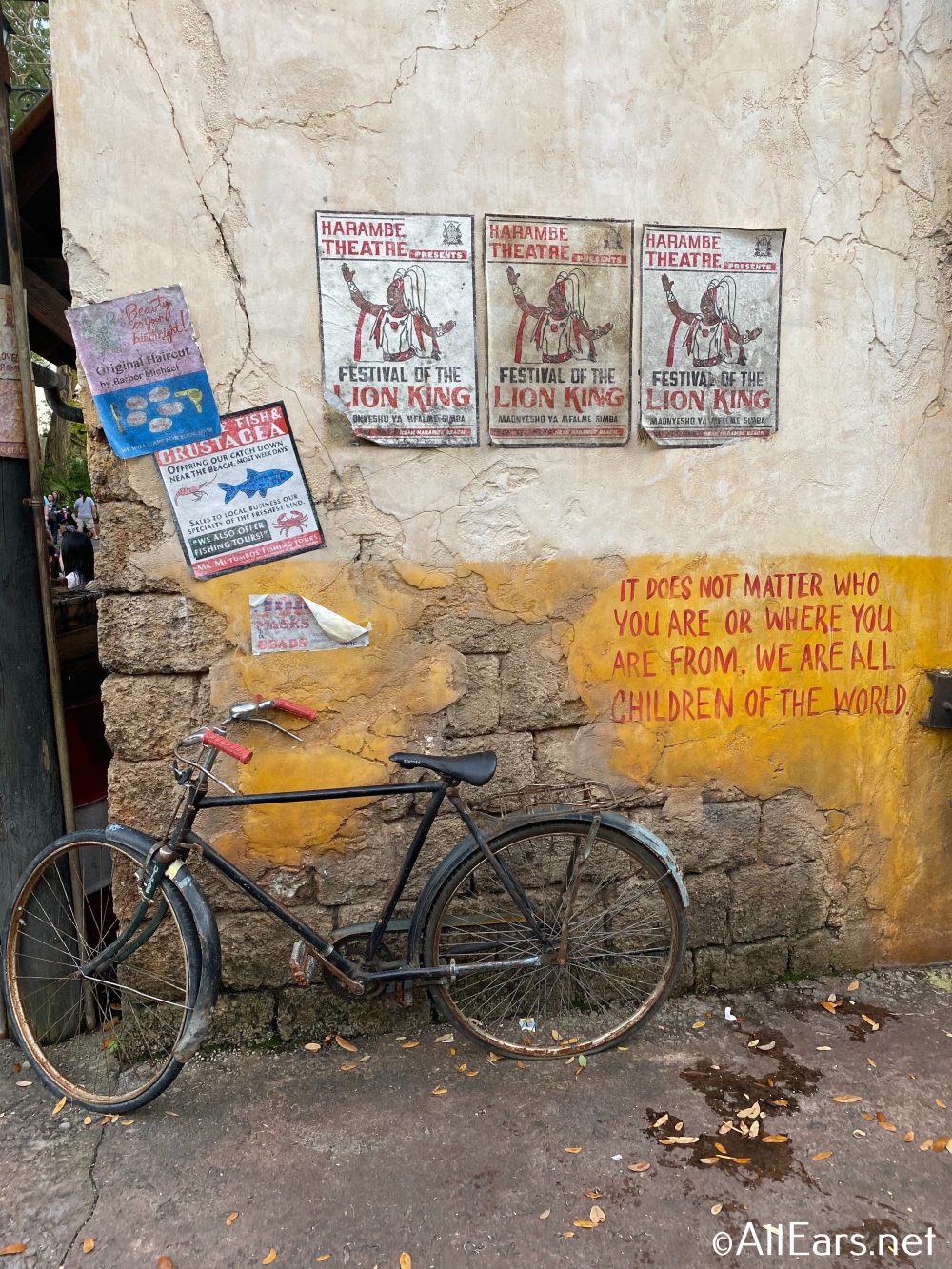 Want more awesome Animal Kingdom facts? You know we've got a video!
Beyond the Parks
86. Located in Trader Sam's Grog Grotto at the Polynesian Resort is another nod to a former attraction. Look around and see if you can spot this life preserver — it's from Maelstrom!
87. Stop in for a beverage in Jock Lindsey's Hangar Bar and you're sure to see lots of nods to Indiana Jones! Why? Jock is Indy's pilot! In fact, if you look up on a shelf on the lefthand side of the bar, you can spot the idol Indy was after in the beginning of Raiders of the Lost Ark!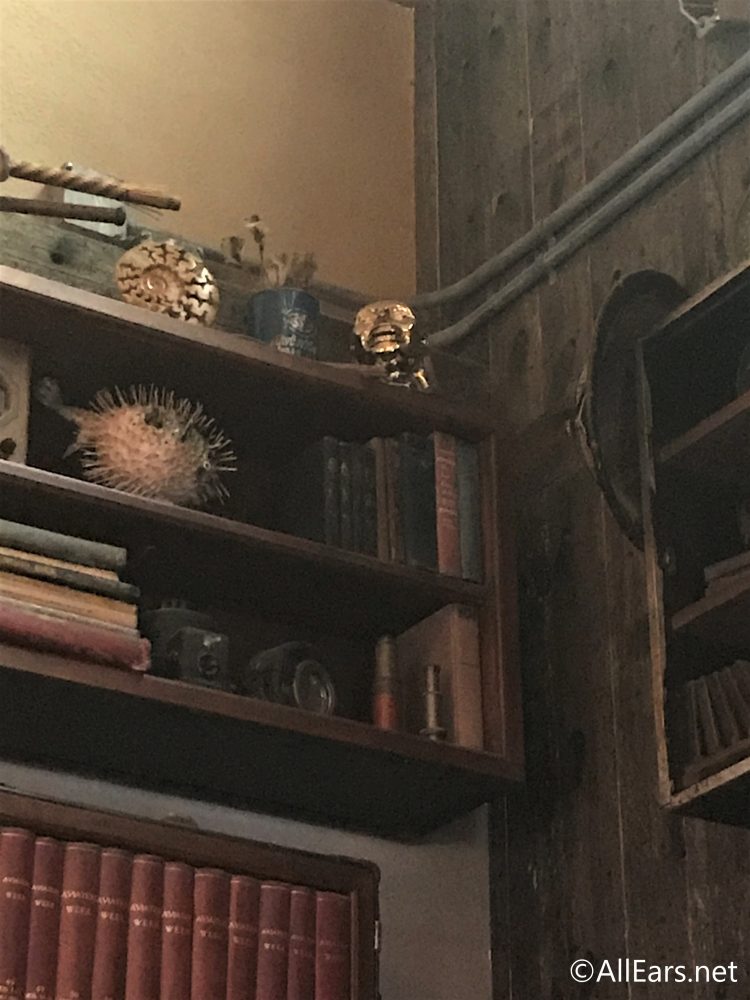 88. Entering the Grand Floridian Resort, you're sure to see lots of iconic characters — if you look down! Embedded in the tile are different characters depending where you are. Look for the Fab 5, Cinderella, Peter Pan, and Mrs. Potts. She's fittingly located outside of the Tea Room.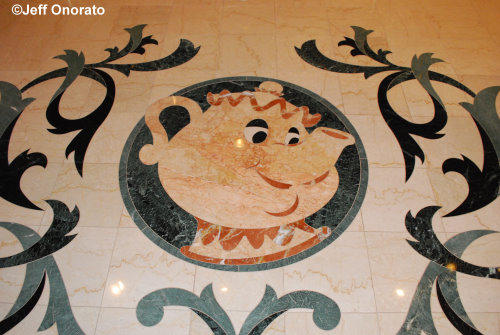 89. At Pop Century, you may spot a giant can of Play-Doh with some molded animals popping out the top in the 1960s section. But pay close attention — and you can see they've actually been molded! Check out the thumbprints and fingers marks, which can be seen easiest on the Elephant's ears. That's the mark of real Play-Doh if I've ever seen it!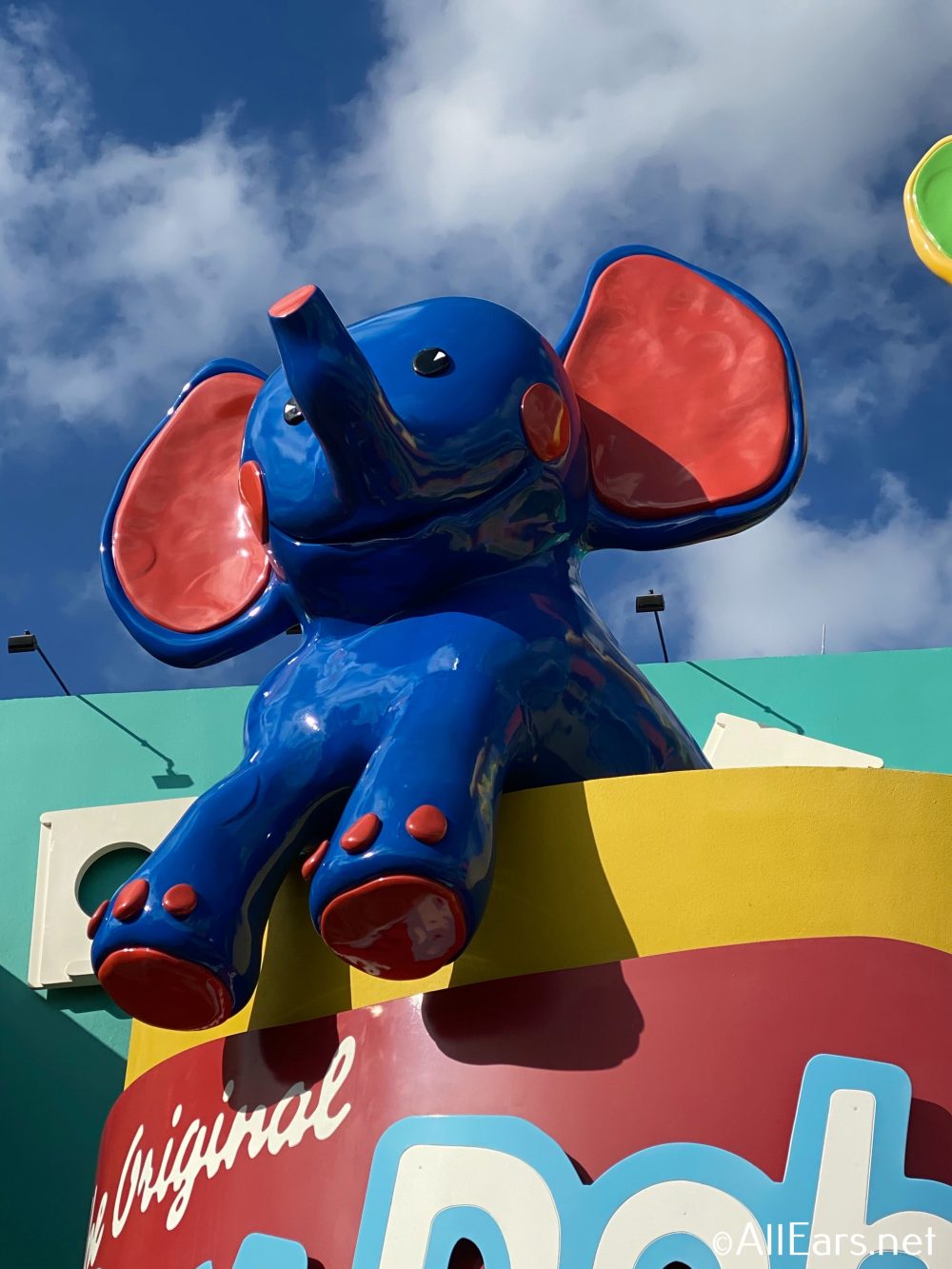 90. Swim on over to All Star Sports where the pool is Surfing Themed. Have you noticed those HUGE Shark Fins? They are 38 feet tall — meaning they'd have to belong to a 300 foot Great White Shark.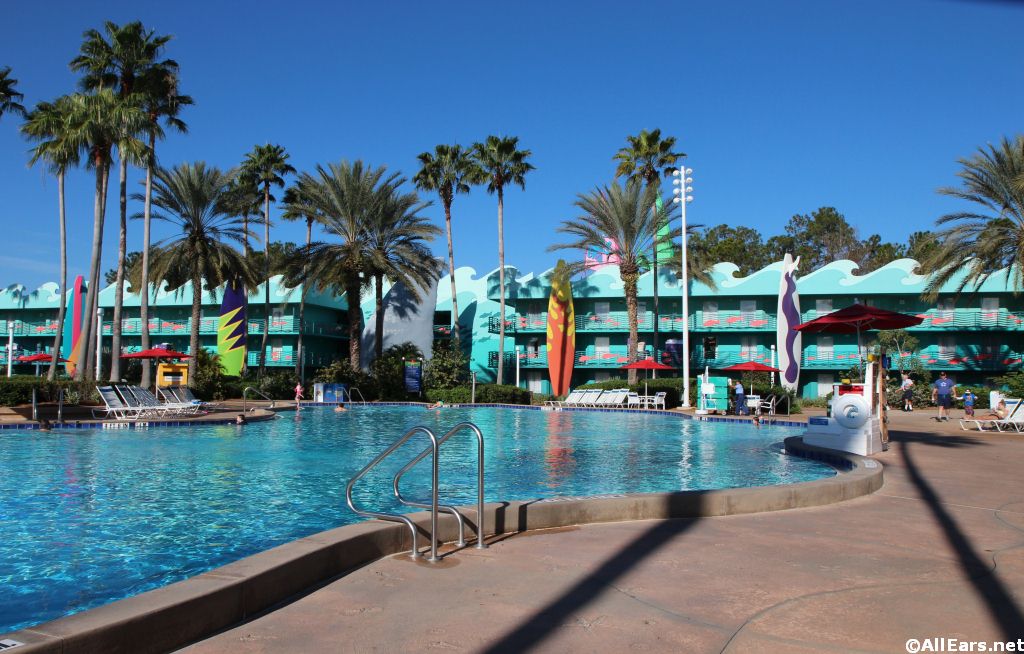 91. The Nautical Flags hanging near Old Key West's Marina read "Welcome Home Members" or "Members Welcome Home" depending on which way you're looking at them.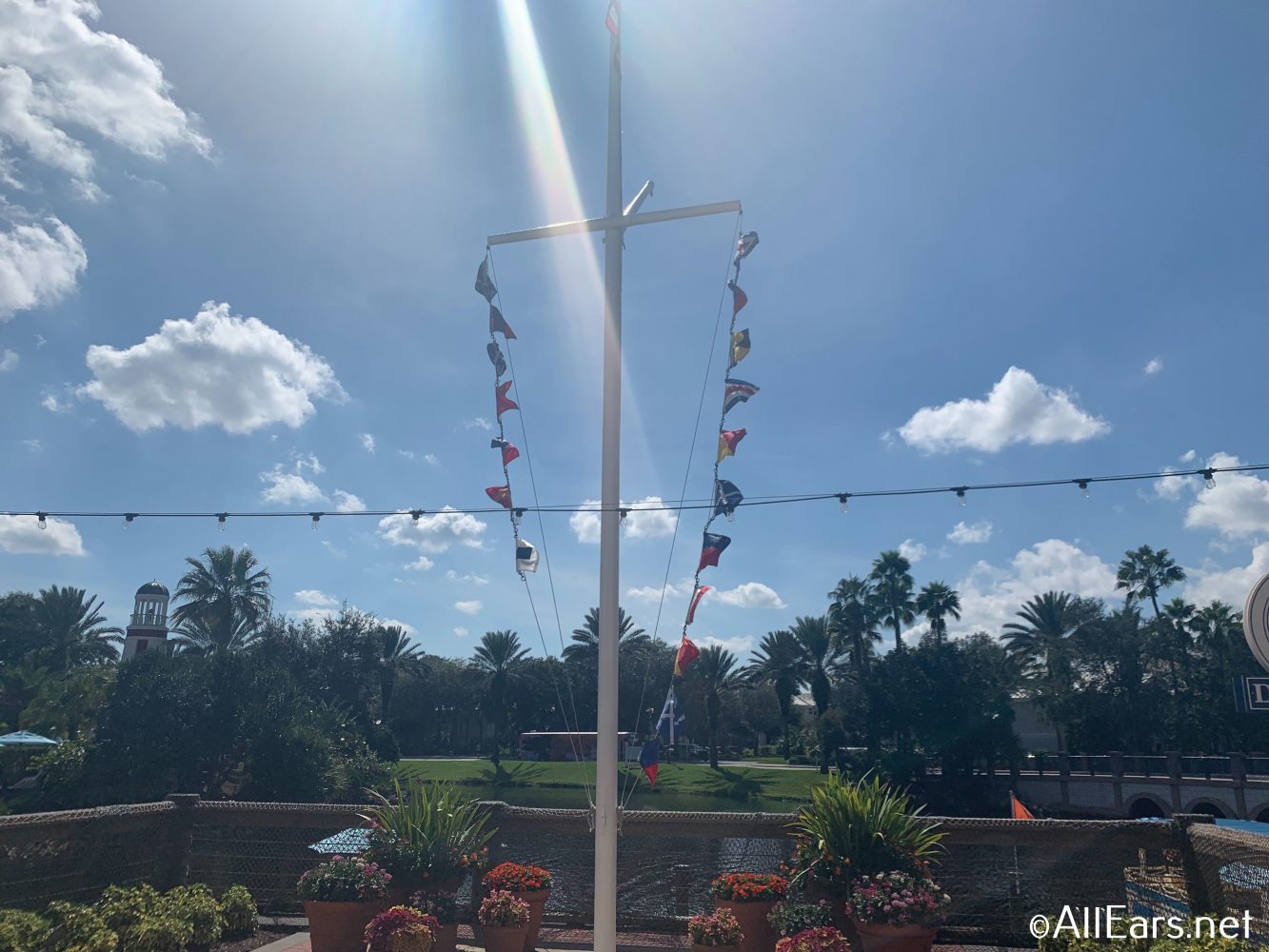 92. Have you noticed the gigantic fireplace in the Wilderness Lodge Lobby? It is made of amazing rock work — but it's not randomly chosen or just aesthetically pleasing. It's designed to mirror the Earth's strata at the Grand Canyon!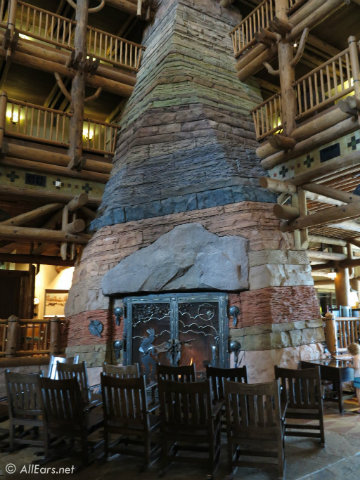 93. Ever wondered the name of the boat trapped atop Mount Mayday at Typhoon Lagoon? It's the Miss Tilly! You have to climb up close to see the trapped vessel in detail.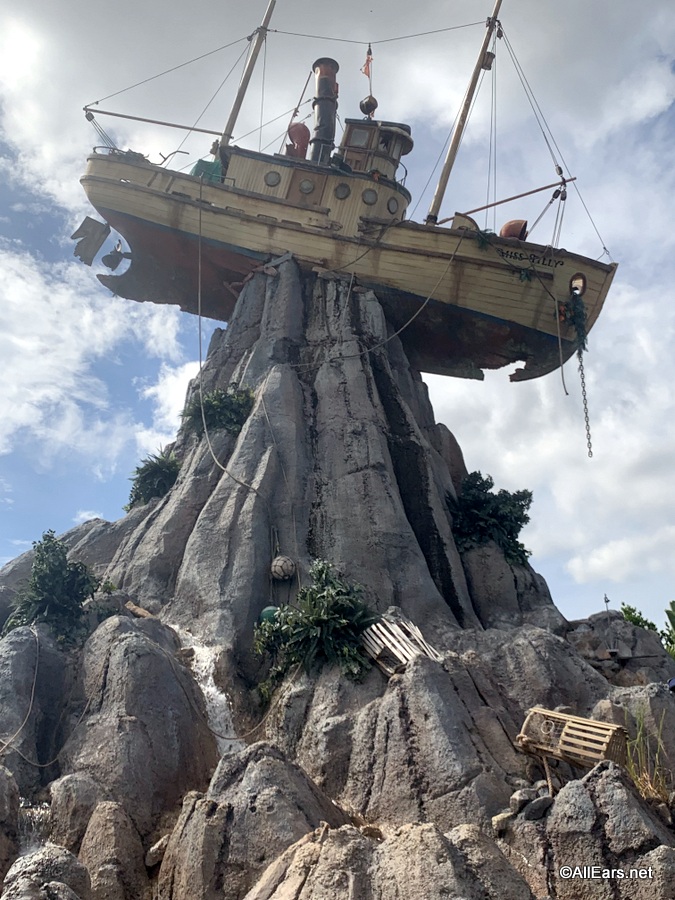 94. Ever noticed the ground is plushy at Art of Animation near the character figures? When the resort was being designed this was not the case, but Imagineers were worried kids running towards their favorite Cars would fall and hurt themselves. So they decided to make that ground out of soft recycled rubber!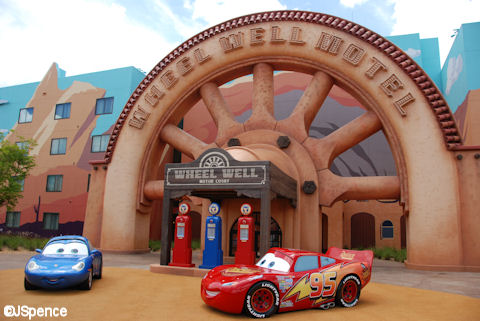 95. In the Boardwalk Inn you may come across a few nightmare chairs, I mean Nanny Chairs. Back in the day, these were designed for nannies to sit in while the children they were watching rode the merry go round. They even have the kids' names on the back. But also, rumor has it they move on their own. Which…isn't shocking given the look of them.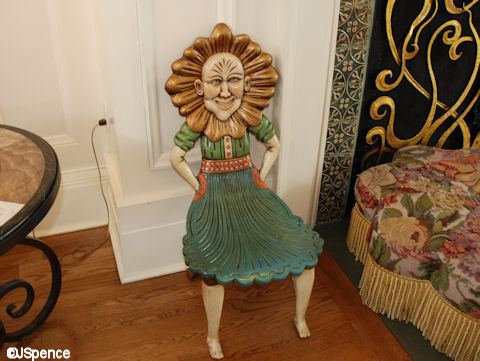 96. Check out the jukebox in the 1950's Section at Pop Century, and you may see some familiar hits, including The Ballad of Davy Crockett!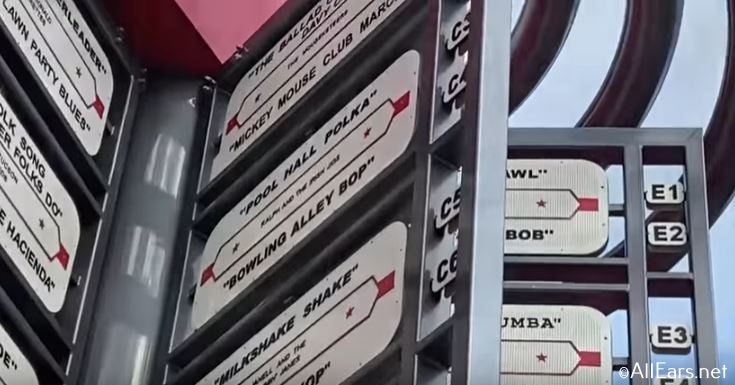 97. There's a nod to another famous film at Jock Lindsey's Hangar Bar! Look to the left of the outdoor bar and you'll see a glass case with a T-Rex Tooth, along with a note that reads "Jock, thanks for getting us off the island. – SS"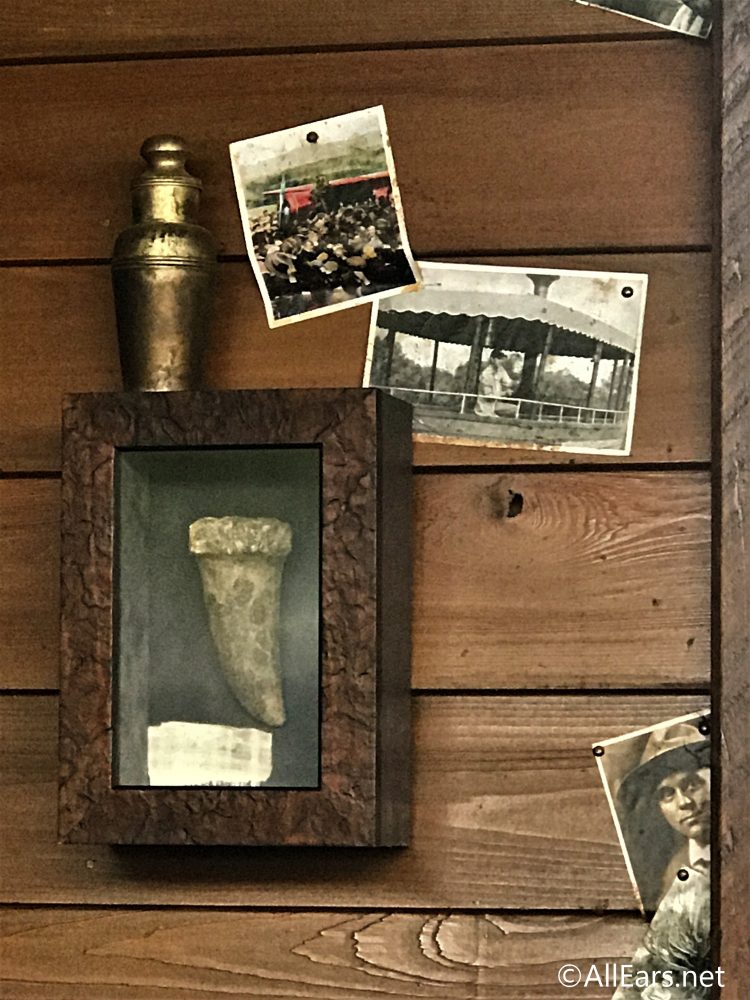 The actor who played Jock Lindsey, Fred Sorenson, was actually a pilot by trade. Years after Indiana Jones, Steven Spielberg and his team were stuck on an island in Hawaii while filming Jurassic Park. There was a huge storm approaching and no commercial flights were leaving. Steven called Fred, who came and rescued the Jurassic Park crew.
When Jock Lindsey's Hangar Bar opened, Steven Spielberg personally sent this dinosaur tooth with a note.
98. Craving a special treat at All Star Movies? Then make sure to ask about the Secret Menu. It's viewed in a most unique way!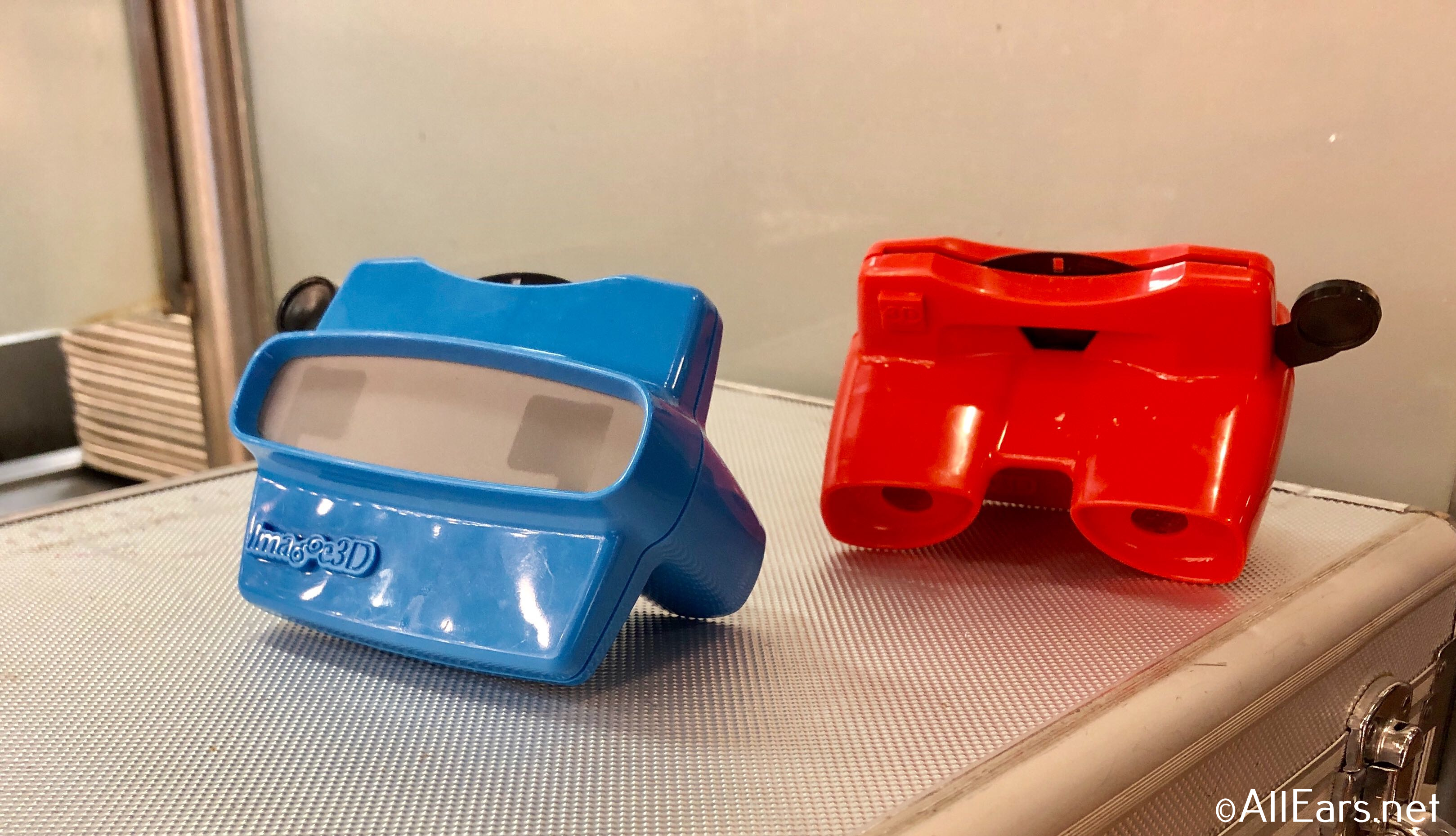 99. If you want to ride a horse at Disney World, you need to head to Tri-Circle D Ranch at Fort Wilderness. Ever wonder where it got its name? It's a nod to a most popular mouse! Three circles are how you draw a simple classic Mickey, and the D is for Disney of course!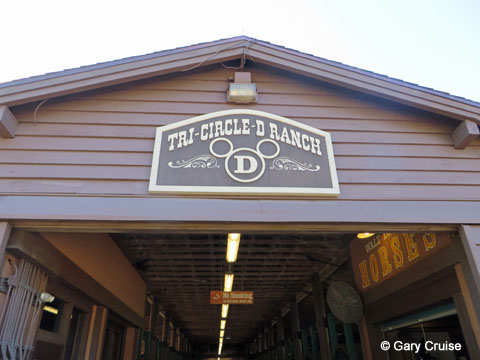 100. Strolling near the Boulder Ridge Cove Pool at Disney's Wilderness Lodge you may spot some mining equipment! But that's not its first home — it used to live at Catastrophe Canyon at the now extinct Backlot Tour!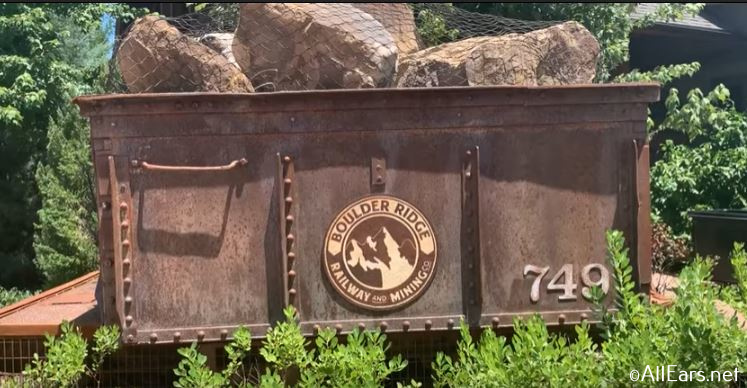 101. On the Main Concourse of the Contemporary Resort, you're sure to notice the gigantic Mary Blair mural! She's a legendary Disney Artist, who worked on it's a small world, as classic films such as Peter Pan and Cinderella. But there's a hidden "mistake" to look for — it's a five legged goat!
WHEW! That is a lot of Disney Details to search for on your next trip! Do you have a favorite Imagineering touch that you've seen in the parks? Let us know in the comments!
Interested in Disney history and Imagineering details? Take a look at these recent posts: