We thought we'd chat about a little Disney history today. Honestly, I love doing a ton of research to learn about things I didn't know much about when it comes to Disney or to brush up on information I had forgotten.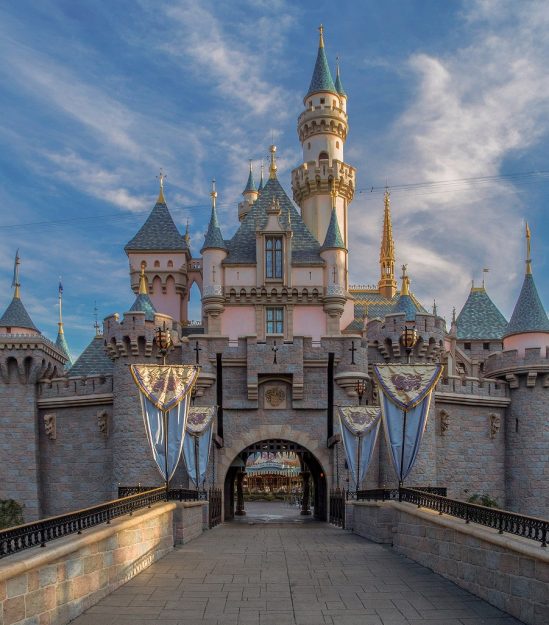 This week I thought we'd check out a few short-lived and often forgotten Disney attractions!
1. Lucky the Dinosaur
Lucky the Dinosaur was the first audio-animatronics figure to walk on his own.  He stood 9-feet tall and is 12-feet long. It took Imagineers FIVE years to create him.
When walking around the park, he would interact with guests while pulling a flower cart. And, get this — he could even give an autograph by signing with his mouth!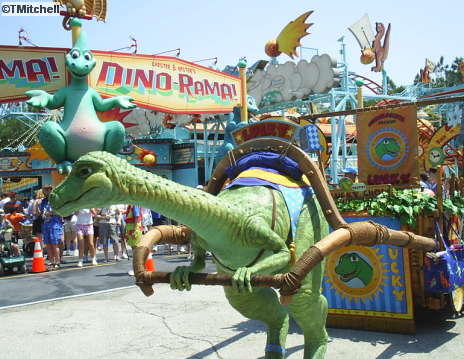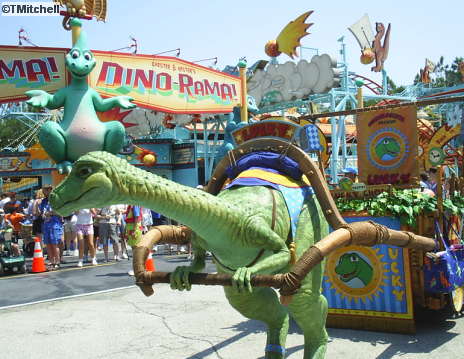 According to the Disney Parks Blog, Lucky made his debut at The Natural History Museum of Los Angeles on August 28, 2003. He then appeared in Disney California Adventure, where he was playtested! He also made appearances in Animal Kingdom in Walt Disney World from June to August in 2005 and in Hong Kong Disneyland in September 2005.
Sadly, Lucky is no longer in the parks, but he does occasionally make appearances in the Backstage Magic Tour for Adventures by Disney guests!
2. The Jungle Book: Alive With Magic
The Jungle Book: Alive With Magic was a place-holder show created in only 40 days. The show was quickly created so Disney would have a nighttime show as they finalized Animal Kingdom's Rivers of Light nighttime show.
The show had a lot of similarities to Rivers of Light because it also used water screens and other water features.  It was released on April 22, 2016, about a month after Disney's live-action film The Jungle Book  hit theaters. It featured classic songs from the film and displayed film scenes on water, much like Fantasmic! There were also live performers on the water who sang and danced.
The show closed on September 5, 2016, to make way for the current Animal Kingdom nighttime show, Rivers of Light.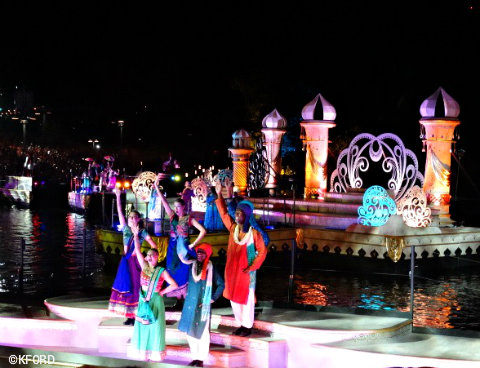 3. The Mickey Mouse Club Circus
I found this as I was researching old short-lived attractions. I had never heard of it, but upon reading I was intrigued! The Mickey Mouse Club Circus took place in the world's largest striped circus tent and was a show filled with circus acts and animals. And guess who else was in the show? Jimmy Dodd, Roy Williams, and a few other Mouseketeers!
According to a 1955 Disneyland news post, The Mickey Mouse Club Circus boasted, "a menagerie of more than 80 animals, a talent roster of over 70 performers picked by Walt personally from the best circus talent available in the world."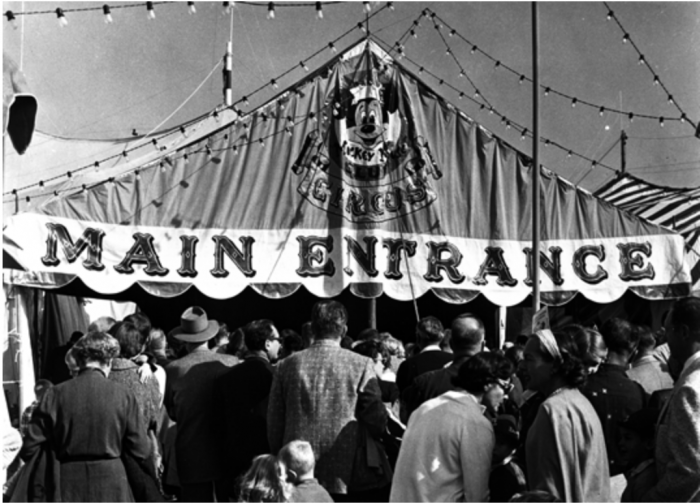 The show lasted about 75 minutes and had 12 major acts. These acts included Professor George Keller's amazing Feline Fantastics, with jungle animals including lions, pumas, ocelots, leopards, and tigers. After the professor's act, clowns took to the stage and performed an aerial ballet. Trained ponies, dogs, and seals performed next, then Kinko the Clown and his miniature auto. The sixth act had performing camels and llamas. Finally, Ted DeWayne's Troupe of acrobats and gymnasts would take the stage.
During the trapeze act, performers would dress as Tinker Bell and Peter Pan, the lights would be turned out and they would glow!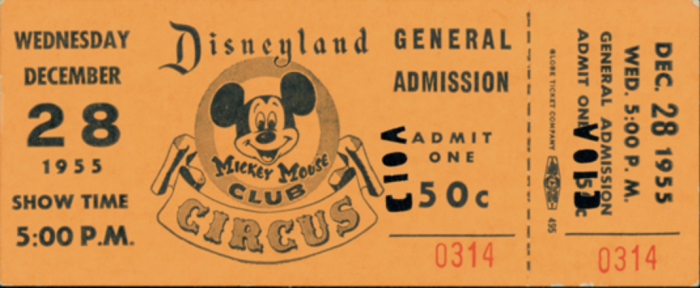 The show was actually a holiday offering, so the finale presented guests with a little Disney Christmas magic. The grand finale was known as the "March of the Toys."These "living toys" were Mickey Mouse, Minnie, Donald Duck, Pluto, and Goofy, and a bunch of other Walt Disney stars. They'd parade around in a machine-like style as a Christmas tree would grow from the center ring, rising to meet a sparkling star, high in the tent. Then, jingle bells would announce the appearance of Santa Clause who'd arrive by sleigh to close the production.
The show debuted at Disneyland on November 24, 1955, and closed on January 8, 1956. I really wish I could have experienced this show! Were you able to see the show or do you remember hearing about it? If so, let us know and share pictures, we'd LOVE to see! 
4. Superstar Limo
Superstar Limo was a dark ride attraction at Hollywood Pictures Backlot at Disney's California Adventure. The attraction opened February 8, 2001, but was not even open for a year as it closed on January 11, 2002.
The ride was supposed to reenact a high-speed chase between guests and the paparazzi. This idea was in production during the tragic crash death of Princess Diana in 1997. Realizing this would now be perceived as an attraction in poor taste, Disney recreated their idea.
The attraction ended up taking guests on a wild ride in a purple limousine through Tinsel Town. It featured colorful signs, celebrity caricatures, and cartoonish Hollywood landmarks. A few of the celebrities included Cher, Tim Allen, Drew Carey, and Whoopi Goldberg. But the ride didn't really impress guests. Instead, many children were terrified and adults were simply bored.
The attraction was later replaced by Monsters, Inc. Mike & Sulley To The Rescue. And — fun fact — for budget-saving reasons, Disney reused a number of the existing Superstar Limo animatronics in the Mosters, Inc. attraction!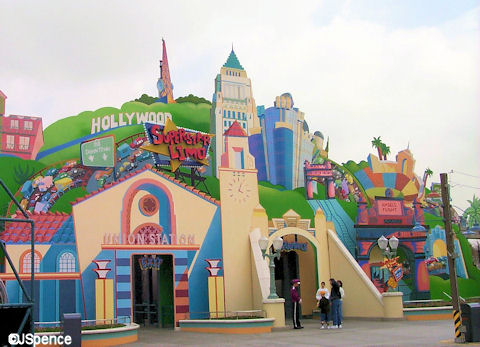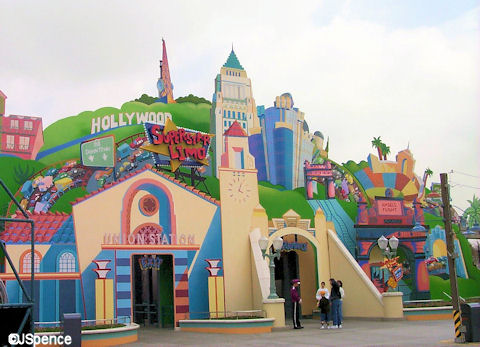 5. Goosebumps HorrorLand Fright Show and FunHouse
Goosebumps was a HUGE deal in the 1990s. Kids loved reading the books and watching the show, therefore, Disney thought they'd bring some of that spooky fun to the parks. They did this by creating the Goosebumps HorrorLand Fright Show and FunHouse at Disney-MGM Studios, now Hollywood Studios, in 1997.
The Goosebumps HorrorLand Fright Show was a magic show during which Amaz-O the Magician would use kids from the audience to perform magic tricks. During the show, things would go awry, and Amaz-O would lose the kids for a bit. A few Goosebumps characters would appear during the show, including Slappy, Curly the Skeleton, Cuddles the Hampster, and the Lord High Executioner. Toward the end of the show, the kids would come out with masks on and scare away the scary monsters. Amaz-O would also reveal that he is actually the Executioner at the end of the show as well. He would then prompt people to visit the FunHouse.
The FunHouse was really just a mirror-filled maze that dumped everyone into a Goosebumps gift shop. Guests were pretty underwhelmed with both attractions early on, which caused Disney to make a few changes. They dropped FunHouse from the name and revamped the maze a bit to make it more challenging. They also added the Goosebumps characters to the maze!
During this time, Scholastic saw a major decrease in Goosebumps sales. R.L. Stein also ended the original series and started a new one, so this could have played into why the experience was so short-lived. Goosebumps simply just wasn't as popular by the time Disney introduced the show.
Goosebumps HorrorLand and FunHouse opened on October 9, 1997, and closed on November 1, 1998.
6. Discovery River Boats
The Discovery River Boats were an opening-day attraction at Disney's Animal Kingdom. And when the park initially opened, the River Boats provided a short cruise through the waterways of Animal Kingdom.
The boats seemed pretty doomed from the beginning, though. At the early cast member openings in March 1998, the lines were more than an hour long as guests waited to board the boats. And of course, once the park opened, the lines grew even longer. Guests were VERY disappointed after waiting in such a long line to find that the attraction was nothing more than a 10-minute boat ride that went in a circle and had nothing to look at. People were likely expecting an attraction like Jungle Cruise, so it simply didn't live up.
Disney did make a few changes to try to increase the Discovery River Boats' likability. They added animal handlers who put on a show and tell, but this did little.
When this didn't work, Disney closed the attraction for a refurbishment. It eventually reopened as a Radio Disney River Cruise attraction with Radio Disney DJs as a part of the ride. This fixed nothing and the attraction closed for good in 1999.
It was rumored that once Asia opened, the boats would be a means of transportation from one part of the park to the other (similar to the boats in Epcot's World Showcase). We wish this could have happened because we think it would have been a HUGE success.
7. Journey into the Jungle Book
Journey into the Jungle Book was also an opening-day attraction in Disney's Animal Kingdom in April 1998. The 30-minute show was staged 10 times daily at the Theater in the Wild, a 1,500-seat amphitheater overlooking Discovery River near DinoLand U.S.A. This is where the Finding Nemo — The Musical show is currently.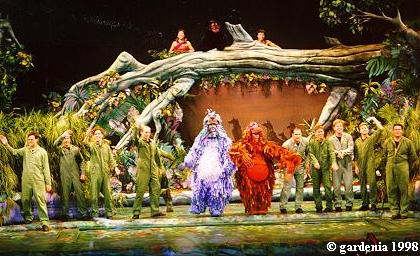 This was a hilarious and unusual stage production that employed a new breed of hum-animals, highly mobile costumed characters combining human performers and innovative puppetry. You could see the performers' faces, which resulted in animals of fantasy that conveyed life-like realism and emotion. Many of these character costumes could double as other set pieces as well, like a bush for example. The performer would suddenly reveal themselves as dancing animals. Some of the costumes also contained two or more performers by using front and puppet rear sections.
The music and characters from the film stepped right out of what appeared to be a giant, multi-plane picture book on stage. The show followed the classic Jungle Book story of Mowgli, Baloo, and Bagheera. It also included musical highlights like Bare Necessities and I Want To Be Like You.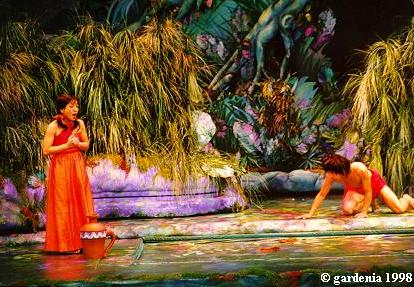 It closed in April 1999 and was replaced by
Tarzan Rocks.
We really think that this was because Tarzan was a new property that needed a home and the Jungle Book was an older one.
8. Goofy's Country Dancin' Jamboree
Goofy's Country Dancin' Jamboree opened on July 1, 2003, and was performed in the Diamond Horseshoe at Magic Kingdom. The show started with a musical number from the host Sarah Jo. She would introduce Goofy, who would come out all decked out in country-western attire. The two would perform a song or two, and then they would introduce the rest of the cast, who included Chip and Dale, Woody, Jessie, and Bullseye. The characters would interact with guests, while Goofy and Sarah Jo led a variety of country line dances, including the Electric Slide and a variation of the Chicken Dance, to tunes such as Cotton-Eyed Joe.
The show ended with all the characters gathering onstage for a grand finale where they would pose for one last group shot before exiting. The show remained open until October 1, 2004.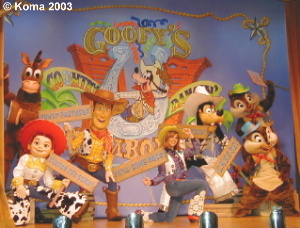 9. Tiana's Showboat Jubilee
Tiana's Showboat Jubilee premiered at Disneyland on Friday, November 6, 2009, and was a celebration that featured The Princess and the Frog cast in a jazzy procession through New Orleans Square. This celebration would work its way to the Mark Twain Riverboat, where the show would continue.  A live jazz band would play as the cast performed musical numbers from the movie.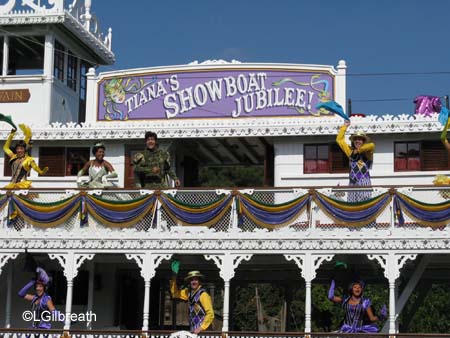 Dancers dressed in Mardi Gras colors carried parasols and led the procession. They were followed by Princess Tiana and Prince Naveen, the jazz band, and more dancers who handed out Mardi Gras beads.
We're pretty sure this was a show that was supposed to run for a limited time to create hype for the release of The Princess and the Frog film, as it also had a limited run in the Magic Kingdom at Walt Disney World.
The show ended in Disneyland on January 3, 2010.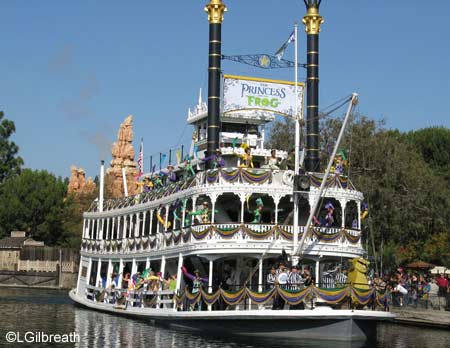 Were you able to experience any of these short-lived attractions? If you were please tell us about your experience and share your photos with us in the comments below! We'd love to hear all about it! 
Be sure to follow @allearsnet on Instagram and Twitter!
Check out our YouTube Channel for reviews, news, information and more!
Click below to subscribe to the AllEars® newsletter so you don't miss any of the latest Disney news!