Goofy's Country Dancin' Jamboree at the Diamond Horseshoe Frontierland Magic Kingdom Archives
10/04: This show is closed.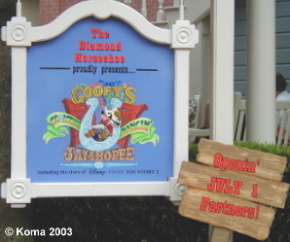 INTRODUCTION
Goofy's Country Dancin' Jamboree marks the reopening of the Diamond Horseshoe Saloon in the Magic Kingdom's Frontierland, but, let me tell you, this new show bears no resemblance to the Revue previously housed here. This jamboree is all about kids and characters and photo ops!
ATTRACTION
Goofy's Country Dancin' Jamboree — The food is gone, and all of the tables have been cleared out of the lower level of the saloon, since it's here that all of the character interaction takes place. Seating is available in the upper level, but aside from a brief appearance by Chip and Dale up there, the characters spend all their time downstairs. There are also benches along the wall in the rear of the saloon's first floor. This means that everyone on the floor stands, or dances, for the 20-minute show.
| | |
| --- | --- |
| | |
The show starts with a musical number from your host — I saw cowgirl Sarah Jo — who then introduces the big G himself, Goofy, all decked out in country western attire. After performing a song or two, Goofy and Sarah Jo introduce the rest of the cast: Chip and Dale, and Woody, Jessie, and the trusty steed Bullseye from Toy Story 2. The characters mingle with guests on the floor, while Goofy and Sarah Jo lead a variety of country line dances, including the Electric Slide and a variation of the Chicken Dance, to tunes such as Cotton-Eyed Joe.
This interaction will undoubtedly delight the little ones, who I saw looking up at the characters in awe as they twirled and danced right alongside them. There were lots of laughing parents, too, scrambling to get photos — I'm sure they were able to get some great shots up so close and personal!
The show closes with all the characters gathering onstage for a grand finale, and they pose for one last group shot before exiting, apparently for more meet and greet opportunities in Mickey's Toontown.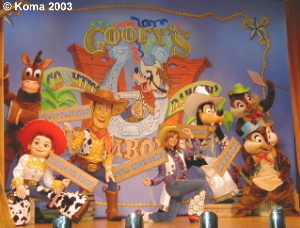 TOURING TIPS
Since this is a new show, it's bound to be very popular initially. It would probably be wise to get in line at least 15 minutes before show time if you want to be on the dance floor with the characters.
Remember to bring your cameras to this show — it's definitely designed for photo opportunities!
GUEST COMMENTS
Melissa P. from Leominster, Mass. writes (7/03): Hey Howdy Hey Y'All! We all just got back from WDW where we shared a wonderful time at what used to be known as the Diamond Horseshoe Saloon. Although no snacks are served here anymore, it was still a fun time… It's a show that the audience is part of. The parents and kids all dance around the hall. You have to like dancing for this one. It's not a place for relaxing unless you're one of the lucky ones to find a seat upstairs. We were very surprised to see what was in store for us. It was cute.