Discovery River Boats Animal Kingdom Archives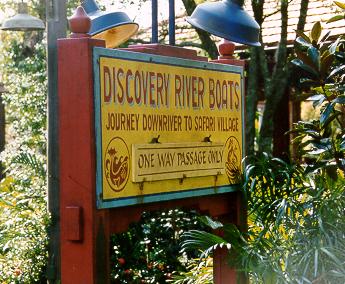 Radio Disney River Cruise aka Discovery River Taxi aka Discovery RiverBoat Ride aka Discovery River Boats were short-lived at Animal Kingdom. In fact, they were the first attraction, if you could call it that, to be closed.
When the park intially opened, the River Boats provided a short cruise through the waterways of Animal Kingdom. I had heard that once Asia opened, the boats would be a means of transportation from one part of the park to the other (similar to the boats in Epcot's World Showcase). I thought this was a super idea and wonder why it never happened.
Unfortunately, the boats seemed doomed from the beginning. At the Early Cast Member openings in March of 1998, the lines were over an hour long waiting to board the boats. When the park opened, the lines grew even longer. Tired guests did not appreciate waiting in line over an hour for a 10 minute boat ride that went in a circle and had nothing to look at. Small animal handlers were on the boats for a show and tell, but this did little.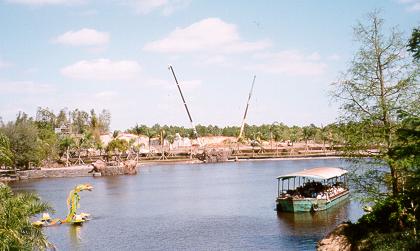 The folks at Disney closed the ride down for rehab and it eventually reopened as Radio Disney. The Radio Disney DJs voices were now part of the ride. Still, things were not working well and the ride closed permanently in 1999.
If you have further information about what transpired with the boats, please let me know.
These photos are all from 1998, when the Animal Kingdom first opened. Photos are copyright Deborah Wills and may not be reproduced without written permission.