TOURING
AT A GLANCE...
AVATAR
Construction Underway
CAMP MINNIE-MICKEY - Closed 1/5/2014
ENTERTAINMENT
IN-DEPTH BLOGS
Special Reports
OTHER WALT DISNEY WORLD
THEME PARKS
OTHER DISNEY THEME
PARKS
Festival of the Lion King
Animal Kingdom
A Broadway class, not to be missed production based on the original story of Disney's animated classic, The Lion King.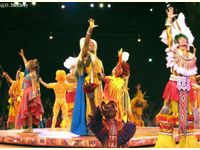 The pageantry, costumes and sheer energy of the performers will make you forget you are sitting on benches for 28 minutes. Each number is more colorful than the next as you listen to some favorite, and some new, Lion King songs.
Festival of the Lion King is a favorite with fans of all ages.
ATTRACTION
The show is staged in an enclosed (air conditioned) octagonal timber theater so you feel as though you are in the Adirondacks on summer vacation. The theater is separated into four parts (all have wonderful views) and your section becomes labeled as either elephant, giraffe, warthog or lion.
As the performers fill the theater, four huge moving floats (really stages) are brought out. Simba is a 12-foot high animated character sitting on Pride Rock. There is an elephant, a swaying giraffe and then one with Pumbaa and Timon.
Without giving too much away, a group of acrobatic monkeys entertain you to the tune of Hakuna Matata. Can You Feel the Love Tonight is performed as a beautiful aerial ballet and more than 50 performers in brightly colored costumes all come together in the finale.
TOURING TIPS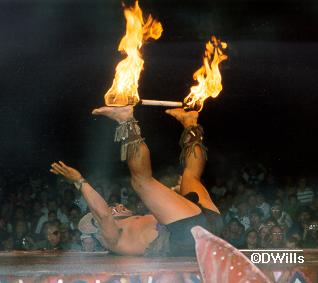 Best times to see this are the first or last show of the day. If you show up half an hour before the next Festival of the Lion King show, chances are you will be waiting for the show that follows to be seated!
Persons in wheelchairs have special sections to accommodate them and their party.

Assistive Listening Devices from Guest Services Can Be Used Here.
Reflective Captioning Available.
For more information on Animal Kingdom Live Entertainment, Visit Steve Soares' WDW Entertainment Website.
KIDS AND CHARACTERS
Kids love the show! There is even an opportunity for your child to join the performers and dance around the stage.
On our trip to WDW we had a wonderful chance to meet Mickey, Minnie, Donald, Daisy and Goofy with almost no waiting! We were headed to the first showing of Festival of the Lion King. We got there just as they were announcing the show was full. We were about to leave that area when a CM said that the characters were going to be appearing at Camp Minnie-Mickey. We saw them all with little waiting. When we were done, we headed back to the Festival of the Lion King and were the first ones in line for the next show. (Our kids even got picked to sit in the front row and take part in the show!) Christina Pitman
Animal Kingdom Characters At A Glance
Character Meet and Greet FAQ!
DINING
Camp Snacks - quick snacks of cookies, ice cream and drinks

Animal Kingdom Restaurants At A Glance
Menus From Around the World
Vegetarian and Other Special Diets
SHOPPING
No places to shop in the immediate vicinity of the theater, but plenty of shops throughout the park.
INTERESTING FACTS
The theatre seats 1,375.