TOURING
AT A GLANCE...
Entertainment
In-Depth Blogs
Special Reports
OTHER WALT DISNEY WORLD
THEME PARKS
OTHER DISNEY THEME
PARKS
RAFIKI'S PLANET WATCH
Animal Kingdom
FEBRUARY 8, 2017: Starting later this month, guests visiting Disney's Animal Kingdom will have the chance to see Doc McStuffins from Disney Junior's hit animated series. In addition to her appearances at Disney's Hollywood Studios, the popular toy doctor will make daily visits to Disney's Animal Kingdom to meet with guests and sign autographs just outside the veterinarian clinic at Rafiki's Planet Watch. While there, wee ones can also learn a little about conservation and how the vets care for the animals that live at the park.
INTRODUCTION
"Open Your Eyes to the World Around You!"
Rafiki's Planet Watch is a quasi-backstage peek at how the park's animals are kept happy and healthy. Rafiki's Planet Watch features: Animal Cam, with a peek into animal care areas; hands-on displays for the opportunity to participate in conservation and species-survival efforts; and The Affection Section, where guests can meet and pet small domestic animals.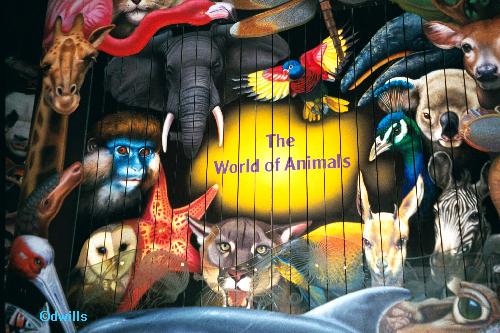 Rafiki's Planet Watch is not a new area to Animal Kingdom, rather a refined one. Originally this area was simply called Conservation Station.
Rafiki's Planet Watch is made up of several areas which are focused on the environment, conservation and animal well-being. The only way to reach Rafiki's Planet Watch is to take the Wildlife Express Train ride. This area opens at 9:30 a.m.
ATTRACTION
Wildlife Express - the unique railway transportation from Africa to Rafiki's Planet Watch.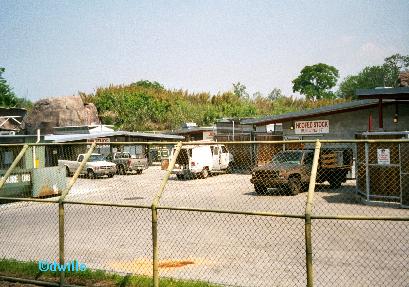 To get to Rafiki's Planet Watch, you must take the Wildlife Express train. The Wildlife Express is unique in that all the seats face outward. There are 2 rows of seats and room for one wheelchair per car. There are 2 trains that run, so your wait should not be longer than 10 minutes for the next train. (Be sure to look at the roof of the train as it pulls into the station.)
As you journey behind the African Savanna, there is a small animal viewing area, as well as an opportunity to see a couple of the Animal Kingdom animal buildings. Mostly, though, it's just a nice gentle ride.
Once exiting the train, you have a 5-7 minute walk to arrive at Rafiki's Planet Watch. You'll know you have arrived once you see the animal collage on the top of the building.
"Regarding the train ride to Conservation Station -- great accessibility for the wheelchair, my son simply rolled right on in his power chair, but if you have a stroller you must park it at the train station (TIP: if you have your own collapsible stroller you are allowed to bring it along... a good idea since the hike in Conservation Station is a long one with a few hills). After the train ride, we looked around and started the hike to Conservation Station, but turned around since we no longer had our strollers (carrying two 40 lb boys in 100 degree heat depleted our energy!). (The Belcher Family)"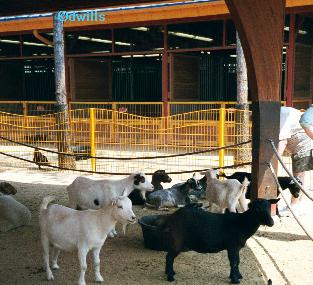 Habitat Habit! - Exhibits for all ages teaching us to share our world with animals. Special area features cotton-top tamarins.
Affection Section is a gentle animal petting area for kids. Sheep and goats are among the featured animals.
Reader Lori Wedeking writes: I just looked at the Rafiki Watch part of the website and noticed a bit about Affection Section. When I took the Backstage Safari I learned about the animals there. The goats, for example, are San Clemente goats, a species just about bombed into extinction at their native home on San Clemente Island. The sheep are descendants of those dropped off by early European explorers, to grow and reproduce in North America and be a source of fresh meat when the explorers came back. These sheep evolved to having less wool, and just about became extinct when they were needed for food and didn't have any wool that was available for sale. I think people would appreciate the Affection Section more and not dismiss it as a "petting zoo" if they knew why the animals were there.
Conservation Station - exhibits pertaining to animal training, feeding, veterinary medicine and animal conservation.
As you enter the front door, you are face to face with 600 larger than life animals in a most colorful mural. The atrium of Conservation Station is bright and full of vegetation.
There are several areas to explore including the Sounds of the Rainforest, and the Veterinary and Training Exhibits.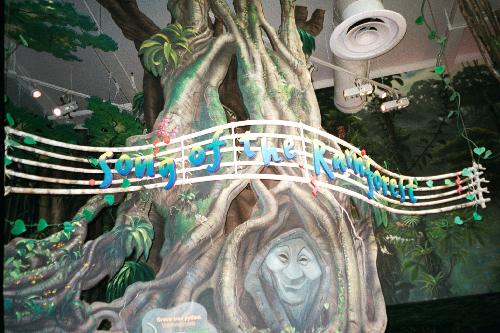 In Song of the Rainforest you experience a variety of sound effects, all drawing from their origins in the Rainforest. The program is narrated by Grandmother Willow, of the Disney movie "Pocahontas." The program takes place in a dimly lit booth which seats 6 people, very similar to the Sounds Dangerous Sound Booths at the Disney-MGM Studios.Once the sounds begin, the room darkens more. It is a cool place to relax for a few minutes.
Live Animal Cams are set up so you can observe the animals in their backstage homes. There are exhibits on animal research, veterinary care and food preparation.
While the concept of Conservation Station is admirable, it is not someplace I would visit during each trip to Animal Kingdom. Perhaps I went on a slow afternoon, or perhaps more needs to be going on there!
TOURING TIPS
The only way to get to Conservation Station is by train. Keep in mind that if there is a LONG wait for the train heading out there.....there will be an equally long line when you are ready to head back to the main part of Animal Kingdom.
While aboard the Wildlife Express train, pay close attention as you pass the first animal housing area. Pride Rock (home of Animal Kingdom's lions) can be seen in the distance.
Don't rush through the entryway of Conservation Station. The animal murals are full of Hidden Mickeys!
The visit to Conservation Station was a nice break from the hot park. I LOVED the murals and hunting for Hidden Mickeys. I like sitting in the Sounds of the Rainforest -- it was very relaxing and cool and quiet. Meli
I found the exhibits fascinating but it does require some patience. When something is going on in the areas, there are crowds of people watching. During my half hour visit, there was not a lot happening. Perhaps I needed to spend more time.
I know that everyone is running to get to the E-ticket rides, but the first thing I do on each trip is take the first train to Rafiki's Planet Watch. If you get there early and are interested in animals, this is the place to be. It is a hive of activity. There are medical procedures being performed, animal food being prepared and lots of characters (Rafiki often sits on the floor meditating). The early morning at this oft-overlooked treasure is a wealth of information and fun. Also, the Affection Section presents animals wide awake and eager to be hugged, petted and brushed, and Cast Members are full of fun information and stories about the animals. Jean Betses
EDITOR'S NOTE: Medical procedures are most likely to be seen first thing in the morning (usually taking place at 9 a.m. and/ or 10 a.m.). Rafiki, Pocahontas and Stanley are the characters usually available for pictures and autographs here.
If you or your family get overwhelmed by packed crowds on the narrow path on the walk from the Wildlife Express Train Station to Conservation Station, just stay behind at the Train Station just outside the loading/unloading area. Once most of the crowd has headed down the path, you and your family will be able to enjoy the walk at your own pace and will be able to enjoy the habitat exhibits without as many people crowding for the same view. (Lisa Edmonson)

I'd like to warn readers that they should check the train waits before heading up to Rafiki's Planet Watch at Animal Kingdom. We were there recently when only one train was running. What was supposed to be a 15 minute wait to return turned into a 45 minute wait. We nearly missed the parade and were lucky to catch the second pass through at Harambe just as we disembarked the train. It's unfortunate that Disney doesn't offer a walking option to/from the planet watch... because we would have been happy to walk back instead of waiting in line. Maybe if enough people suggest it, they will look into other options. (Jennifer Slaight-Hansen)
Assistive Listening Devices from Guest Services Can Be Used Here.
Reflective Captioning Available.
KIDS AND CHARACTERS
Now that the area is Rafiki's Planet Watch, more characters make appearances. I've seen Terk (from Tarzan), Pocahontas, Meeko and Rafiki.
Check your daily Times Guide for times and locations of character Meet and Greets.
Animal Kingdom Characters At A Glance
Character Meet and Greet FAQ!
DINING
There are no places to eat at Rafiki's Planet Watch.
Animal Kingdom Restaurants At A Glance
Menus From Around the World
Vegetarian and Other Special Diets
SHOPPING
There are several small kiosks outside Conservation Station.
Animal Kingdom Shopping at a Glance
INTERESTING FACTS
I was able to listen to a trainer discuss the Behavior Program the gorillas are on. It was quite interesting to hear how the Gorillas are being trained to present parts of their bodies to staff for medical exams. For instance, one young male is being trained to put his arm out into an x-ray machine. They are also being taught to turn their head so their ear is facing the vet for examination. These behaviors will hopefully cut down the need to give anethesia to the animals for routine exams. We were able to watch a 10 minute training session through the live cameras. This talk made my trek out to Conservation Station worth it.
During the Millennium Celebration, the Conservation Station area received a new name: Rafiki's Planet Watch.