A recent blog post on AllEars.net highlighted four Walt Disney World attractions that Walt Disney played a part in creating. They were the Walt Disney World railroad, it's a small world, Carousel of Progress and the Enchanted Tiki Room.
The post got me thinking: There have to be more than just four WDW attractions that Walt put his stamp on! So, I dug out a recent Walt Disney World guide map and began making a list of other WDW attractions Walt had a hand in creating in some way.
Here's what I came up with:
Pirates of the Caribbean
During a Disneyland 10th anniversary television special in 1965, Walt Disney gave viewers a preview of an attraction his team had been working on for several years: Pirates of the Caribbean.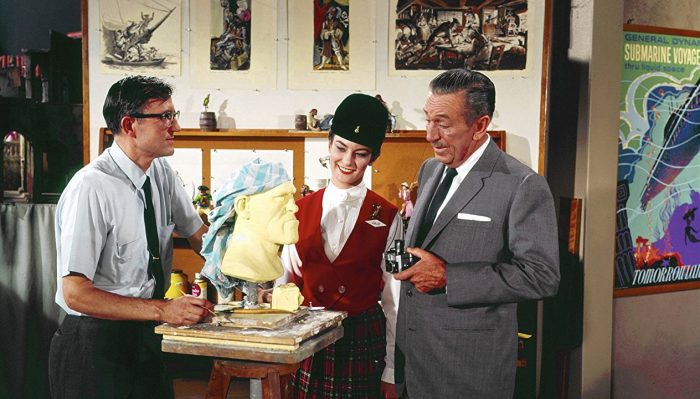 Uncle Walt, with the help of Disney Legends Rolly Crump, Mary Blair, Blaine Gibson and John Hench, took Disneyland Ambassador Julie Reihm on a backstage tour of the swashbuckling, pirate-themed attraction.
The two walked through the elaborate model, with Walt pointing out the storyline and describing each scene in detail.
The Pirates attraction was originally planned to be a walk-through, but the success of the "it's a small world" boat ride at the 1964-1965 New York World's Fair gave Disney's designers the impetus to switch the Pirates to a water ride, which made perfect sense.
Walt worked extensively on the Pirates attraction before he passed away in December 1966. Pirates of the Caribbean, located in a new land called New Orleans Square, opened with much hoopla on March 18, 1967.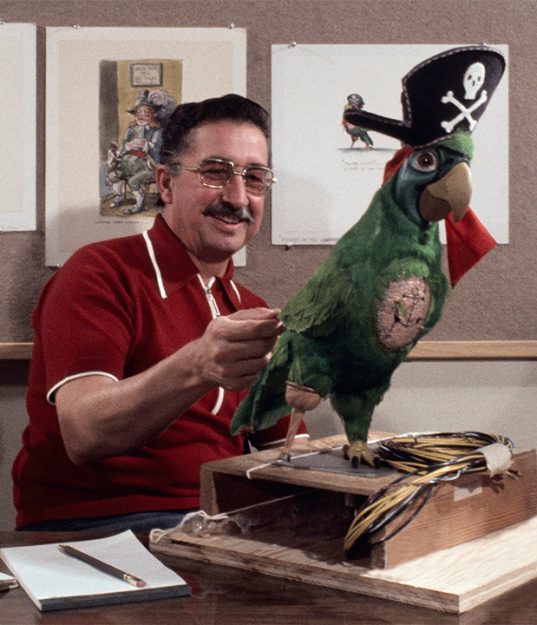 The script and the lyrics to the attraction's catchy theme song, "Yo Ho, Yo Ho, a Pirate's Life for Me,"  were written by Disney animator X Atencio, who was tabbed by Walt for the task even though he had never written a script or song lyrics before. "Walt was like that," Disney Legend Marty Sklar said. "He saw things in us that we didn't see in ourselves."
The result was the creation of a long-running, classic Disney attraction, combining a great story, cutting-edge ride technology and the extensive use of a boatload of Audio-Animatronics figures.
During the adventure, the boats travel past scenes of pirate treasure, ghost ships and a Caribbean town ablaze as it's being plundered by – who else? – rascally pirates.
Walt Disney World's version of Pirates of the Caribbean opened on Dec. 15, 1973.
Jungle Cruise
Following the success of Disney's True Life Adventures film series in the early 1950s, Walt thought it would be a great idea to give guests at his planned Disneyland Park an attraction that brought them closer to wild animals.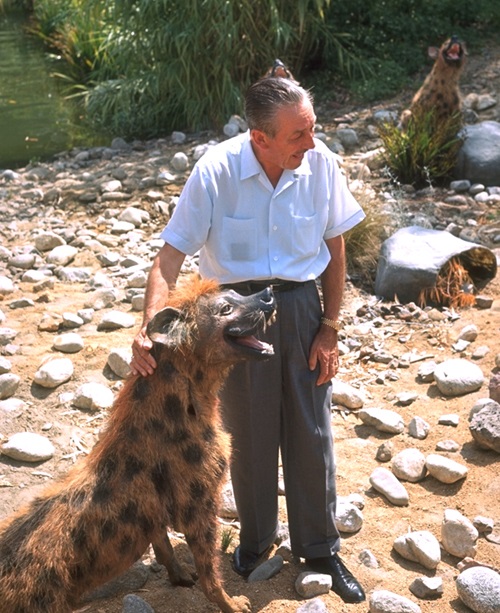 Taking his cue from The African Queen movie, Walt gave the attraction plenty of advance publicity on his weekly television program. Walt actually drove his car through the dry river bed to give viewers a realistic look at what the attraction had to offer.
On "fill the river day," however, the bed's dry soil soaked up the water like a sponge, forcing Disney workers to cover the river bed in concrete.
Initially, Walt had hoped to use live animals along the Jungle Cruise route, but the unpredictability of living creatures forced him to turn to Plan B: Hand-crafted animals produced at his studio. As Audio-Animatronics technology advanced, those animals were switched out in favor of robotic figures who moved, adding more realism to the presentation.
Disneyland's Jungle Cruise was an opening-day attraction on July 17, 1955, while Walt Disney World's version was up and running when that park opened on Oct. 1, 1971.
The Monorail
Like the Matterhorn Mountain Bobsled attraction – born after a visit to the set of the movie Third Man on the Mountain in Switzerland – Walt Disney drew his inspiration for his Disneyland monorail system after vacationing in Europe.
In October 1958, Walt returned from Europe. While there, he took an in-depth look at the German Alweg monorail system. He was impressed … and he wanted a monorail system of his own to be featured at Disneyland.
He put Bob Gurr in charge of making the monorail happen. Gurr, who unbelievably was working on both the submarine voyage and the Matterhorn Mountain projects at the time, came up with the futuristic, Buck Rogers-inspired exterior design for the monorail's cars, as well as making key contributions to the monorail's propulsion system.
After many fits and starts, the monorail debuted – along with the Matterhorn and the submarine voyage – on June 14, 1959 as the first daily operating monorail in the country.
The original monorail beam just ran through Tomorrowland. In 1961, in conjunction with the new Mark II trains, the beam was extended to the Disneyland Hotel, which meant it had to cross over a public street – another first.
Today, the monorail has two stops – one in Tomorrowland, the other in Downtown Disney. To board the monorail at Downtown Disney, you need to show a valid theme park pass.
Walt Disney World's monorail, using an updated Mark IV, debuted with the rest of the Magic Kingdom on Oct. 1, 1971. The beam encircled Seven Seas Lagoon, with stops at the Contemporary and Polynesian resorts, as well as the main gate at the Magic Kingdom and the Ticket and Transportation Center [TT&C].
Another stop was added in 1988 with the opening of the Grand Floridian Resort & Spa.
On June 1, 1982, a separate beam enabled guests to travel from the TT&C to Epcot, which opened a few months later on Oct. 1
Tomorrowland Speedway [debuted as Autopia in Disneyland]
Walt's thinking behind the creation of Autopia in Disneyland was to give his younger guests the thrill of driving a stylish, if smaller, automobile on a realistic-looking highway.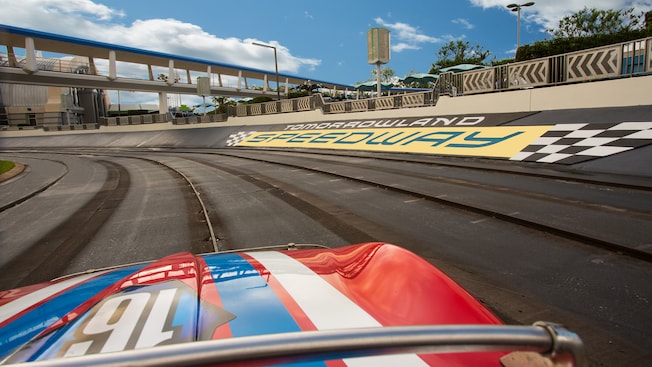 The original Autopia track, which opened on July 17, 1955, was a winding roadway that started and ended in Tomorrowland. It was free of a guide rail, which gave drivers a true sense of driving … and racing.
During the first few weeks of operation, young drivers could dart around one another. Some ambitious drivers would sometimes jump the curb, spin around, return to the track and get involved in head-on collisions.
The original cars also didn't have padded steering wheels, which was a big problem, according to the ride's designer, Bob Gurr. On Autopia's opening day, "I took a couple of kids to first aid," he said, "one with his hand full of teeth!"
It took several months to iron out all of the problems, but by the following summer, Autopia was safer and just as popular.
Walt Disney World's iteration of Autopia opened as the Grand Prix Raceway in 1971. [It is currently closed as Disney constructs a new Tron-themed attraction nearby.]
Over the years, both Disneyland and WDW speedways – as well as their ride vehicles – have undergone a number of refurbishments … much in the same way as our highways and automobiles are upgraded and modernized.
Hall of Presidents
The Hall of Presidents attraction, located in the Liberty Square section of the Magic Kingdom at Walt Disney World, was conceived in the late 1950s, when Walt pushed his creative staff to bring the still untested Audio-Animatronics technology to life.
It wasn't until a few years later, after committing the company to developing four shows for the 1964-1965 New York World's Fair, that the use of Audio-Animatronics figures blossomed.
Disney Legend and former Walt Disney Imagineering leader Marty Sklar explained the genesis of the Hall of Presidents several years ago:
The story of Disney and the 1964-1965 World's Fair "started, I guess, with Abraham Lincoln. That show had been written — not the single Lincoln, but the entire Hall of Presidents show — in 1957."
But as happened so many times throughout Walt Disney's life, the technology of the times just couldn't keep up with his wildly creative imagination. The Hall of Presidents show, circa 1957, was put on a back burner.
World's Fair president Robert Moses, who was on a field trip to the Disney Studios in California in 1962, caught a glimpse of a mockup of the show and demanded that the Hall of Presidents take up residence at his Fair.
"Moses saw a full presentation of the Hall of Presidents and he wanted Walt to do that show for the World's Fair," Sklar remembered.
"But Walt said, 'We haven't even done one figure yet.' Ultimately, Moses put the state of Illinois and Walt together to do the Lincoln figure, which was the first humanized Audio-Animatronics figure we had ever done."
Following the success of the Great Moments with Mr. Lincoln show at the Fair, Disney pushed ahead the full Hall of Presidents show, which debuted with the rest of the Magic Kingdom on Oct. 1, 1971.
Peter Pan's Flight
Savvy guests standing on line for the Peter Pan's Flight attraction will notice a small plaque affixed to the wall as they enter the building. The plaque designates the attraction as a "Disneyland Original," meaning it was there when those first guests entered the park on July 17, 1955.
The concept for Peter Pan's Flight called for guests to feel as if they could fly … just like Peter Pan. Realistic, hand-carved pirate galleons, each suspended on a rail, took guests through a series of scenes from the 1953 Peter Pan film, including the children's nursery and over London.
There was much confusion during the first few years as Peter Pan never actually appeared during the ride.
Walt Disney World's version, which opened with the rest of the park in 1971, saw more elaborate scenes and the use of Audio-Animatronics figures, including Peter.
During an expansion and upgrade of Fantasyland in Disneyland in the early 1980s, Peter Pan's Flight conformed more to the WDW version, which now included scenes from Captain Hook's ship.
And speaking of expansions, the WDW version of Peter Pan's Flight now includes an immersive, interactive queue area where guests can watch the humorous antics of Tinker Bell.
Tom Sawyer Island
The Disneyland and Walt Disney World versions of Tom Sawyer Island both debuted about a year after each park opened, which meant early guests to the two parks got to watch the attractions being built as they stood on the shores of both Frontierlands.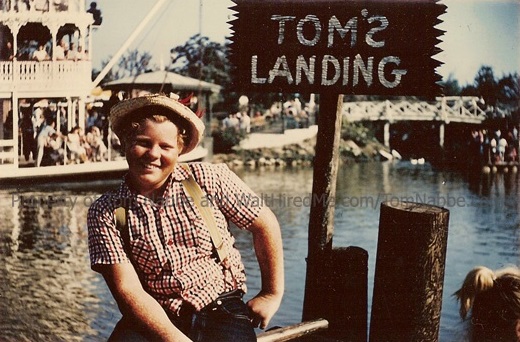 For the first few years of operation, Disneyland's Tom Sawyer Island featured a young man named Tom Nabbe – red-haired, freckle-faced and every bit the spitting image of Mark Twain's fictional character – who was hired to play young Master Sawyer, who greeted guests after they had ridden on rafts to the elaborately themed island.
Young Nabbe fit the role perfectly. He posed for photos with guests, helped them bait their hooks along the Rivers of America [yes, during Disneyland's early years, you could fish from Tom Sawyer Island and bring your catch home].
Both islands were devised as walk-through attractions where guests could explore caves and forts and walk over a rope bridge.
Several years ago, Tom Sawyer Island in Disneyland was converted into a Pirates' Lair. The island now serves as the main stage for the nightly Fantasmic! show. In Florida, Tom Sawyer Island remains themed to the classic stories of Mark Twain.
Haunted Mansion
Although the Haunted Mansion in New Orleans Square in Disneyland didn't open until August 9, 1969, three years after Walt Disney's death, it had been in the works since 1962.
In fact, the mansion that houses the attraction was completed in 1963 and then sat dormant for years, enticing and intriguing guests.
Why the long wait? Disney's designers couldn't decide what to put inside. Should it be a scary attraction … too scary for younger guests? Or should it be more light-hearted than fright-filled? In the end, light won out.
The designers also originally mulled making the attraction more like a museum, meaning it could have been a walk-through, but thoughts of long lines dissuaded them.
Development of the Omnimover ride system allowed guests to be transported throughout the attraction on a continuous chain of "doom buggies."
The Walt Disney World version of the Haunted Mansion was part of the opening-day lineup on Oct. 1, 1971.
There are versions of the Haunted Mansion in Disney Parks around the world, but each is located in a different land.
In Disneyland, it's in New Orleans Square; in WDW, it's in Liberty Square; in Tokyo Disneyland, it's in Fantasyland. Hong Kong Disneyland has a Mystic Manor in Mystic Point, while Disneyland Paris has a Phantom Manor in Frontierland.
Mad Tea Party
Located at the entrance of Fantasyland near Tomorrowland, the Mad Tea Party debuted at Walt Disney World in 1971. The Mad Tea Party also was an opening-day attraction at Disneyland in 1955.
Mad Tea Party is based on the literary classic Alice in Wonderland, written by Lewis Carroll. The attraction is a spinning tea cup ride that takes its inspiration from the Very Merry Unbirthday Scene from Disney's film adaptation of Alice.
The Tea Party's ride system, devised by Arrow Development, consists of three small turntables, which rotate clockwise. Each turntable holds six teacups. One large turntable underneath rotates counter-clockwise, giving the ride its thrilling, mad-cap component.
The main difference between Walt Disney World's and Disneyland's Mad Tea Party is the California version is uncovered and can't be run during rain.
Dumbo the Flying Elephant
Dumbo Flying Elephant, based on the 1941 animated classic, has been one of the most popular and endearing attractions in Disney's Magic Kingdoms around the world.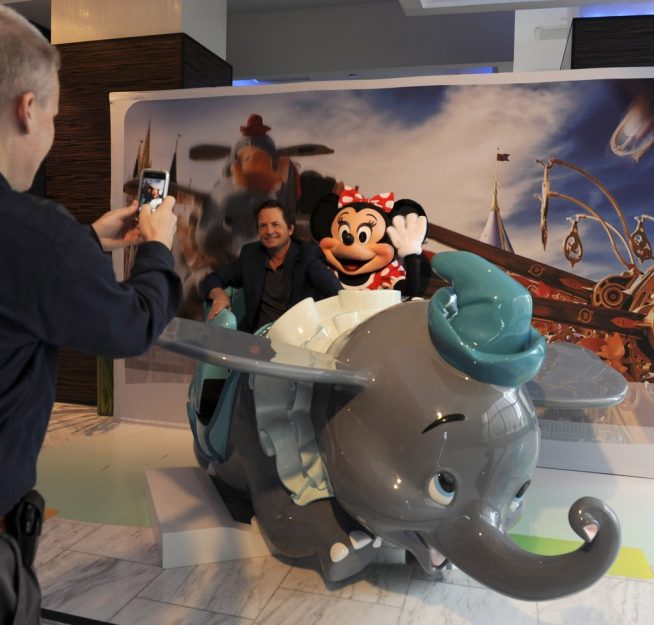 The original attraction debuted in Disneyland in October 1955, some three months after The Happiest Place on Earth opened. Walt Disney World's version was up and running when the Magic Kingdom opened in 1971.
When each ride opened, they featured 16 ride vehicles, all in the shape of Dumbo. Each vehicle was mounted to articulated armatures, which in turn were connected to a hub that rotated counterclockwise during the ride's operation. Using a joystick in each vehicle, guests can maneuver their Dumbo up or down.
When new Fantasyland opened in Walt Disney World in 2012, Disney took the unprecedented step of not only moving its Dumbo attraction to a location closer to a circus-themed section of the land. It also created a second Dumbo ride, thereby doubling the popular attraction's capacity.
It also added an indoor interactive queue area for young guests to enjoy as they waited to climb aboard the ride.
Are there any other attractions Walt had a hand in developing? A strong argument could be made for Main Street USA, the Fantasyland carousels [King Arthur in California and Prince Charming in Florida] and each park's castles.
But that's a blog for another day.
Are you the type of Disney park guest who enjoys classic attractions, or are you a thrill junkie who can't get enough of the newer, high-tech rides? Let us know your thoughts.
Be sure to check out our YouTube Channel for reviews, news, information and more!
Subscribe to the AllEars® newsletter so you don't miss any exciting Disney news!