Like most decades in our recent history, the 1990s were marked by turbulent events, from a massive oil spill in Alaska to deadly bombings and shootings to the first war in the Persian Gulf. But the 1990s also saw incredible advances in technology, the launching of the motion picture phenomenon Titanic… and who could forget the Tamagotchi craze?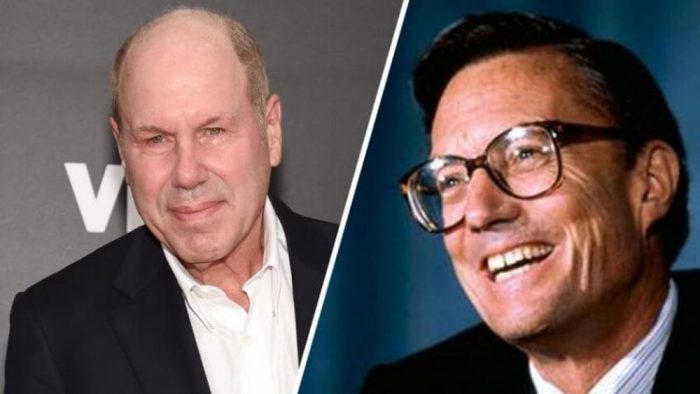 The 1990s also gave us The Disney Decade, a 10-year span that was kick-started when then-Disney CEO Michael Eisner and his right-hand man, company president Frank Wells, made a bold attempt to reinvigorate the company's flagging fortunes after taking over the top two leadership posts in 1984.
Before assuming the role of CEO and chairman of the Disney board, Eisner was senior VP of ABC Entertainment and COO of Paramount Pictures. Wells was a former Warner Brothers executive and was a Rhodes Scholar.
But more importantly, Eisner and Wells formed a formidable tandem, Eisner with his out-of-the-box ideas and Wells with his ability to rein in Eisner whenever those ideas weren't feasible.
In a sense, Eisner and Wells were as important to Disney as the company's original partners: Walt and Mickey Mouse.
Until Wells' death in 1994, the Eisner-Wells tandem presided over incredible growth and expansion in just about every phase of the company, from films to television to the theme parks to the launching of the Disney Cruise Line and the Disney Vacation Club.
Had key input on Animal Kingdom, Disney-MGM Studios, other projects
For example, it was Wells who supplied invaluable input during the early stages of Disney's Animal Kingdom's development as perhaps the park's chief proponent when it teetered on the brink of being snuffed out.
Wells also played a key role in the planning and development of the Disney-MGM Studios, now known as Disney's Hollywood Studios, as well as other prominent projects.
More importantly, Wells was honest with Eisner – often bluntly so – which is rare in the boardrooms of corporate America.
Marty Sklar, the former head of Walt Disney Imagineering who worked under every Disney leader during his 50-plus years with the company, saw first-hand the unique dynamic that existed between Wells and Eisner.
"Michael Eisner and Frank Wells were great partners," Marty said. "You need that. The thing about Frank was he could be very direct with Michael, especially if he disagreed with him. A lot of times, a chairman never gets honest feedback from his troops because they want to make it look like what he is proposing is the gospel.
'Very honest with each other'
"But Frank had no hesitation. I think that's why they worked so well together. They were very honest with each other and Michael could throw out ideas – some of them pretty wild – and Frank would pull him back if they were too wild."
On the other hand, if the ideas were solid, Wells could be counted on to be behind them 100 percent.
"Frank made them happen, with the rest of the organization, particularly when they were ideas they both believed in," Marty said.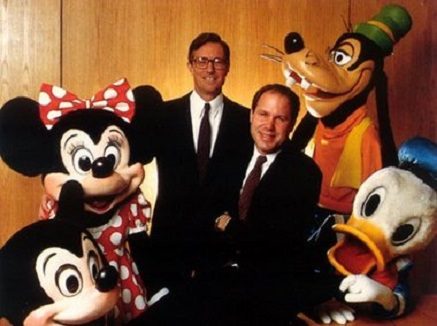 The Wells-Eisner tandem proved to be as dynamic and successful as any business partnership in the entertainment industry.
"I think that was such a great strength for the company," Marty said. "When you look back at those first 10 years, before Frank passed away [in 1994, at the age of 62, in a helicopter crash], that was really fantastic what Disney did during that period.
"I think we built seven parks, for example, and The Lion King, The Little Mermaid and Beauty and the Beast — think about all the great product that came out of that period.
"Frank was so important to that," Marty added.
Marty alluded to meetings he and his Imagineering team were having in Wells' office that required Eisner's input.
Eisner and Wells shared adjoining offices
"They had adjoining offices and Frank would open the door and say 'Michael, can you come in here?' And we'd get a decision."
Marty often talked about the qualities exemplified by successful leaders.
"One of the most frustrating things that happen in a company is your troops do all the work-up stuff. You get it to a point where somebody has to make a decision and you get into that big meeting and nobody makes a decision. And that is very frustrating.
"That is the worst thing that a leader can do, I think. Michael and Frank were very good at not letting those things happen when they worked together."
And the results – most notably, the accomplishments made during The Disney Decade – speak to how successful that partnership was.
According to Eisner, "Frank was a buccaneer in the office. He was smart, prudent, a dealmaker, and a great closer. He was always supportive of a great idea, whether it was swans on the outside of a building or 'ducks' for the name of a hockey team."
What are your thoughts on the Disney Decades? We'd like to know — please leave a comment below!
Remember! When you're in Disney tag @allearsnet in your photos!
Be sure to check out our YouTube Channel for reviews, news, information and more! 
Subscribe to the AllEars® newsletter so you don't miss any Disney news!