As Walt Disney World moves toward its 50th anniversary in 2021, we thought we'd take a look back… back to when The Florida Project was a massive construction site fraught with earth movers, scaffolding and thousands of helmeted workers… when plans were still being finalized for a number of attractions within the confines of what would become known as The Vacation Kingdom of the World… when you needed more than just a Dreamfinder to imagine what that earthen jigsaw puzzle was going to look like when it was completed.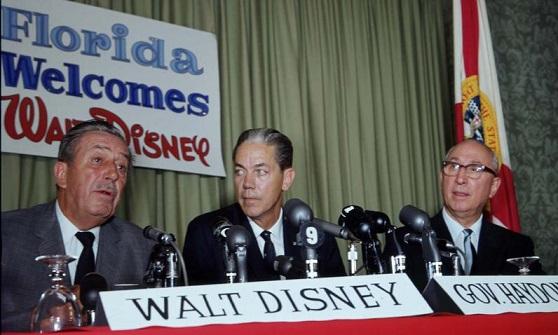 Although behind-the-scenes planning had been going on for years, the world became aware of the World when Walt Disney, his brother Roy and Florida Gov. Hayden Burns presided over a news conference on Nov. 15, 1965, announcing the Walt Disney Company's plans to bring a Disneyland-style resort to central Florida.
The press gathering was one of two events held that day by the brothers Disney. The first, in front of Florida government, business and civic leaders, was in the Cherry Plaza's Egyptian Room in Orlando. Almost 500 people attended the first presentation, while the press conference saw about 350 in attendance.
Even though Walt was never big on producing sequels, particularly to his movies, he was very excited about the prospects of building a second Disney theme park east of the Mississippi River.
Plans to move East began in the early 1960s
And despite fears that Disney's brand of entertainment might not be popular with East Coast audiences — a theory that was soundly dispelled following the success of Disney's four shows at the 1964-1965 New York World's Fair — plans were set in motion for a move East in the early 1960s.
At first, Disney explored the possibility of opening a second theme park enterprise in the St. Louis, Mo., area. "But that didn't work out," Walt said at the 1965 news conference.
One of key reasons why St. Louis wouldn't fit into Disney's plans was the fact that the company wanted to build a destination resort, with outdoor activities such as fishing, golfing and swimming competing with the theme parks for guests' attention 12 months of the year.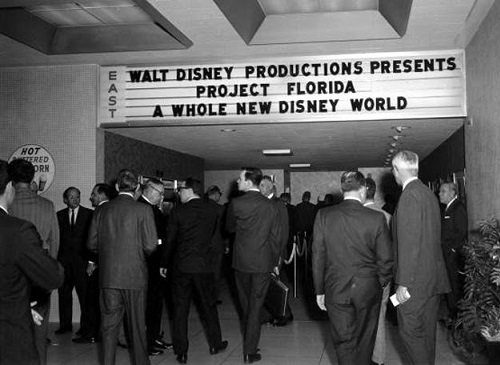 Once Florida was settled on, Walt's lieutenants did their homework in preparing for the new venture. Studies showed that just 6 percent of the guests passing through Disneyland's turnstiles resided east of the Mississippi, which meant that there was a huge, untapped market out there. In addition, Florida, with its sunny weather and year-round warmth, was already a tourist mecca: At the time, more than 15 million visitors spent upwards of $3 billion annually in the Sunshine State.
Walt was often vague in his responses
At the news conference, Walt was often vague in his responses and left a lot to the imagination, even though he had cultivated a reputation as a man with a fertile imagination.
For one thing, he said the project might be completed in three years [it eventually took six] and that there would be two incorporated communities in his new world — one to be named Yesterday and the other to be called Tomorrow.
In a sense, those communities came to fruition: A walk down Main Street USA evokes memories of the early 1900s, while Epcot's Future World was intended to show the world as it might be in the years ahead.
Walt was cognizant of the fact that Disneyland, which had opened 10 years prior to the Walt Disney World announcement, was surrounded by sleazy, gaudy establishments, over which he had no control. Still, Walt lamented at the press conference, "we get blamed for it."
In purchasing 27,000 acres of real estate in central Florida, Disney hoped to have enough of a buffer zone where even if tawdry businesses popped up on the outskirts of WDW property, no one would notice.
"The blessing of size," as Walt called it, also would give Disney's planners more than enough room to realize their wildest dreams: Lakes and canals for boating and fishing, plenty of open land for golf courses and horseback riding, and world-class resorts… and, of course, a Disneyland-style theme park.
On the drawing board as part of what Disney's planners called Phase One were a total of five themed resorts to be built within close proximity to the Magic Kingdom. Two came to fruition: The Contemporary, with its futuristic lines, and the Polynesian, with its South Seas flare. The other resorts on the drawing board were an Asian hotel, themed in a Thai motif; a Venetian resort that would have featured the old-world charm of an Italian "city of canals," and a resort with a Persian theme that harkened to the legendary Arabian Nights.
All five themed resorts were designed by the architectural firm of Welton Becket and Associates. Becket, a close personal friend of Walt's, had designed the buildings that housed the four Disney attractions at the New York World's Fair, as well as many internationally acclaimed buildings [Becket's design for the Pan-Pacific Auditorium in Los Angeles is reflected in the design of the entrance at Disney's Hollywood Studios].
According to Donn Tatum, president of Walt Disney Productions at the time, the first five years after Walt Disney World's opening would be referred to as Phase One. Those five years would mark "the realization of a key part of a long-term master plan for growth… very similar to the way California's Disneyland grew."
In Florida, Tatum added, "we have the whole vacationland area to work in. There will be entertainment and recreation activities on the lake, the lagoon, the islands and each of the hotels. And the theme park itself will offer many more attractions than the 17 we started with at Disneyland in 1955.
"Looking beyond Phase One, we have additional projects and concepts on the boards for many years ahead. We can confidently say that there will always be something new for families to see and enjoy on future visits to Walt Disney World."
Do you remember your first visit to Walt Disney World? Tell us how you feel the resort has changed over the years.
Be sure to check out our YouTube Channel for reviews, news, information and more! 
Subscribe to the AllEars® newsletter so you don't miss the latest Disney news!