In an interesting twist to the adage "a blind squirrel finds a nut every once in a while," Roy E. Disney was digging through the Disney film archives in the late 1990s when he unearthed a hidden gem.
Roy E., the nephew of Walt Disney and son of Walt's brother Roy O. Disney, was researching materials in the archives in his quest to bring the film Fantasia 2000 to life. What he came across during his deep dive in the Disney vaults was artwork from a long-dormant film project called Destino.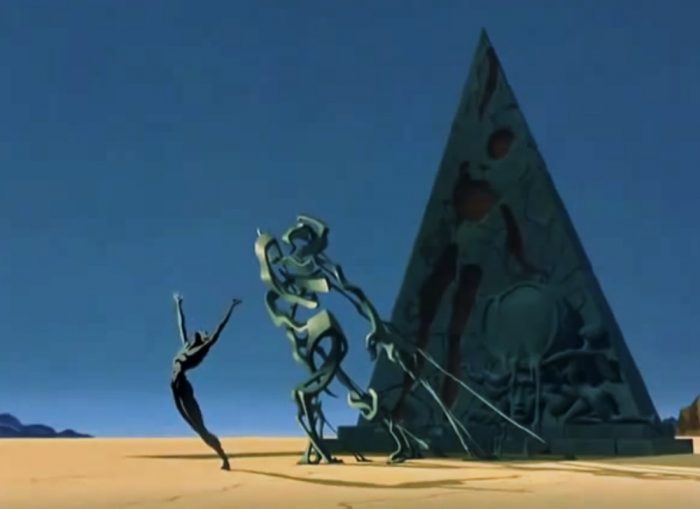 Like many cast members associated with Disney animation at the time, Roy was aware of the existence of these precious pieces of art, but he hadn't given them much thought for decades.
According to Ed Nowak, deputy general counsel for The Walt Disney Company, "The first time I can remember it coming up with Roy was… in the late 1980s." At that time, Disney's new management team, headed by Michael Eisner and Frank Wells, "realized that the studio had a treasure trove of Dali art for Destino," Nowak added.
Artwork by John Hench and Salvador Dali
The storyboards and sketches Roy found in the archives were the handiwork of Disney Legend John Hench and Salvador Dali, a world-renowned artist rarely associated with Disney.
Dali, known for his flamboyant lifestyle, was the chief proponent of the surrealist art movement. Surrealism, which began in the 1920s, stressed the use of imagination and the subconscious without the constraints of logic or conventional standards to express ideas through art and literature.
Just what were works by Salvador Dali doing in the Disney archives, primarily populated by princesses, nasty villains, kindly animals and plucky rodents?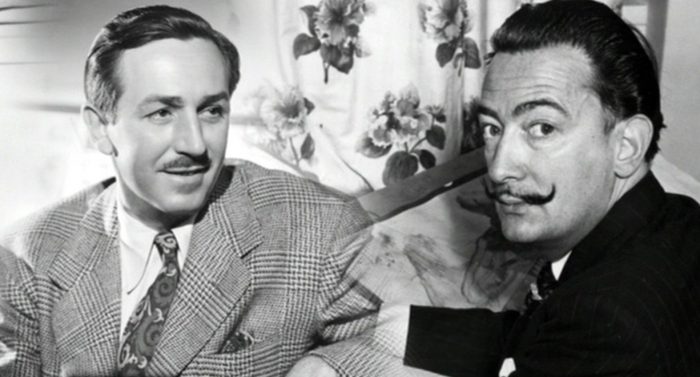 It turns out that Dali and Walt had forged a friendship in the 1940s shortly after World War II had ended. They reportedly met at a party in the home of studio executive Jack Warner and immediately hit it off.
If you can buy into the premise that creating a walking, talking mouse who wears a pair of pants and oversized shoes is believable, then, yeah, Walt Disney was a bit of a surrealist himself.
Walt convinced Dali to work on the Destino project, which was based on a Mexican ballad of the mythological figure Chronos and his pursuit of the mortal Dahlia.
When Destino was conceived, Walt was a few years removed from his and his team's U.S. State Department-sponsored junket to South America, a goodwill tour that gave Disney a new perspective on Spanish culture and served as an inspiration for the Disney animated classics Saludos Amigos and The Three Caballeros.
Dali on the Disney Payroll
After Dali agreed to work on Destino, he was put on the payroll and showed up at the Disney Studios every day for about eight months. Together with Disney artists Bob Cormack and Hench, they created Dali-esque sketches of things like ballerinas, baseball players, bicycles and bugs.
Years later, Hench had high praise for Dali. "I have only worked with two men who had optimism like Mickey Mouse," Hench wrote in his book Designing Disney [Disney Editions, 2008]. "One, of course, was Walt. The other was Dali … Both had an extraordinary ability to turn a negative situation around in a short period of time.
"I witnessed [Dali] in several devastating situations," Hench added, "and his reaction was, 'I am Salvador Dali, and if it happens to me, it has got to be good.'"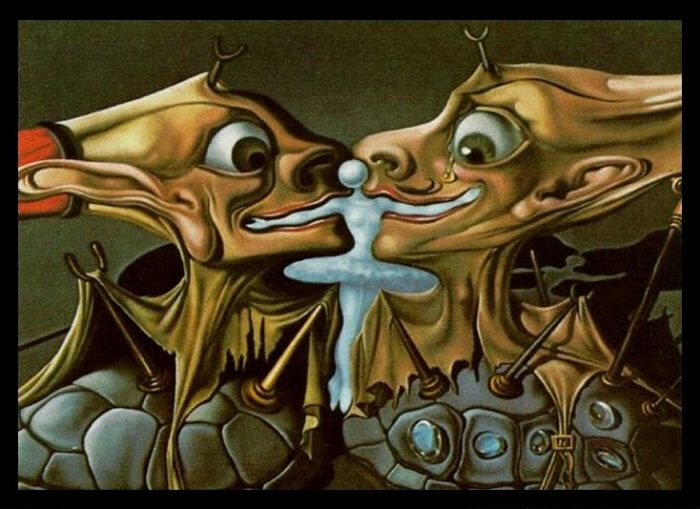 Dali's presence on the Disney lot caused quite a stir among the cast members at the studio. "You couldn't miss him," said one. "He was quite a character."
By all accounts, Dali worked feverishly on Destino, much to the delight of many of the staffers in the animation building. "He'd be doing these things," one said, "and he'd throw everything in the trash that he didn't like." At night, after Dali left, staffers would go through the trash, pick out the discarded Dali sketches, and then have them framed.
For a number of reasons, the Destino project never got off the ground; only 18 seconds were filmed. All of the artwork generated during the Dali sessions were filed away in the Disney morgue, a repository that holds "all our history as a motion picture studio," Walt once said. It's "the well of our experience. And experience is the key to progress."
The quest to resurrect the "Fantasia" sequel
That brings us to the late 1990s and Roy E. Disney's quest to resurrect the project that would become a sequel to Fantasia, which was released in 1940. Roy E., who was the man behind the resurrection of Disney Animation that began in the 1980s, spearheaded an effort to bring Fantasia 2000 to life.
Walt often referred to Fantasia as his company's greatest achievement and had always planned to film a sequel. Those plans would not be realized until his nephew kick-started the Fantasia 2000 project.
Much like the original, Fantasia 2000 was divided into segments. Between each segment in both films were what is known as interstitials, live-action pieces that serve as a bridge to the next portion of the film.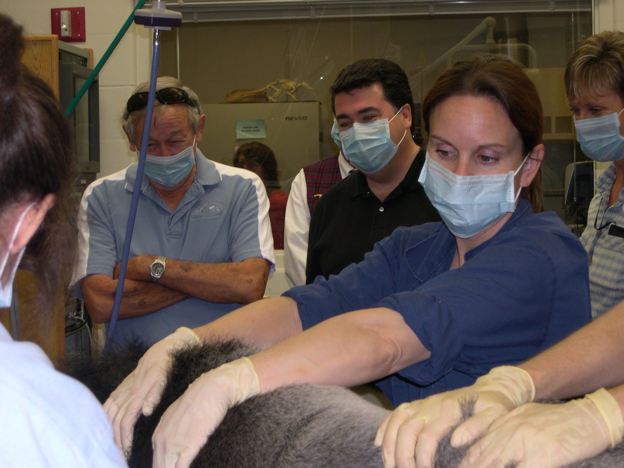 "When Roy suggested that we put some of the Destino art into a particular interstitial, it sparked a lot of interest," said Dave Bossert, a Disney animator whose resume includes work on Fantasia 2000 and Destino, as well as writing a book on his friend's life and times, titled Remembering Roy Disney [Disney Editions, 2013]. "That suggestion ultimately planted the seed that would flourish into a group of us completing the Destino short in 2003."
Remember, just 18 seconds of Destino had been filmed in 1946, so the team had a huge task in front of them.
"Many of us had heard about the Dali artwork, but had never actually seen it," Bossert said. "We eventually brought all of the Dali and Hench artwork that they created for Destino out of storage and did high-resolution digital scans of each of the roughly 150 pieces of art.
"All of us, including Roy, felt that it was a great honor to work on a project that was started over a half-century earlier by two of the most venerable artists of the 20th century."
A team of about 25 animators worked on bringing the film to life. Destino was produced by Baker Bloodworth and directed by Dominique Monfrey. Music for the seven-minute short was composed by Armando Dominguez, with vocals supplied by Dora Luz.
Bossert became so intertwined in the project that he wrote a book about it, Dali and Disney: Destino [Disney Editions, 2017].
Documenting 'a fascinating chapter' in Disney's history
"I wrote extensively about the genesis of the film project from its inception in 1946 through the completion under the leadership of Roy E. Disney and the nomination for an Academy Award," Bossert said. "It was not a gamble for Roy [to champion the completion of Destino], he just wanted to complete it for a number of reasons, including documenting a fascinating chapter in his family's business."
Disney Editions also put together a limited edition offering of Dali and Disney: Destino, which includes a seven-inch, high-definition screen inside the front cover. With a touch of a button, the entire short film can be viewed. The volume also includes a USB and a wall charger, as well as a headphone jack.
"The technology was available," Bossert said, adding that he was "surprised that no one had ever done it before."
Indeed, to be able to read about the making of the film and then watch it, all in the same book, "is very cool," according to Bossert.
Have you ever seen Destino? If so, what are your thoughts on the Disney-Dali collaboration?
Subscribe to the AllEars® newsletter so you don't miss any exciting Disney news!