To all who come to this photo trivia game, Welcome! Along the way, the photos can make us relive memories and see details Walt's Imagineers put into everything we love in Walt Disney World!
Now for Challenge #571

And here's the answer: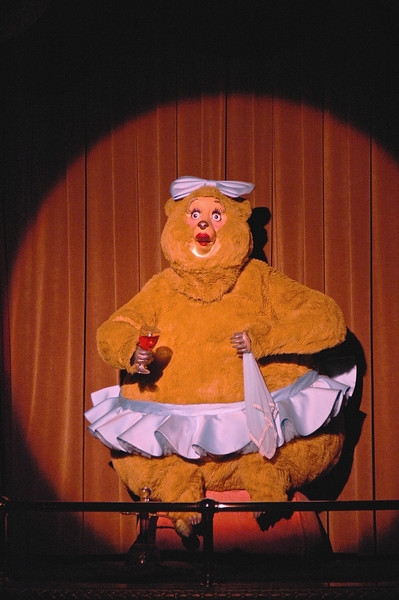 Trixie St. Claire from the Country Bear Jamboree!
Vicki Britt and Mike Hill, you've never seen Country Bears…

Adolph and Kimberly Timm was the first to send in the correct answer! Congratulations to Adolph and Kimberly and to all our winners this week!  Aimee Tester, Al & Kerry Ganter, Andreas Beer, Andrew Carrieri, Axel Beer, Becky Hosinger, Belicia, Bob Hendrix, Bob Patterson, Bonnie Jean, Brian Richmond, Bruce Hinterleitner, Candy Yancey, Carla Nale, Caroline Burmester, casey lucas, Cathy Connors, Cheryl Costello, Chris Gretchen and Katie Barnes, Chris Malm, Christopher Hall, Claire Gregory, Cynthia, D Odaniel, Deb Ragno, Diane Curfman, Donald Purney, donna gibson, Doug Olson, Ed Suscreba, Edith LaBelle, Emily Hudson, Eric Enli, Erin Hammer, Frank & Sharon, Gary L. Strieter, George Mundy Jr, Gloria Martin, Gloria Martin, Grumpys Groupies, Herb Miller, Hillary Waldroop, Hunter Armstrong, Jacinda Seliger, Jackie Graebel, Jamie Poynton, Jamie Steiner, Jan Rosato, Jane Johnson, Janet Fosbender, Jay Tillis, Jeff Buller, Jeff Buller, Jeff Buller, Jennifer Masotti, Jessica Polizzotto, Jim & Lorie Sonnen, Jim Thompson, JoAnn Albrecht, Jodi Cook, Jodie S., Joseph M. Zafia, Josh Weiss, Julia and Carol Wickware, Julie B, Justin Fox, K Beasley, Karen Schlumpf, Kelly, Ken Conner, Ken Savage, Kerry A., Kerry Nichols, Kevin Bergin, Kris Nixon, Krista Connolly, Laurie Walker, Linda College, Linda Grau, Linda Hoffman, linda scrivano, Linda Wilham, Lori Rienhardt, Loring Family, Luis Rodriguez, Maddie Inman, Margaret Convery, Martha & Justin Collins, MaryAnn Eckenrode, MaryAnn Romagnano, matt cofone, Maureen and Warren Handy, Megan Krainski, Melissa Littman, Michelle Fure, Mike Haeberle, Mis Jamie Marie, Mylene Seward, Nan Amor, nicole ansert, Pam Simek, Patricia Morin, Patrick Broaddus, Patti McCaffrey, Patty, Pensacola Glenn, phyllis, Ray Kowatch, Rebecca Keenan, Rebecca Keenan, Richard Long, Robert P. Flaherty, Robert Wescovich, Ronnie Alvarado, Russ Morgan, Ruth Senecal, Ruth Woodhouse, Sandie Albrecht, Sandra Debow, SANDS FAMILY, Sandy Ceplecha, Sarah Kreps, Scott C., Serge, Sharla, Sharon Powell, Shelly Borella, Stacy Sanders, Sue and Ed Adams, Susan Masotti, Suzete Reinhart, Tammy Warmouth, Team Hill, Ted Flory, The Kertes Family, The Nufranick Family, The Rider Family, Theresa Maradei, theresa rucando, Timothy Johansen, Tom Higbee, Tom Koval, Toni Smith, Tracy Discher, Tricia Petty, Vera and Izzy Williams, Vicki Britt, Vincent DeGasperis, Weasemouse, and Wendy T Faler!
_______________________________________________________
Challenge #572 Where in the world is this?
Changing parks!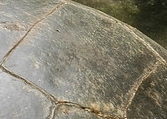 Do you know? Do you have a guess? Please send in your answer before the end of the day on Thursday, January 24th, by clicking on the blue box below.
Please do not post your answers on this blog post.
See you soon, Players!

_____________________________________________________________________
Everyone who sends in a correct answer to a Where in the World Challenge this month will be entered in a drawing at the end of the month for some special AllEars® goodies!
Remember! When you're in Disney tag us @allearsnet in your photos!
Click on the graphic below to subscribe to the AllEars® newsletter — don't miss any exciting Disney news!