Typhoon Lagoon FAQ
On select summer nights starting May 30, 2019, the special lighting effects of Disney H2O Glow Nights will transform Typhoon Lagoon water park as it celebrates its 30th anniversary summer. Join the fun, dance on the beach, play party games, and meet up with Buzz, Woody and Jessie, plus all attractions are open for guest enjoyment.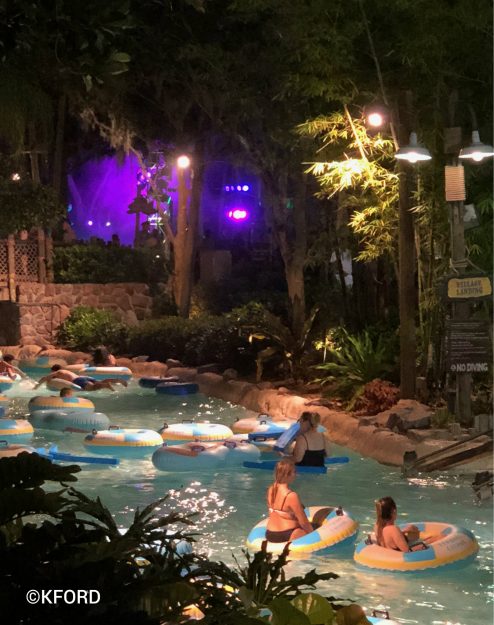 Disney H2O Glow Nights will take place only at Typhoon Lagoon on Thursdays and Saturdays from May 30-August 17, 2019.
Disney H2O Glow Nights are a separate ticketed event and the party is not included in daytime admission.
Tickets have not gone on sale for 2019 yet, but in 2018 they cost $55 for adults and $50 for children ages 3-9 (plus tax).

What is Typhoon Lagoon?
Typhoon Lagoon (TL) is Disney's untypical version of a typical water park themed in a tropical island setting. The park contains all of the types of activities you would expect to find at a water park–slides, pools, a slow river–plus others you will find nowhere else, including a surf pool and a saltwater artificial coral reef pool chock full of tropical fish that you can snorkel through.
How much is admission?
Prices current as of Sunday, February 11th 2018 (all prices include tax):
Water Parks 1-Day Pass provides one-day admission to Typhoon Lagoon OR Blizzard
Beach for designated time period: $65.00 (Ages 10+); $59.00 (Ages 3-9) with tax.
Water Parks Annual Pass provides unlimited admission to both water parks for one year. Adults $130.00 with tax; children 3-9 $130.00 with tax.
Unlimited admission is also included with Premium Annual Passports.
Why should I use valuable WDW vacation time and spend extra money to go to a water park?
TL is unique — truly a Disney classic — and arguably one of the most unique water parks in the world. (TL's main competition in this regard is just a few miles away: WDW's Blizzard Beach water park.) TL is certainly the most beautiful, a true tropical paradise. This looks nothing like typical water parks that have slides with exposed superstructures and wave pools that look like giant concrete tubs. It may not have the most, fastest or highest slides, but it does have the largest surf pool, a 2.5 acre lagoon with waves up to six feet high that sits at the base of a 100 foot high manmade watershed mountain and is surrounded by a sandy beach and a lush tropical forest. If you have an Ultimate Park Hopper or Park Hopper Plus Pass there is no extra charge for admission to TL, making it possible to visit — even if only for a few early-afternoon hours when the major parks are too hot or crowded.
What is Typhoon Lagoon like?
As you enter TL, you walk along a short path up a slight hill past an old beach patrol "woody" station wagon and some live macaws. As you reach the top of the rise you catch your first glimpse of the former Placid Palms Resort, with its storm-damaged thatched-roof buildings coursing along the palm-lined pathways that meander off to your left and right.
Taking the path to the right, you pass by Singapore Sal's Beachwear, Gifts & Sundries, the whole front wall of which appears to have been blown away by the typhoon that "recently" passed through these parts. Turning left and passing by the High 'N Dry Towel and Locker hut, you cross a small wooden footbridge that spans a lazily flowing stream flowing through the tropical foliage — Castaway Creek — that is already inviting you to jump in.
Over the bridge, a vast expanse of crystal-clear azure-blue water unfolds before you. The waters lap up onto white, sandy beaches that stretch around three sides of the lagoon and play host to towering palms, thatched umbrellas and countless gleaming white lounge chairs. Every minute or two you catch the sound of surf as the mighty waves come roaring in.
At the far end of the lagoon, rising up above a massive timber retaining wall, is Mt. Mayday. Stranded on the mountain's summit is Miss Tilly, one of the shrimp boats out of Safen Sound, FL that was caught in the great storm. The streams that flow down the mountain cause a 50-foot geyser of water to regularly erupt from Miss Tilly's smokestack, sounding the old boat's foghorn in the process. Amazingly, this seems to occur exactly every half-hour!
Along the slopes of Mt. Mayday, which gradually taper off to the left and right, you catch a few glimpses of the many twisting mountain streams which — due to their unusually smooth "lava-rock" beds and steady, gentle flowing water — are just ideal for sliding down.
After walking along the beach you find the perfect spot, claim a few chairs, settle in and begin a glorious day.
What about these special spaces I've read about?
Blizzard Beach and Typhoon Lagoon are now offering premium spaces for rental. Premium spaces can accommodate up to six. There are four premium spaces in each water park, and they include the personalized services of an attendant, private lockers, all-day drink mugs, cooler with bottled water, lounge furniture, tables, and rental towels. The attendant will also offer advice and help with food and drink orders. At Typhoon Lagoon, the spots are called "Beachcomber Shacks" — ask about them at High 'N Dry.
Cost for the Beachcomber Shacks as of Summer 2012 is $213 during off-season dates ($226.85 with tax) and $300 ($319.50 with tax) during peak season dates. Additional guests can be added for $25 each. Guests will be given a bracelet that allows access to the private area. Availability is on a first-come, first-served basis. Advance reservations are available by calling 407-WDW-PLAY. Full payment is required at the time of reservation.
You can now also rent a premium beach chair space at Disney's Typhoon Lagoon Water Park in the area known as Getaway Glen. This new offering includes 2 lounge chairs, an umbrella, a cocktail table and 2 towels. Cost as of Summer 2012 is $40 plus tax ($42.60) in low season and $50 plus tax ($53.25) during high season and must be paid at time of reservation. Advance reservations are available by calling 407-WDW-PLAY. You can stop in at High 'N Dry Towel Rental to check same-day availability.
If you must cancel either space, you must do so before 9:00 am the day before your reservation. If the park is closed all day on your reserved day for any reason, you will get a refund.
What is the surf pool like?
The centerpiece of TL, the Surf Pool can send waves up to six feet high crashing onto the shores of the lagoon. The waves originate at the base of Mt. Mayday with loud, deep whoosh and then speed along the deep outer lagoon which is enclosed on three sides by timber retaining walls that hold back the volcanic mountain slopes. The waves break just as they clear the walls, at which point the water is six feet deep. The surf fans out into the sea-shell shaped shallow part of the lagoon until it rolls up onto the beach. (The lagoon floor is constructed of sand-colored concrete, while the real sand on the beach extends down to the water line.)
The waves alternate between surf waves that come at 90 second intervals and continuous, gently-bobbing waves. In years past the cycle alternated every hour, but recently the tide, so to speak, has tilted in favor of surf, with a 90 minute surf/30 minute bobbing cycle. There is a small chalkboard at the edge of the beach near the front of the park on which the day's wave schedule is posted. Inner tubes, which used to be allowed with the bobbing waves, are no longer permitted at any time in the lagoon.
Denise Ashworth comments: One note I would offer to anyone, especially parents, is to be extremely cautious about monitoring your little ones at the surf pool at Typhoon Lagoon. It's thrilling to listen to the shrieks of the surfers as the wave machine cranks out a big wave, but keep in mind that at 6 feet high, this water is MOVING, and packs a bit of energy. I was standing in ankle-deep water in the surf pool, and was taken by surprise at the strength of the breaking wave. It literally knocked me off my feet, and I was subsequently dragged on my hands-and-knees for a couple of feet. No major injuries (except to my pride), just minor scrapes on my palms and knees. I did wonder what effect that wave might have had on a toddler or preschooler who carries only a fraction of my body mass, though! Most parents are very conscious of their children's safety near water's edge, but in this case I think an extra measure of watchfulness is a good idea.
What are the water slides like?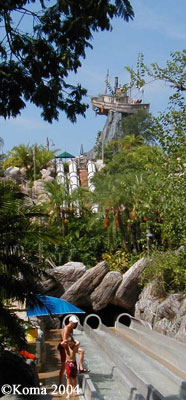 TL does not have the tallest, longest, fastest or wildest water slides in the world — just the most beautiful. All the slides take you through fully landscaped, winding mountain streams that have been cut into the steep volcanic rock slopes of Mt. Mayday. The "volcanic" soil provides perfect growing conditions for the exotic flora that covers the mountain, lining the winding pathways that lead you up to the slides' departure points.
On the left slopes of Mt. Mayday you will find three raft slides. At the entrance to each of these slides you collect an inner tube or raft and carry it up with you. Keelhaul Falls, a tube ride, is the tamest of the three — and usually the one with the shortest line. Gang Plank Falls is higher, longer and wider, which nicely accommodates the family-sized rafts that ply these waters. (If you don't have the minimum in your group needed for a raft, the lifeguards at the top will combine individuals as needed. Maximum is 4 adults.) Mayday Falls is the highest and wildest, sending you careening down a wild river hanging on to your tube for dear life! (Well, almost.)
On the right slopes of Mt. Mayday you will find the body slides. As you approach the body slides, you first come to the base of the Humunga-Kowabunga, the triple speed slides. There is a small section of bleacher seating here for the less daring companions of those who like to drop 50 feet nearly straight down at 30 mph. Further on is the long path that eventually takes you almost to the top of Mt. Mayday, just a little below Miss Tilly. From here you can body-slide down the three Storm Slides (only one at a time, of course) which wend their way down, and sometimes through, the mountain. If you time your ascent to arrive at the top right on the hour or half-hour, you will get to see Miss Tilly blow her stack so close up that you will likely catch some of the spray.
If you are not sure whether you want to brave a particular water slide, you can always climb to the top, check it out and walk back down if you change your mind.
What is Crush 'n' Gusher?
Crush 'N' Gusher, a white-knuckle water coaster thrill ride, opened in March 2005. It sends you along a series of flumes and spillways through a rusted-out tropical fruit facility. You can choose from three different routes, Banana Blaster, Coconut Crusher and Pineapple Plunger, each ranging between 410 and 420 feet in length. For photos click HERE!
What is Miss Adventure Falls?
Disney' Typhoon Lagoon Water Park debuted a new family-friendly water attraction called Miss Adventure Falls in mid-March, 2017. Located near Crush 'n' Gusher, Miss Adventure Falls brings to life the story of the fictitious Captain Mary Oceaneer, a treasure-hunting heroine who got stranded at Typhoon Lagoon years ago by a rogue storm. It hosts the longest (at two minutes) ride at any Disney water park.
What is Castaway Creek?
Most water parks have a river that encircles the park, and TL is no exception. Castaway Creek, however, gently carries you through nearly a half-mile of tropical splendor. With entry/exit points all around, it is easy to hop in or out. There are pictorial identifying sign-posts at each entry.
The creek passes through distinctly different settings: tropical forest, dense rainforest, a cavernous tunnel through Mt. Mayday that is guarded by a waterfall you must pass through, open sunny areas and a shady, rocky gorge with a rope footbridge high overhead. All along the way are gorgeous (and meticulously maintained) tropical flowers. You will also come across various items of storm-tossed wreckage, both along the shores and floating in the water. You can swim, walk or float in one of the many inner tubes — including some of the two-person variety — that endlessly circulate.
Castaway Creek tends to get crowded in the early afternoon hours — it can literally become a wall-to-wall sea of humanity and tubes. It is best enjoyed in the morning (if you are not a slide person) or late in the afternoon, when you will practically have it all to yourself.
Are there any provisions for small children?
Ketchakiddee Creek, on the far left side of the park, provides wading pools, bubbling fountains and mini-slides & raft rides for the little ones. Children under age 10 should be accompanied at all times by an adult throughout the park. Also, remember that children of diaper age are required to wear snug-fitting rubber pants over their diapers, or special swimming diapers here and throughout the water park.
When is the best time of year to visit Typhoon Lagoon?
Any time of year that the park is open is a good time, but it does get very hot and very crowded during the summer peak season. In the cooler months, all of the nearly 3 million gallons of water at the park are heated. The park will typically be closed for about a month during the winter — check for exact dates by calling (407) 824-4321.
When is the best day of the week to visit Typhoon Lagoon?
Weekdays, the nearer to the beginning of the week the better. Later in the week, TL attracts the people who typically spend the beginning of the week at the major parks. Local residents tend to keep things busy on the weekends.
When is the best time of day to visit Typhoon Lagoon?
There are two good times to arrive: Shortly before the park opens and — in the warmer months when the park is open at night — mid- to late afternoon. If you want to go for the morning/early afternoon, it is essential to arrive by park opening time, particularly in the warmer months. When you arrive early, you will benefit from:
Claiming lounge chairs that are shaded by the relatively scarce thatched umbrellas or thatched lean-tos that are scattered around the surf pool, rather than the more numerous ones that are out in the blazing sun;
Being able to do a lot of water sliding in a relatively short time, rather than spend most of your time standing in the hot lines that form within a few hours after the park opens;
Getting a locker and towel quickly, rather than waiting in the long line that forms by late morning;
Getting a locker that is conveniently close to the entrance, rather than the ones nearer to the back of the park that are handed out when the "good" ones are gone.
Parking close to the entrance (if you are driving), saving you a long hot walk back to your car when leaving;
Avoiding the disappointment of not getting in at all should the park close (typically in the late morning) because it has reached capacity.
Arriving mid-afternoon is almost as good. By this time, people are starting to leave, making lounge chair seating available. You will probably have to settle for full-sun seats, but by this time the sun is not quite as bad as at mid-day. The crowds in Castaway Creek should be thinning out by now. A little later in the afternoon, the water slide lines will become reasonable as well. Admission discounts may also be given for mid-afternoon or later entry (check by calling (407) 824-4321). If the park is open past 7 PM, there may be special activities scheduled as well.
Can you get food at Typhoon Lagoon? Can you bring your own food?
TL offers the usual fast-food fare. Just to the left as you enter the park you will find Leaning Palms which offers hamburgers, sandwiches, pizza, salads, soft drinks and beer. An adjacent building offers ice cream. Near the back of the park on the right side is Typhoon Tilly's which serves sandwiches, salads, soft drinks and beer. At the back on the left side, just before the raft slides, is Lowtide Lou's Snacks, ice cream and sodas. On the beach near the front is Let's Go Slurpin' which offers frozen drink specialties.
No alcoholic beverages or glass containers are permitted.
Is there a Refillable Mug program at Typhoon Lagoon? How does it work?
When you enter the park, and at several locations throughout the park, you'll have the chance to buy a plastic "All-Day Sports Bottle." Like the refillable mug program at the Disney resorts, this mug may be refilled at soft drink stations as often as you wish for the duration of your visit. The mug costs $9.99 including tax and may be refilled with soft drinks only at Typhoon Tilly's, Leaning Palms, Surf Doggies, Let's Go Slurpin' and Lowtide Lou's (seasonal).
How does the Locker Rental work?
Locker rentals are available at High 'n Dry Towels $13 for a small size and $15 for a larger size, plus $5 refundable deposit when you turn your key back in.
How do I get to Typhoon Lagoon?
From I-4: Take Exit 67, Epcot Center Drive and proceed one mile to Buena Vista Drive. Take the first ramp, turning right onto Buena Vista Drive. The entrance to TL is a very short distance along Buena Vista Drive on the right.
From US 192: Enter WDW via the maingate entrance on 192 (World Drive) and proceed two miles to Buena Vista Drive, heading towards the EPCOT resorts. Proceed along Buena Vista Drive for two miles. The entrance to TL is on the right, a very short after you pass Epcot Center Drive.
From the Hotel Plaza/Disney Institute/SR 535 area: Proceed along Hotel Plaza Boulevard towards the Disney Village Marketplace. At the Disney Village Marketplace, turn left onto Buena Vista Drive. Drive completely past Pleasure Island and the AMC Theater (on the right). The entrance to TL will be a short distance further on the left.
From the SR535/SR536 area: Take SR536 for two miles towards WDW, at which point it crosses I-4 and becomes Epcot Center Drive. Proceed one mile to Buena Vista Drive. Take the first ramp, turning right onto Buena Vista Drive. The entrance to TL is a very short distance along Buena Vista Drive on the right.
From Disney hotels: Disney's bus system services Typhoon Lagoon. Check with your hotel's front desk for information on routes and times.
Are there any drawbacks or disadvantages to visiting Typhoon Lagoon?
Aside from the fact that TL tends to be crowded in the midday hours during the peak seasons, there is only one other potential drawback: You may lose the desire to ever go to a non-Disney water park again!
Is there anything else I should know?
Bring your own towels! Renting is $2/towel. NO refund.
Consider bringing one of the relatively inexpensive single-use underwater cameras (about $10) that are widely available.
Don't wear swimsuits that have rivets, buckles or exposed metal. These are not permitted on the slides.
Lifeguards are plentiful and present at all locations, but children under age 10 should be accompanied at all times by an adult throughout the park.
TL sometimes closes when it reaches capacity at peak periods. It will also close during rainstorms. In the case of the typical brief afternoon thundershower, if you can weather the storm, the park will be virtually empty when it reopens. Although there are no refunds due to weather-related closings, you can always leave and return later in the day. (Make sure to get your hand stamped on the way out.
The First Aid stand is next to Leaning Palms.
Lost children are reunited with their families at High 'n Dry Towels.
The direct telephone number to Typhoon Lagoon is (407) 560-4141.