Okay, you're planning your first trip to Walt Disney World, and you are completely overwhelmed. We don't blame you! Walt Disney World is trickier than ever to plan for, especially if it's your first visit and might be your only visit.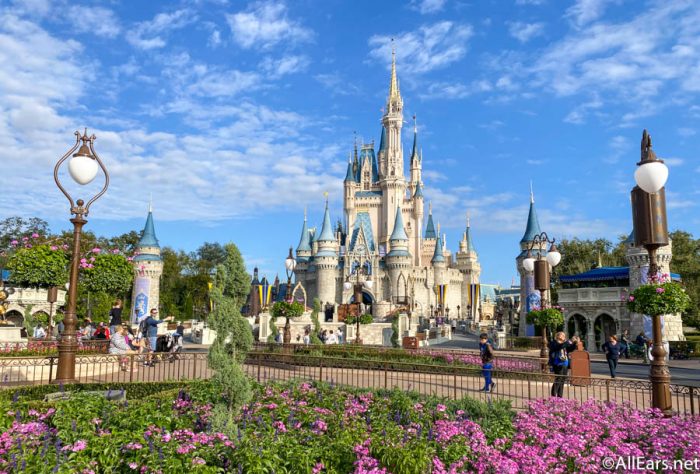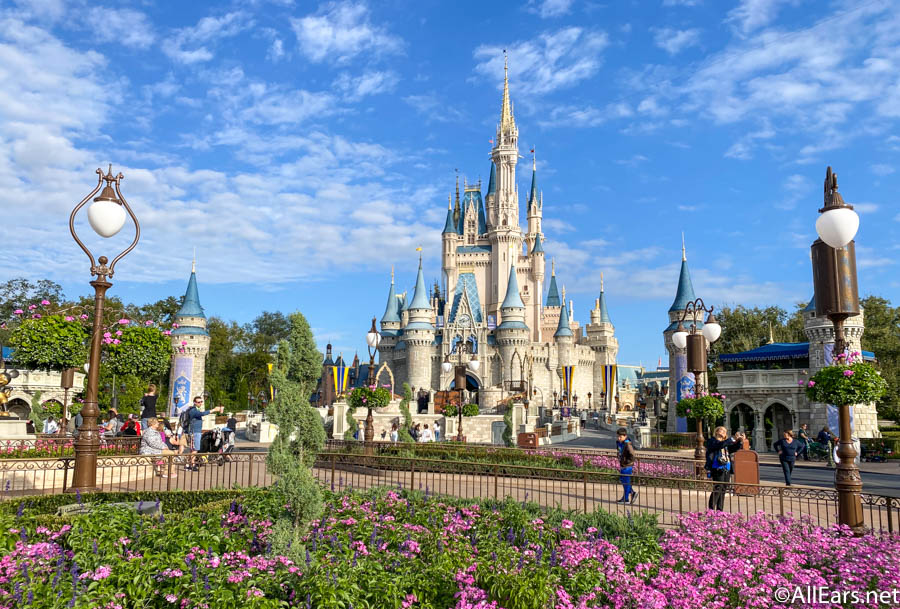 But you're not alone on your planning journey, and we're going to bring some of the top questions first-timers have — as well as answers, tips, and tricks to help you plan the best first trip ever!
How many parks are there?
At Walt Disney World, there are four theme parks, two water parks, and one large outdoor shopping mall. The four main parks are:
The two water parks are Typhoon Lagoon (the one with the massive wave pool and the shipwreck) and Blizzard Beach (the melted ski resort one).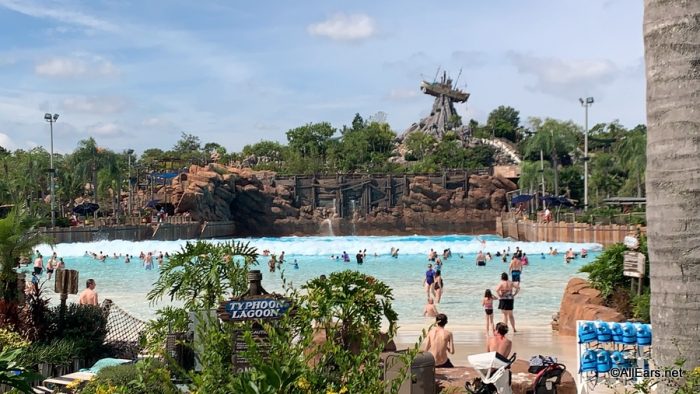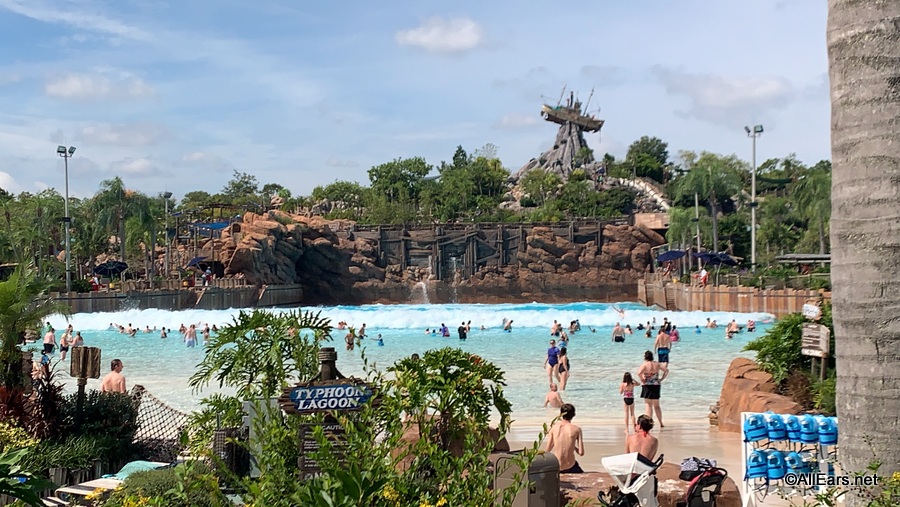 The large shopping mall is called Disney Springs and has tons of shops and restaurants. You don't need a ticket to get into Disney Springs.
How long should I go for?
In order to figure out how long to go for, you need to figure out what you want to do at Disney World. Each of the main four parks can be done in one to one and a half days each (if you maximize FastPass and get familiar with how to get around).
The water parks take about half a day each. You can easily spend a half at Disney Springs or a full day if you really like to shop. If you are traveling with little ones or anyone with mobility issues, make sure to build in some buffer time for each day to take breaks.
What kind of tickets do I need?
When buying your tickets, there are a few different options, described in detail on our ticket page. You can buy one park per day Standard Theme Park Tickets or Park Hopper tickets. With Standard Theme Park Tickets you can leave the park and return to the same park later in the day, but can't go to a different park that day. Park Hopper tickets enable guests to go into more than one of the four core parks in the same day — so you can hop between parks if you wish.
When buying tickets, you can also add on water park tickets which are less expensive than tickets to the four theme parks. If you want to make a long term Disney World commitment, you can also purchase an Annual Pass that will get you into the parks year round. It also includes some other benefits like discounts on food and shopping.
Learn more about Annual Passes here!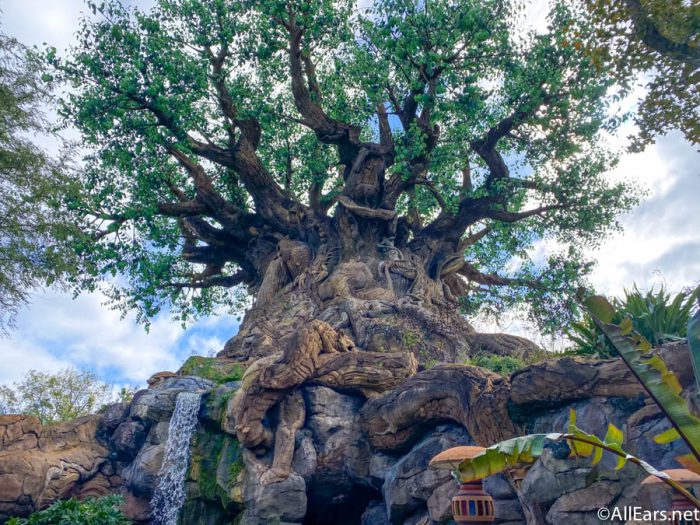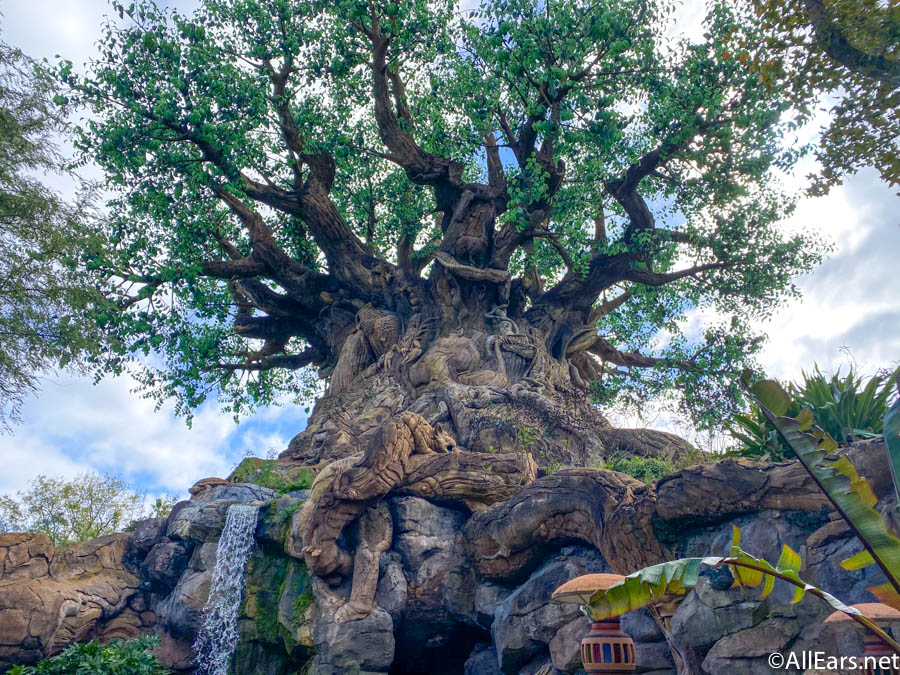 Should I stay at an On Property or Off Property Resort?
The type of resort you choose depends on a few different factors. First and foremost, know that you have two broad categories from which to choose: on-site, Disney-owned and -operated Disney Resorts or off-site hotels and resorts.
Explore accommodation types here.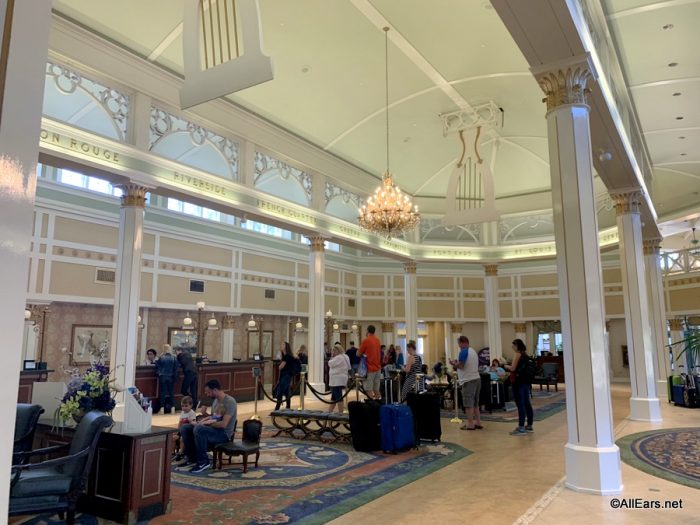 To determine whether to stay on-site or off, you need to consider some questions. How much time do you see yourself spending at the resort? Will you take advantage of amenities at your hotel? How important is it for you to have convenient and affordable transportation? Do you want to leave the Disney bubble, or do you want to escape to the Most Magical Place on Earth without the trappings of the real world?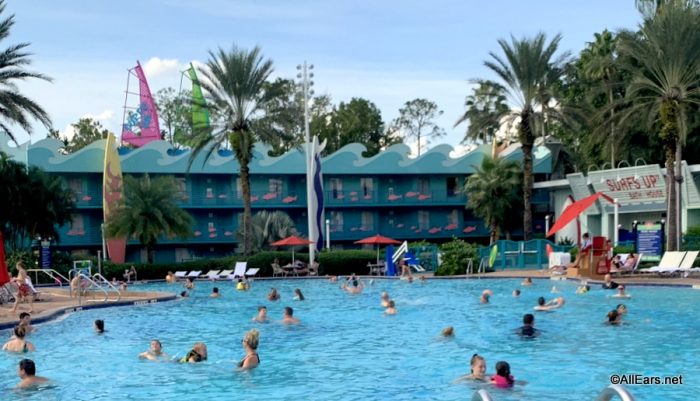 If you see yourself relaxing by the pool and want a variety of fun activities at your resort, then a stay at a Disney-owned Resort might be best for you. Each Disney Resort — whether you choose Value, Moderate, or Deluxe — is chock full of activities every day of the week, ranging from movies playing by the pool to trivia games.
Disney Resorts also have some great restaurants and shops. But staying on property can be expensive. If you just want a place to crash at the end of the day and a spot to store your Mickey ears, then staying at a non-Disney resort off property might be best for you. It is usually less expensive than staying on property, but there are drawbacks — namely that you don't have access to the Disney transportation, you can't take advantage of Extra Magic Hours, and you won't be able to make 60-day-out FastPass reservations.
Click here for more details on why you want to get a jump on FastPass reservations.
How will I get to the parks everyday?
Getting to and from the parks can be a little daunting. You can literally get to the parks in boats, cars, buses, monorail, and even a gondola. How you get there will depend entirely on where you are staying and what park you are going to on that day. If you stay in a Disney Resort, your hotel will have at least one mode of transportation to all of the Disney Parks. All of the resorts have regularly running buses that go to all of the parks everyday. If you are staying in one of the resorts near Magic Kingdom, you can take the iconic Monorail (single rail train) to Magic Kingdom and Epcot.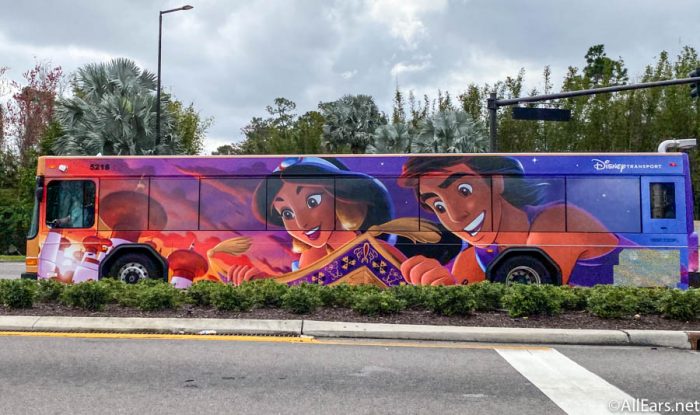 If you are staying at a non-Disney resort (called off property) then you will have to either drive, take a cab, or use a shuttle bus if one is provided by your hotel. Some off property resorts offer a shuttle bus about twice a day. If you do drive, you will have to pay for parking, unless you are an Annual Passholder. Most of the parks have parking lots fairly close to the main entrance, but you'll likely end up needing to take a tram from your parking lot to the park entrance.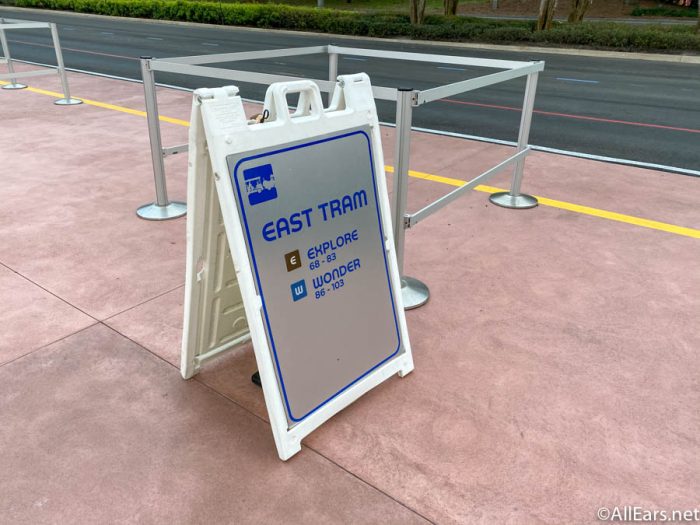 When going to Magic Kingdom you will have to park at the Transportation and Ticket Center which is away from the main entrance to Magic Kingdom. You will take the Monorail or a ferryboat to the park entrance.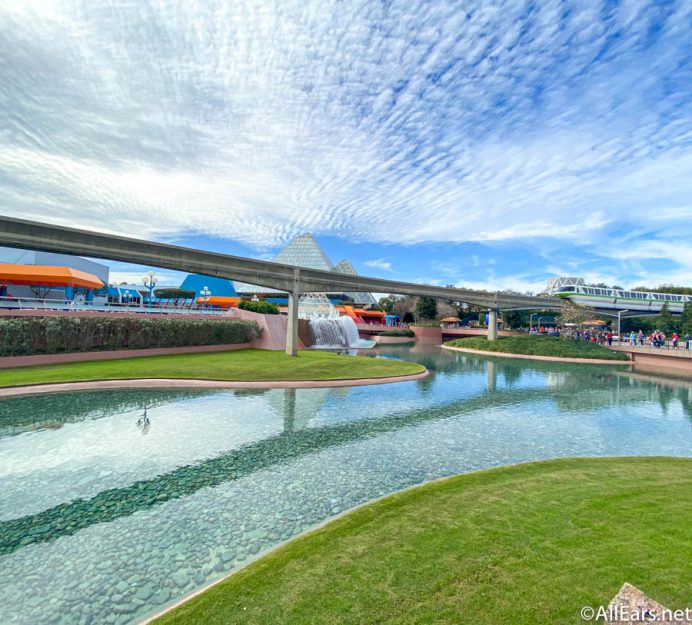 What time should I get to the park?
That depends on what you want to do during that day, what time parks open, and if you're a morning person (or not). The parks open by 8AM or 9AM most days, but Extra Magic Hours and crowd levels can affect park opening times.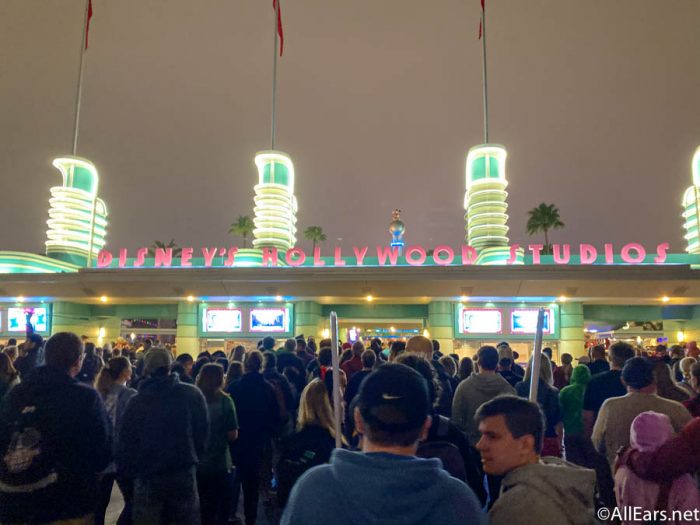 If you are trying to do everything in one park in one day, then you should plan to get there for rope drop (when they walk guests to a particular area or areas of the park and literally drop a rope and let people into the park). Honestly if you are trying to ride one of the popular rides without having a Fast Pass, you should get there an hour to a half hour before the park opens and quickly (without running) head straight to that ride. The benefit of getting there early is you can get more done quickly (while other guests are still in bed or making their way to the park).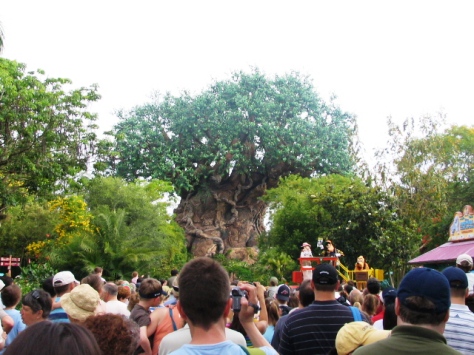 What is a MagicBand?
A MagicBand is an RFID-enabled wristband that you can purchase (or that you receive as part of a Disney Resort stay) that connects to your park ticket, your resort room key, your FastPasses, and even your credit card.
It's easier than carrying everything, but it also puts all your important stuff in one place. So if you decide to get a MagicBand, make sure not to lose it. (If you do lose it, head to a Guest Relations office to have them cancel your old MagicBand and get you set up with a new one.)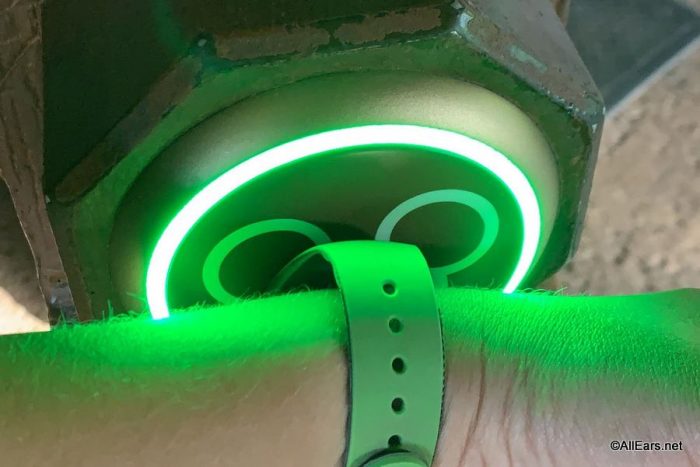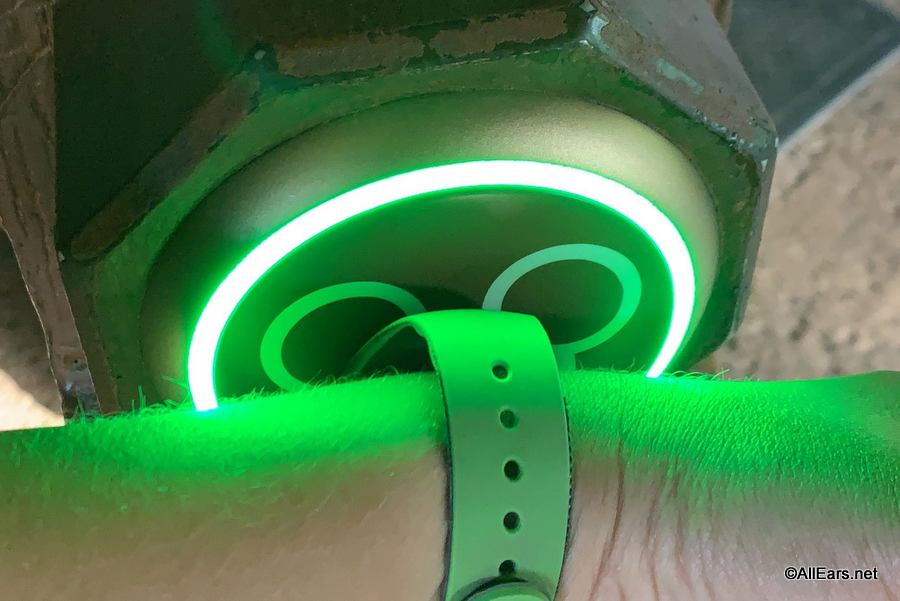 What is a FastPass and how do I get one?
FastPass+ is a wonderful tool for reducing the amount of time you'll have to spend in line waiting for popular rides. FastPass is a reservation system to help you skip most of the line.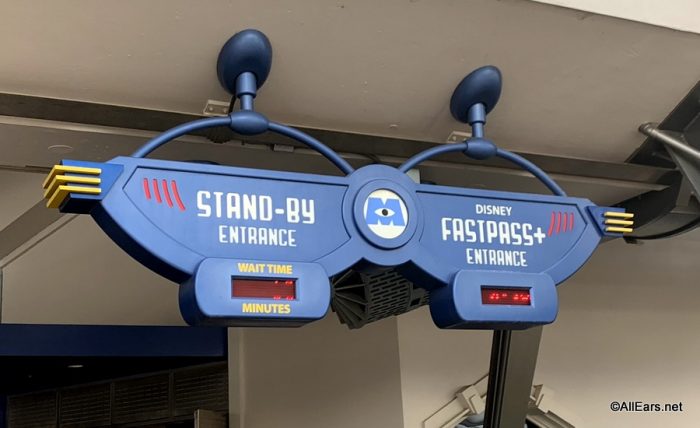 Everyone who goes to Disney World can book FastPasses, but when you can make them is a huge factor in whether you'll get the FastPasses you want or need. Guests of Disney Resorts (and Disney Springs Area Resorts) can make FastPass reservations up to 60 days ahead of the first day of their trip. Off-site guests can only make FastPass reservations at 30 days out, severely limiting access to FP for the most popular rides.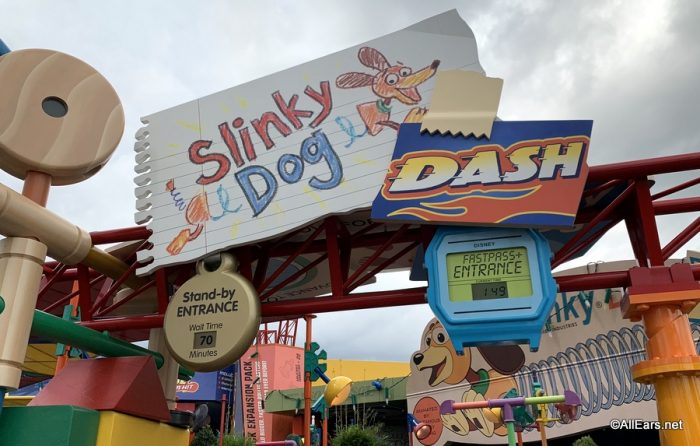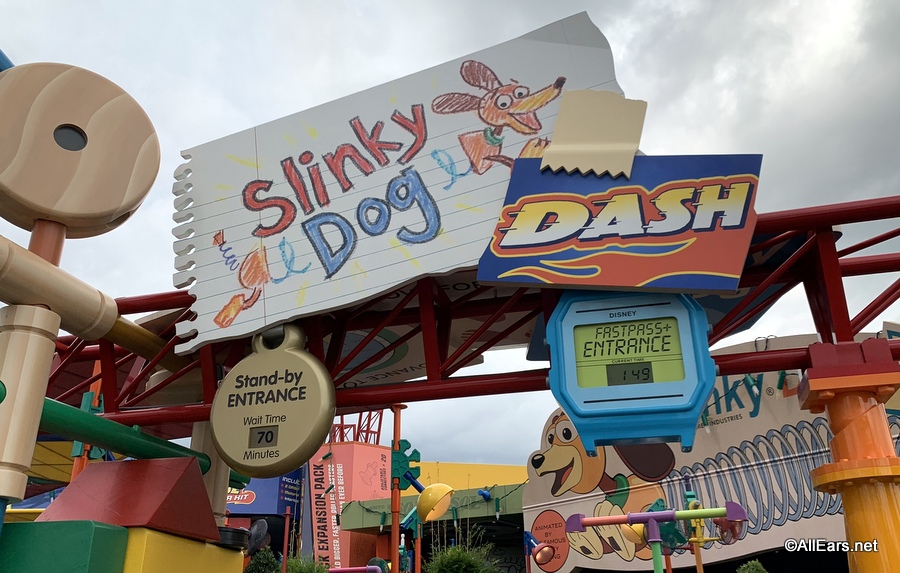 To make a FastPass reservation, you'll use the My Disney Experience app or go online to DisneyWorld.com. Each FastPass reservation gives you a one-hour window to scan in and ride the attraction. You can only have three FastPasses booked ahead of time at one park per day, but once you finish your first three FastPasses, you can book more, one-at-a-time at any of the parks.
Check out our AllEars TV tips for everything you need to know about FastPass+ below!
What are the most popular rides in the parks?
In every park there are usually three or more super-popular rides.
In Magic Kingdom the most popular rides are the Seven Dwarfs Mine Train, Peter Pan's Flight, Space Mountain, Splash Mountain, and Big Thunder Mountain.
In Epcot the top rides are Soarin', Test Track, and Frozen Ever After.
In Hollywood Studios they are Rise of Resistance, Millennium Falcon: Smugglers Run, Twilight Zone Tower of Terror, Slinky Dog Dash, and Rock 'n' Roller Coaster.
In Animal Kingdom the busiest rides are Flight of Passage, Nav'i River Journey, Expedition Everest, and the Kilimanjaro Safari.
If you plan your rope drop days and your FastPasses carefully, you can ride all of these and more with no worries.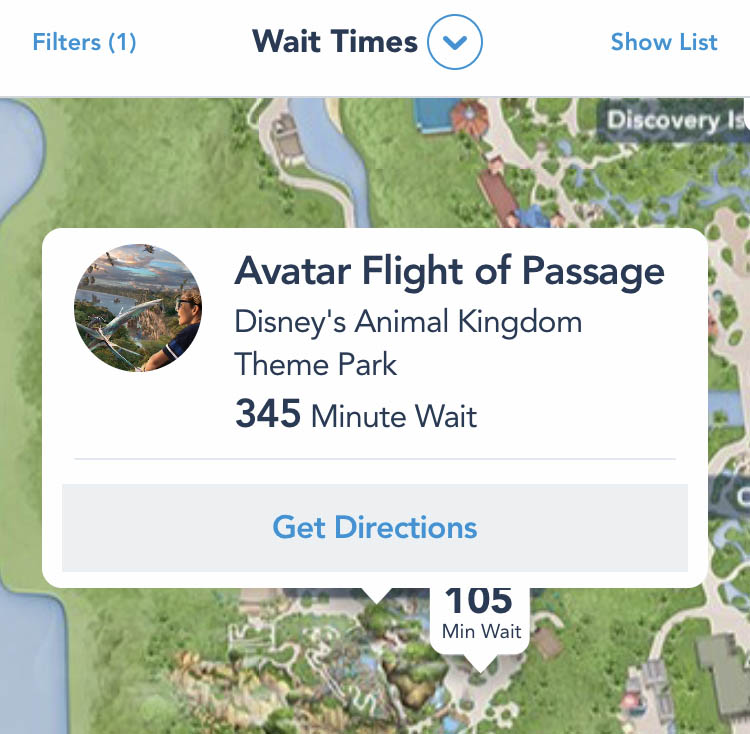 What should I bring into the park with me?
Packing a "park bag" is a delicate balance. You want to pack everything you need, but you don't want to be weighed down too much. First, find a lightweight bag to carry your Disney parks survival kit. We like a small backpack because then the weight can be distributed better than if we bring a shoulder bag. Then, plan on bringing the basics: sunscreen, a refillable water bottle, an umbrella or poncho, a lightweight jacket or sweatshirt (for cool nights or winter days), a hat, and a portable charger for your phone.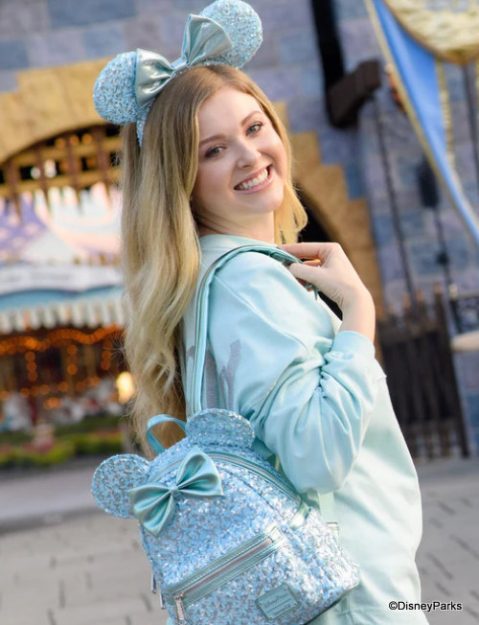 Depending on the makeup of your traveling party, you might need more things. Prescription medicine, a child's favorite toy, Disney pins for trading, diapers and extra clothes, and snacks (if your kids have some favorites or if you're trying to save some money by buying fewer snacks in the parks).
Know, too, that if you forget something (like allergy medicine) or run out of something (like diaper rash ointment) or need something you didn't think to pack (like pain medication for a sudden headache), there are Baby Care Centers and First Aid Centers in all four parks, and they are stocked with tons of essentials.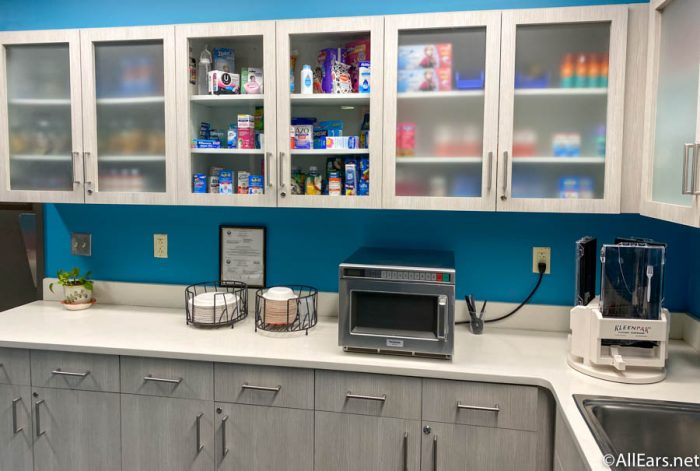 Make sure that you are comfortable carrying your park bag for hours without a break. Also make sure to wear comfy shoes that you can stand in all day.
We shared our "first time in the parks" park bag essentials here and seven things you might not have thought you'd want to bring — but you should — here.
What can/should I eat in the parks?
The parks are full of fantastic food, with options for just about everyone! You can get everything from regular theme park fare (Disney chicken nuggets are the best!) to a refined sit down meal. If you don't want to spend money on food in the parks, know that you can bring food in with you. But honestly, the food in the parks is a big part of our Disney World experience.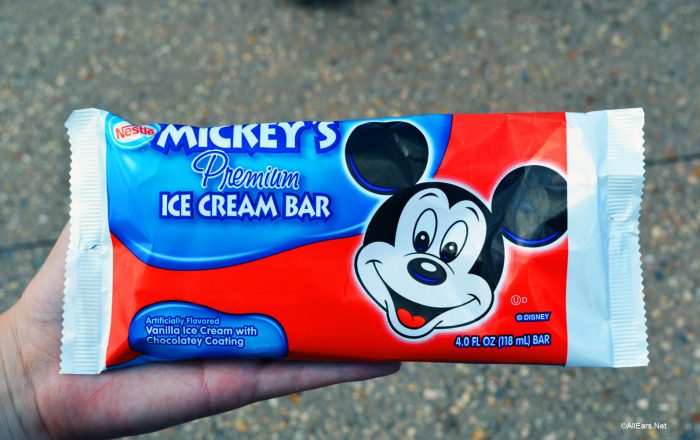 As such, there are even fan favorite foods in each park. You can get the smoky giant Turkey Leg in Epcot and the refreshing frozen Dole Whip in Magic Kingdom. And you'll find Mickey-shaped foods all over the World; we love a Mickey Pretzel and a Mickey Ice Cream bar.
Make sure to consider the types of food your family likes to eat and research the restaurants in each park to find the right place for you. You can do that with our AllEars menus here. We also recommend getting a little out of your comfort zone and trying some new foods. Disney makes exotic foods a little more accessible, and if you don't like it you can always go get a Mickey Pretzel afterward.
Should I make dining reservations?
If you want some sit-down, Table Service meals during your vacation, you absolutely should make Advance Dining Reservations. Gone are the days when you could walk up and reasonably expect to be seated for a nice meal. Now, Table Service restaurants at the Parks, Resorts, and Disney Springs are booked months in advance, so know where you want to eat, and get yourself an ADR.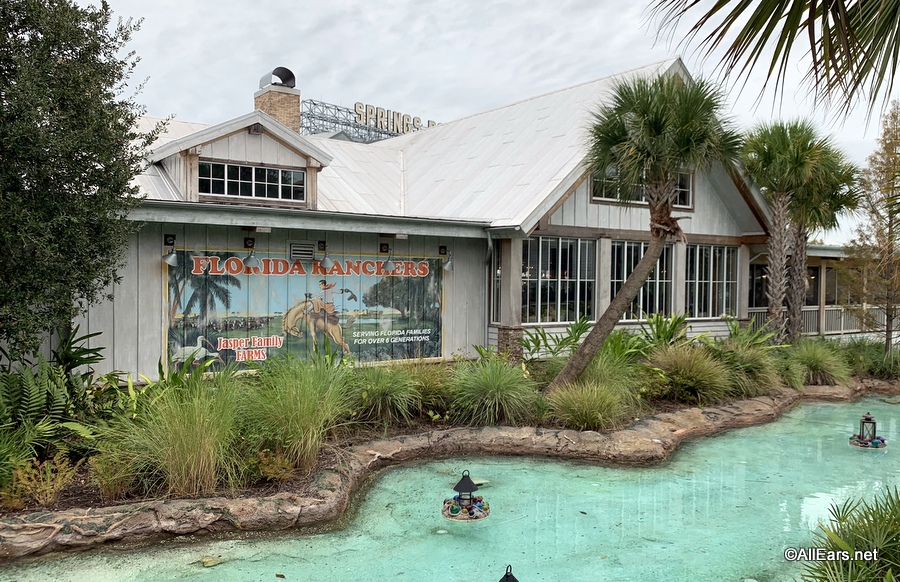 Go on Disney World's website or through the My Disney Experience app and start making reservations 180 days before your trip. If you don't make any reservations, you likely won't be able to get into any Table Service restaurants. You will only be able to go to Quick Service (fast food-style) restaurants or the lounges at a few Table Service restaurants. (Note: there's plenty of great dining to be had at Quick Service restaurants, so if you can't get Table Service ADRs, don't worry! Just plan ahead by browsing your Quick Service options here!)
What is the Disney Dining Plan, and do I need it?
The Disney Dining Plan is a way to prepay for a set number of meals and snacks with the purchase of a Walt Disney World Resort vacation package. You don't need the dining plan to eat at Disney World; without it, you simply pay out of pocket for all of your meals and snacks. But some guests — particularly those who like to order the most expensive items on the menus or who want to control their food budget spending by fully pre-paying — prefer Disney Dining Plan.
To find out more about the Dining Plan and see if it is right for you, read our full post on the Dining Plan.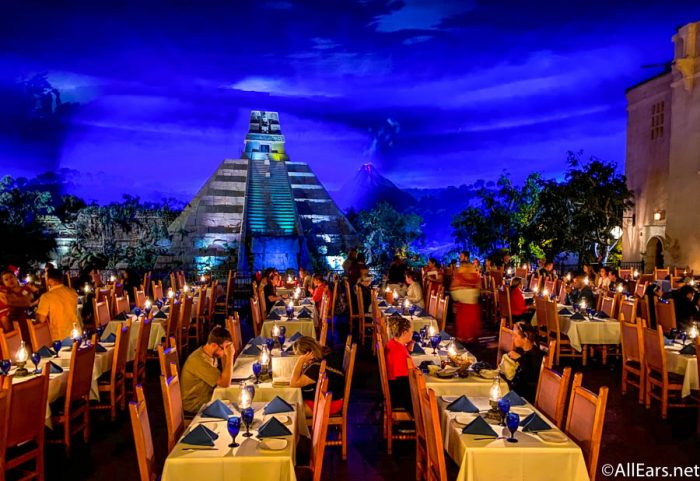 What are Extra Magic Hours?
Extra Magic Hours are when the Disney Parks open early (before the official opening time) or close late (after the official closing time), but only Disney Resort guests are allowed in the parks for those extra hours.
For a full breakdown of the Extra Magic Hours, check out this post.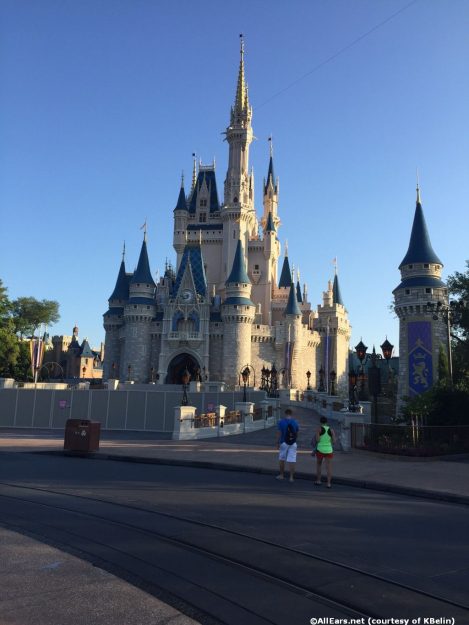 Is it worth it to buy merchandise at the parks?
That depends on you and your family. The merchandise in the parks is usually pretty great… but expensive. You can find items featuring lesser-known characters, items branded with the year of your visit, and special event merchandise. If you are a collector, then this is a prime opportunity to add to your Disney collection.
You can also get discounted Disney merchandise at the Disney store at the Orlando Outlet Mall. It's a great way to get items that were for sale in the parks but for a fraction of the price. The rub:  you need a car or to hire a car service (Uber, Lyft, or a taxi) to get there.
If you don't want to spend any money, there are some great free and cheap souvenirs at Disney World, too. In Magic Kingdom you can get a free deck of Sorcerers of the Magic Kingdom cards every day at the Firehouse on Main Street. These are for an in-park game that is free to play. You can also get free buttons at Guest Relations, Resort front desks, and some merchandise locations that show what you are celebrating.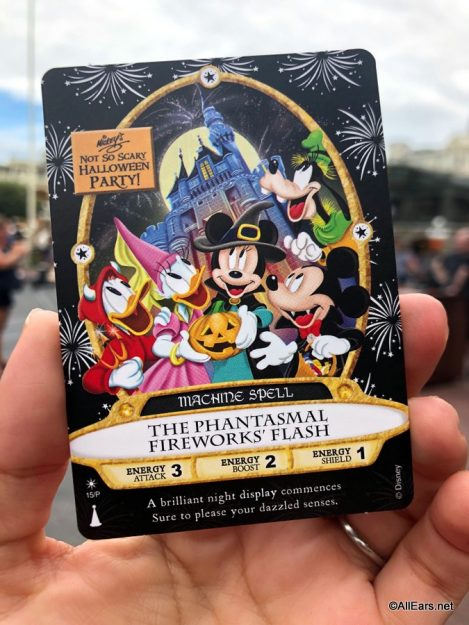 If you like enamel pins, then you can trade pins with almost every Disney cast member and in most of the stores and restaurants as well. To save money, we recommend buying a lot of Disney pins on eBay or online before you leave for the World, then you have a unique and less expensive stock to trade while in the parks.
Where do I find the characters?
Literally all over the parks! If you download the My Disney Experience app, you can track the exact characters out at any given time and where to find them in each park. They are sometimes dressed up in outfits that fit the theme of the area they are in. And you can even have meals with the characters at the restaurants and resorts. Click here for a list of character meals you can book in advance.
What do I have to do on my first trip?
Of course we want to tell you to do it all, but that's impossible (and would cause you a ton of stress trying to accomplish). With diligent planning and research you can make time for everything you must do and some of the items you want to do. Some tips for doing as much as you can:
Try to get FastPasses for the most popular rides or the rides you absolutely must do.
Any attractions for which you can't get a FastPass, experience them first thing in the morning (i.e. at rope drop).
Ride less popular, but still wonderful, attractions later in the day.
Use My Disney Experience to maximize your time by tracking ride wait times.
Make the most of Extra Magic Hours. We recommend hitting a park with EMH first thing in the morning (or after the park closes) and spending the rest of your day at a different park. EMH parks tend to be busier throughout the day because they draw in those EMH crowds.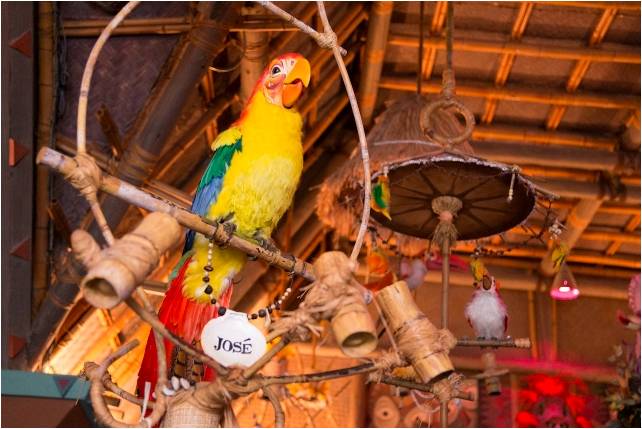 Woo! There you go: some of the basics of planning your first Walt Disney World trip and plenty of links and helpful info to flesh it all out. 
Do you have any more questions about your first Disney World trip? Let us know in the comments!