Character Meals at a Glance
One of the
quintessential Walt Disney World dining experiences

is enjoying a meal with the characters. Here is a quick and easy guide to see what's offered.

Additional Character Meal information can be found below:
Full descriptions of Character Meals 
A spreadsheet of Where the Characters Dine

Note: Character meals are subject to change, and you're not guaranteed to see any given character at any given time.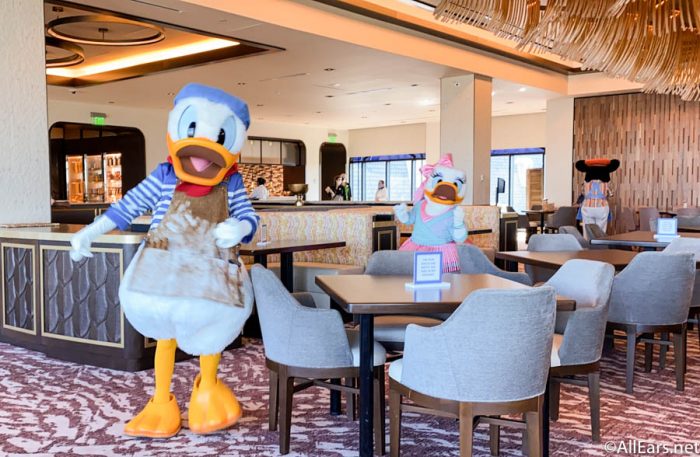 1-10 Rating Scale (10 highest)
Recommended by X% of readers
Ratings are a glimpse of what AllEars readers think about a given experience. Click on the Rating column links to go directly to the Rate and Review area. You can read more about what readers think and leave your own opinions, too!
Click on the restaurant links for menu and current pricing!
RESTAURANT

LOCATION

RATING

NOTES

BREAKFAST

1900 Park Fare
"Supercalifragilistic Breakfast"
Grand Floridian
8.1 – 93%
Buffet – Mary Poppins, Alice in Wonderland, Mad Hatter, Pooh and Eeyore
Beach Club Buffet – Cape May Cafe
Beach Club
7.3 – 82%
Buffet – Daisy, Minnie, Goofy & Donald
Bon Voyage Adventure Breakfast
Trattoria al forno Boardwalk
9.0 – 100%
Pre-plated: Rapunzel and Flynn Rider (Tangled); and Ariel and Prince Eric (The Little Mermaid)
Chef Mickey's
Contemporary
8.3 – 89%
Buffet – Mickey, Minnie, Donald, Pluto, and Goofy
Cinderella's Royal Table
Cinderella Castle @ Magic Kingdom
8.2 – 94%
Pre-Plated – Cinderella, Fairy Godmother and Friends
Crystal Palace
Hub @
Magic Kingdom
8.5 – 95%
Buffet – Pooh, Tigger, Eeyore, Piglet
Donald's Dining Safari
Tusker House @ Animal Kingdom
8.9 – 96%
Buffet – Donald, Goofy, Mickey, and Daisy
Garden Grill
The Land @ Epcot
9.4 – 100%
Family Style – Mickey, Pluto, Chip and Dale
'Ohana Character Breakfast
Polynesian
8.4 – 94%
Family-Style – Lilo and Stitch, Mickey, Pluto
"Playhouse Disney's Play 'N Dine at Hollywood & Vine" Breakfast
Echo Lake in Disney's Hollywood Studios
8.1 – 87%
Buffet – Jake from Never Land Pirates, Princess Sofia the First, Doc McStuffins, Goofy
Princess Storybook Breakfast
Norway @ EPCOT
8.5 – 97%
Pre-Plated – Disney Princesses, Leading Ladies and Friends. Possible characters: Belle, Jasmine, Snow White, Sleeping Beauty, Mary Poppins
Good Morning Character Breakfast
(Sat and Sun Only)Topolino's Terrace Breakfast a la Art
Garden Grove @ Swan

Riviera Resort

No Reviews
Available10.0 – 100%
Goofy and Pluto

Mickey, Minnie, Daisy, and Donald in their artist attire. Prix fixe a la carte

LUNCH

Cinderella's Royal Table
Cinderella Castle @ Magic Kingdom
7.7 – 92%
Pre-Plated – Cinderella, Fairy Godmother and Friends
Crystal Palace
Hub @ Magic Kingdom
7.1 – 80%
Buffet – Pooh, Tigger, Eeyore, Piglet
Donald's Dining Safari
Tusker House @ Animal Kingdom
8.4 – 88%
Buffet – Donald, Goofy, Mickey, and Daisy
Garden Grill
The Land @ Epcot
8.4 – 90%
Family Style – Farmer Mickey, Pluto, Chip and Dale
Minnie's Seasonal Dining Lunch at Hollywood & Vine
Echo Lake in Disney's Hollywood Studios
6.2 – 64%
Buffet – Minnie Mouse and Friends
Princess Storybook Lunch
Norway @ EPCOT
7.5 – 81%
Pre-Plated – Disney Princesses, Leading Ladies and Friends. Possible characters: Belle, Jasmine, Snow White, Sleeping Beauty, Mary Poppins, Ariel

DINNER

1900 Park Fare
"Cinderella's Happily Ever After Dinner"
Grand Floridian
7.1 – 74%
Buffet – Cinderella, Prince Charming, Lady Tremaine, Anastasia, Drizella, and the Fairy Godmother
Chef Mickey's
Contemporary
7.0 – 73%
Buffet – Mickey, Minnie, Donald, Pluto, and Goofy
Cinderella's Royal Table

Cinderella Castle @ Magic Kingdom
7.1 – 81%
Fixed Price Set Meal. Fairy Godmother Hosts
Donald's Dining Safari
Tusker House @ Animal Kingdom
8.2 – 88%
Buffet – Donald, Goofy, Mickey, and Daisy
Garden Grill
The Land @ Epcot
8.0 – 90%
Family Style – Mickey, Pluto, Chip and Dale
Minnie's Seasonal Dining at Hollywood & Vine
Echo Lake at Disney's Hollywood Studios
6.5 – 64%
Buffet – Minnie Mouse and friends
Crystal Palace
Hub @ Magic Kingdom
7.1 – 80%
Buffet – Pooh, Tigger, Eeyore, Piglet
Princess Storybook Dinner
Norway @ Epcot
7.5 – 81%
Pre-Plated – Disney Princesses, Leading Ladies and Friends. Possible characters: Belle, Jasmine, Snow White, Sleeping Beauty, Mary Poppins, Ariel
Garden Grove Character Dining

Swan

Wilderness  Lodge

7.7 – 67%

Themed buffet changes nightly; Monday and Friday – Timon and Rafiki; All other nights Goofy & Pluto

Prix fixe dinner featuring Snow White, the Evil Queen, and 2+ Dwarfs