A huge part of your Disney trip will be spent on getting to and from the parks, and there are several ways to get around, including trains, boats, buses, and  gondolas. It takes intense planning and precise timing to pull it off perfectly.
We will walk you through some classic transportation errors guests make and the best ways to avoid making them in the future. First and foremost, your form of transportation will depend a lot on what park you are going to and where you are coming from. Each park has access to different transportation, and we will look at each of them separately.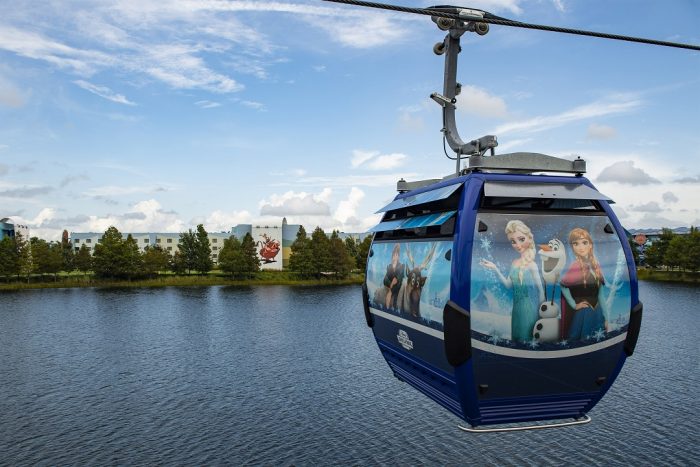 Magic Kingdom
There are a several different forms of transportation to get to Magic Kingdom. If you drive to Magic Kingdom, you'll have to go through the Transportation and Ticket Center. The Transportation and Ticket Center is the only way into the park if you're arriving by car because that's where Magic Kingdom's parking lot is located. From TTC, you'll take a Monorail or a Ferryboat to the park proper. You can also take a bus from most resorts or the monorail from one of the Monorail Loop Resorts (Grand Floridian, Polynesian, and Contemporary). You can also walk if you are staying at the Contemporary Resort (and can soon walk from Grand Floridian, too!)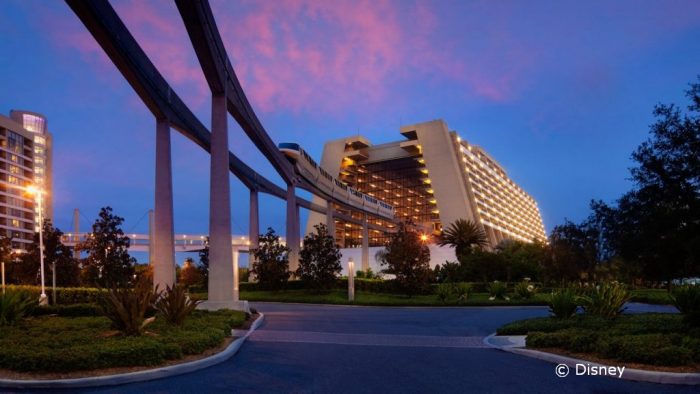 The first mistake people make getting to Magic Kingdom is not building in time for going through the Transportation and Ticket Center. When you park at the Transportation and Ticket Center, you'll go through security there. Then you still have to get across Seven Seas Lagoon to get to Magic Kingdom via Monorail or Ferryboat. To avoid a stressful rush to the park, be sure to build in at least 45 minutes for security at TTC and know your options for getting from TTC to Magic Kingdom.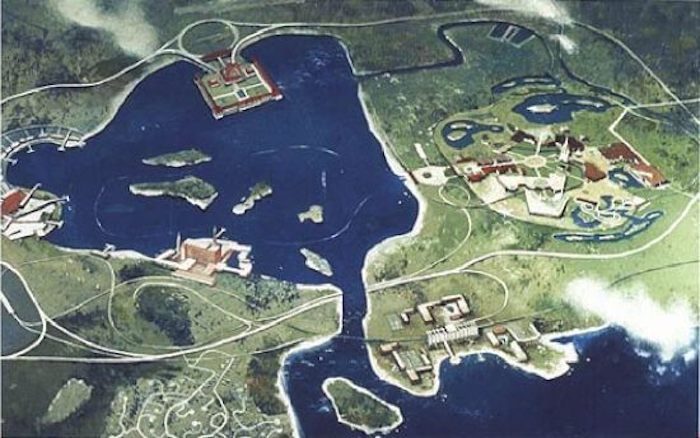 Now we are at our next potential mistake: taking the Monorail to the entrance of Magic Kingdom. The Monorail is great: we love it, and we make sure to take it at least once during every trip, but when given the choice of monorail or Ferryboat to the park entrance, we recommend picking the ferry for a few different reasons.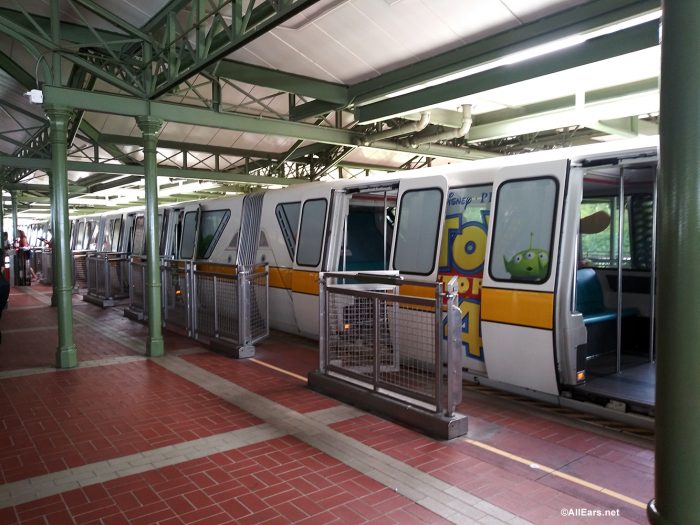 The ferry carries more people than the Monorail. It is a great opportunity to apply that last layer of sunscreen or review the map and go over your daily plans with your family. It has great views of Magic Kingdom and the surrounding resorts.
The ferry is also the best way to leave the park at night, and if you are lucky you will catch the Electrical Water Pageant. 
Buses for Magic Kingdom can be a challenge, too, but most resorts rely on bus transportation to Magic Kingdom. In the morning, the buses are a great way to get to the park entrance quickly. The bus stop is a short walk from the Park's entrance, and when you're arriving for a day of magic, there's something special about that walk up to the entrance.
But at the end of the night, the buses are a little less great. The buses get very full at park close, and you're almost guaranteed to encounter a long line of very tired people.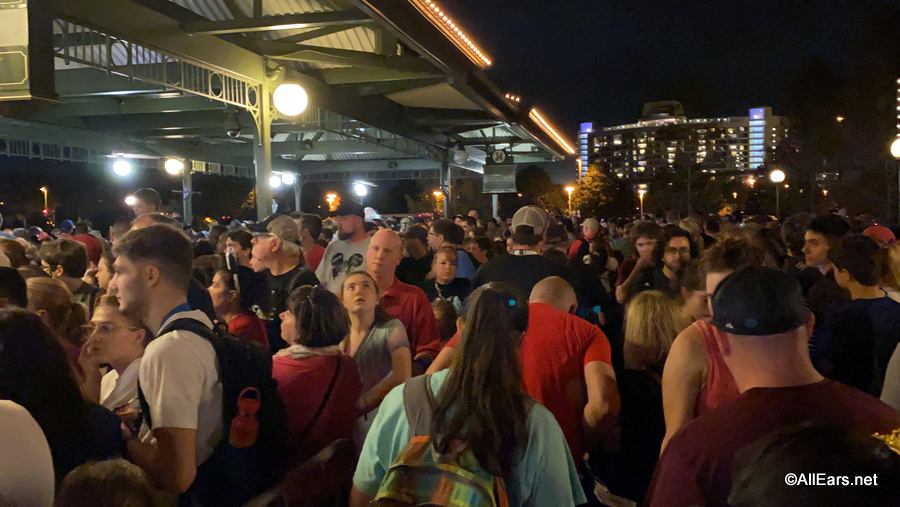 To avoid the buses at the end of the day, you'll need to make one of two difficult choices: skip the nighttime spectacular Happily Ever After so you can beat the heaviest crowds which will filter out of the park after the show, or plan to hang around in the park for a while after Happily Ever After. Though this option sounds pretty sweet (you can grab a snack and relax, or take a loop around the park to see some areas without people), when you're exhausted after a full day and night at Magic Kingdom, you just might find it unbearable to hold off leaving the park. On the other hand, if you leave with the crowds, you'll likely end up standing in line for the bus anyway, and that's no fun, either.
Epcot
Epcot is the only park that has multiple entrances (for now — Hollywood Studios will have an entrance just for guests staying in Galactic Starcruiser who want to gain entrance to Galaxy's Edge in 2021). There is a front entrance to Epcot through Future World and a back entrance called the International Gateway between the France Pavilion and the UK Pavilion. The type of transportation you use will determine where you enter.
If you take the resort buses or Monorail you will be entering in front of Spaceship Earth in Future World at the main entrance. If you take a Friendship Boat from the Epcot area resorts or the Skyliner, you will be coming in through the International Gateway in the World Showcase. The International Gateway tends to have a shorter line, although the Skyliner has certainly made it busier than it was in the past.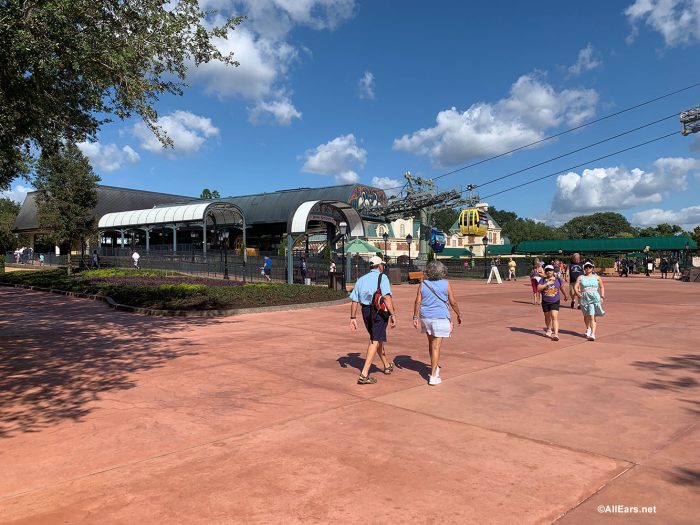 If you're staying at the Caribbean Beach Resort, Art of Animation Resort, or Pop Century Resort, you can take the Skyliner to Epcot, but just be aware that the World Showcase opens at 11AM, later than Future World (although Frozen Ever After in Norway and Boulangerie Patisserie Les Halles in France open at 9AM).
If you stay at the Boardwalk Villas, Yacht Club Resort, Beach Club Resort, or Swan and Dolphin hotels you can take a Friendship Boat to the International Gateway. If there is a long line for the boat, you can always walk from these resorts as well. The walk is pleasant, and if you're okay with getting extra steps for the day, it's a nice option.
If you are taking the Monorail to Epcot's main entrance, you will pass through the Transportation and Ticket Center. Once again make sure to build in time when passing through TTC.
The buses at Epcot encounter the same basic issues as Magic Kingdom: very busy after the nighttime show at Epcot. If you're planning to spend a lot of time at Epcot, it may be worth it to you to stay at one of the proximal Epcot area resorts.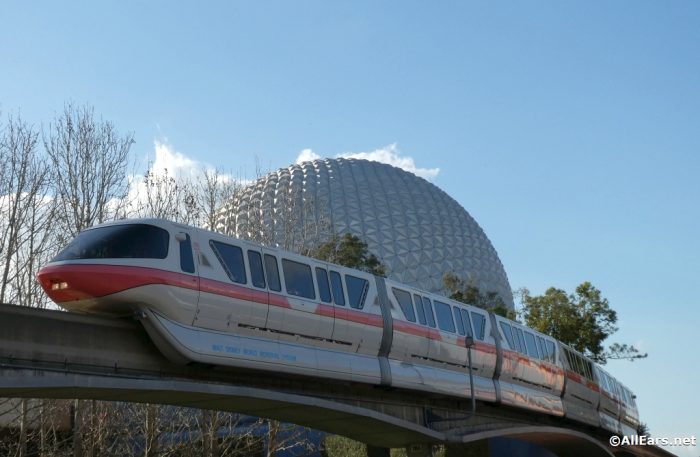 Disney's Hollywood Studios
Hollywood Studios used to have just two forms of free transport: resort buses and the Friendship Boat from the Epcot area resorts (yup, it goes to DHS, too). But since the end of September 2019, Disney's Skyliner also services the park. A drawback of Skyliner is that those seriously averse to heights may not be able to ride; in this case, buses are your only option, and Disney has been reducing the frequency of buses from Skyliner resorts to Skyliner parks, meaning it could take more time to get to the park from your resort.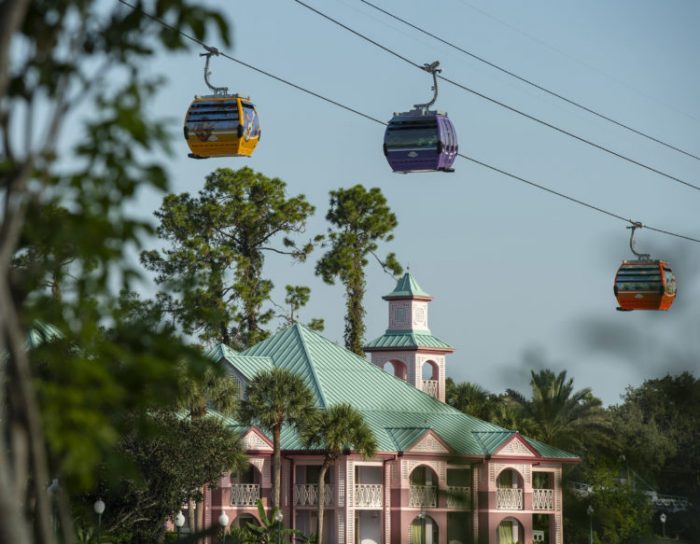 With the opening of Galaxy's Edge last August and Rise of the Resistance last December, Hollywood Studios has been very busy. Make sure to build in time to get through the lines and security if you are trying to make it back to Batuu or to a dining reservation. In addition to Galaxy's Edge crowds, the biggest issues at Studios include Fantasmic! crowds at the end of the night and any time Skyliner is experiencing delays or shutdown.  
Animal Kingdom 
Animal Kingdom only has one real transportation option other than driving yourself: Disney's bus system. The buses are great in the morning and afternoon, but leaving at the end of the day isn't fun. As they are in every park, the lines tend to be very long.
As with everything at Walt Disney World, things are subject to change, and unexpected delays happen all-to frequently. It's a good rule of thumb — no matter which form of transport you use — to build in some extra time for yourself.
But overall, even when it's not operating perfectly, Walt Disney World transportation can be a lot of fun.
What are some of your Disney transportation tips? Let us know in the comments.
Join the AllEars.net Newsletter to stay on top of ALL the breaking Disney News! You'll also get access to AllEars tips, reviews, trivia, and MORE! Click here to Subscribe!