The simple answer is yes. No one will frown at you during your bag check as you enter the park, as long as you meet certain guidelines. Of course, security might jokingly ask if you brought enough to share!
Some situations in which packing snacks, a lunch or dinner for Disney make sense:
Saving money: If you're on a tight budget, packing a lunch will save you some cash to buy that Mickey pretzel later.
Saving time: When lines to get your food are long, you won't have to wait to order and wait to receive your grub.
Health concerns: While Disney World is amazing at making sure everyone is accommodated, you may have unique factors that make packing a simpler choice.
Picky eaters: Maybe your little one (or you!) prefers to chow down on nothing but cheese.
What to Pack
So, you've decided to bring a meal with you. Now, what do you bring and how do you carry it all?
You can bring almost anything you want, excluding adult beverages. Keep in mind that you should avoid bringing anything in a glass container for safety purposes. Baby food is the only exception to this rule. When packing, keep the Florida weather in mind. You won't want to bring a meal that will go sour under the hot sun. Some suggestions from our tried-and-true experiences:
Peanut butter and jelly sandwiches
Prepackaged snacks, like chips and crackers
Pre-frozen yogurt tubes
Granola bars
Water, water, and more water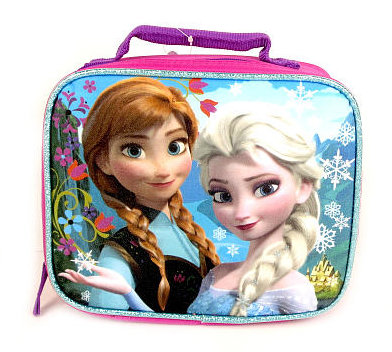 Unless you're bringing a small cooler (which you totally can do), insulation will only take you so far in the hotter months of Florida. One of the best suggestions we can give is to freeze a few water bottles ahead of time to use as ice packs. Once they've melted, you can drink them, and after you toss them your bag will be lighter. You can also freeze certain food products  and they'll typically thaw within a few hours to be ready by lunchtime. If you're opting for a cooler, make sure it's no bigger than 24″ long x 15″ wide x 18″ high.
Where to Eat
While it is completely within Disney's rules to bring your own food into the parks, there is certain behavior that is frowned upon and could get you some stares from other park-goers.
Where you sit to enjoy your meal is the key factor to making a successful picnic in Disney World. You should never sit inside a counter-service restaurant during peak hours. If there are only a few tables left and a line out the door, this common courtesy is self-explanatory. If there are tons of tables open, head in and enjoy the air conditioning. You should never attempt to sit inside a table-service restaurant with a home-packed dinner.
The best places to eat where you can quickly grab your bite will be outside dining areas.
Magic Kingdom: Outside dining for Casey's Corner, Pinocchio Village Haus, Tortuga Tavern, and Friar's Nook. There are also tables near the Rapunzel-themed bathrooms (but these are usually taken up by people recharging their phones). Great places to sit down without a table include the grassy courtyards at the Hub, anywhere you can find a vacant bench or wall, and anywhere at Tom Sawyer Island.
Epcot: Outside dining for Electric Umbrella, inside dining area for Sunshine Seasons, and vacant benches or walls.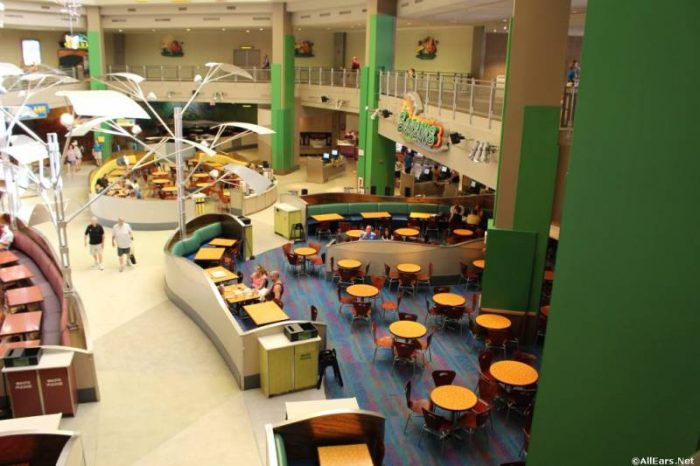 Disney's Hollywood Studios: Outside dining for Rosie's All-American Café, Backlot Express, and Dockside Diner, as well as vacant benches and walls.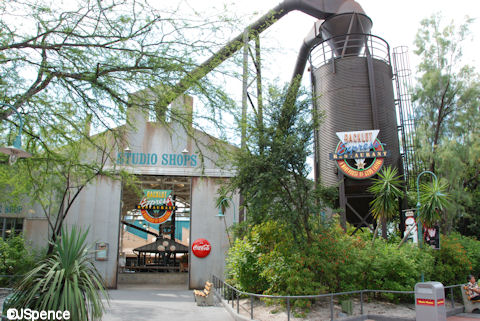 Animal Kingdom: Outside dining for Flame Tree Barbecue, Pizzafari, and Dino Bite Snacks, inside dining areas for Restaurantosaurus, tables located outside of Rafiki's Planet Watch (while it's still open), and as always, benches and walls.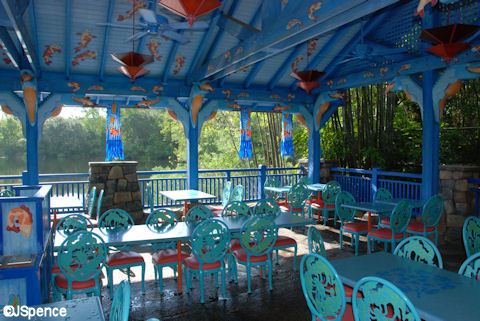 Have you had a picnic in the Disney Parks? Tell us your experiences about bringing food into the Disney Parks in the comments below!