Ever wonder what Disney World looks and feels like after a hurricane rolls through? Well, you're in the right place.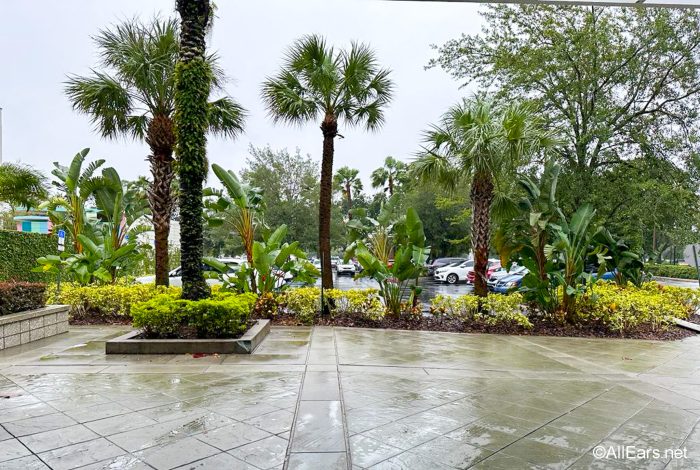 Disney World is going through a phased reopening on September 30th following Hurricane Ian, and we're in the parks to experience it all. Crowds, fallen tree limbs, hurricane damage, and more — join us to see what Disney World is like once it reopens after a storm.
First, we want to send our thoughts to all those in Florida who have been impacted by the hurricane. We are truly saddened to see some of the severe impacts it has had in various areas around Florida, and send our thoughts to all those going through a difficult time right now.
Again, as we mentioned above, Disney is going through a phased reopening today (September 30th). Park hours are slightly adjusted, some offerings are not available, and other modifications have been made.
Driving In
If you'll be driving to Disney World, please give yourself lots of time and be careful. One of our reporters shared that there was a lot of flooding on certain roads leading to the parks, along with debris, trees, and signs in the area that had been pushed down by the storm. 
Some cell service for that reporter was also spotty, causing their maps app to not load at certain portions. Another reporter also shared that they had to take alternate roads in some neighborhoods as there were police officers blocking some trees that had fallen down.
EPCOT
We started our day over at EPCOT. The park opened at 9AM for those with Early Theme Park Entry (qualifying hotel guests), but won't open until 11AM for all other guests.
On our way toward the park, we saw a fallen tree limb on the ground but it was not blocking guest walkways or anything like that.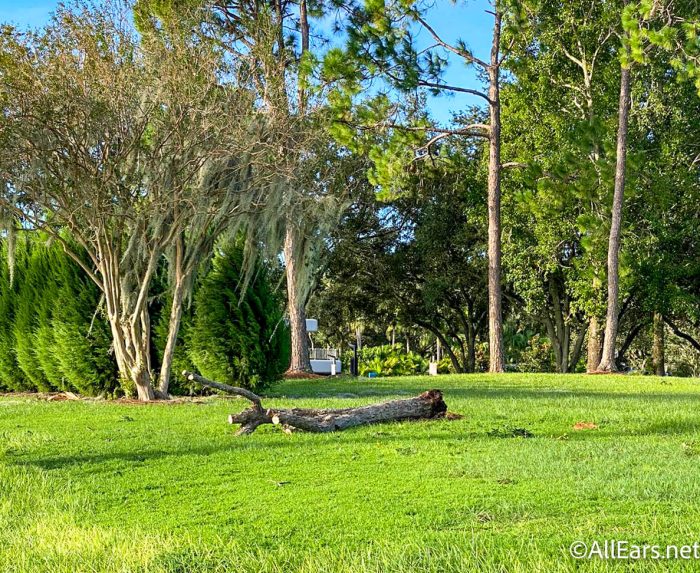 Before we got to the main entrance, we found that one of the 50th Anniversary signs was a little askew.
We're in EPCOT this morning, checking out the reopening following #HurricaneIan! Some 50th banners look like they took the wind hard 🍃 pic.twitter.com/j4mzAMqAtc

— AllEars.Net (@AllEarsNet) September 30, 2022
It seems the winds from Hurricane Ian affected this sign a bit, but it was still up and in place.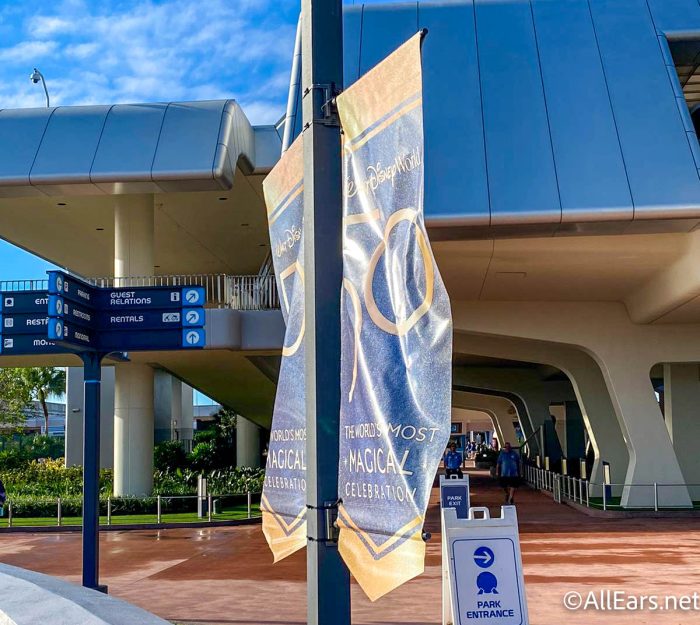 Here's a look at the crowds going into the park this morning.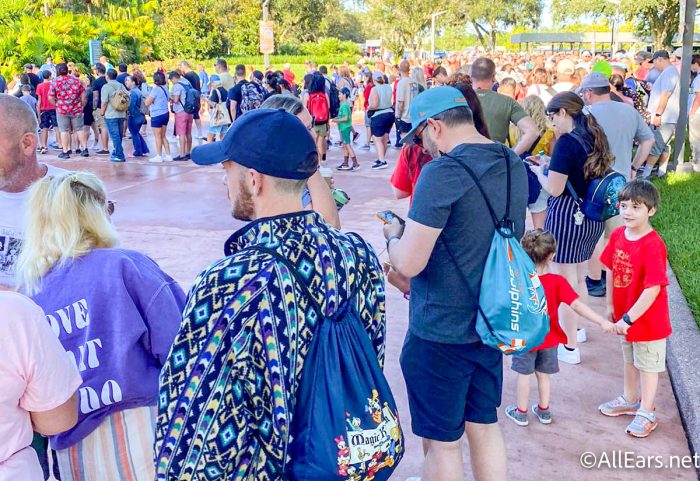 Keep in mind that ONLY qualifying hotel guests who get Early Theme Park Entry are being allowed in at 9AM. All other guests can't enter until 11AM, so these are mainly just the hotel crowds.
There are, however, some exceptions. Specifically, guests who had existing dining or Enchanted Extras reservations during the Early Entry period will be allowed into the park, so just keep that in mind.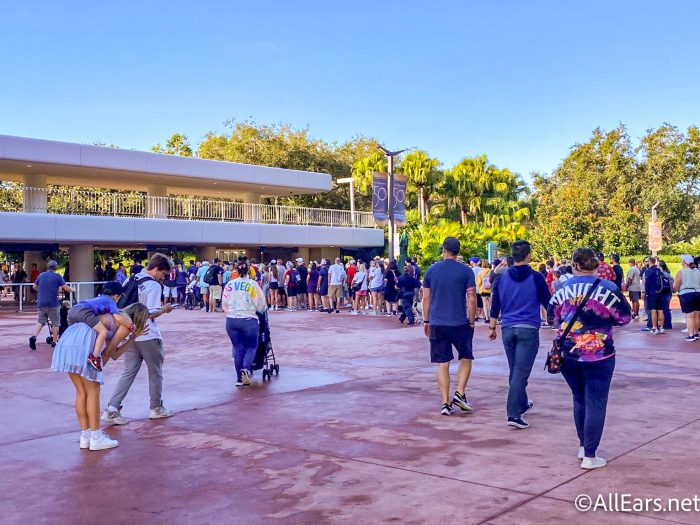 Crowds started to build up a bit later into the morning.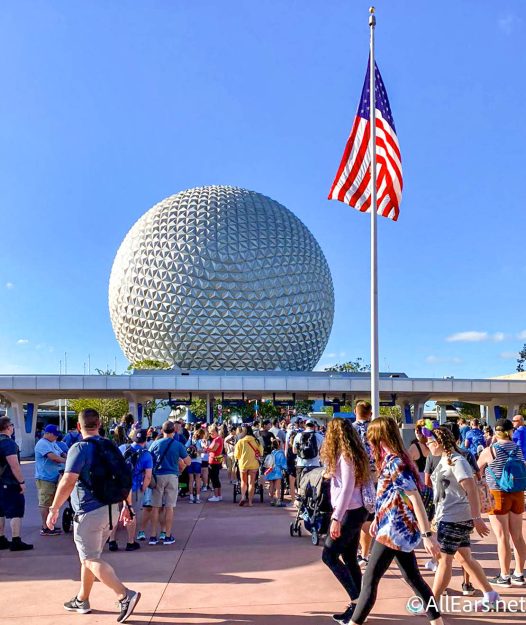 As we walked through the park, we noticed that some areas were not nearly as crowded as they had been before the storm. Guest Relations didn't have too long of a line early in the morning.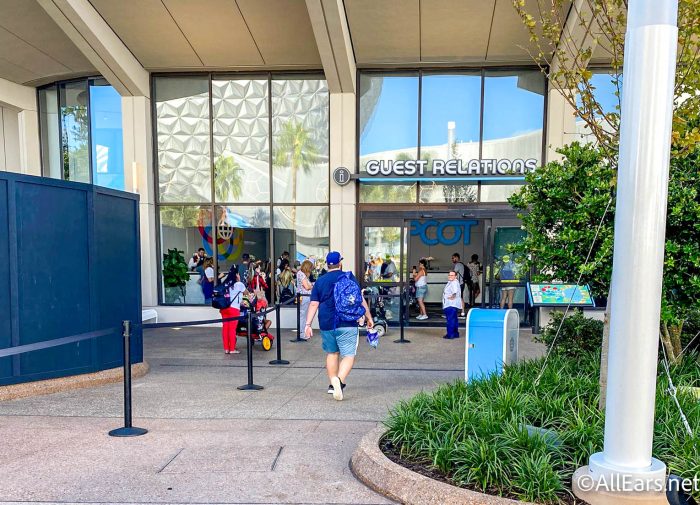 At Test Track, we noticed that the canopy that is usually above the attraction was not in place this morning.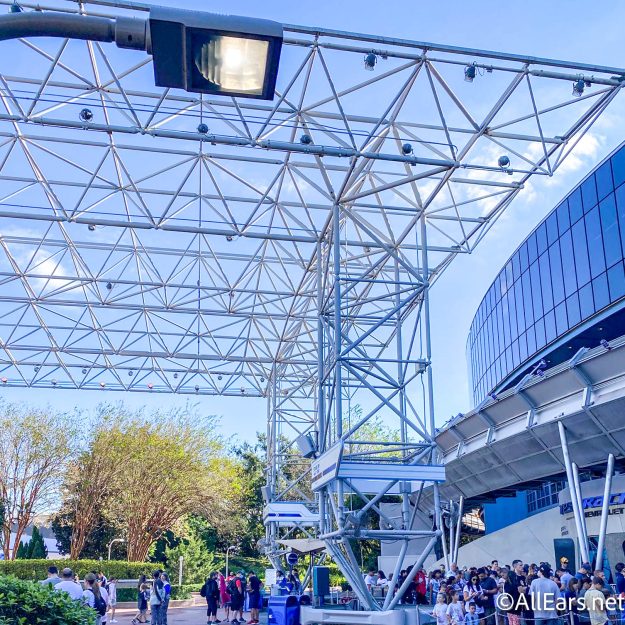 Over at Frozen Ever After, there was a pretty decent line (unsurprisingly).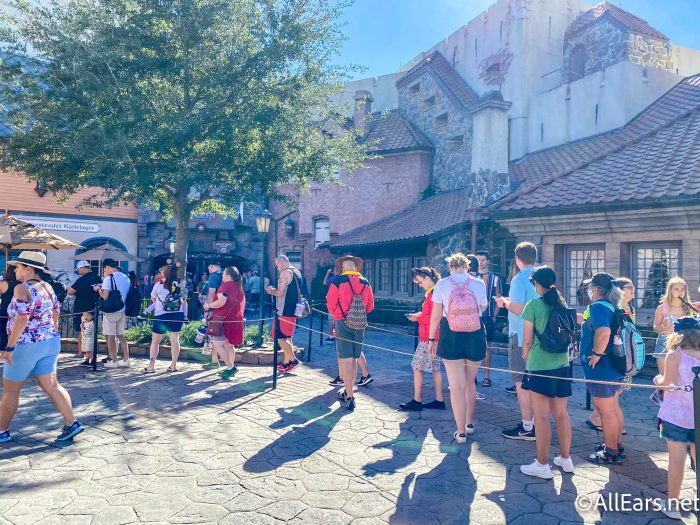 We did see crowds picking up later in the day, especially over in some dining spots (like Connections Cafe — gotta get that coffee).
Connections Cafe at EPCOT is bumping right now!! We're in for a busy day at the parks 👀 pic.twitter.com/1ufHwQwjqI

— AllEars.Net (@AllEarsNet) September 30, 2022
Construction at the
Moana attraction
was moving forward…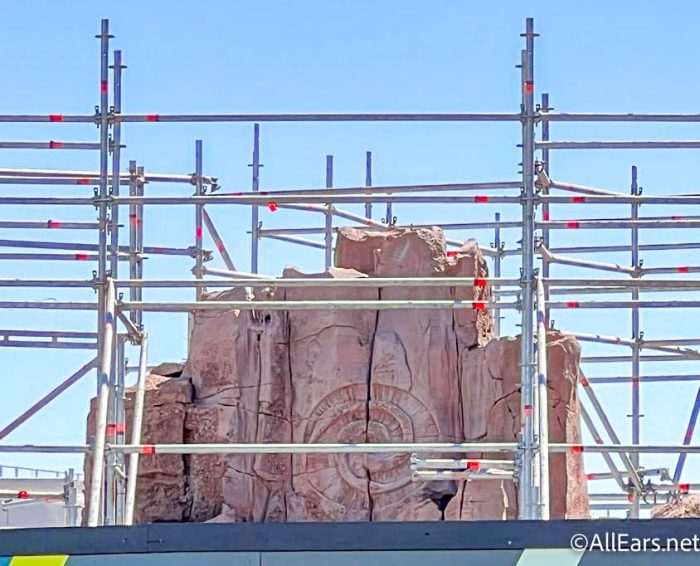 …and we saw a construction worker standing on a platform taking a look at some things below.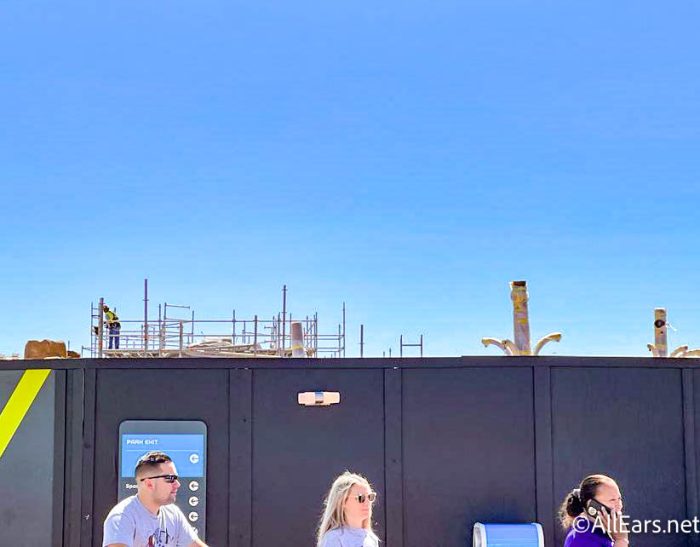 If you're in the mood for entertainment, EPCOT was rockin' with some fun tunes.
EPCOT entertainment is rocking in the UK Pavillion today! 🎶 pic.twitter.com/15WP9bFp2q

— AllEars.Net (@AllEarsNet) September 30, 2022
We also spotted the Harmonious barges being tested following the hurricane, but a Cast Member shared that they expected them to be ready to go for tonight.
We may be seeing some potential damage to the Harmonious barges in EPCOT today. pic.twitter.com/fuUZ4Wmq9P

— AllEars.Net (@AllEarsNet) September 30, 2022
Magic Kingdom
At Magic Kingdom, there was a decent crowd of folks waiting to get into the park.
There were a good number of guests heading inside the park and off to their favorite rides.
We're over at Magic Kingdom this morning as well! Definitely lots of excited guests to be in the parks ✨ pic.twitter.com/x1bejja9lg

— AllEars.Net (@AllEarsNet) September 30, 2022
We spoke to a Cast Member who indicated that while tonight's
Mickey's Not-So-Scary Halloween Party
is 
technically
sold out, as they get cancelations they are opening up spots.
Tickets are being made available on a first-come-first-serve basis. Click here to read about that. Update: Tickets later sold out.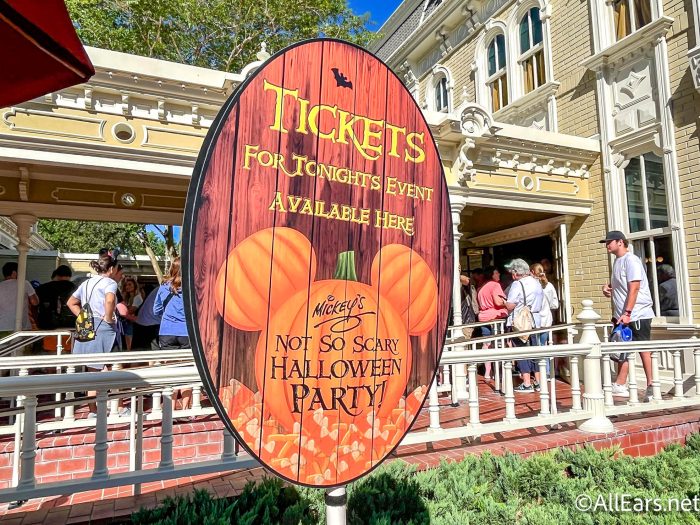 At the TRON Construction site, things looked to be mostly alright, but we did see a lot of water (a bit of flooding, it appears) in one part of the site.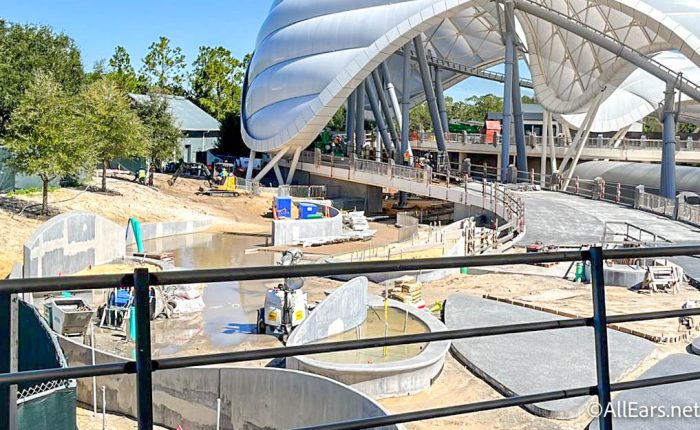 We also noticed some high water levels near the edge of Fantasyland and Liberty Square, which ultimately seemed to cover up the little Pascal figure in this area.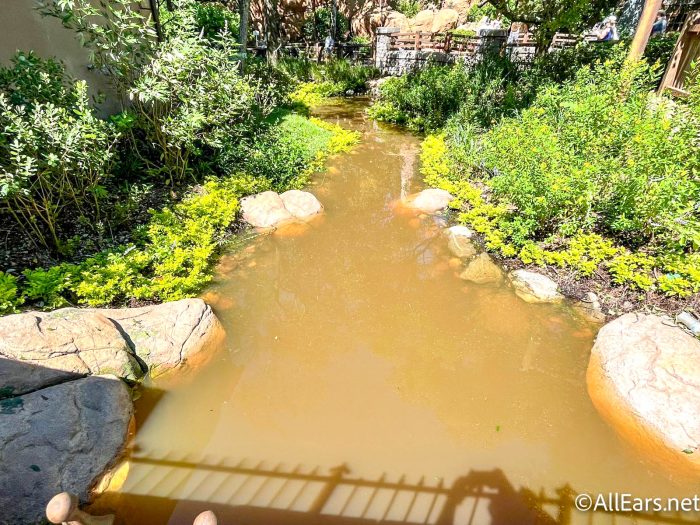 There were also some high water levels in Frontierland, but nothing too bad.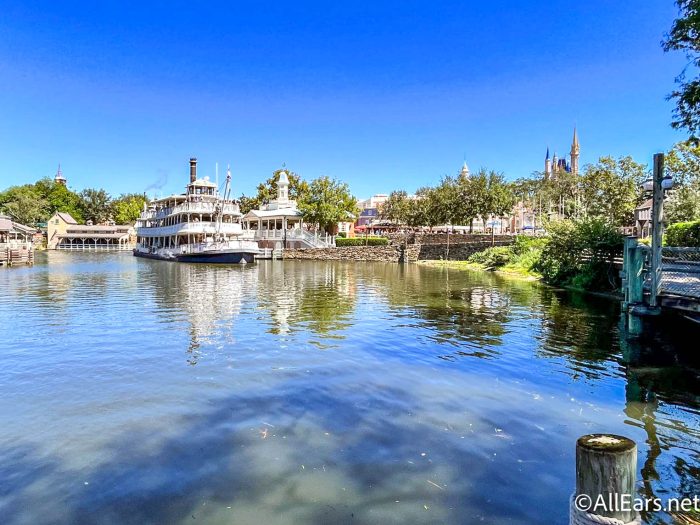 At Storybook Circus, some banners were still tied up from storm preparation.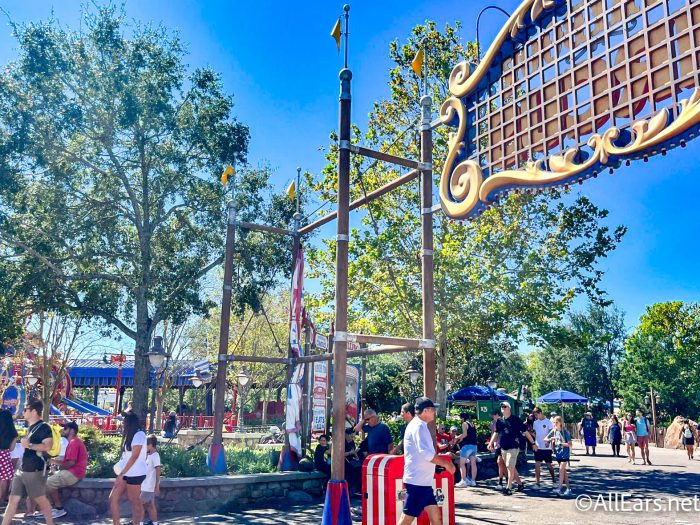 And in Liberty Square, some flag poles had been left empty, with no flags flying today.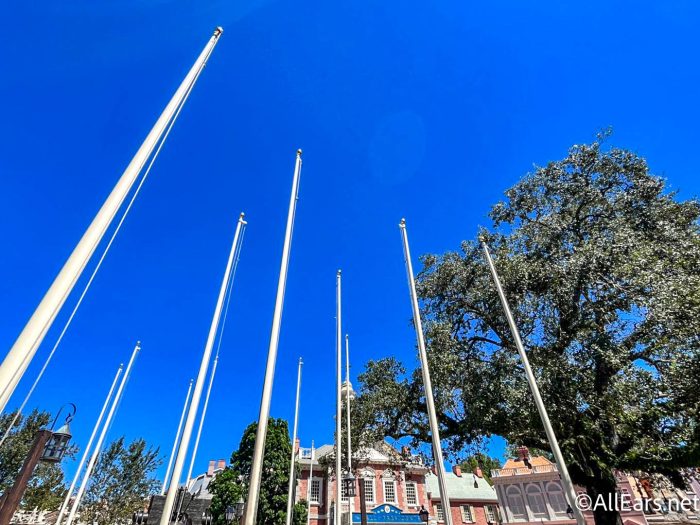 In terms of ride impacts, according to a Cast Member we spoke to, Jungle Cruise has been temporarily down ALL day. The Cast Member said that they are working on cleaning the debris from the storm there still. The Cast Member said the ride might be open later, but they couldn't guarantee that.
UPDATE: By around 1:45PM, the ride reopened.
Pirates of the Caribbean and Jungle Cruise are currently down in Adventureland! 💔

A cast member let us know they're working to clear debris from Jungle Cruise in order to reopen pic.twitter.com/zSiKHgL0iH

— AllEars.Net (@AllEarsNet) September 30, 2022
Disney's Animal Kingdom
At Animal Kingdom, we saw a tree branch that had been knocked down near the front of the park. Additionally, it appeared that Kite Tails had said its last goodbye and was unavailable.
When it comes to rides, it appeared that Expedition Everest had been impacted in some way by the storm.
Expedition Everest is currently CLOSED in #DisneyWorld's Animal Kingdom. Crews are working inside the mountain on some reported storm damage from #HurricaneIan pic.twitter.com/fVkPHasJmX

— AllEars.Net (@AllEarsNet) September 30, 2022
A Cast Member told us that
maintenance was working on the mountain and that guests were advised to check back later to see if the ride would reopen.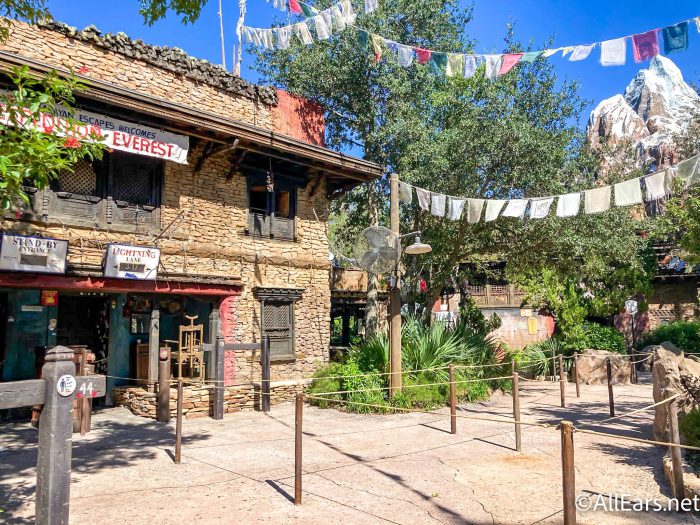 As we made our way deeper into Animal Kingdom, we found that Kilimanjaro Safaris was unavailable.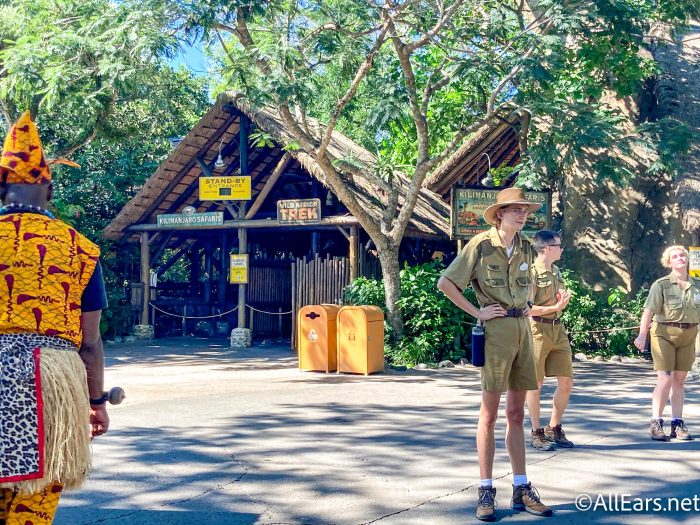 Rafiki's Planet Watch, the Wildlife Express Train, and Kali River Rapids were also unavailable.
According to a Cast Member we spoke to, Kali River Rapids had been closed all day. Additionally, a Cast Member indicated that Rafiki's Planet Watch had sustained quite a bit of damage due to the storm, including lots of fallen trees. They were unsure if the space would be available for guests to explore tomorrow.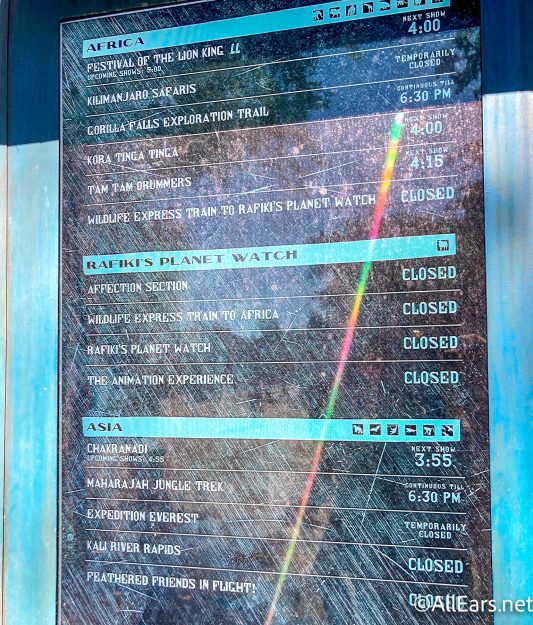 Though Feathered Friends in Flight appeared to be unavailable based on the times board, we did see that those shows were being offered.
Disney Springs
At Disney Springs, things seemed pretty regular.
Not seeing too much debris or damage over at Disney Springs this morning ☀️ pic.twitter.com/Cdj3TIZWob

— AllEars.Net (@AllEarsNet) September 30, 2022
A huge shout-out to all of the Disney team that surely made a big effort to get everything looking great over here.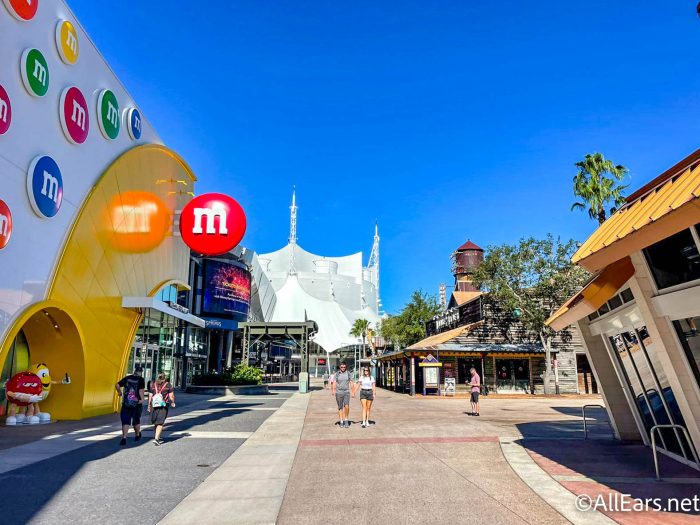 At Everglazed, we saw that there was a small line forming, but nothing too big.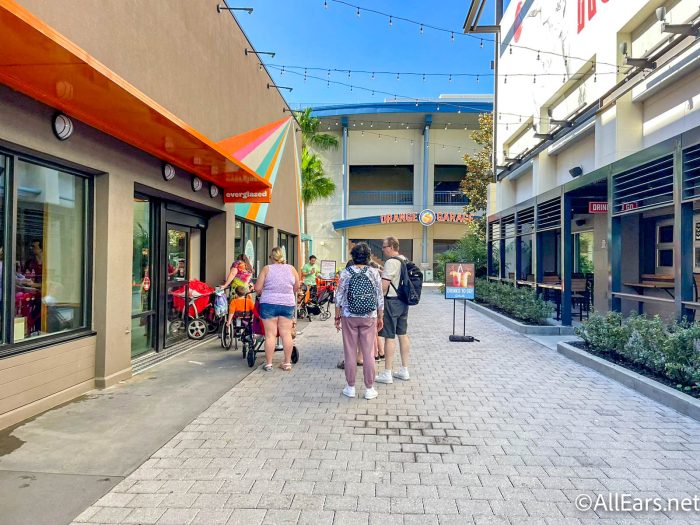 Disney World Hotels
On our way out of Magic Kingdom, we took a ride on the monorail and got a look at the construction going on for the new Disney Vacation Club-area coming to Disney's Polynesian Village Resort. There was a LOT of water in this area.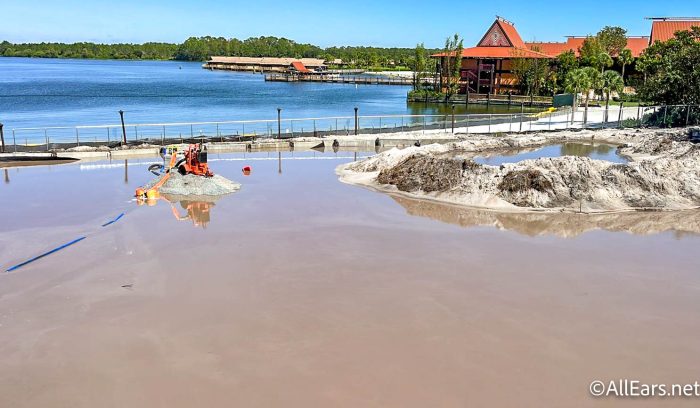 Entire portions of the construction site were totally covered with the water.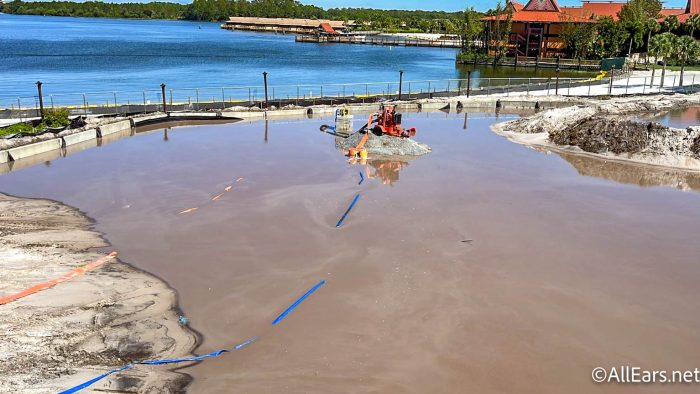 For reference, this is what the area looked like earlier in the month.
And this is what it looks like now.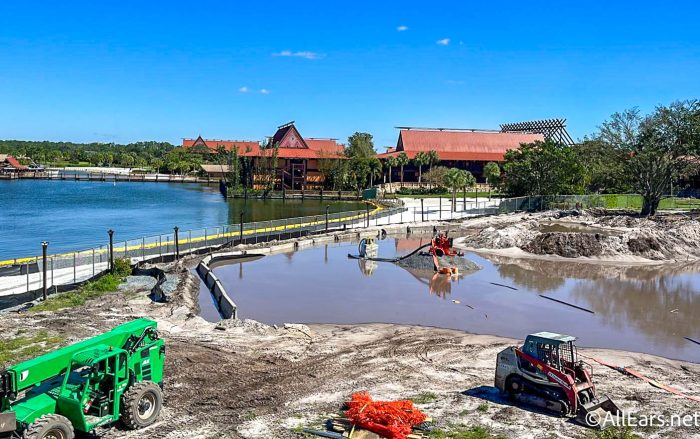 Other Updates
In terms of transportation, we did see that the Skyliner was up and running.
The skyliner is up and running!! #WaltDisneyWorld pic.twitter.com/8BPB7UaOD4

— AllEars.Net (@AllEarsNet) September 30, 2022
Again, remember that park hours are adjusted for today (September 30th).
You can click here for full info on that.
Disney World hotels are showing no availability for the next few days, so that is also something to keep in mind. If you have an upcoming hotel reservation, the cancelation fees will be waived through next week. And note that dining reservation cancelation fees and cancelation fees for certain other special experiences are being waived at the moment.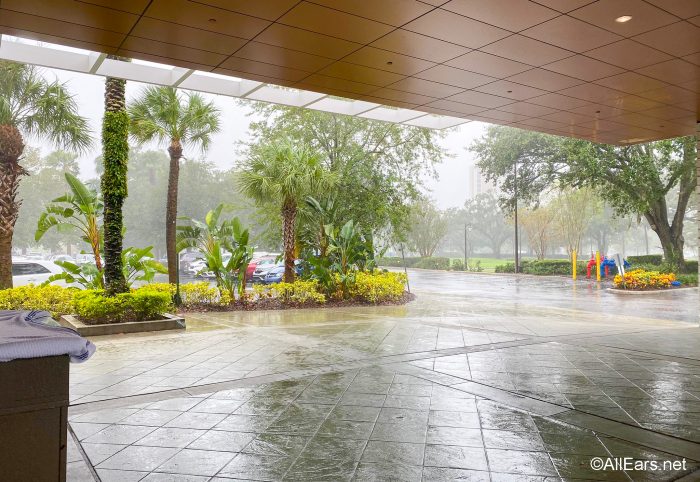 To learn more about Hurricane Ian and the impact it has had, upcoming reopenings, and more — check out the links below.
Check back with us for all the latest updates!
Have you ever been to Disney World after a storm? Tell us in the comments.