Let's be honest — finding the best place to stay in Disney  World can be difficult.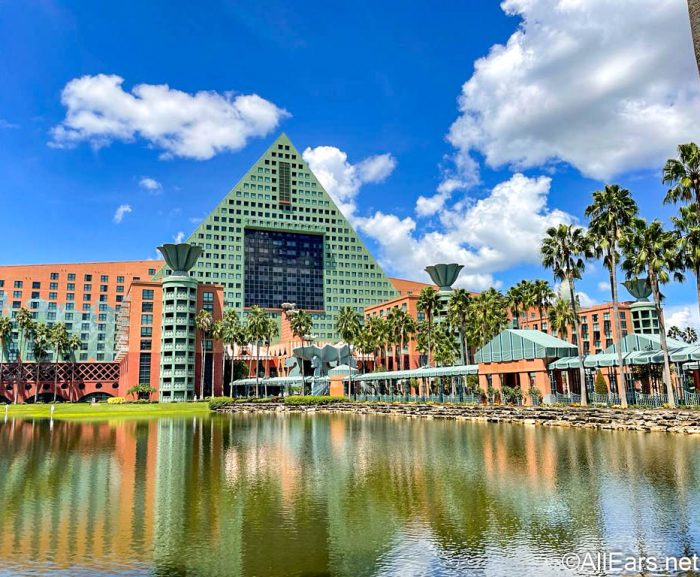 Choosing to stay in a hotel on Disney World property can give you extra Disney magic and Disney perks but quickly diminish your budget. Staying at a Good Neighbor Hotel can bring you some of those Disney hotel perks without the extra theming and for a slightly lower price, but it still may be too expensive. Allow us to introduce another option — Airbnbs.
Airbnbs near Disney are no secret, but did you know there's a ton of incredibly themed Airbnbs that can bring you just as much Disney magic as staying on property can? We did some digging, and here are the most outrageous Disney-themed Airbnbs you can stay in during your next trip!
14-Bed Toy Story/Frozen/Harry Potter House
We're starting off strong with this MASSIVE 8-bedroom Toy Story, Frozen, and Harry Potter themed house in Kissimmee.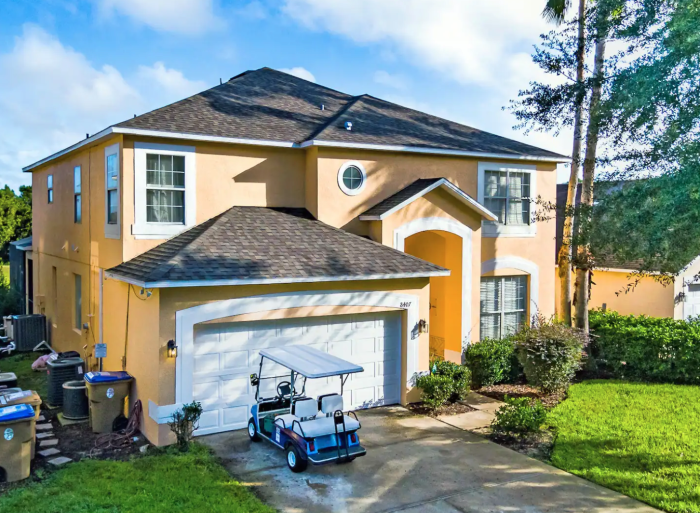 This entire house averages $288 a night (yes, really!) and has its own pool. Not all the bedrooms are Disney-themed, but the basement is Harry Potter-themed, one bedroom is themed after Toy Story, one after "it's a small world," and another one after Frozen.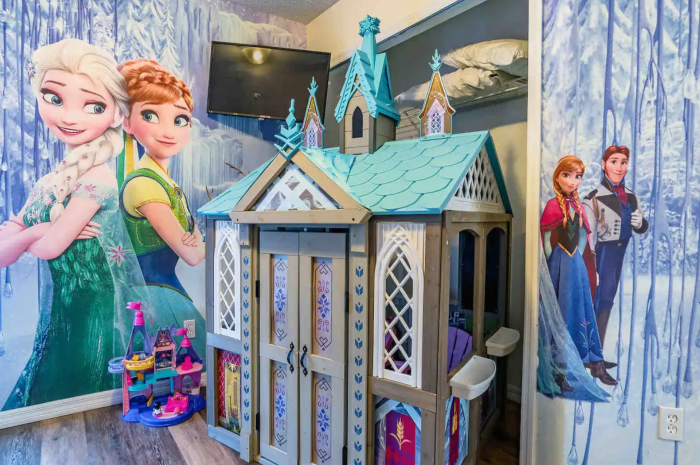 We think this would be a great stay for a large family, or multiple families traveling together, especially if you're going to Disney and Universal Studios Florida.
Frozen & Star Wars Themed Villa
This 6-bedroom, 6-bathroom Frozen & Star Wars Themed Villa is available for an average of $292 a night.
This villa is actually located within a resort in Kissimmee, and you can take advantage of its massive water park and other amenities for an additional fee. Otherwise, you can use the villa's own private pool.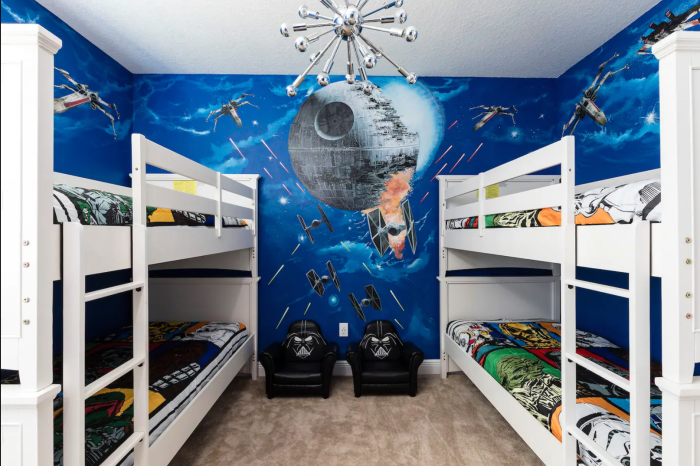 We think this is a great choice for larger families who are taking a longer Disney or Orlando vacations, as the villa does offer an additional discount on month-long stays.
9-Bedroom Villa With Star Wars & Beauty And The Beast Rooms
This 9-Bedroom Disney Villa is available for an average of $418 a night and can sleep up to 16 guests. The villas has its own private pool, but the heftier price tag on this villa allows you access to the resort's resort-style pool, mini golf course, lazy river, and more.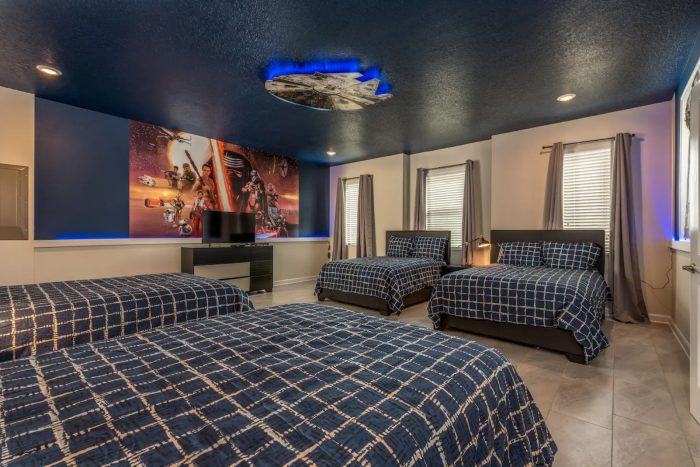 A few rooms are Star Wars-themed, but two other rooms are themed to Beauty and the Beast and Harry Potter respectively.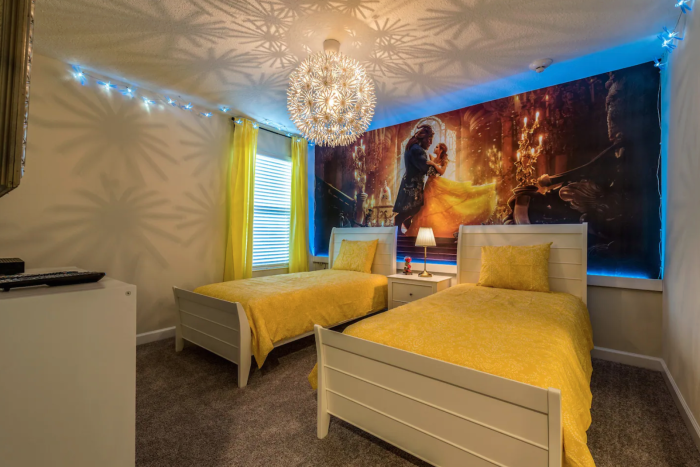 We think this would be a great choice for larger families or families traveling together on longer vacations as well.
Mickey Mouse Villa
The Mickey Mouse Villa averages $211 a night, has 5 bedrooms and can sleep 12 guests. Younger kiddos will love the Mickey and Friends-themed room!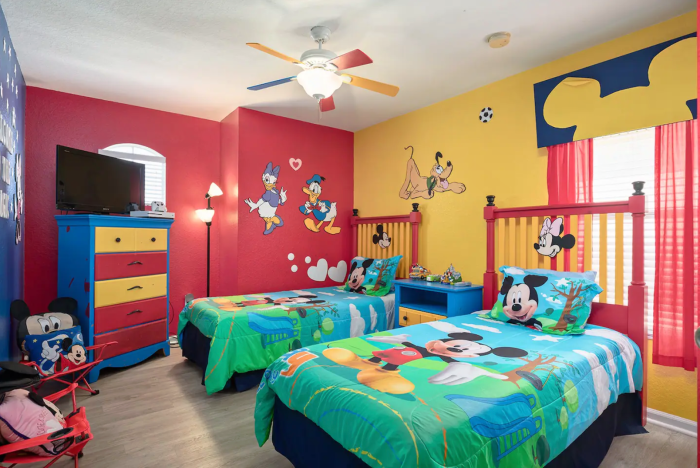 Other bedrooms are themed to Disney Princesses, as well as Winnie The Pooh. The house has its own private pool and game room. Like many of the other villas on this list, it's located inside a resort that has a large playground, pool, waterslides, and more. However, at this home, using those amenities is completely free!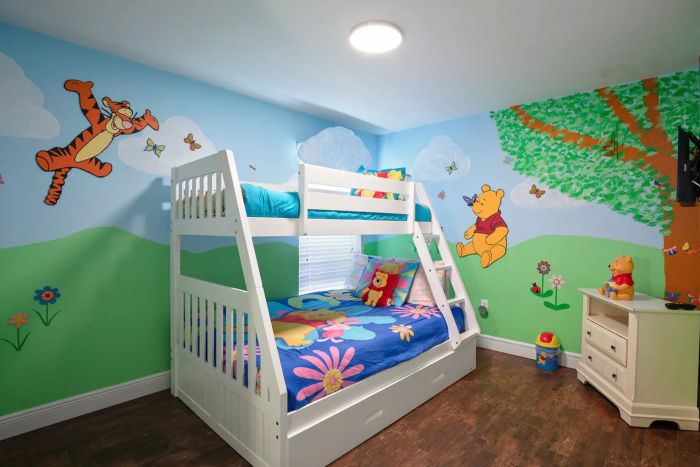 As this house also provides lots of useful items for young children like strollers and pack and plays, we think this Airbnb is the best fit for families traveling with small children.
Insanely Themed Disney Rooms
If you're looking for a location that really takes Disney theming to the next level, this is the house for you. This entire home is available for an average of $511 a night and can sleep up to 16 guests.
All 8 bedrooms are themed; three Star Wars, one Moana, two Cinderella, one Harry Potter, one Aladdin, and one Beauty and the Beast. There's also a Frozen-themed playroom and a Harry Potter-themed media room.
We recommend this house to a large family, or multiple families traveling together, who either have young kids or just want the absolute top-notch Disney theming.
Mickey Mouse Condo
One of the most affordable options on this list is the Mickey Mouse Condo for an average of $119 a night.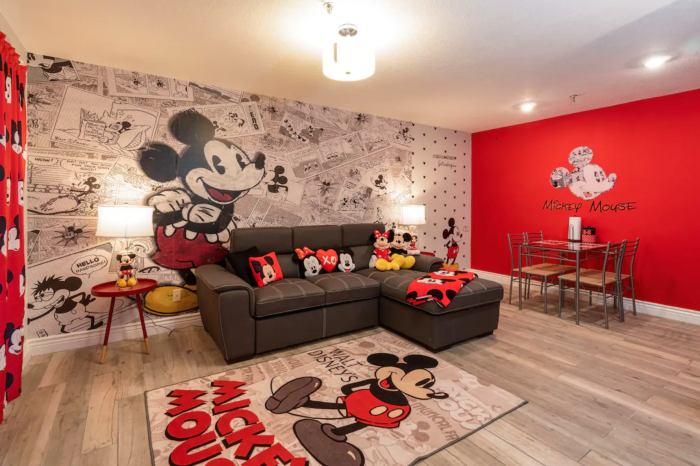 This whole condo is themed to Mickey Mouse and can sleep up to 5 guests. Four guests can sleep on the double beds in the bedroom while one can sleep on the pullout couch.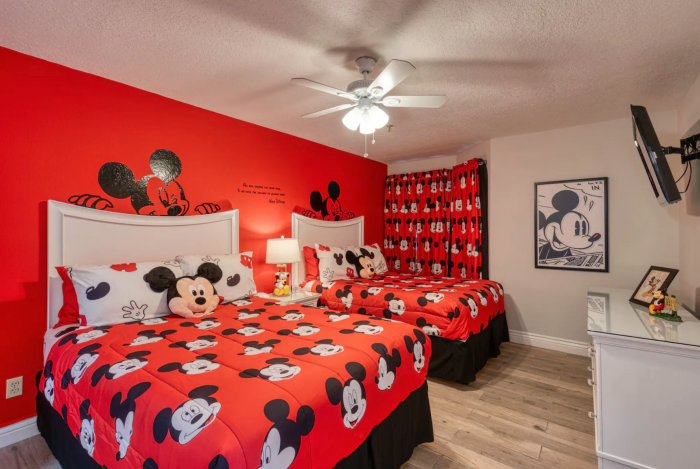 We think this is a great option for a group of friends or smaller family traveling on a stricter budget — you'll certainly be surrounded by Disney your whole trip!
Disney Home With Waffle Bar
For an average of $475 a night, you can stay in this incredibly themed Disney Home with a Waffle Bar! It can sleep up to 16 guests in 13 beds.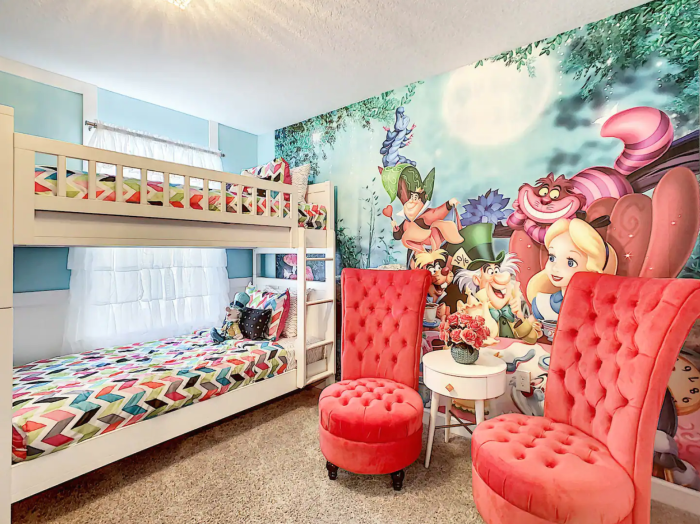 This Airbnb has bedrooms themed to Alice in Wonderland, Marvel, Mickey Mouse, Lilo & Stitch, and more. It also has a Trolls-themed play area for kids, a Nightmare Before Christmas media room, and a Star Wars game room.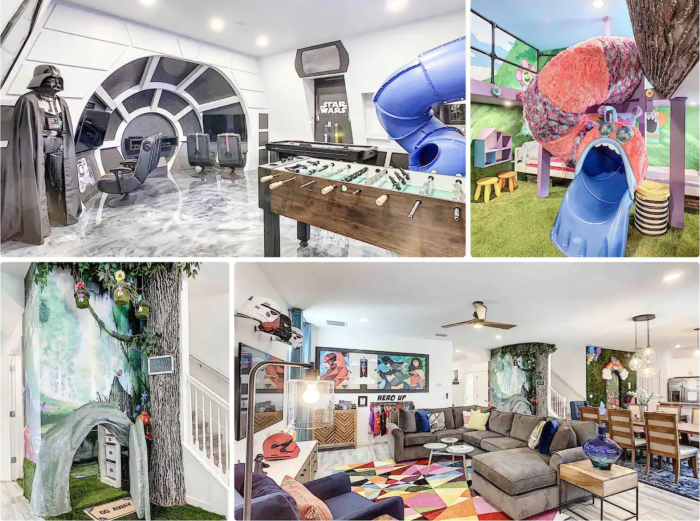 This is a great fit for large groups with kids of many ages, as younger kids will love the play areas, and older kids and adults will enjoy the media and game rooms.
Disney-Themed Mansion
Last but most certainly not least is a Disney-Themed Mansion with 11 beds across 8 bedrooms. For an average of $663 a night, you can be surrounded by Disney magic!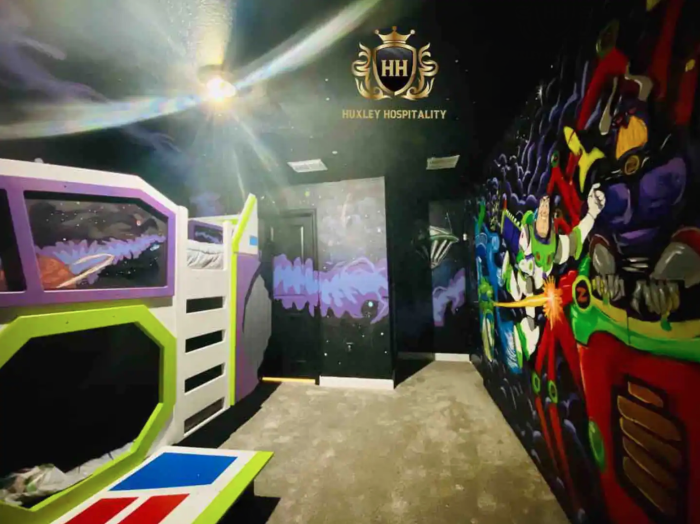 The bedrooms in this home are themed to Toy Story, Beauty and the Beast, Alice in Wonderland, Frozen, Nightmare Before Christmas, The Little Mermaid, and Star Wars. There's also a heavily themed game room and media room that guests will love.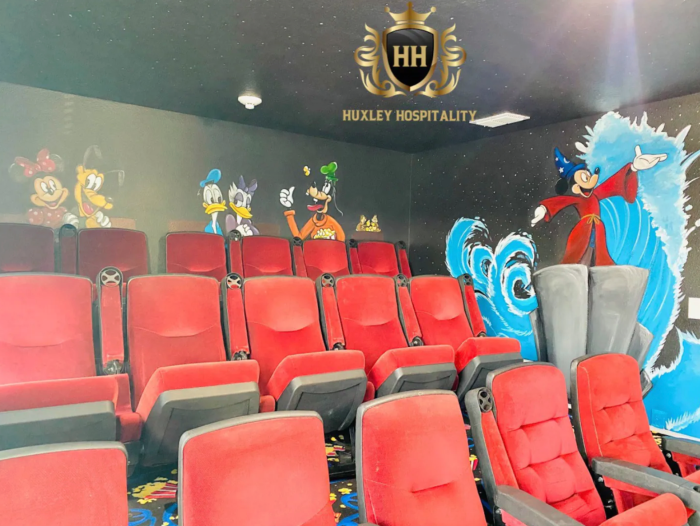 If you adore Disney theming, have younger kids or kids of any age who love Disney with all their hearts, or are traveling with a large group, we think this is a great choice for you.
If you're traveling to Disney soon and want to make sure you're prepared, we've got plenty of packing guides, including all the items people forget on their trips so you don't make the same mistake. Stay tuned to AllEars for all the latest Disney travel news, tips, and tricks!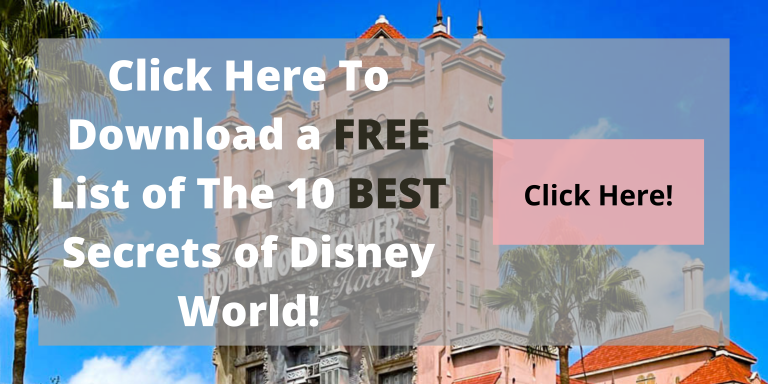 Where is your preferred place to stay when you travel to Disney? Let us know below!