Walt Disney World transportation can be a bit complicated. Transportation is complimentary if you're staying at a Disney hotel, and there are several different options – the Monorail, the Skyliner, Disney buses, and various boats. Then there are the questions about what time the run, how often they pick up guests, what to do if they break down, what to do if you miss your bus at the end of the night, how to get from one Resort to another… the complications are endless.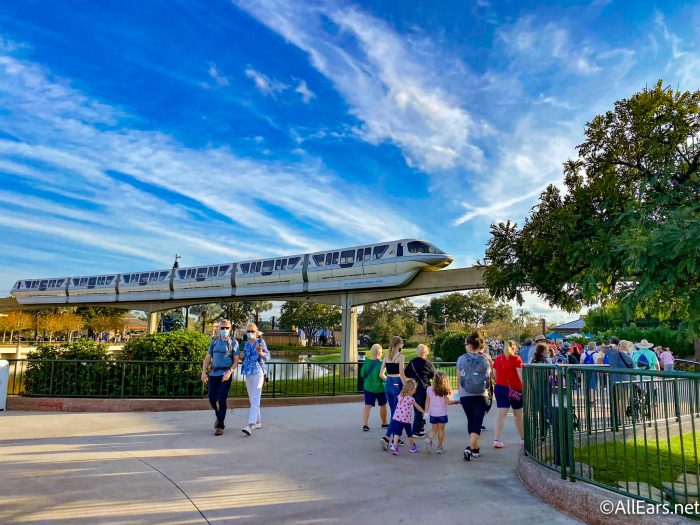 It can be difficult to navigate all of the different transportation in Disney World, and it takes some experience to figure out the best way to get around. 
Luckily (for you!) we've learned transportation lessons the hard way so you don't have to!
We'll start out by talking about some general tips for taking Disney World transportation.
Plan Extra Time
First, make sure to plan extra time to get where you want to go in the early mornings and late at night (or when the parks close). Transportation will take longer during this time because it's the most popular time of the day.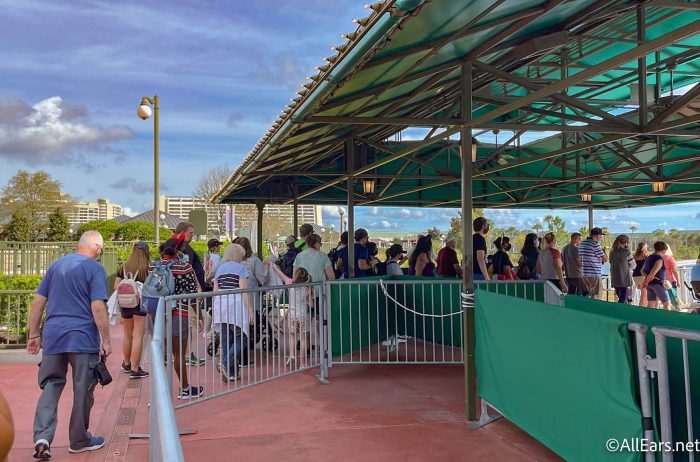 Next, know that getting from one park to another generally takes longer than you think. You might think popping over from Hollywood Studios to EPCOT to Magic Kingdom in one day will be a breeze, but it can be a huge time suck. You might be met with a huge line for the Skyliner or just miss the next bus or monorail. So, factor that in when you're planning.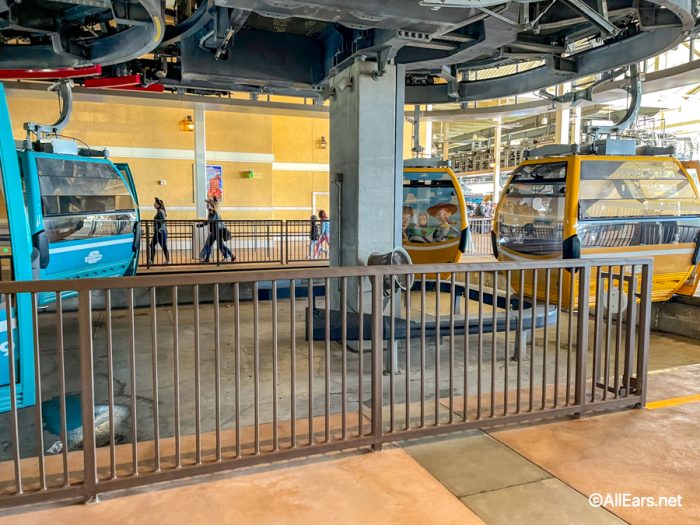 Another thing to know is that Disney transportation opening times are not always accurate. We've had several instances of this happening, like when My Disney Experience tells us the Skyliner opens at 8:30AM and then a Cast Member tells us 8AM, only to find out it actually opened at 7:30AM! So, we generally suggest you show up earlier than the posted openings if you want to be as efficient as possible.
Now, let's get into the lessons we've learned when it comes to different types of Disney World transportation.
Disney buses can take FOREVER. They are supposed to be running generally every 20 minutes, but that's not always the case. Especially in the mid-morning or late afternoon, we've waited over an hour for the bus we need to come. Talk about wasting a lot of time! So, during these slow hours, it may be worth it to take a ride share service to save you some precious park time.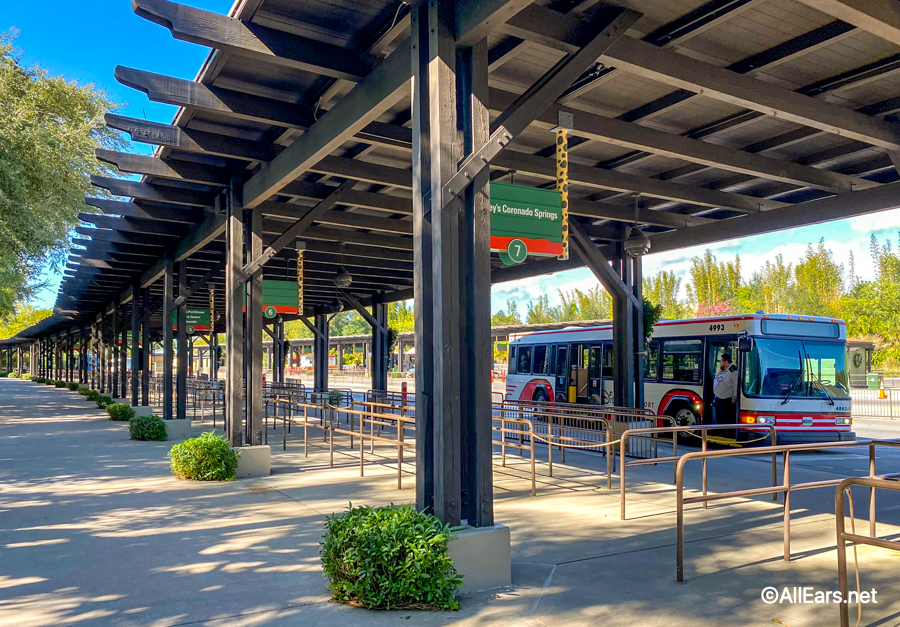 Another important thing to know is that the Walt Disney World Swan, Dolphin, and Swan Reserve no longer use Disney buses. They use Mears buses, which means they no longer drop you off where Disney buses drop off. Instead, they drop you off where the non-Disney-owned hotel buses are. This applies to buses going to Magic Kingdom, Animal Kingdom, and Disney Springs, since you can take a boat or walk to Hollywood Studios and EPCOT from these hotels.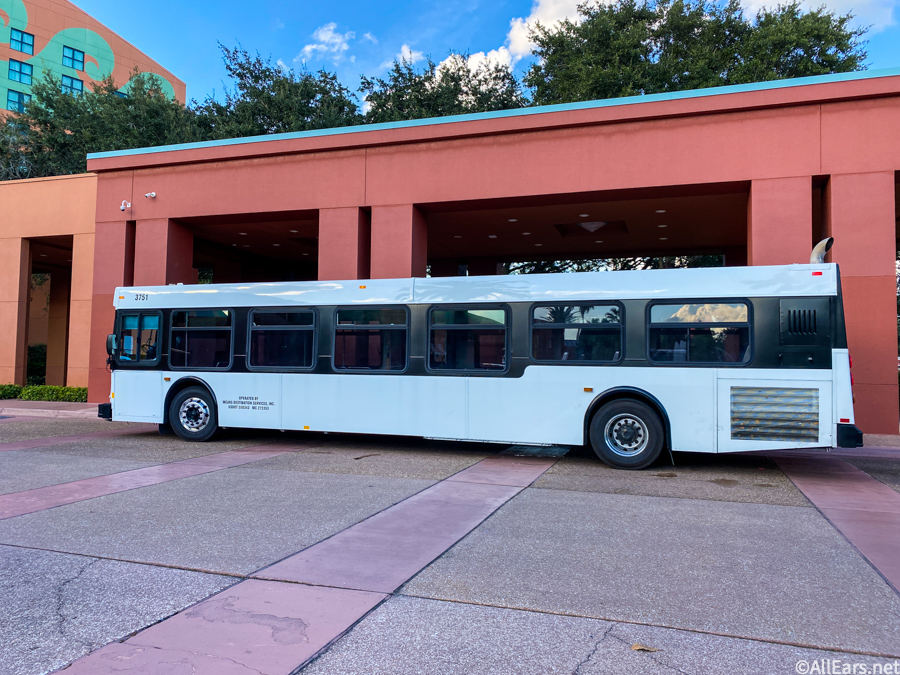 And where non-Disney-owned hotel buses drop off is further away from the entrance of where you want to be. For example, if you take a bus from these hotels to Magic Kingdom, you will be taken to the Transportation and Ticket Center instead of the bus drop off at the front of the park. You will then have to spend even more time taking either the Monorail or the ferry boat to the park. And, the same goes for when you leave Magic Kingdom, too!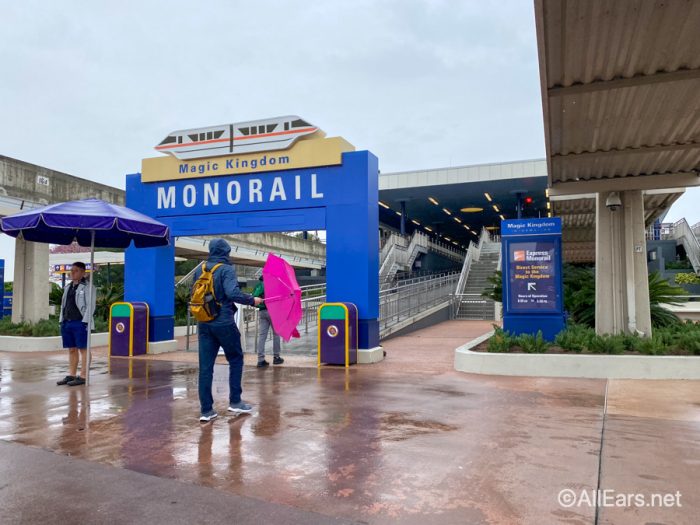 What we would suggest if you're staying at the Swan & Dolphin resorts is to walk on over to either Disney's BoardWalk Resort or Disney's Yacht & Beach Club Resorts and hop on their Disney buses to the parks or Disney Springs. You can take them back from the parks, too! This can save you a lot of time.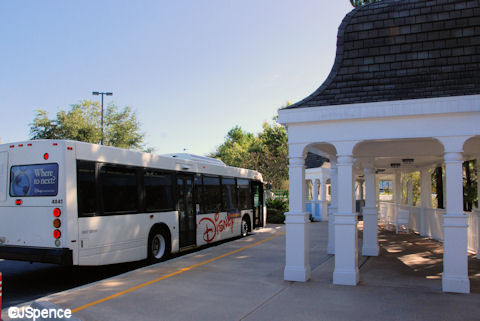 Another lesson we've learned with buses are that inner bus loops at the hotels can take a long time. Some of the Disney resorts are so big that they have bus loops within the resort to get around. These can be a big time suck, especially at places like Saratoga Springs resort, where the bus will go around its loop twice before finally going to Disney Springs. Plan ahead or take a ride share service!
Time to talk about Disney World's newest form of transportation, the Skyliner! The Skyliner is usually pretty efficient, but it can be super busy in the mornings when everyone is trying to get to the parks. This could very likely be the first long line you wait in for your Disney day. So, if you need/want to get to the parks ASAP, rope drop the Skyliner, and get their earlier than you think you need to.
The Skyliner does have a pretty major drawback when it comes to the weather. It will shut down for weather like heavy rain or storms, which happen pretty often in Central Florida! Make sure you have a backup plan and aren't solely relying on the Skyliner to get where you're going. And, if it is closed, there will usually be a sign with alternate forms of transportation, like buses.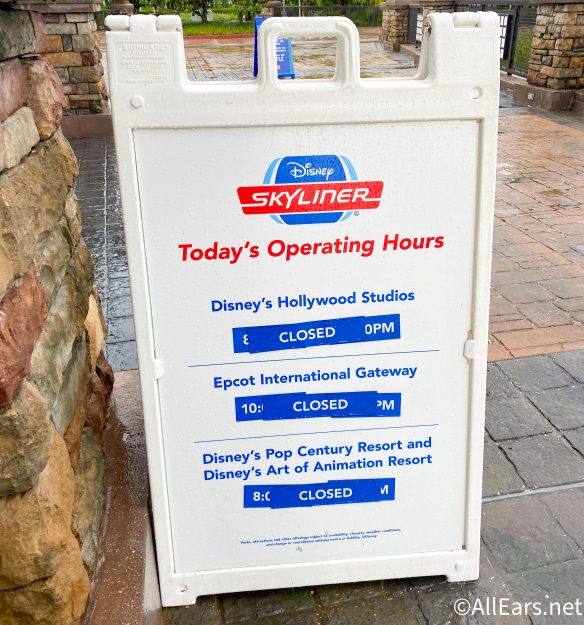 When it comes to the EPCOT Skyliner specifically, know that the line can be really, really long after the fireworks happen each night. So if you don't want to wait, either leave before the show ends or wait at least 30 minutes after the show to go get on the Skyliner.
Uber
Our most important note about Uber (or Lyft, whichever you prefer) is that it's sometimes worth the money if you need to get somewhere quickly. Say you just missed your bus to Animal Kingdom and you have to be there really soon for a dining reservation: this would be a great time to grab an Uber!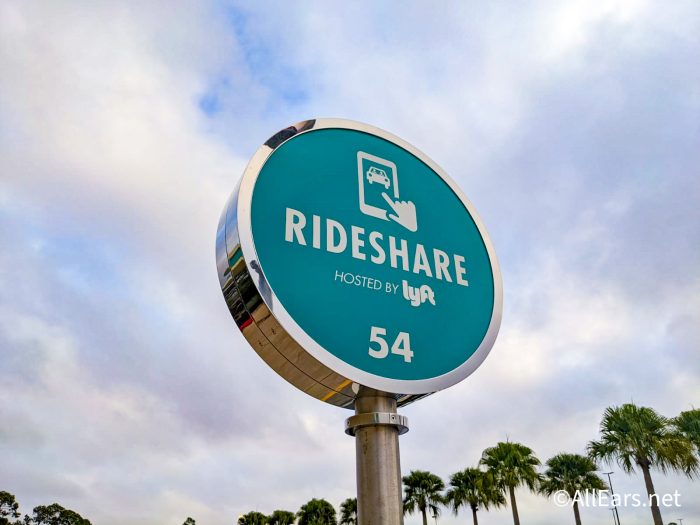 Another thing to know is that if you're staying at Disney hotel and take an Uber from the airport to your hotel, make sure you don't get charged parking fees during your stay. We've done this and have been automatically charged before. You'll be able to see it on your hotel bill and can get the Cast Members at the front desk to pull the charge.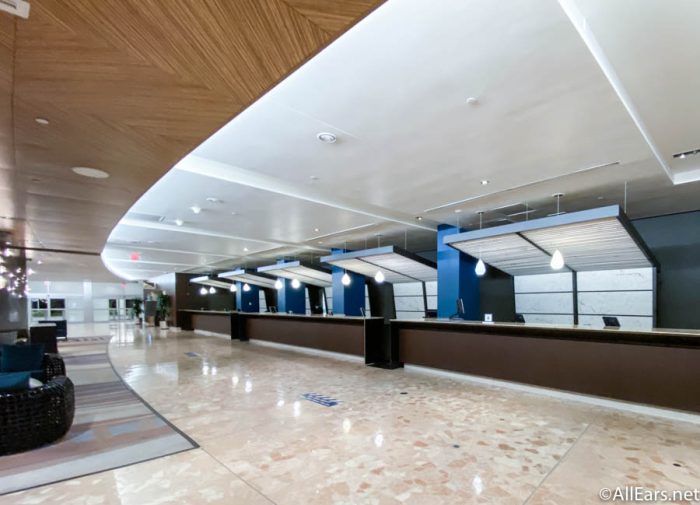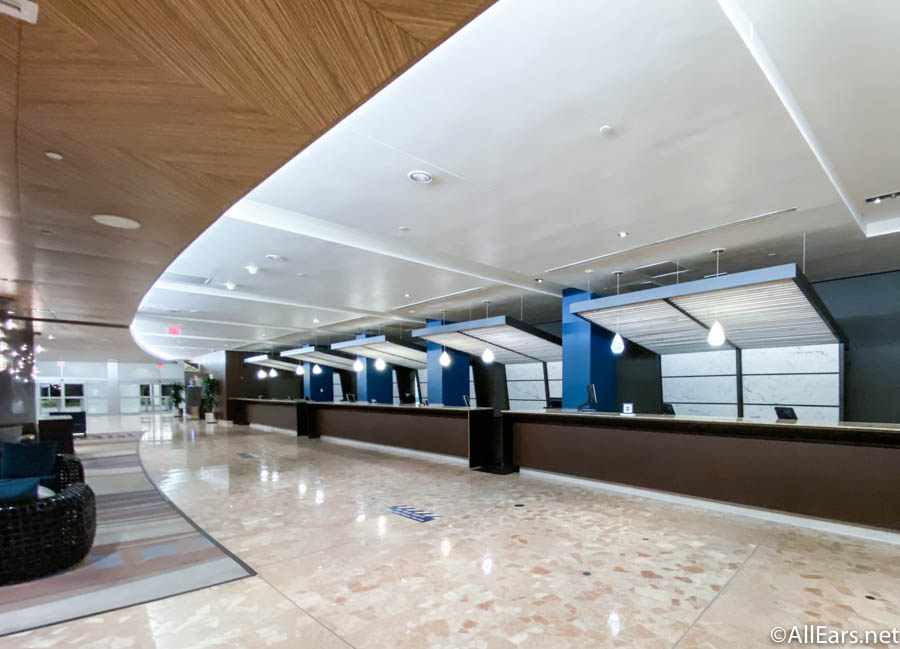 If you are taking a ride share service during a busy time of day, and see "priority pickup" available, we suggest you use it! This will ensure you don't have to wait a really long time for an Uber because you'll have priority. It does cost a little extra, but it can be worth it if you need to get somewhere.

Besides busy times, there are also times where it's hard to get a ride because it's really late at night. If you need to get back to your hotel once Disney transportation has stopped running, your only option will be a ride share service, and the waits can be very long since there are usually less drivers on the road. This is another time to use priority pickup if you can! Or, just try to avoid getting stranded somewhere late at night.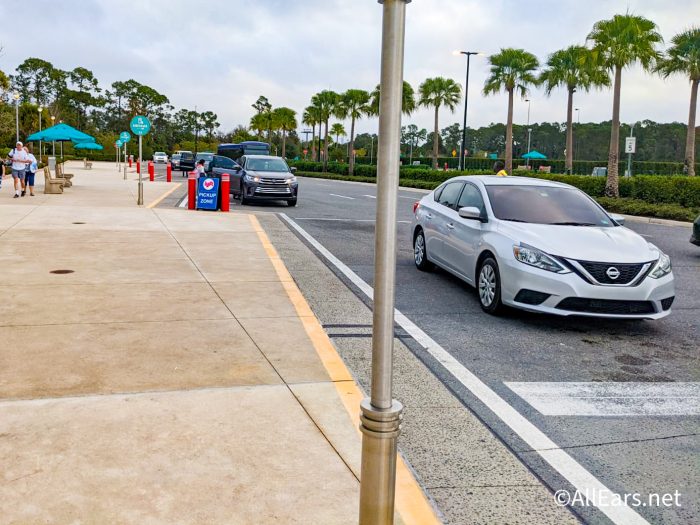 If you're taking a ride share service to Disney Springs, know that you get dropped off all the way over at the Marketplace, which is on the far end of Disney Springs. So, factor in extra time to walk to where you need to be if they're far away. This also applies to taking a Disney boat to Disney Springs.
Parking
If you're staying at a Disney hotel, you DO have to pay for parking, so make sure to add it into your budget. And, in order to park at a lot of the Disney hotels now, you have to have a dining reservation if you're not staying there. You can't just show up to hang out!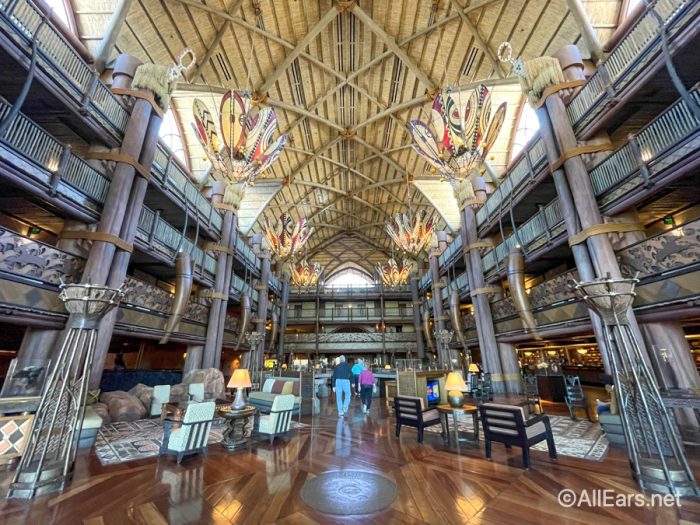 You also have to pay for parking at the Disney parks unless you're staying at a Disney hotel — then it's free!
Another important thing to know is that the gates to the actual parking lots at the parks don't open really early. For example, if you're trying to get to Hollywood Studios an hour and half before opening time so you can rope drop Rise of the Resistance, you might be met with closed gates (remember this if you're taking an Uber, too!). So, if you're able to use Disney transportation instead of driving, we suggest taking it, because that could be running before the parking lot gates open.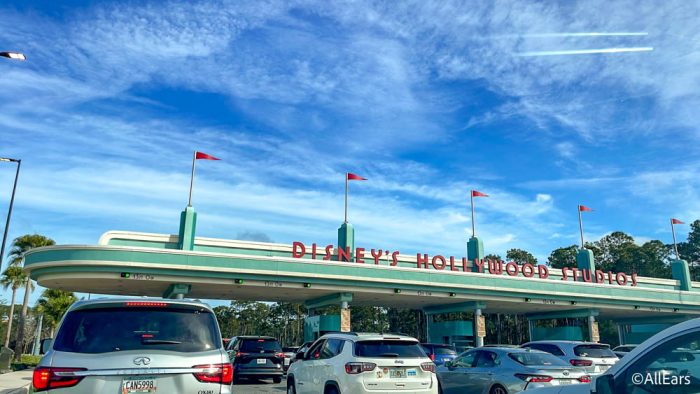 Disney parking lots are also ginormous. It's easy to lose your car! So, when you park, we suggest taking a photo of your row and section, writing a note in your phone, or texting a friend (or yourself) where you parked so you can reference it later if you forget.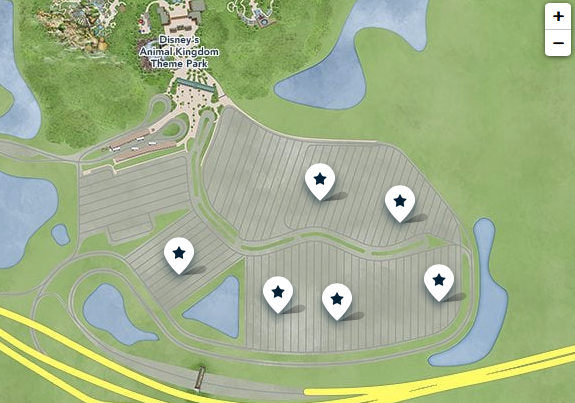 If you DO forget where you parked your car, you can go see a parking Cast Member. If you tell them around what time you parked your car, they can radio the office, who keeps a log of what time they were parking which rows, which can at least give you a place to start looking.
If your car battery dies in a Disney parking lot, wave down security and they can jump it for you with special battery packs!
Other Tips
Now, for some miscellaneous advice. First, know that Disney's Animal Kingdom Lodge is far away from pretty much everything. It takes a long time to go to and from the hotel and other places in Disney World, so plan for some extra time.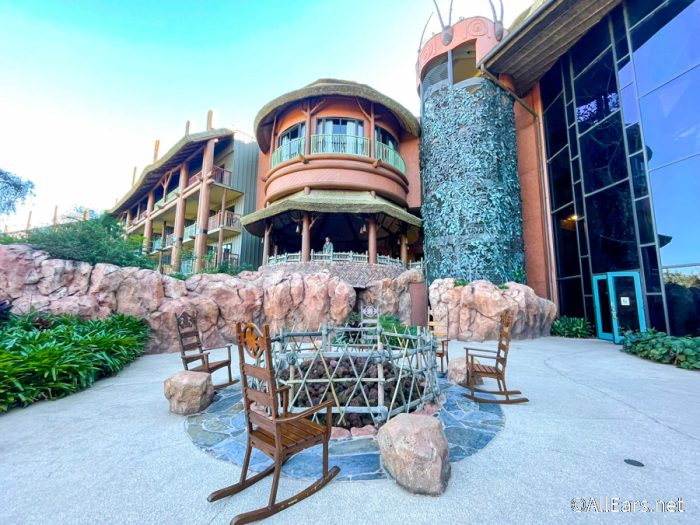 Something we for sure learned the hard way is that if you parked at EPCOT, do not to end up outside of the park past the International Gateway (like over at the BoardWalk) when the park closes. Cast Members will probably not let you walk through the closed park to get back to your car, and you'll have to take an Uber over to EPCOT's parking lot from either the BoardWalk or Yacht & Beach Club.
And, be aware of double back routes at the resorts. Kind of like we mentioned earlier with the bus loops at Saratoga Springs that go around twice, the boats can do this, too! The boats at Saratoga go from the resort, to the Treehouses, BACK to the resort, and then over to Disney Springs. A short boat ride gets way longer, so try and plan for that by giving yourself extra time or taking a different form of transportation.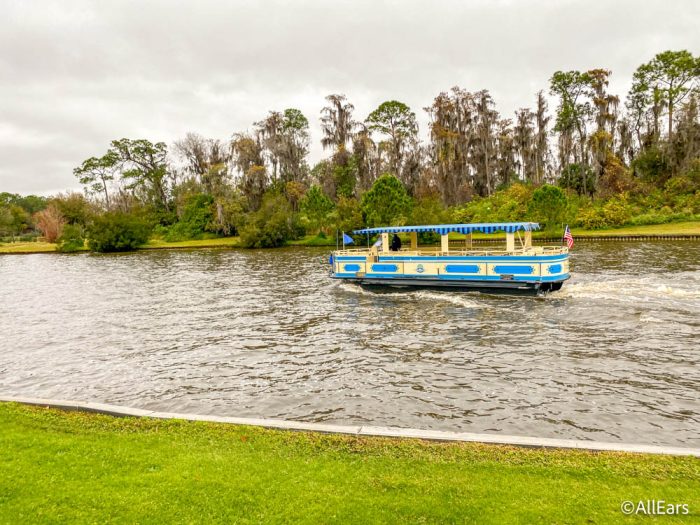 Finally, one of our most important tips and hardest lessons learned is that walking is not, we repeat is NOT, faster than waiting in the long lines for the ferry or Monorail at Magic Kingdom. You may see those long lines at the end of the night and think it'll take hours to get over to the TTC, so you decide to walk instead, but this is a mistake.
The walk from Magic Kingdom to the TTC takes forever. You have to walk through the Grand Floridian and Polynesian grounds, and they are very big resorts. Especially after being on your feet all day, don't try to walk for another hour. Just wait for the Monorail or the ferry; it's pretty much always the right plan!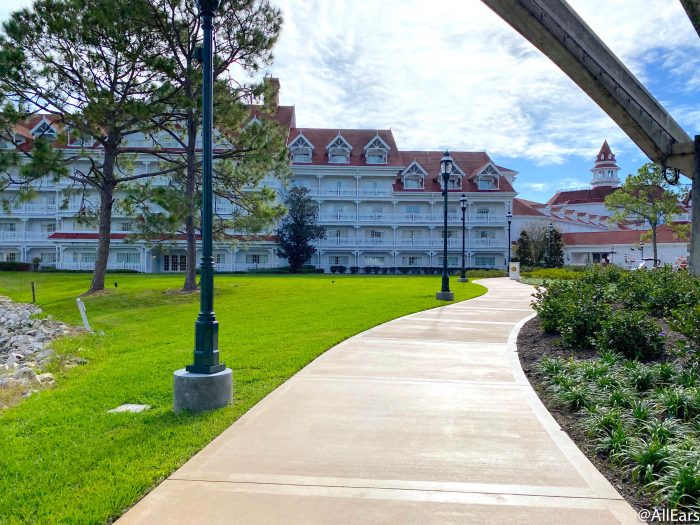 So, there you have it — those are the Disney transportation lessons we've learned the hard way! We hope you learn from our mistakes so they're not repeated. Stay tuned to All Ears for more Disney tricks, tips, and news.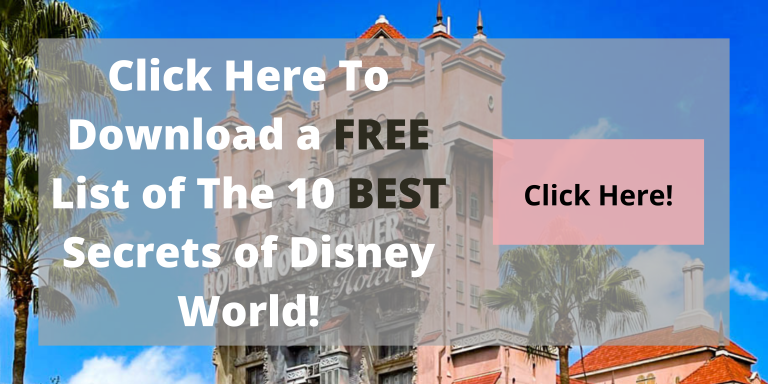 Do you have a transportation horror story? Tell us in the comments!