We spend more time at Disney World than anywhere else, but when it comes to great attractions, Disney Parks all over the world continue to surprise and wow guests with their amazing attractions.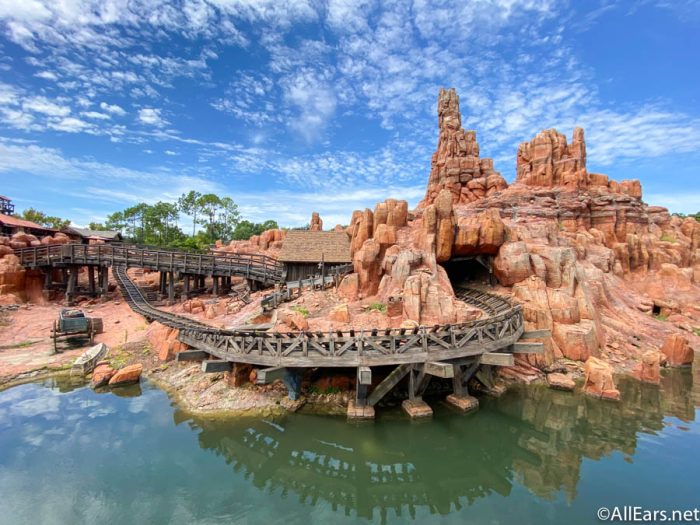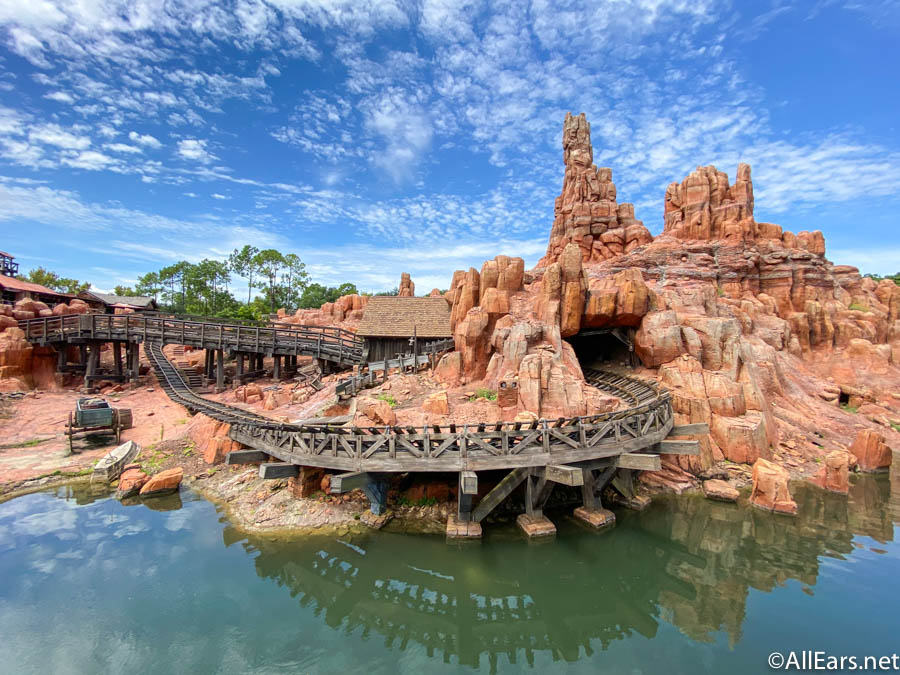 And, well, some of those rides are even better than what you can find in Disney World. So if you ever plan on visiting a Disney Park other than Disney World, we've got a list of rides you'll want to check out.
These are the rides at other Disney Parks that are way better than their Disney World counterparts.
Pirates of the Caribbean at Disneyland
If you've ever been on the Pirates of the Caribbean ride at Disneyland, you most certainly have compared it to the one at Disney World, and you've probably then realized Disneyland has the superior ride. The Disneyland version of the ride has more scenes, making it longer, and it travels down two waterfalls; the Disney World version only has one.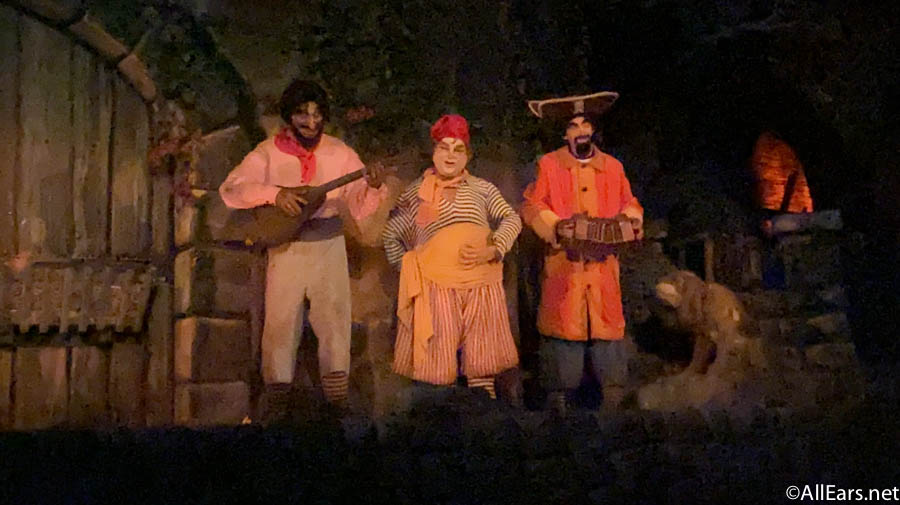 And as a bonus, there's a restaurant, Blue Bayou, inside the Disneyland version that serves up some Louisiana-inspired fare.
Pirates of the Caribbean at Disneyland Paris
Poor Disney World's Pirates of the Caribbean continues to get upstaged internationally, too. The Pirates ride at Disneyland Paris is also a better experience, although it's a little different. Here, the pirate adventure scenes begin first, and the story proceeds backward from the pirates enjoying their heyday to their downfall, which makes more sense.
This ride also travels uphill before its two drops and has an additional scene with a swinging pirate.
Pirates of the Caribbean: Battle for the Sunken Treasure at Shanghai Disneyland
The other Pirates of the Caribbean rides at Disney Parks are thrilling, but Shanghai Disneyland's version is epic. Just the queue is enough is to make guests' jaws drop, but once on the ride, there are a lot of HUGE differences. The boats are way bigger and have on-board audio. The ride vehicles are also technologically advanced; they can pivot, change directions, and change speeds.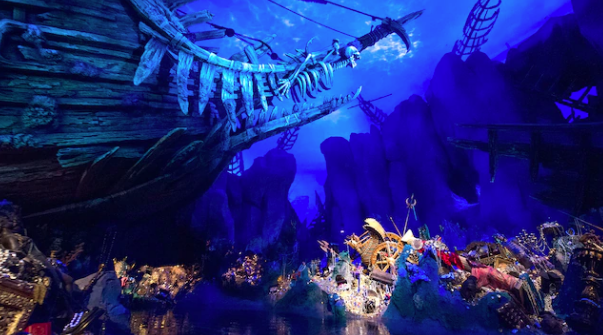 And forget the old animatronics that you're used to at Disney World and Disneyland; those used at Shanghai are state-of-the-art, and you might swear they're real people. This is probably the best version of the ride in the world, not to mention one of the best rides in all of Disney Parks.
Radiator Springs Racers at Disney California Adventure
We thought Test Track was pretty cool at first, but then we rode Radiator Springs Racers at Disney California Adventure. Although the two rides are similar, they have completely different stories, and that makes all the difference. Let's face it — Test Track isn't chock full of details and it's often a one and done kind of experience.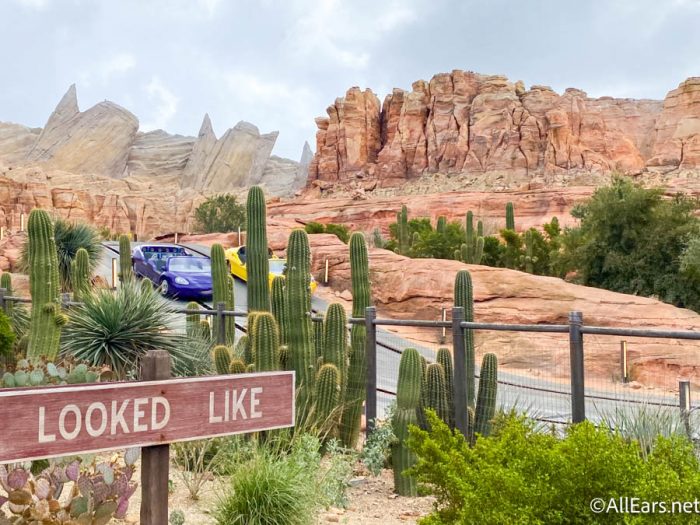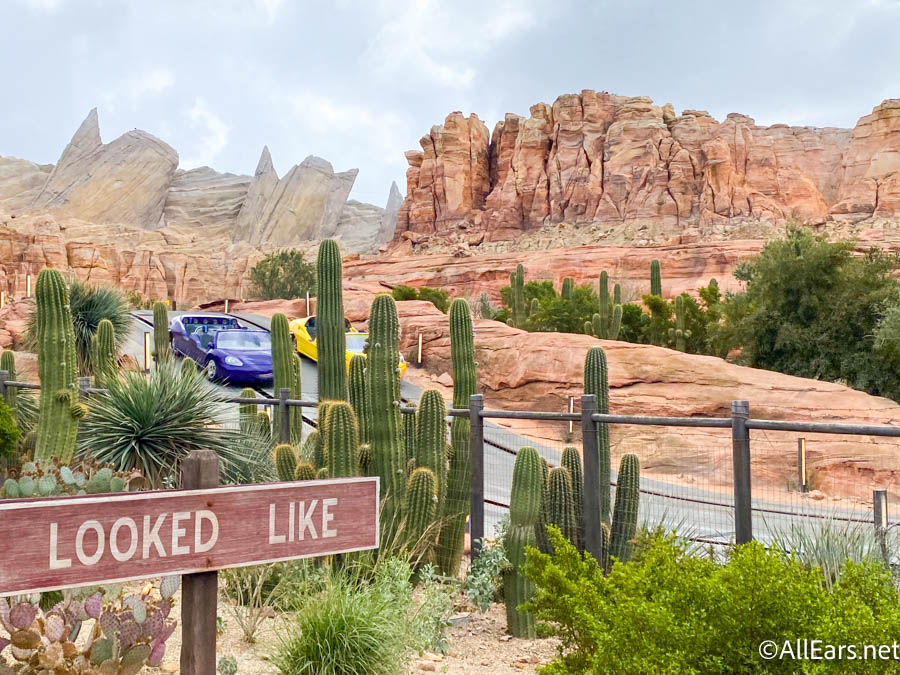 Radiator Springs Racers, though, is themed as a Cars ride and has tons of Imagineering details as well as a lot of great characters from Cars. It's just, by far, the much better experience than Test Track's comparatively redundant "let's drive a car like we're crash test dummies" shtick. Theming is everything.
Indiana Jones Adventure at Disneyland
So here's the thing: Indiana Jones Adventure in Disneyland and Dinosaur at Disney's Animal Kingdom are pretty much the exact same ride; the tracks are nearly identical. But the two rides still offer completely different experiences. Although we love going to "get that dino," the Indiana Jones ride is far more thrilling.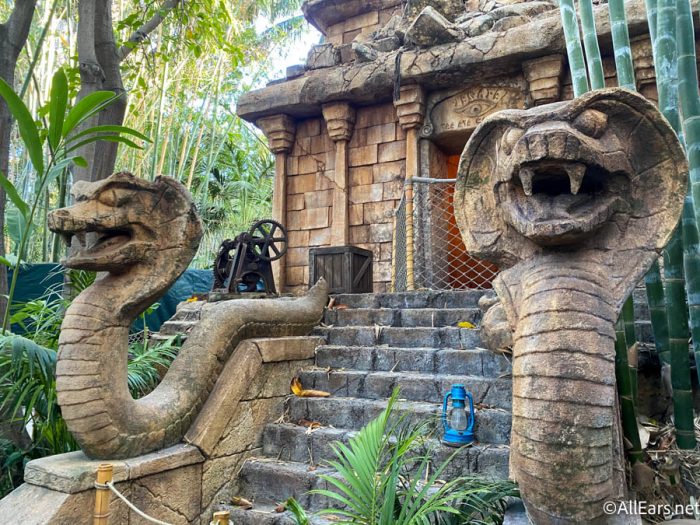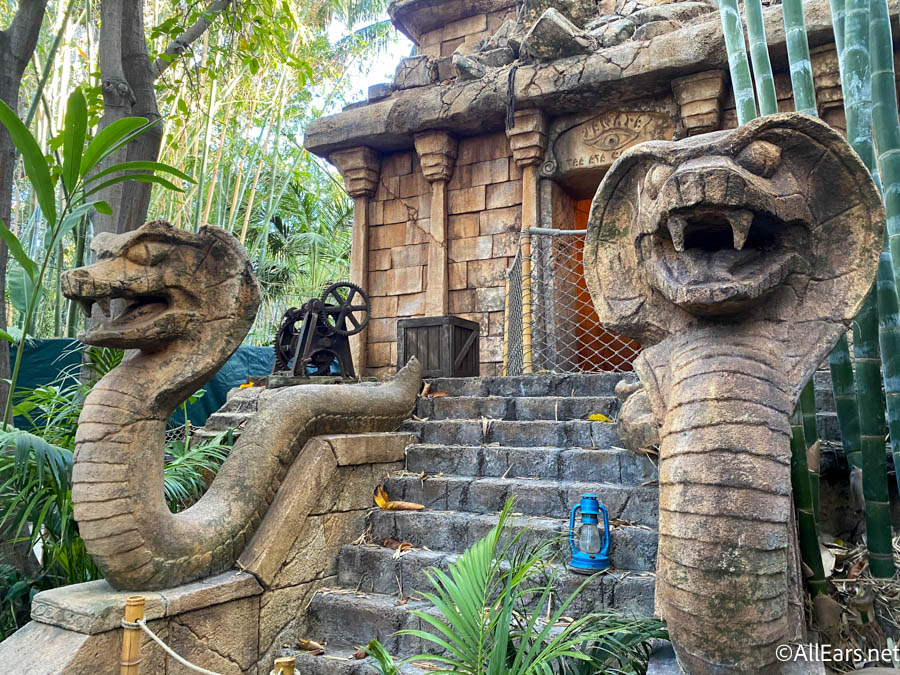 Sure, the dinosaurs are kinda' scary, but that doesn't compare to a gigantic boulder headed straight at you. And the theming on the Temple for Indiana Jones is far better than that of the Dino Institute.
Disneyland Railroad
The Walt Disney World Railroad is basically a way to rest your feet and get from Point A to Point B at Magic Kingdom. The Disneyland Railroad, though, is an attraction in and of itself and doesn't just take you through Disneyland — it also takes you through dioramas of the Grand Canyon and a Primeval World.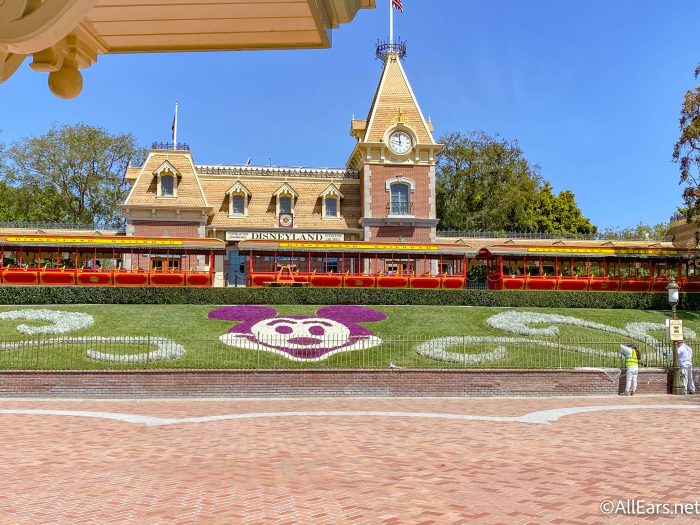 Plus, this railroad has a ton of history — this was Walt Disney's baby, and he rode on it the day that Disneyland opened (and many more times after). The train also has a special car called the Lilly Belle (named after Walt's wife); the first person to ride in that compartment was Japanese Emperor Hirohito.
Jungle Cruise at Disneyland
This is another attraction that wins out at Disneyland, mostly because of its history. This was one of the rides that opened with Disneyland way back in 1955. Although it didn't meet with Walt's initial vision of having live animals, this was where it all began — the scenery and the puns.
And right now, this version of the ride has the full new theme in place, while the Disney World version is still getting updated. It's a classic  — and it recently got its own movie adaptation!
Jungle River Cruise in Hong Kong Disneyland
Something the Jungle River Cruise in Hong Kong Disneyland has over other versions of the ride is that there are three queues there for three different languages. You can take the Hong Kong Jungle River Cruise in English, Mandarin, and Cantonese. This means more people can enjoy the ride.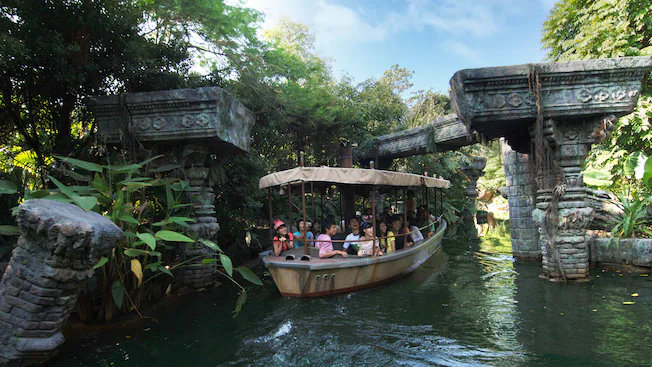 But the biggest difference is the tone of the ride. Forget the punny fun of the Jungle Cruise you're familiar with — the Hong Kong ride is more of a thrilling adventure with a finale that involves the boat getting  trapped in a fight between the water and fire gods. Wow.
Guardians of the Galaxy: Mission BREAKOUT!
We won't lie: we love The Twilight Zone Tower of Terror, but maybe we've ridden it so much that it's grown a little stale. However, the former Tower of Terror and now Guardians of the Galaxy: Mission BREAKOUT! ride in Disneyland keeps things interesting by offering up a different ride experience with different songs each time you ride it.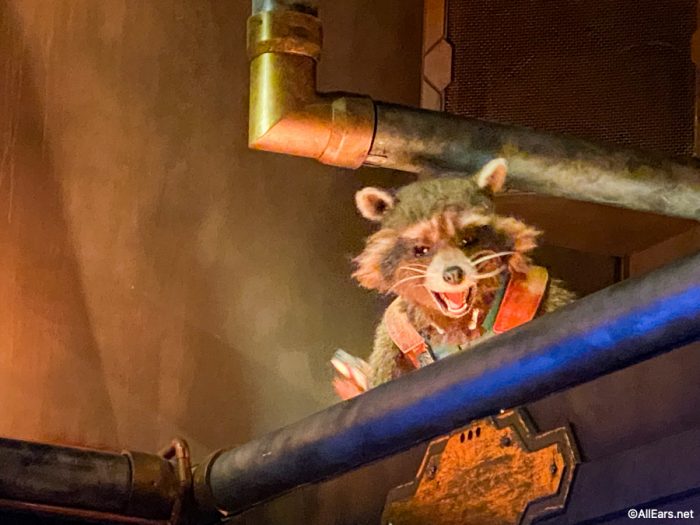 What was once a substandard Tower of Terror is now an exciting ride to help break the Guardians out of the Collector's Fortress. Granted, it's a completely different experience than what you get on the Tower of Terror, but it's also a lot less scary and more fun.
Tower of Terror at Tokyo DisneySea
Likewise, the Tower of Terror attraction at Tokyo DisneySea also has its own story. The hotel here is Hotel Hightower that was once occupied by a man named Harrison Hightower. Mr. Hightower was a rich collector who spent more time stealing artifacts than collecting them.
But after he "collected" a mysterious idol, his hotel became cursed, causing the elevator to crash guests to the ground every time they visit. The theming and elaborate story here takes it a step above the Disney World version.
Phantom Manor at Disneyland Paris
One of the biggest problems with Disney World's Haunted Mansion (and don't get us wrong — we love the Haunted Mansion) is that it doesn't have a cohesive story. Phantom Manor, though, in Disneyland Paris uses one of the earliest story ideas Imagineers had for the original Haunted Mansion. Phantom Manor is about the bride who hanged her husband on their wedding night. This led her into madness that followed her even into her death. And guests are now moving through her world.
To say that the Disneyland Paris is a darker ride is an understatement. And the ride's full orchestral soundtrack is a step above the charming ditties heard in Disney World's Haunted Mansion. It's not the same ride at all, but if you want something spookier than the original, Phantom Manor is it.
VIDEO: Take a Virtual Ride on Disney's Creepiest Haunted Mansion!
Mystic Manor at Hong Kong Disneyland
It's hard to compare Mystic Manor at Hong Kong Disneyland to Haunted Mansion because it really is a different ride. Its story is more of a light-hearted fantasy set inside an old Victorian mansion. In Mystic Manor, guests ride through a stately residence that is now a museum possessed by the magic of a mysterious music box.
What sets this version of the ride apart, though, is its trackless vehicles. Oh, and did we mention that the soundtrack was written by Danny Elfman, who also composed the music for The Nightmare Before Christmas?
it's a small world at Disneyland
This it's a small world ride at Disneyland has history going for it; it was the original attraction that Walt Disney created for the 1964 World's Fair. It also has an adorable facade and got an upgrade in 2008 to add animatronic dolls of Disney characters.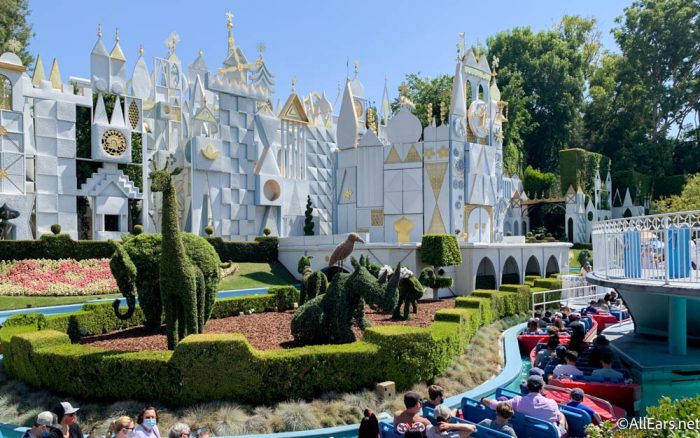 Perhaps that's why the Disneyland version of the ride is more charming and less, uh, controversial than its counterpart in Disney World. The song is the same, though, and it is the earworm that never ends.
Space Mountain at Disneyland
This is a case of same ride, different experiences. For starters, Space Mountain at Disneyland has a more comfortable seating arrangement (and if you've ever struggled to get in and out of Disney World's Space Mountain vehicles, you'll know what we're talking about). And the built-in speakers of the Disneyland version also make for a more immersive experience.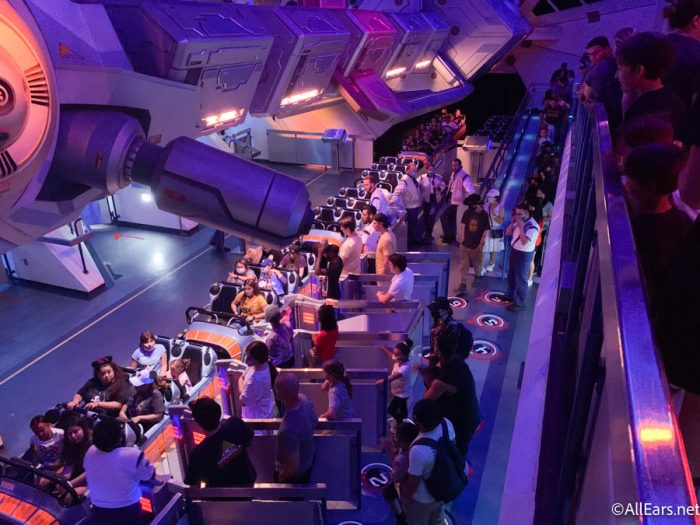 Space Mountain at Disneyland is also slightly faster (by a whole 2 mph), but because of its design, it feels even faster than that. It's also a slightly smoother ride with better effects. And it's a whole 15 seconds longer than the one at Disney World.
Hyperspace Mountain at Disneyland Paris
Imagine Space Mountain on steroids with a Star Wars theme and you've got Hyperspace Mountain at Disneyland Paris. And this version of the ride has flips, twists, loops, and way more turns in the dark. The Paris ride is a true "thrill" attraction.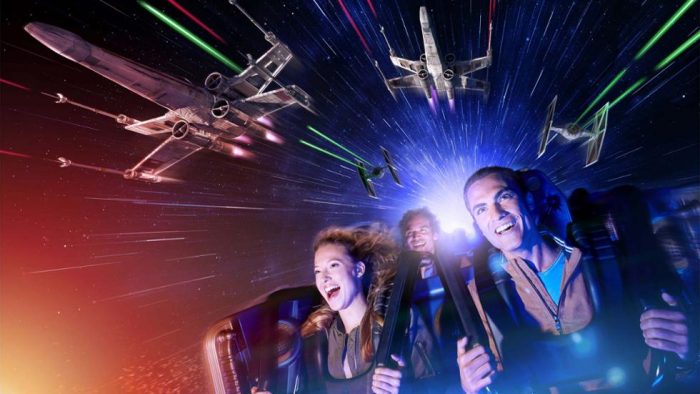 This version of Space Mountain will leave your heart pounding in a way Disney World's Space Mountain never has.
Hyperspace Mountain at Hong Kong Disneyland
In 2016, Hong Kong's Space Mountain became Hyperspace Mountain, and like the Paris ride, joined the ranks of Star Wars attractions at the parks. The design of this ride, though, is very similar to that of Disneyland in California, making it better than the Disney World version.
If we had to rank all the Space Mountains, this one would come in as third-best in the world, behind the Paris and Anaheim attractions, but ahead of the Disney World one.
Pooh's Hunny Hunt at Tokyo Disneyland
There really is no comparison between Disney World's The Many Adventures of Winnie the Pooh and Pooh's Hunny Hunt at Tokyo Disneyland. Pooh's Hunny Hunt is a trackless ride, so the ride experience is completely different.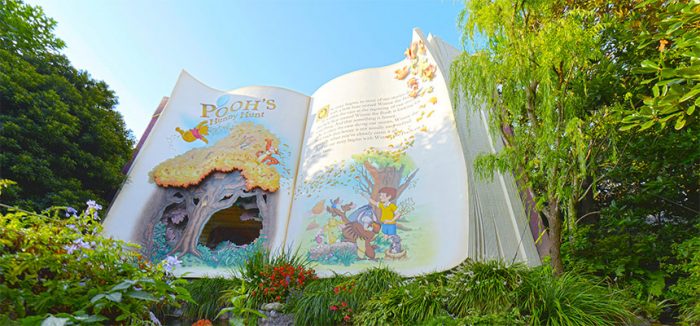 However, the stories are both based on the same movie, but Pooh's Hunny Hunt has significantly improved technology with superior audio-animatronic figures. This Pooh ride wins hands-down.
Don't get us wrong, though — we still love the rides at Disney World, but if you're planning on traveling somewhere other than Florida, this could help you decide where to go next, even if it takes you to another country.
It's always interesting to see how Disney develops rides for different countries and cultures,  but it's also interesting to see how original rides in Disneyland were adapted for the Florida park.
Which rides do you think are better in other parks over the Disney World version? Let us know in the comments.
Want to check out some Disney history? Click the links below!