Going Solo
by Alice McNutt Miller
AllEars® Guest Columnist
Feature Article
This article appeared in the
October 12, 2010 Issue #577 of ALL EARS® (ISSN: 1533-0753)
Most of my trips to Disney parks have been with my family — my husband and two teenage daughters. I have many wonderful memories of those very special family trips. We've shared lots of amazing experiences and small-but-extraordinary moments. I have, however, had several opportunities to visit Disney parks by myself. Solo. Unaccompanied. Unattached. Unattended. Unescorted. These can be scary words for someone used to traveling with family or friends, but Disney fans should not be afraid of visiting our beloved parks sans accompagnement.
The first time I visited a Disney park by myself was when I tacked a visit to Hong Kong Disneyland on to a work trip there. That was followed by a solo visit to Disneyland Paris, again in conjunction with work travel. Most recently, I had an unescorted visit to the Disneyland Resort in California in August while my husband was attending a conference in Los Angeles. While these visits were definitely different than my visits with the family, I treasure them, and have found them to be very fulfilling.
Here are some of my observations about solo visits:
1) Visiting solo means touring the parks at a more leisurely pace. I find myself wandering slowly up Main Street USA, noticing more details, and slowing down to take in the ambience. While I still want to ride as many rides and take in as many attractions as I can, I don't seem to have the urge to do these things quite so quickly.
2) I take in different attractions than we normally do on family trips. My family is not terribly enamored of the Enchanted Tiki Room, for instance, while I love it. The version in Disneyland brings back very nostalgic memories for me. I don't rush straight for the roller coasters, instead taking in some of the slower, more laid-back attractions first. (Oh, I still do the roller coasters, just not first thing.) Also, because one of my daughters is not a big thrill-seeker, there are some attractions I usually sit out with her. It was a lot of fun to go on the Tower of Terror on my solo trip, since this is one I often skip when I am with the family.
3) The lines can be shorter for single riders. Some attractions have single rider lines that get you on the ride faster. Most of the attractions that offer this are noted on your park map, but be sure to check with the Cast Member at the front, as some of the single rider lines are not well-marked.
4) People are very nice. Even though I am a bit of an introvert, I have found myself striking up conversations with perfect strangers when visiting by myself. I met a wonderful family from my hometown while waiting for a show at Hong Kong Disneyland. I ended up taking in the show with them, and enjoying it immensely. Cast Members can also add to the fun. On my recent solo trip to Disneyland the same Cast Member was operating two of the Fantasyland rides that I went on one after the other. "You again!" She gave me a big grin when she saw me boarding Mr. Toad's Wild Ride just minutes after she had loaded me onto Peter Pan's Flight.
5) Dining alone is an art form. I prefer to eat at counter service restaurants when visiting the parks by myself, but I have found that Disney restaurants in general are very accommodating to single diners, so I wouldn't mind eating at a table service restaurant at one of the resorts. If you are very uncomfortable eating by yourself, a book can be an awesome dining companion. My Kindle is wonderful, since it lays flat on the table next to my plate, and doesn't need to be held open while I am juggling knife and fork. If you have a fave Disney restaurant, don't be afraid to try eating there by yourself. Relax and enjoy.
6) I shop more. I don't necessarily buy more, but I do take more time to peruse the shops than I do when I am travelling with the family. I spent quite a bit of time wandering through shops on my recent trip as I was searching for consolation gifts for my absentee family members. It was a lot of fun, and I saw a lot of very interesting merchandise. (I have noticed, however, that the variety of items offered seems to be dwindling. The quantity is still the same, but I tended to see the same things over and over again. Rant over.)
7) Sitting by the resort pool by oneself can be very relaxing. When I visited Hong Kong Disneyland, I did what we often do on family trips, and returned to my hotel in the middle of the afternoon for a rest and a swim before heading back to the park for the evening. I often take reading material with me to the pool when on family trips, but rarely find the time to read. I am usually either in the pool with the kids, watching them like a hawk (once a lifeguard always a lifeguard) or chatting with my husband. This time I sat at the pool, jumped in the pool, jumped out of the pool, read, jumped into the hot tub, jumped out of the hot tub and read some more. It was also fun to watch other people's kids without being stressed out about what they were (or weren't) doing. Which brings me to…
8) It is a lot of fun to watch other people's children having fun (or not). People-watching is one of my favorite pastimes while at Disney parks, whether I am traveling with my family or by myself. I really enjoy watching other people's kids. Since my own kids are now teenagers, I especially enjoy observing the younger set. While at Disneyland last month, I sat in front of two approximately 6-year-old girls on "it's a small world." I really had fun listening to their running commentary throughout the ride as they pointed out characters and guessed at countries. It is also great not to have the stress of worrying if your own child is behaving properly ("Would you PLEASE back up a bit and give that nice lady in front of us some space?").
9) Other solo travelers might want to meet up with you. There are a number of internet message boards where solo travelers can post dates for their solo trips, and invite other solo travelers to join them. This could be a fun way to meet other Disney enthusiasts, and devise a plan for not spending ALL of your time alone.
So, if you have an opportunity to go solo, go for it! (Just be sure not to boast too much about what a great time you had to those you left behind.)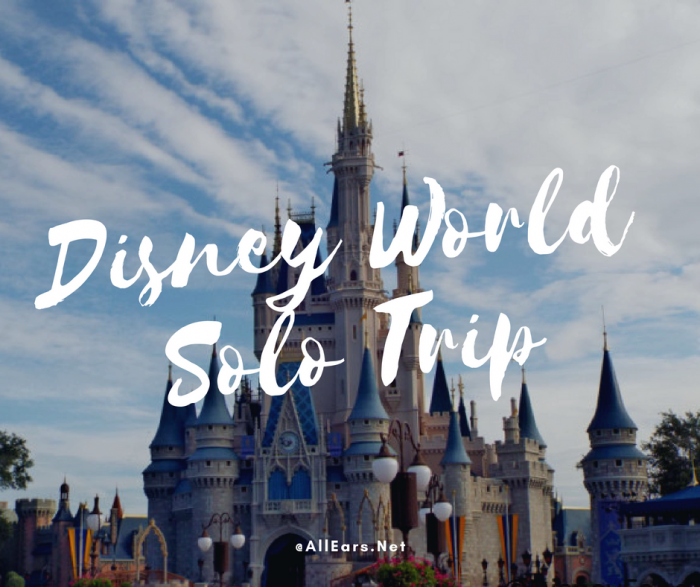 ====================
ABOUT THE AUTHOR: Alice McNutt Miller is a lifelong Disney fan whose fondest childhood memories include "The Wonderful World of Disney" on Sunday nights and her first trip to Disneyland when she was 10 years old. Alice and her family are Disney Vacation Club members, and have visited Disney parks all over the world. They live in Vienna, Virginia.
**********
READER SUGGESTIONS AND TIPS
Send in your tips and comments through our feedback page.